I was shopping at Aldi this morning and was SO happy to see shelves stocked with German holiday treats!! I'm not one to get excited about Christmas before US Thanksgiving but I am excited to see Christmas food at Aldi now because that means I have almost two months to enjoy all of my favorites. 🙂
Do you have any favorite Aldi Christmas desserts?
I took a few photos of items I saw this morning in case you're wondering what you might find at your Aldi.
By the way – this isn't a sponsored post and any links are not affiliate links. I just wanted to share these great Aldi finds with you!
If you don't have Aldi near you but are looking for these German treats, try World Market or Trader Joe's.
Ok, let's see what kinds of German Christmas treats you can find at Aldi grocery store!
#1 – Aldi Christmas Chocolate
In addition to these milk chocolate peanut clusters, they also had a variety of other types of chocolate, such as chocolate covered marzipan logs, and bars of winter/Christmas German chocolate.
#2 – Aldi Zimtsterne – Cinnamon Christmas Stars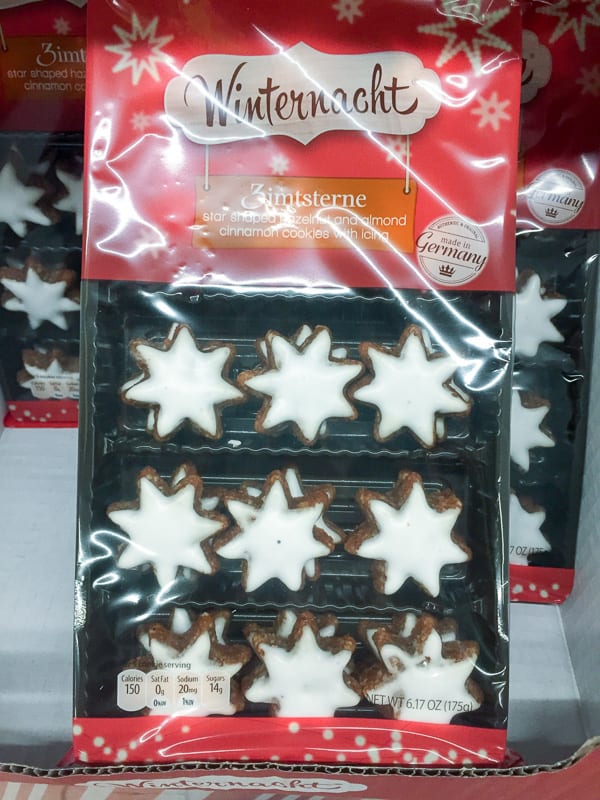 If you like cinnamon, hazelnut, and almond flavors, you'll like these cookies.
#3 – Aldi Iced Pfeffernüsse Cookies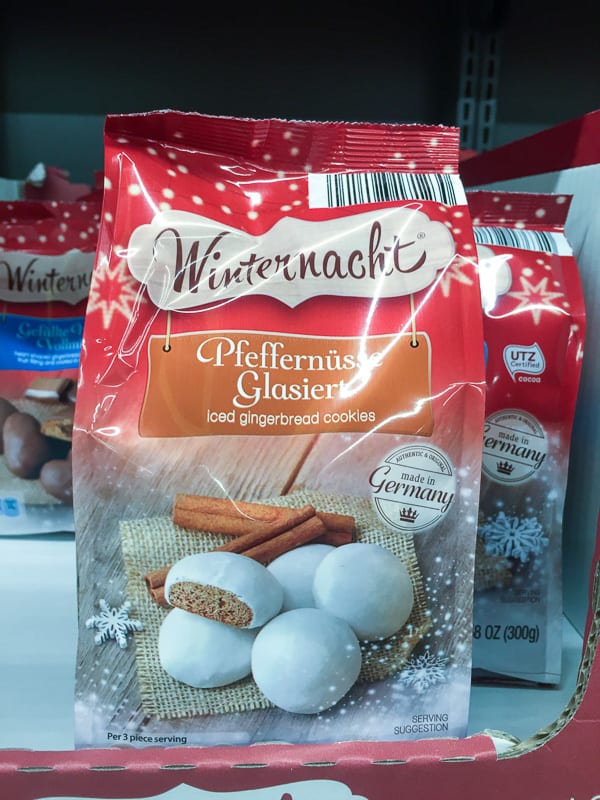 I bought these last year for the Advent calendars I created for my family and really liked them. If you like gingerbread and peppermint, give these a try.
#4 – Aldi Stollen
I saw both marzipan Stollen and Butterstollen at my Aldi. I haven't tried Aldi Stollen, though, so I can't vouch for the taste.
If you prefer homemade Stollen, click here to try my easy and delicious German Stollen recipe.
#5 – Chocolate Covered Jam-Filled Gingerbread Hearts
I love these! When I first moved in with my German host parents, they had a cute welcome sign lined with these gingerbread hearts. I think I ate all of them the very first night I lived with them!
#6 – Aldi Chocolate Truffles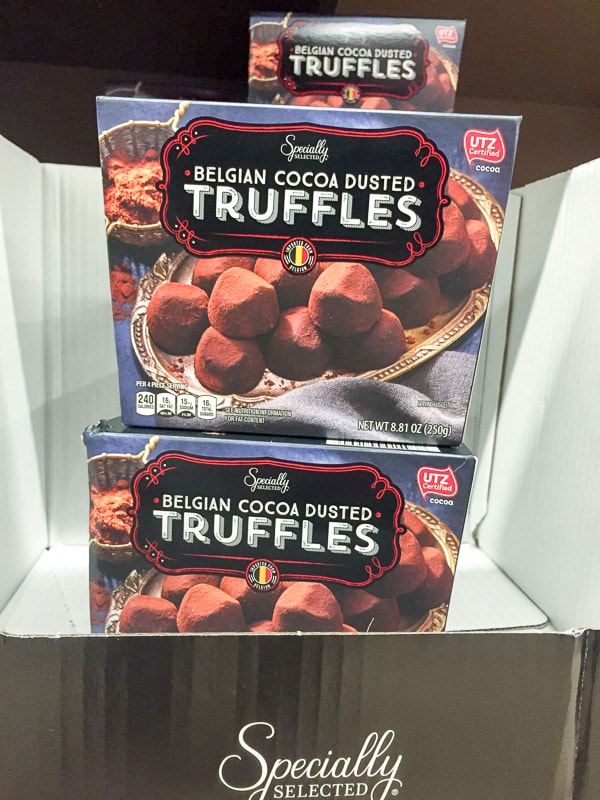 Ok, these are Belgian, not German but they're really good! I used these in my homemade Advent calendars last year, too. I almost bought some thins morning but I'm trying to limit myself to one Aldi Christmas treat per week. 🙂
#7 – Aldi Almond Spekulatius Cookies
I couldn't resist these cookies and so they came home with me (I'm eating some right now). I got the almond cookies but they also have the butter spekulatius variety, too.
Did you know you can make spekulatius spice mix at home? It's so easy and tastes delicious added to cookies, waffles, pancakes, and more. Click here to get my spekulatius spice mix recipe and five ways to use it in your holiday baking.
I'm hoping Aldi will get more of my favorite German Christmas treats in the next few weeks. I'll keep my eye out and will update this post when I find new items.
—
Disclaimer: The International Desserts Blog is a participant in the Amazon Services LLC Associates Program, an affiliate advertising program designed to provide a means for us to earn fees by linking to Amazon.com and affiliated sites. Thank you for supporting my site and helping me make it the best international desserts and travel resource on the internet!