Aldi German Christmas Food Finds
This article may contain affiliate links. See our disclosure link for more information.
If you're looking for authentic German Christmas treats in the US – or other German food items throughout the year – here's your guide for what to pick up at Aldi!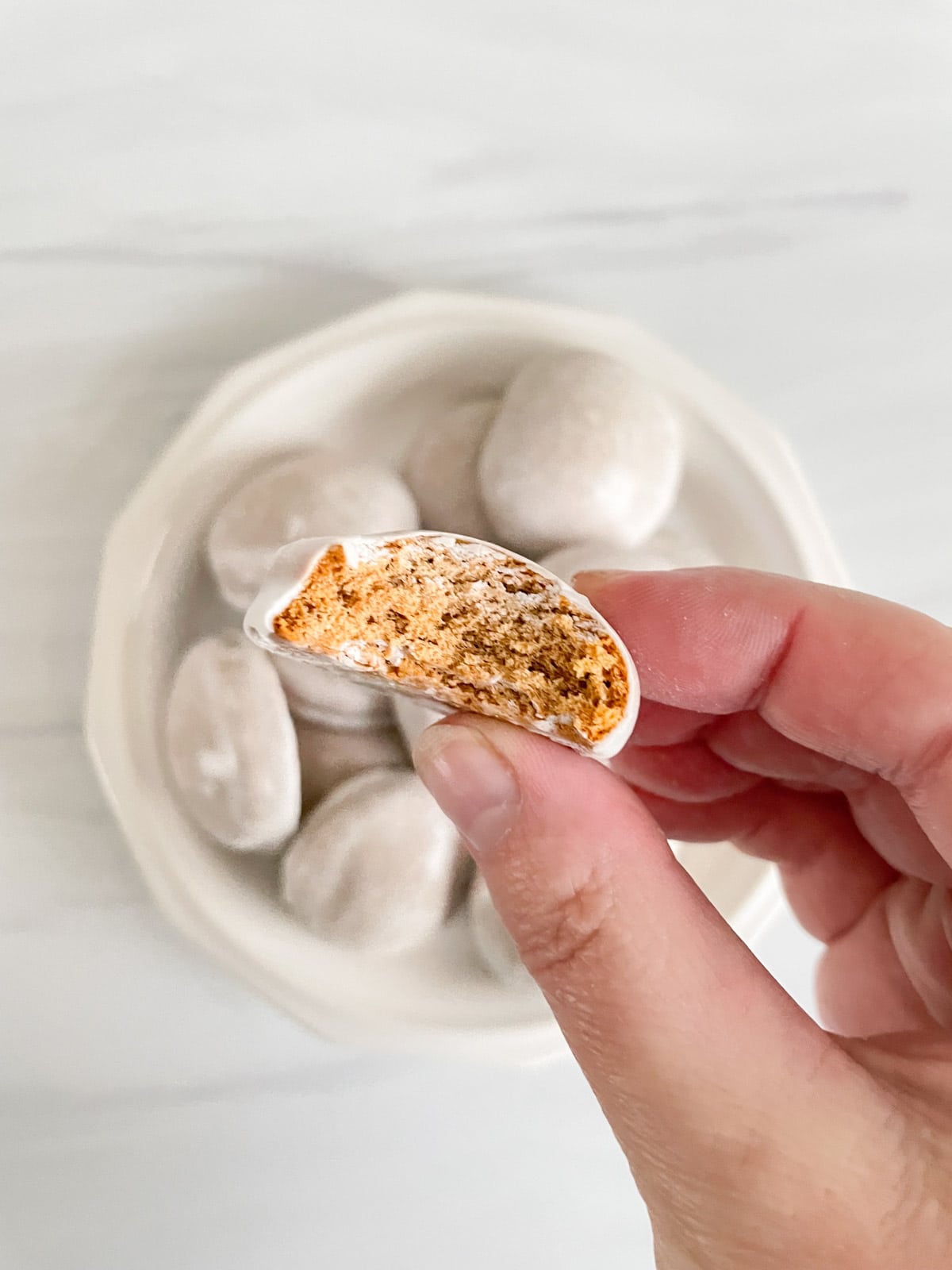 Being a company with German roots, Aldi stocks European food throughout the year, including a nice variety of German foods. I'm a big fan of Aldi!
I used to shop at many a German Aldi when I lived in Germany (both Aldi Nord and Aldi Süd, depending on where I was living), and so I was thrilled when a store opened up near me here in North Carolina a couple years ago.
Every spring and fall I look forward to German Week and the Christmas season so I can stock up on fun German favorites.
German Food You Can Find At Aldi
Aldi stores are a great place to find not only low prices but also delicious savory German goodies like:
German pickles (currently in my fridge)
Whole grain mustard (and other types of German mustard, also in my fridge)
Bratwurst and other sausages and cold cuts
Peanut puffs (called "Erdnussflips" in German — not my favorite snack but they're popular in Germany)
Butterkäse and other types of cheese
Cheese and onion Spaetzle (also plain dried Spätzle noodles so you can make your own cheese Spätzle at home – so good)
Potato chips and sticks (there are these small packets of flavored potato sticks that are binge-worthy)
Pretzel breadsticks
So much more!
You'll also find sweet German treats like apple strudel, fruits of the forest strudel (yum), ice cream (be sure to check out their freezer section!), Doppel Keks cookies, little hazelnut cream cookies (I can't buy these anymore because I can too easily eat the entire package), Bee Sting Cake, Black Forest Cake…I could go on and on and on.
One thing I wish Aldi would stock is Quark! I've heard that some stores have it…but I've never seen in at my local store.
When To Look For German Christmas Food At Aldi
Aldi starts to stock shelves with German Christmas foods a couple months before Christmas. I'm not one to get super excited about Christmas before US Thanksgiving but I am always excited to spot Christmas food at Aldi.
They also offer Advent calendars…but the good ones tend to sell out immediately. If you want to snag a beer, wine or fancy chocolate Advent calendar, call your store to find out when they'll go on sale and then show up early!
Aldi has a number of stores in the US and bunch on the East Coast but you don't have Aldi near you try World Market or Trader Joe's for similar German treats.
Ok, let's take a look at the German Christmas Aldi treats you can look forward to!
#1 – Christmas Chocolate Peanut Clusters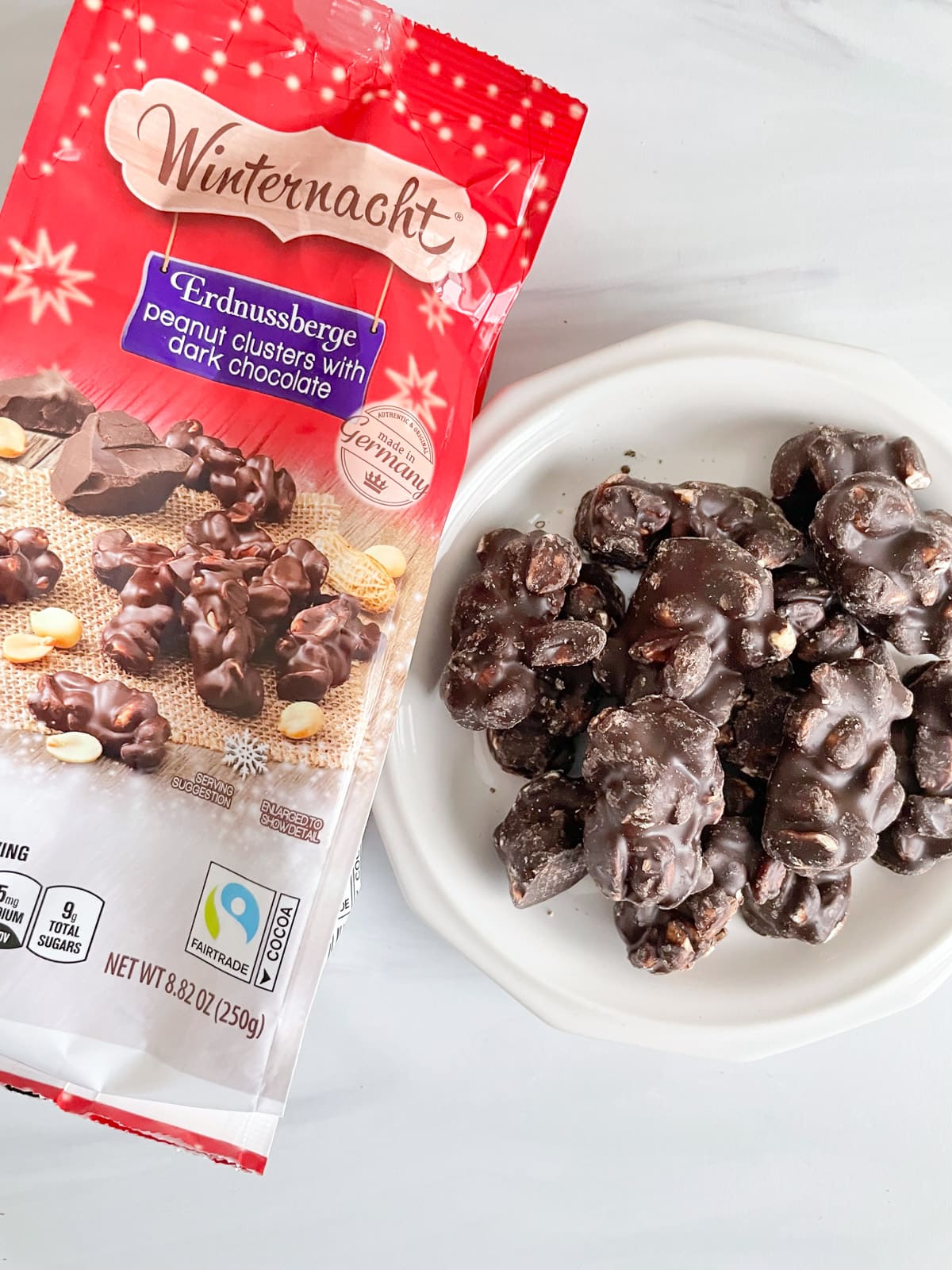 If you like peanuts and chocolate, you'll love these peanut clusters! You can find them in both milk and dark chocolate. Speaking of chocolate, you'll also find a variety of other types of chocolate, such as chocolate covered marzipan logs, and bars of special winter/Christmas German chocolate. In general, Aldi has a good selection of chocolate. Their small bars of salted dark chocolate are good, too.
#2 – Zimtsterne – German Cinnamon Star Cookies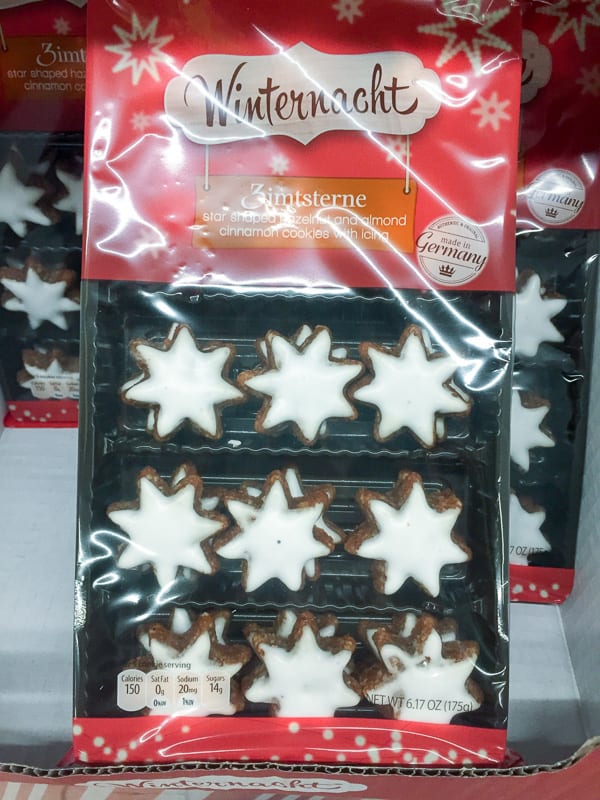 If you like cinnamon, hazelnut, and almond flavors, you'll like these flavorful iced cookies. They'll look great on your Christmas cookie tray, too!
#3 – Pfeffernüsse – German Gingerbread Cookies with Peppermint Icing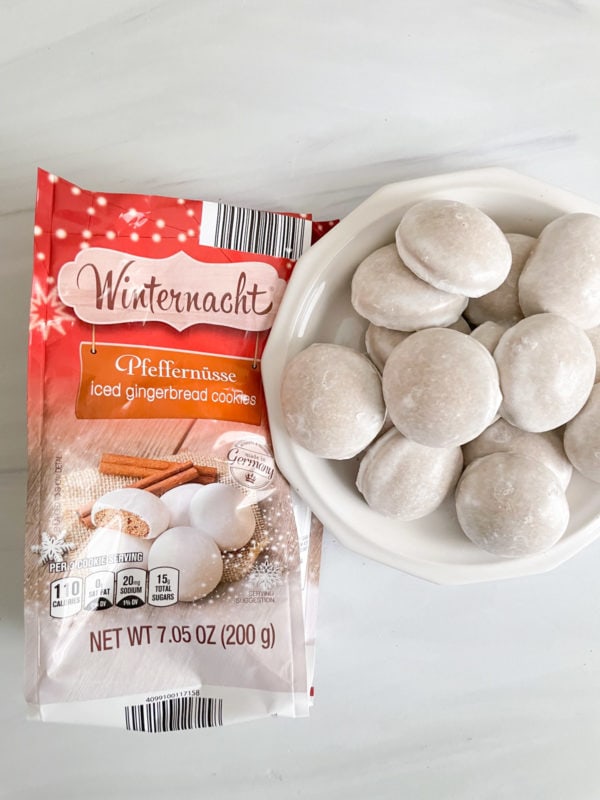 I bought these peppermint cookies last year to include in the German-style Advent calendars I created for my family and we all really liked them. If you enjoy gingerbread and peppermint, give these a try. They pair well with a hot cup of coffee or tea.
Speaking of Advent Calendars, check out my Advent Calendar guide here!
#4 – German Butter Almond Stollen and Marzipan Stollen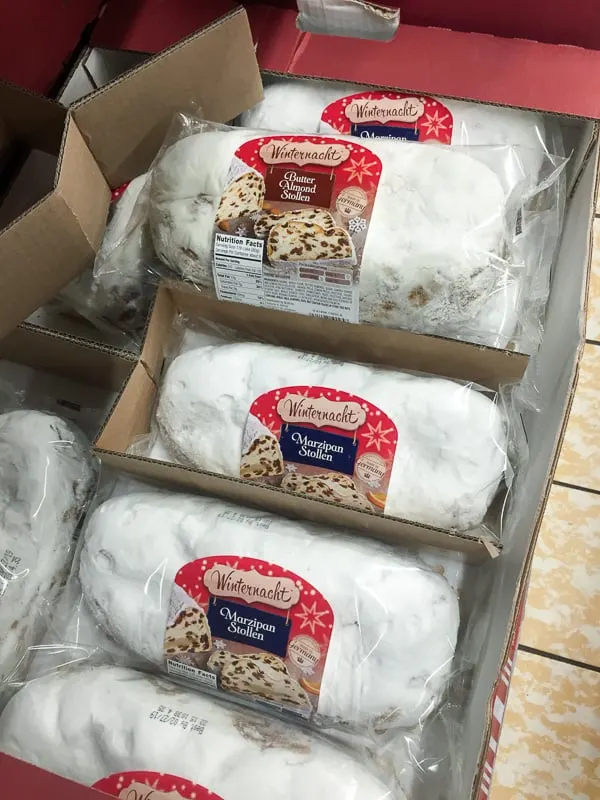 I make homemade Stollen these days so I haven't tried Aldi Stollen and can't vouch for the taste. But they do have 2 different kinds and I imagine it's pretty good based on the other goodies I've tried.
That said, homemade Stollen is the best and actually quite easy to make at home. Click here to try my easy and delicious German Stollen recipe.
#5 – Chocolate-Covered German Gingerbread Hearts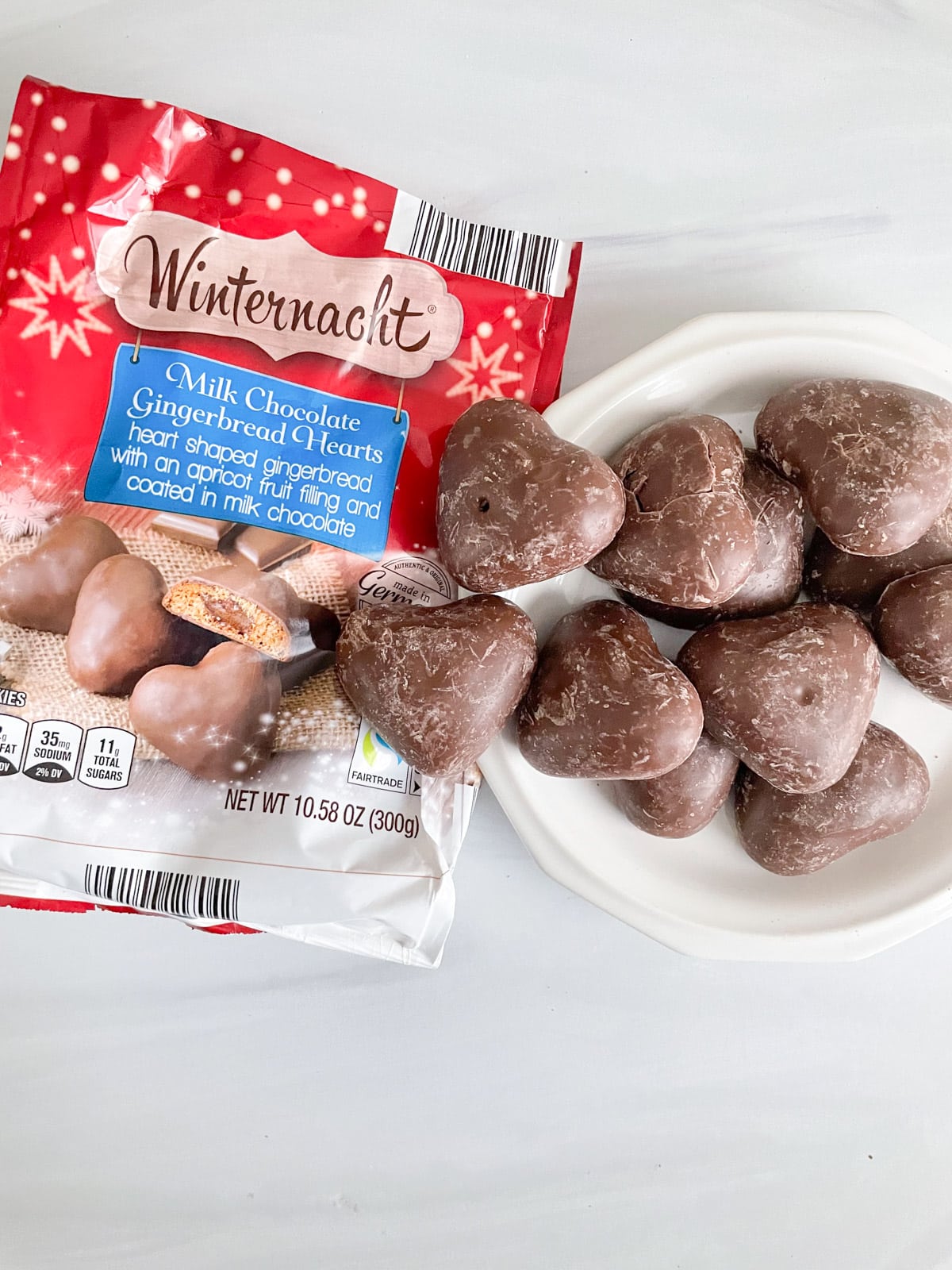 I love these so much! When I first moved in with my German family as a teen, they had a cute welcome sign for me in my bedroom lined with these gingerbread hearts. I think I ate all of them the very first night I lived with them. If you like soft gingerbread, chocolate, and fruit filling, you'll like these.
#6 – Aldi Chocolate Truffles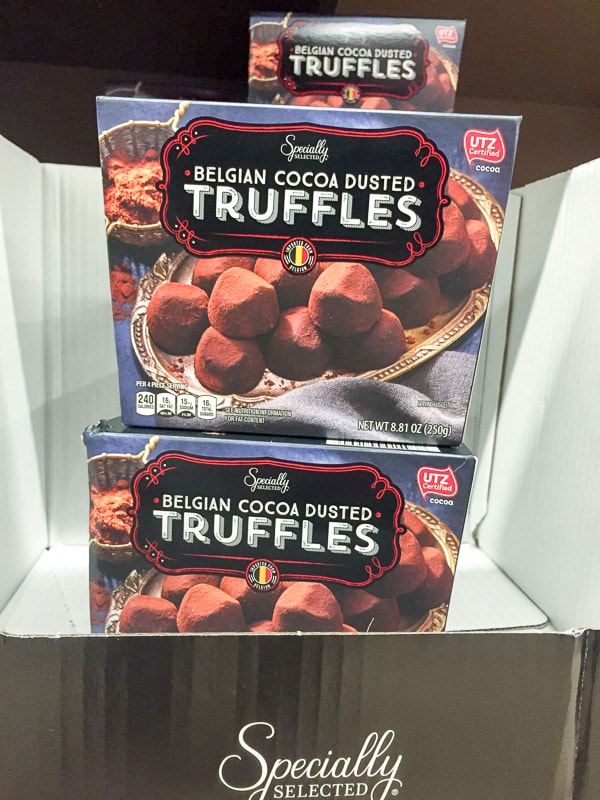 Ok, these are Belgian, not German but these cocoa dusted truffles are really good! I included them in my homemade Advent calendars last year, too. These chocolate truffles are great for dessert, parties or to give as gifts. They're always a hit!
#7 – Spekulatius Cookies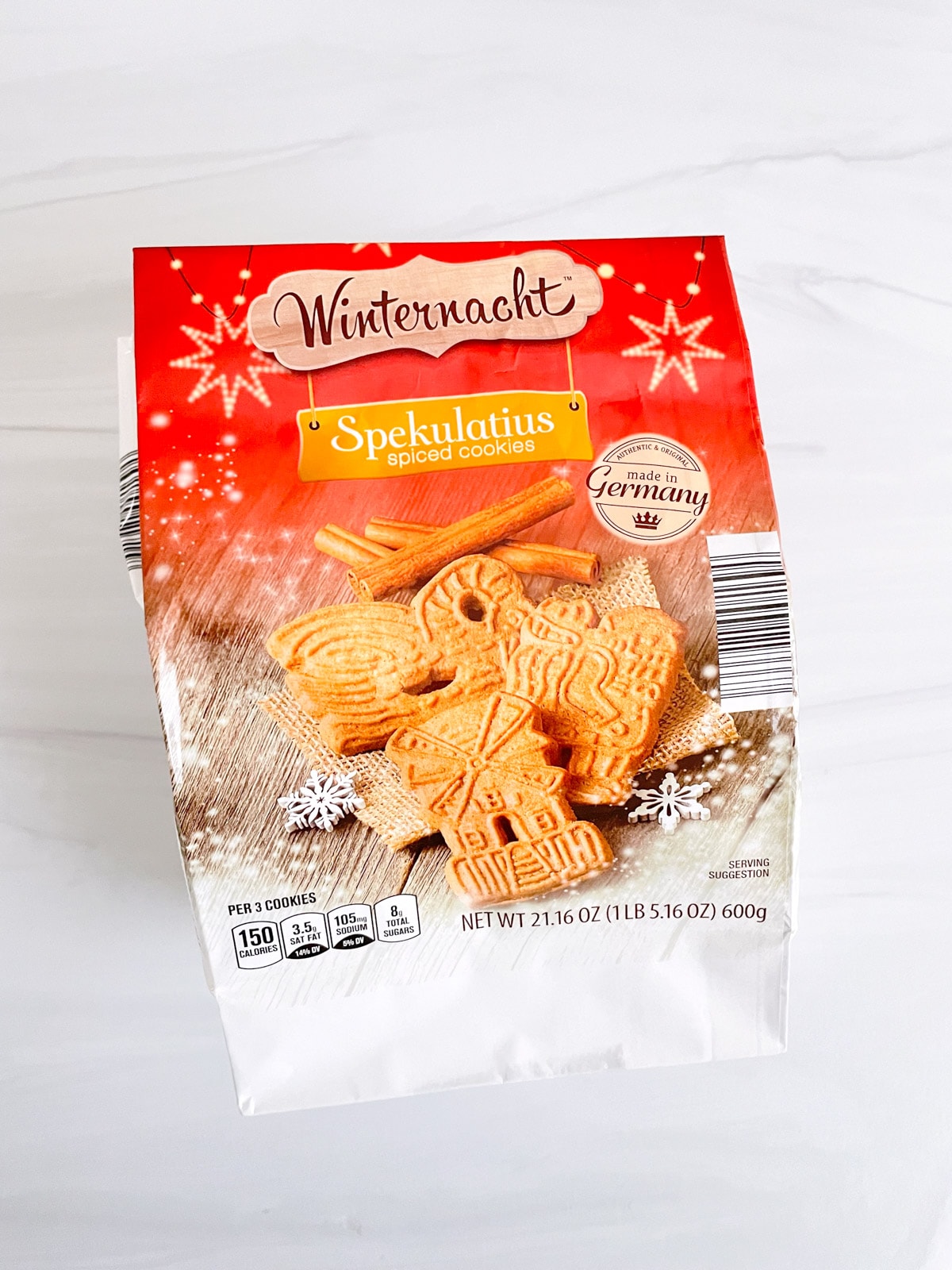 These crunchy cookies are addictive and so good with a cup of coffee or tea! Aldi usually has both almond and butter varieties. Both are good but I prefer the almond flavor. They make a nice addition to a holiday cookie tray, and if you turn them into crumbs they make a delicious base for cheesecake (here's my easy German cheesecake recipe).
#8 – Christmas Chocolate Mix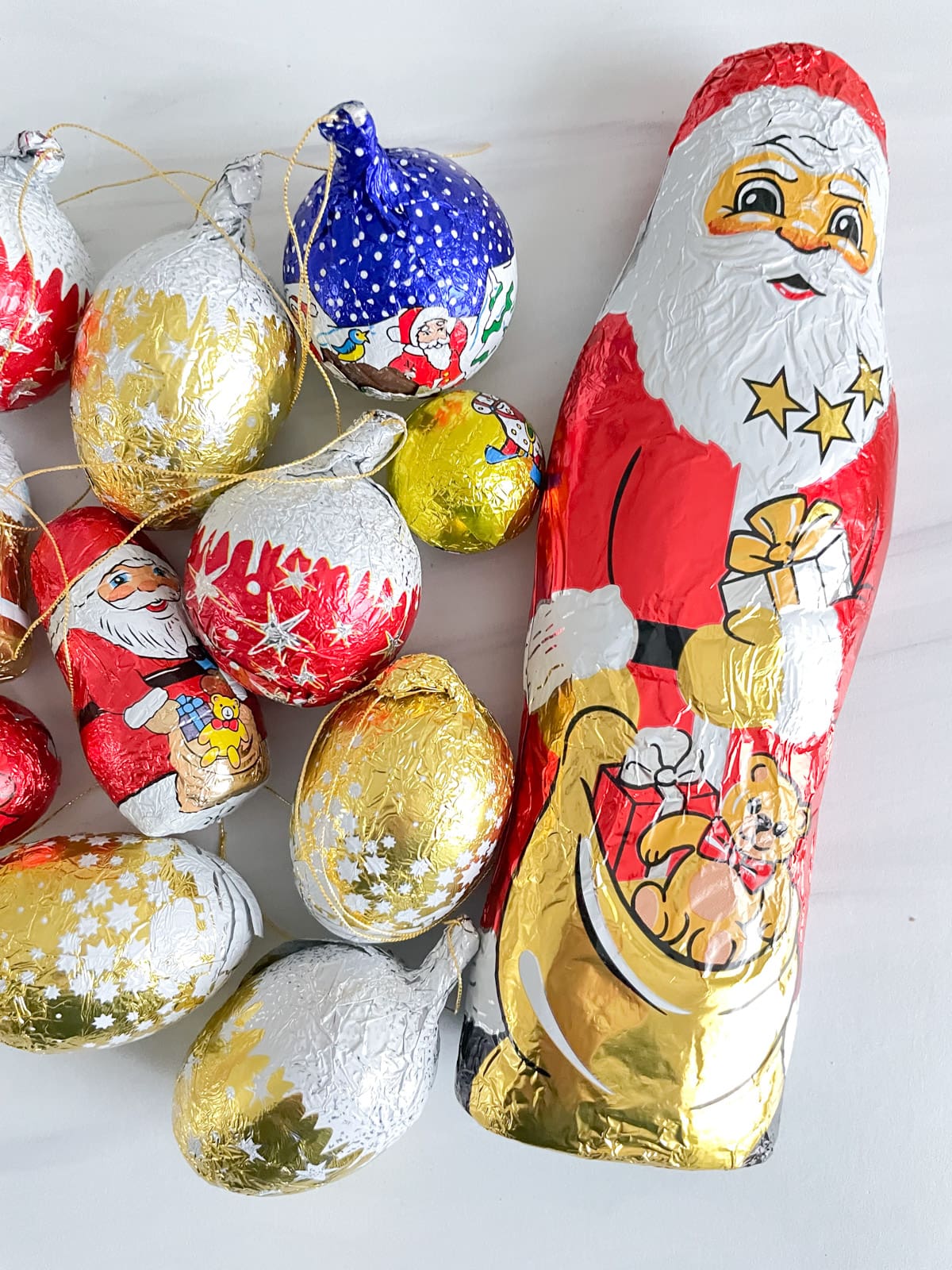 If you're looking for cute Christmas chocolates, pick up a bag of this chocolate mix! I like that the Santa (der Weihnachstmann) looks a little different from the Santa you often see in the US. And you can actually use some of the chocolates to decorate your tree! They'd make great stocking stuffers, too.
#9 – German Lebkuchen Cookies
Germans love gingerbread! Here's another variation: Lebkuchen cookies. I've started making the Nürnberger Elisenlebkuchen (the flourless kind — here's my recipe if you want to make them at home) but these store-bought ones can be good, too. I usually get the pack with both the glazed and chocolate-covered cookies.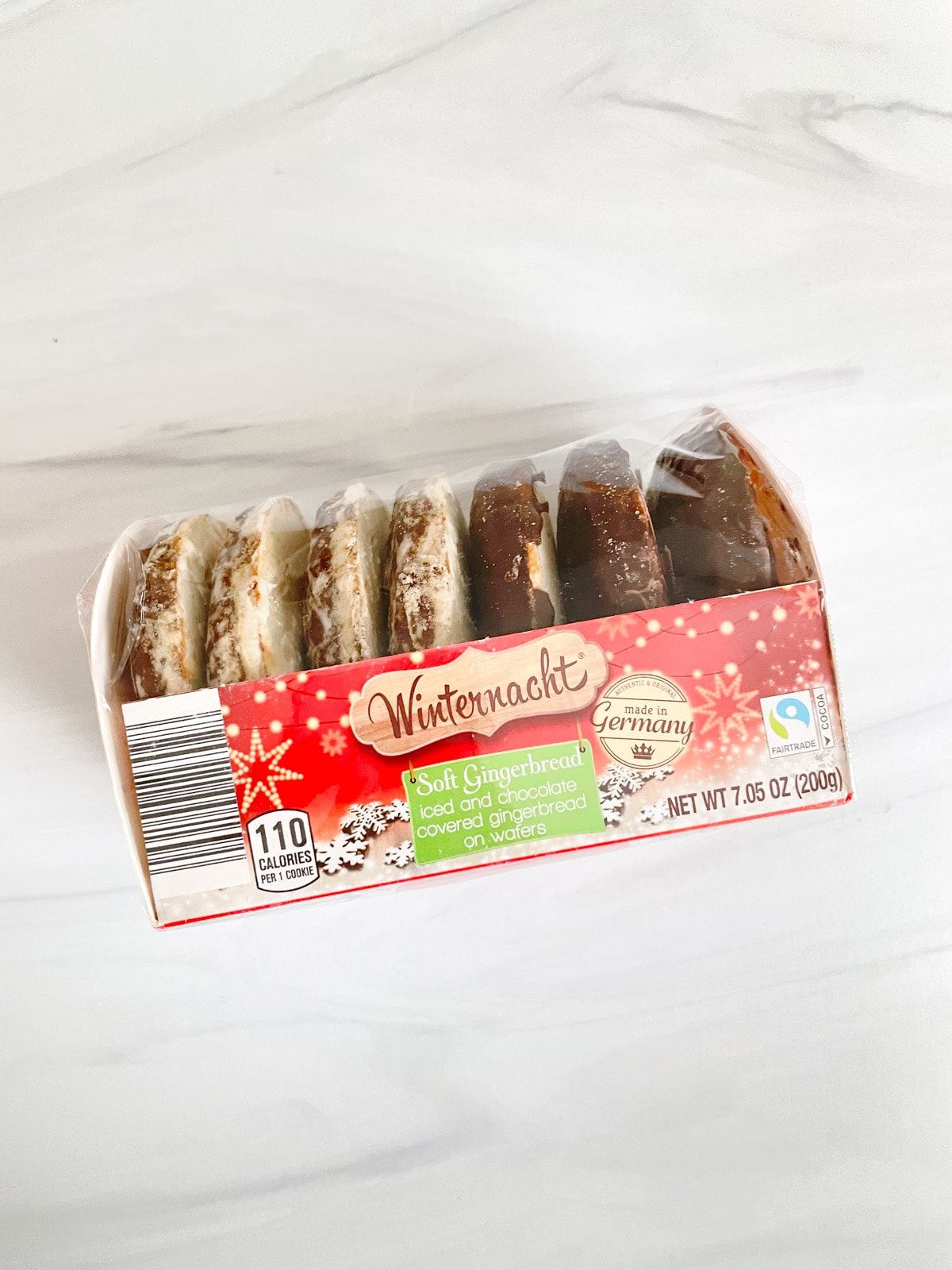 3 Things To Know About Shopping At Aldi
If you live near an Aldi and like German food, definitely go check out their selection — especially during German Week or around Christmas.
Before you head out, here are three things to know about the Aldi grocery store chain.
Aldi has its own brand of products, so you won't find any name brand items from other stores and they don't accept manufacturers' coupons. But you will find lots of delicious German treats (as well as good store brand American food). One Aldi brand to look for during German Week is Deutsche Küche, which looks like German Kitchen but actually means German Cuisine in English.
Yep, the shopping cart thing is true! Bring a quarter with you otherwise you won't be able to "rent" a shopping cart while you shop. If you see someone about to return their cart, it's ok to offer them a quarter in exchange for their cart (you'll get a quarter back when you return the cart). This is how it works in Germany, too.
Aldi is a German discounters grocery chain and takes a barebones approach in the store. You won't find a lot of people working at one time, food is stocked in original shipping boxes on store shelves, and you'll need to pay for shopping bags (or bring your own), and then bag your own groceries. But that means better deals on good food.
When I go through the Aldi check-out line I let the cashier put all of my groceries in my cart while I pay. Then I take my cart to my car and load my groceries into my shopping bags, which I leave in the car while I shop. Then I return my cart. This method is low-stress and I'm neither crowded by other people in the store, nor do I crowd anyone else.
One of the best things about Aldi is that it's a small store (typically only 10,000 square feet of selling space) so you can get in and out pretty quickly.
You can also get home delivery through Instacart. We got a weekly Adli haul delivered to use via Instacart for about a year, so if you don't want to do in-person shopping, I highly recommend the service. Some stores also have pick-up, so you can order online and then have your groceries brought right to your car!