Recipe for Pavlova Fruit Wreath and Eton Mess
This article may contain affiliate links. See our disclosure link for more information.
I've taken some time off this week and have been baking up a storm, making all sorts of new and delicious things – Icelandic Skyr, cultured European butter, quark, creme fraiche, dulce de leche, and 10+ different types of mini tarts for my new ebook (which you can download for free here).
With all of the holiday baking I've done, I'm craving lighter desserts. What about you? For this week, I've got two easy desserts that incorporate fruit and are a cinch to make: Pavlova Fruit Wreath and Eton Mess. All you need for both recipes is meringue, whipped cream, and fresh fruit!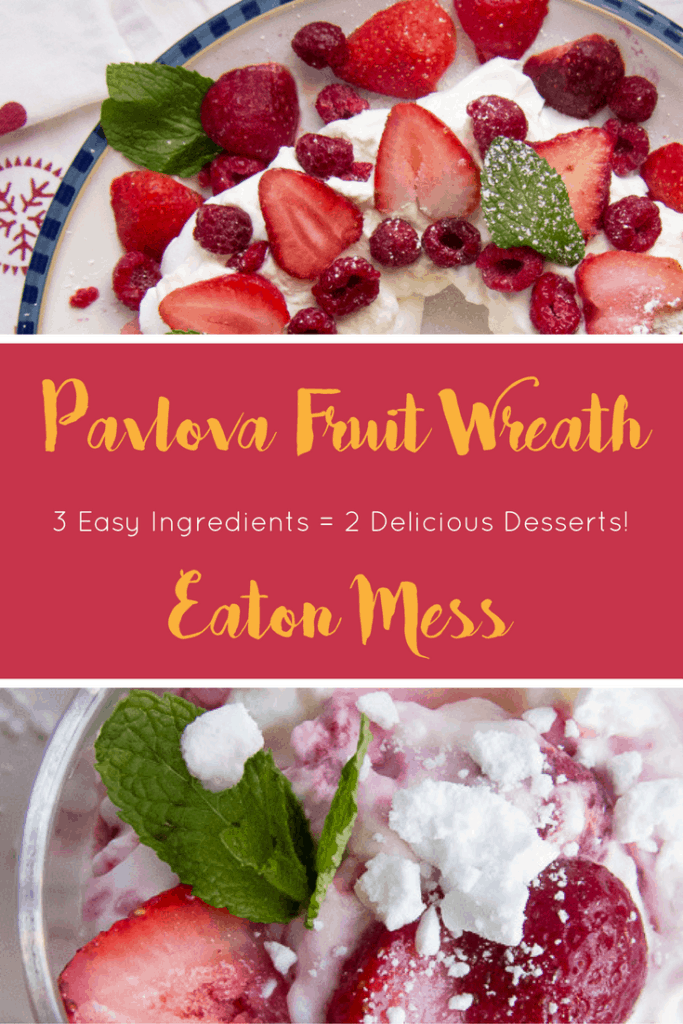 Pavlova Fruit Wreath
Pavlova is a popular December/Christmas/summer dessert in Australia. I love that it's so easy, looks beautiful, and the crunchy, creamy, fruity combination is out of this world.
It's just like making a regular pavlova, except that you spread the meringue into a wreath shape before you bake it. I made a small wreath out of the meringue I had left after making mushrooms for my Bûche de Noël. If you want to make a full-sized Pavlova Fruit Wreath, get the full recipe for pavlova here.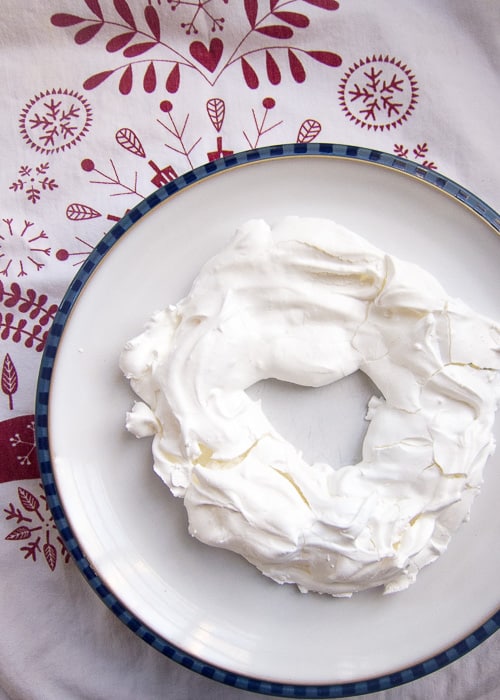 Top with freshly whipped cream…as much or as little as you'd like.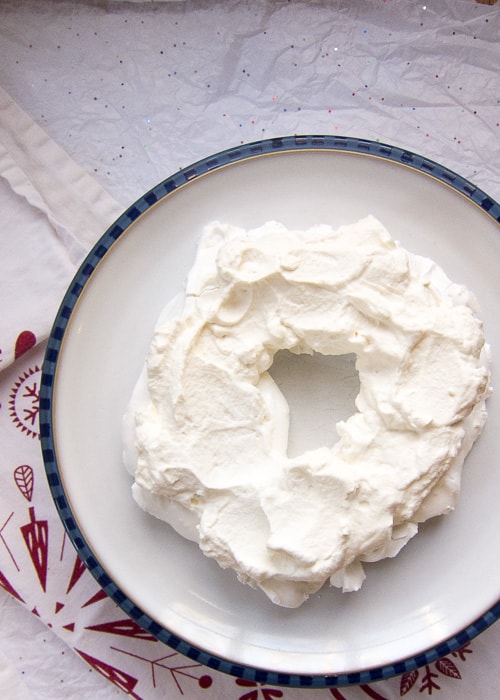 Then, add fresh fruit. Use any kind of fruit that you want! I used strawberries and raspberries and a few sprigs of mint. Since I rarely add sugar to whipped cream, I dusted the top of the pavlova with powdered sugar.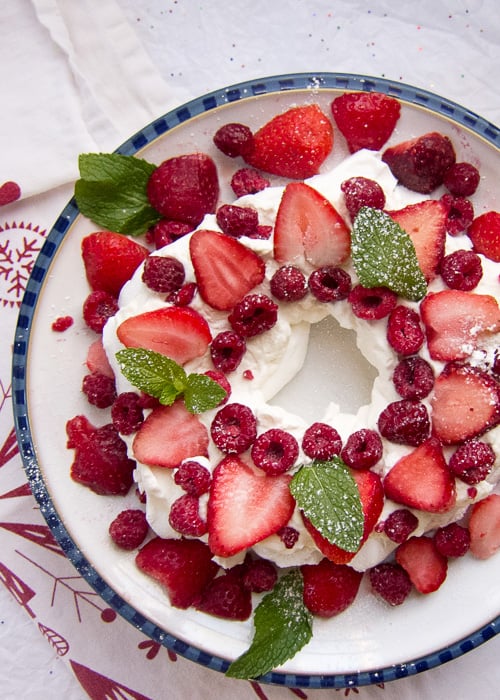 It's best to eat this Pavlova Fruit Wreath soon after assembling it. The meringue will break as you slice it, but that's ok. It'll still be delicious!
Eton Mess
If you've got meringue left over from making Bûche de Noël mushrooms, this is a great way to use it up!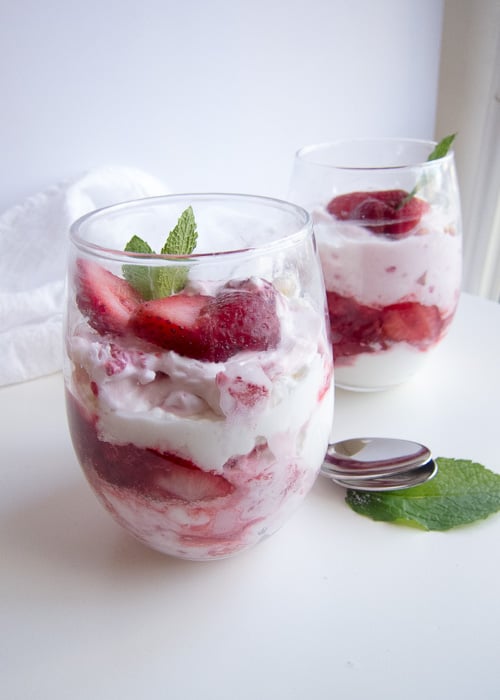 When I told my husband that I was making Eton Mess, he laughed and asked if I'd just made that up. Turn out, he thought I'd said Eatin' Mess (probably why you'll also find it written Eaton Mess). Ha!
Eton Mess is a traditional English dessert that is believed to have originated at Eaton College in the late 1800s, and as far as I can tell is still served at the annual Cricket Match against Harrow School.
Eton Mess recipes typically call for store-bought meringue. As I mentioned, I used up leftover meringue mushrooms. Since you're breaking the meringue into pieces, it doesn't really matter what kind you use.
Strawberries are the most traditional Eton Mess fruit, but really, you can use any kind of fruit that sounds good. I used strawberries and raspberries.
All you do is whip some cream, slice the fruit (if your fruit isn't as sweet as you'd like, sprinkle a little sugar on it and let it macerate), break the meringue, fold the fruit and meringue into the whipped cream until just combined (don't over mix). I saved a bit of the meringue and the sliced strawberries (and a sprig of mint) to garnish the top.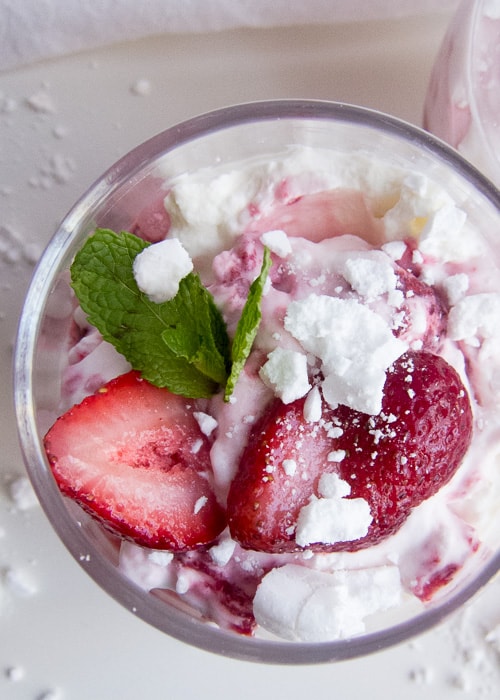 Another thing I like about Eton Mess is that you really can't go wrong with it. Really like fruit? Add as much as you'd like.
Want a very crunchy texture? Add more meringue and leave the pieces quite large.
Want a more layered and less messy look? Instead of folding the fruit and meringue into the whipped cream, layer them in a bowl or glass.
Eton Mess is best eaten right away. You can make up each component ahead of time and then assemble just before serving. Or put out bowls of broken meringue, whipped cream, and sliced fruit and let your guests assemble their own Eton Mess.
Have fun and experiment. It'll be delicious no matter what you do!