Christmas Traditions from Germany: German Christmas Sweets, Decorations, Markets and More
This article may contain affiliate links. See our disclosure link for more information.
If you want to Christmas like a German this year, you're in the right place!
Whether you're planning a trip to Germany at Christmastime, are interested in how Christmas is celebrated in Germany or want to incorporate German Christmas traditions, decorations, and recipes into your own celebrations at home, this is for you!
How to Christmas Like a German
This blog post has been SO popular over the past couple of years that I expanded it into my new How to Christmas Like a German eBook!

Filled with easy tutorials, fun facts, and cultural information, you get everything you need to rediscover family traditions, put a new spin on your celebration or add to your Christmas around the world homeschooling curriculum.
Just imagine..
Lighting your own German-style Advent wreath each week (which you can make in less than 10 minutes using items you already have)
Experiencing the magic of a German Christmas market without leaving your home (I show you how!)
Making easy and delicious German Christmas treats everyone will devour (they'll be so impressed!)
And so much more!
Through easy tutorials and recipes I show you how to do all of those things — and so much more! Click here to get your copy while it's 30% off!
Why is Christmas in Germany my favorite time in Germany?
There's so much to love – the Christmas markets, traditions, decorations, and of course, the desserts and sweets.
I used to live in Germany, was a German instructor, and have celebrated Christmas there many times. Since my German desserts and Christmas recipes are so popular, I thought I'd create this guide to celebrating Christmas like a German. If you have any questions, let me know!
Ok, so, how to Christmas like a German? First…
Step 1: Block Off 3 Days for Christmas
Let's start with a few basics…when do Germans celebrate Christmas?
December 24 is German Christmas Eve
December 25 is German Christmas Day
December 26 is the Third Day of Christmas (like Boxing Day in the UK)
Yes, there are 3 days of Christmas in Germany!
German Christmas Traditions
Ok, now let's talk about how to decorate and start celebrating the festive season. First up… German Christmas Decorations.
The Christmas season in Germany is absolutely beautiful! In December, the sun rises late and sets early, especially in northern Germany, but the many gorgeous lights and other decorations make everything cozy and bright.
If you're not in Germany for the holidays, you can bring Germany at Christmastime to you!
That's exactly what I do each year I'm not in Germany. Here are the best Christmas decorations from Germany to include in your decorating: an advent wreath, advent calendar, German Christmas pyramid, German Christmas smokers, and tree ornaments.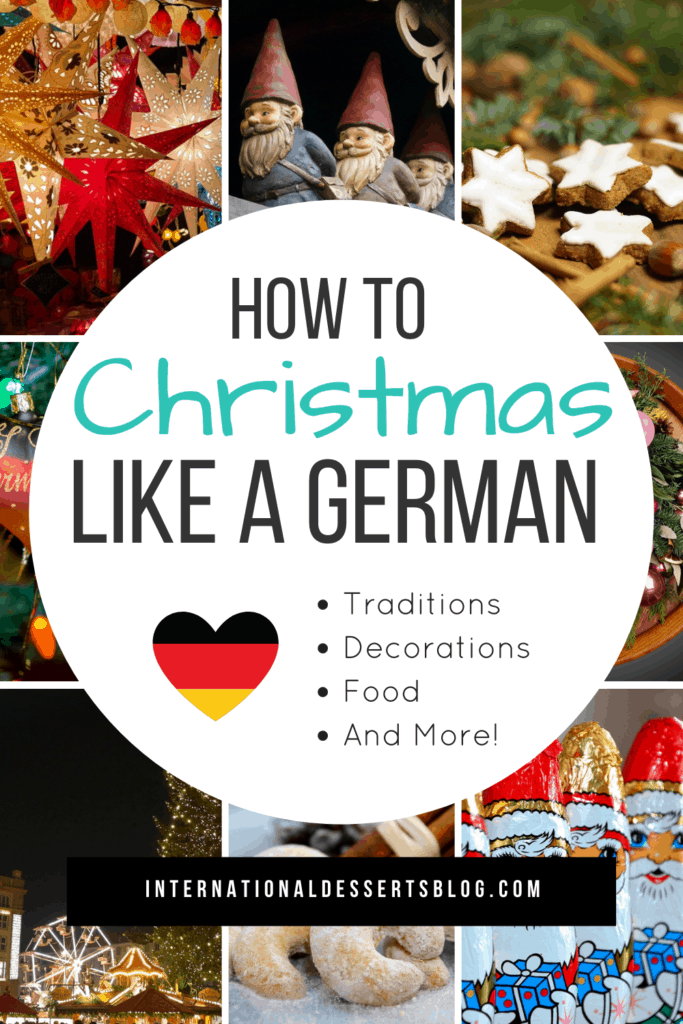 Step 2. Get Your German Advent Wreath
This is a popular one! Although its roots are religious, even Germans who aren't the least bit religious will buy an Advent wreath for their family kitchen table or living room coffee table.
Those flickering candles make the long, cold, dark December evenings super cozy.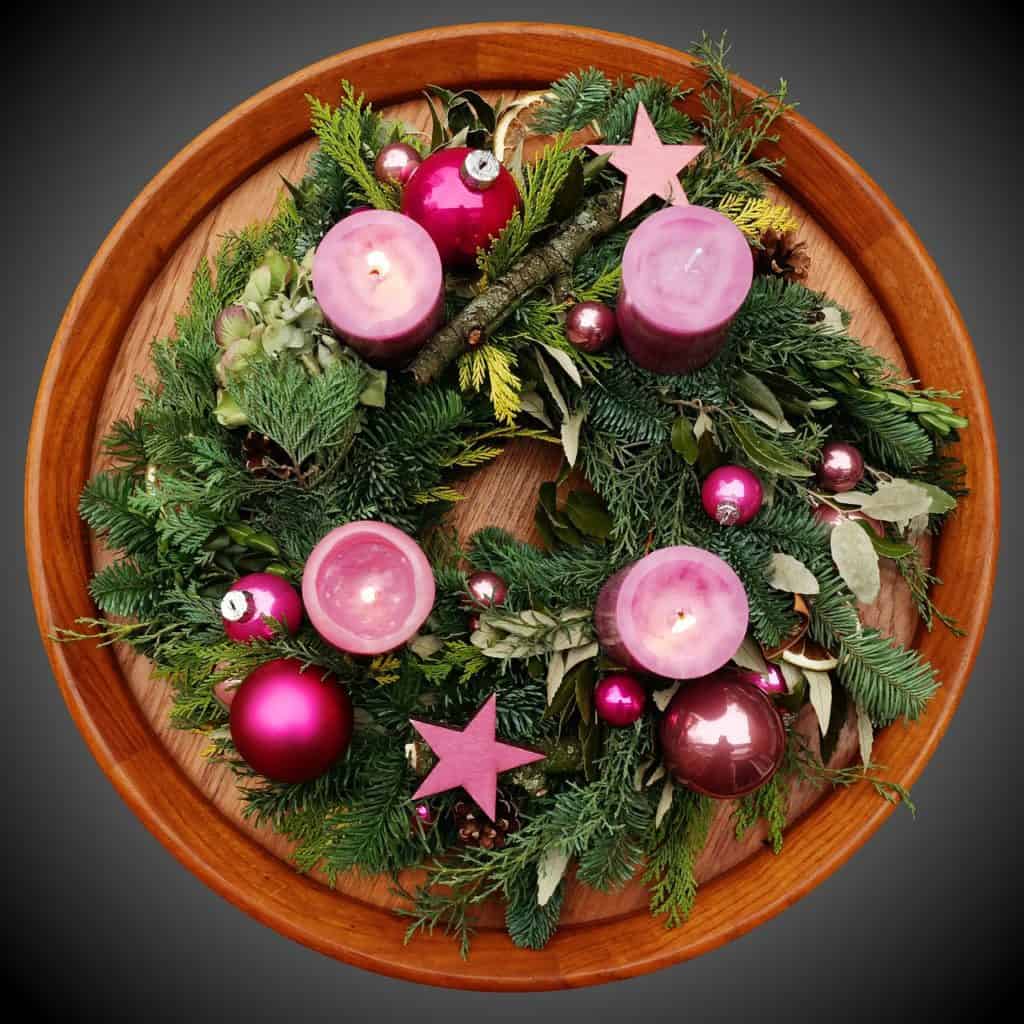 In Germany, you can find all kinds of Advent wreaths, from fresh to fake, traditional to modern, cheap to expensive, handmade to mass produced. They're typically round and have space for four candles, one for each of the four Advent Sundays.
For years I made my own simple Advent wreath. I simply placed four store-bought candles on a festive platter and added a few evergreen sprigs cut from my Christmas tree.
I'd always planned to buy a real German Advent wreath in Germany to bring home but I still haven't done it (there's never enough room in my suitcase)!
Fortunately, I found some great options on Amazon and Etsy. Here's the one I ordered — check out this silver Advent wreath ring candle holder.
I like that I can reuse the silver ring each year but create a new design each time by adding a fresh wreath, candles, pine cones and other festive items. It looks like there's a gold Advent wreath candle holder, too.
If you prefer an Advent wreath that's decorated and ready to go, you could get one like this — check out this advent wreath.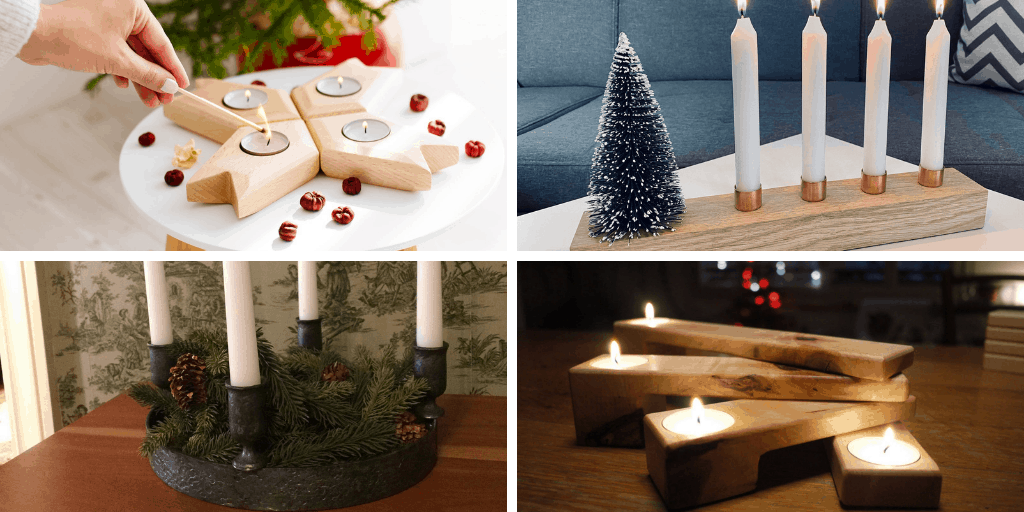 There are several beautiful Advent wreath candle holders on Etsy, too:
Step 3. Create Your German Advent Calendar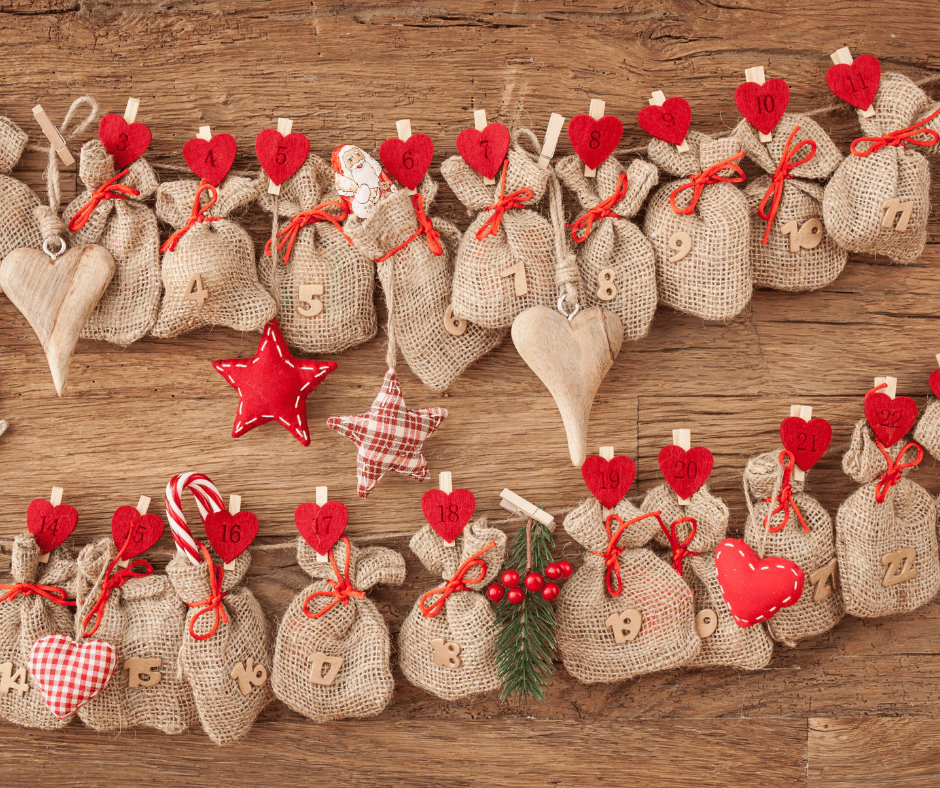 I was first introduced to advent calendars when I lived with a German family during my senior year of high school. The tradition in their family was to hang a huge handmade fabric advent calendar on the wall (like the one in the photo above).
There were three of us kids – me, my older host brother, and my young host brother. Each day one of us got to untie a small cloth bag and find a fun little gift, like chapstick, chocolate, nail polish or a few coins.
It was a really fun way to count down to Christmas, and I'm grateful my host brothers gave up some of their Advent calendar days to include me in the tradition!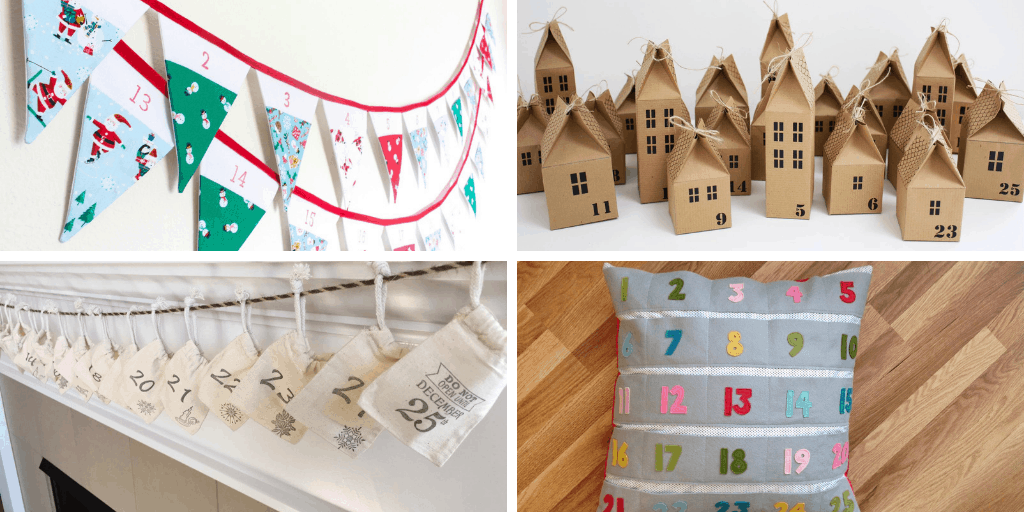 These days I typically buy ready made Advent calendars (filled with chocolate, sweets, Legos, etc), virtual advent calendars or countdown candles.
But some years I go all out and make personalized Advent calendars for my family members! When I do that, I buy treat bags and fill them with an assortment of goodies.
You can find really nice wooden, fabric, and paper advent calendars on Etsy – I created a shortlist of the best advent calendars here.
Step 4. Set Up Your German Christmas Pyramid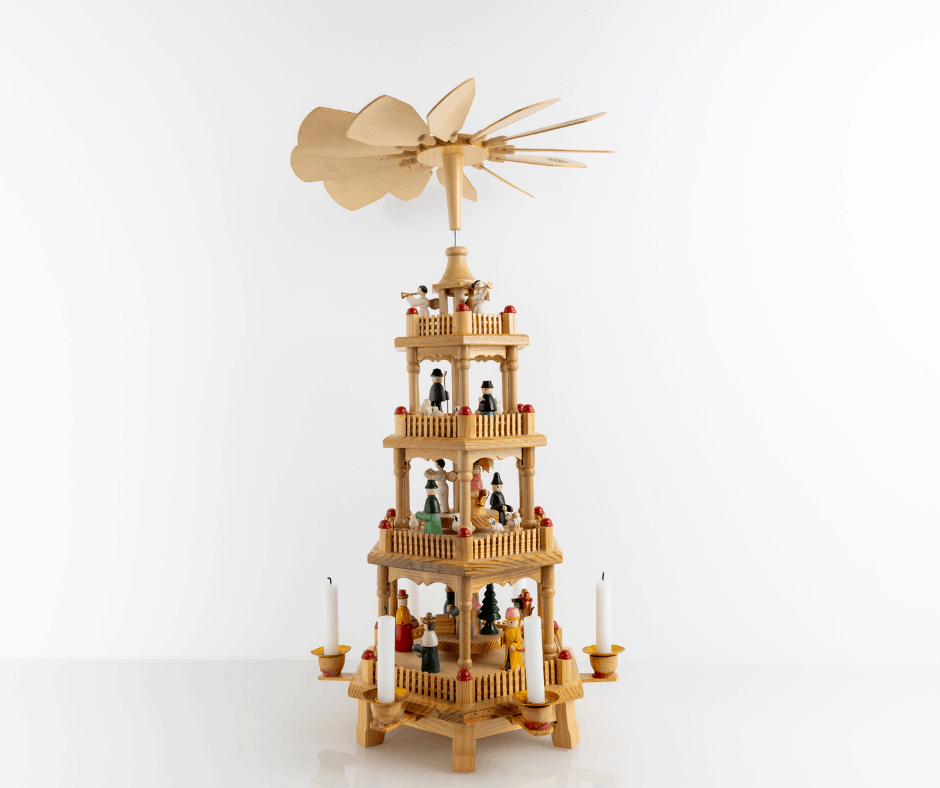 Does this look familiar? Maybe you have one already? These are already fairly popular in the US. If you haven't seen a Christmas Pyramid before, here's how it works.
First, you add small candles to the candle holders around the bottom of the pyramid. Then, when you light the candles, the smoke spins the fan at the top! You can find these wooden pyramids in a variety of sizes (I found several on Amazon).
Click here to check out this wooden German Christmas Pyramid!
Step 5. Choose Your German Christmas Smoker Ornaments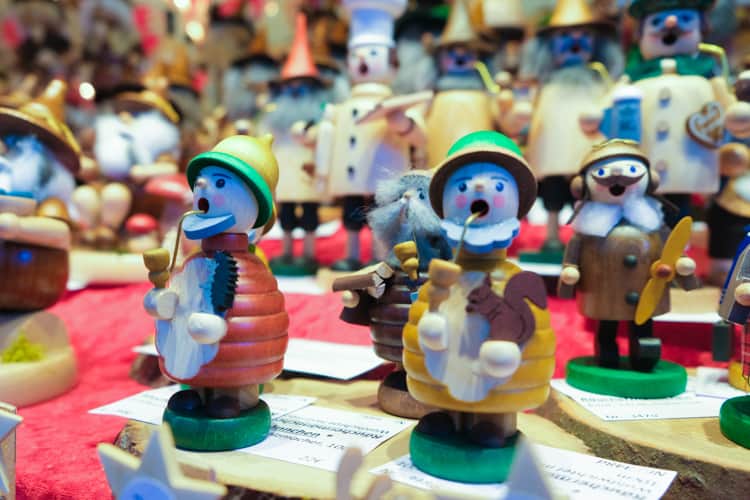 I don't think I'd seen wooden smoker ornaments until I spent Christmas in Germany. If you're not familiar with them, each smoker has a little hole in the back where you can place a small incense cone.
When you light it, smoke comes out of Santa's pipe, the Lederhosen wearing guy's mouth, etc. Not only are these ornaments adorable, they make your house smell so good!


Check out this wooden Weihnachtsmann (Santa) smoker!
Check out this wooden smoker ornament!
Step 6. Create Your German Christmas Tree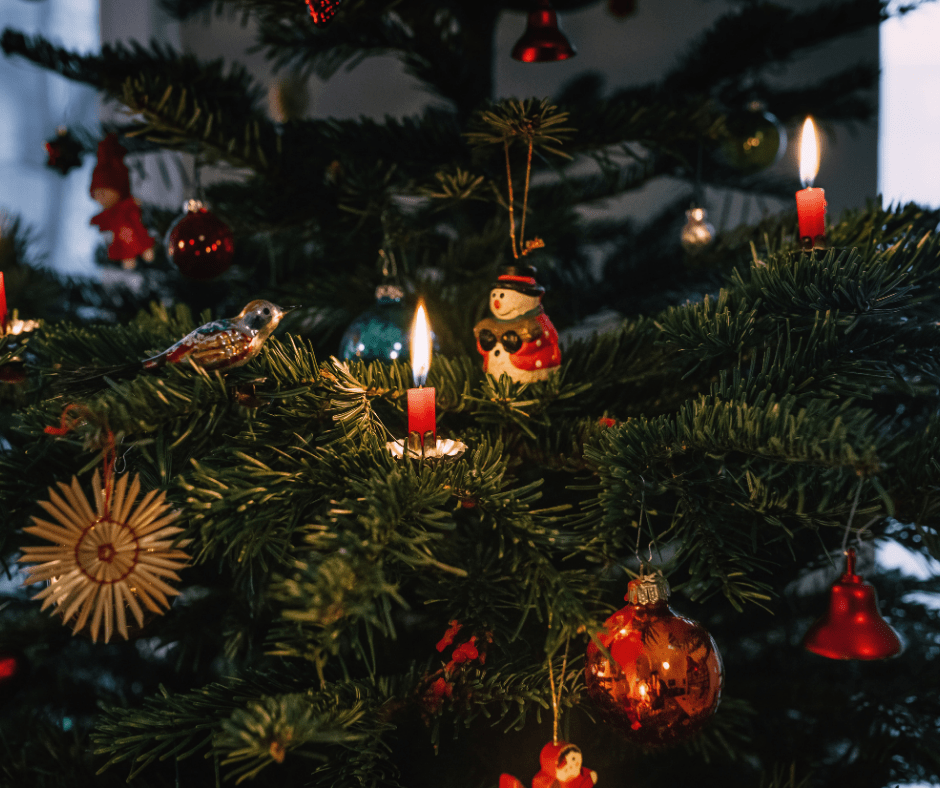 The German Christmas tree tradition is much like it is the US. Everyone I've celebrated Christmas with in Germany had a fresh, live tree decorated with family favorite ornaments and twinkling lights. Some people do now prefer fake trees, though.
When I lived with a German host family in high school, we went to a Christmas tree farm a day or two before Christmas Eve to pick out a tree. The farm owner cut the top half of the very tall tree!
Traditionally, Christmas trees aren't set up or decorated until Christmas Eve. My host mom told me that when she was a kid, it was the adults who decorated the tree as a Christmas Eve gift to the children! They'd get the tree set up, arrange the presents underneath, and then invite the excited kids in to see it.
These days, though, Christmas trees are available in early December and people set up and decorate their trees well before Christmas Eve.
I celebrated my second German Christmas when I spent a year at a German university. About 10 of us US Americans decided to celebrate the holidays together in Freiburg. We had a blast doing all of the traditional Christmas stuff as a group of friends living in a German dorm.
A few days before Christmas, we took the tram into the city center, chose a tree, carried it onto the tram with us (nobody batted an eye), and then somehow set it up in the 3rd floor common room. We strung up pop corn, made paper chains, added lights, and had a great time decorating our little tree.
You've probably heard that Germans decorate their tree with real candles. Traditionally, yes! And even today, some people still do use real candles.
Last time I was in Germany I bought a set of clip-on candle holders and candles for my tree…but then I realized that where I live, I can't get the kind of tree you need if you want to use candles! You need a tree with strong, sturdy limbs and lots of space between them. My candle holders will have to stay in my Christmas box a little longer. *sigh*
Tip: if you do use real candles on your tree, do as the Germans do — watch the candles carefully and be sure to have a bucket of water or a fire extinguisher next to your tree!
Step 7. Decorate with German Christmas Tree Ornaments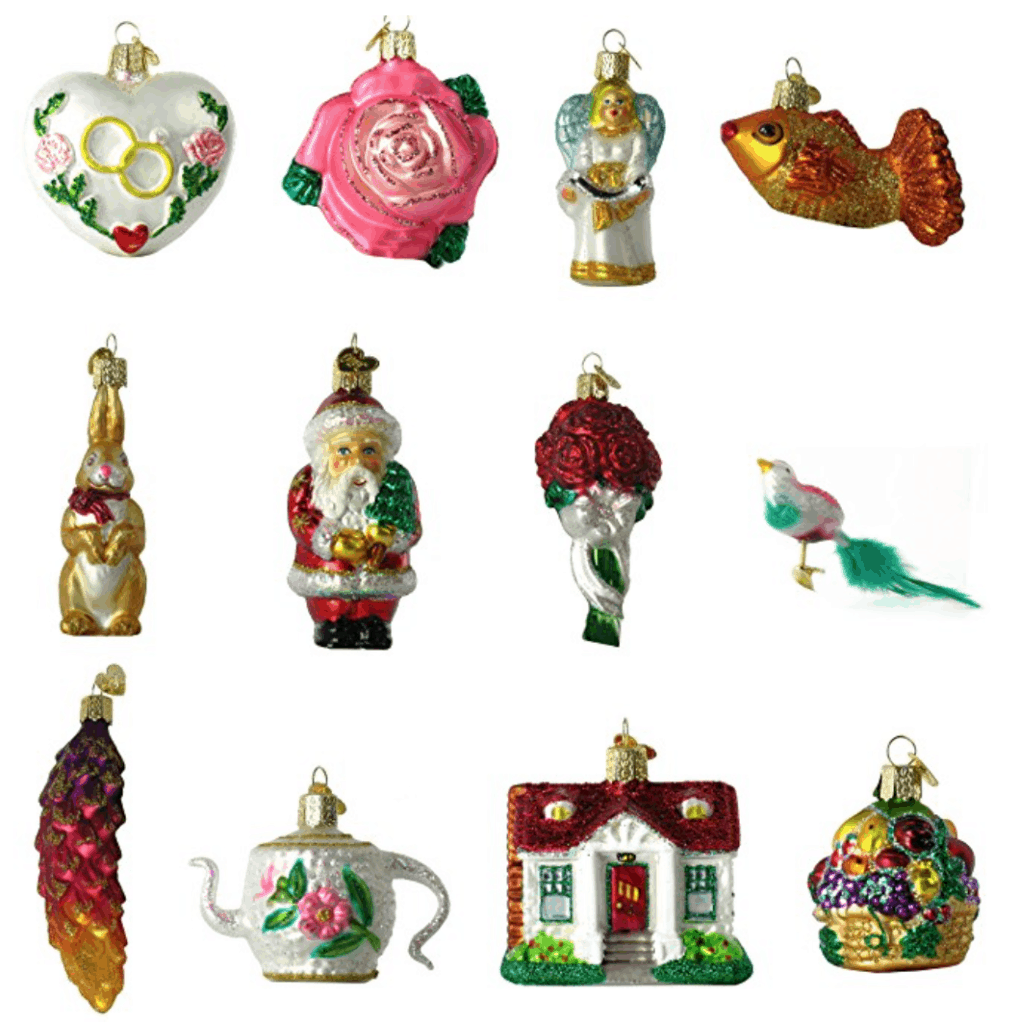 When I got married 20 years ago, my husband and I received a Bride's Set of German Christmas ornaments from my aunt and cousin very similar to the one above. They're the only decorations we use every single year.
There are 12 ornaments in the set – one for each month of the first year of marriage. Each month represents a wish for the couple. If you know someone who's getting married or is recently married, this set makes a great gift!
Click here to check out this set of Bride's Christmas Ornaments!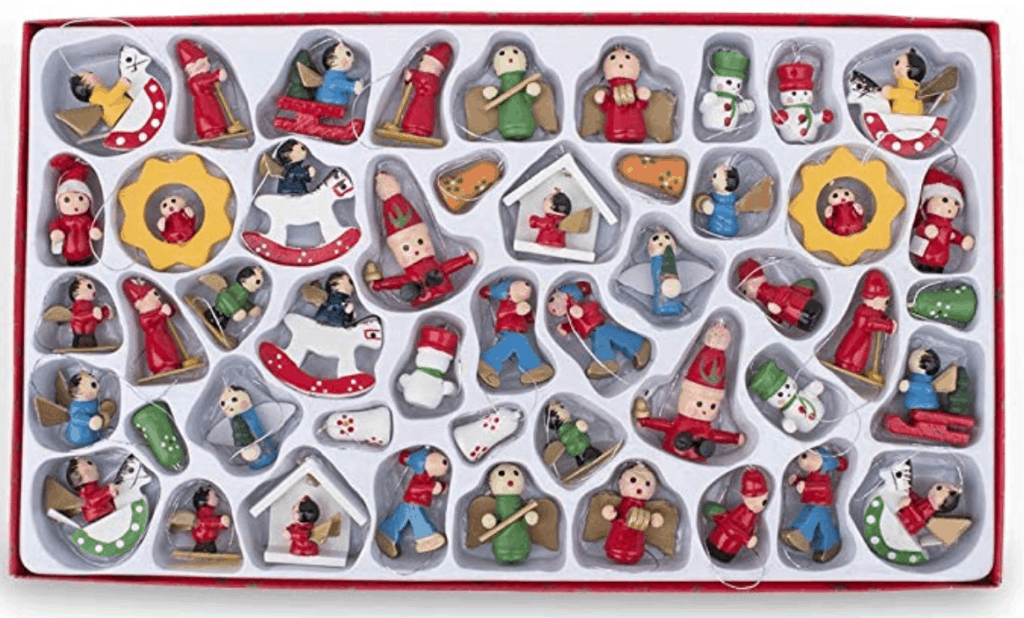 I also have a set of wooden Christmas ornaments just like the ones above, and at least a few of them go on my tree every year. I got my set in Germany (at a Christmas Market, of course) but you can pick on up on Amazon. How cool is that?
Click here to check out this set of wooden Christmas ornaments!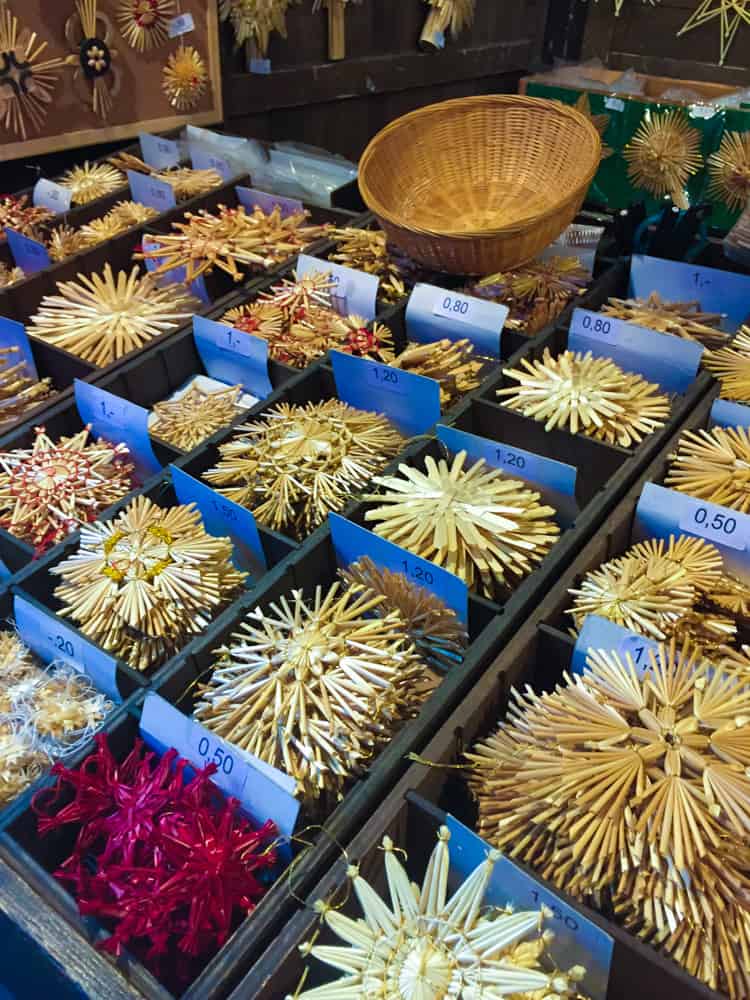 I also have a set of lightweight straw ornaments that look like acorns, angels, and decorative stars. I got mine at a Christmas market in Germany but you can get a set here or this set here. (The sets are technically Scandinavian but they look very similar to the German set I have.)
Step 8: Make and Enjoy German Christmas Desserts
Ok, now to the German Christmas desserts! German Christmas sweets are the best German sweets. If you happen to be in Germany for Christmas, you can easily try all 10 of these German sweets. If not, you can make some of them, and the others you can probably find at a store near you.
1. Gebrannte Mandeln (Cinnamon Sugar Almonds)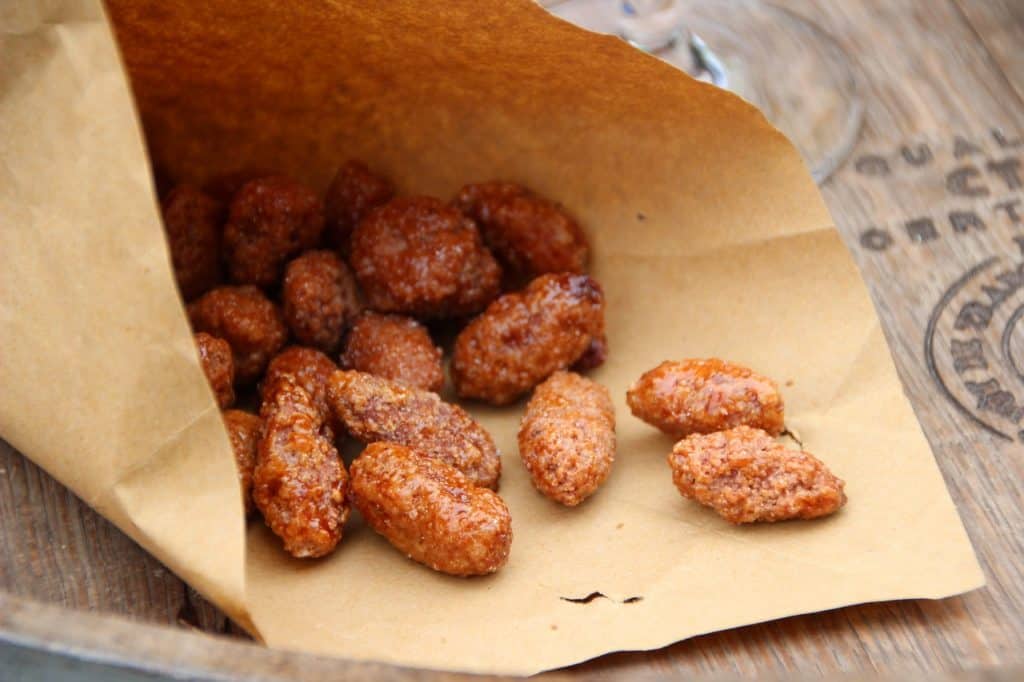 A German Christmas Market staple! Literally translated they're called burned almonds but really, the almonds are coated in crunchy cinnamon sugar and served warm in paper cones. They smell so good. You'll find a Gebrannte Mandeln stand at any German Christmas Market, and I've been seeing them more frequently in the US. They're actually quite easy to make at home, too. You'll get the recipe in my How to Christmas Like a German activity book!
2. Stollen (German Christmas Bread)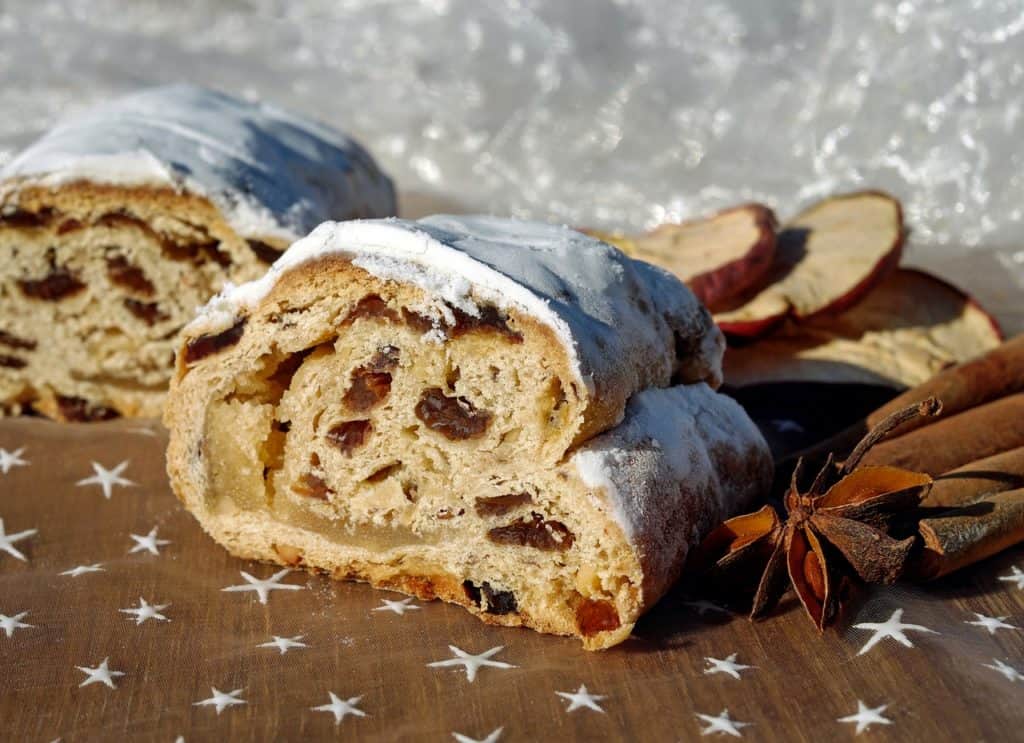 A lot of people mistakenly think German Stollen with fruit cake. Nope!! It's not fruitcake (even though it's sometimes called German Christmas cake). Stollen – German Christmas bread – is a delicious buttery bread with nuts, raisins, and sometimes marzipan inside. To make it even more delicious, Stollen is topped with melted butter and powdered sugar.
You can buy Stollen at World Market, Trader Joe's, Aldi and some bakeries…or you can make your own at home! It's surprisingly easy and so, so, so good. I make this every year now and look forward to it all of autumn. You'll get the recipe in my How to Christmas Like a German activity book!
3. German Rum Balls (Rumkugeln)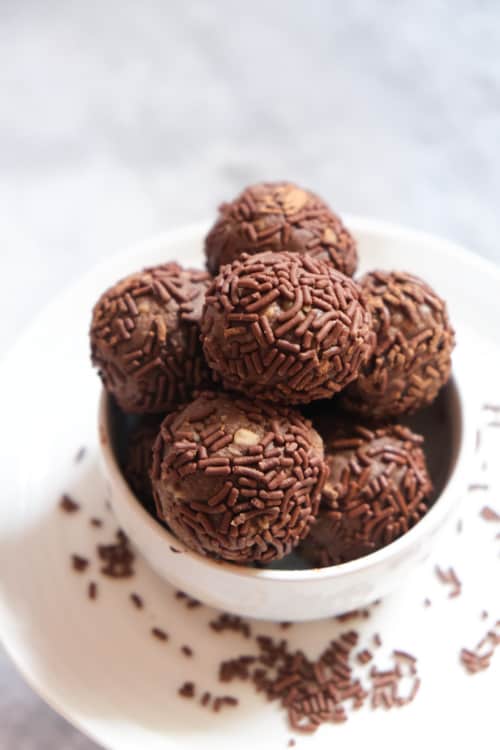 These little no-bake chocolate treats are super easy to make and so tasty. Perfect for a party or cookie exchange. You can make a batch in no time! You'll get the recipe in my How to Christmas Like a German activity book!
4. Dominosteine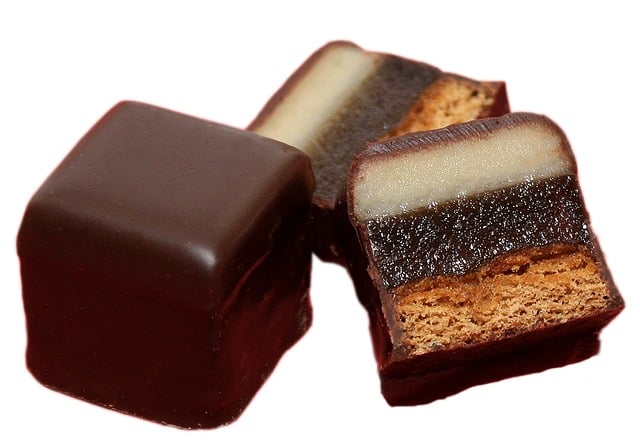 Even after all the years I've eaten Dominosteine at Christmas, I'm still not completely sure I like them. Ha! Whenever I'm in Germany I always eat a few, just because they taste like Christmas. Dominosteine are layers of Lebkuchen (German gingerbread), jam, and marzipan, covered in chocolate. I think it's the marzipan I'm not a fan of. If you like marzipan, you'll probably love them!
Click here to add a package to your Amazon order!
5. Lebkuchen (German Gingerbread)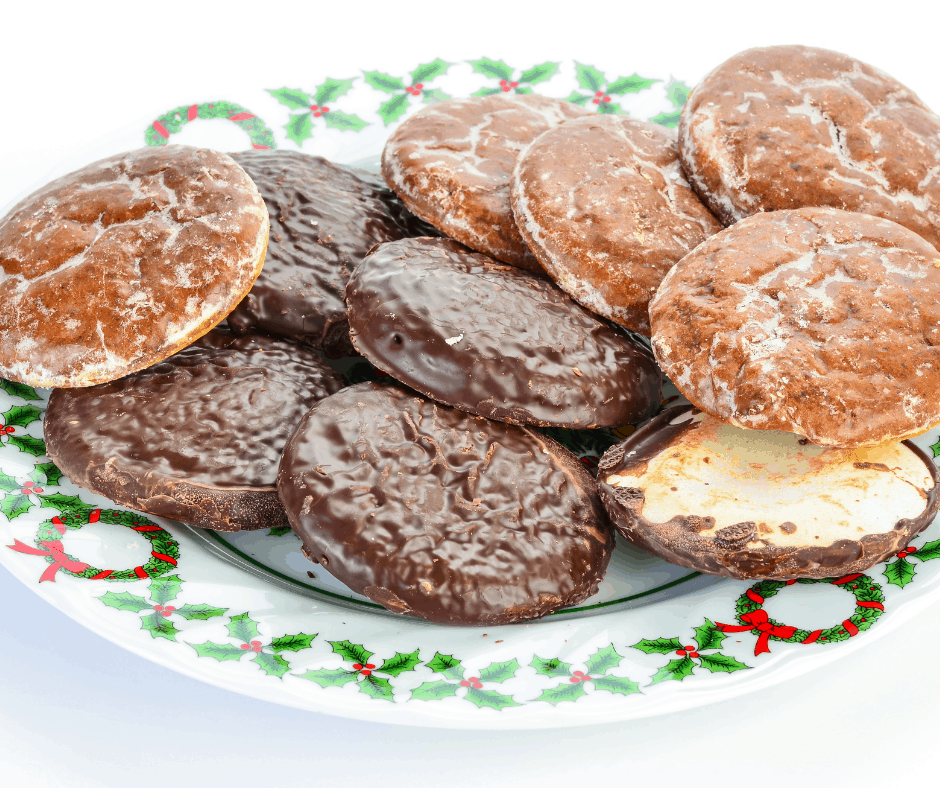 It's just not Christmas in Germany without Lebkuchen! It's everywhere (like in the Dominosteine above). Lebkuchen is like the gingerbread you find in the US but with a stronger and less sweet flavor. Lebkuchen is often covered in chocolate or topped with a sugary glaze. You'll get the recipe in my How to Christmas Like a German activity book!
6. Baumkuchen Cake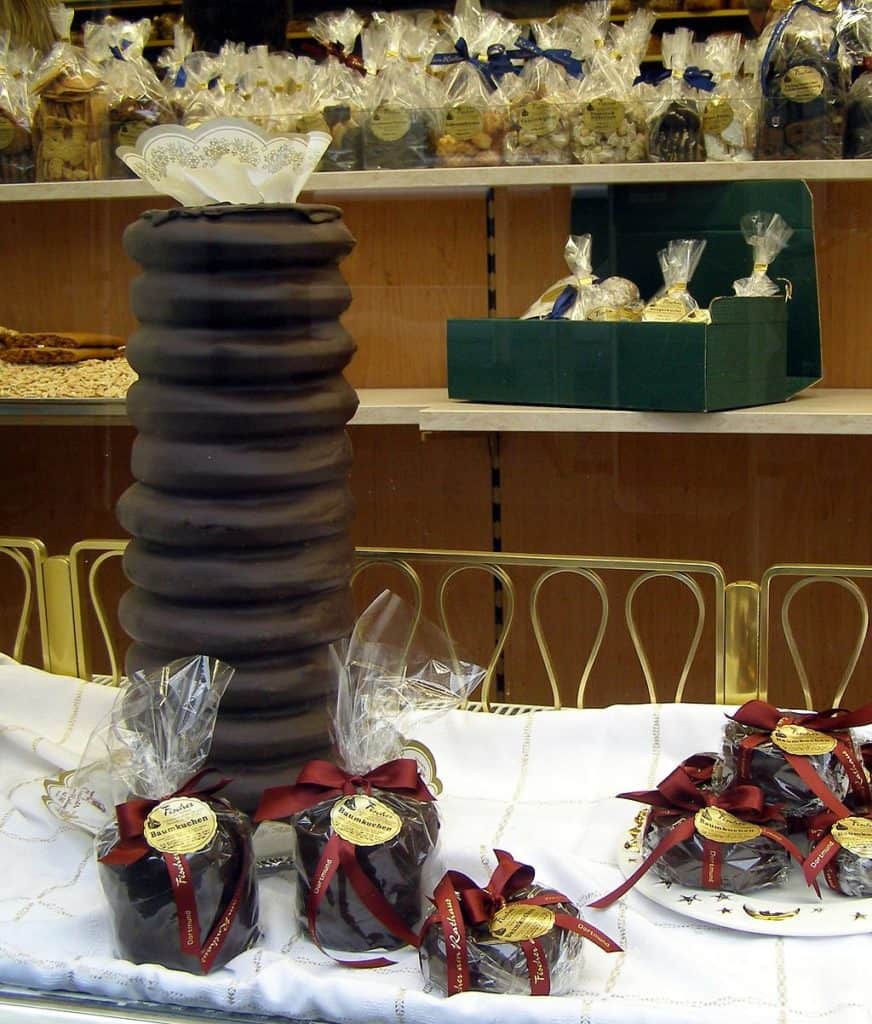 Baumkuchen ("tree cake") is a German Christmas dessert I've always heard about and have seen a few times but have never tried. I'm not sure why…it's just never been part of the holiday celebrations I've joined. It's a really interesting cake, though, because it's comprised of many thin layers and then covered with chocolate. Watch the video below to see how Baumkuchen is made!
7. Pfeffernüsse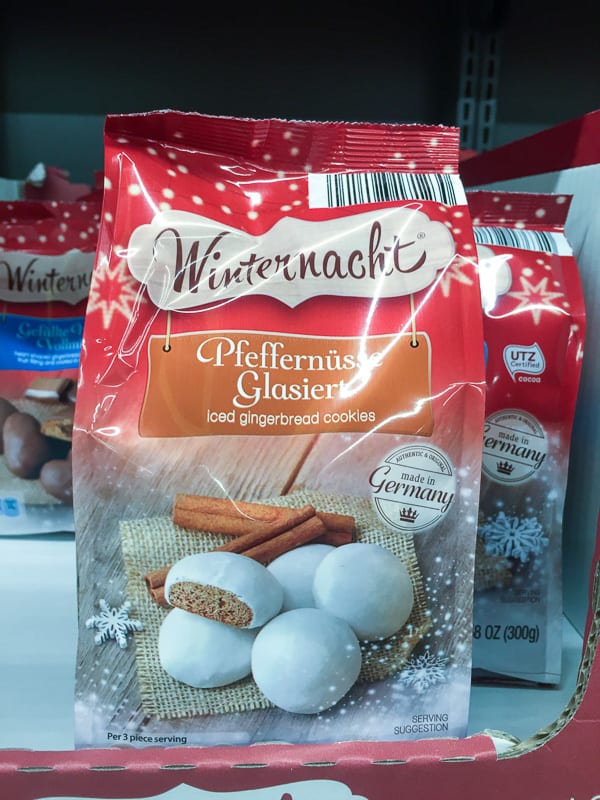 Pfeffernüsse cookies are little round Lebkuchen cookies covered in peppermint glaze. These cookies are super popular in Germany at the holidays. If you have an Aldi or World Market near you, pick up a bag of Pfeffernüsse and give them a try!
Click here to see what other German Christmas treats you can get at Aldi!
8. Vanillekipferl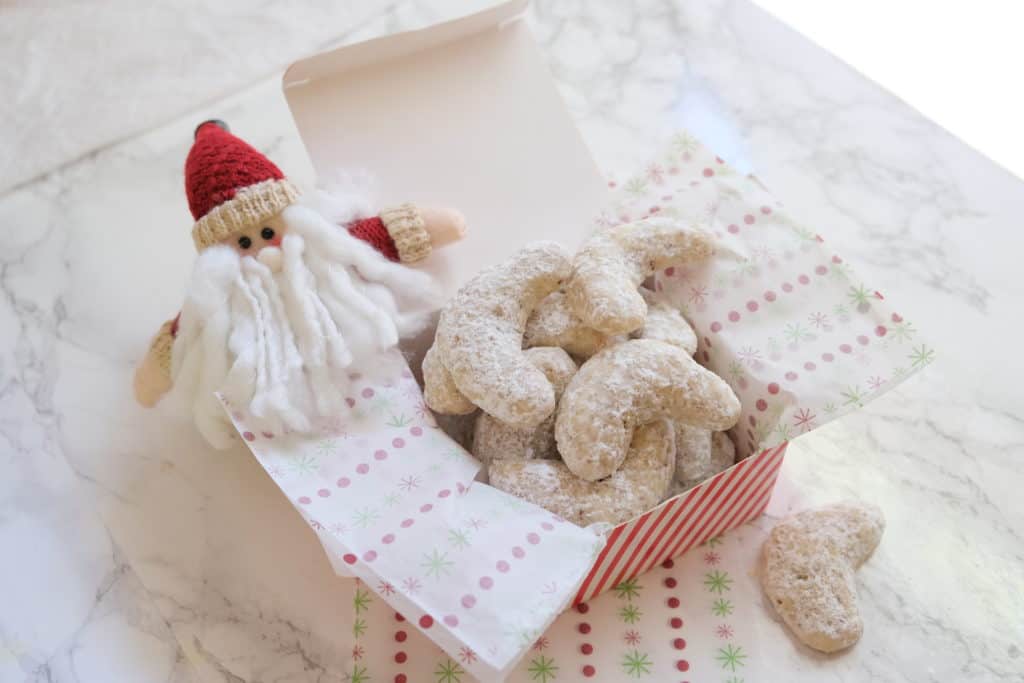 These cookies are more like what many US Americans think of when we think Christmas cookies. These tender little cookies are made with ground almonds and are covered in powdered sugar. They're easy to make and are SO good! You'll get the recipe in my How to Christmas Like a German activity book!
9. Spekulatius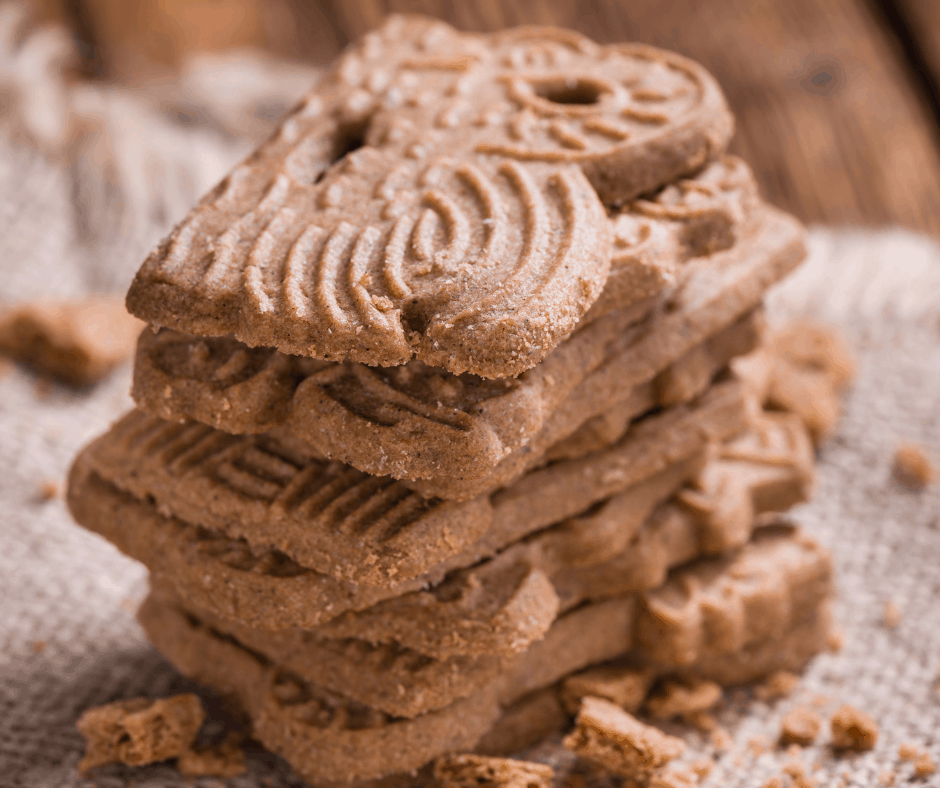 I love Spekulatius cookies! These crunchy little cookies have a Spekulatius spice blend in them that make them taste like Christmas. You can make your own spice blend (click here for my super easy recipe) that you can use when making your own Spekulatius cookies or you can pick up a bag of Spekulatius at Aldi or World Market. You can often find two variations on Spekulatius cookies – almond and butter. My favorite is the almond version! If you want to make something similar at home, try my Dutch speculaas spice cookie recipe.
10. Marzipan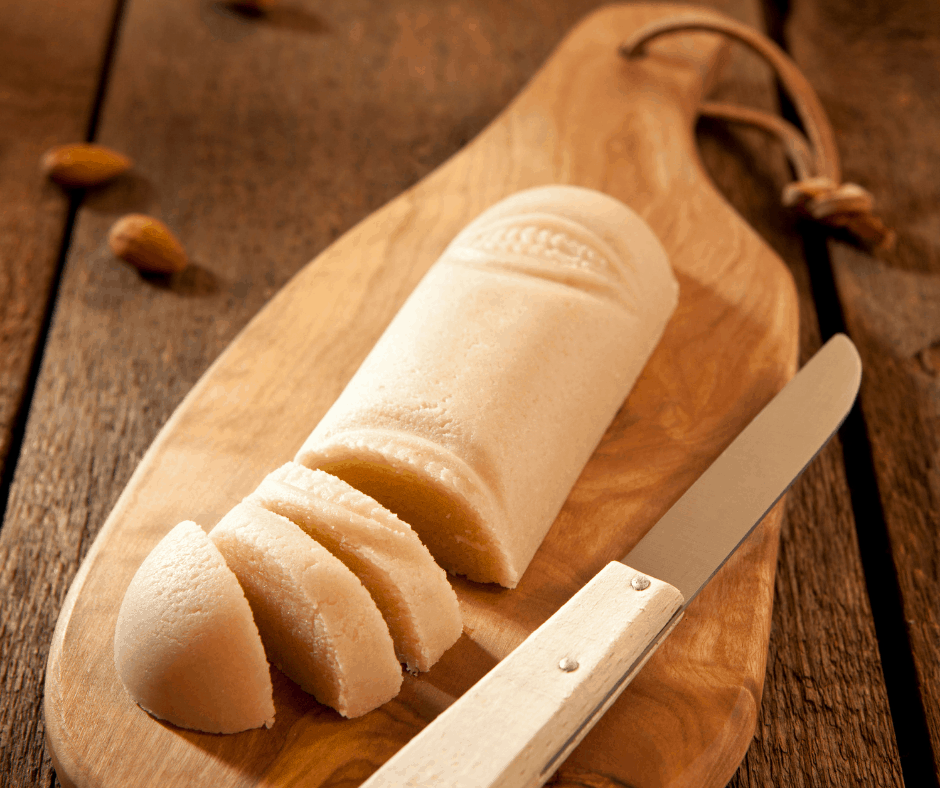 Marzipan is a Christmas staple in Germany! Have you tried it? It's basically just ground almonds turned into a paste. Sometimes it's molded into shapes, other times it's covered in chocolate or included in things like Dominosteine or Stollen. You'll get the recipe for making easy homemade marzipan in my How to Christmas Like a German activity book!
Watch the video above to see how to make simple German Marzipan Balls. You can also make or buy marzipan that's been moulded into Christmas figures!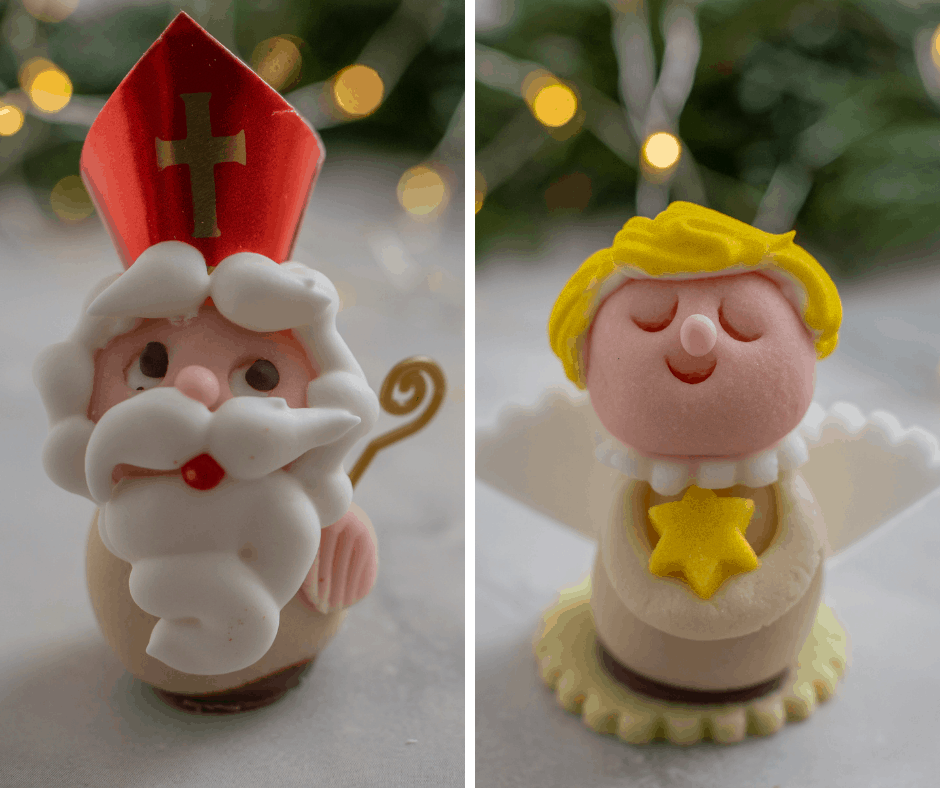 Step 9: Visit German Christmas Markets
Ok, so this step is a bit difficult if you can't actually go to Germany. But you can visit them virtually here, here, and below until you can! And I show you how to create your own German Christmas Market at home in my How to Christmas Like a German activity book!
When do the German Christmas Markets start?
Visiting Christmas markets is one of my favorite traditions! It really starts to feel like Christmas when you see the markets being set up. They typically open at the very end of November or early December, depending on which day the first Advent falls. Most markets end on Christmas Eve but some here and there (usually in big cities) are open into the new year.
What are the BEST Christmas markets in Germany?
Here's my honest answer: the one you're at!
Seriously! Because they're all good in their own way. Some Christmas markets are big, some are small, some are in the city, some are more rural, but they pretty much all have similar food, drink, and craft stalls (though most people selling food, drinks, and crafts are local) and festive atmosphere.
Everyone wants to visit the popular Nuremberg Christkindlmarkt, and if you have the opportunity I recommend you do go. But don't feel like that's the market to visit. That market can get super crowded and is often full of tourists (when I went it was so crowded I could hardly even see the stalls).
After visiting 100+ German Christmas markets over the years, I realized that they each have their charms. Smaller markets may be less crowded, which means you might be able to strike up a conversation with a vendor more easily. You may also encounter more locals than tourists. Rural markets may have more hand-made or local goods. That said, if you're looking for something in particular in a Christmas market, here are some ideas:
Nuremberg Christkindlmarkt- Oldest, most famous, and often most crowded
Rothenburg ob der Tauber – Step back in time-iest
Dresden Striezelmarkt – Famous for Stollen
Stuttgart – One of the largest in Germany (one of my favorites!)
Esslingen – A fun medieval Christmas market near Stuttgart
Tübingen – Best Christmas chocolate festival!
St. Pauli in Hamburg – A Christmas market in the Red Light District
Englischer Garten in Munich – This market is in the beautiful English garden
Essen Christmas Market – An international Christmas market
Click here for the 17 best Christmas markets in Germany!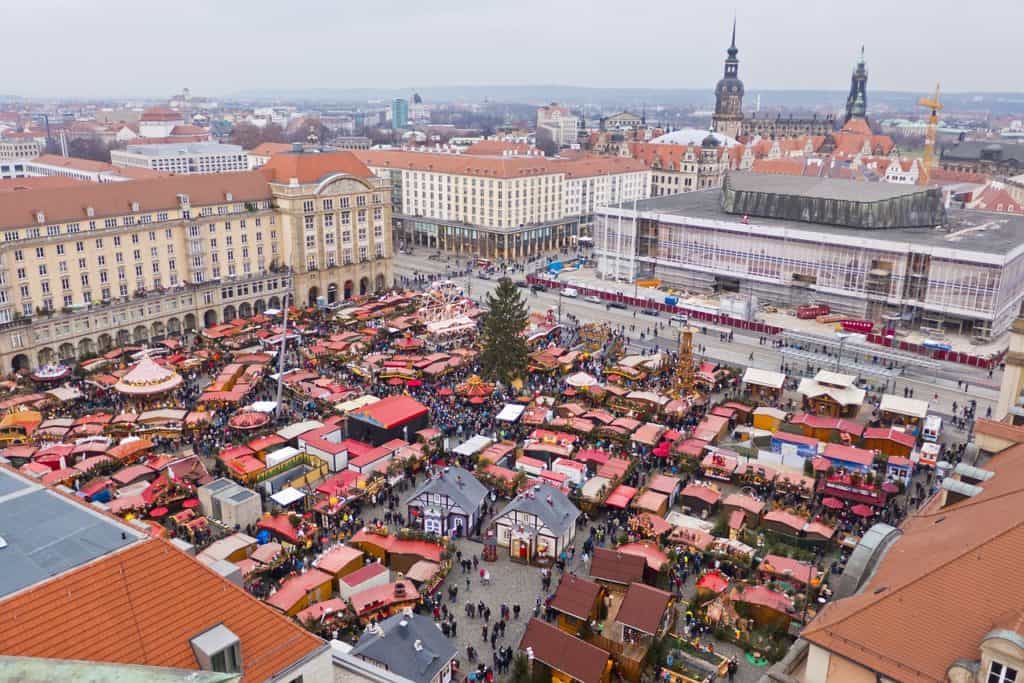 Christmas Market Tips:
Dress warmly because the market is entirely outside and it will more than likely be cold, especially if you go at night.
Bring cash or check ahead of time to see if you can pay with a credit card. Smaller markets may be cash-only.
Go at least once during the day and after dark. Evening is my favorite time because all of the lights are turned on and everyone is just hanging out and enjoying themselves.
If you don't like crowds, go on a weekday. Avoid the weekends, especially the closer it gets to December 24th.
Not all Christmas markets have the same open and close dates/times. Smaller markets might only be open on the weekend, a couple weeks in December or for a few hours each day.
You'll pay a deposit (called a Pfand) on mugs, glasses, bowls, and plates. You'll get your money back (a couple Euros) when you return the items. If you want to keep a Christmas mug, just don't return it. I always bring home a Christmas market mug!
Check ahead of time to see if there are any special events scheduled (live music, etc).
Christmas mugs, wooden or straw ornaments, and those hard decorated Lebkuchen hearts make great souvenirs and gifts!
What Should I Eat and Drink at a German Christmas Market?
Arrive hungry because there are so many delicious things to eat and drink! Here are my favorites:
Bratwurst (sausage typically served with mustard and a Brötchen)
Bratkartoffel (fried potatoes)
Sautéed garlic mushrooms
Kartoffelpuffer / Reibekuchen with garlic sauce (potato pancakes)
Lebkuchen cookies (German gingerbread)
Gebrannte Mandeln (cinnamon sugar almonds)
Nutella crepes
Glühwein (hot mulled wine)
So much more!
Here's a great video I found that shows you all the sweet and savory Christmas Market must-tries:
Step 10. Learn Christmas Greetings in German
One last thing…I used to be a German instructor and I still get asked about German Christmas greetings. So I thought I'd include a few important phrases here:
What's the German word for Christmas? Weihnachten
What's "Christmas tree" in German? Weihnachtsbaum or Tannenbaum
How do you say Christmas carol? Weihnachtslied
And Santa Claus? Weihnachtsmann
How do you say Merry Christmas in German? Frohe Weihnachten
What about Happy New Year? Frohes neues Jahr or Guten Rutsch ins neue Jahr!
Ready to Celebrate Christmas Like a German This Year?
My new How to Christmas Like a German activity book makes it super easy to incorporate your favorite German traditions, recipes, crafts, and decorations into your celebration! Get it here!