Where to Buy Ingredients for International Dessert Recipes
This article may contain affiliate links. See our disclosure link for more information.
When I ask International Baking Club members about their biggest baking challenges, the topic of ingredients is always first to come up.
Can I make recipes using ingredients I already have in my pantry?
Do I need to buy a bunch of fancy or unfamiliar ingredients?
Where can I find the ingredients I do need?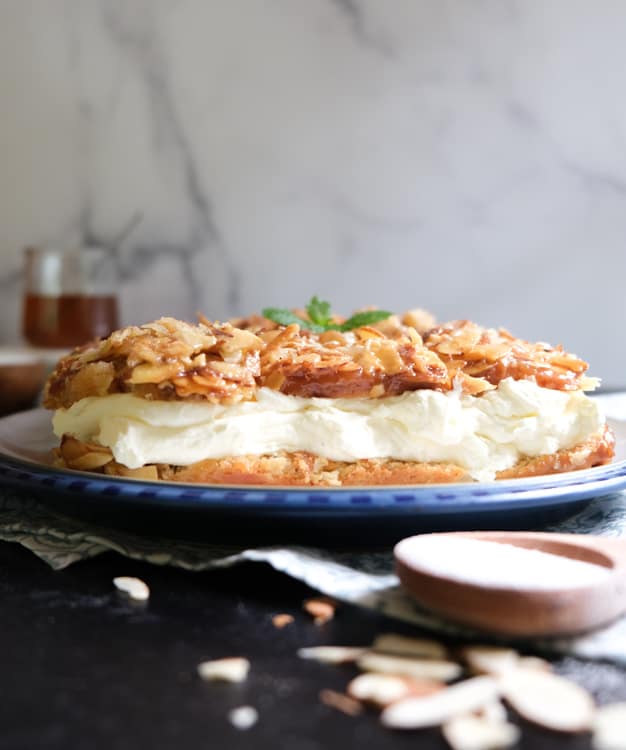 The good news is that there are LOTS of delicious treats you can make using very simple and basic ingredients.
Many of the recipes here on the IDB use common pantry ingredients. At this point in my baking journey, I favor recipes that don't require days of hunting down obscure ingredients.
And if a recipe does call for something you might not have in your pantry – I've got you covered! I typically show you where you can buy it, how you can make it from scratch, and suggest suitable substitutions.
I buy most of the items needed for baking and dessert making (flour, sugar, nuts, fruit, etc) at my local grocery stores (Trader Joe's, Aldi, Wegmans, Harris Teeter, Whole Foods, Lidl, and my local co-op).
Wondering what kitchen tools you need for international baking and dessert making? Click here to see my most-used and most-loved kitchen tools!
Here's Where I Get Other Items for Baking & Dessert Making:
1. Non-ultra pasteurized heavy cream for making clotted cream.
I buy non-ultra pasteurized cream at Whole Foods or from a local dairy at my local food co-op (Weaver Street Market).
2. Golden syrup

I always keep a bottle of Lyle's in my cupboard in case I run out and don't have time to make a batch from scratch. I order Lyle's Golden Syrup from Amazon.
3. Espresso & Coffee Beans
I buy decaf and low-caf espresso and coffee beans from Savorista for my afternoon lattes and for when I serve desserts with espresso or coffee in the evenings. Their espresso and coffee are excellent and they use a special Swiss water process to take the caffeine out of their beans. I have a subscription so I get espresso beans delivered every 8 weeks. Click here to check out their bean selection! Use code CATE to get 25% off your first order!
4. Vanilla Beans
I get fair trade vanilla beans from IndriVanilla. They have an online store and a co-op via a Facebook group. I've made several vanilla bean purchases from their co-op, and while it does take longer than ordering through their store, you can get some great deals. Once in a while they offer spices in their co-op, too.
5. Quark
I either make it from scratch or buy Wünder Quark. If I can't do either, I use Greek yogurt.
6. De Ruijter Dutch Chocolate Sprinkles
These sprinkles actually taste like chocolate! You can order them online here.
7. German Oblaten for making Christmas Lebkuchen cookies.
I buy these Oblaten on Amazon.
Looking for German food items? Click here to see my German food guide!
Non-food Items:
1. Reusable paper towels.
I'm working to reduce my paper towel usage and so I've bought a couple sets of UNpaper Towels from Marely's Monsters. I use them all the time now!
2. Jars.
I usually buy Ball and Weck jars from Amazon.
3. Paleta molds.
I use and love these.
4. Potato ricer for making German Spaghettieis (Spaghetti ice cream) and potato gnocchi.
I bought this one and have been happy with it.
5. Bottles for making homemade extracts.
I love these Bormioli Rocco bottles for making homemade vanilla extract, coffee extract, etc. You can get them in different sizes and have a swing bottle stopper.
6. Universal Yums
My family sent my husband and me a Universal Yums box as an anniversary gift in August and we loved it! We then sent family members boxes for Christmas. Click here to read my Universal Yums review.
I'll keep adding to this list in order to help you figure out where you can find items in your area. Let me know if you're looking for something in particular!
Click here to see my most-used and most-loved kitchen tools for international baking!