Best Advent Calendar Ideas For Kids, Teens & Adults
This article may contain affiliate links. See our disclosure link for more information.
Looking for awesome ideas for this year's advent calendar? Look no further!
I've got the best advent calendar ideas right here.
Whether you want to buy a countdown calendar this holiday season, make your own or are looking for the perfect advent calendar filler, I've got you covered!
Advent Calendars In Germany
One of my favorite memories of living in Germany was opening my advent calendar each morning and finding my daily surprise – small treats, little gifts, chocolate, and sometimes a coin or two.
I love incorporating German Christmas traditions into my celebration and yearly advent calendars are one of my favorites.
That's why for the past several years I've been sending advent calendars to family members and friends.
Not only are they a German Christmas tradition, they make counting down to opening presents under the Christmas tree fun and build delicious excitement for Christmas Eve and Christmas Day celebrations – for kids, teens, and adults alike.
If your family lives far away like mine does, sending a Christmas countdown calendar is an annual tradition that's also a great way to bring joy to a cherished family member. It's kinda like sending a big Christmas card that they get to open all month long.
What a wonderful way to share Christmas activities across the miles!
Some years I make each person their own homemade advent calendar with small gifts like a candy cane, small Christmas decorations or a packet of gourmet hot chocolate.
Other years I buy each person their own advent calendar. (My husband LOVED the Lego calendar I got for him a few years ago!)
And some years I send a family calendar with larger gifts family members can share or experience together like a gingerbread house kit, Christmas cards to decorate, gift tags to use, and special treats like homemade cookies or something cute like reindeer food.
Some years I go ALL OUT and make each DIY advent calendar from scratch (like the one my German host mom made for me when I was a teen), while other years I stick to simpler pre-made calendars filled with little chocolates or sweets. I usually make the final advent calendar day their main Christmas gift.
If it's a super busy year, I send a virtual advent calendar — or I'll pop a countdown candle in a candle holder and call it good!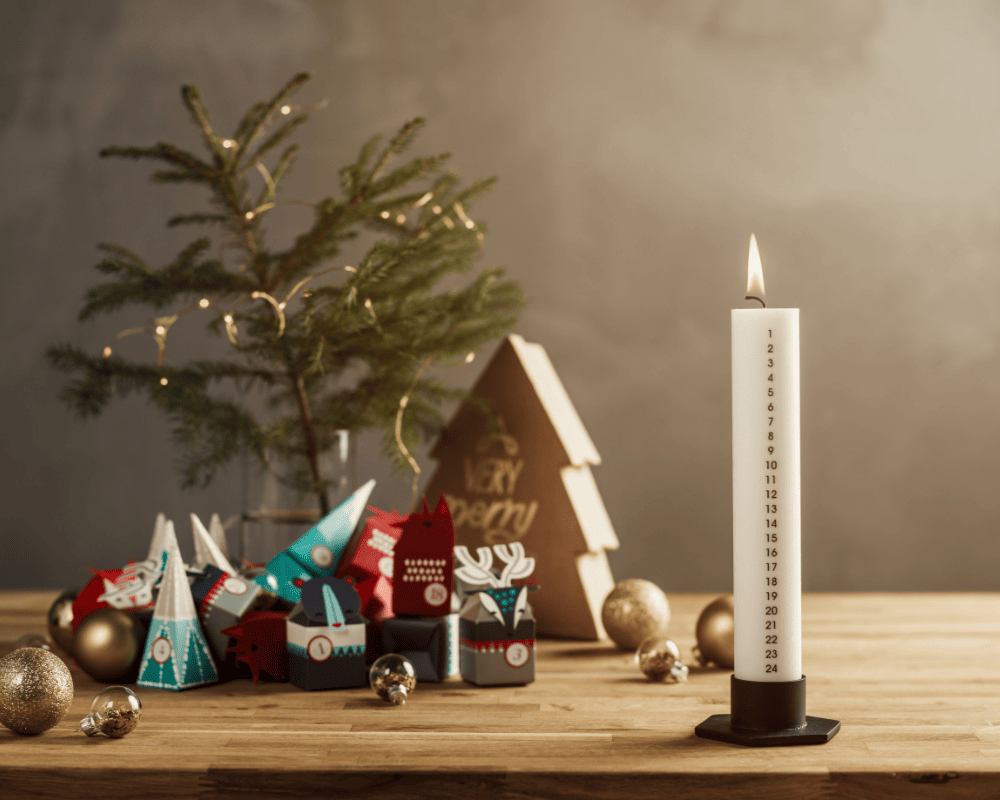 These days there are a TON of fun advent calendars for both kids and adults, and I always get excited to see what's available each year.
So I put together a list of the fun advent calendar ideas, just to make it easy for you to find the right ones for your friends and family.
I mean, if there's any year we could use a sweet surprise each day, it's 2021, right?!
I've also included ideas for DIY advent calendars.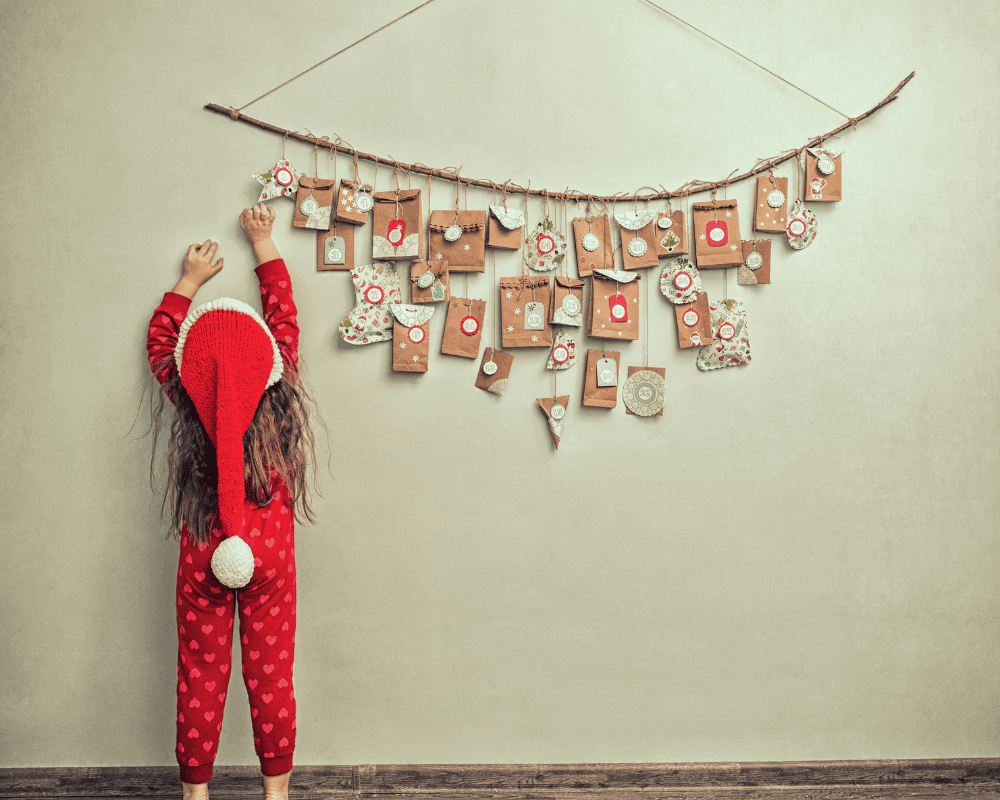 Chocolate Advent Calendars
You can't go wrong gifting family and friends a piece of delicious chocolate every day!
Food Advent Calendars
For people who love little sweet treats but aren't into chocolate.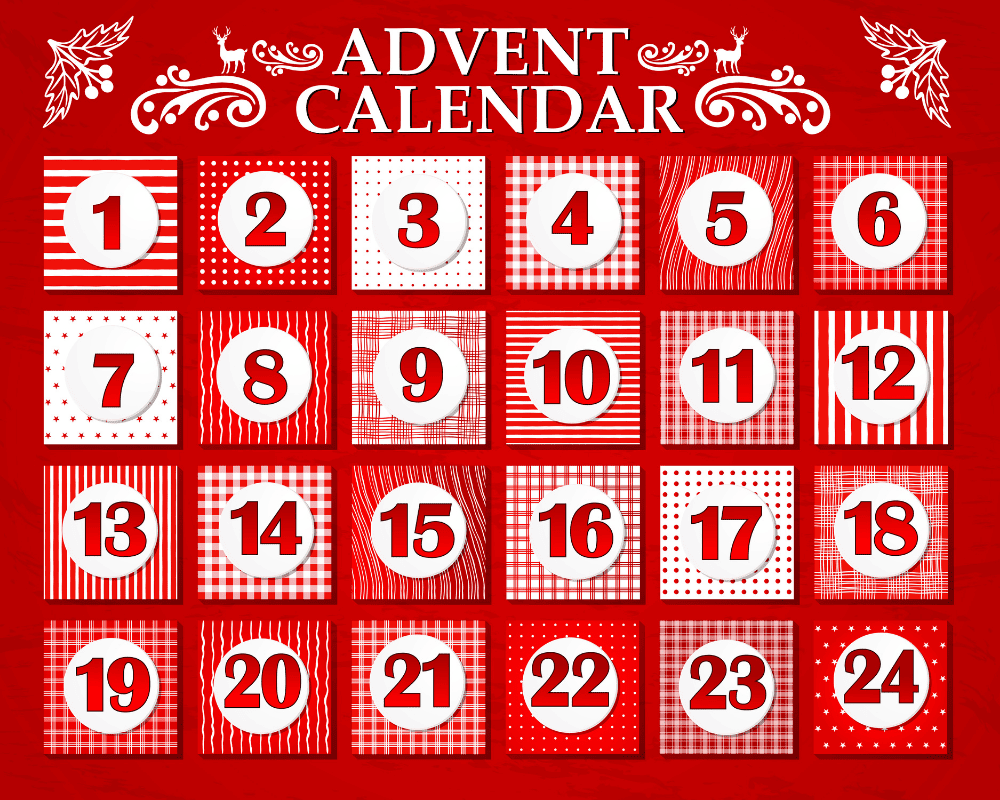 Christmas Countdown Candles
I brought a couple countdown candles home from Europe one year and we had fun lighting it every evening in December. They're a nice alternative to advent calendars.
Non-Food Advent Calendars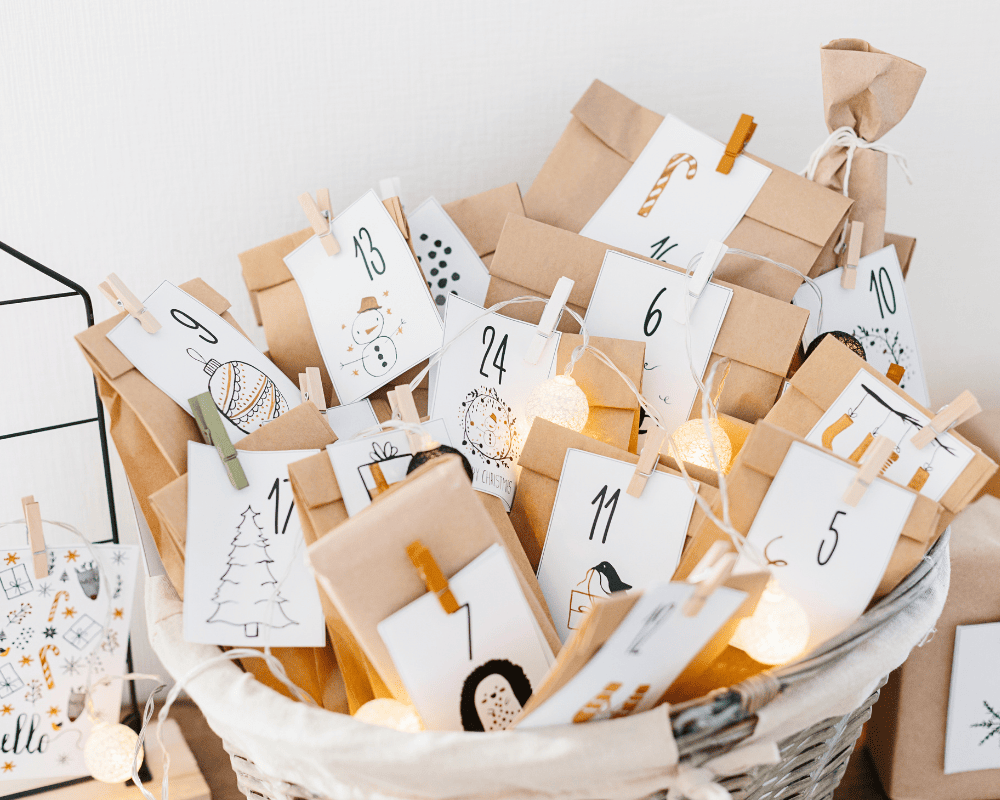 Homemade & Reusable Advent Calendars
Etsy has all kinds of beautiful advent calendars. Some are wooden, some are fabric, and others are paper.
These are a great choise if you want to add your own treats to the calendar. Many of them can be used again and again.
Take a look at the shortlist I put together of the best advent calendars on Etsy here!
Virtual Advent Calendar
Jacquie Lawson virtual advent calendar (click here to check price)
I received one as a gift several years ago and now gift them to others each year! This is the calendar I buy for myself each year.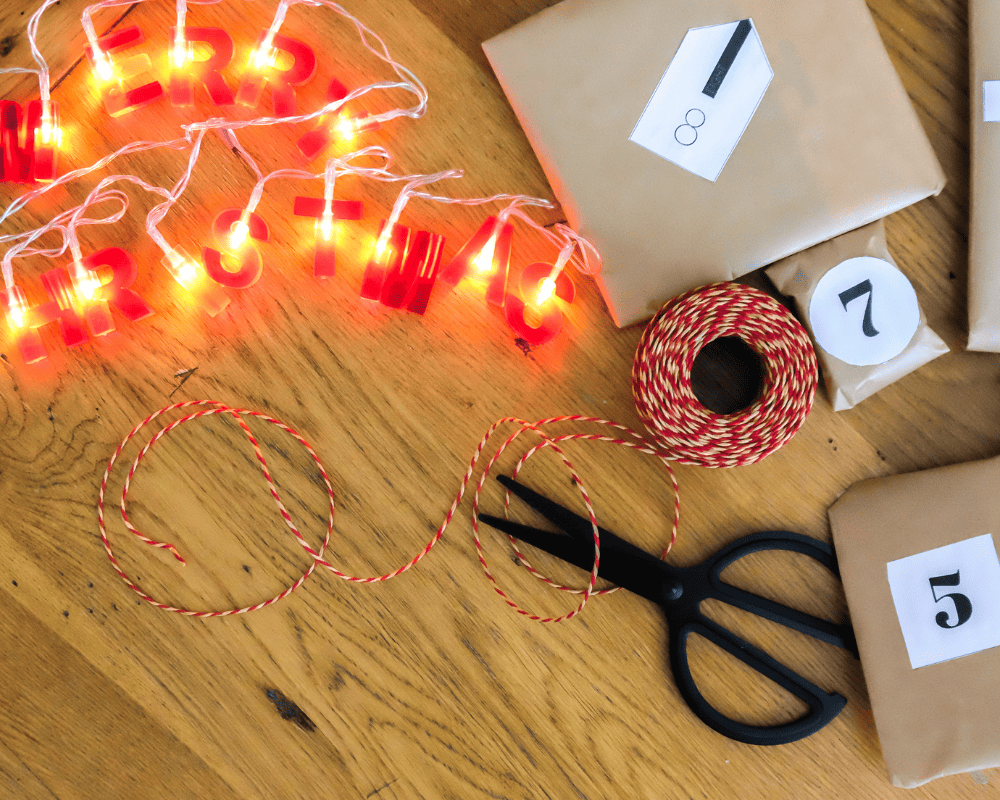 Fun Christmas Advent Calendar Ideas for DIY'ers
If you like the idea of making your own DIY advent calendar or countdown calendar, go for it!
Making your own calendars doesn't have to be difficult and can be a fun way to get into the Christmas spirit.
I recommend planning out your calendar in October so you have time to gather your supplies and filler. Spend November making the calendar so you're not in a mad, last-minute rush. If you're going to send them in the mail, aim to post them by mid-November so they're sure to arrive on time.

1. Calendar Length
First things first: do you want your countdown calendar to be the traditional 25 days? Or do you want to do a shorter one, say 12 days or even 7?

A word of warning: it's a lot of work to fill multiple 25-day DIY advent calendars, especially if you try to make each day something different. One year I made 7 different calendars and while it was a lot of fun, and I enjoyed the process, it was A LOT!

There's no shame in buying calendars or making a 12 or 7 day calendar (all of which I've done at one time or another)! If you do shorter calendars, you can make the daily treats a bit nicer.

2. Calendar Packaging.
You can use boxes, paper bags, matchstick containers, cloth bags, toilet paper rolls, treat bags, wrapping paper — your options are endless!
Just make sure that your filler items will fit in the boxes or bags. You can also simply wrap each item in holiday paper.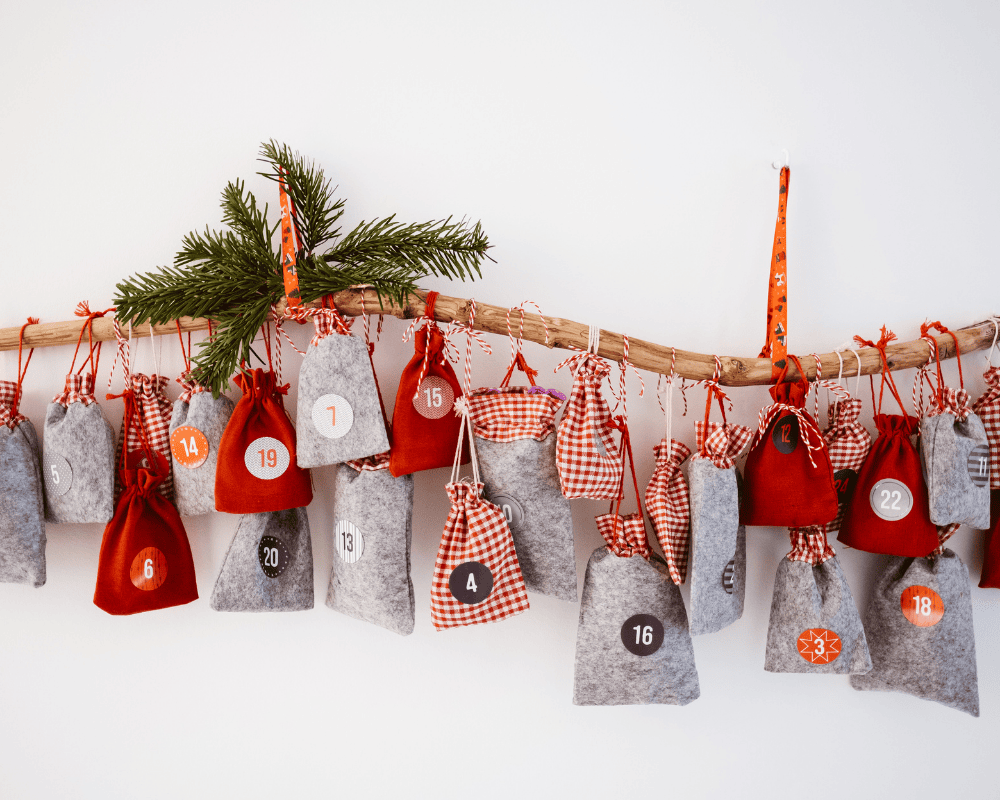 3. Calendar Numbers
Consider how you'd like to number each item in your calendar. I usually get advent calendar number stickers at Michael's but I've also used gift tags purchased from Target (I usually buy them on sale right after Christamas to use the following year). A couple times I've simply written each number using a Sharpie.
Is it necessary to number each item? Most people do because it's part of the fun to look for each day's little gift.
But if it doesn't matter which gift gets opened, you don't really need to number each individual item. Instead, you could simply put all of the wrapped items in a bag or box (I've done that before).

4. Calendar Display
How do you want to display your advent calendar items?

A few ideas:
Hang each item from a string across the fireplace
Place each item in a bag, box or bowl
5. Calendar Filler.
This is the fun part! What do you want to fill your advent calendar with?
I typically include things like:
chocolates
candies
gum
lip gloss or chapstick
pens
pencils
cute sticky notes
paper and binder clips
gift cards
hot chocolate or other drink packets
cinnamon stick
stickers
temporary tattoos
craft supplies
Remember, your calendar's daily surprise doesn't have to be big or expensive, and it doesn't have to be a sweet treat.

You could include special little notes to each person, jot down a shared memory, point them to a curated Christmas music playlist, suggest a Christmas movie to watch, name a fun activity to do, dole out puzzle pieces over several days, share a recipe (maybe one for Christmas pancakes or waffles or another treat?), a paper snowflake to hang up, card game (or board game) ideas, etc.

You could also include family favorite Christmas books to unwrap and read together each evening or fun family activities like looking at Christmas lights.
One more idea — a super simple way to create a countdown calendar is to make a paper chain, maybe with a fun message or even bit of holiday trivia written inside.
There are so many different ways to include an advent calendar into the Christmas season. Whether you buy or make one, you're sure to create your own family advent traditions to cherish for years to come.