This article may contain affiliate links. See our disclosure link for more information.
These easy German Hazelnut Cookies are delightfully light, buttery cookies packed with flavorful chopped hazelnuts.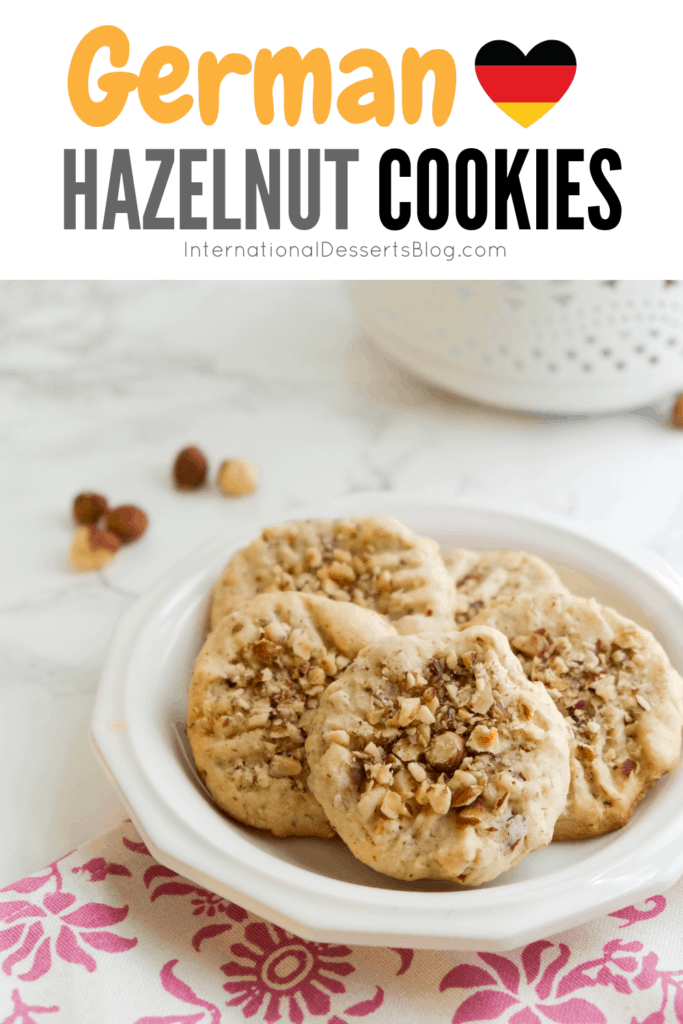 I always associate cookies with Christmas in Germany. The first year I lived in Hamburg, my German host mom made all kinds of delicious holiday cookies. I was always so happy when she'd bring out a selection of traditional German Christmas cookies to enjoy with our afternoon coffee.
Unfortunately, being 17 years old and rejecting everything domestic, it never occurred to me to ask for any recipes. Or to even help bake them! But I sure did help eat them. 🙂
Hazelnuts are another thing I associate with Germany. They're everywhere! Even though I grew up in the Willamette Valley of Oregon, where 99% of US hazelnuts are grown, I don't think I'd even tried a hazelnut until I moved to Germany. Crazy, right?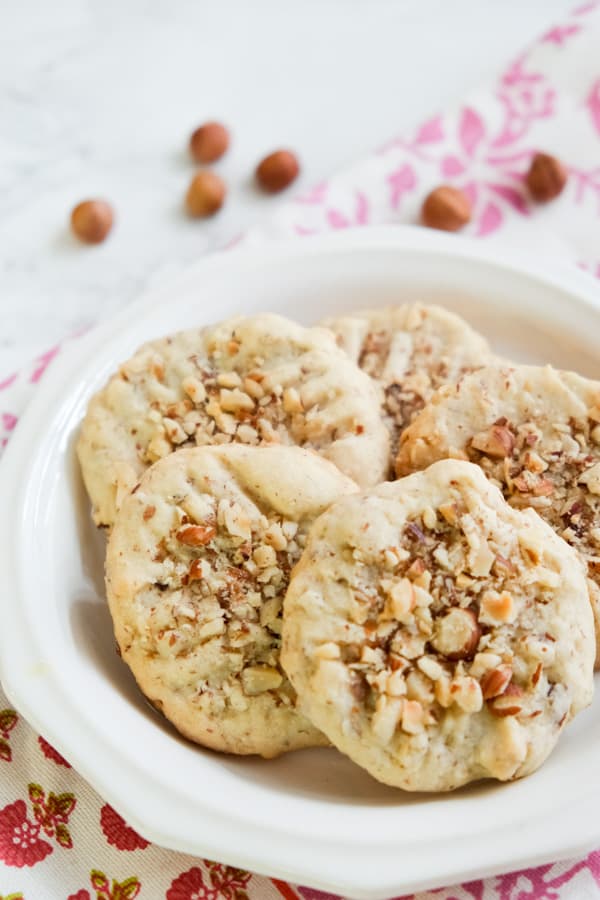 These German hazelnut cookies are the perfect addition to your holiday cookie tray….or to make mid-week in the summer, simply because you're craving a light, crunchy, nutty, delicious cookie. (That was me last week. Ha!)
We loved these cookies. Even my husband, who's not a big fan of hazelnuts. I had to put my cookies in the freezer so we wouldn't eat them all in one day!
The hazelnut flavor in these cookies really shines through. They're kinda like a cross between German Butter Cookies and Vanillakipferl/Austrian Vanilla Crescents (you can get both of those German Christmas cookie recipes here in my free European Christmas Cookies ebook!) — but with more hazelnuts.
The chopped hazelnuts on top toast while baking and add a deeper flavor that pairs well with the untoasted hazelnuts in the cookies.
I thought about drizzling chocolate on top or even dunking half of each cookie in chocolate before sprinkling chopped hazelnuts on top (in that case, I'd toast the hazelnuts separately).
But after trying the "plain" hazelnut cookies, I found I didn't want any chocolate.
But it's an option to try if you're a chocolate lover, and I might experiment with it when I made these cookies for this year's fall and winter holiday parties.
Another idea: spread a little Nutella on top of or between two cookies to make a cookie sandwich. Yum.
One more great thing about these cookies?
You can make them in one bowl, so clean up is quick and easy. In about 30 minutes (half of that is bake time) you can enjoy a plate of these easy German cookies.
That said, while they're good right out of the oven, I liked them even better the next day.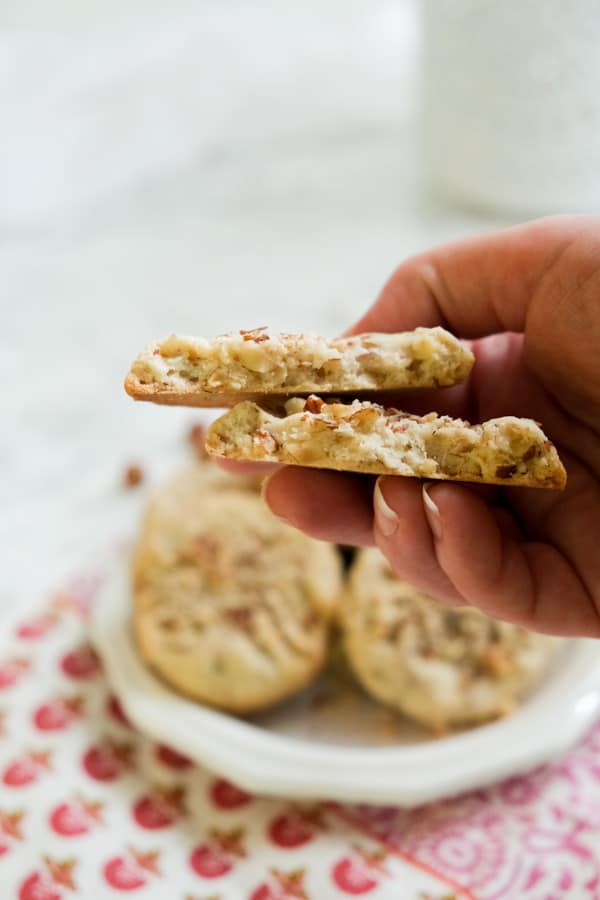 The Easy Way to Chop Hazelnuts
I don't like having lots of kitchen gadgets cluttering up my kitchen counters, cupboards, and pantry.
So I tend to make do with my high quality but basic cooking and baking tools, even if it takes a little longer or requires a little more effort.
Whenever I needed to chop nuts (or chop anything), I'd get out my chef's knife (that I just now realized I've had for 20 years!) and I'd chop, chop, chop away.
It worked.
But it was tedious.
So, for Christmas last year my family got me this mini food processor…and omg, I love it!
This is one kitchen gadget I wish I'd gotten sooner.
It takes me all of 10 seconds to chop hazelnuts for this recipe, and the nuts were evenly chopped. Clean up was easy too, just a quick wash in the sink.
It's mini-size, which makes it easy to store on top of my fridge. And it's not ear-shatteringly loud like my blender.
I now use this mini food processor all. the. time. to make salsa, pesto, and pretty much anything that needs to be chopped, ground or pureed. I highly recommend it! (Click here to check the price of this Cuisinart mini food processor.)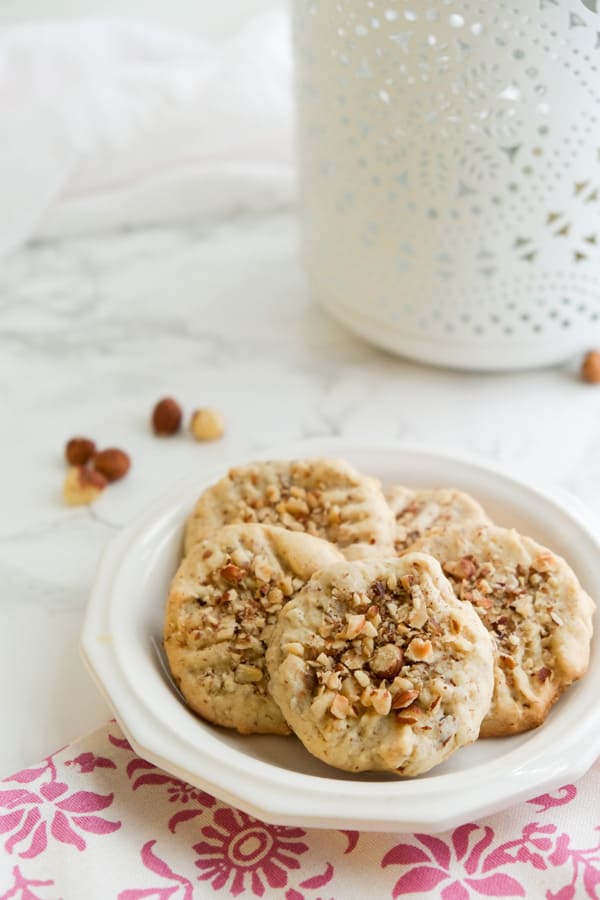 ? How to Make German Hazelnut Cookies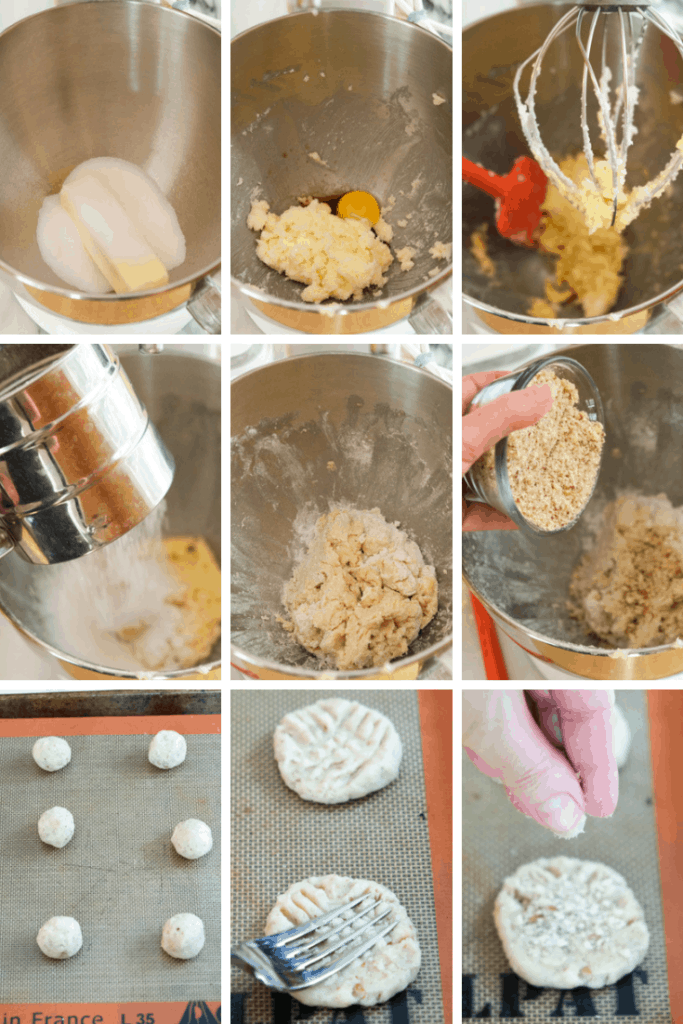 Pre-heat your oven to 325F/162C.
Chop the hazelnuts in a food processor.
I use whole hazelnuts and pulse them about 10 times so they're chopped into small pieces (but not all the way into crumbs).
Set aside 3/4 of the chopped hazelnuts to use in the cookie dough and 1/4 to sprinkle on top.
Place softened butter and sugar in a stand mixer and beat on medium high until pale and fluffy (a hand mixer works, too).
Then add the egg yolk and mix again.
Be sure to scrape down the sides a few times so everything gets mixed together well and you don't end up with clumps of butter.
Sift the flour and salt into the cookie batter.
Then mix on low until just combined.
Add 3/4of the chopped hazelnuts (reserve the other 1/4 for sprinkling on the top of the cookies) and mix on low until just combined.
Using a cookie scoop or your hands, form the dough into 18 balls and place on a prepared cookie sheet (I always use a Silpat mat).
Note – if you want larger cookies, just make the dough balls larger. You may need to bake them longer.
Using a fork, press down on the cookie a couple times (horizontally and vertically) to flatten it out.
These cookies don't spread so you don't need a lot of space between them.
Lastly, sprinkle chopped hazelnuts on the tops of the cookies. You may want to lightly press the hazelnuts into the cookie dough.
Bake the cookies for about 12-15 minutes. Check them at 12 minutes and bake longer from there.
The cookies are ready when the edges are golden brown.
I enjoyed these cookies right out of the oven but I thought they were even better once completely cooled the next day!
?Looking For More German Christmas Recipes?