Lemon Ginger Mint Tea Recipe: the Best German Tea I Had in Germany (Plus Christmas Market Photos)
This article may contain affiliate links. See our disclosure link for more information.
Warming, healthy, and easy, this delicious Lemon, Ginger and Mint Tea is the perfect solution to cold winter days.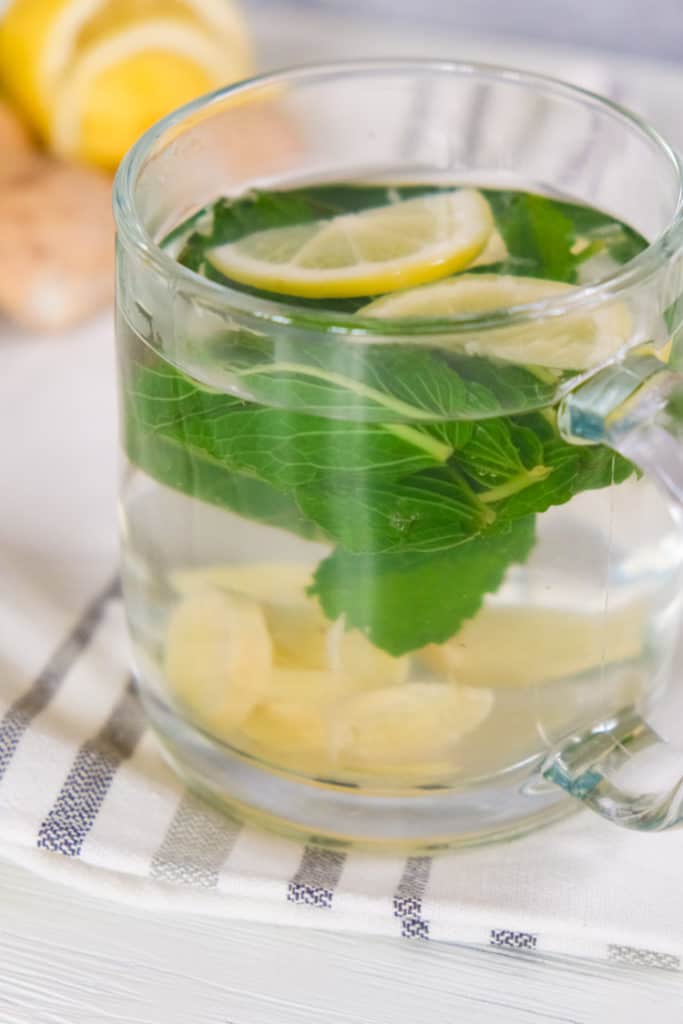 I started drinking tea when I moved to Germany as a teenager and quickly became a fan of all kinds of German tea. Especially German chamomile and peppermint on cold winter evenings.
It seemed like everyone I met in Germany had both in their kitchen cupboards at all times. These days, so do I.
But now I have a new favorite tea, thanks to my trip to Germany last December.
One day I visited the Christmas market in Ludwigsburg (just north of Stuttgart). I'd spent most of the day outside, and after the sun set I was freezing.
So, on my way back to the train station I popped into a coffee shop to get a cup of peppermint tea to go.
Turns out they were out of peppermint, so they recommended a different tea that included fresh mint.
Since I love the fresh mint tea you can get in the Netherlands, I went ahead with their suggestion.
As I continued my walk to the train station, sipping the hot tea along the way, I quickly realized that it was even better than mint tea.
I actually stopped on the sidewalk to take a couple photos so I'd remember what was in it: fresh ginger, lemon, mint and hot water. So simple and so good!
By the way…if you're wondering what the Ludwigsburg Baroque Christmas market looks like…it's beautiful! Here are a few photos of the market at about 4:30pm.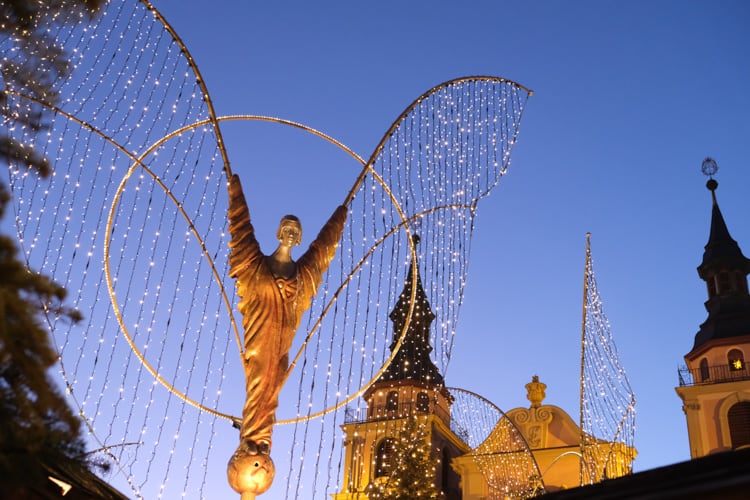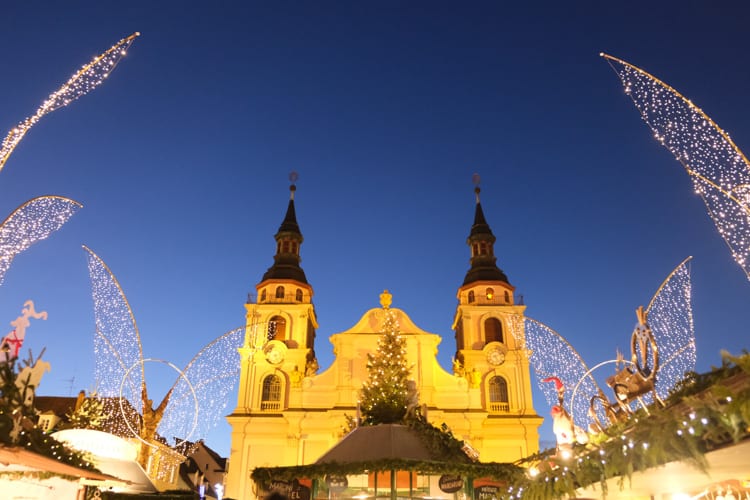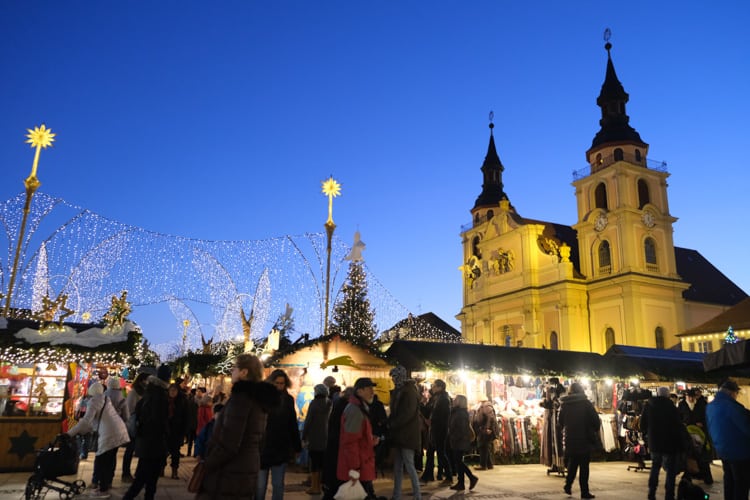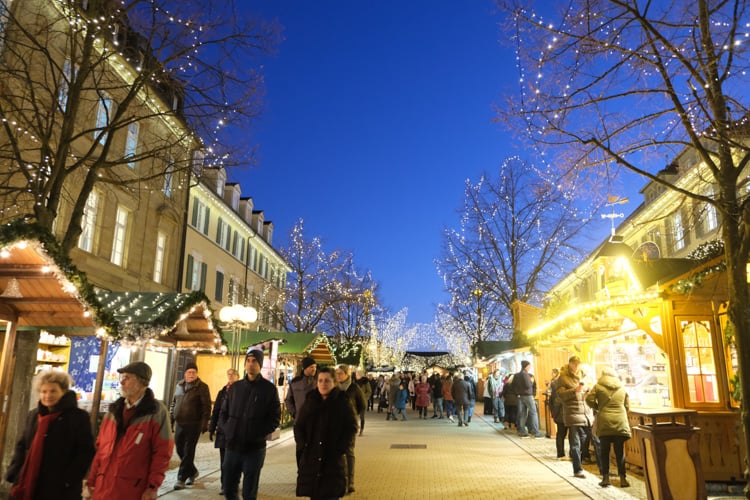 The next day, after visiting the Christmas market in Esslingen (just south of Stuttgart), I took a break at café to warm up (the same cafe where I had the best blackberry cake last summer) and saw that they had fresh ginger and lemon tea on their menu.
There was no mint in their version but it was just as good.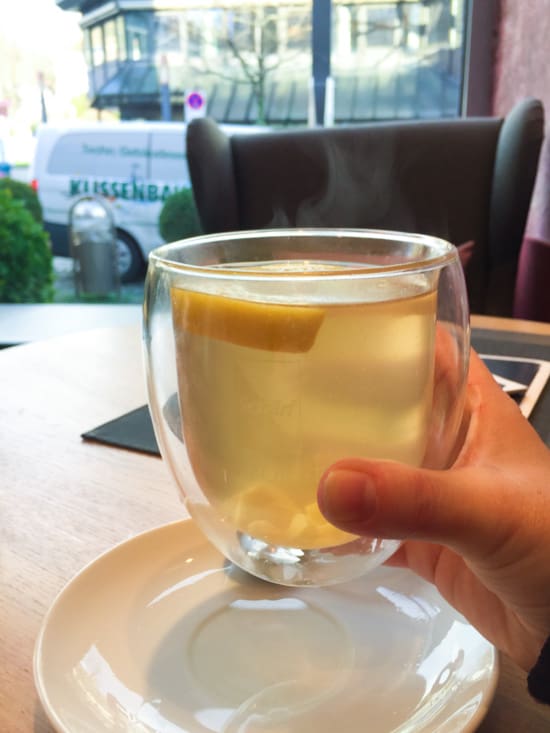 Quick aside…take a look at these German cakes that were at the cafe.
Don't they look amazing?!
There are so many delicious varieties of cake in Germany that you could eat one every day and never run of tasty treats to try.
And if you're interested in what the Esslingen Christmas market looks like, here are a few photos! There are two parts to this market – the traditional German Christmas market and a Medieval Christmas market. These photos were taken around 11am. I wish I'd been able to go back to see the market after dark…maybe next year!
Keep scrolling if you're just here for the tea. 🙂
Ok, back to tea!
As I sat in this cozy cafe drinking my tea I decided to make it again as soon as I got home.
It couldn't be easier – fresh ginger root, fresh lemon, and fresh mint leaves.
As a side note, see that cafe cup in the photo above? It kept my tea amazingly warm.
Usually tea gets cold before I drink the whole thing but with that cup the tea stayed piping hot the entire time.
I looked for something similar on Amazon and I think it's something like this – a double-walled insulating cup. They also have double-walled insulating cups with handles.
Perfect for when you want to keep your tea or coffee hot in a pretty cup.
As soon as I got back to the US I stocked up on ginger, lemon, and fresh mint.
I've made this tea many times since returning home and I can't get enough of it. I'm thinking it would make a good iced tea in the summer, too.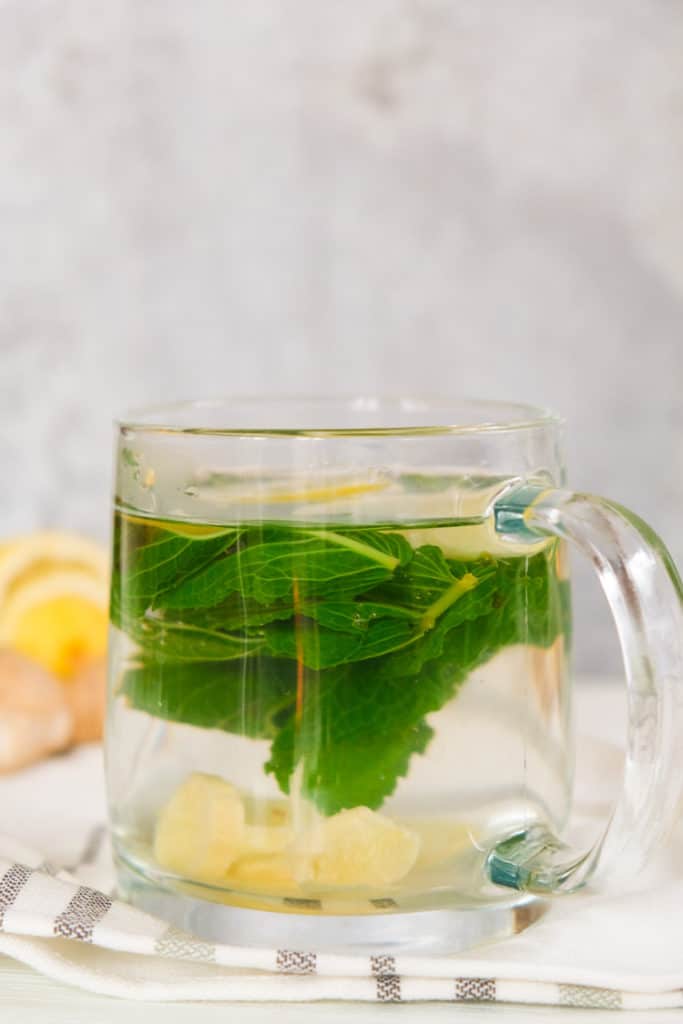 This ginger tea is fresh, spicy, warming, and healthy! I drink a lot of tea in the winter, especially in the evenings, and especially when I'm craving dessert but am trying to cut out sweets after the holidays.
This simple tea is so satisfying. I
t gets spicier the longer the ginger steeps but I actually like that.
If you don't, you might want to remove the ginger before drinking it. If you prefer your tea sweetened, you could add honey.
Best German Desserts to Enjoy with This Tea
If you're looking for a tasty German treat to eat while drinking your ginger root tea, here are some ideas:
What You Need to Make Lemon, Ginger & Mint Tea
Ingredients:
Fresh ginger root
Fresh lemon sliced
Fresh mint leaves
Hot water
Honey (optional)
Kitchen Tools:
Water kettle
Mug or cup
Knife
Cutting board
How to Make Lemon, Ginger & Mint Tea
This recipe makes 1 cup tea.
Heat 1 cup water to just before boiling. I use my electric kettle to heat my tea water.
Peel about 1 inch fresh ginger root and then cut into thin slices.
Wash lemon and cut one slice lemon then cut that slice in half.
Wash 5-7 medium to large sized mint leaves.
Add ginger root, lemon slices, and mint leaves to your mug.
Pour hot water into your cup and let steep for a couple minutes.
Note – the ginger root will make the tea spicier the longer it steeps.
? Looking For More Hot Drink Recipes?