Easy Caramel Apple Pie Filling Dump Cake
This article may contain affiliate links. See our disclosure link for more information.
You only need a few simple ingredients and 5 minutes to make this Caramel Apple Pie Filling Dump Cake!
Not only is this an easy recipe, it's a delicious fall dessert the entire family will love. Served with a scoop of vanilla ice cream, this cozy dessert is a crowd pleaser.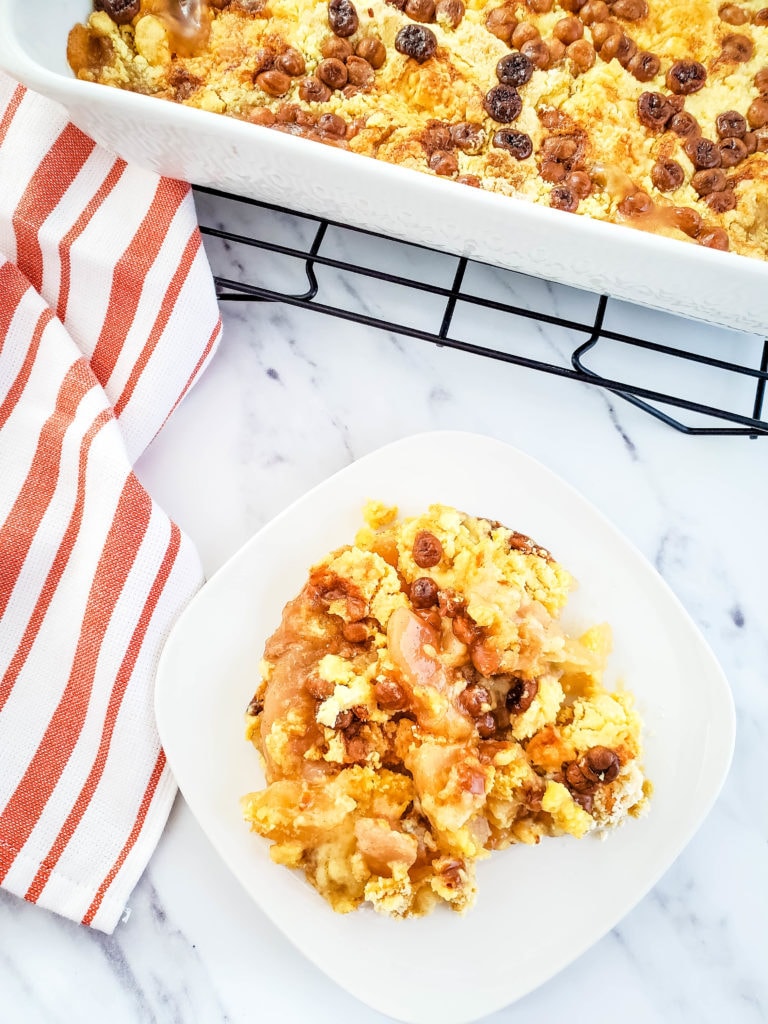 ? About This Recipe
Dump cake may not initially sound appetizing but rest assured, "dump" only refers to the method of making this delicious apple dessert.
The beauty of a dump cake is that you simply dump all of the ingredients into a baking dish, top with butter, and then bake.
It's one of the easiest desserts you can make. And there's virtually no clean up because you don't even need a mixing bowl to make this cake.
This easy apple dump cake is the perfect dessert for:
the time of year when you're craving cozy fall flavors
a no-fuss dessert after a family meal
when you need an easy dessert recipe that will feed a crowd
using up boxed cake mixes in your pantry
when you want a no-fail dessert
when you want apple pie but don't want to go to the trouble to make an apple pie
those new to baking
baking with kids
Cake mix recipes like this apple pie dump cake are super convenient when you need to quickly whip up a dessert.
I like to call desserts like these "pantry desserts" because you can keep everything you need for this 3-ingredient apple dump cake recipe in your pantry to use whenever the mood strikes.
This dump cake is more like a cobbler than a cake because the fruit is on the bottom and the topping is placed on top of the fruit. Other dump cakes mix the fruit and cake mix together with the end result being more cake-like.
All you need to make this delicious recipe is a cake mix, apple pie filling, and butter.
To make this delicious apple dump cake recipe even more delicious, add caramel bits (or top with caramel sauce).
Serve with a scoop of vanilla ice cream or whipped cream and you've got a winner everyone will devour.
? What You Need to Make This Recipe
Ingredients:
1 box yellow cake mix
2 – 20oz cans of apple pie filling
1/2 cup butter
1 cup caramel baking bits
Optional: whipped cream or a scoop of vanilla ice cream for serving
Kitchen Tools:
9×13 baking dish (e.g. a casserole dish or cake pan)
Spoon or spatula
Knife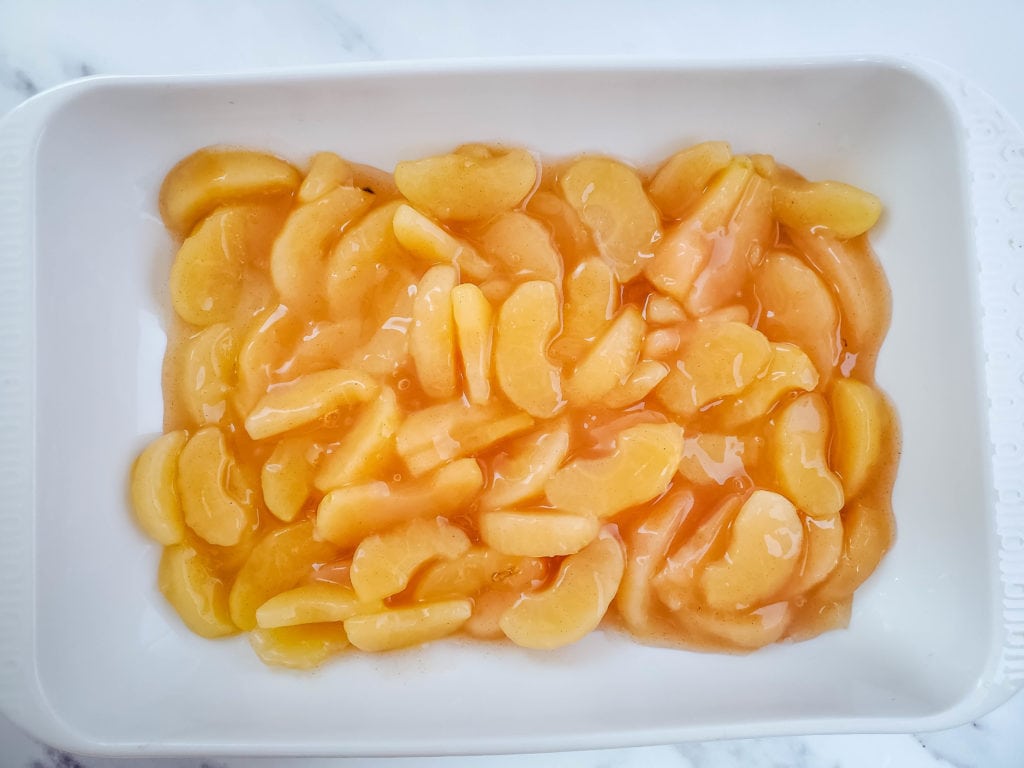 ❓FAQ
Can I make this cake in a crock pot or slow cooker?
Yes! For best results, pour the apple pie filling into a 5-6 quart slow cooker. Then mix the cake mix, spices, and melted butter together and place on top of the pie filling. Sprinkle with caramel bits. Cook on high for about 2 hours.
Can I use fresh apple slices or other fresh fruit instead of a can of apple pie filling?
Yes, you can use fresh, frozen or canned fruit. The easiest way to make this cake to use canned apple filling (you shouldn't have any trouble finding it at local grocery stores) but you could cut fresh apples into thin slices, top with corn starch, brown sugar, and cinnamon.
Can I use homemade apple pie filling?
Sure! You don't need to make homemade just for this recipe but if you've got some on hand or simply want to make it, go for it.
What kind of cake mix should I use?
This recipe calls for a yellow cake mix but you could you white cake mix, a spiced cake mix, etc.
How is this caramel apple dump cake recipe different from apple crisp, caramel apple cake or a pour pie?
It's most similar to an apple crisp but with this recipe the oats typically found in apple crips are optional and apple pie filling is used instead of fresh apples. This recipe has caramel flavor but doesn't turn out like a typical cake that you can slice or frost. Unlike a pour pie, the filling is under the topping.
Can I make this recipe using another kind of fruit?
Sure! Using this basic recipe you can make all kinds of dump cake creations.
? Recipe Variations, Notes & Tips
Cake Mix. Use a different dry cake mix (vanilla cake mix, spice cake mix, butter pecan cake mix, etc)
Fruit filling. If you don't want an apple version of this delicious recipes, use this basic recipe but change out the canned pie filling for other fruit fillings, e.g., cherry pie filling for cherry dump cake, pumpkin pie filling for pumpkin dump cake, etc. You can make endless variations of this yummy dessert!
Caramel. Instead of using the caramel baking bits you could top this cake with your favorite caramel sauce.
Nuts. Top the apple pie filling with chopped pecans or walnuts.
Rolled oats. To make this recipe more like apple crisp, add rolled oats to the cake mix topping (not instant).
Butter. Use melted butter on the top of your cake instead of butter pieces.
Spice. Mix apple pie filling with cinnamon, apple pie spice or speculaas spice mix.
Gluten-free. Make this dessert gluten-free by using a gluten-free boxed cake mix.
Dairy free. Use margarine instead of butter. Top with dairy-free ice cream or whipped topping.
Low sugar. Use low-sugar or sugar free cake mix and apple pie filling.
? How to Make Easy Caramel Apple Dump Cake
Preheat the oven to 350 F / 180 C.
Add both cans of apple pie filling to a prepared 9×13 casserole dish.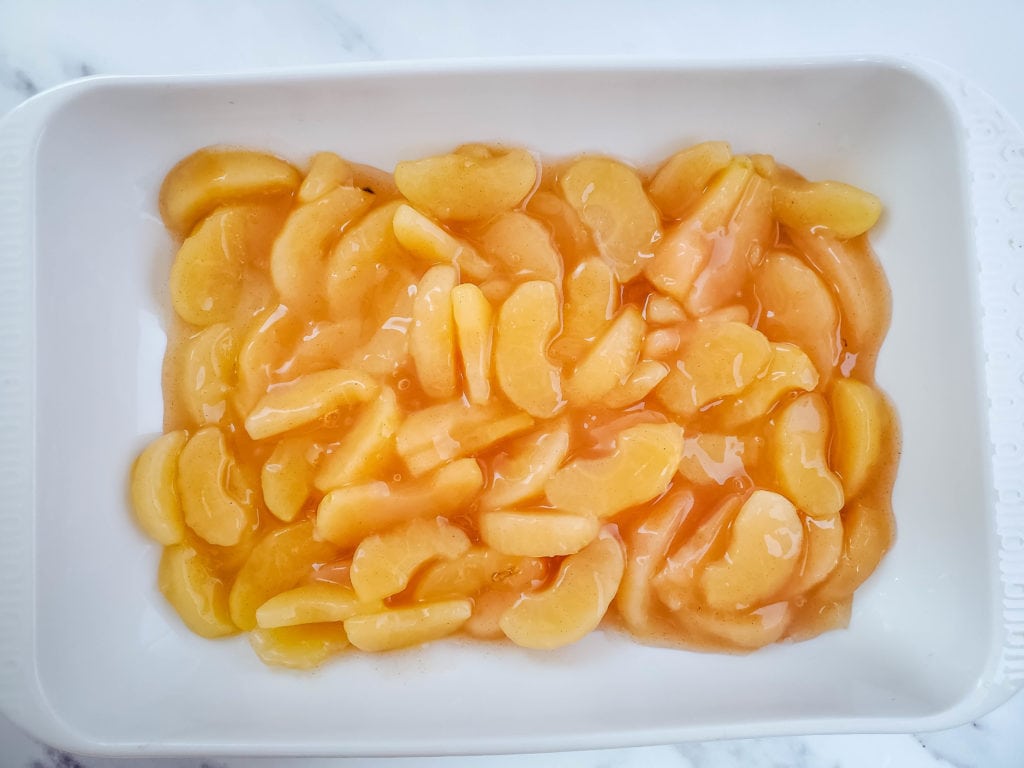 Sprinkle the cake mix over the apple filling in an even layer.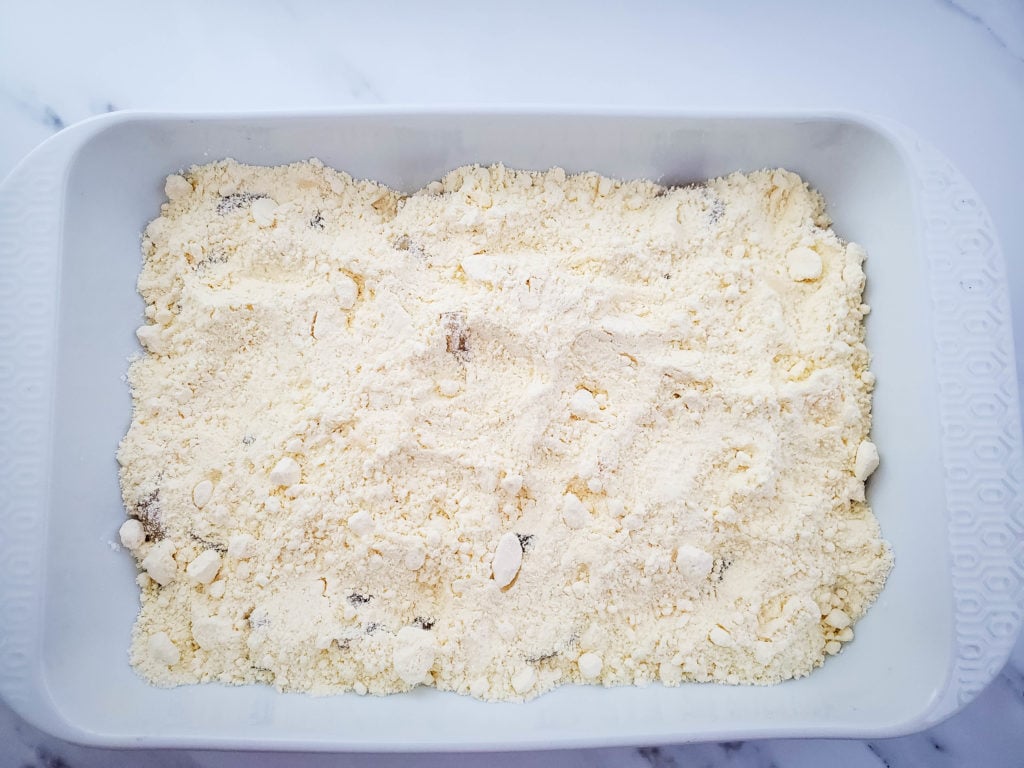 Slice butter into 12 equal pieces, and arrange them on top of the cake mix.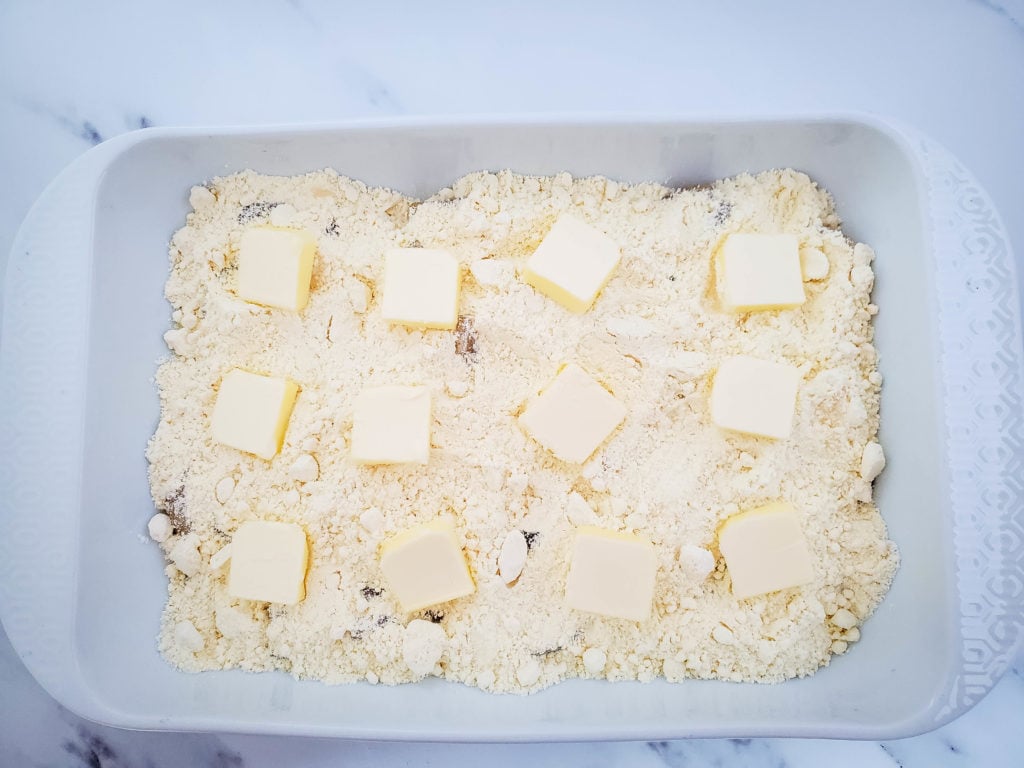 Sprinkle caramel bits all over the top of the mixture.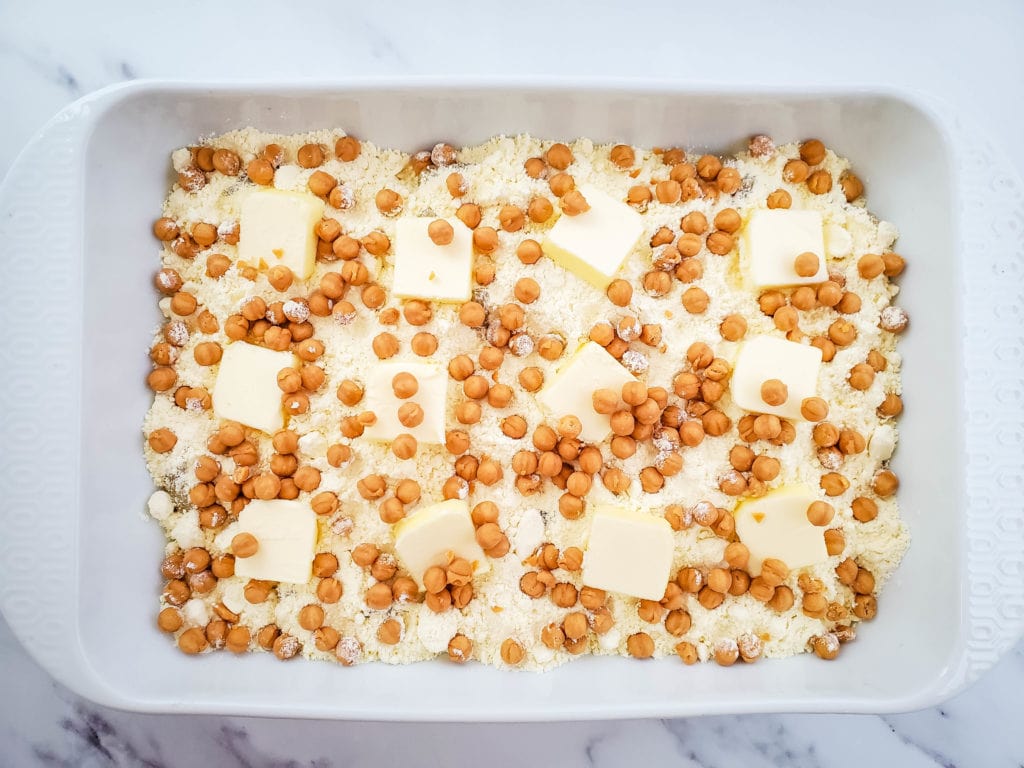 Bake for 50-60 minutes or until golden brown.

Remove from the oven, let cool for a couple minutes, then and serve warm.
A scoop of vanilla ice cream or whipped cream is a delicious addition.
Store in an airtight container in the fridge for 3-5 days. Reheat in the microwave.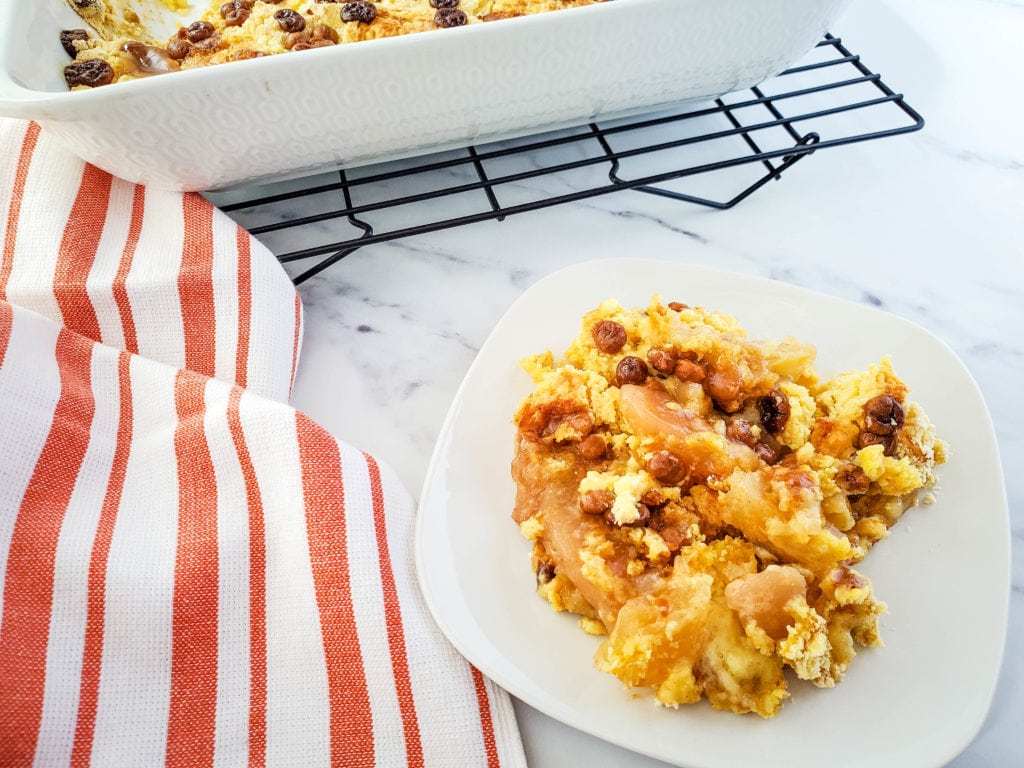 ❤️ Looking For More Apple Recipes?
Looking for more great dump cake recipes? Click here for 35+ recipes using different cake mix flavors!