Easy Halloween Chex Mix (Sweet & Salty No Bake Snack Mix)
This article may contain affiliate links. See our disclosure link for more information.
You can make this super easy no-bake Halloween Chex Mix in less than 5 minutes! It's the perfect recipe to make with kids, for a Halloween party or just for holiday snacking.
This sweet and salty snack mix is always a huge hit and sure to become a family favorite in your house. Bonus: it's not sticky!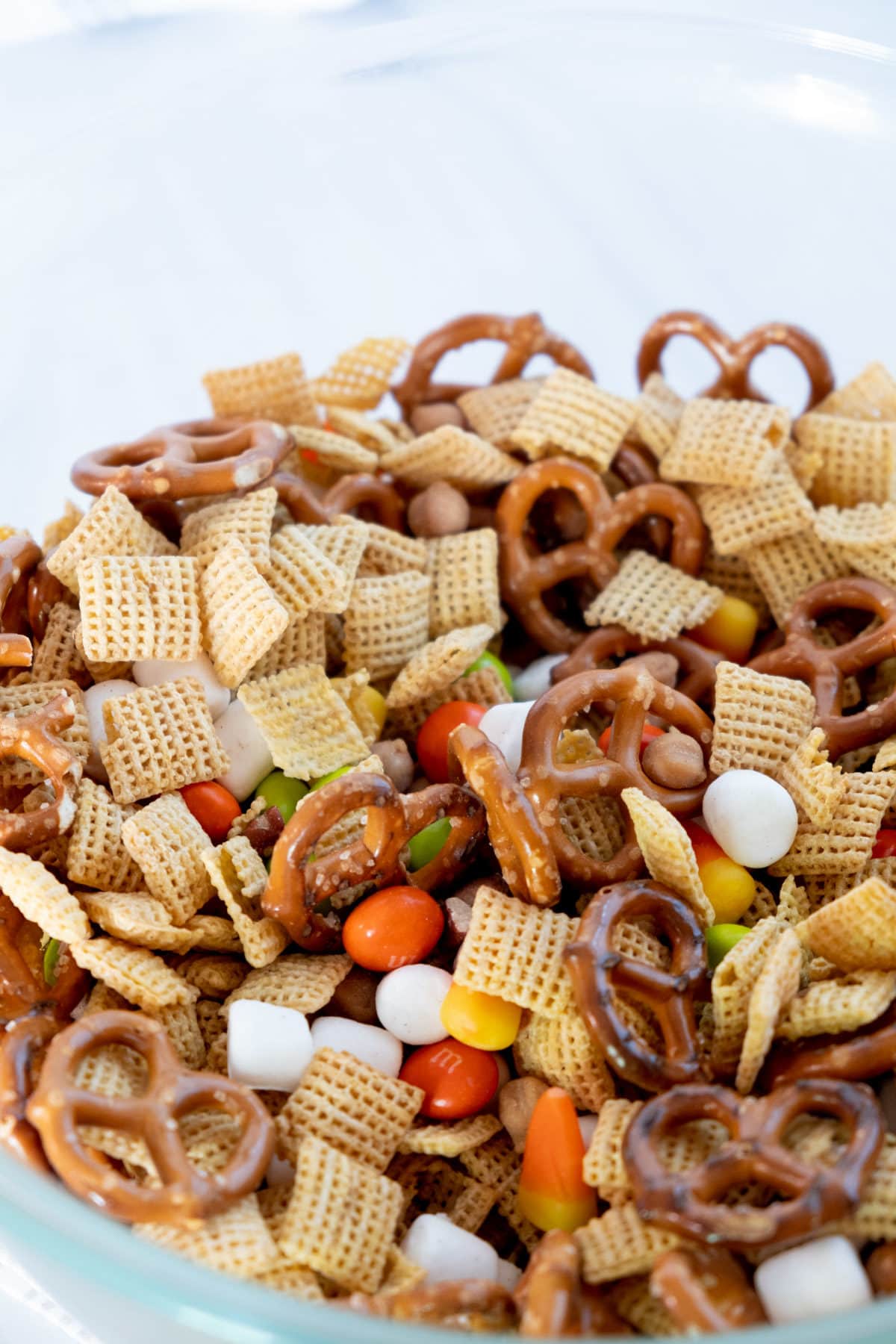 About This Recipe
Looking for a tasty Halloween treat or easy after school snack?
Or maybe you want a sweet treat that's satisfying but not overly sweet?
Tired of Chex Mixes that leave your fingers sticky?
Look no further! This sweet and salty Halloween Chex Mix will the spot because…
It's an easy recipe that you can make in just a few minutes.
There's no baking, melting or microwaving, so it's great to make with kids.
You only need one bowl or 1 gallon Ziplock bag! No need to get out that big baking pan or parchment paper.
It's the perfect festive snack mix for Halloween parties.
A twist on a classic Chex Mix, you can customize it to create your family's own custom Halloween mix.
Homemade Chex is is SO much better than store bought because you control what goes in it.
You can make a gluten-free Chex Mix, a nut-free Chex Mix or even a sugar-free Chex Mix (you'll need to swap out ingredients from the recipe below)
It's the perfect blend of sweet and salty flavors.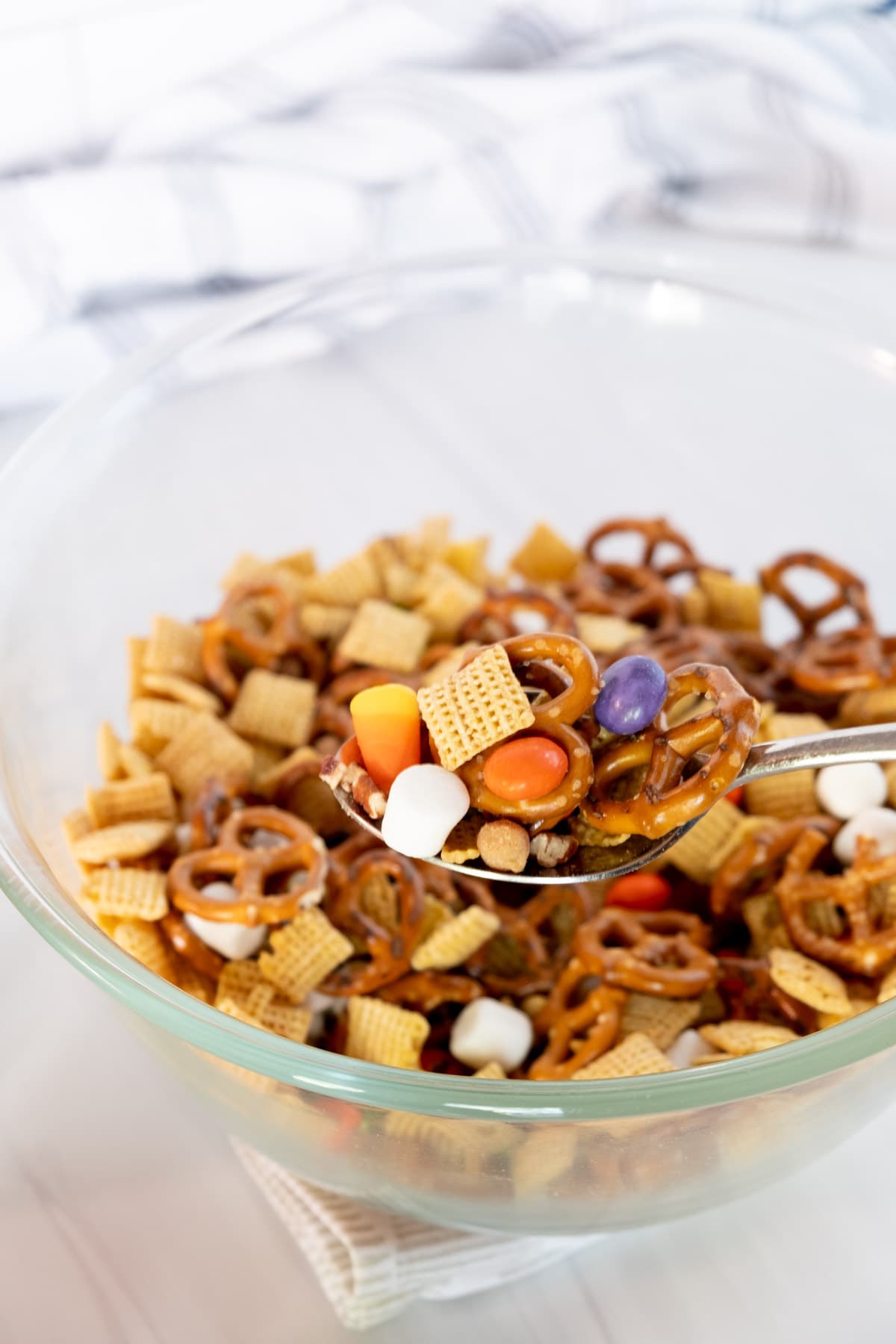 I love this mix so much because it's flavorful, crunchy, and sweet but not overly sweet. Which is refreshing during time of year when sweet is everywhere.
With this cereal mixture your get deliciously sweet bites but the corn Chex, salty pretzels, and roasted pecans balance things out into a satisfying mix.
And because there's no melted chocolate, melted butter or glaze, your fingers don't get all sticky while eating it.
If you're looking for something sweeter, try my White Chocolate Golden Syrup Chex Mix. If you'd rather make muddy buddies or a puppy chow mix, try this easy recipe (just swap pumpkin pie spice for the Dutch Speculaas Spice Mix in the recipe and add your Halloween candy favorites).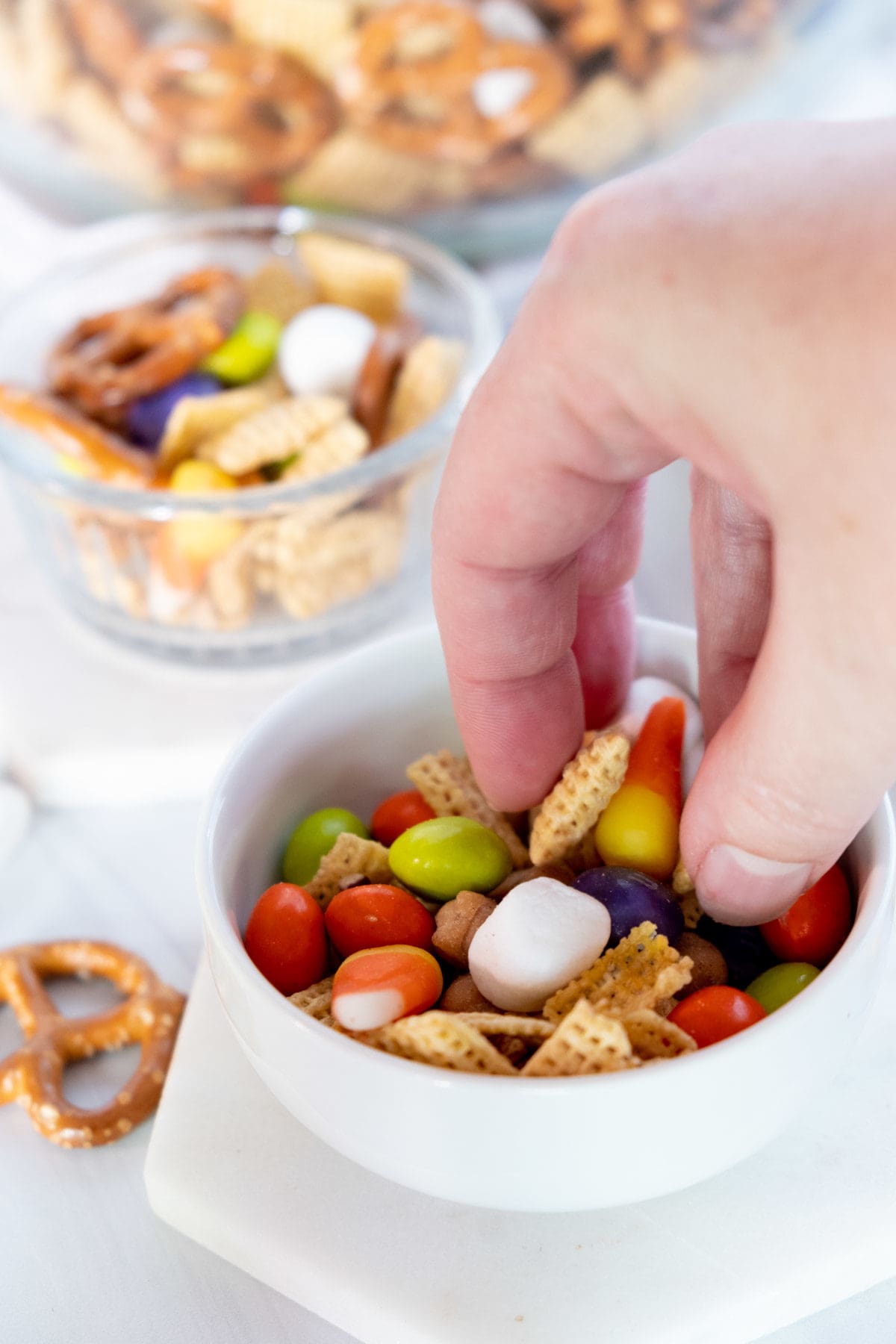 What You Need To Make This Halloween Chex Mix
Ingredients:
Corn Chex cereal (Chex brand or generic) – creates the base of this recipe
Mini pretzels – provides a delicious salty flavor
Roasted pecans – add more flavor a nice texture
Peanut butter Halloween M&Ms – adds Halloween colors!
Candy corn – it's not Halloween without them
Mini marshmallows – they look like little ghosts and add texture
Caramel bites – soft and sweet
Kitchen Tools:
Medium to large bowl or 1 gallon Ziplock bag
Spoon for mixing
Bowl, ladle or scoop, small bowls for serving
How to Make This Easy Halloween Chex Mix Recipe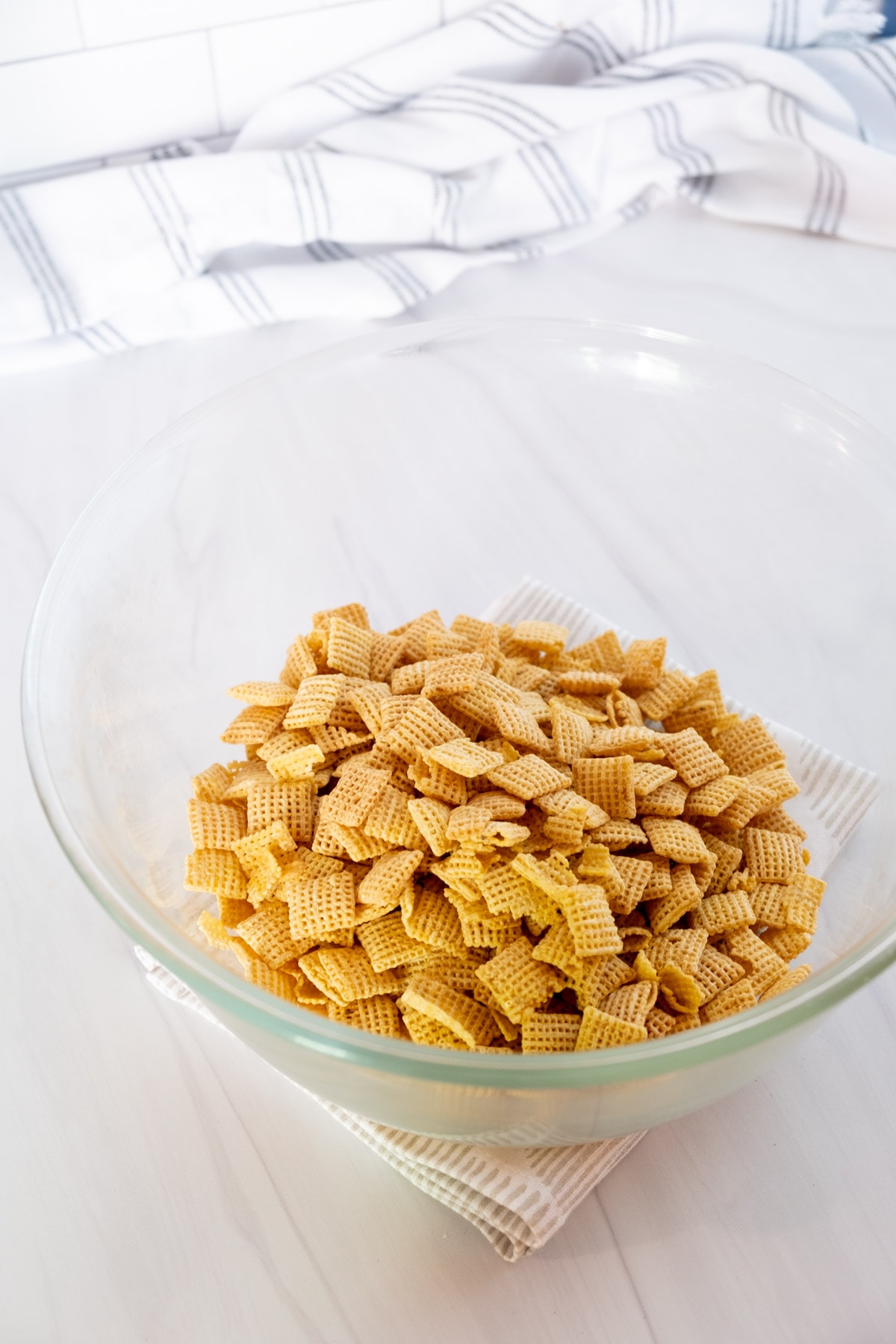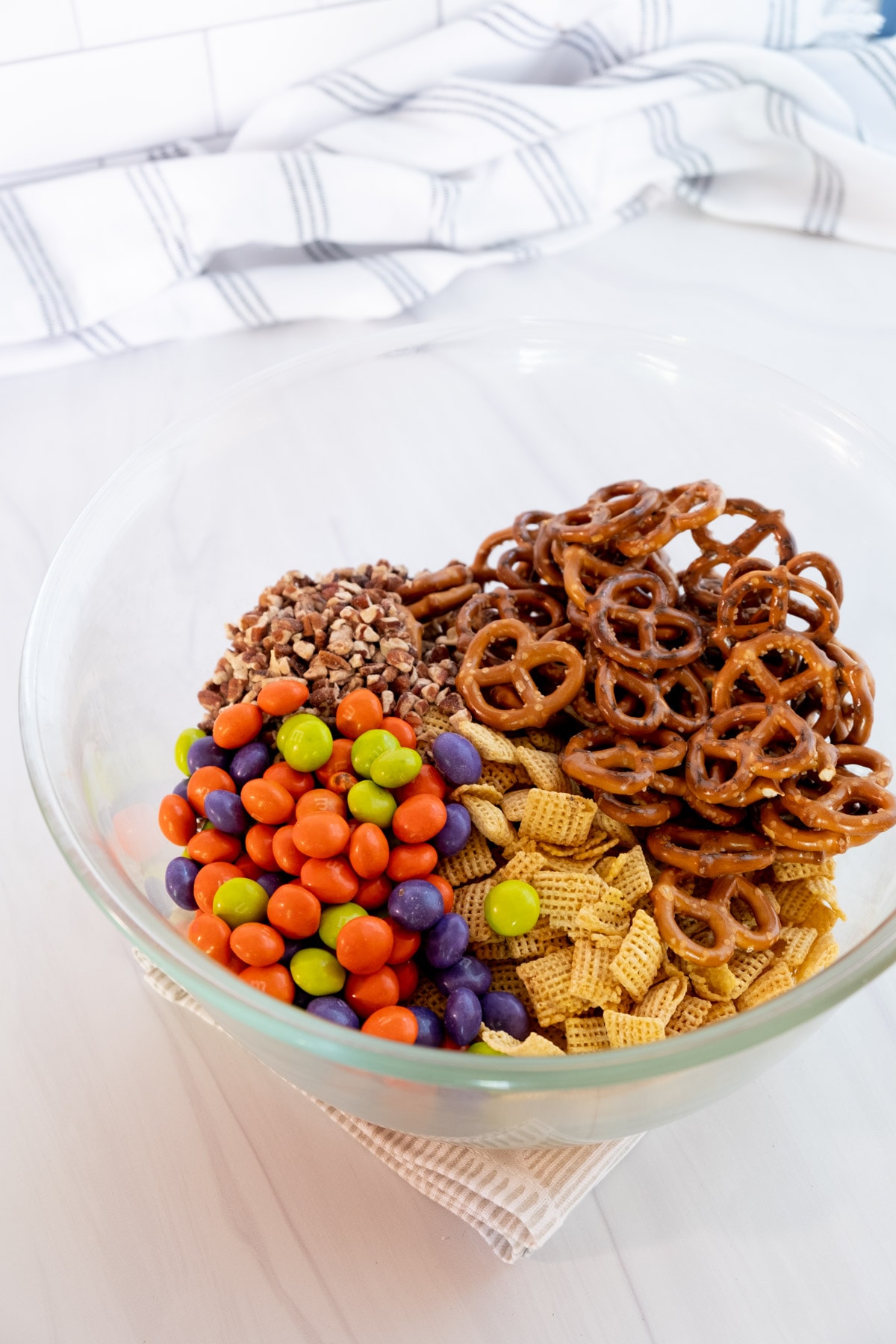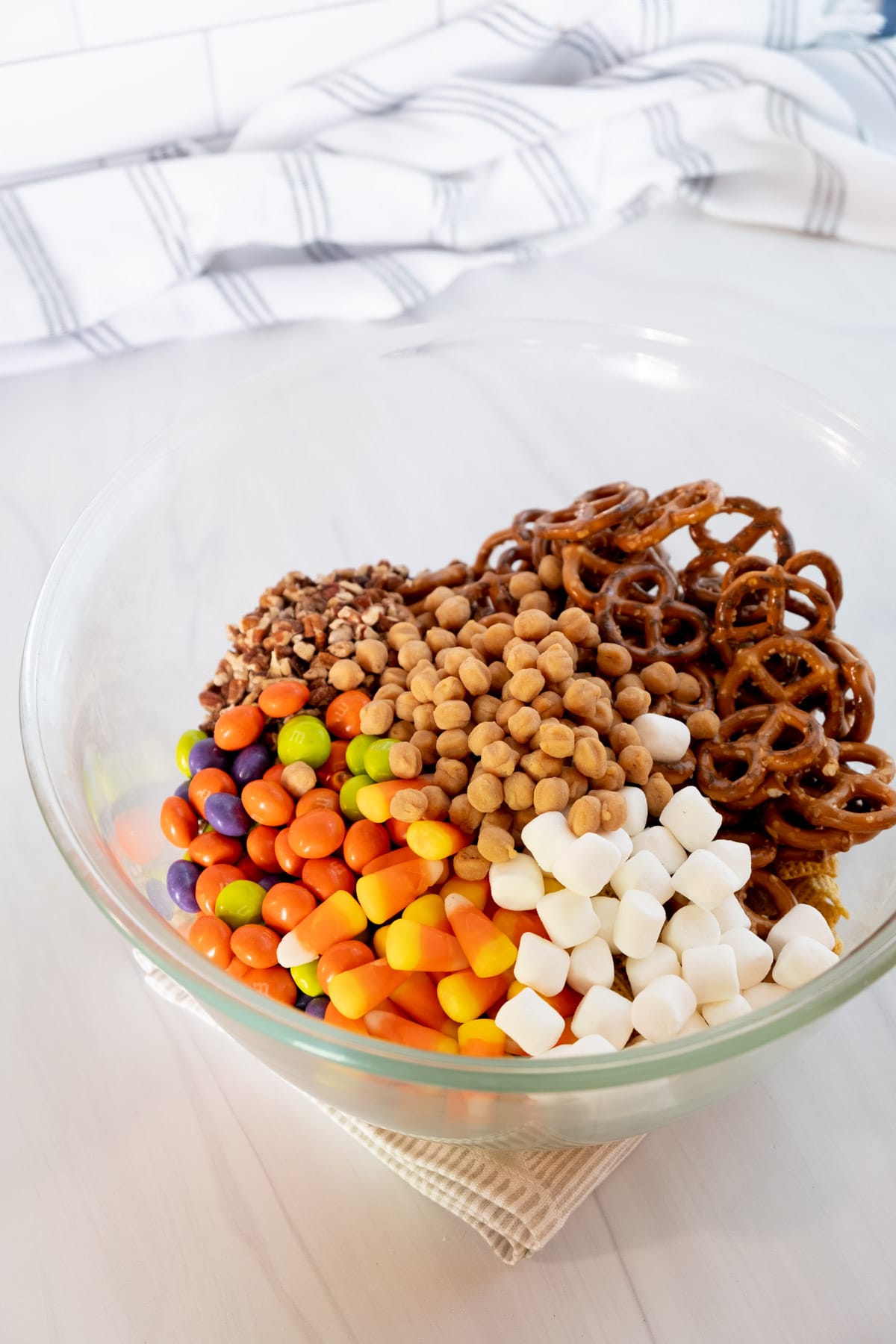 Add all ingredients to a large mixing bowl (or 1 gallon ziplock bag).
Carefully stir to combine.
Serve Halloween Chex Mix in a bowl.
Store in an airtight container or 1 gallon Ziplock bag at room temperature.
How to Serve Halloween Chex Mix
For simple snacking, place Chex Mix in a spooky air-tight container or a 1 gallon Ziplock bag.
If you're making this for a party, serve in a large Halloween-themed bowl like this awesome coffin bowl! Guests can scoop the fun mix into cute Halloween cups like these coffin cups or these cute cups.
Another party serving option is to pre-scoop the Chex Mix into small bowls to hand to guests.
Set up a Halloween Chex Mix bar by placing all ingredients in individual bowls on a table. Let your guests create their own mix!
To give as a gift, place Chex Mix in a cute mug or mason jar.
Or simply scoop into a ziplock bag to send home with your favorite college student or friend for a scary delicious treat.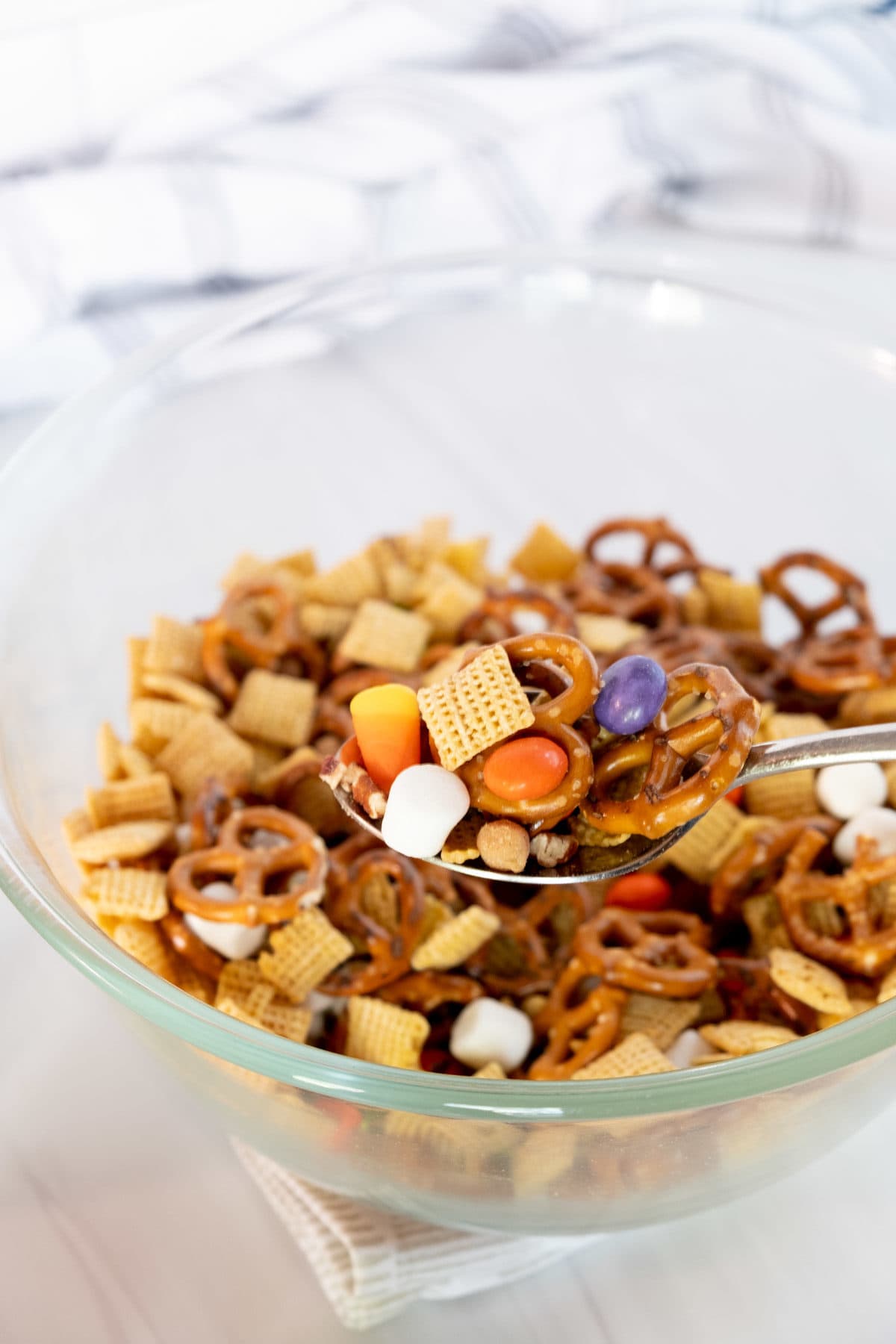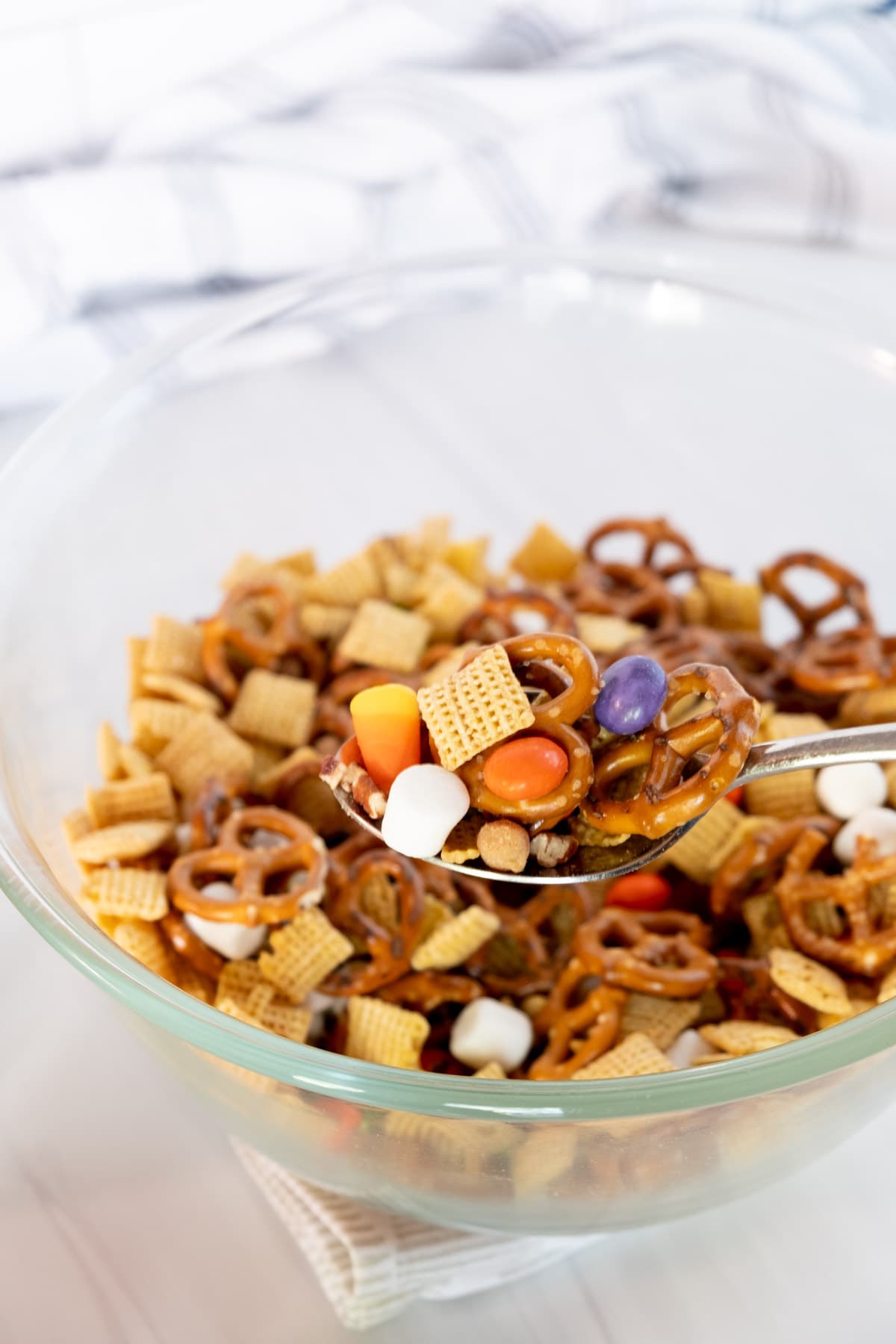 Recipe Variations, Notes & Tips
The great thing about this delicious Chex Mix is that you can customize it to your heart's content. Here are some ideas for what you could use to create your perfect combination:
Reese's pieces instead of peanut butter M&Ms
Or your favorite kind of M&Ms (peanut M&Ms, pretzel M&Ms, caramel chocolate M&Ms, etc)
White chocolate chips, dark or milk chocolate chips or butterscotch chips
Your favorite Halloween treats (candy pumpkins, purple and black candy corn, candy ghosts, etc)
Different kinds of Chex flavors (like rice Chex, cinnamon Chex, vanilla Chex, etc)
Pretzel sticks, rounds or squares
Walnuts, roasted almonds, salted peanuts, macadamia nuts or roasted hazelnuts
Candy eyeballs
Kettle corn or buttered popcorn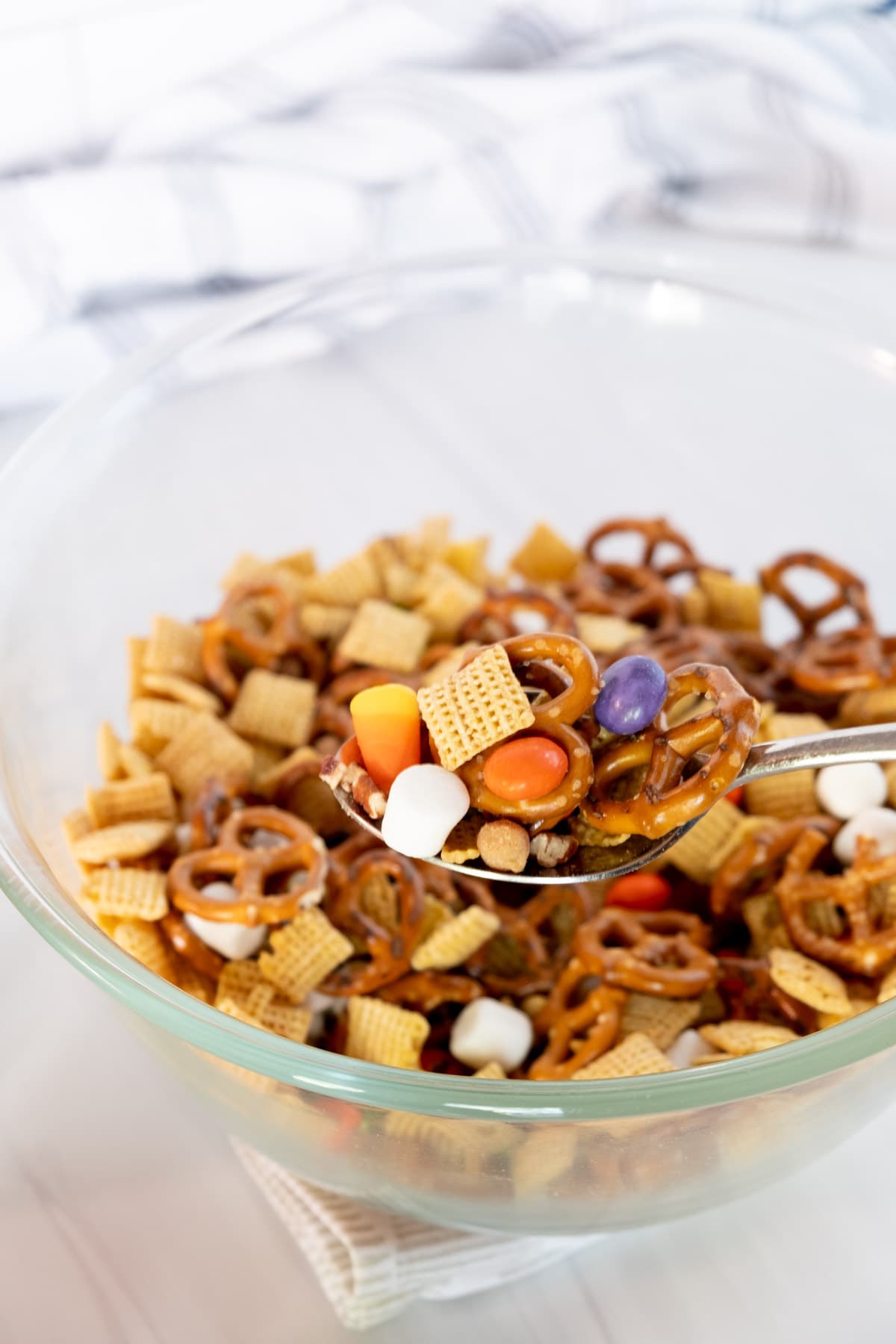 FAQ
What's the difference between muddy buddies (or puppy chow) and Chex Mix?
While all 3 typically combine simple ingredients to create a delicious party mix, muddy buddies (also called puppy chow) are coated in powdered sugar.
Do I need to bake this Chex Mix?
Nope! While there are some snack mixes that require melting butter or chocolate or baking the mix in the oven, this one is a super easy no-bake mix.
Why is Chex Mix so good?
The satisfying mix of flavors and textures! In this recipe you get sweet and salty flavors plus crunchy and soft textures. Everything blends so well to create the best can't-stop-eating-this the perfect snack.
More Chex Mix Recipes