Best German Cakes: What to Eat When You Visit Germany
This article may contain affiliate links. See our disclosure link for more information.
One thing I always look forward to when I go to Germany? Cake!
Germany has the best cakes. So many different and while I prefer some over others, they're all basically delicious. And different from many of the cakes that are typical in the US.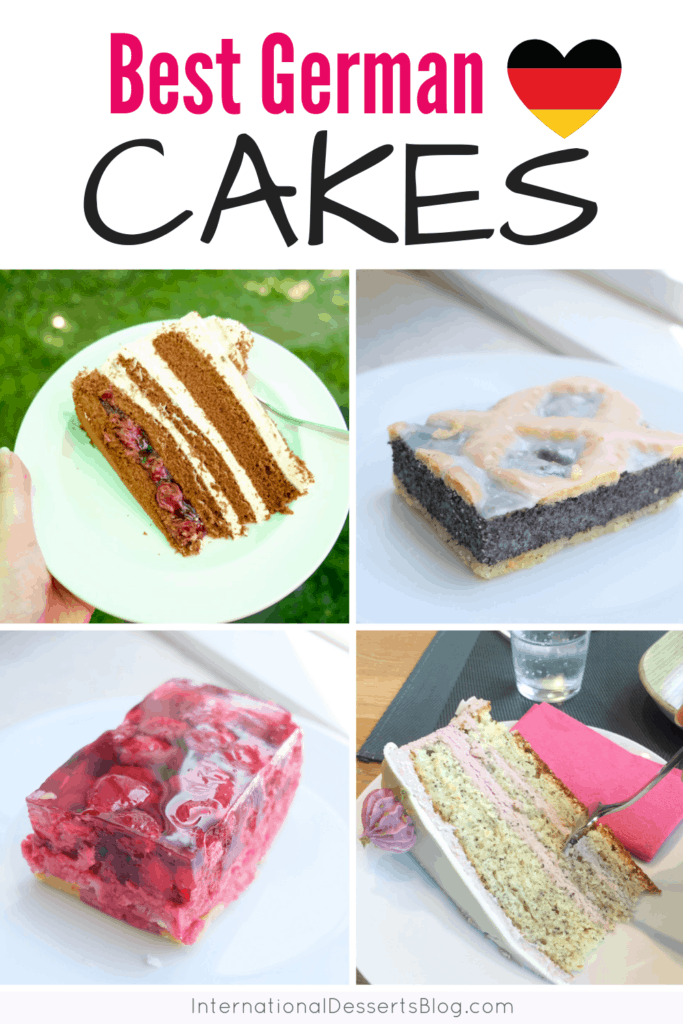 So I thought I'd share some cakes with you as a preview of what you have to look forward to when you visit Germany.
Where can you find the best cake in Germany?
You'll pretty much find cake everywhere in Germany…at bakeries, cafes, restaurants, stores, and your friend's Kaffee und Kuchen table.
Maybe you've heard of the awesome German tradition that is afternoon Kaffee und Kuchen? While not an every single day kind of thing, taking time out for a cup of coffee (or tea) and a slice of cake (or pastry) is a fundamental part of German culture.
And one you must try when you go to Germany! 🙂
Do as the locals do, right?
About German cakes:
German cakes are not typically covered in American butter cream, so they're not usually sugary sweet like many cakes in the US. Some will have German butter cream (very smooth, buttery, and not as sweet), others will have whipped cream, a light glaze or chocolate ganache. Many have no icing at all.
German cakes often feature fruit, nuts or poppyseeds.
Some German cakes are on the dense and dry side. These are perfect with a cup of hot coffee or tea.
In bakeries you'll often find huge slabs of cakes cut into rectangular pieces. You'll find those at cafes, too, but cafes seem to have more round cakes and layered cakes with icing.
Treat yourself to German cake while you're traveling in Germany – it's a great way to taste the culture!
Then try making German cakes at home – click here for some delicious recipes!
Best German Cakes
While it's impossible to highlight every kind of cake in Germany, I can show you what I sampled on my last trip to Germany. I was glad my husband was on that trip with me so we could share! 🙂
Blackberry Poppyseed Layer Cake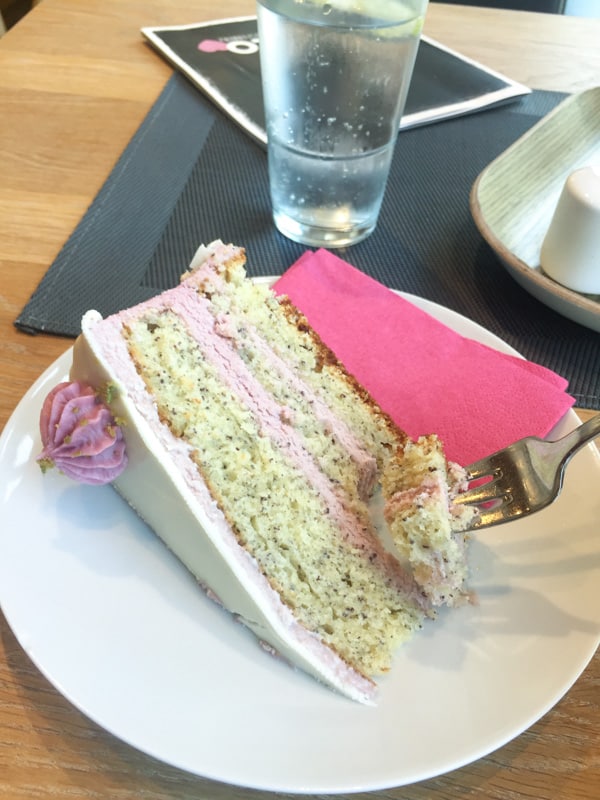 I stopped at a cute cafe in Esslingen (near Stuttgart) on my last day in Germany and had a really tough time choosing which cake to try. I finally settled on this piece of blackberry poppyseed cake with white chocolate ganache. Wow, it was so good!! I'm definitely going to recreate this one at home.
2. Raspberry Cake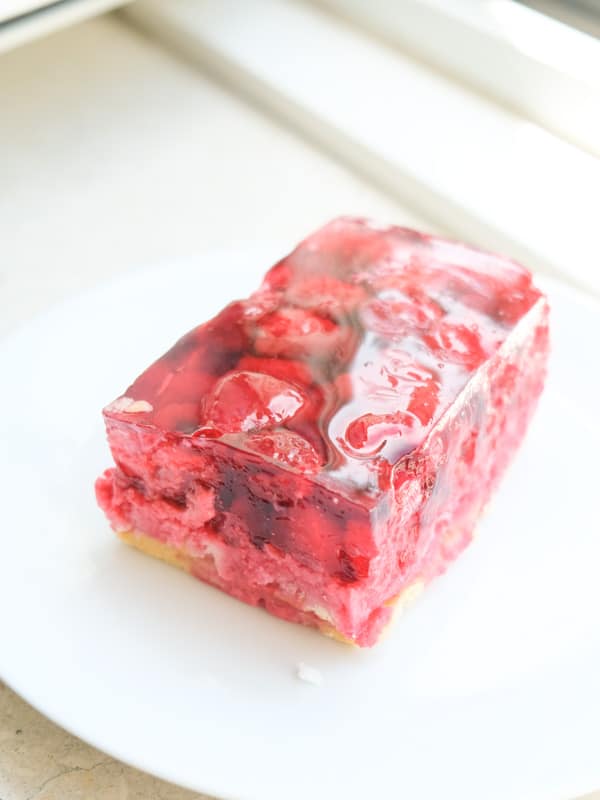 This cake is all about raspberries. The very bottom layer was kinda like a sugar cookie. Then there was a small layer of a spongy cake. And then a huge layer of deliciously tart raspberries! I'm not a huge fan of the gelatin that holds the fruit together in these kinds of cakes but I did love the intense raspberry flavor.
3. Black Forest Cake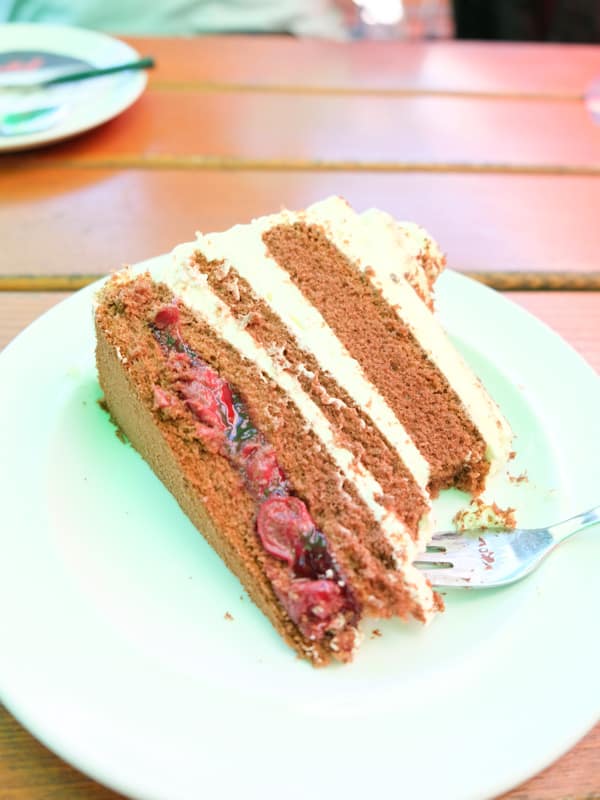 I couldn't go to the Black Forest without enjoying a piece of traditional Black Forest Cake! Four layers of chocolate cake, a layer of cherries, and three layers of whipped cream = a delicious afternoon break on a very hot summer day.
Black Forest Cake is typically made with Kirsch liquor, and some cakes I've tried been very boozy. This one wasn't at all, and it actually could have used a bit more Kirsch flavor. If you do – or don't – want a strong Kirsch flavor, you might want to inquire about the flavor intensity before ordering.
4. German Plum Cake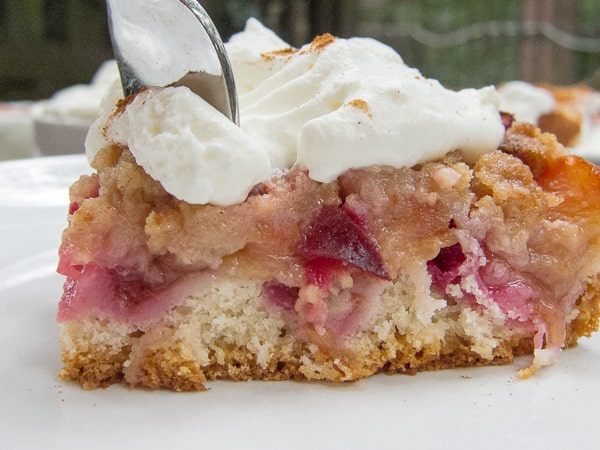 German plum cake is super popular in Germany when plums are in season. It's actually a cake I never really liked until a few years ago when I made it at home. I've never been a huge fan of plums, so a cake featuring plums just never sounded that appealing. But I've changed my mind and I'm a total convert to plum cake.
German plum cake is amazing, especially topped with a dollop of fresh whipped cream. The baked plums get all soft and sweet and the cake base and buttery streusel topping balance out the sweetness so well. If you're in Germany during plum season, give this cake a try. Or make German plum cake at home with my easy recipe!
5. Poppyseed Cake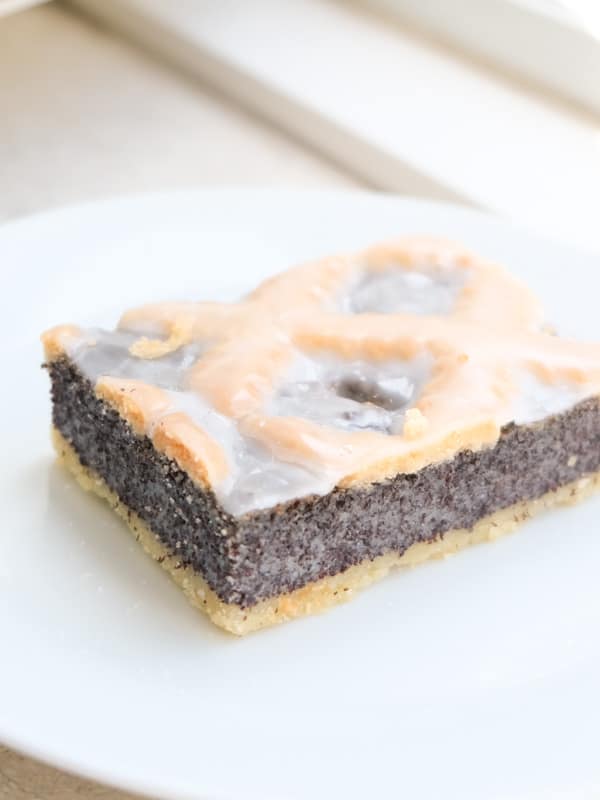 Like poppyseeds? You'll love this cake. The filling is poppyseeds and – I think – ground almonds (there was definitely an almond flavor in this cake). The glaze on the top of the cake sweetened it up a bit. I'm not a huge fan of ground almonds (marzipan) so this wasn't my favorite cake of all time, but I enjoyed trying it.
6. Bienenstich Cake (Bee Sting Cake)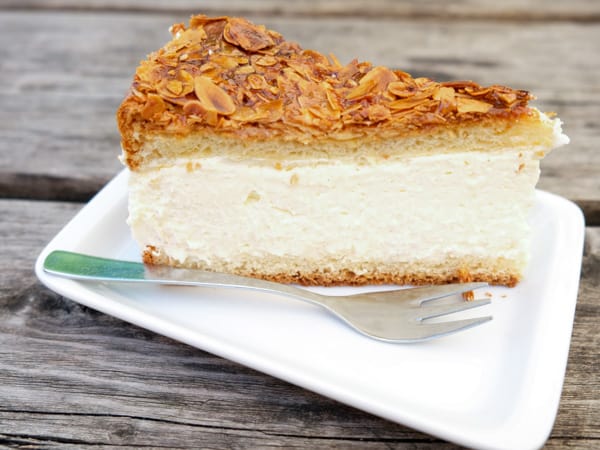 When my husband and I were in Stuttgart last month we hiked from where I used to live to the Bärenschlössle (Little Bear Castle) and enjoyed a salad and a couple slices of cake. I was excited to see that they had Bienenstich (Bee Sting Cake), as that's one of my favorite German cakes. The filling is light and creamy and the top is a delicious combo of honey and almonds. You can make Bienenstich at home, too!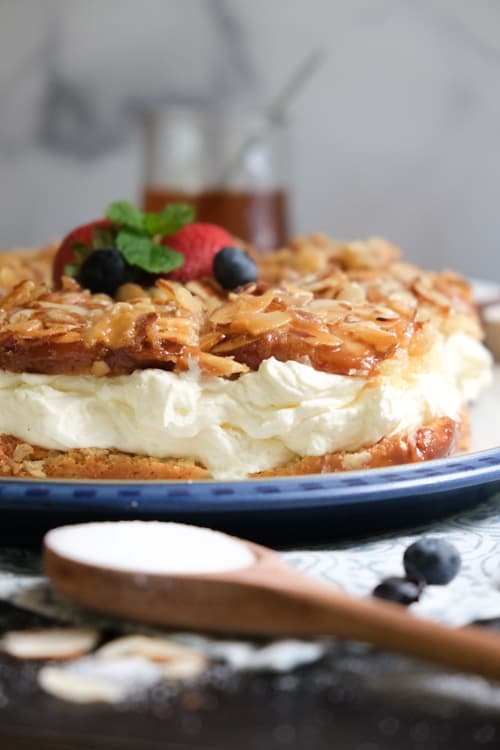 7. Fruit Streusel Cake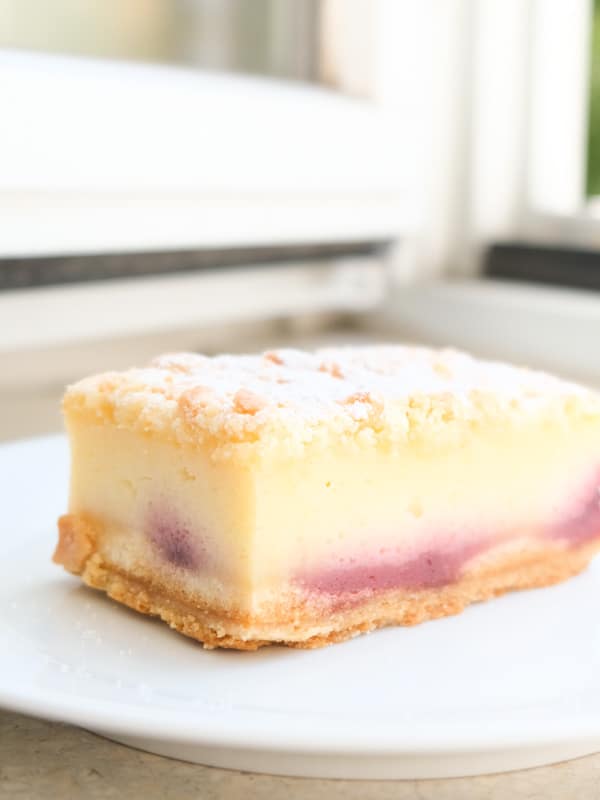 This cake was a big surprise because I didn't think I'd like it that much. I'm not even sure what the name of it is. Turns out, this cake was delicious! The base was kinda sugar cookie-like, the filling was vanilla and berry flavored and had a cream-of-wheat type of texture, and the topping was a buttery streusel. This isn't the kind of cake I usually go for but both my husband and I were pleasantly surprised by how good it was.
8. German Quark Cheesecake (Käsekuchen)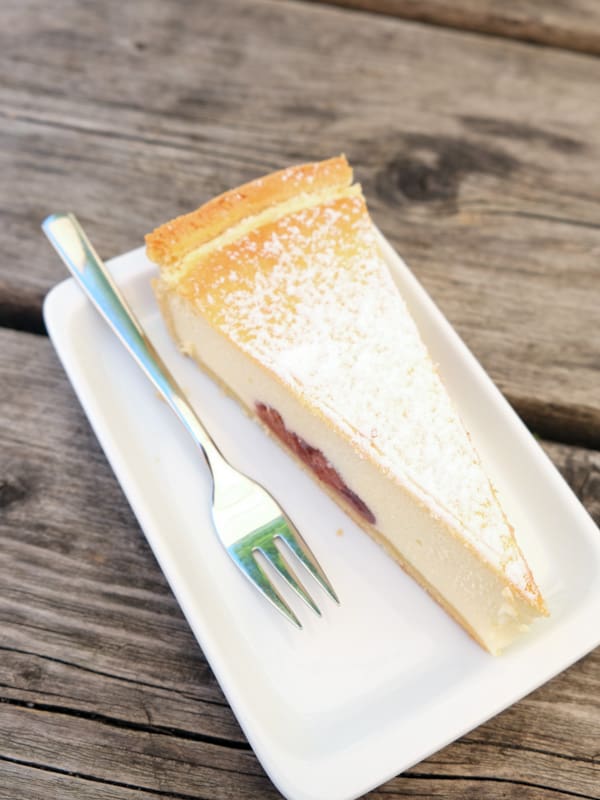 German quark cheesecake! This fruit-filled cake was light and creamy and the perfect sweet addition to the salads we ate for lunch. I really appreciated that the slice was on the small side…less guilt about enjoying lunch dessert!
Hungry for more? Check out my article on the best German pastries!