Easy German Radler Beer Recipe
This article may contain affiliate links. See our disclosure link for more information.
This easy German drink is the perfect beverage for hot summer days. All you need are 2 simple ingredients!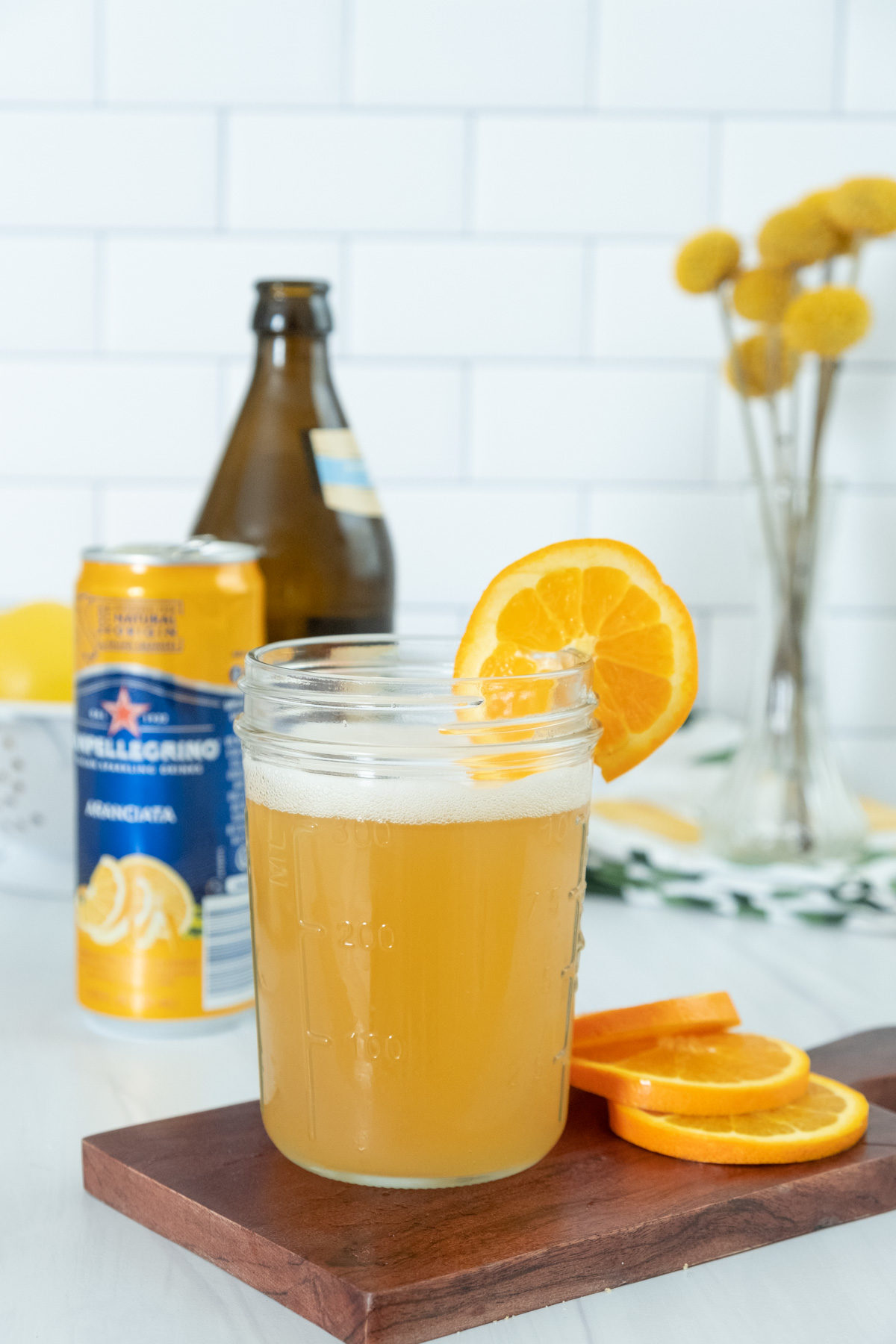 ? About This Recipe
When I moved to Germany many years ago, I quickly learned to enjoy the taste of beer. I've been a fan of German beer ever since.
Early on, I was introduced to the traditional German Radler (or Alsterwasser, since I was living in the North at that time) – a mix of half beer and lemon soda that's delightfully fizzy and only lightly alcoholic.
But because I was a teenager at the time and only saw older adults drink it, I declared it a drink for "old people" and stuck with my favorite Hefeweizen or Pils.
Well…I'm now one of those "old people" and very much enjoy a good Radler!
Not only is it a classic German beverage, it's the perfect refreshing drink on hot days.
This Radler recipe is perfect for those times when you want a beer but also want to consume less less alcohol.
Because Radler is made by combining equal parts beer and sparkling German "Limonade" (which isn't like American "lemonade" – more on that in a bit) it's a sweeter beverage compared to straight beer.
Consequently, some beer drinkers find that they enjoy a refreshing Radler, while others give it a taste and decide to stick with their favorite savory brew.
There are a few different kinds of Radler you can make (e.g. Lemon Radler, Orange Radler, Grapefruit Radler, Lime Radler, and Lemon-lime Radler) and everyone has their favorite.
The best way to decide for yourself is to give this simple Radler beer recipe a try and see which is yours!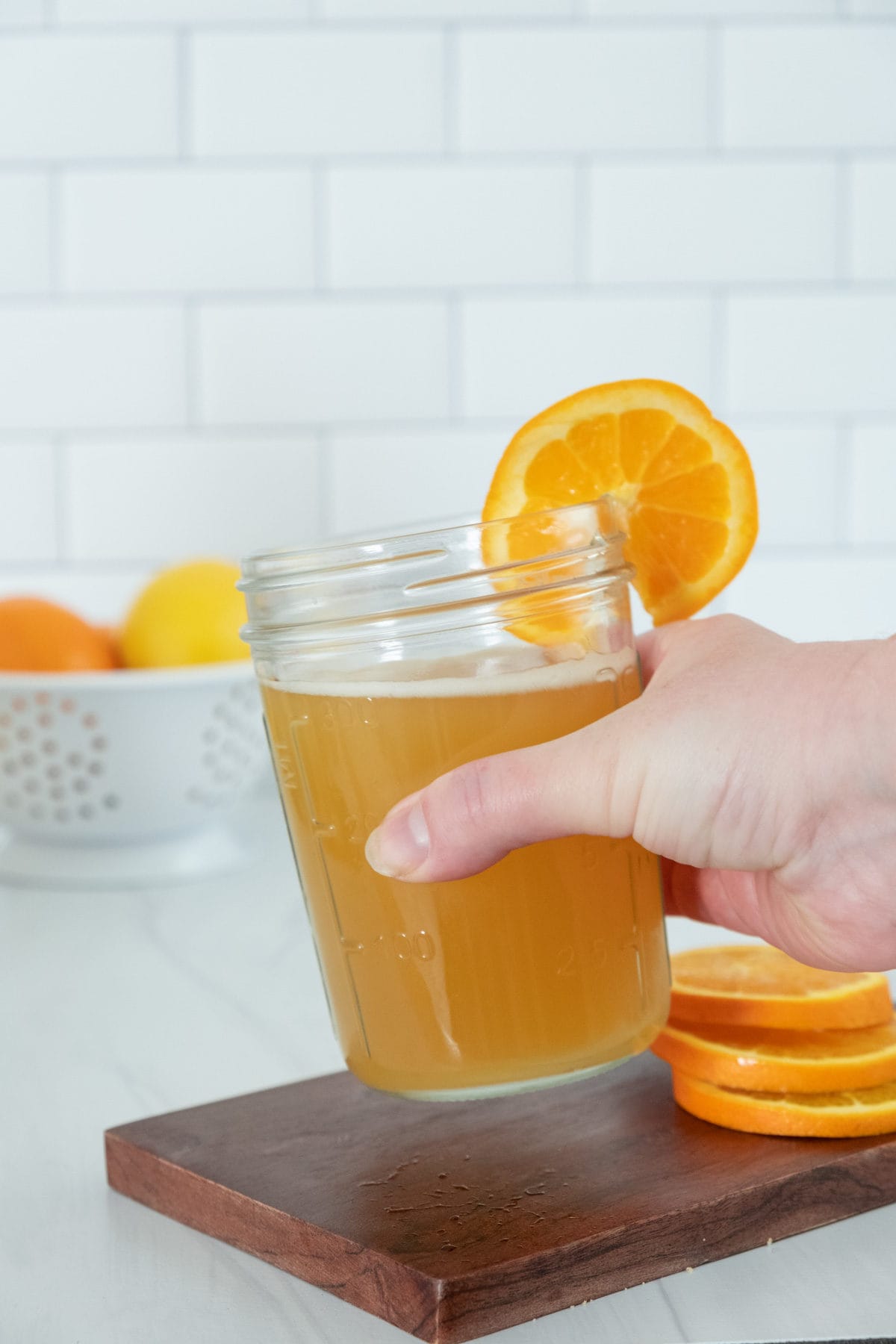 ❓FAQ
What is a Radler?
A traditional Radler is mix of beer and German "Limonade," which is the term for any fizzy, non-alcoholic, fruit-flavored soda (so it's not the same as the "lemonade" you find in the US).
To be considered a Radler, the drink must be at least 50% beer. Many bars and restaurants in Germany will create their own take on Radler…sometimes with 50% beer, sometimes 75%, sometimes somewhere in-between.
What does "Radler" mean?
Ask anyone in Germany and they're likely to tell you that it's called a Radler because "radeln" means to cycle in German…so it's a beer drink you can enjoy while still being able to cycle home after drinking!
Supposedly it was created in the 1920s when a German innkeeper and pub owner didn't have enough beer to serve the overwhelming number of cyclists that had arrived one summer. He mixed beer with sparkling lemon soda and the rest was history.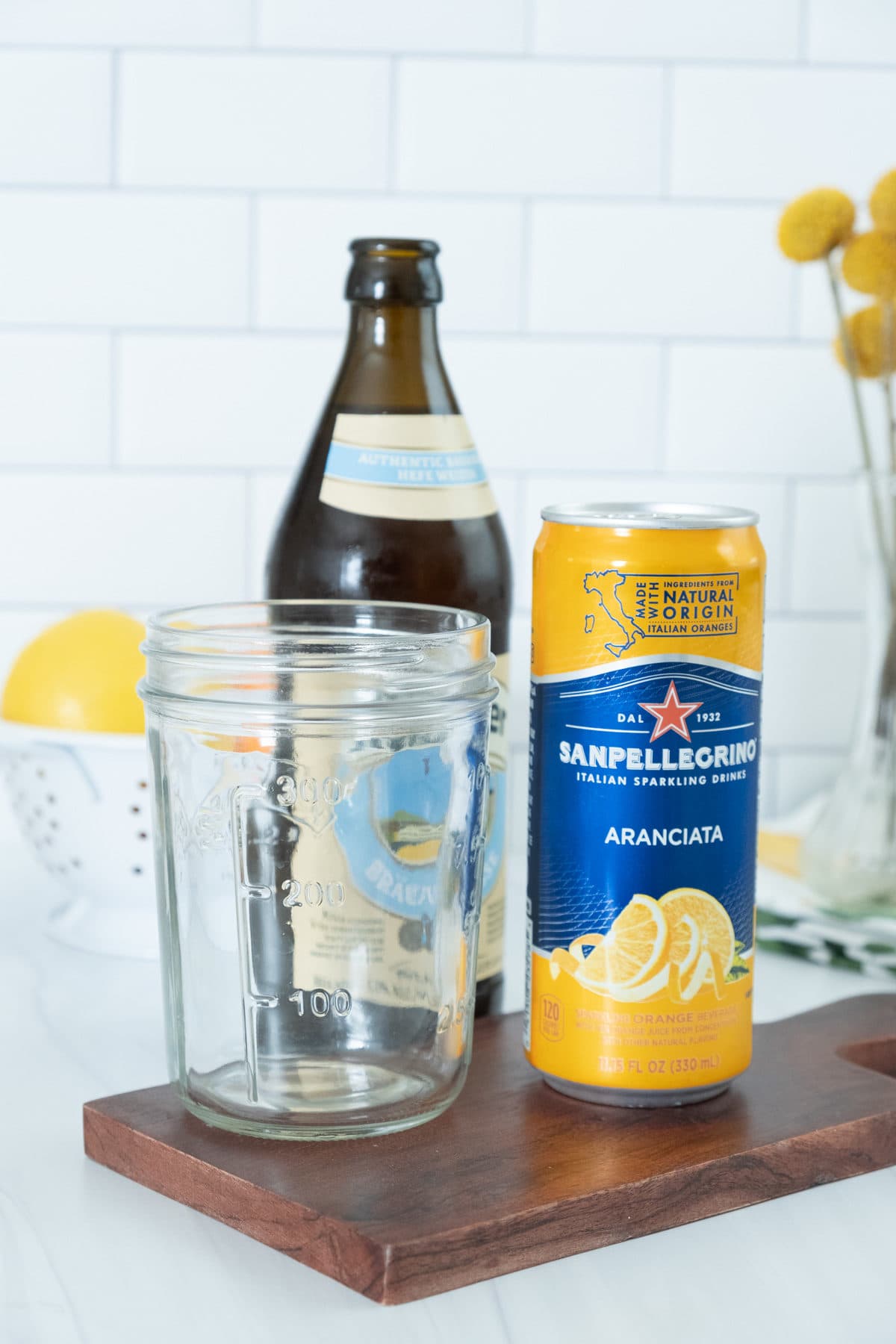 Are Radler only enjoyed in the summer?
Many Germans (and now people all over the world) love drinking Radler in the summer because it's the perfect refreshing summer beverage but it's actually enjoyed all year round.
You can join in the celebration of Radler Day by taking a bike ride and drinking a Radler on June 22 – National Radler Day!
Is a Radler the same as a shandy?
While similar, a Radler is not simply a German shandy. Shandy is of British origin and comes in different flavors and use ingredients like ginger ale. Commercial Shandys are also a bit higher in alcohol content.
How should I serve a Radler?
Cold! It's best to chill both the beer and the soda before mixing and serving your Radler.
Can I buy Radler in the US?
Yes! In recent years I've seen more and more Radler options at grocery stores in the US. We've tried Stiegl Grapefruit Radler and Bitburger Radler so far (both grapefruit flavor, which seems to be the most popular Radler flavor in the US).
Where can I enjoy Radler in Germany?
Most bars, restaurants, and beer gardens in Germany will offer Radler.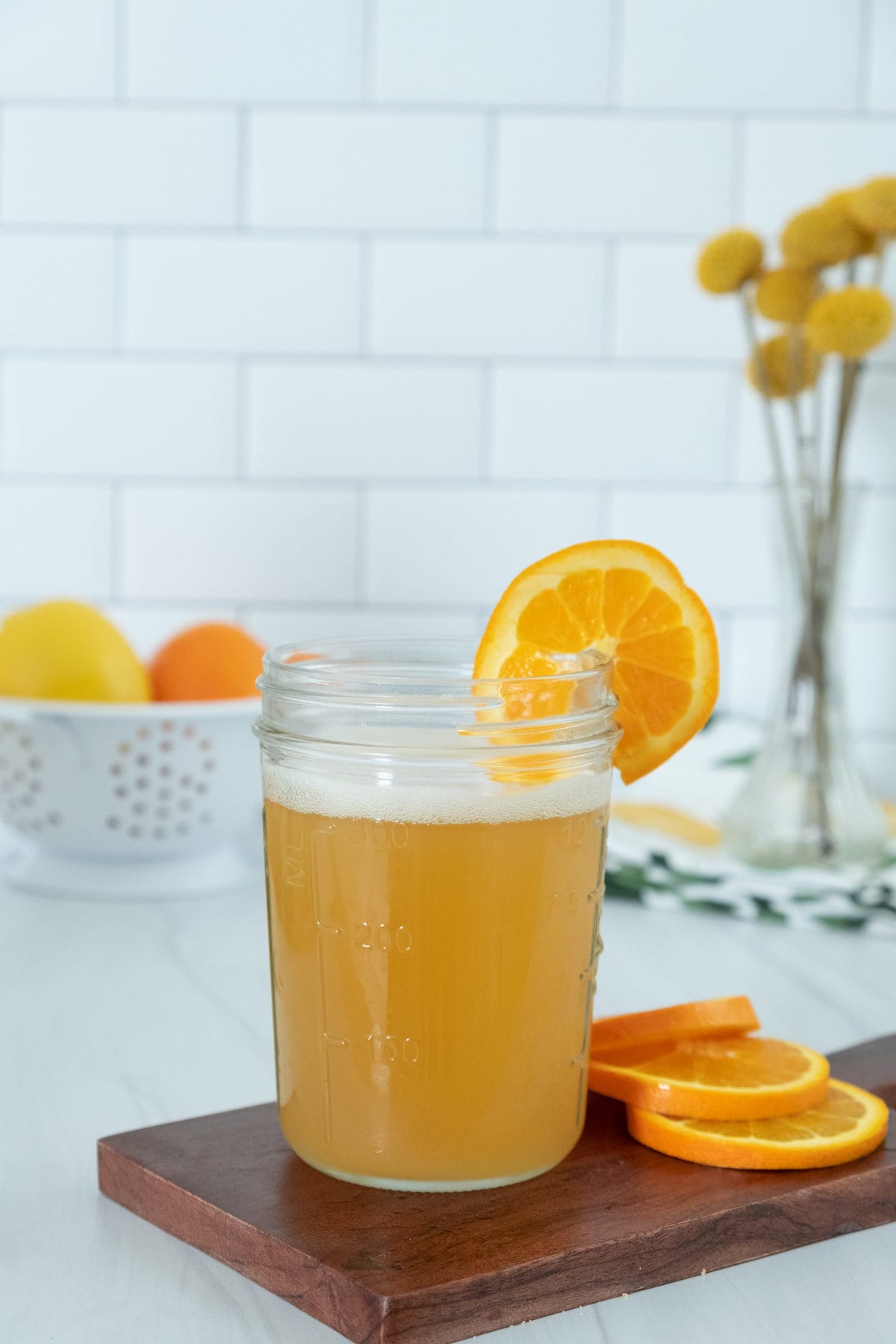 ? What You Need to Make This Recipe
Ingredients:
Light German beer (see below for options)
Lemon, lime, lemon-lime soda or grapefruit soda OR fruit juice + club soda
Slice of orange, lemon or grapefruit (optional garish)
Best Kind of Beer for Radler:
Use a light beer like a Helles Hefeweizen (light wheat beer), a light Pils or a light, crisp Lager.
If you've never made a Radler before, start with a light or pale German lager beer or a wheat beer.
While you can certainly try using a dark beer, Radler aren't usually made with them.
You can use a German beer or use your favorite craft beer.
Best Kind of Soft Drink:
If you don't have access to the typical "German lemonade" try:
lemon soda, lime soda, lemon-lime soda, orange soda, blood orange soda, grapefruit soda (e.g. San Pellegrino – that's my favorite)
citrus soda like Sprite or similar
make a fresh grapefruit soda by combining fresh grapefruit juice and club soda
combine orange juice, lime juice or lemon juice and club soda
Kitchen Tools:
Glass (e.g. a pint glass)
Spoon
? Recipe Variations, Notes & Tips
Use cold beer and cold soda or juice.
Experiment with creating your own version by trying different types of beer with different soda or fresh juice flavors.
If you want to add a garnish, add a slice or wedge of fresh citrus.
Instead of using citrus-flavored soda, make another beloved German beer drink: Cola-Bier! Simply add cola to beer in a 50/50 or 75/50 beer to soda ratio.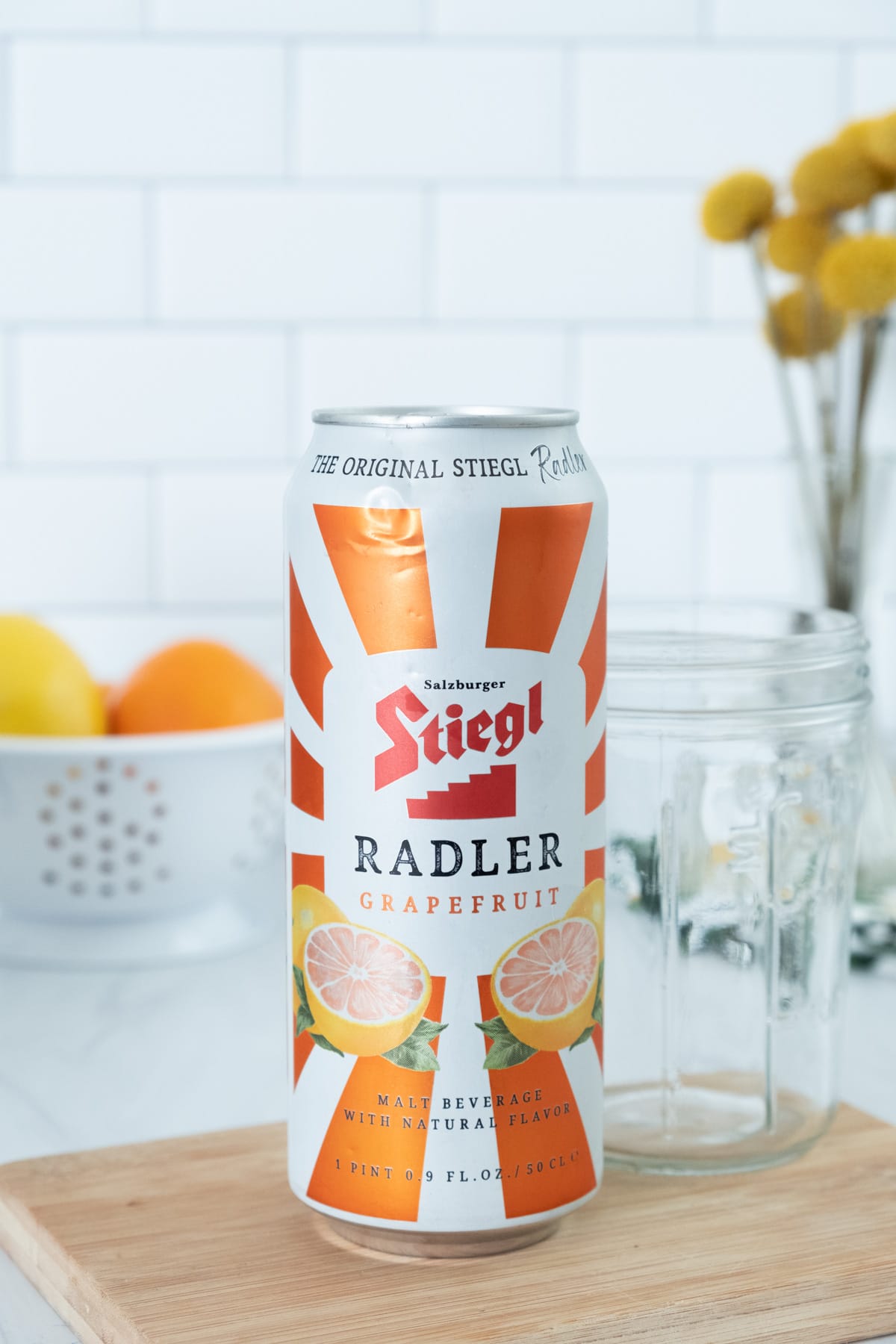 One Of Our Radler Experiments
While we pick up cans of Stiegl Radler or Bitburger Radler the store once in a while, we also like to make our own homemade Radlers, so we've been experimenting more and more with making our own (hence this recipe).
Depending on the type of beer and soda you use, and the beer to soda ratio, you can make infinite variations of Radler, so it's fun to experiment.
Here's one of our recent experiments: I picked up a light (helles) Bavarian beer I'd never tried before and 3 flavors of San Pellegrino soda: lemon, orange, and blood orange (which I bought because I originally thought it was grapefruit).
We tried all 3 sodas with the Bavarian beer in a 50/50, 60/40 and 75/25 ratio of beer to soda.
The result?
Orange Radler – this one was the best! The flavor of orange soda and beer just blended well in a 50/50 beer to soda mix.
Blood Orange Radler: – we were surprised that the Radler with the blood orange soda was also delicious. We liked a 60/40 beer to soda mix with that one.
Lemon Radler – surprisingly, this one was our least favorite. I originally thought I'd prefer a Radler with the lemon soda the best, since it's more like the German "Limonade" I remember…but it was way too sweet in a 50/50 ratio. A 75/25 beer to soda ratio was the best.
How to Make a German Radler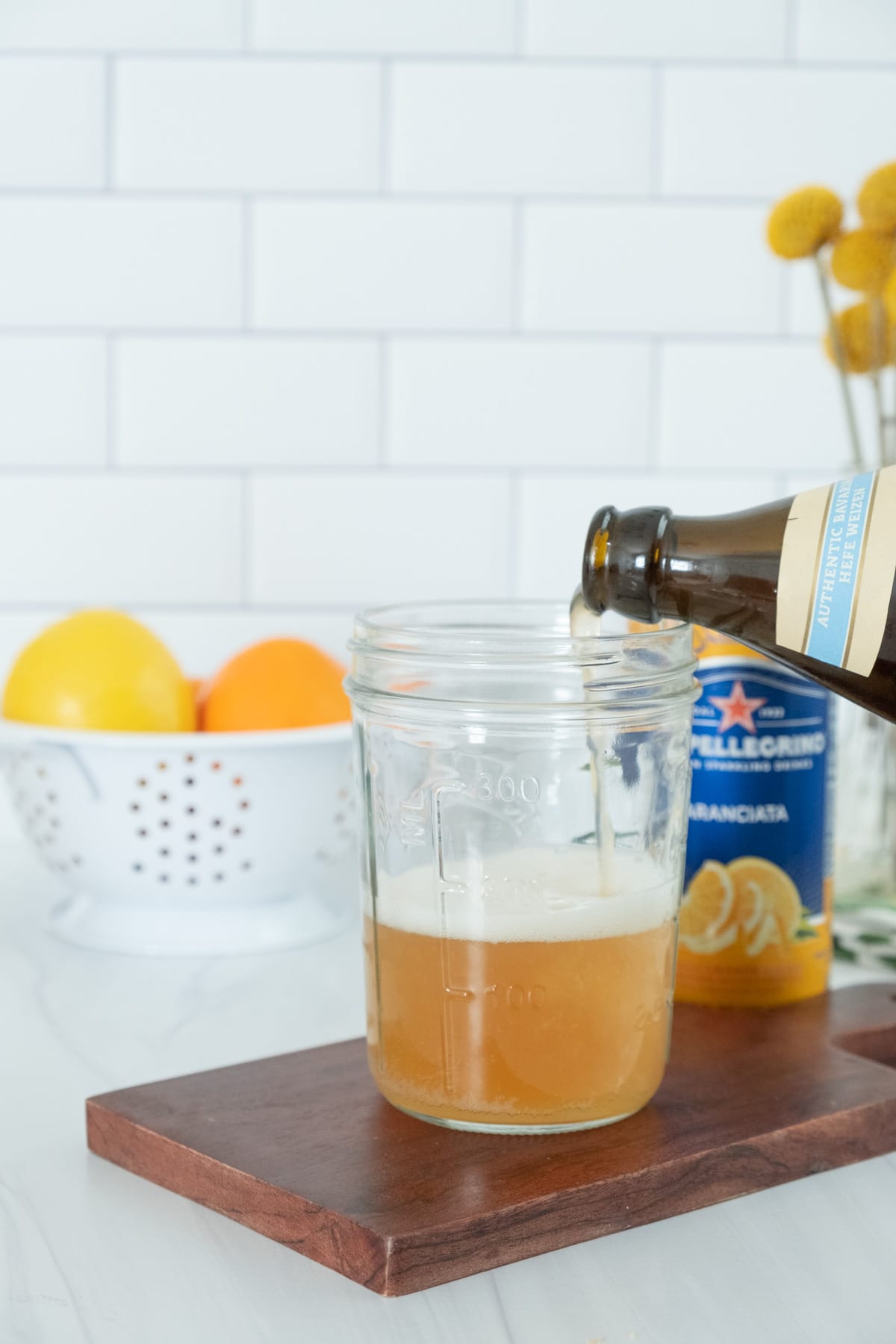 Chill beer and soda until cold.
Combine beer and soda or juice + club soda in a glass in equal proportions or 75/25 ratio of beer to soda. The flavor should be balanced and not overly sweet.
Garnish with a slice or wedge of lemon, orange, lime or grapefruit (optional).