How to Prepare and Serve Traditional Afternoon Tea
This article may contain affiliate links. See our disclosure link for more information.
When it comes to British traditions, one of the first things most people think of is a lovely afternoon tea. This beloved tradition featuring tea, sandwiches, scones, sweet pastries, and other treats is a delightful experience worth trying at least once.
Whether you're enjoying tea in a luxurious London hotel or organizing a fun gathering at home, a traditional afternoon tea is a wonderful way to savor some delicious tea and treats and enjoy the company of friends and family.
In this guide I show you what to expect if enjoying afternoon tea in the UK and how to recreate and serve afternoon tea at home.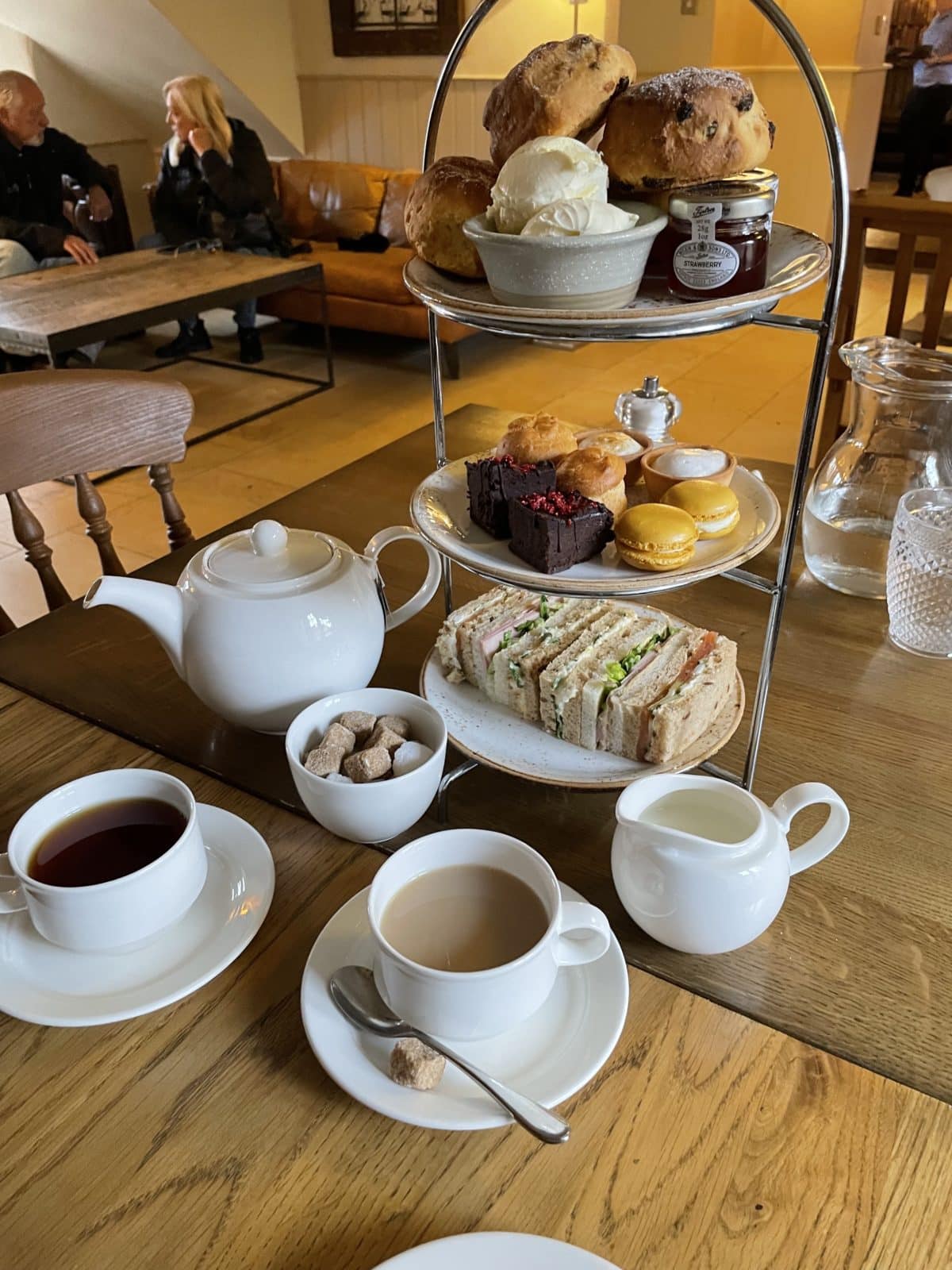 What Is Afternoon Tea?
Afternoon tea is a British tradition that is typically composed of finger sandwiches, a batch of scones with clotted cream and jam, small bites of sweet pastries, and of course your classic cup of tea.
It has a long history and tradition in British culture, but nowadays it's typically enjoyed as an occasional indulgence or to celebrate a special occasion like a birthday, baby showers or a pre-wedding party.
Tea is one of the most popular things for tourists to do when visiting the UK. It's worth the expense to indulge at least once.
You can also plan your own afternoon tea party with your favorite close friends or family! It's the perfect way to organize a fun and creative social gathering filled with cute decorations and delicious tea party recipes. Keep reading to know what to include in your afternoon tea menu.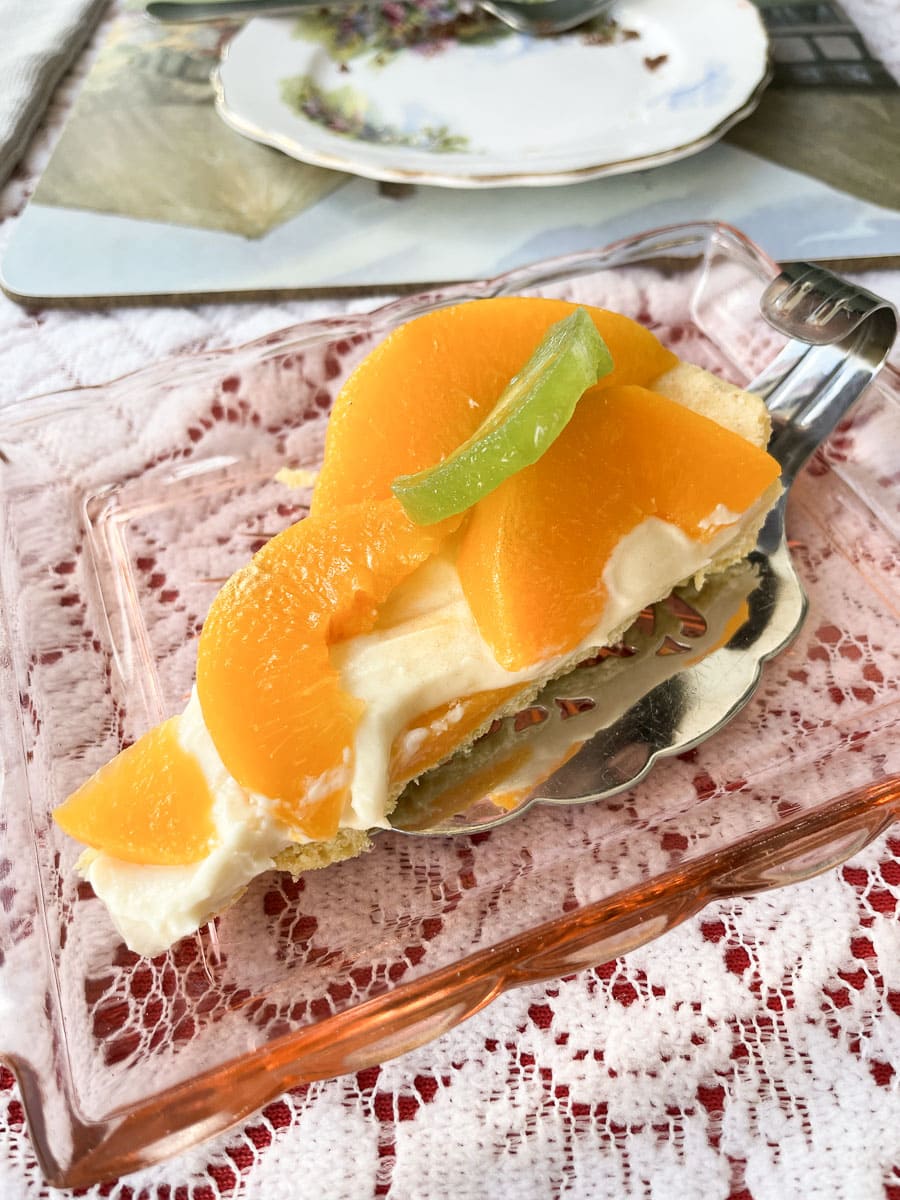 What's In Afternoon Tea?
Afternoon tea is traditionally served on a 3-tier stand with tea sandwiches, sweet bites, and scones on each tier. Typically you begin with the bottom tier and work your way to the top tier while enjoying a pot of hot tea.
Tea
Tea is the highlight of the menu. It's good to have a variety of teas for your guests to choose from, especially if they want to pair different teas with the savory and sweet treats.
The most common type of tea that is served is black tea. It's a full-bodied tea that is bold and flavorful, making it the perfect accompaniment to any food. Some examples include earl grey tea, darjeeling, Assam, and English breakfast tea. Earl grey is my personal favorite.
We recommend these black tea bags from a well-known family tea business based in England or if you prefer loose tea, this afternoon blend originating from Ceylon and Assam is the best option.
For something lighter, green tea is always a good choice. The subtle and more delicate flavor would pair well with the sweet pastries, especially something like a mint green tea. Some popular examples would be gunpowder green tea or jasmine tea.
Another refreshing option is herbal tea. Herbal teas come in a wide range of different flavors like lavender, chamomile, ginger, rooibos and other fruit infusions. They're also a great way to serve caffeine-free options.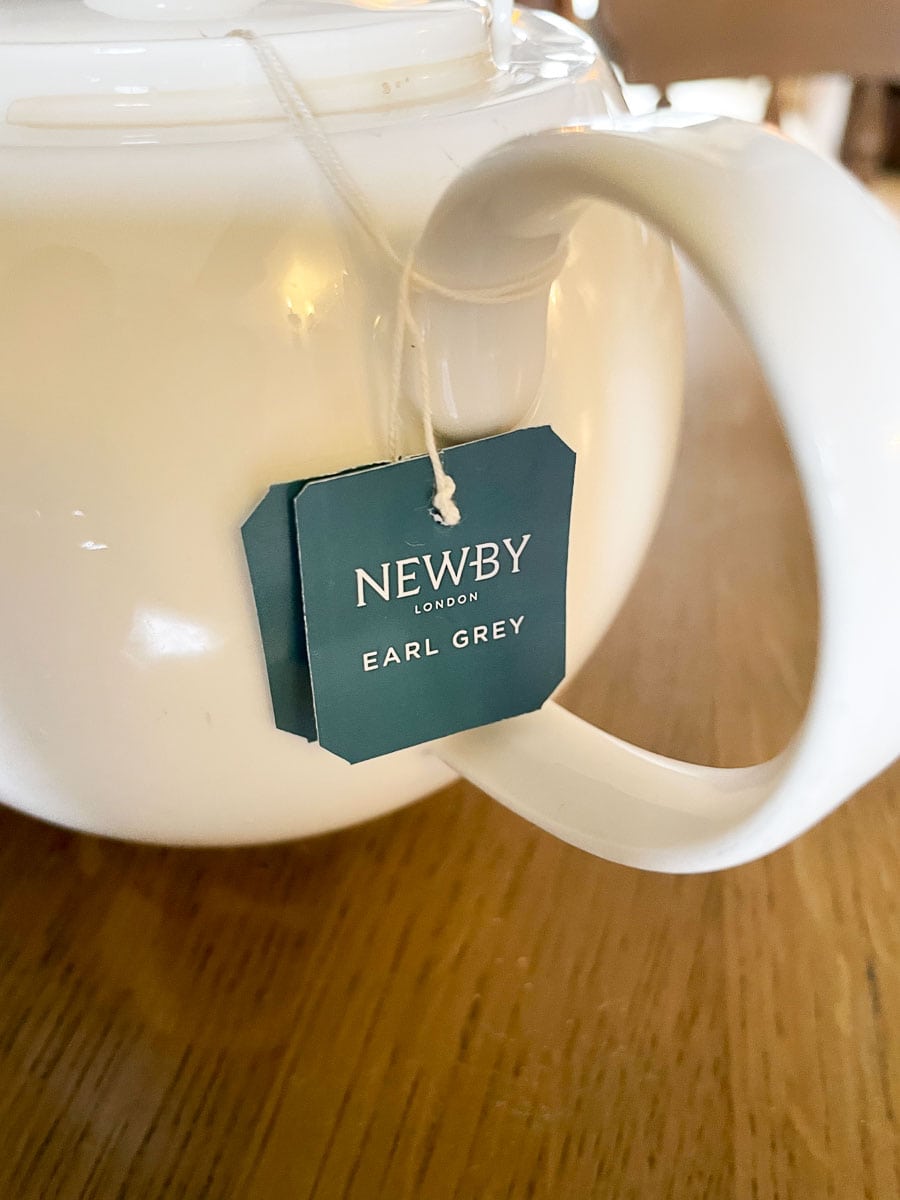 Tea Sandwiches
Tea sandwiches are a staple in all afternoon tea spreads. Typically they are cut into a small size and are made using wheat, whole grain or white bread with no crust. They're really easy to make and prepare in advance and you can choose whichever flavors you want to serve! Here are some of the most common varieties:
Cucumber sandwiches: Spread cream cheese on the bread of your choice. Add thinly sliced cucumbers and season with a few drops of lemon juice and fresh herbs like dill. Light and delicious.
Egg salad sandwiches: These sandwiches are filled with hard boiled eggs mashed with mayonnaise, and different seasonings like mustard, chives, and paprika.
Smoked salmon sandwiches: Spread cream cheese on your favorite bread and then add thin slices of smoked salmon. Top with any of the following: finely chopped red onions, capers, fresh herbs or cucumber slices.
Ham and cheese sandwiches: These classic sandwiches are made with thin slices of ham and cheese and sometimes accompanied with a spread of mayonnaise or mustard and shredded lettuce.
Coronation chicken sandwiches: Similar to chicken salad sandwiches, these are made with shredded chicken mixed with a creamy sauce made from curry powder and mango chutney.
These are some of the most popular and authentic options, but feel free to put your own twist to it and prepare sandwiches with your favorite ingredients. For all finger sandwiches, be sure to first cut the crusts off and then into long slices.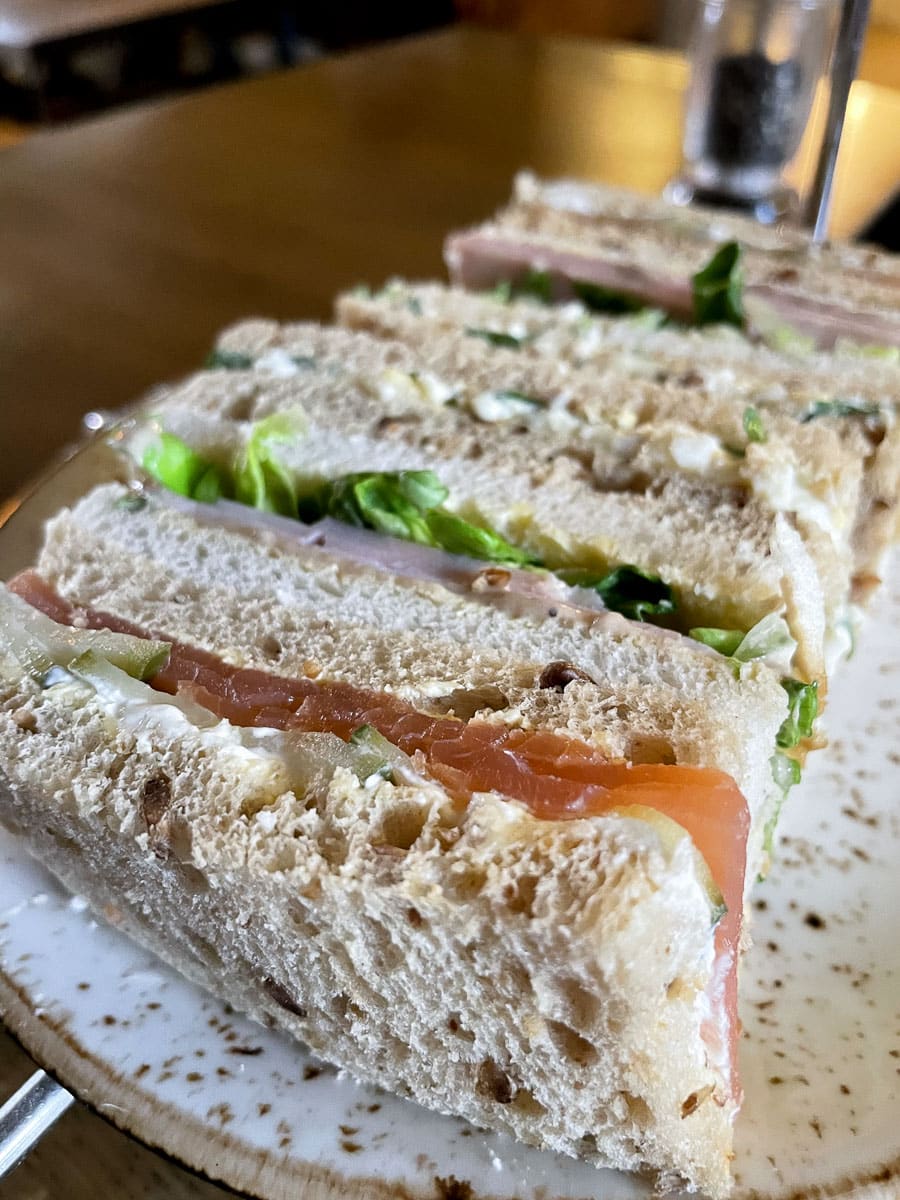 Savory Foods
Aside from tea sandwiches, you can serve other savory bites. Here are some savory food for afternoon tea ideas:
Mini quiches: These small bites are made with a savory pastry crust filled with ingredients such as cheese, vegetables, and meats. Some popular flavors include ham and cheese, spinach and feta, and tomato and basil.
Cheese and crackers: For something easy, you can serve a small assortment of hard or soft cheeses with crackers.
Canapes: Another great idea would be to make canapes which is just a small piece of toast or bread with your topping of choice. The most common canapes would be topped with smoked salmon, shrimp or capers.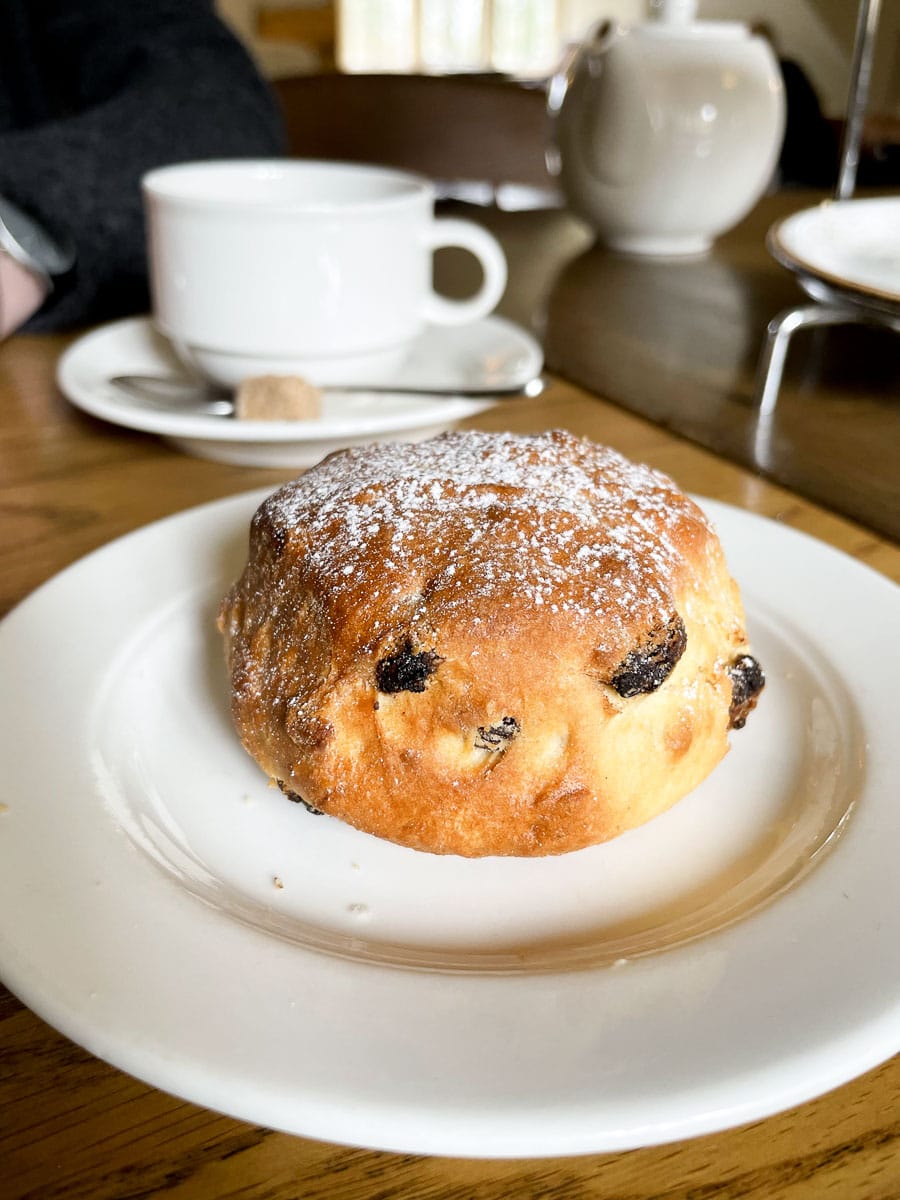 Scones
You can't have afternoon tea without classic scones. Scones are small, slightly sweet, and fluffy baked goods made from the simple ingredients like flour, sugar, milk, and butter. They often include dried fruits like currants or raisins, and sometimes also things like cranberries or nuts.
Scones are typically enjoyed with clotted cream and fruit jam (usually strawberry jam) which are spread on each half of the scone.
Scones are best enjoyed when they're freshly baked straight out of the oven. We highly recommend making your own batch at home to impress your guests! Follow our recipe to make the best scones with the perfect crispy exterior and soft, fluffy interior.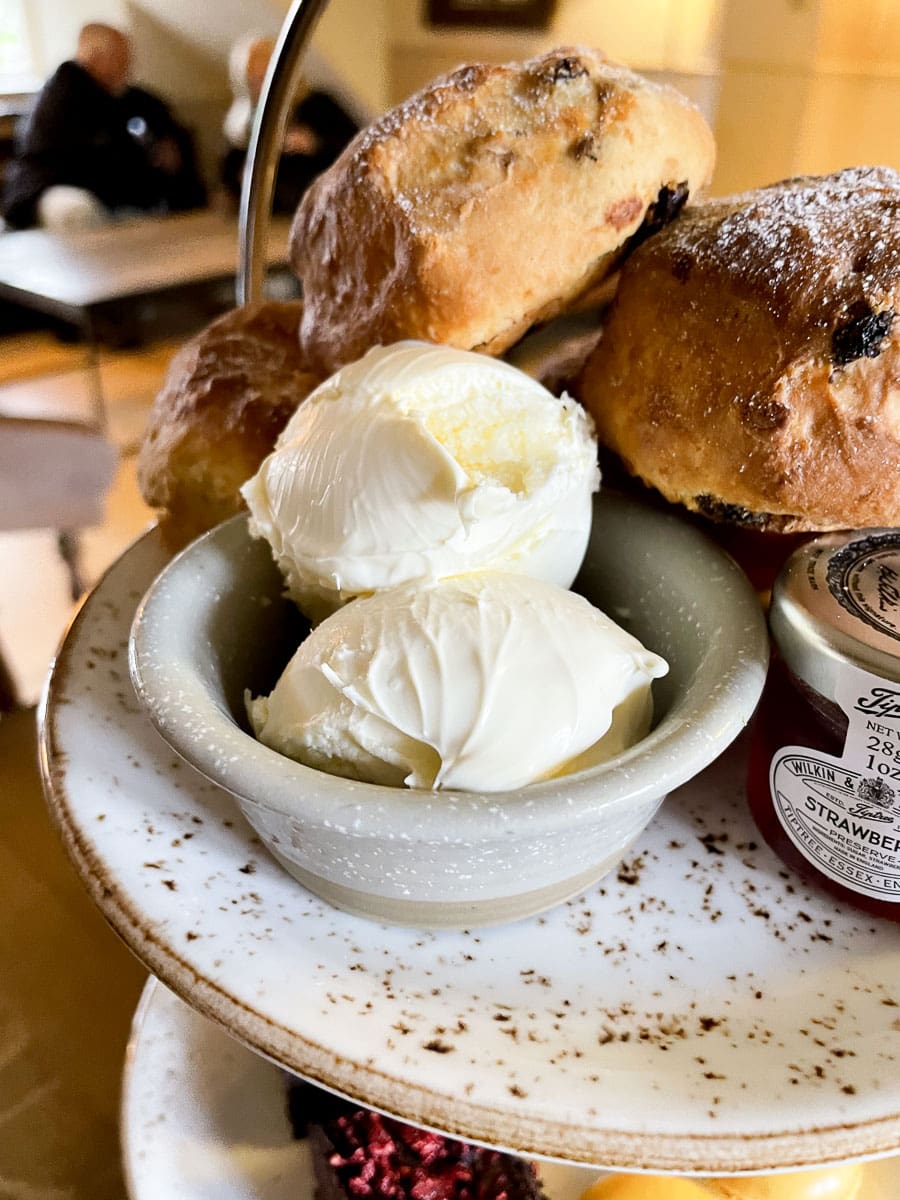 Clotted Cream
Clotted cream is an essential part of enjoying scones during an afternoon tea. Clotted cream is a thick, buttery cream made by slowly heating up heavy cream and then letting it cool until a thick layer of clots form on the surface. It's usually served on the side in a little dish or jar so you can decide how much to add onto your scone.
If you have a hard time finding clotted cream at your local grocery, you can easily make your own at home! Our recipe guides you through the process and gives you some extra tips on the method that works best for me (after much trial and error).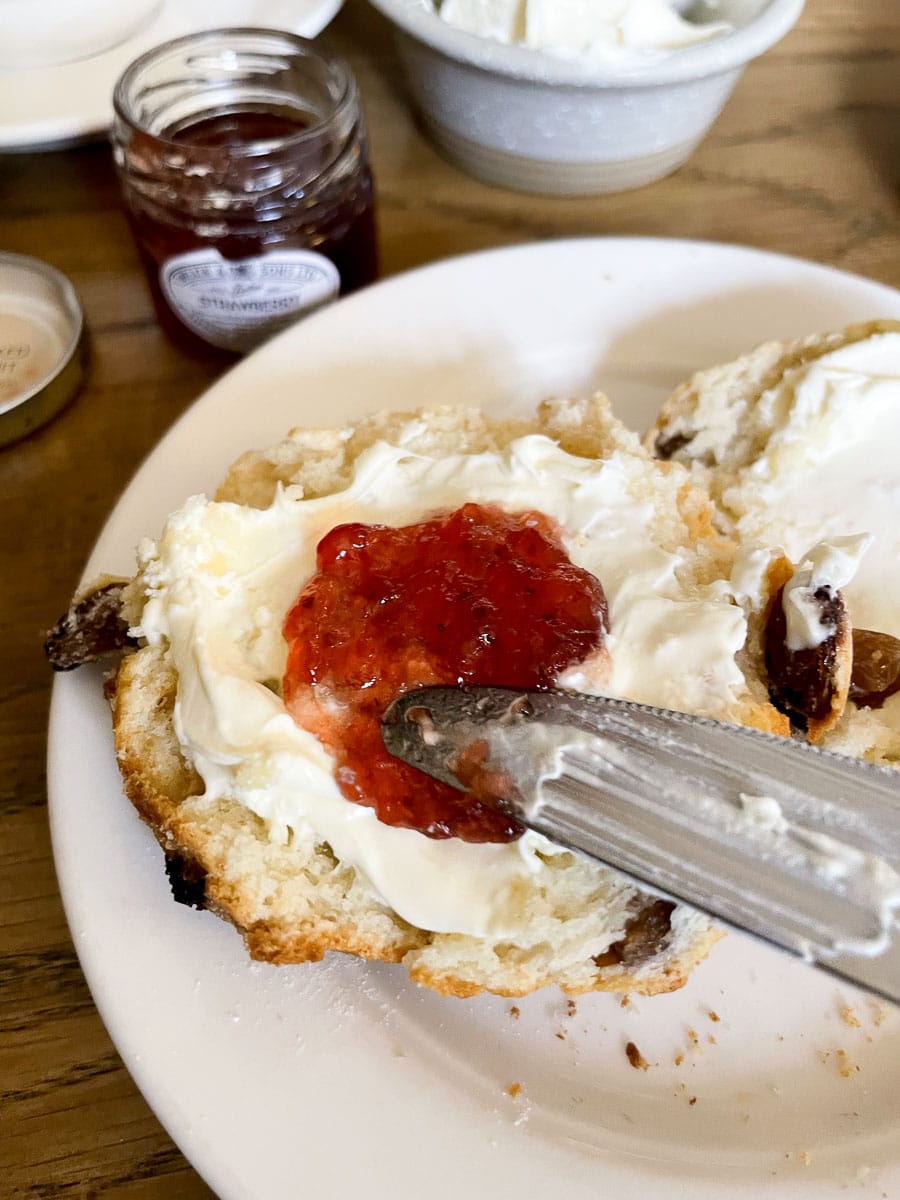 Strawberry Jam
The last crucial component to enjoying scones is strawberry jam. The best strawberry jam is made with fresh strawberries, sugar, and a hint of lemon juice which is all cooked slowly over low heat until it becomes thick and spreadable. The tart and sweet flavor pairs amazingly well with the richness of the clotted cream and scones.
Strawberry jam is quite easy to make or find at any grocery store. For a high quality and authentically British option, we recommend this brand that's been making jams and spreads on their own farm in Essex since the 19th century.
Strawberry jam is of course the most common jam to pair with scones but you can also try out other fruit jams like raspberry jam or blueberry jam.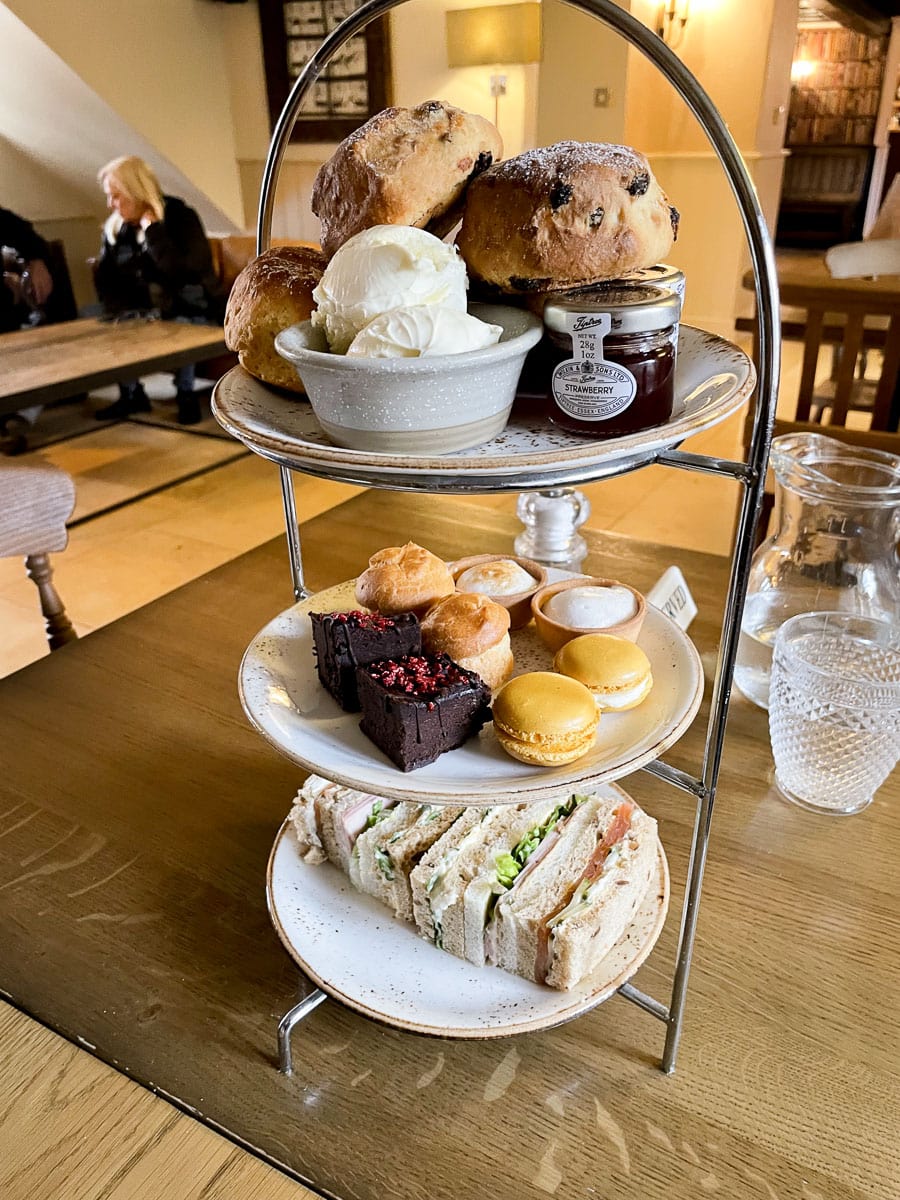 Sweet Treats And Pastries
And now the best part for those with a sweet tooth – the sweet treats and pastries! There are many desserts you can choose from depending on how complex or elaborate you want your afternoon tea party food to be.
Tea cakes: These small, round, sweet cakes come in a wide variety of flavors and fillings. The most commonly served cakes are Victoria sponge cake, Battenberg cake, and chocolate cake.
Fairy cakes: These are also known as cupcakes. They're the perfect alternative to a slice of cake since they're already ready to be served individually. Cupcakes are typically made with a light, fluffy sponge cake and can have all sorts of frostings like buttercream or chocolate ganache. You can also top them with sprinkles or fruits depending on the theme of your afternoon tea party!
Shortbread cookies: These classic Scottish shortbread cookies, with their buttery, crumbly and crumbly texture, are the perfect accompaniment to a hot cup of tea.
Lemon cakes and tarts: There are different lemon cakes you can incorporate in your afternoon tea. A popular option in the UK is the lemon drizzle cake – a zingy, zesty, sweet twist to the traditional pound cake. For something a bit more unique, you can try out lemon curd tarts – little tartlets filled with lemon curd filling and garnished with a dollop of whipped cream.
Eclairs: Though eclairs are French pastries, they have become more common in afternoon tea service especially in elegant hotels and restaurants. They are made with choux pastry and filled with vanilla or chocolate cream. The top is then glazed with flavored icing.
Macarons: Similar to eclairs, macarons are not traditionally British but have become a staple in afternoon tea. These meringue based cookies are like little sandwiches with a creamy filling. They come in a variety of flavors, such as pistachio, raspberry, lemon, and chocolate.
Mousse and other creamy treats: For a different texture you could also include little pots of creamy chocolate mousse, Greek yogurt swirled with lemon curd or even Icelandic skyr.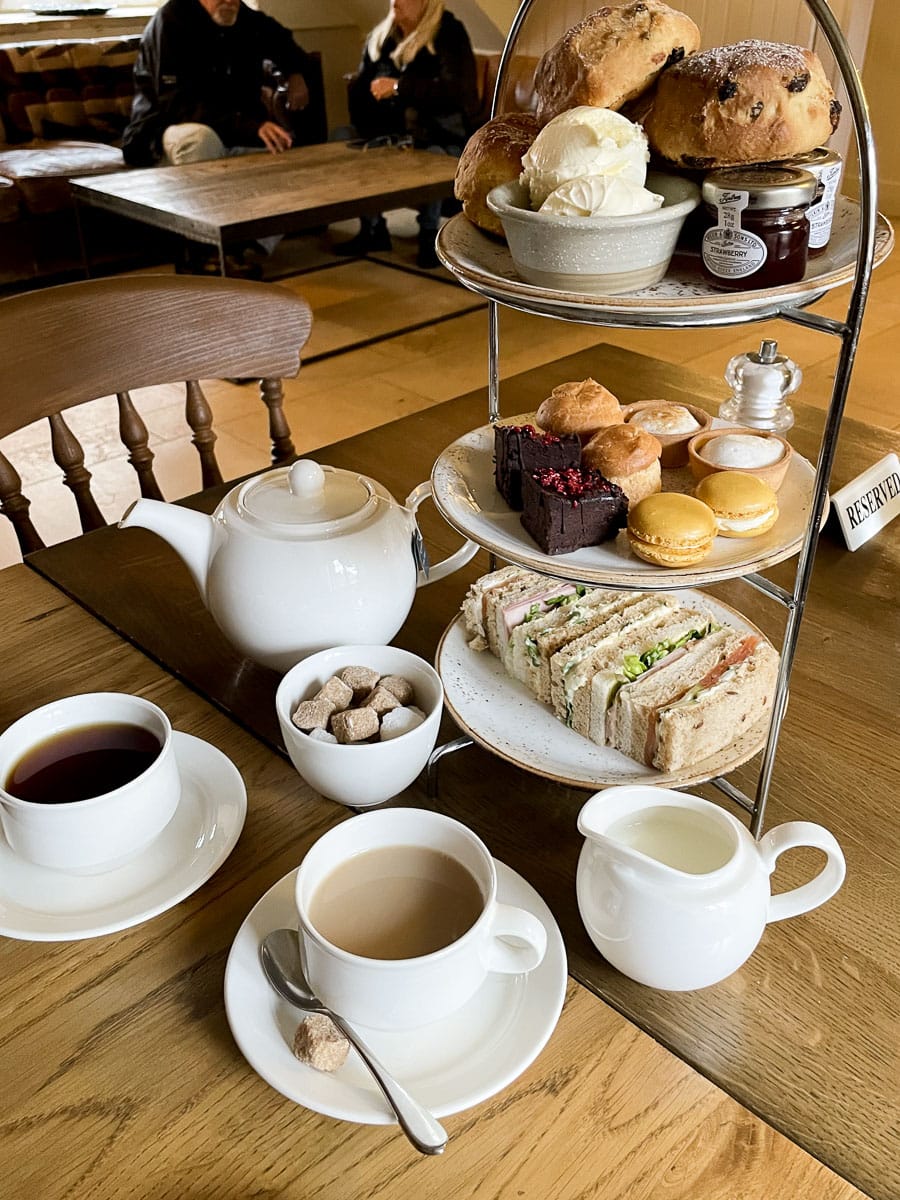 How To Serve Traditional Afternoon Tea At Home
Now that you have your afternoon tea menu prepared, it's time to put it all together!
Begin by setting the table. You don't need to have premium fine china to do this, but having pretty, decorative napkins, plates, tablecloths, teacups with saucers, and small knives and spoons (like this vintage set or this cute modern tea party set that can also double as party favors) will elevate your afternoon tea experience.
Now you need a tea pot. We recommend this traditional English tea pot and a tea cozy to keep your tea warm! If you serve loose leaf tea, be sure to have tea strainers on hand for your guests to use.
If you'd like to present each guest with their own personal tea pot, this one comes with a built-in infuser so you can use both tea bags and loose leaf tea. Don't forget the tea cozy.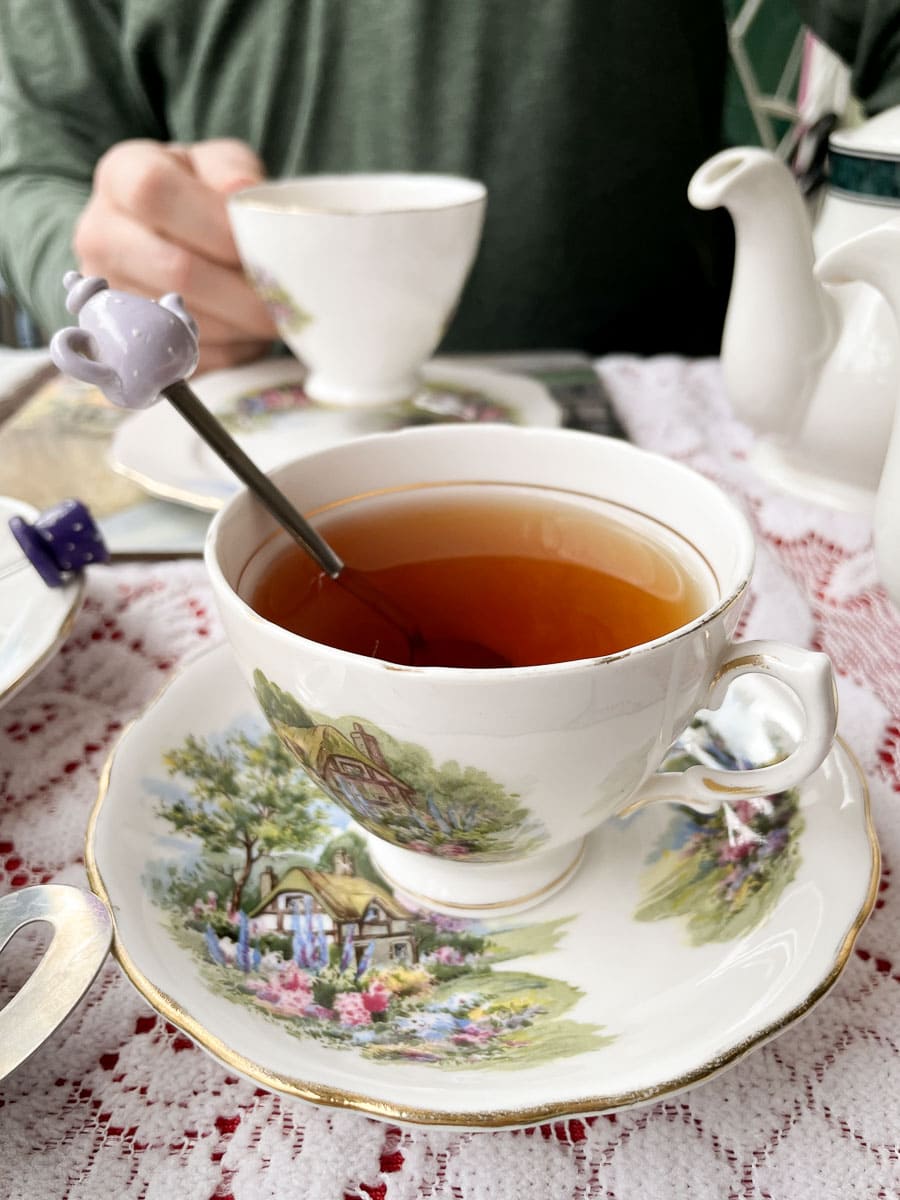 Be sure to also set a bowl filled with sugar cubes and a small creamer on the table for guests to use. You could go for something simple and classic like this set or something vintage and super cute like this one.
Alternatively, you could get a tea set with matching tea pot, cups, saucers, creamer, and sugar dish like this pretty modern set or this classic white set.
A nice additional touch is to include a tea timer so you and your guests can brew tea to personal preference. This tea timer makes it easy to brew light, medium or strong tea.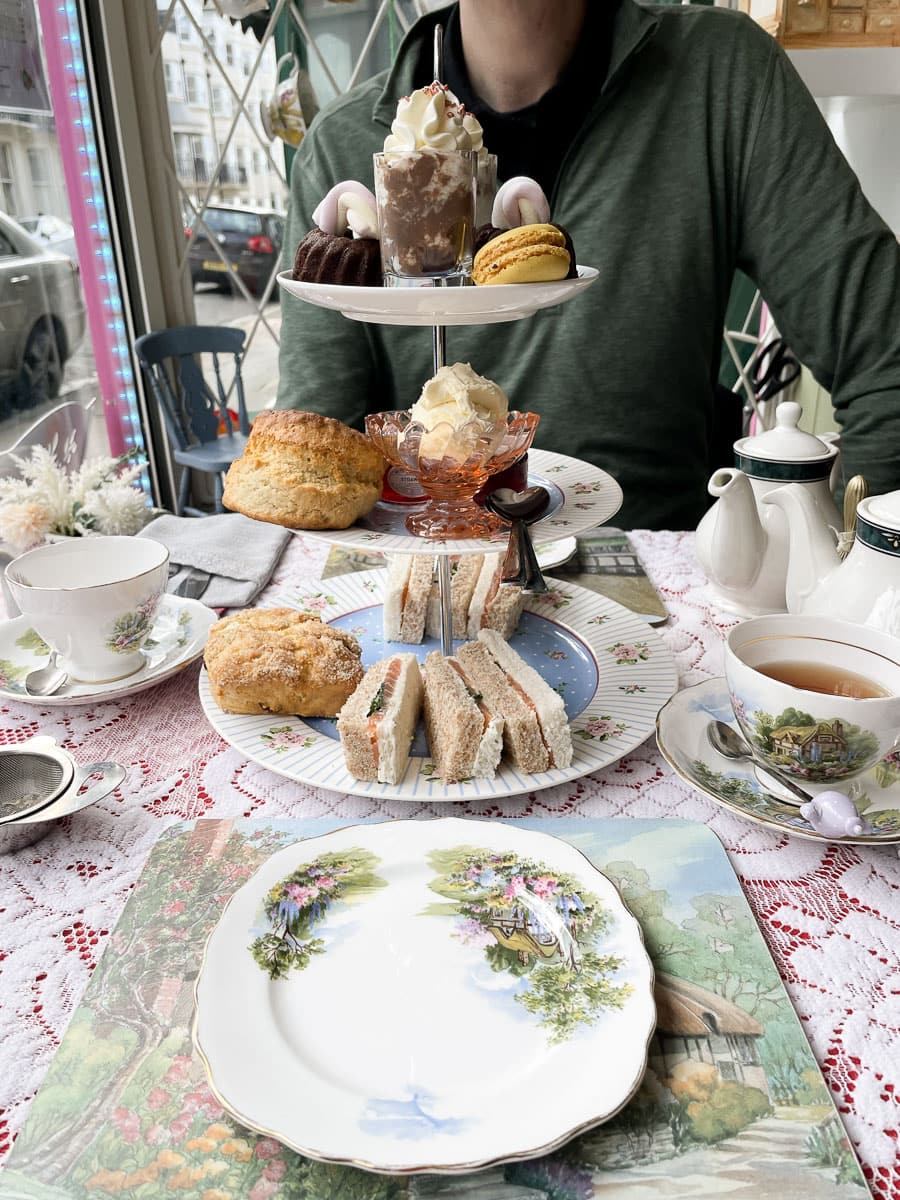 At the center of the table, you should have your three-tiered cake stand. Each tier is for a different type of food.
The bottom tier is usually where the savory food goes. This includes the tea sandwiches, canapes, quiches, and other savory bites. Make sure that your sandwiches have the crusts removed and are cut into small, bite-sized slices.
The middle tier is typically where the scones go because they're eaten after the sandwiches. Don't forget to include the small dishes of clotted cream and strawberry jam that go with your freshly baked scones.
(You'll notice in some of the photos of afternoon tea I had in the UK the scones are actually on the top tier so if your scones fit better on the top, go for it.)
Lastly, the top tier is reserved for all the sweet treats and pastries of your choice. Everything from cookies, cakes, eclairs, and macarons go here in this last tier.
That's it! Now all that there's left to do, in true spirit of a traditional afternoon tea, is to socialize and enjoy the company of your guests while you indulge in tea and all the savory and sweet treats.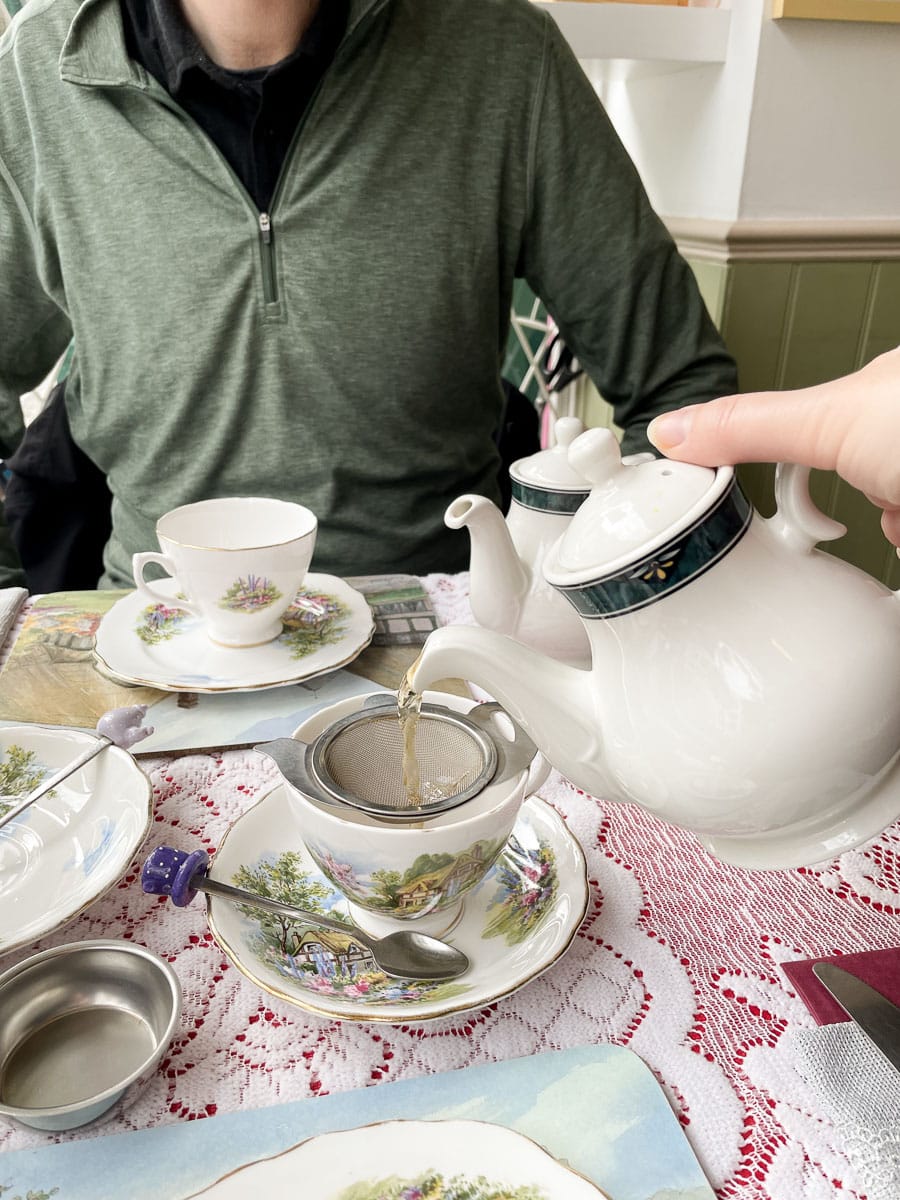 History Of Afternoon Tea & FAQ
Why is it called afternoon tea?
It's called afternoon tea because people used to only enjoyed two meals each day: breakfast and then dinner later at night around 8pm. Afternoon tea was then originally created to fill in the gap between those two meals. It's typically enjoyed later in the afternoon from around 3:30 pm to 5:00 pm (but it's offered at most tea houses all afternoon).
Who invented afternoon tea?
Anna Russell, the 7th Duchess of Bedford is largely credited with inventing the tradition of afternoon tea. She came up with the solution of having an "in between" snack before dinner time. This began with her asking for a pot of tea and a light snack of bread and butter to be enjoyed in her boudoir.
In due time, this evolved into a much more social event as she began inviting guests from the upper classes to enjoy afternoon tea. It proved to be such a successful tradition that she carried it on until it spread throughout the country. It became common practice among social hostesses and it eventually moved on to be hosted in the drawing room.
When Queen Victoria started participating in the traditional afternoon tea ritual, it became a much more formal and large-scale event known now as tea receptions. These tea parties had as many as hundreds of guests with an open at home invitation.
Where did afternoon tea originate?
Afternoon tea is believed to have originated from London, England in the mid to late 19th century where the 7th Duchess of Bedford was from. But as the tradition picked up in popularity, it wasn't too long until it became a beloved tradition enjoyed all across the country.
Is high tea the same as afternoon tea?
No, high tea is not the same as afternoon tea. Compared to afternoon tea, high tea typically involves more substantial and hearty food. This includes hot dishes like meat, fish, vegetables, egg dishes, bread, and cakes.
In terms of its origin, high tea is associated with the working class. Back then, tea was still quite expensive and not as accessible to everyone so it was only saved for necessities or special occasions. The working class would also typically end their work day at six in the evening, which is later than when afternoon tea is served. After a long day of labor intensive work, they would be hungry for a warm, filling meal.
So high tea evolved from there. It was usually served later in the evening between 5:00 pm to 7:00 pm in industrial and rural areas of the United Kingdom like northern England, southern Scotland, and North and South Wales.
High tea gets its name because it was traditionally eaten at a high table like a dining table or a countertop. In contrast, afternoon tea was enjoyed at comfortable, low tables.
What is the difference between cream tea and afternoon tea?
Cream tea can be thought of as a simpler version of afternoon tea. It typically only consists of scones, clotted cream, strawberry jam, and tea. Afternoon tea, on the other hand, is a bit more elaborate with mini sandwiches, pastries, and cakes served in addition to the scones. Cream tea is also earlier in the afternoon and is seen as a much more casual snack as opposed to afternoon tea which can be much more of a social occasion. Click here for our guide to enjoying cream tea at home.
Does afternoon tea have caffeine?
The most common type of tea served during afternoon tea is black tea, which does contain caffeine. But if there are other tea options available, like herbal teas, then you can easily enjoy a caffeine-free version of afternoon tea.