German Christmas Bread (Easy Stollen, Mini Stollen and Stollen Bites Recipe)
This article may contain affiliate links. See our disclosure link for more information.
Buttery yeast bread with candied zest, sliced almonds, rum-soaked raisins, currants, and dried cranberries (and marzipan if you like it) topped with a buttery layer of powdered sugar – Stollen is one of the best German Christmas treats!
This is a robust Stollen tutorial. If you want to go right to the recipe, scroll all the way down!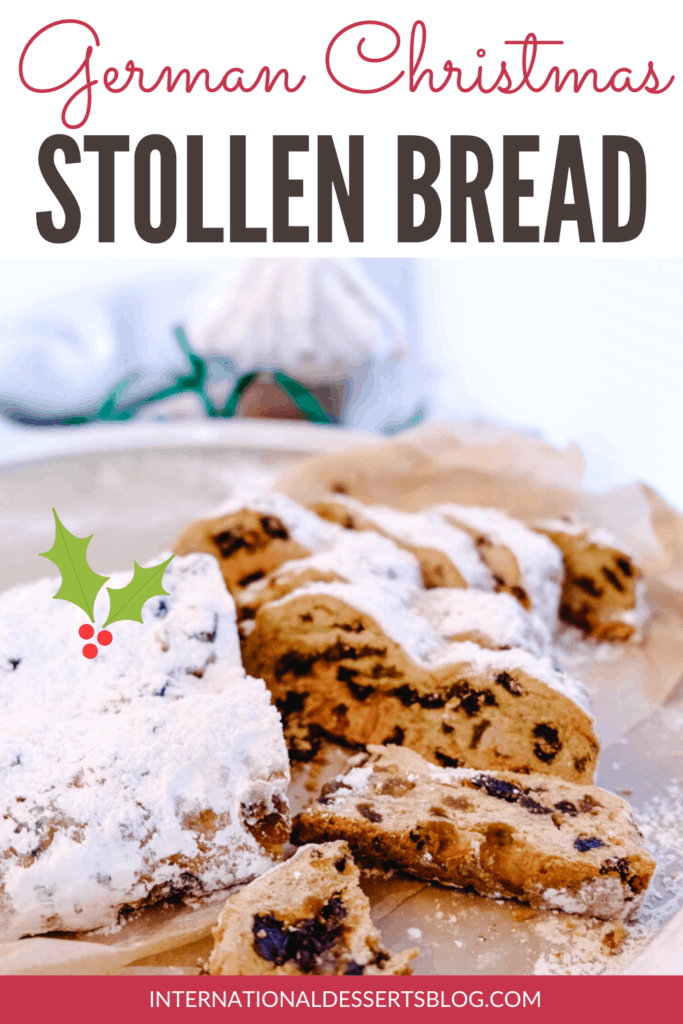 Christmas just isn't Christmas without German Stollen bread!
After moving back to the US from Germany I used to drive across town to our German bakery in order to buy a fresh loaf of the buttery, powdered sugar-coated German Christmas bread.
And then, one year I decided to try making it from scratch. Now I make homemade Stollen every year!
Not only does my house smell amazing as the Stollen was baking, this Stollen tastes amazing.
If you've always bought Stollen or if you've just never tried making it at home before, give it a shot. It's actually quite easy to make your own Stollen bread.
In this post I give you step-by-step instructions for how to make a full-sized Stollen, two mini Stollen loaves or Stollen Bites.
It's a long post with lots of info.
If you want to get right to the recipe, scroll aaaaaaall the way to the bottom of the post.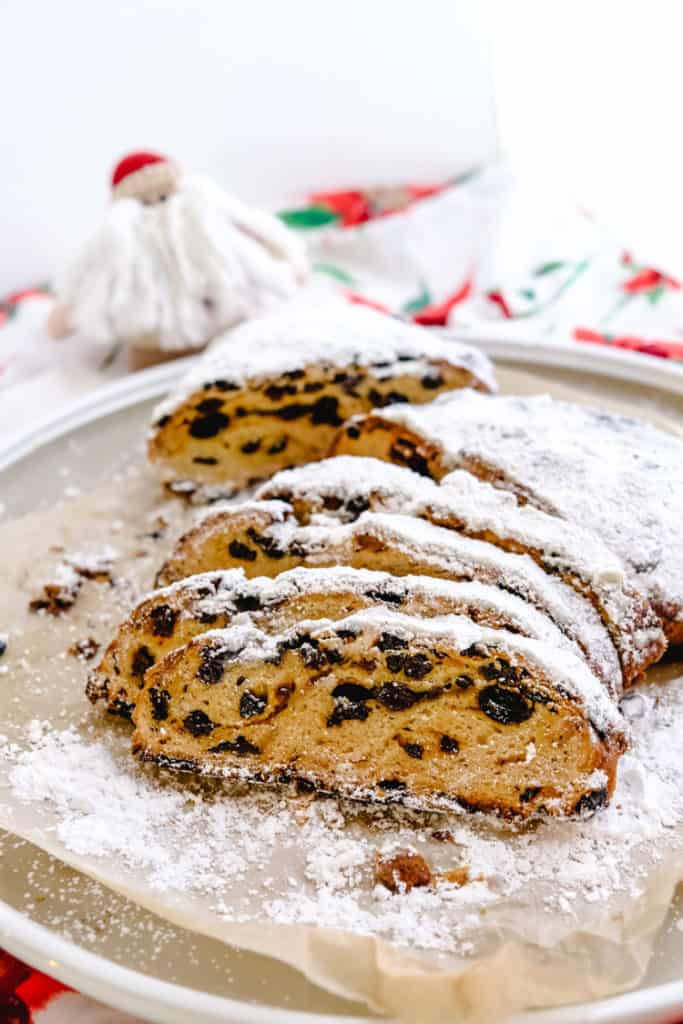 German Stollen FAQ
What is Stollen?
I sometimes hear Christmas Stollen bread described as German fruitcake.
But it's not fruitcake!
I've also heard people ask for the recipe for Stollen cake, but it's a bread not a cake.
Stollen does have dried fruit (e.g., raisins) in it but it doesn't taste anything like fruitcake. It's a dense but light, buttery, slightly sweet yeast bread with powdered sugar on top.
You might also see Stollen called Dresdner Stollen, Weihnachtsstollen, Christstollen,Butterstollen or Quarkstollen. There are lots of Stollen variations.
Can You Get Stollen at a German Christmas Market?
Yes! In Germany you'll find homemade Stollen, fresh bakery Stollen, pre-packaged Stollen at the grocery store, and lots of Stollen at the local Christmas market.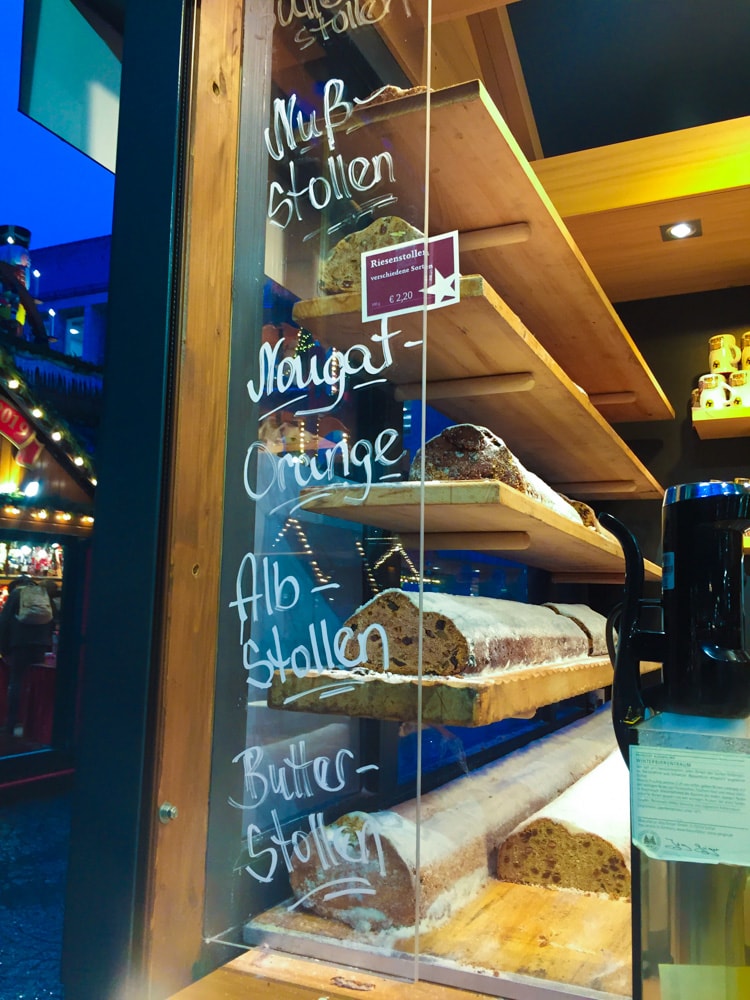 When I was in Stuttgart last winter (where I used to live) I came across a stand at the Christmas market dedicated to Stollen.
They had several different kinds and sold it by the slice.
Tell them which kind of Stollen and how much you wanted and they'd slice it and weigh it for you. Look how long those loaves are!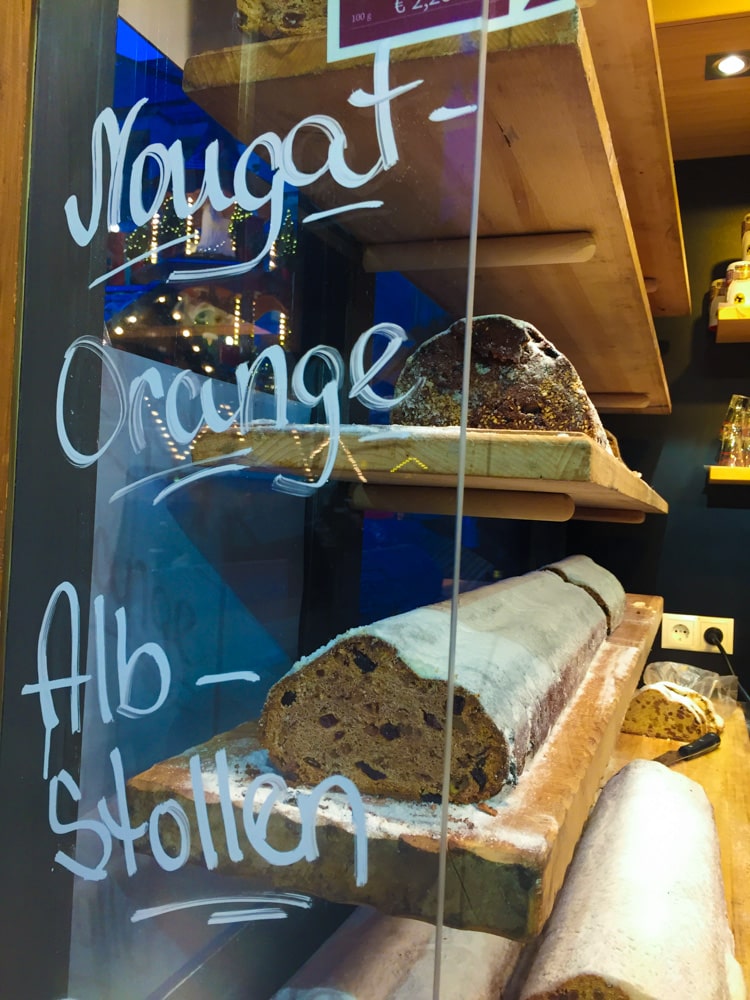 What's the Correct Stollen Pronunciation?
In German it's pronounced shto-lun. Watch the video below to hear how it's pronounced in German.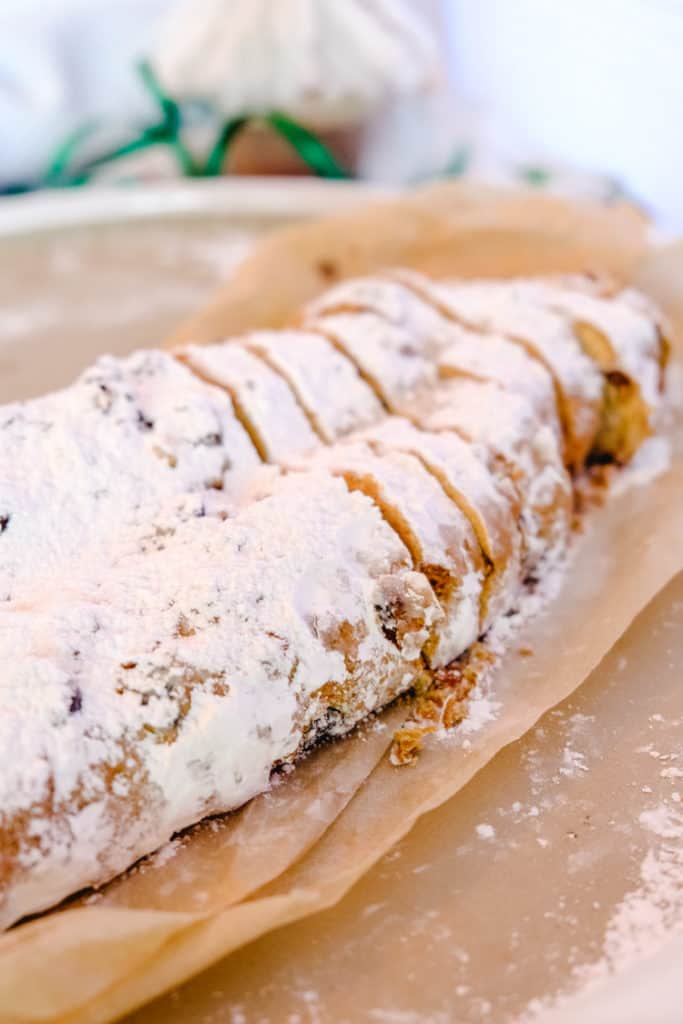 Does Dresden Stollen (Dresdner Stollen in German) Have to Be Made in Dresden?
Yes, in or around Dresden. There are also guidelines regarding the ingredients, minimum amounts of butter and raisins, and the shape that bakers must follow in order to receive the official Dresden gold seal. Watch the video below to learn more about Dresden Stollen!
What's the History of Stollen?
Great question! To learn about the history of Stollen, with this short video. You'll also find out why green tomatoes were once used in Stollen (but aren't allowed anymore in Dresden Stollen)!
Is this a Stollen Recipe with Marzipan?
In Germany you can buy Stollen with or without marzipan, and this recipe gives you the same option.
Does Stollen Have Candied Fruit in it? Or Candied Mixed Peel?
I've seen pictures online of Stollen with that bright red and green candied fruit in it but I've never seen it in Germany (doesn't mean it doesn't exist, I've just never seen it).
Some people add candied orange and lemon peel in addition to dried fruit.
I've made Stollen a bunch of different ways and my favorite is using a mixture of raisins, golden raisins, dried black currants, and dried cranberries (I create a mix based on what I have on hand) and fresh, homemade candied lemon and orange zest.
I think candied ginger would be a delicious addition and plan to try that soon!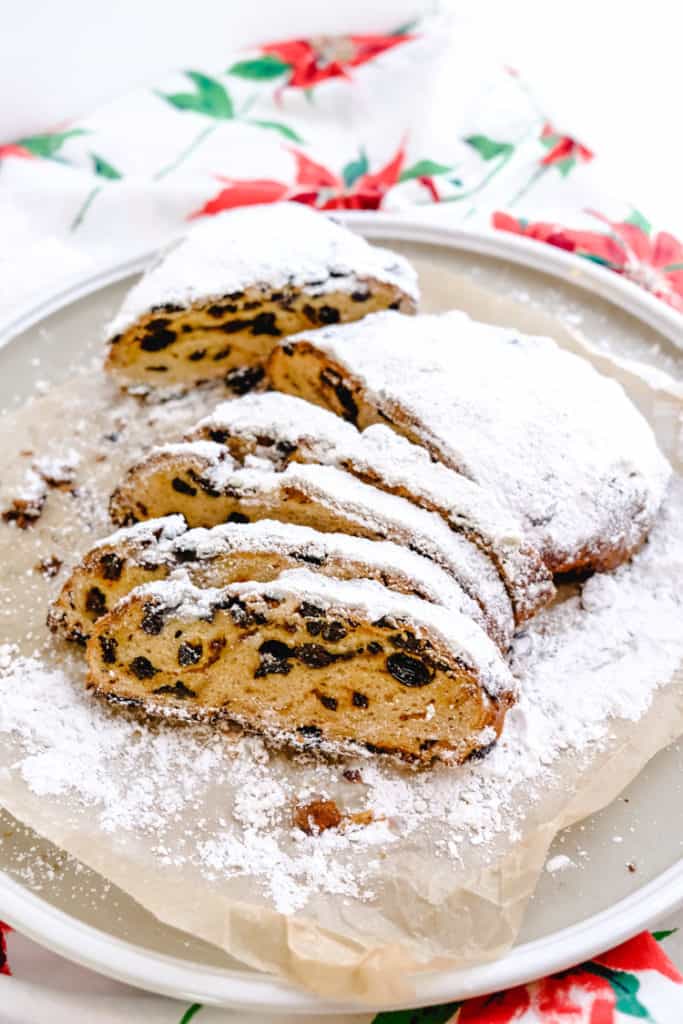 What's Mixed Candied Peel? What about Mixed Candied Zest? Can I Make It or Do I Need to Buy It?
Stollen recipes often call for mixed candied peel (lemon and orange). You can buy it on Amazon (get lemon and orange, chop it up, and then mix together) or find it in some stores.
I have never been able to find it at any of my local stores, so I decided to make my own version.
The mixed candied peel recipes I found suggested washing oranges and lemons, then slicing off the peel, scraping off the pith, cutting the rind into slices, blanching the peel, soaking overnight in simple syrup, and then drying and cutting the peel.
I didn't have the time or patience for that, so I zested several oranges and lemons and made mixed candied zest. It worked great!
That said, if you like the chunks of candied peel in your bread, I recommend you buy candied lemon and orange peel or make it. Keep reading for my tutorial on how to make candied zest.
Does Stollen Have Nuts in It?
Typically, yes. I add sliced or chopped almonds to mine (just depends on what I have in my pantry) but you can leave them out if you prefer.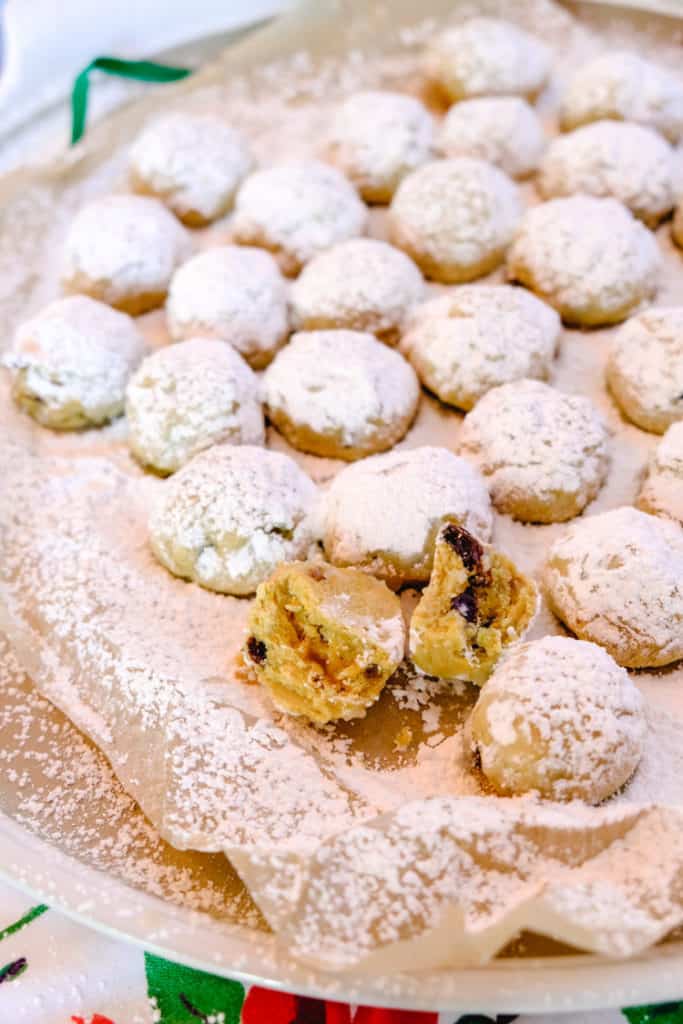 Do You Have a Recipe for Mini Stollen or Stollen Bites?
Yes, this one! For mini stollen, simply divide the dough to make 2 "mini" loaves.
For Stollen bites, roll dough into small balls, bake until golden brown, and then dip or roll the entire bite in butter and then powdered sugar.
So good! I've included detailed instructions for how to make both below.
I Don't Have Time to Make Stollen. Where Can I Buy It?
If you run out of time to make it or want to try a loaf before baking one yourself, you can easily buy some. If you have access to a German bakery, I'd buy a loaf there because it will be the freshest.
If you don't have a German bakery nearby, try World Market, Whole Foods, Wegmanns, Aldi, Trader Joe's or specialty food store.
I've had store bought Stollen in Germany and in the US and it was mostly fine…not like homemade but pretty good. If you'd prefer to order a loaf, you can get an original Dresden Stollen here (in a box or gift tin).
Is German Stollen Bread Easy to Make?
It takes some time but it's not at all difficult. Here are the steps:
1. Soak the died fruit in rum.
2. Make the candied zest.
3. Mix and knead the dough.
4. Add the zest, almonds, and dried fruit.
5. Let the dough rise.
6. Bake the Stollen.
7. Slather on melted butter and powdered sugar. Then do it again.
8. Slice and enjoy!
That may seem like a lot of steps but it comes together quickly and easily.
Note – since you need to soak the raisins and make the candied zest, I recommend preparing these two things a day or two before you make and bake the dough.
You can make the entire recipe in one day but it makes your life a little easier to prep the raisins and candied zest the day before.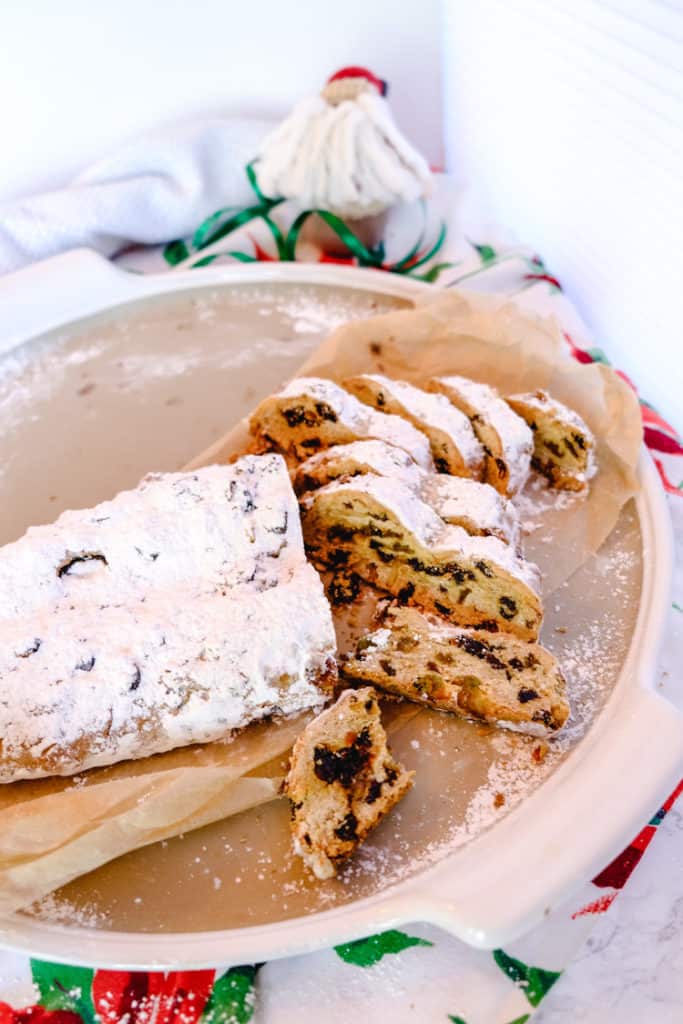 Should I Add Marzipan to My Stollen?
Personally, I'm not a huge fan of marzipan, so I don't usually add it to my Stollen. But if you like it, add it!
Be sure to see my notes in the tutorial for when and how to add marzipan. And if you buy it, be sure to get the kind that you can roll into a log – like this one.
UPDATE: So this year I decided to try making marzipan from scratch…and guess what? I actually kinda like homemade marzipan!
I had no idea that fresh, homemade marzipan could taste good. Ha! I'm still not a huge fan of it but I do like homemade more than the store-bought stuff. And it did add a nice flavor to this year's Stollen.
What About Eggs?
Some Stollen recipes have 1 egg, some have 2, some have 4 egg yolks, some have none! I used to make it without any eggs but then I started adding an egg because it seemed a little more fool-proof. Your Stollen should turn out ok if you leave the egg out of this recipe.
And the Spices?
I'll be honest, I don't always add all of the spices in this recipe. Sometimes I just use cinnamon, sometimes I add them all. It just depends on the flavor I'm craving.
I do really like the extra flavor the spices in this recipe add but if you don't have them in your pantry, you can just go with cinnamon.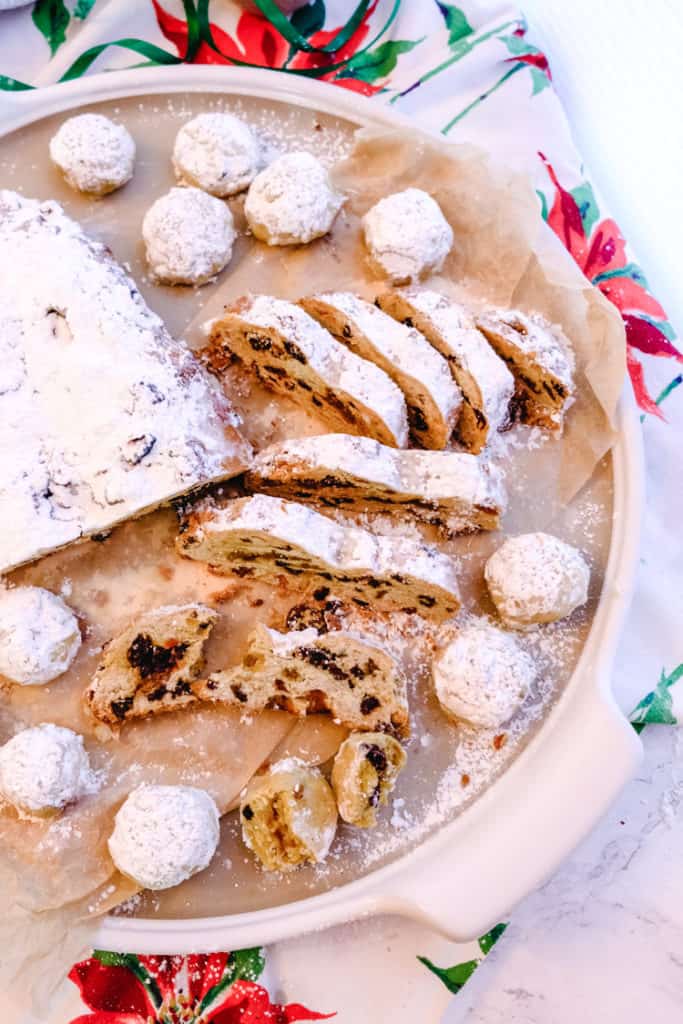 One More Thing…See That Beautiful Round Baking Stone?
I LOVE it! My friend Marliece asked if I'd like to try it out in my baking I said yes, please!
Marliece and I were both exchange students in Germany the same year but we lived in different cities and didn't get to know each other until after we returned to the US.
We finally got to meet in person a couple summers ago and have lunch at a delicious German place in downtown Boise, ID. Marliece is an avid baker and makes Stollen every holiday season, too. She also sells Pampered Chef kitchen tools like this baking stone.
I bought a Pampered Chef baking stone many years ago and used it all. the. time. I was so sad when it broke after about 10 years of solid use. The one that Marliece sent me is similar to the one I had but so much better!
I love the built-handles and the white edging. I found it super easy to take in and out of the oven, easy to clean, and being able to serve what I've just baked on the stone is awesome. This baking stone is big enough to bake a whole Stollen, two mini Stollen or a mini Stollen and a whole bunch of Stollen bites.
Click here to check out the large white baking stone. And be sure to follow Marliece on Facebook here.
Thanks, Marliece for the baking stone! I'm already thinking about all of the things I'm going to bake this month with it… 🙂
How to Make Stollen: the Best German Christmas Stollen (and Stollen Bites) Recipe
I'm going to show you three different options for making Stollen with this recipe:
You can make one full-sized Stollen
Or 2 mini Stollen
Or a bunch of Stollen Bites
Or 1 mini Stollen and some Stollen Bites
When I just want to make one small Stollen I make half of the recipe.
1.How to Make One Full-Sized Stollen
Step 1: Make easy mixed candied zest
Wash 5-7 oranges and the same number of lemons (use organic if you can). Then zest the citrus using a microplane.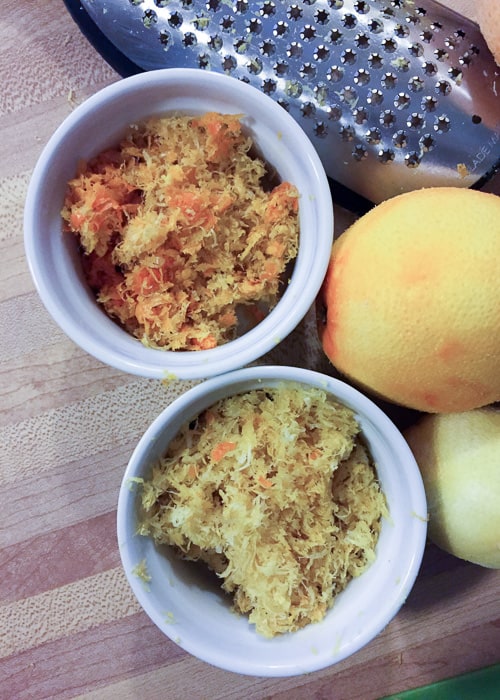 Heat water and sugar in a small saucepan over medium high heat.
Add zest and stir.
Bring to a low boil and simmer for 10 minutes.
Then, strain out the liquid and let the candied zest cool in a small bowl.
Cover with plastic wrap and store in the fridge until you're ready to use it.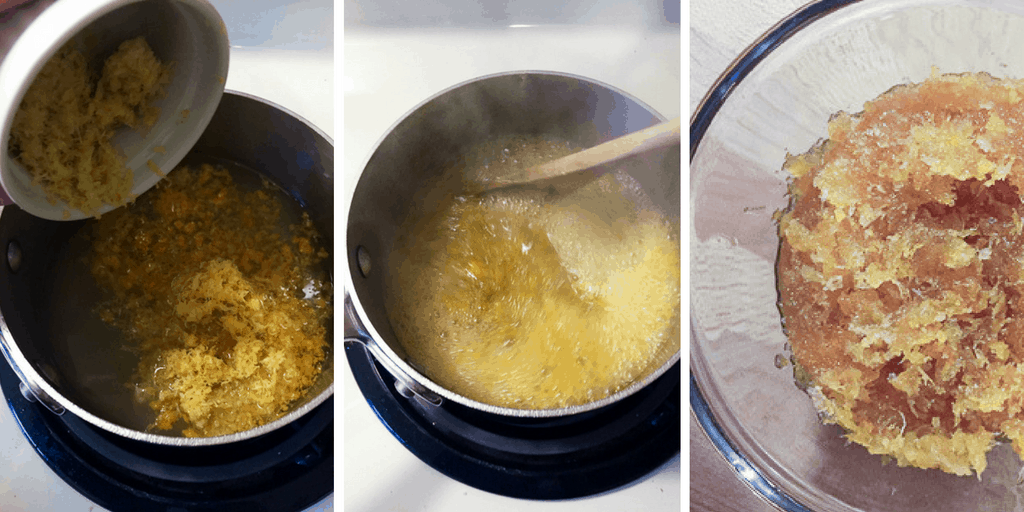 Sidenote…What to do with the zest-less lemons and oranges?
Slice them up, put them in a pot of water, add cloves, a cinnamon stick, a few cranberries, and some rosemary, and then simmer it on the stove.
Your house will smell wonderful!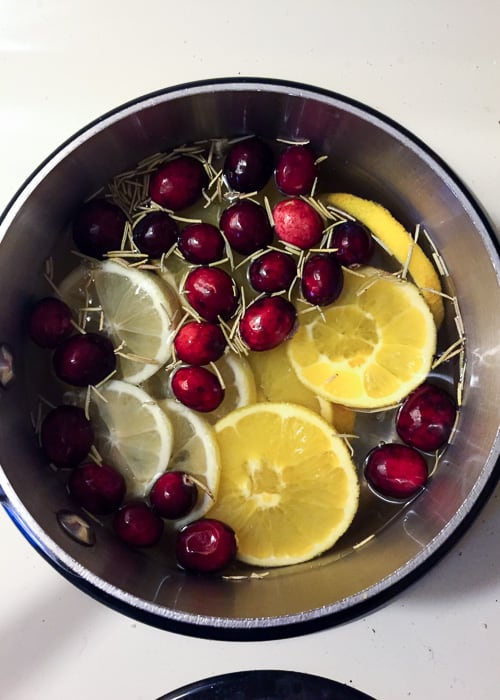 Step 2: Soak the dried fruit
Place dried fruit in a small bowl and add rum. Soak the fruit for at least a couple hours; overnight is ideal.
I like to use a mix of raisins, golden raisins, dried black currants, and dried cranberries. I just mix together whatever I have on hand, so it turns out a little differently each time.
If you don't have rum, you can soak the fruit in run extract or orange juice. I've done both and prefer the rum because it gives the fruit and the bread a nice flavor.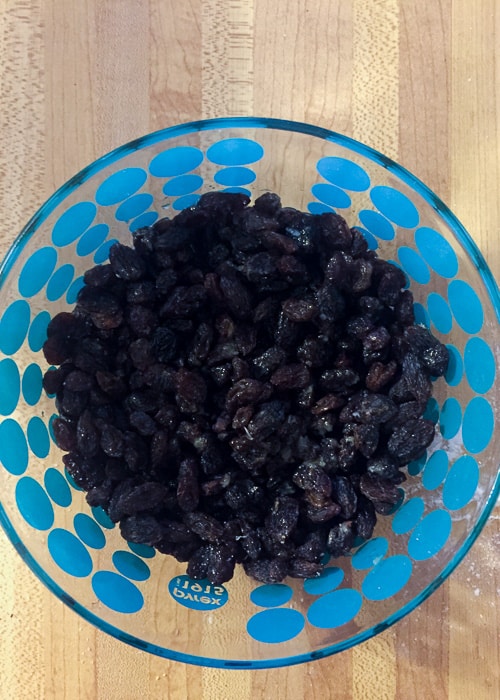 Step 3: Make the Stollen dough
Mix flour, sugar, salt, yeast, and spices in the bowl of a stand mixer.
Heat butter and milk in a small saucepan over medium low heat.
Once the butter has melted, take off the heat and let cool for a few minutes.
Add the milk and then the egg to the dry ingredients and stir with a wooden spoon.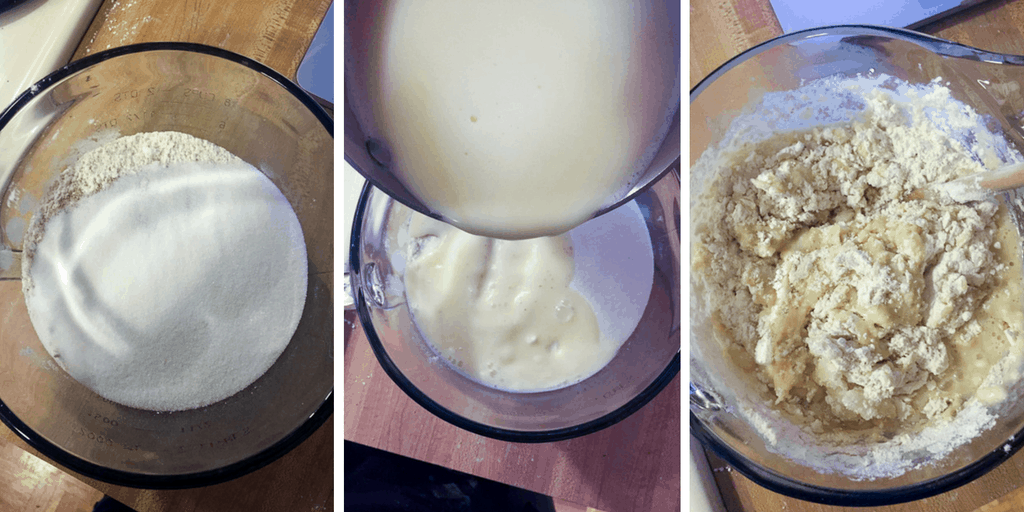 Using the bread hook attachment for your stand mixer, knead the dough on low speed for 6-10 minutes. until the dough is smooth.
Cover the dough with a towel and let it rise for 30 minutes in a warm place.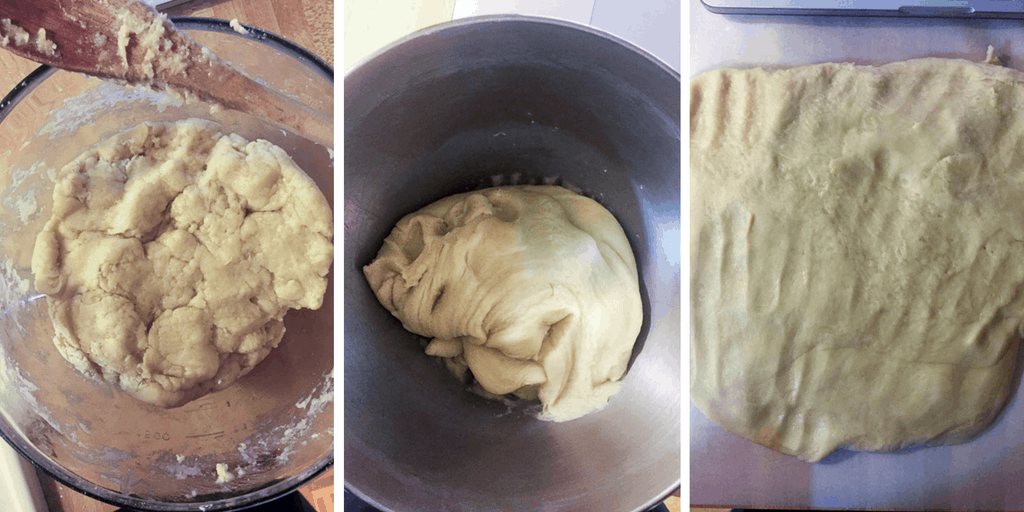 Step 4: Add the zest, nuts, and dried fruit
Place the dough on a floured surface and press it out flat.
Spread half of the candied zest and half of the almonds over the dough.
Then fold the dough in half, then in half again the other way.
Knead dough 2 or 3 times to work the zest and almonds into the dough.
Then press the dough out again and repeat the process with the rest of the zest and almonds.
At this stage there are 4 directions you can go in with your Stollen. You can make:
One large Stollen loaf
Two mini Stollen loaves
One mini Stollen and 36 Stollen bites
72 Stollen bites
I show you how to make each of these options so keep reading!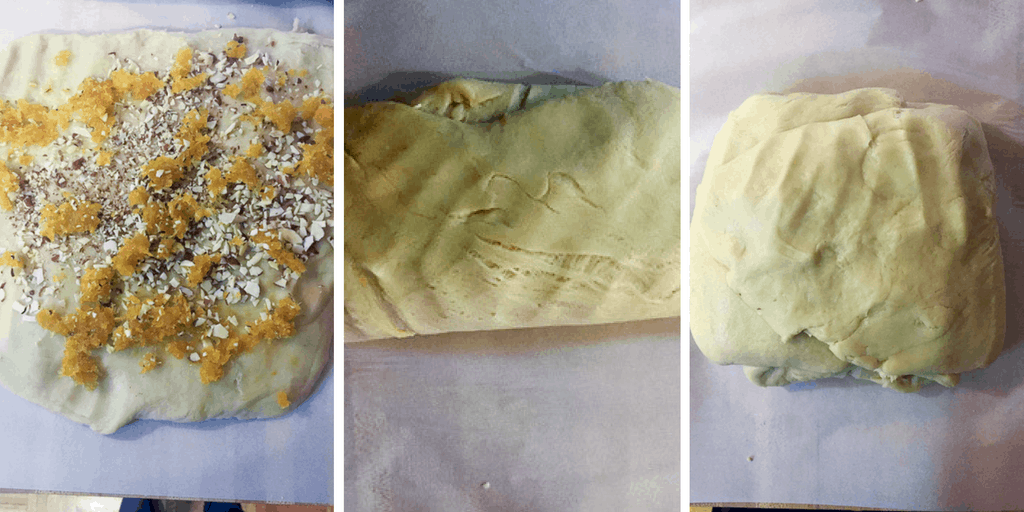 Press out the dough a third time and add 3/4 cup of the dried fruit.
Fold and knead the dough, then press it out a fourth time.
Add another 3/4 cup of dried fruit, fold, and knead until everything is well incorporated into the dough.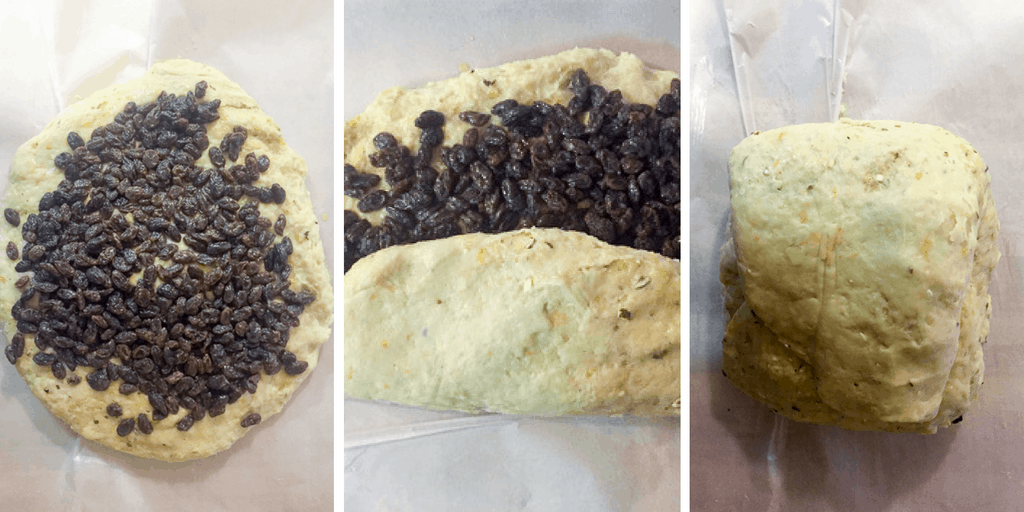 Press dough out a 5th time, but this time press down in the center more than the sides (use your fingers or a rolling pin to press the dough down).
You want a narrow "trough" in the middle of the dough.
This is how you get the unique Stollen shape.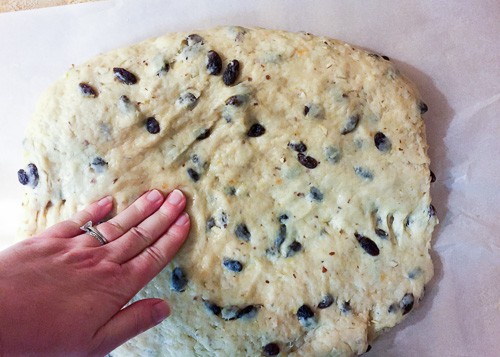 Add 1/2 cup dried fruit to the center of the dough (the area you pressed down).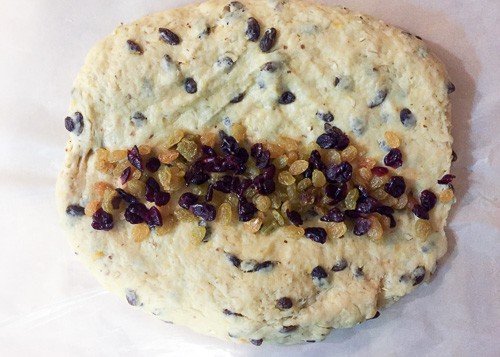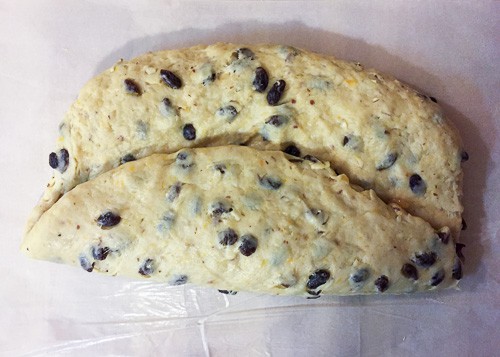 Fold the bottom third of the dough so it covers the raisins you just added. The flip the dough over.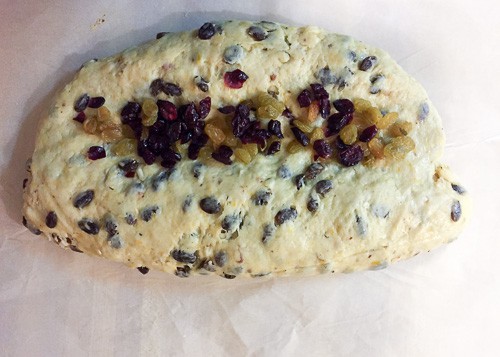 Press the dough down to create another trough (see photo below) and add the rest of the dried fruit.
If you're adding marzipan, first roll the marzipan into a rope that's a bit shorter than the length of your Stollen.
Place on top of or below the dried fruit. (Sorry I don't have any photos of this part. If you watch the video below you'll see the process of adding a marzipan rope to the dough.)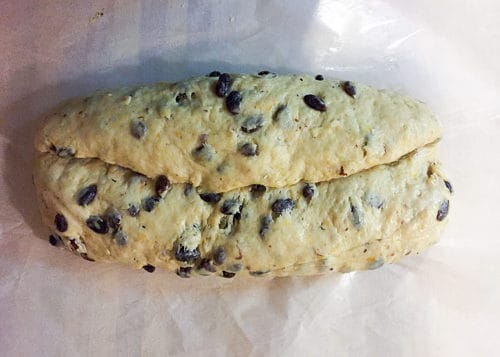 Then fold the top 1/3 of the dough over the raisins you just added.
Here's a video showing how a chef uses a rolling pin to shape a Stollen loaf. He also shows when and how to add a marzipan rope.
Step 5: Let the Stollen rise
Cover the Stollen with a towel and let it rise for at least 45 minutes in a warm place.
I often let my dough rise for a couple hours or more.
I've also stored in overnight in the fridge (in plastic wrap) after letting it rise if I can't bake it on the same day.
Step 6: Bake the Stollen
Then transfer to a lined baking sheet.
Bake for about an hour in a 350 F oven (the internal temp should reach 190F/87C).
Depending on your oven your Stollen might take a little more or less than 60 minutes.
I check at 45 minutes and every 5-10 minutes after that.
Enjoy how delicious your house smells while this bread is baking!
Step 7: Add the topping
When the Stollen is finished baking and has cooled a bit, melt butter and brush half of it over the top of the bread.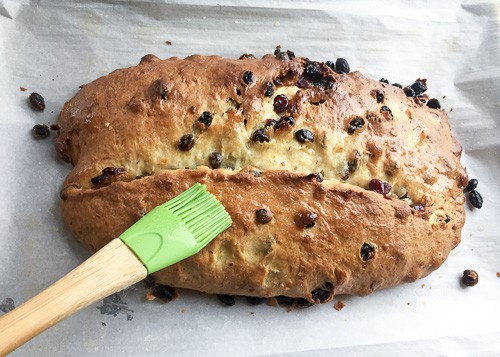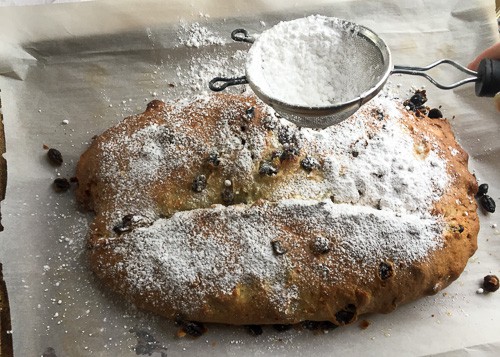 Sift powdered sugar over the top.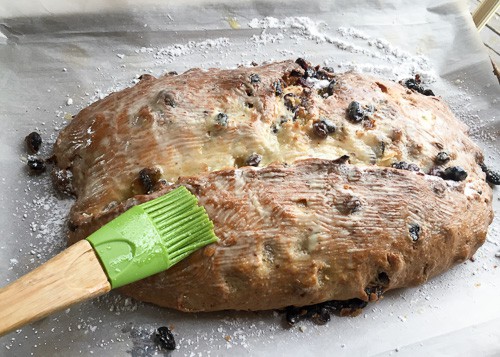 Then brush the rest of the melted butter over the top (yep, over the first layer of butter and sugar).
Sift the rest of the powdered sugar over the top. The let the Stollen cool completely.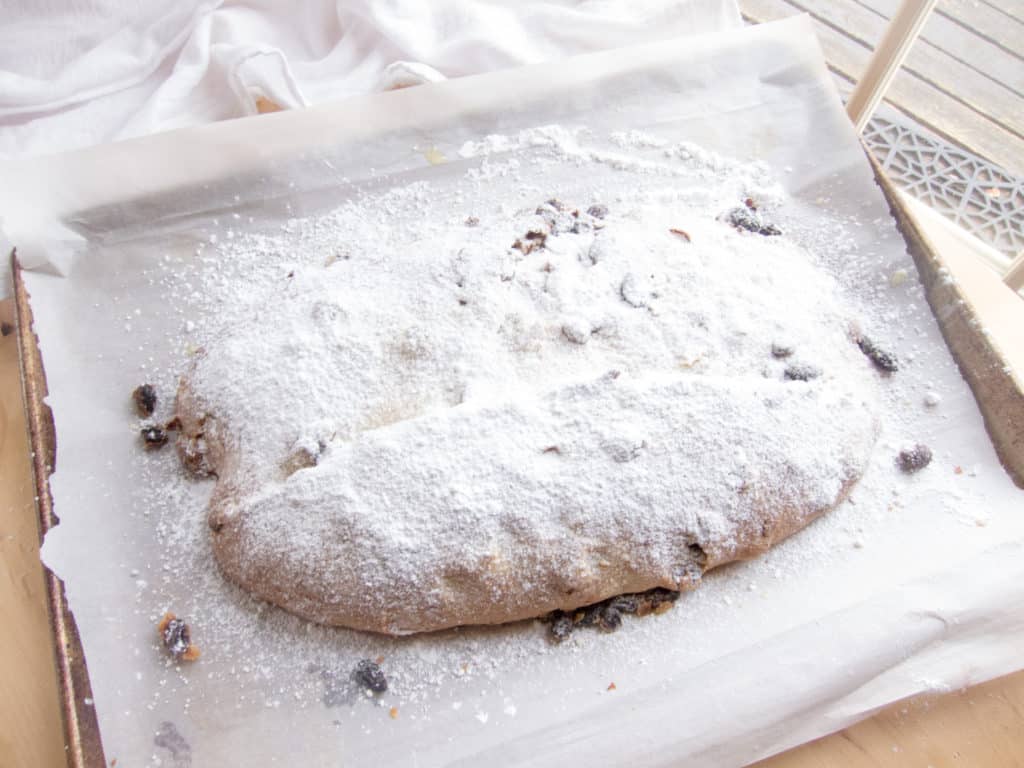 Finally, slice and enjoy!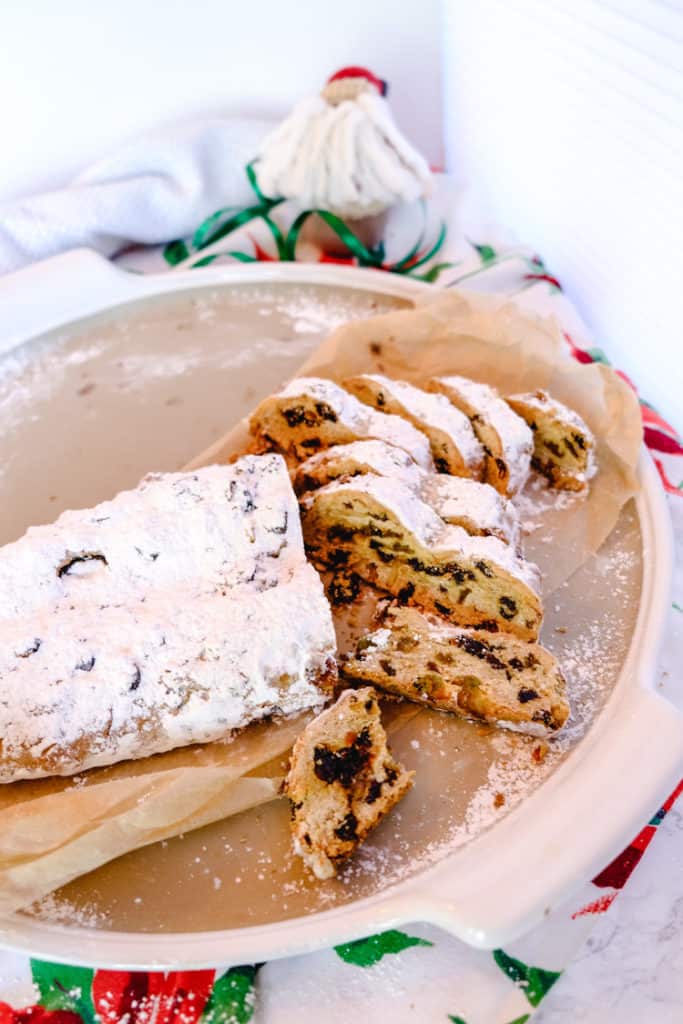 2. How to Make 2 Mini Stollen Loaves
Follow the above directions to Step 4. Then knead all of the zest and almonds into the dough. Divide the dried fruit into two equal portions and then use a pastry scraper (like this one) to divide the dough into two parts.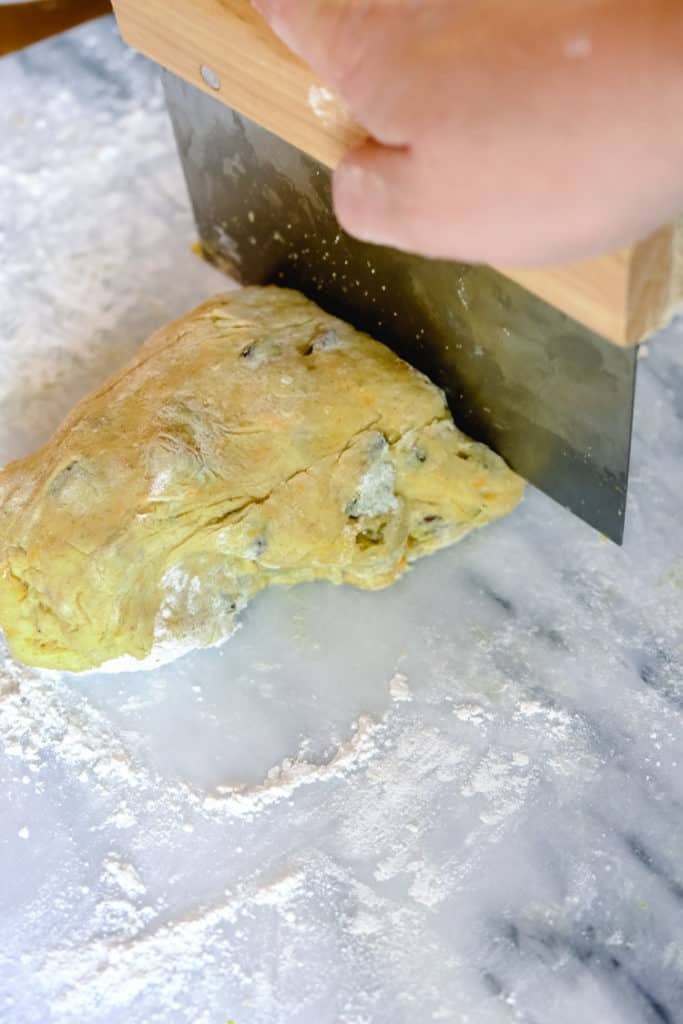 Follow the steps outlined above to knead the dried fruit into each mini loaf.
Cover with a towel and let rise for 35-40 minutes (or longer).
Bake the mini Stollen at 350F/175C for 35-40 minutes (internal temp should reach 190F/87C).
Then follow step 7 to add the topping.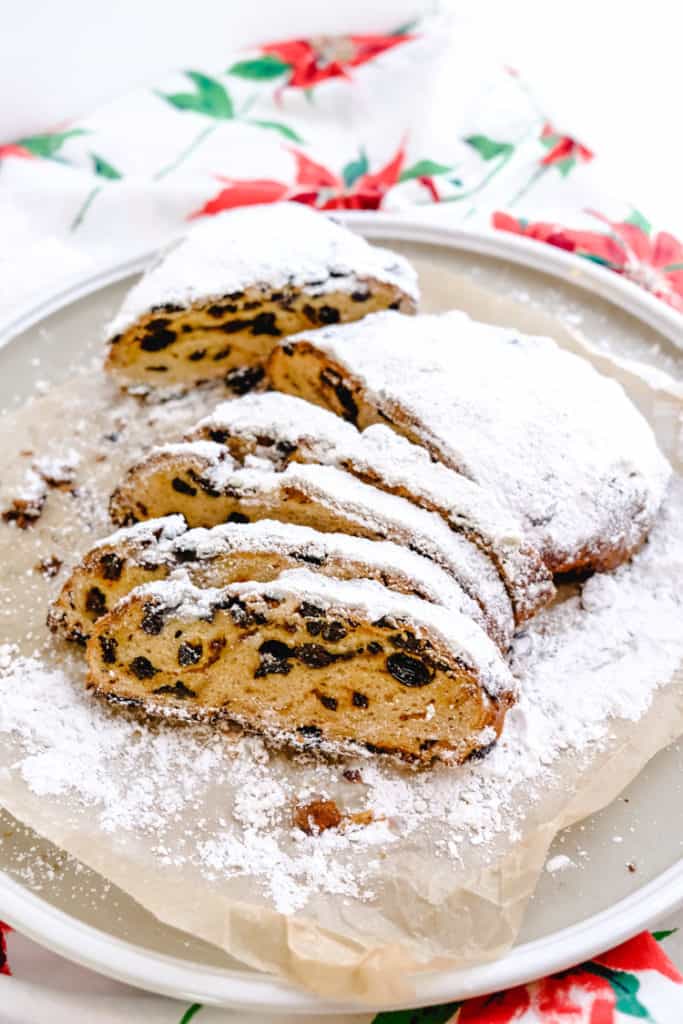 3. How to Make Stollen Bites
For Stollen bites, you want to knead the zest, nuts, and dried fruit into the dough and then divide the dough into bites.
With this recipe you can make one mini Stollen and 36 Stollen bites.
If you use the whole recipe for Stollen bites, you can make 72 bites.
Here's how I divide the dough into equal sized bites.
First divide dough into two balls using a pastry scraper (like this one).
Then roll each ball into a log. Cut the log in half, then each of those pieces in half.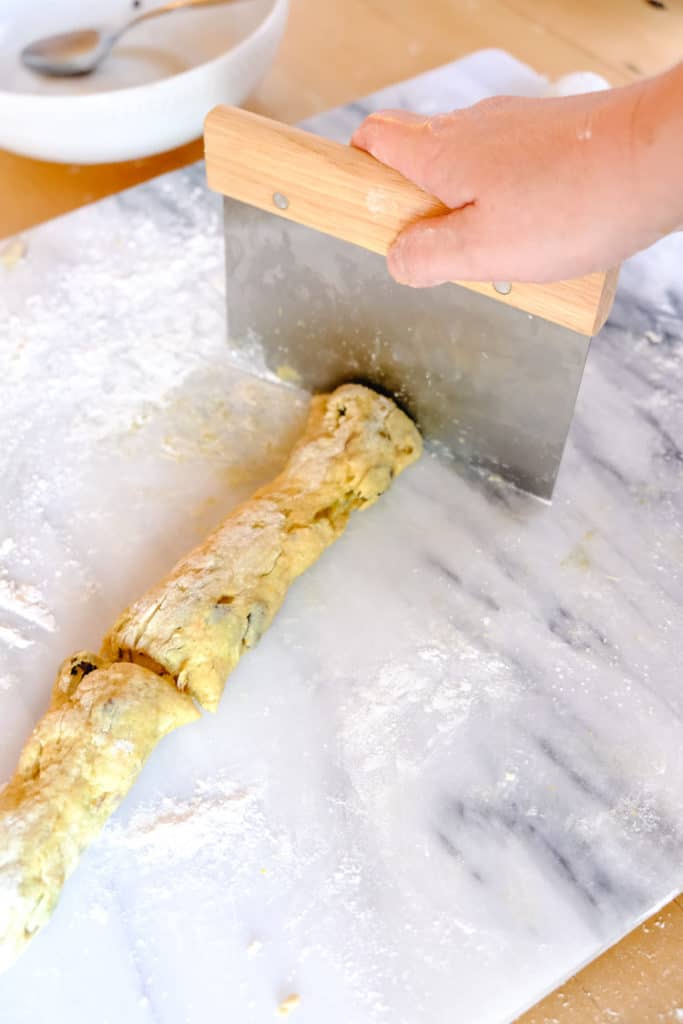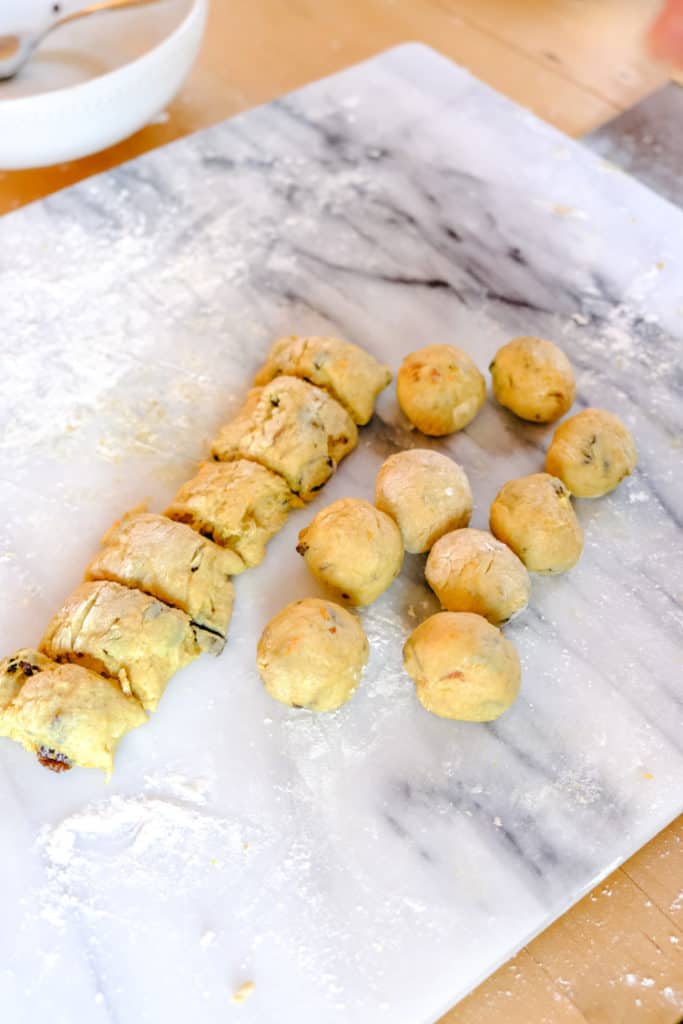 Keep cutting each piece in half until you have 36 or 72 pieces. Then roll each piece into a ball.
Place Stollen Bites on a baking stone or tray, cover, and let rise for 40 minutes. T
hen bake at 350F/175C for 15-18 minutes.
Using the awesome baking stone that my friend Marliece sent me I was able to bake a mini Stollen loaf and 36 Stollen bites at one time!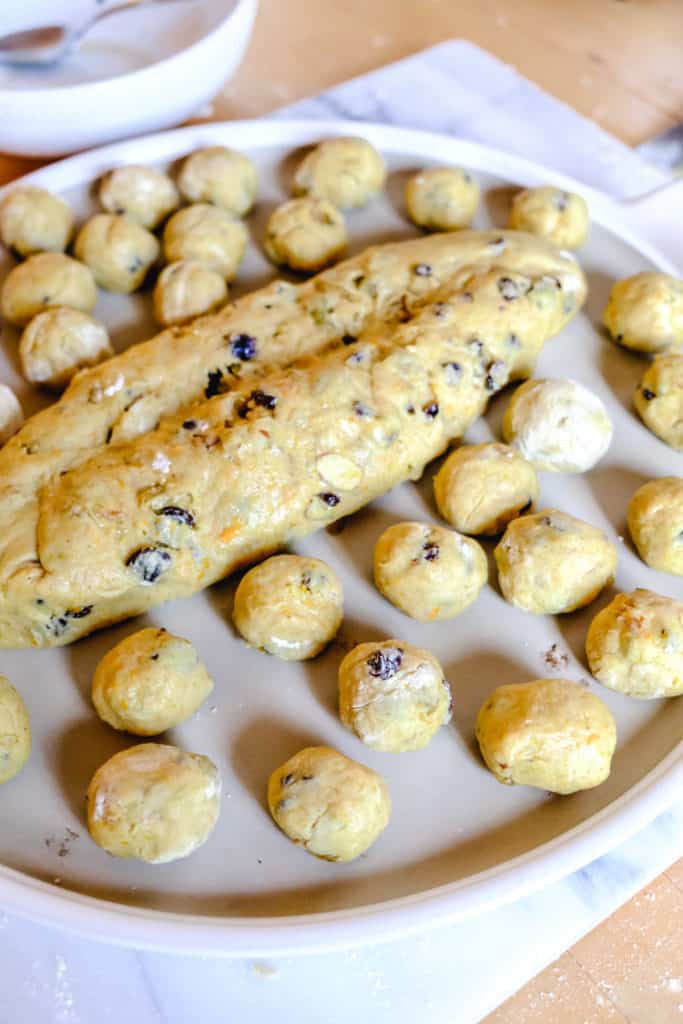 Let the Stollen Bites cool for a few minutes, then brush with butter and sprinkle with powdered sugar (twice!).
Or for a little more decadence, dip the entire bite in butter and then roll in powdered sugar (twice!).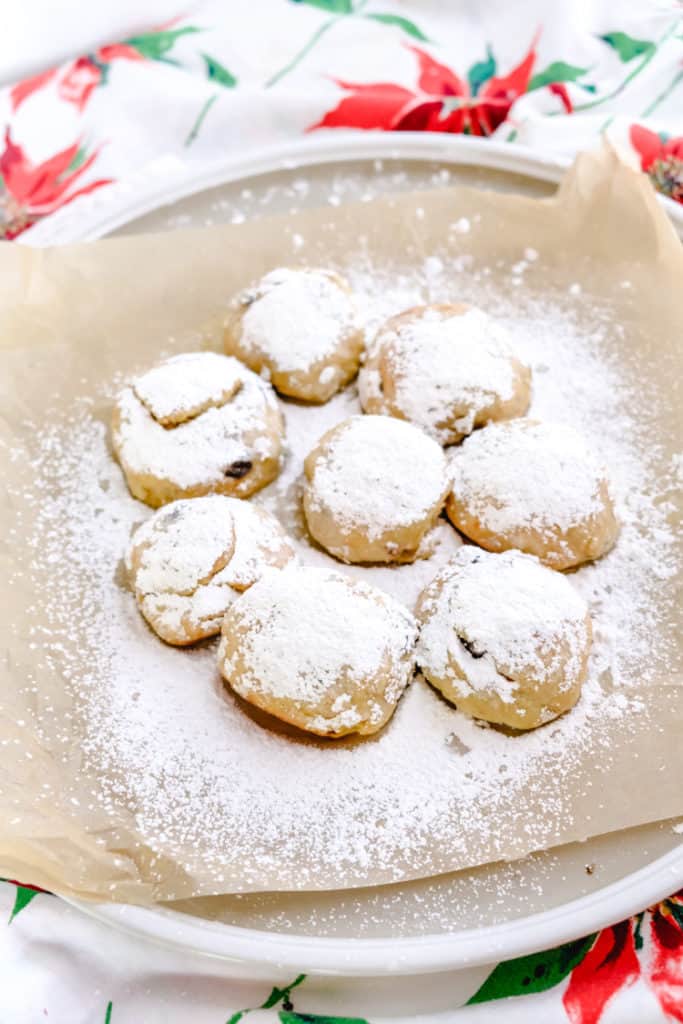 German Stollen Bread Recipe
I hope you enjoy this Christmas Stollen recipe as much as I do. You might want to make two loaves because one just might not be enough!
?Looking For More German Christmas Recipes?
–
Thanks to Marliece for sending me a Pampered Chef baking stone to try out with my baking! I received it free of charge but all opinions are my own. Read my disclosure here.