Easy German Rum Balls (Rumkugeln)
This article may contain affiliate links. See our disclosure link for more information.
German Rum Balls (Rumkugeln) are an easy and delicious Christmas favorite!
You'll definitely want to add these no-bake treats to this year's Christmas celebration.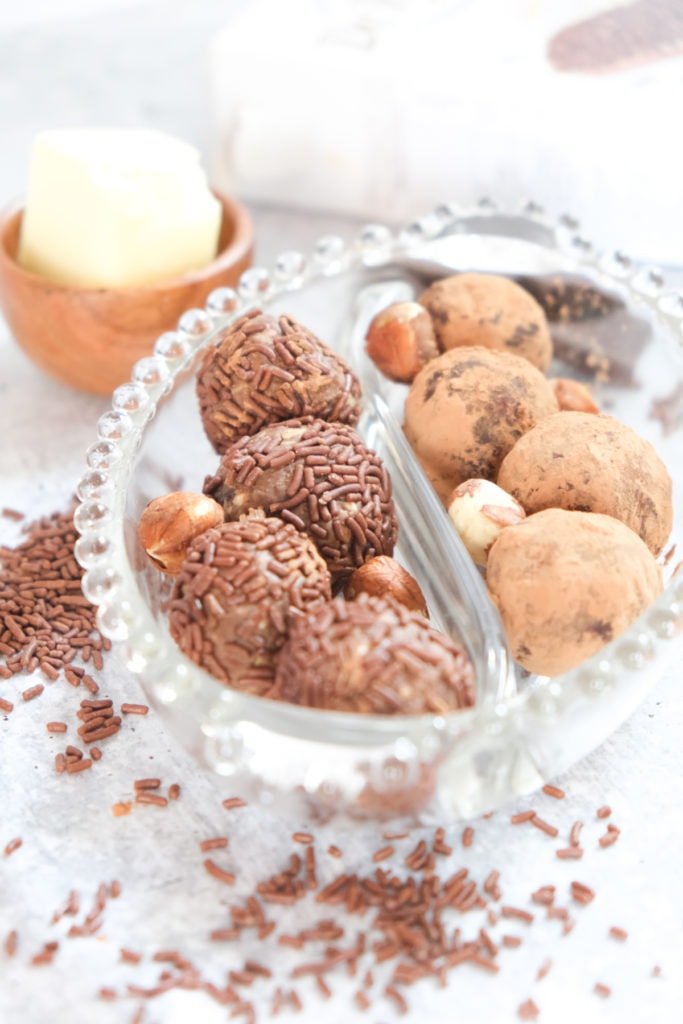 ? About This Recipe
These no-bake treats couldn't be easier to make and are perfect to bring to holiday parties, to add to your cookie tray or for delicious post-dinner snacking.
You can make chocolate rum balls with or without hazelnuts and adjust the rum flavor to your liking. If you have drinking rum you can use that; if you don't, you can use rum extract.
I like to roll mine in chocolate sprinkles but you can also use cocoa powder or powdered sugar.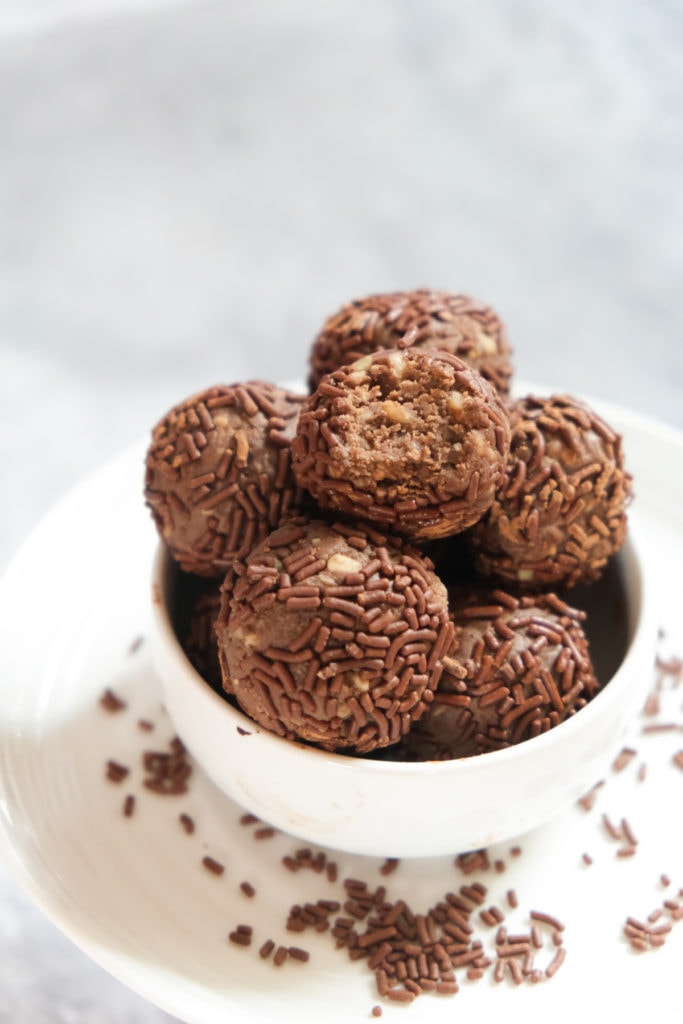 ? What You Need to Make This Recipe
Ingredients:
Butter
Chocolate (use a mix of milk and dark)
Powdered sugar
Hazelnuts
Chocolate jimmies, cocoa powder, powdered sugar (for rolling)
Kitchen Tools:
Microwave, double boiler or saucepan with heat-proof bowl
Baking pan (for toasting hazelnuts)
Knife or food processor
Mixing bowl
Spatula
Hand mixer
Plastic wrap
Small cookie scoop (or just use a spoon)
Small bowl (for rolling the rum balls in chocolate sprinkles or powdered sugar)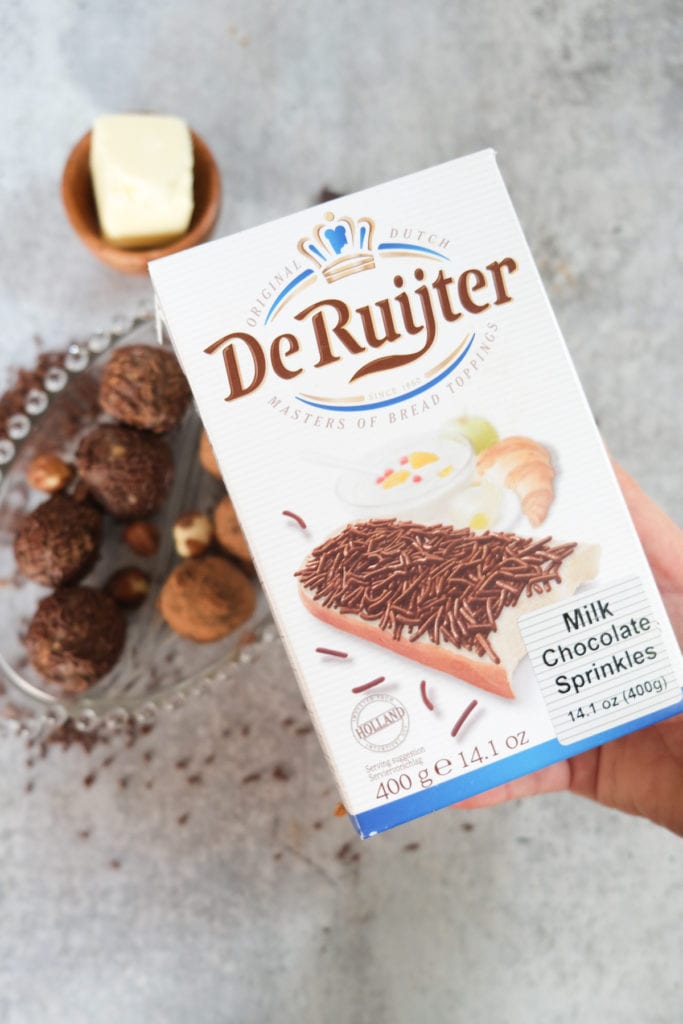 ? Recipe Variations, Notes & Tips
Chocolate. Use the best quality chocolate you can. A mix of dark and light chocolate worked the best.
Rum. If you don't have rum, you can substitute rum extract. If you don't want a strong rum flavor, add a little to start and add more to taste.
Hazelnuts. I like to make half with hazelnuts and half without. Both are delicious!
Sprinkles. You can roll your German Rum Balls in chocolate sprinkles or cocoa powder. You could also use Christmas-colored sprinkles, chopped hazelnuts, powdered sugar or mini chocolate chips.

Speaking of chocolate sprinkles, I highly recommend getting Dutch De Ruijter chocolate sprinkles! They actually taste like chocolate and you can get them in milk or dark chocolate. I first tried them when I was working in the Netherlands and was so happy that I can now buy them here on Amazon.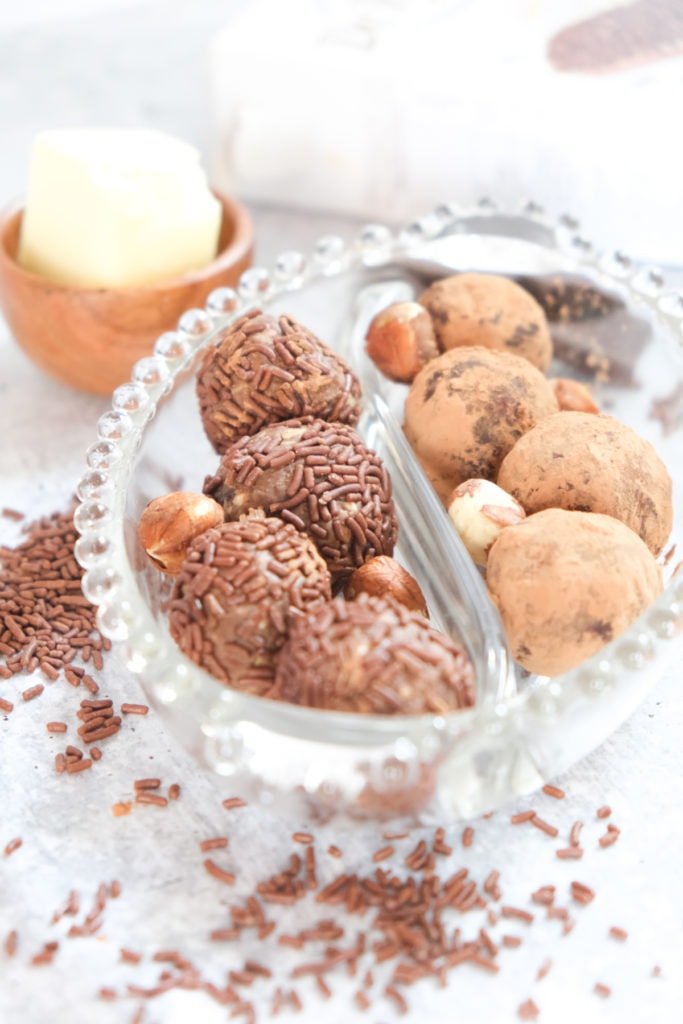 ? New to International Baking & Dessert Making?
Click here to download my FREE 9-Page Starter Kit so you can begin making delicious treats from Europe and beyond with confidence and ease! Or start with my 25 European Favorites cookbook. It's filled with easy and delicious recipes that are perfect for beginners.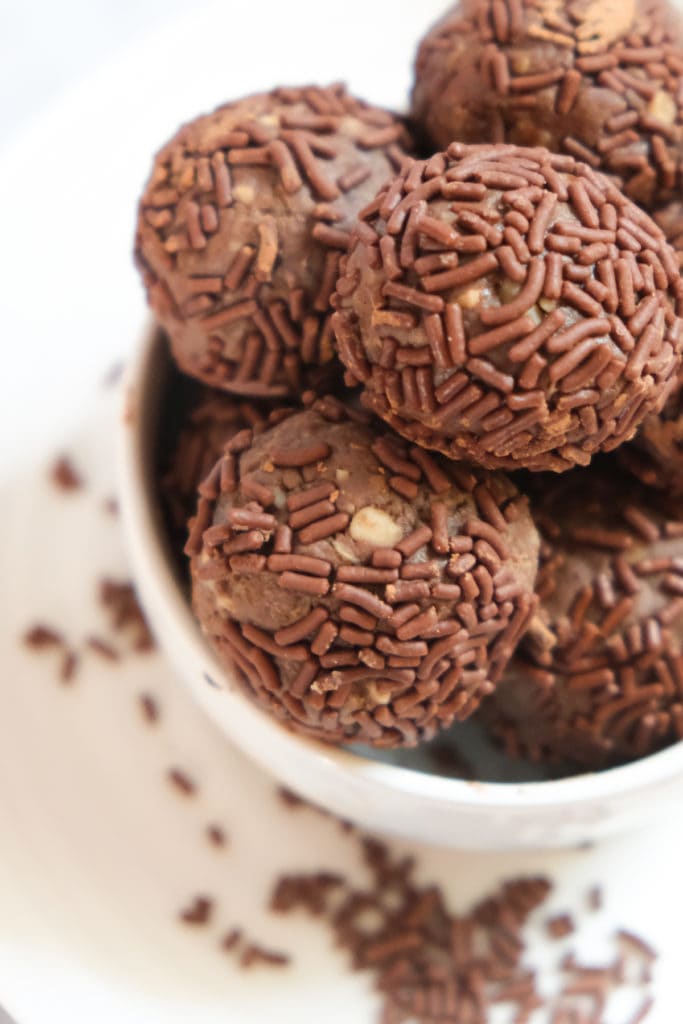 ? Easy German Rum Balls Recipe
The first step is to melt the chocolate. I usually do this in a bowl over a pan of simmering water. You can also melt the chocolate in the microwave. Once the chocolate has melted, let it cool.
If using hazelnuts, toast, and grind them.
The next step is to cream the room temperature butter and sifted powdered sugar until light and fluffy.
Then add the rum and cooled chocolate to the butter and mix until smooth. Be sure to scrape down the sides a couple times.
Note: you can use actual rum or rum extract. If you're not sure how strong of a rum flavor you want, start with maybe 1/3 of the rum listed in the recipe and then add the rest to taste.
If you're adding ground hazelnuts to the rum balls, add them now and mix until well incorporated.
Chill the chocolate rum mixture in the fridge for 30-60 minutes.
Note: if after chilling the chocolate mixture isn't firm enough to roll into balls, add a little more powdered sugar and mix well. You can also add a little cocoa powder if you prefer.
Roll the chocolate rum mixture into balls and then in cocoa powder or chocolate sprinkles (I use these delicious Dutch sprinkles that actually taste like chocolate).
Store in an air-tight container in the fridge for up to a week.
?Looking For More German Christmas Recipes?