Easy Oven Roasted Chestnuts
This article may contain affiliate links. See our disclosure link for more information.
These Easy Roasted Chestnuts are so simple to make, mostly hands-off, and perfect for the holiday season!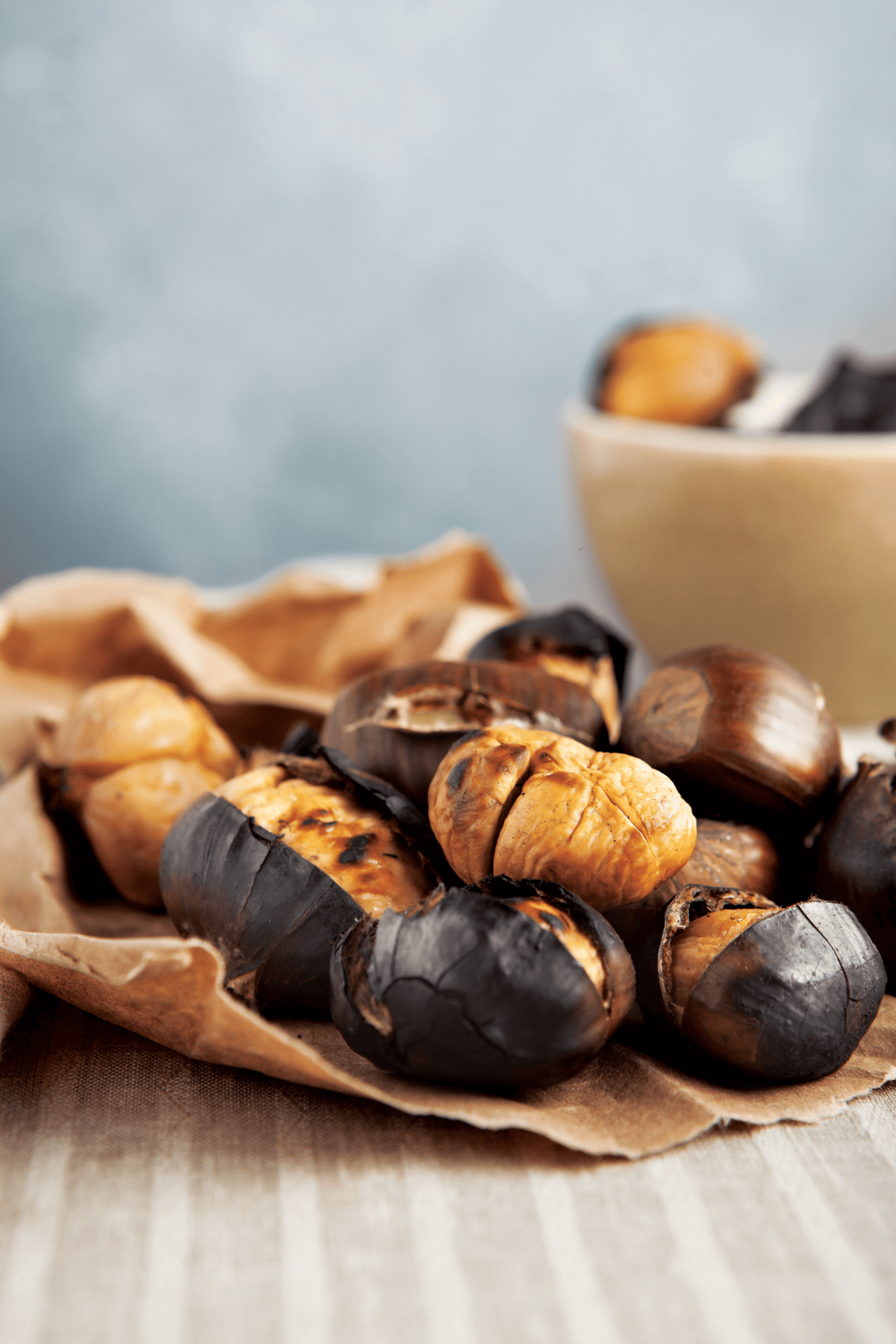 The smell of chestnuts roasting over an open fire immediately transports me to Germany.
During the holiday season you'll find street vendors selling Heisse Maroni (also called geröstete Kastanien) – fresh roasted chestnuts – at nearly every German Christmas market and on street corners all over the country.
And, of course, just reading the word chestnuts makes me think of the famous Christmas song we hear over and over every year!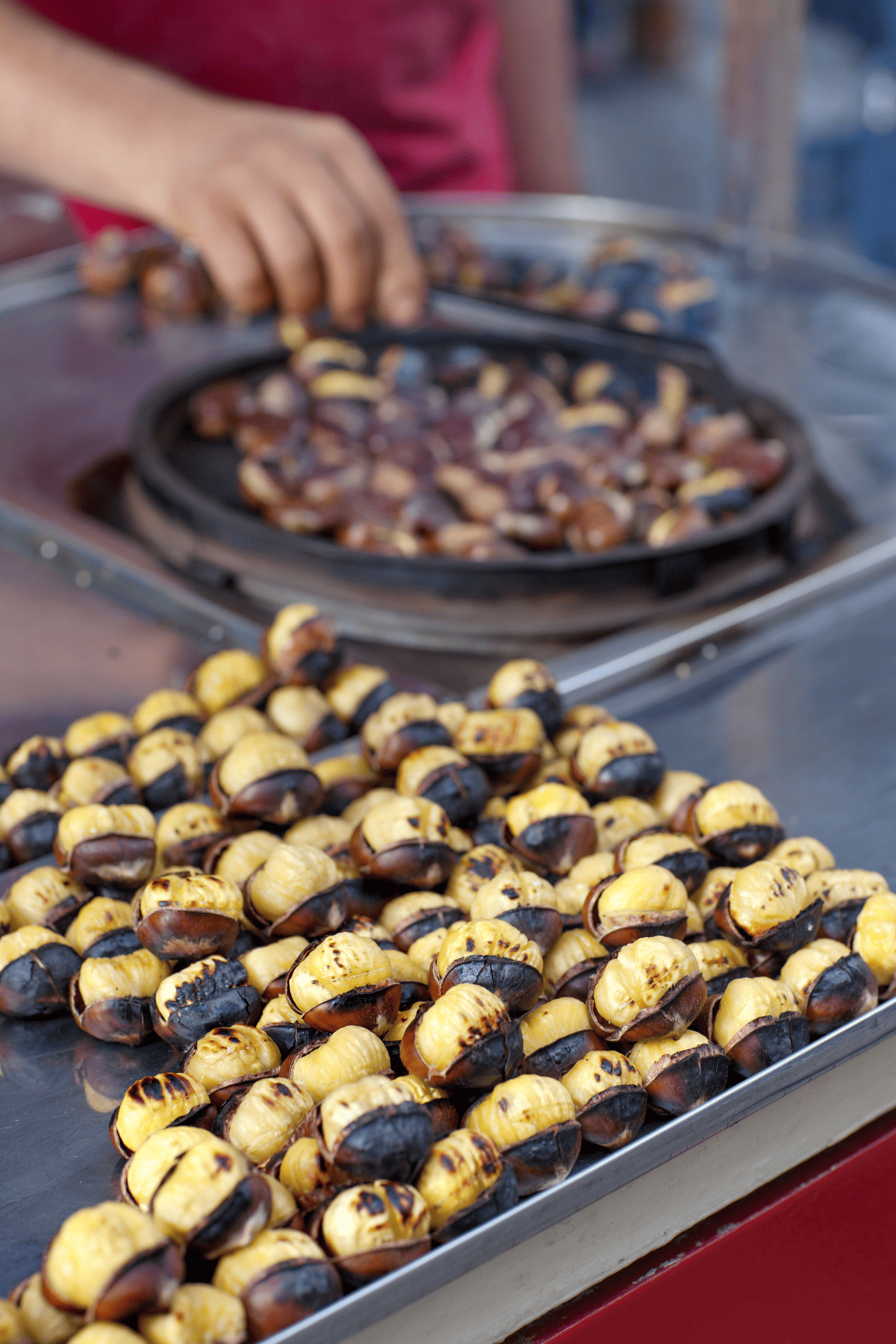 For a long time I assumed I couldn't roast chestnuts at home. I guess I assumed it was too complicated or that I'd need highly specialized tools I didn't already have at home.
But then my husband told me that he used to eat freshly roasted chestnuts at a friend's house at Christmas time when he was growing up! So I decided to make them at home and it turned out to be so easy and a lot of fun. I surprised my husband with a batch and he was delighted!
If you haven't tried roasted chestnuts, you're missing out. They're so easy to make at home and you don't need any specialized tools.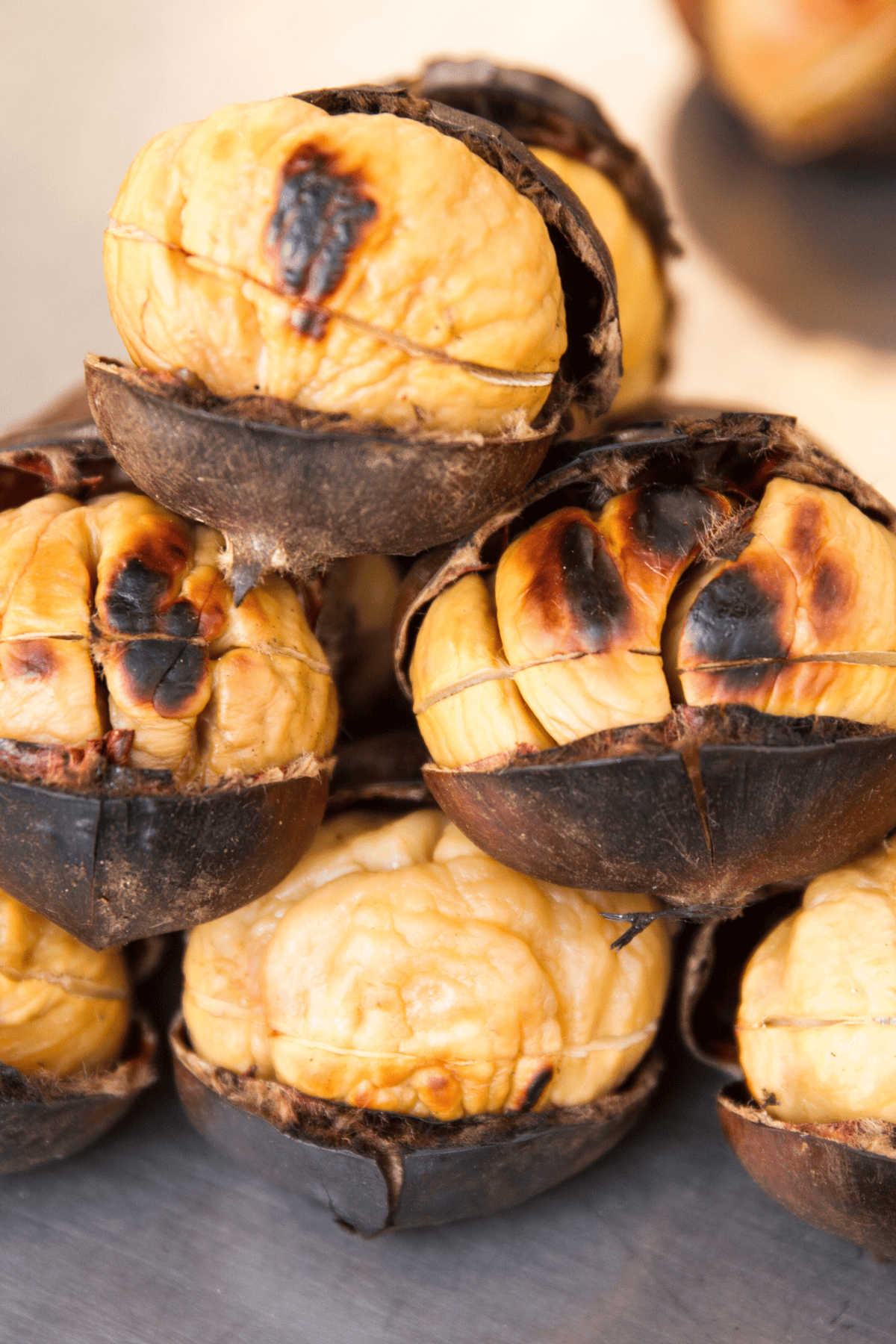 Maybe you've enjoyed chestnuts and their sweet flavor in Thanksgiving stuffing or another holiday dish but still haven't eaten a freshly roasted one?
Let's change that! Christmastime is the perfect time of year to make these delicious nuts, whether for your Christmas dinner or simply as a fun seasonal activity.
Roasting chestnuts at home might just become a delicious new tradition!
I assume you can't roast chestnuts over an open fire or hot coals in your kitchen, so I'm going to show you the easiest and best way to make them at home using a few simple kitchen tools and your oven.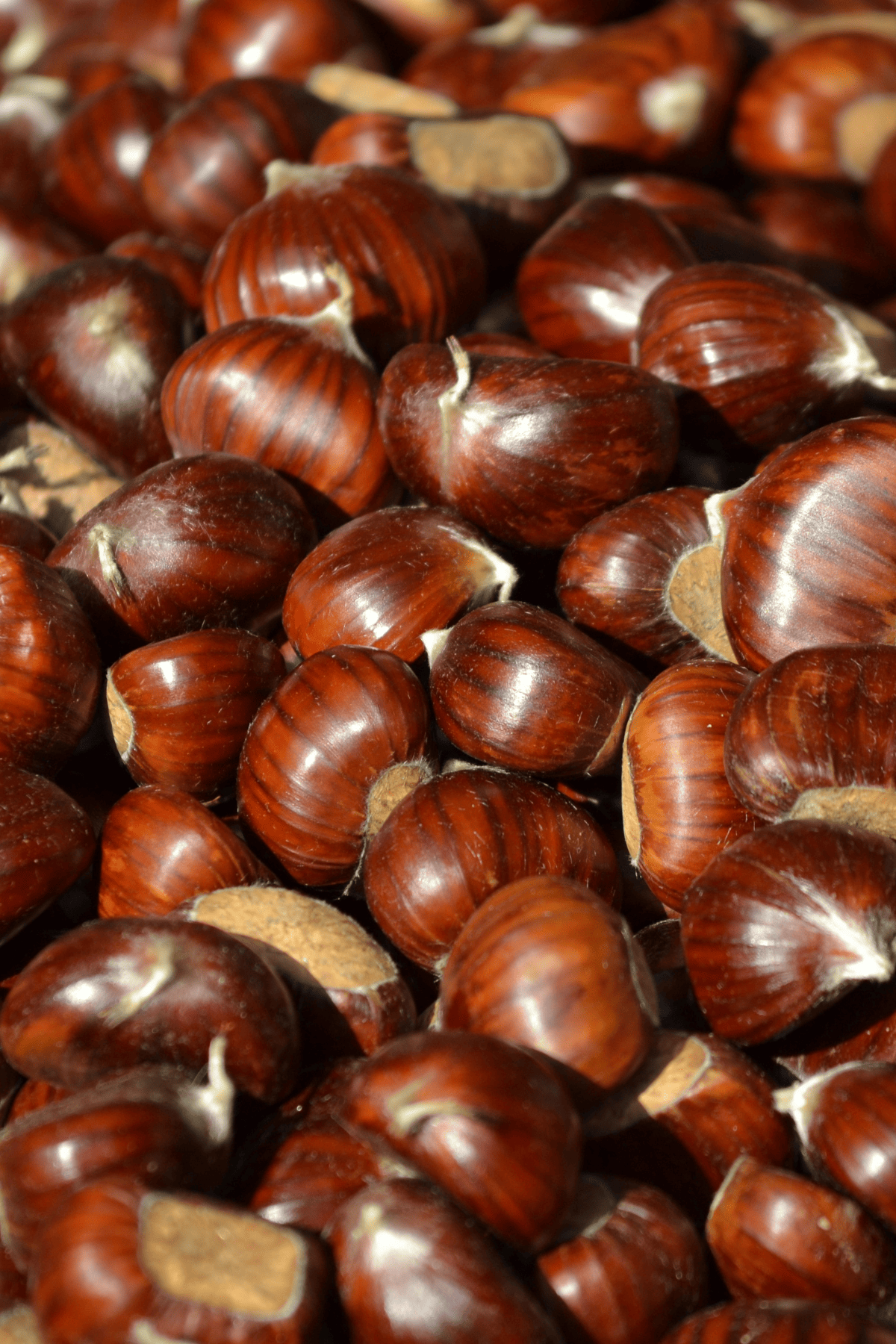 What Do Chestnuts Taste Like?
Once you break into the hard outer shell you'll find the soft texture of the nutmeat, which has a surprisingly sweet flavor. Roasted chestnuts become soft but still retain some chew. While they do have a specific flavor, it's not super strong.
Where Can I Buy Fresh Chestnuts?
If you don't have access to chestnut trees, you should be able to find them in the produce section at grocery stores from early October through late December.
I buy them at our local co-op grocery store where they sell them in bulk. You might also find them at local farm stands or farmers markets. Make sure you buy the fresh ones, not canned or jarred chestnuts!
How Can I Tell I've Got Good Chestnuts or Bad Chestnuts?
Look at the outer shell of the chestnut. If it's hard, shiny, and doesn't have any holes or cracks, they're good. Store fresh chestnuts in a paper bag or sealed container with a lid in the fridge until you're ready to roast them.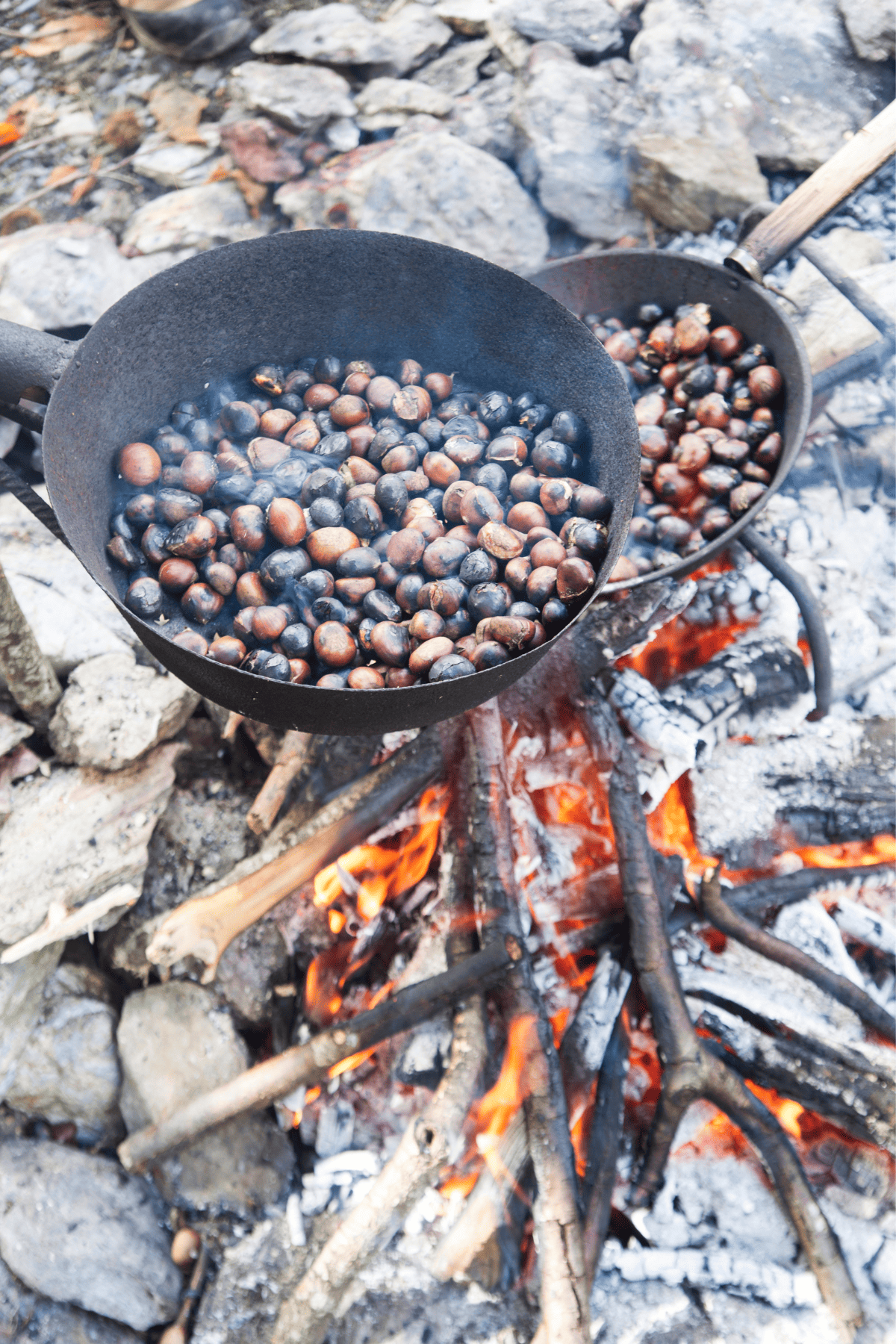 Can I Eat Chestnuts Raw?
Once removed from the spiny outer husk and hard shell, you can east them raw. But they're MUCH better roasted. And it's easier to remove the shell after roasting them.
Do I Need Any Special Equipment to Make Roasted Chestnuts?
Nope! While you can use a special chestnut cutter or chestnut knife to cut into them before roasting, you can just as easily use a small sharp knife. You can easily roast them in the oven on a baking tray.
You can also roast them in a cast iron skillet (or other heavy skillet) on the stove or over hot coals but I find using the oven the easiest.
What Can I Do With Leftover Chestnuts?
Roasted chestnuts are best when eaten right after roasting, so I recommend making one small batch at a time so you don't have leftovers. If you do find yourself with extra chestnuts that you don't want to go to waste, try chopping or pureeing them.
Add chopped chestnuts to savory dishes like stuffing, turkey casserole or vegetables. Add pureed chestnuts to savory dishes like mashed sweet potatoes, soups and stews, and sauces.
You can also make a sweet puree, paste or cream that can be used in a variety of desserts and even coffee drinks.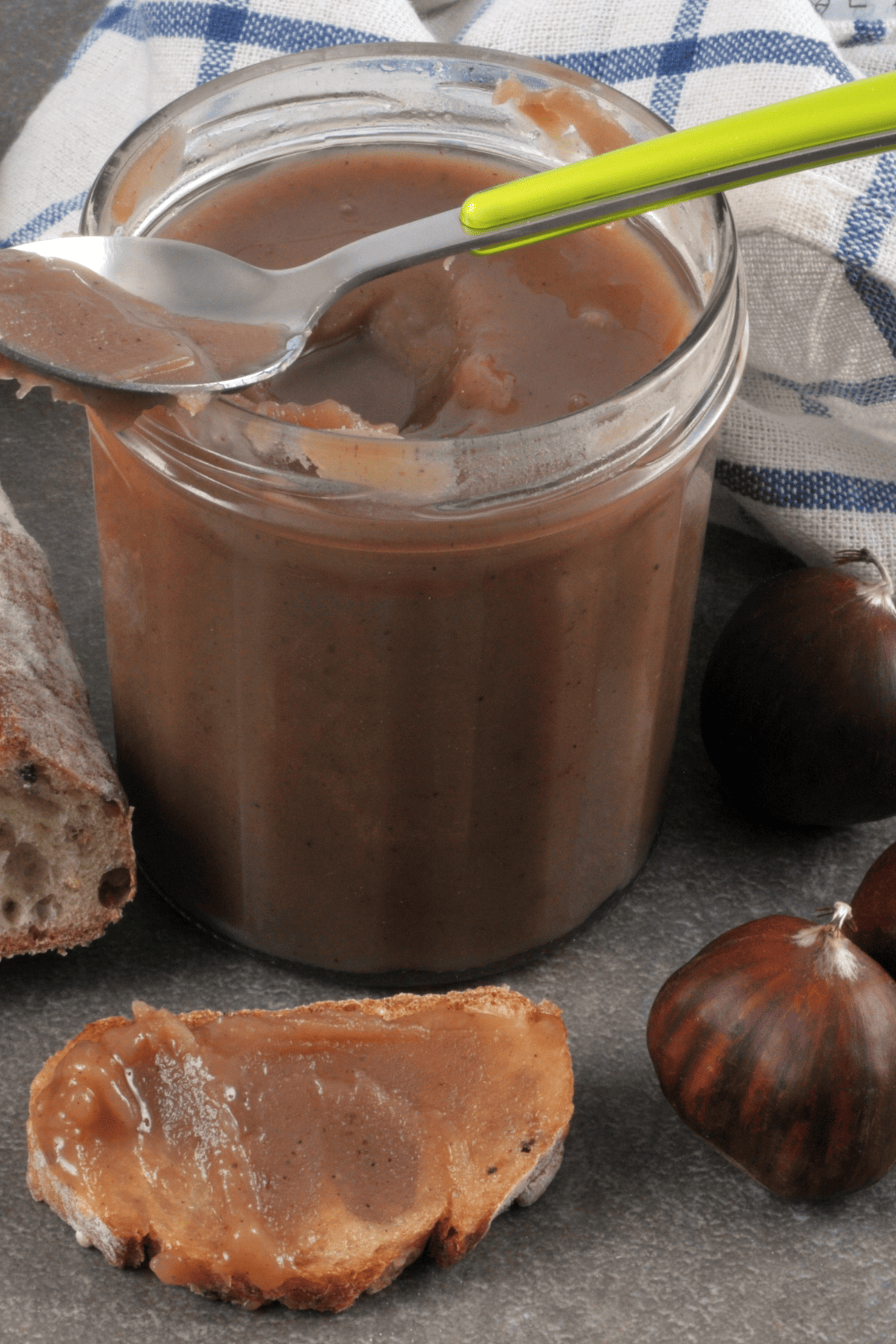 Tips, Ideas & Variations
Type of knives. You can use a long serrated bread knife, a small parring knife or a special chestnut knife to cut into the shell of the nuts.

My favorite knife to use. All of those work fine but my favorite knife to use is a bird's beak knife. I use this knife all the time! I found I had the best control with this knife, wasn't worried about accidentally cutting myself, and the curved edge made cutting into the nuts easy work.

How to eat the nuts. You can enjoy the nutmeats right out of the oven on their own or sprinkled with salt – they're best when warm – or you can sauté them with melted butter and garlic and herbs, cinnamon sugar, vanilla sugar, vanilla sugar and speculaas spice mix or maple syrup.

The easiest method. I find using the oven the easiest way to roast chestnuts because it's so hards off but you can also place nuts in a cast-iron skillet over low to medium heat for 15-20+ minutes. Stir frequently.
What You Need to Make Homemade Roasted Chestnuts
Ingredients:
1 pound [1/2 kilo] fresh, raw chestnuts in their shells
warm water
Kitchen Tools:
Large bowl – for soaking the nuts before roasting
Sharp paring knife, sharp serrated knife, chestnut knife or bird's beak knife – for cutting a slit into each chestnut
Cutting board – for preparing the nuts for roasting
Baking tray (any rimmed baking sheet or shallow baking pan will work) – for roasting the nuts in the oven
Clean kitchen towel or tea towel – for taking the shells off the fresh-out-of-the-oven nuts
How to Make Roasted Chestnuts At Home
Pre-heat oven to 350F / 175C.
Place chestnuts flat side down on a cutting board. Carefully cut an X or one long slit on the rounded side of each chestnut using a paring knife, bird's beak knife, long serrated knife or a chestnut knife.
Don't skip this step – it's what will keep the nuts from exploding while baking and makes the post-roasting peeling process much easier.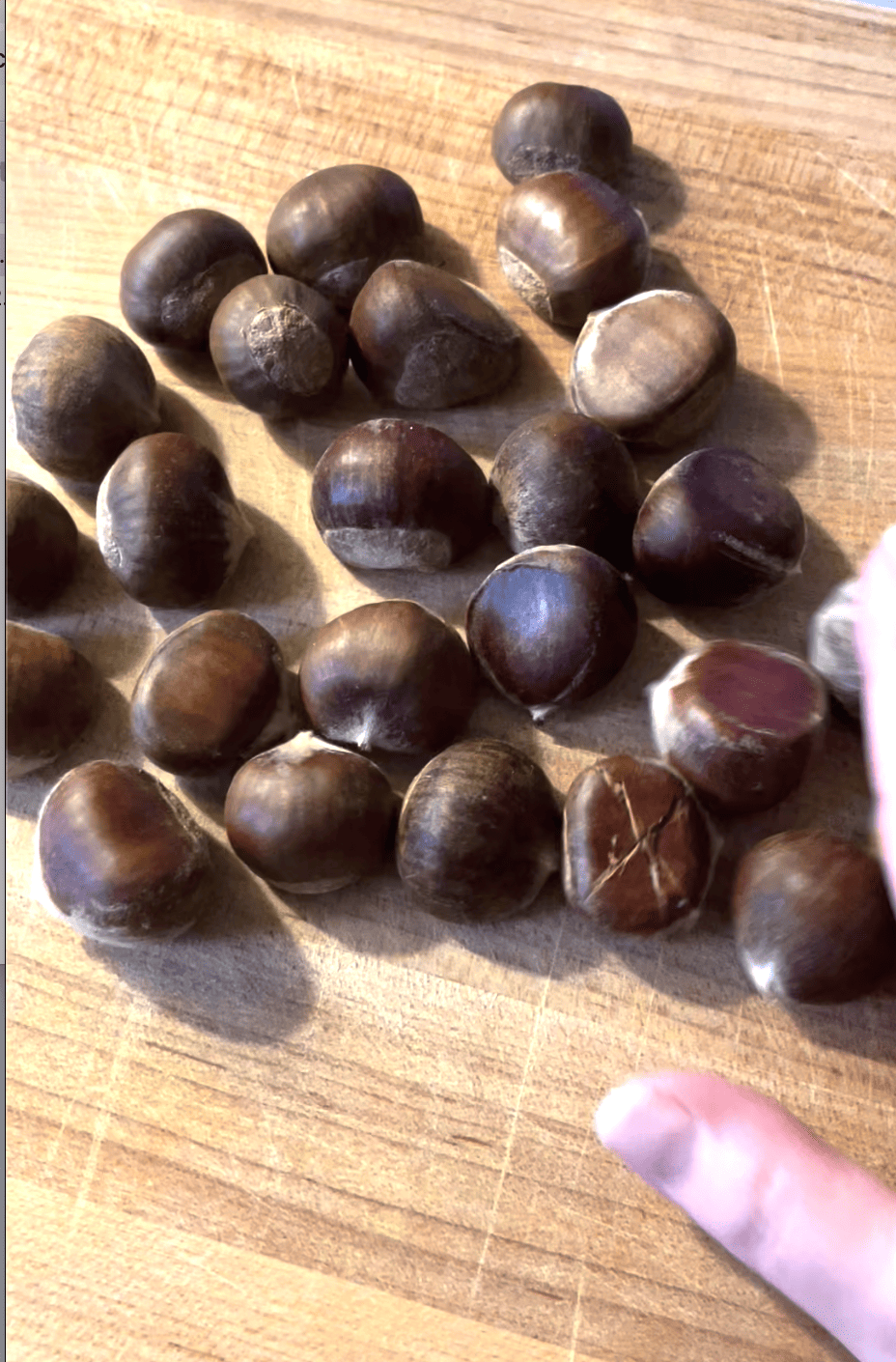 Place the raw chestnuts in a bowl of warm water and let them soak for 30 minutes. This will ensure that the nuts don't dry out while roasting and contributes to easy peeling.
Drain nuts and place in a single layer on a baking pan or rack. Leave space in-between the chestnuts.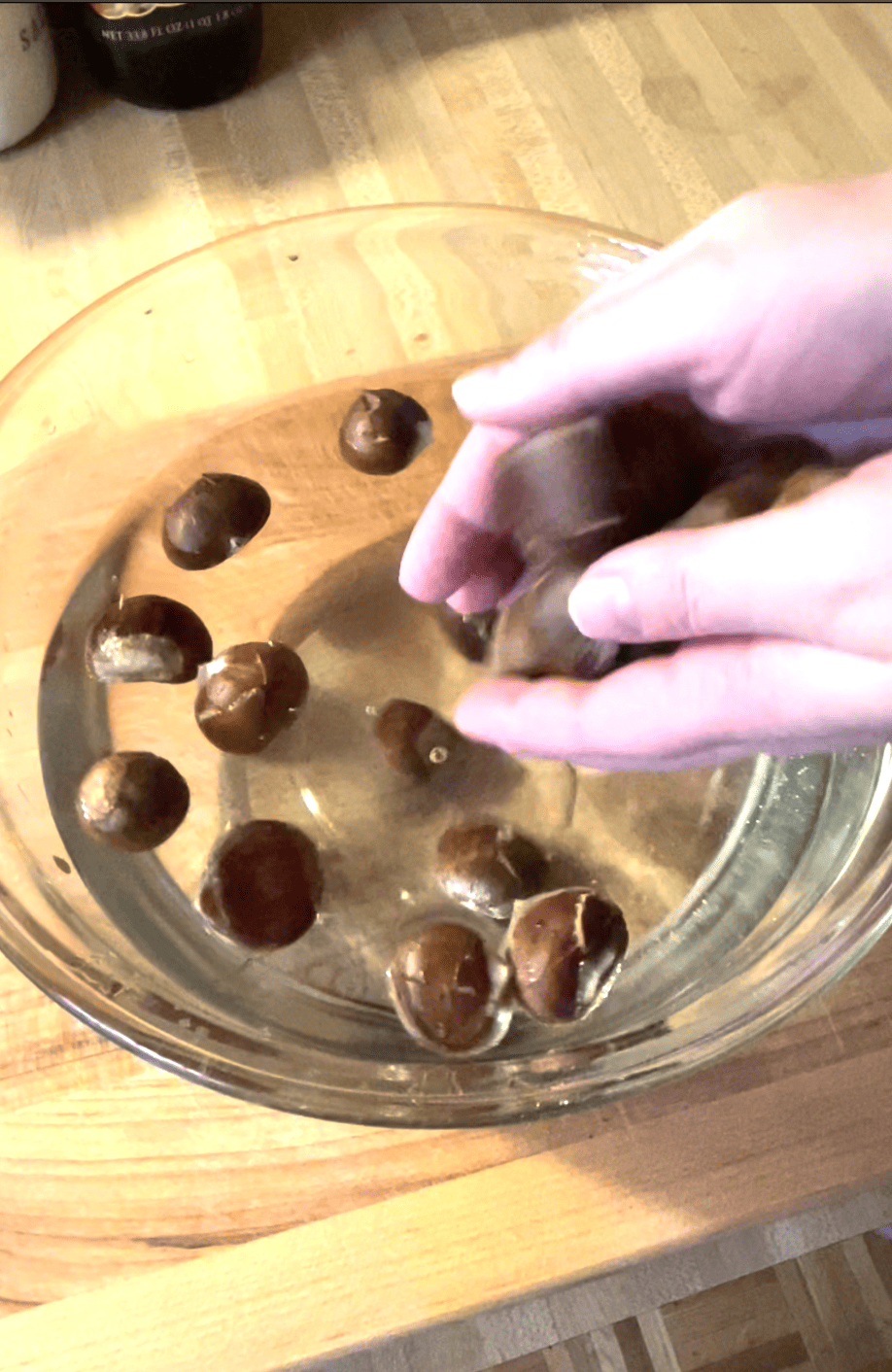 Roast at 350F / 175C for about 30 minutes. They're ready when the skins have receded and the nut meats are visible and soft.
Place chestnuts on a clean tea towel and squeeze the nuts to get the shells and inner skin off. They should be easy to remove using the towel (they'll be hot so be careful).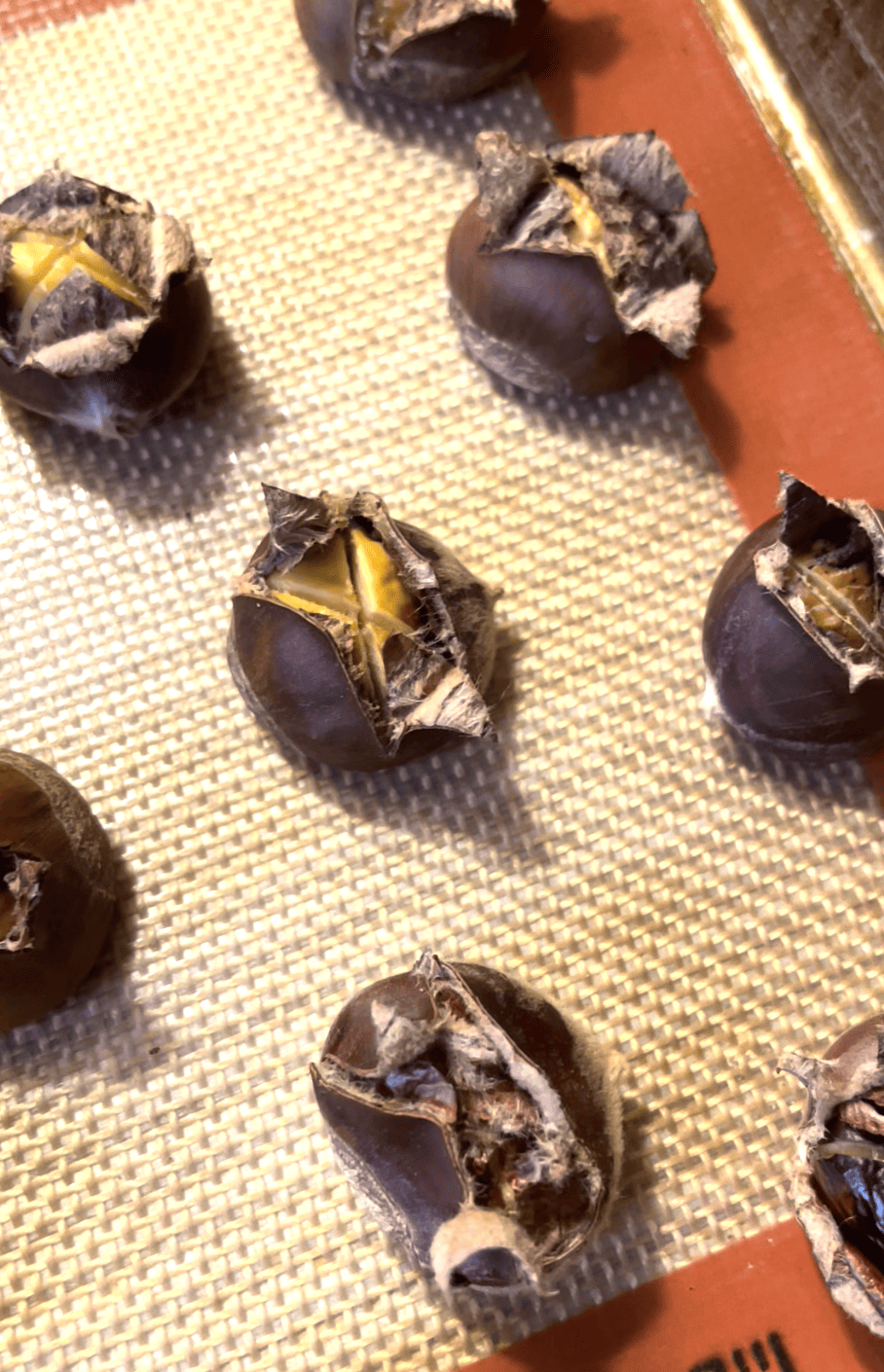 Let the nuts cool for a couple minutes, then pull the shells and skin off.
Serve warm (they will become hard as they cool).