Dulce De Leche Mini Tarts
This article may contain affiliate links. See our disclosure link for more information.
These dulce de leche mini tarts are so easy to make and are absolutely delicious! I feel like I say that every time I post a new dessert recipe…but it's true.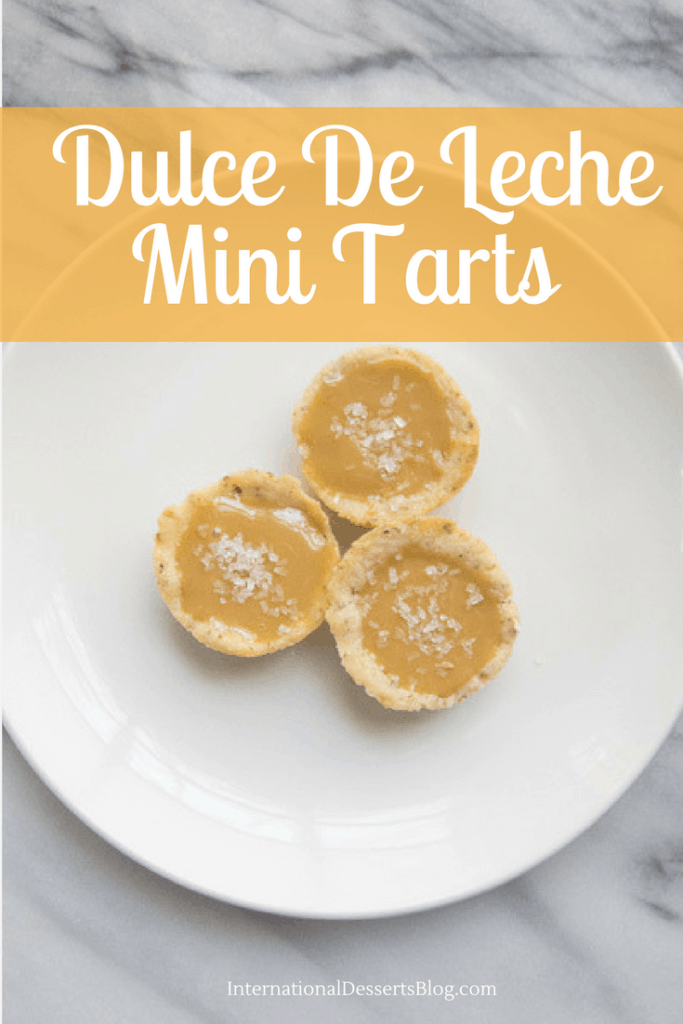 The slightly salty almond shortbread crust pairs well with the sweet dulce de leche. You can make, bake, and cool the shells while the dulce de leche is cooking. Fill the tarts once both have cooled or pop everything in the fridge for a few days until your ready to serve them.
How to Make the Almond Shortbread Crust
You can get the easy almond shortbread mini tart crust recipe in my new free mini tart ebook. Of course, if you have a shortbread crust recipe that you love, go ahead and use that. I'd love to hear what recipe it is!
How to Make Dulce de Leche
You've got two options with regards to the dulce de leche. You can buy a can of prepared dulce de leche or make your own. I've always bought dulce de leche but for these mini tarts I decided to make my own…and now I'm hooked on homemade! Dulce de leche is incredibly easy to make, you just need several hours to let it cook and then cool.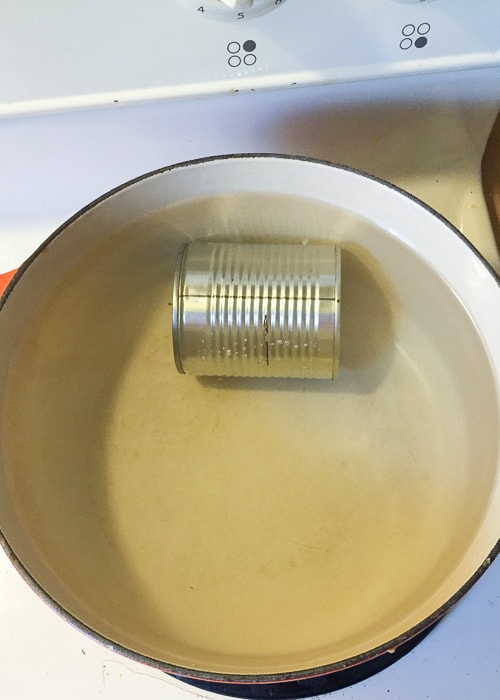 All you need to do is take the label off of a can of sweetened condensed milk and then place the can in a stock pot. Fill the pot with water, making sure there is at least 2 inches of water covering the can AT ALL TIMES.
Bring the water to a simmer. Reduce to low heat and let the can of sweetened condensed milk simmer for 2.5 – 3.5 hours. Simmer longer for a darker dulce de leche. About half way through, use tongs to carefully turn the can over.
It's critical that the can is ALWAYS completely submerged in water. I left a container full of water next to the pot so I could quickly refill the pot. I also set the timer to go off every 20-30 minutes so I'd remember to check that the can was still covered with water.
When the dulce de leche is done, use tongs to carefully take it out of the water. Let it cool completely before opening.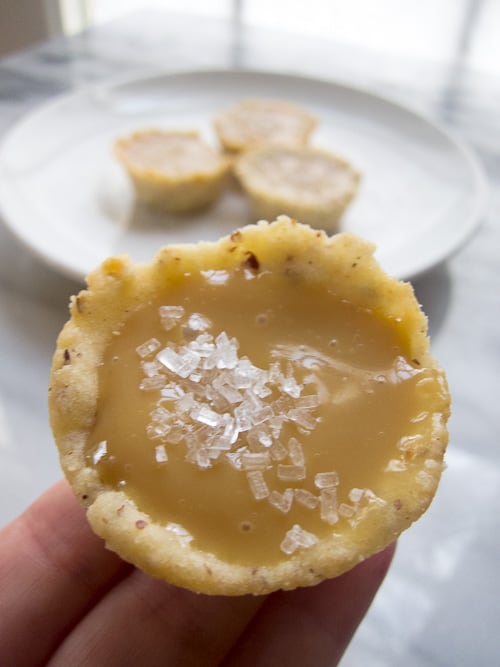 Make Dulce de Leche Mini Tarts
Once both the tart shells and dulce de leche has cooled, fill each shell with dulce de leche. Pop the mini tarts in the fridge and let cool for at least an hour. Just before serving, top with whipped cream, sparkling sugar crystals or even a dash of salt.
Enjoy!