Easy Apple Puff Pastry Bundles
This article may contain affiliate links. See our disclosure link for more information.
These Easy Airfryer Apple Puff Pastry Bundles are a quick, no fuss recipe when you want a warm and comforting fall dessert.
Thanks to my vegan baking friend Marliece for sharing this recipe. Marliece and I were exchange students in Germany during the same year and share a love of baking German treats!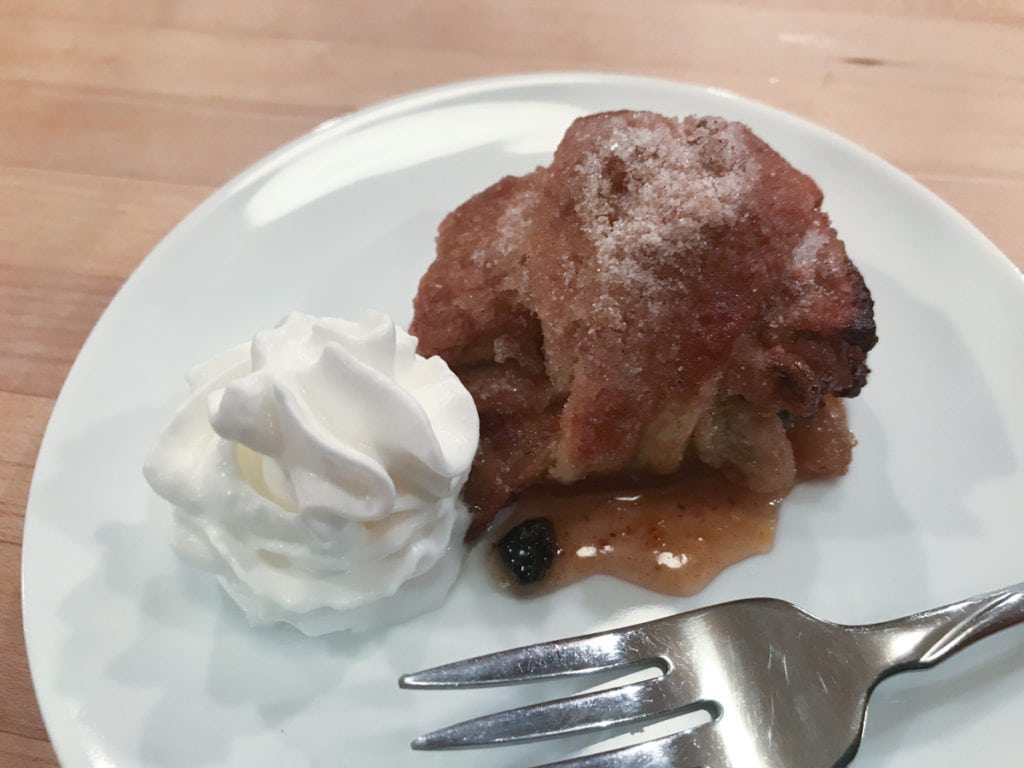 ✔️About These Easy Airfryer Apple Puff Pastry Bundles
Inspired by Cate's recent German Apple Strudel recipe, I looked to this Pampered Chef Apple Bundles recipe to make a "quick cheat" Strudel version and am calling my new take on this quick dessert Apple Puff Pastry Bundles "Strudel-style!"
By using puff pastry and adding brown sugar, raisins, and almond flour to apple slices before rolling them in sheets of puff pastry dough, the bundles take on more of a Strudel flavor and texture.
This is a fun dessert to make with young helpers – there are a number of easy tasks for little hands, like slicing the dough and rolling the bundles.
Serve with a scoop of vanilla ice cream and this easy dessert recipe will be a big hit!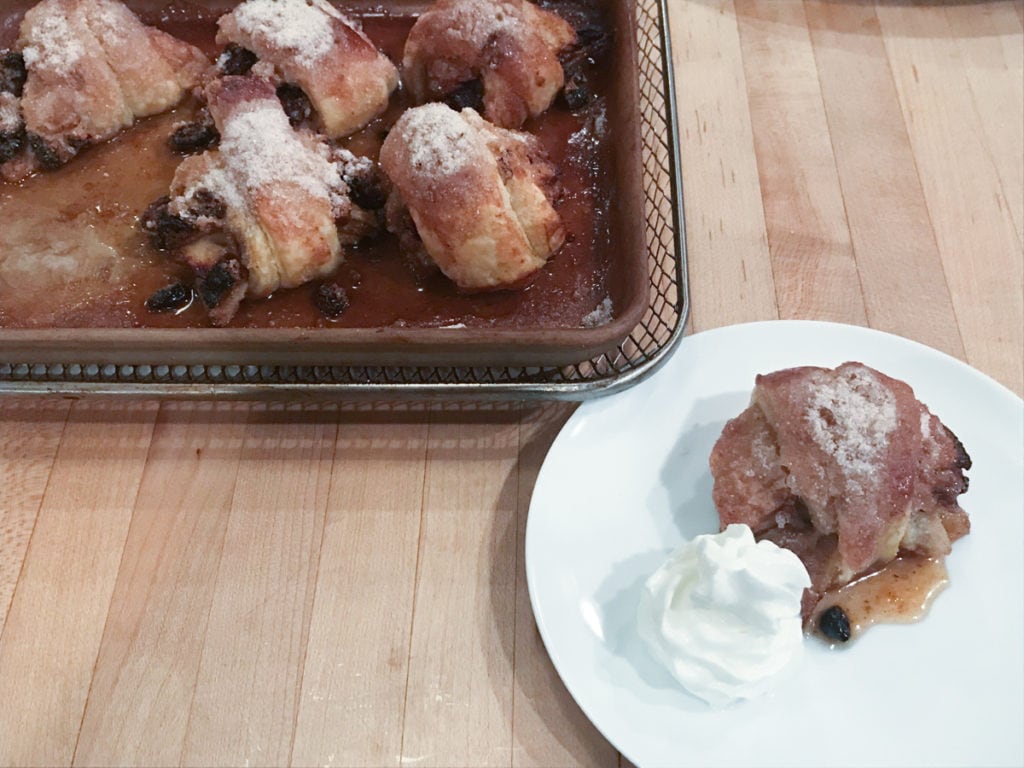 ❓FAQ
What kind of dough should I use?
The original recipe calls for refrigerated bread stick dough (crescent dough could also be used). I substituted a package of puff pastry (one sheet, thawed) in place of the package of bread stick dough. You'll find it in the freezer section of your grocery store. You could also use your own puff pastry recipe if you prefer homemade dough.
What are the best apples to use?
Granny Smith apples are the best to use in this type of recipe but you could also use Pink Lady apples. And if it you're making this recipe outside of apple season, just use your favorite apples.
Can I use apple pie filling?
Use fresh sliced apples. This isn't one of those apple desserts where you can change out fresh apples for pie filling because the pastry is open on the sides.
Do I need to pre-cook the apples?
The apples do not need to be pre-cooked, but can be par-cooked in advance if you like a softer apple texture. You can also increase the cook time for a less crisp apple. I cooked mine for a range of 15-18 minutes and some of the apple pieces were still more on the crisp side. I may try partially cooking the apples in advance next time for that "melt in your mouth" apple texture.
Do I need to soak the raisins?
This is an optional step. I forgot to soak my raisins in advance, so they were not as plump and juicy as if I had soaked them.
What if I don't have or don't like zest?
No problem. The recipe would work well without zest. You could even substitute the fresh juice for refrigerated if you don't have a fresh orange on hand.
Do I need to use an Airfryer?
It's quicker to use an Airfryer (and the apple bundles reheated super well in the Airfryer) but you can also use a conventional oven. See recipe card for the details.
Are these apple bundles different from desserts like apple turnovers, a hand pie, apple tart, apple slab pie or classic apple pie?
Yes! While all of these tasty apple recipes feature apples, some type of flaky pastry, and spices, there are differences. Turnovers and hand pies are sealed on all sides, whereas these bundles are rolled and open on the sides. Apple tart, apple slab pie, and classic apple pie typically use different types of crust – pie crust or tart crust.
Can this recipe be made non-dairy or vegan?
Yes! This recipe is very easy to adapt to a variety of dietary needs. The puff pastry dough I used is "accidentally vegan," meaning no dairy added, and I used a soy margarine. For a gluten-free version, use a gluten-free puff pastry or other dough.
? What You Need to Make This Recipe
Ingredients:
Granny Smith apples (see FAQ above about apples)
Orange or orange juice
Lemon juice
Brown sugar
Raisins
Almond flour or bread crumbs
Defrosted puff pastry sheet (e.g. Pepperidge Farms) or refrigerated bread sticks
Butter or margarine, melted
White sugar
Cinnamon Plus Spice Blend (pumpkin pie spice is also a great option or even apple pie spice)
Kitchen tools:
Apple peeler/corer/slicer or apple wedger
Cutting board
Chef's knife (or other sharp knife)
Mixing bowl
Scale or measuring spoons and cups
Citrus Juicer & Zester and/or Citrus Press
Pastry mat or parchment paper
Baker's Roller or rolling pin
Pastry cutter (or pizza cutter)
Basting brush
Air fryer (I used Pampered Chef's Deluxe Air Fryer)
Baking trays for air fryer (I used Small Stone Bar Pans)
? Recipe Variations, Notes & Tips
Dried fruit. Use any type of dried fruit to customize your apple bundles.
Pears. Mix in some sliced pears or berries to elevate your dessert.
Oranges & Lemons. The recipe calls for fresh orange zest and juice. Lemon zest and juice could be used instead, or a mixture of citrus juices.
Mix and match the fruit and juices for new bundle flavors.
Almond flour alternative. Breadcrumbs or panko crumbs can be used in place of almond flour – or a mixture of each. You could even use ground hazelnuts!
Nuts. You can add finely chopped or slivered nuts of your choosing – almond, hazelnut, macadamia, pecan, or walnut would all work well.
Leftovers. Reheat leftovers for 3-5 minutes in Air Fryer. I warmed mine in Mini Cast Iron Pans for 5 minutes and they were perfect – the puff pastry crisped back up and the apples were even better the second day!
? New to International Baking & Dessert Making?
Click here to download my FREE 9-Page Starter Kit so you can begin making delicious treats from Europe and beyond with confidence and ease! Or start with my 25 European Favorites cookbook. It's filled with easy and delicious recipes that are perfect for beginners.
? How to Make Easy Airfryer Apple Puff Pastry Bundles
Defrost one sheet of puff pastry dough. Optional: pre-soak raisins in orange juice or water for at least two hours.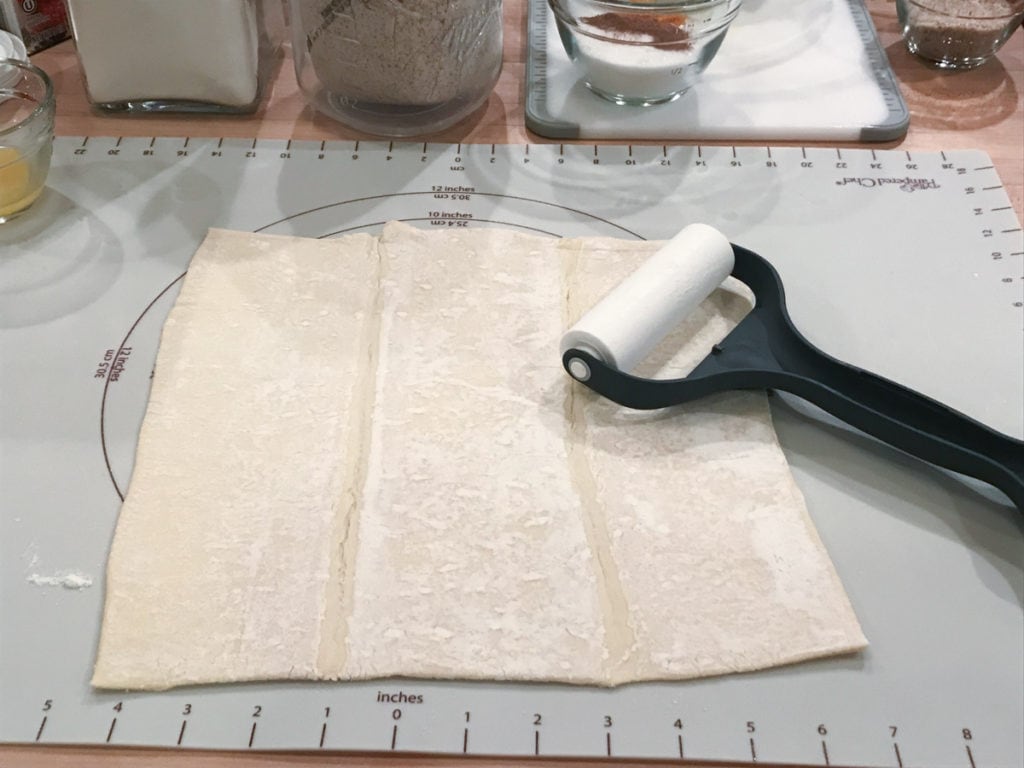 Peel, core, and slice apples with Apple Peeler/Corer/Slicer, then cut apples in half crosswise. Alternately, wedge apples with an apple wedger, peel, and cut into thin slices. Place apples in mixing bowl and drizzle with lemon juice.
Add brown sugar, almond flour or breadcrumbs, and raisins to apples. Stir gently to combine. Set aside.
Zest orange, setting aside zest. Juice orange and pour into bottom of baking dishes. Combine white sugar, Cinnamon Plus Spice blend or pumpkin pie spice, and orange zest in small bowl. Set aside.
Unroll dough on pastry mat, roll slightly with Baker's Roller or rolling pin. Cut pastry sheet into 12 long pastry strips.
Place 4-6 apple slices at the end of each strip of dough and roll up. Arrange bundles in baking pans.
Melt butter or margarine and brush on tops of bundles. Sprinkle cinnamon sugar mix on top of bundles.
Bake in Air Fryer at 375F/190C for 15-20 minutes, depending on how crisp you like your apples. These Apple Bundles can also be baked in a standard oven at 375F for 25-30 minutes or until golden brown.
Serve warm on their own, or with ice cream or whipped cream.
Store in an airtight container at room temperature for 2-3 days.
Reheat leftovers for 3-5 minutes in the Air Fryer, ideally in a Mini Cast Iron Pan.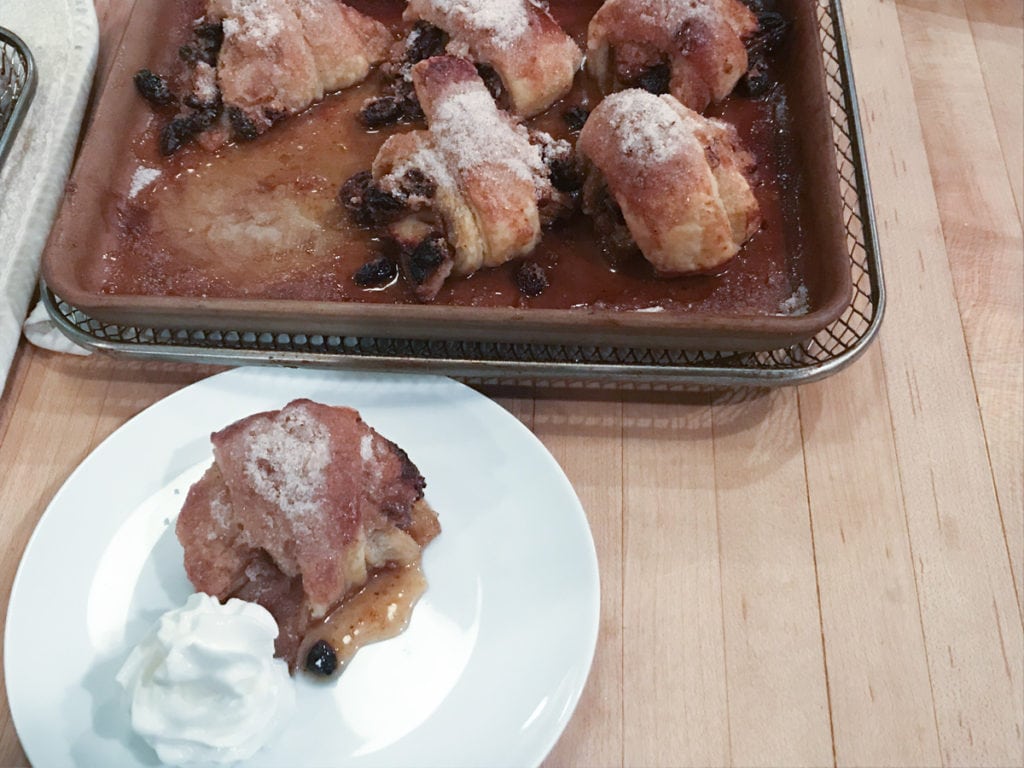 ❤️ Looking For More Apple Recipes?
About Marliece
I am Marliece Thomas and am a Pampered Chef consultant located in Boise, Idaho. I have been cooking & baking since I was a young child and really fell in love with baking as an exchange student in Germany. I later did a bakery apprenticeship on Saipan and now share my love of the kitchen through my Pampered Chef business.