Turns out I've been pronouncing the name of this delicious Canadian dessert incorrectly since I was six years old.
*facepalm*
How do you pronounce Nanaimo bars? (Besides the obvious de-li-cious.)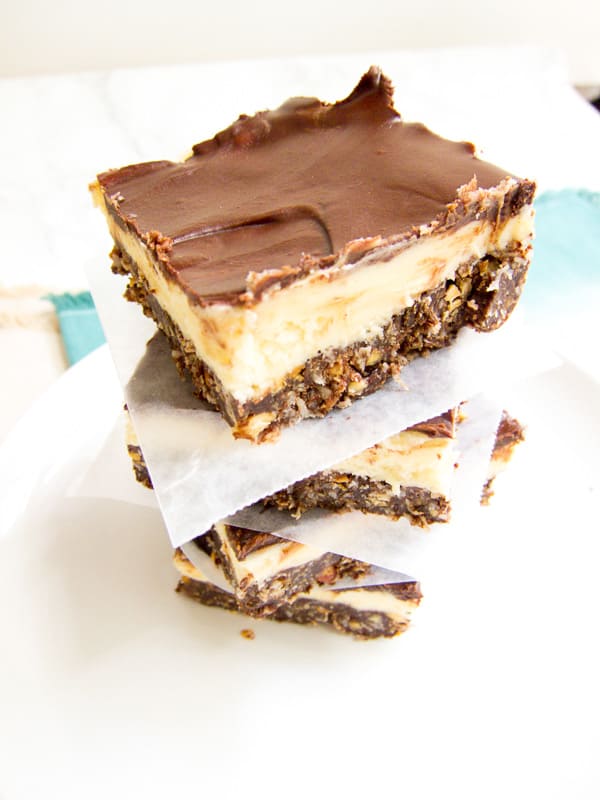 Last summer, my Canadian friend, Sabrina, set me straight while visiting her in Vancouver, BC. Turns out they're pronounced Na-NEYE-mo….not NAA-ni-mo – bars.
Glad to finally know that!
Nanaimo Bars are named after where they originated, namely the city of Nanaimo on Vancouver Island in British Columbia.
Having grown up eating peanut butter Nanaimo bars, I decided to try the custard variety when I got back to North Carolina.
Wow, these Nanaimo bars are tasty! I love the rich, dense, creamy, buttery custard.
The nutty chocolate crust balances out the sweet filling, and the chocolate topping just makes it rich and delicious.
Give these no bake Nanaimo bars a try! They're easy to make and are a definite crowd pleaser.  
Best Canadian Nanaimo Bar Recipe
Recipe notes:
You can use a double-boiler to melt the butter, but I don't have one, so I used a sauce pan over low heat and it worked just fine.
Make sure the butter that you use for the filling is room temperature. Otherwise you may end up biting into chunks of butter in your bars!
Since these bars are already very sweet, I highly recommend unsweetened coconut. I prefer using the finely shredded coconut in this recipe.
I like to use dark chocolate in the top layer to balance the sweet middle layer but feel free to use milk chocolate if you prefer it.
The recipe suggests cutting the bars into 9 slices. Those slices will be big! These bars are quite rich, so you might want to make them smaller. I often cut each of those 9 slices into 2 bars or 4 bite-sized pieces and find one of those more than enough.
If you're ever in Nanaimo, Canada, use this guide to follow the Nanaimo bar trail!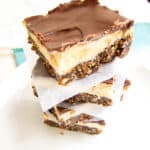 Ultimate Canadian Nanaimo Bars
These nutty, chocolate-y, buttery bars are rich, delicious, and super easy to make. No baking required!
Ingredients
Bottom Layer
1/2

cup

melted butter

1/4

cup

sugar

5

Tbsp

cocoa powder

1

egg

1

cup

shredded coconut

1

cup

graham cracker crumbs

1/2

cup

chopped almonds
Filling
1/2

cup

softened butter

2

cups

powdered sugar

2

Tbsp + 2 tsp

heavy cream

2

Tbsp

vanilla pudding or custard powder

2

tsp

vanilla extract
Top Layer
1/2

cup (4 oz)

chocolate (chopped)

2

Tbsp

butter
Instructions
Bottom layer
Melt butter in a large saucepan, then add cocoa powder and sugar. Stir until sugar is dissolved.

Add one beaten egg. Stir well to cook egg while the mixture is hot.

Take off heat and stir in shredded coconut, chopped almonds, and graham cracker crumbs. Stir well until combined.

Press into an ungreased 8x8 pan. (I like to line my pan with parchment paper to make it easy to lift out of the pan.) Chill the bottom layer in the fridge while you make the filling. Doing so will make it easier to spread the filling on the bottom layer.
Filling
In a medium bowl, cream softened butter, powdered sugar, heavy cream, and vanilla pudding mix (or custard powder). Beat until light and fluffy. Spread custard mixture over the bottom layer. Chill in the fridge while you prepare the layer.
Top layer
Melt chocolate and butter on the stove or in the microwave. Let chocolate mixture cool slightly, then spread over the chilled custard filling. The chocolate is easiest to spread when the cream layer is well chilled.

Once you have all three layers, cover and chill in the fridge until solid.

Cut into 9 slices and enjoy!
Click to Pin This Recipe for Later!
Click here for more recipes from Canada!