Dutch Hagelslag (Bread with Chocolate Sprinkles)
This article may contain affiliate links. See our disclosure link for more information.
Today we're taking a delicious trip to the Netherlands for a quick and easy sweet treat: Dutch Hagelslag. You only need three ingredients and there's no baking required!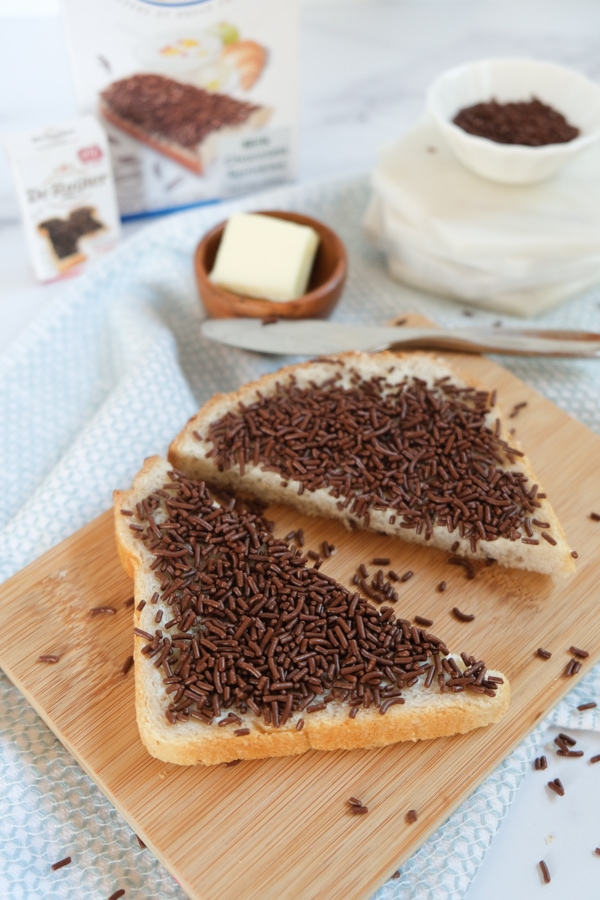 What is Dutch Hagelslag?
Basically it's Dutch chocolate sprinkles on bread.
A simple but delicious treat!
I first came across hagelslag a couple years ago in the Netherlands. I used to travel to Leiden for work, and one day I noticed little boxes of De Ruijter chocolate sprinkles at the hotel breakfast bar.
As it turns out, the Dutch eat those little chocolate sprinkles on buttered bread and call it hagelslag (which means hail storm).
And it's not just for kids!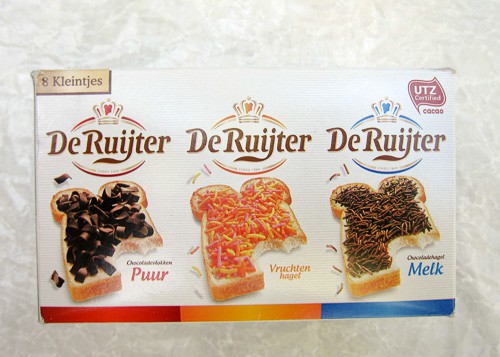 Before returning to the US, I stopped by the Jumbo grocery store near my hotel to check out the De Ruijter selection and picked up a variety pack so I could make my own Dutch bread with sprinkles at home.
Here's what was in my variety pack: milk chocolate, dark chocolate, chocolate curls, and fruit.
I liked the milk chocolate sprinkles the best. The De Ruijter dark chocolate sprinkles and the curls were ok but I didn't care for the crunchy fruit flavor at all.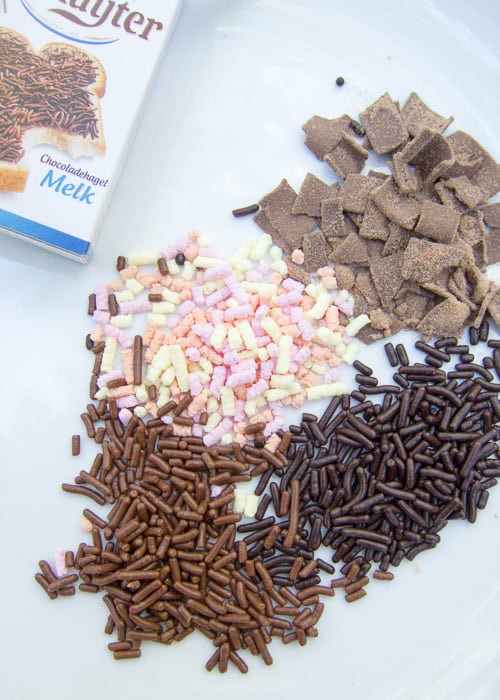 Unlike the chocolate sprinkles or chocolate jimmies I had in my pantry at home, these Dutch sprinkles weren't just for show – they actually tasted like chocolate!
What You Need to Make Hagelslag
Ingredients:
You only need three ingredients but I recommend using high quality ingredients for the best flavor.
Bread
Butter
Hagelslag sprinkles
If you want to make authentic hagelslag, De Ruijter is the brand I buy and recommend. You can use them in your German Rum Balls and other recipes, too, so they won't go to waste!
Equipment:
That's it!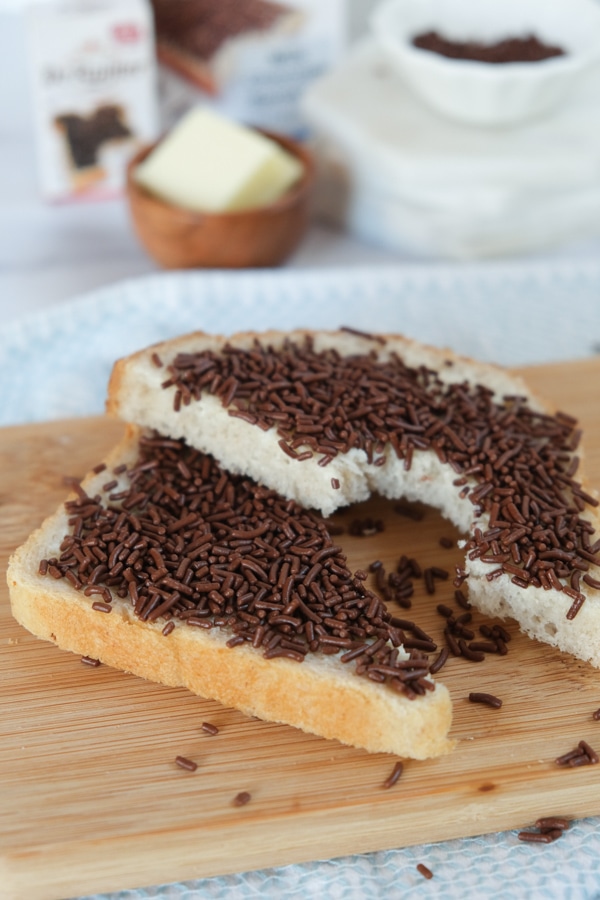 Where Can I Buy De Ruijter Sprinkles for Dutch Hagelslag?
Don't worry, you don't have to go the Netherlands to get your Dutch chocolate sprinkles! You can order them from Amazon here.
What I like about De Ruijter sprinkles is that they're real chocolate sprinkles, so they actually taste like chocolate. Other brands of chocolate jimmies I've used…well, they don't taste much like anything.
If you want the best chocolate sprinkles, I recommend getting a box of De Ruijter.
I keep a box in my pantry for hagelslag and other things like my German Rum Balls.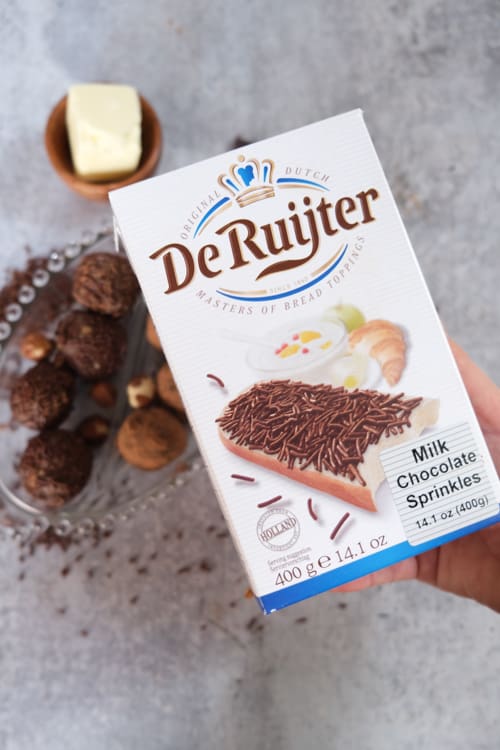 ? How to Make Dutch Hagelslag
Hagelslag is often eaten for breakfast in the Netherlands but why not enjoy it as an afternoon or after-dinner sweet treat? Your kids would love it!
You just need 3 ingredients: bread, softened butter, and sprinkles.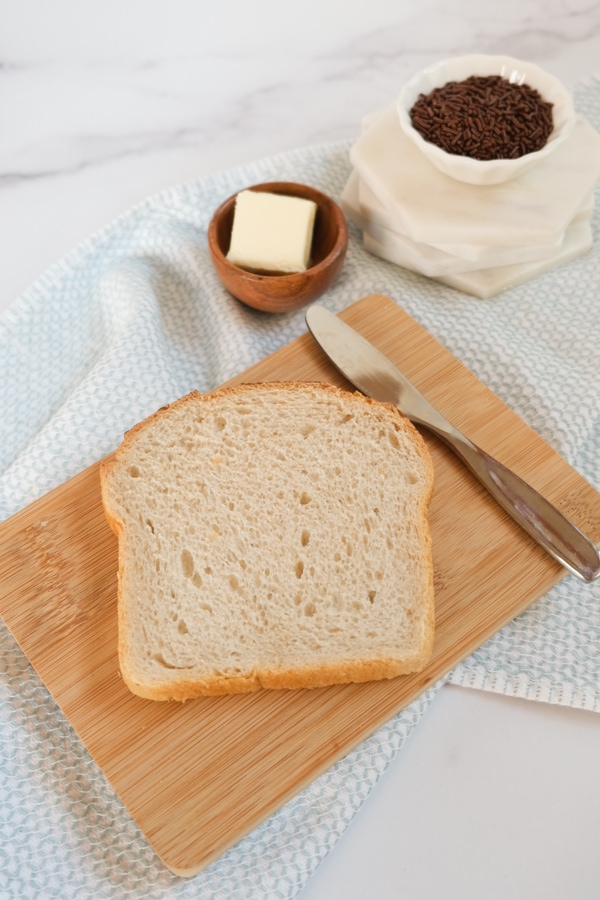 First, get a slice of bread. Per tradition I believe it should be plain white bread.
Personally, though, I like sourdough bread, and if I have white bread in the house, that's usually what I have. So that's what I use to make hagelslag. But you can use whatever kind of bread you'd like.
Next, slather butter on your bread. A thick layer of butter. A thick layer of delicious European butter, if you have it! (Click here to get my easy European butter recipe – yum!) It helps if your butter is softened to room temperature before spreading it on the bread.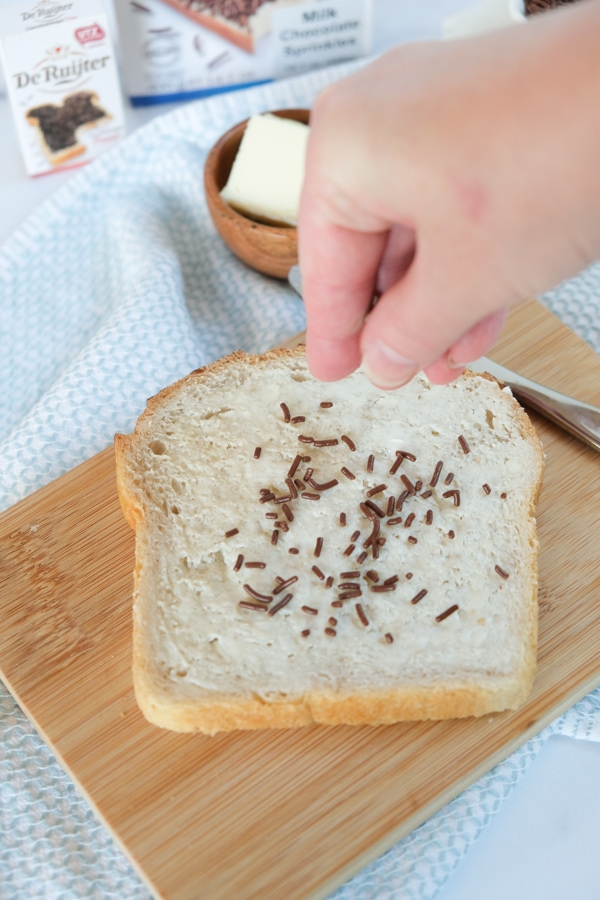 Now, cover your bread in hagelslag. I like the milk chocolate sprinkles best but you can use dark of you prefer.
That's it! Enjoy!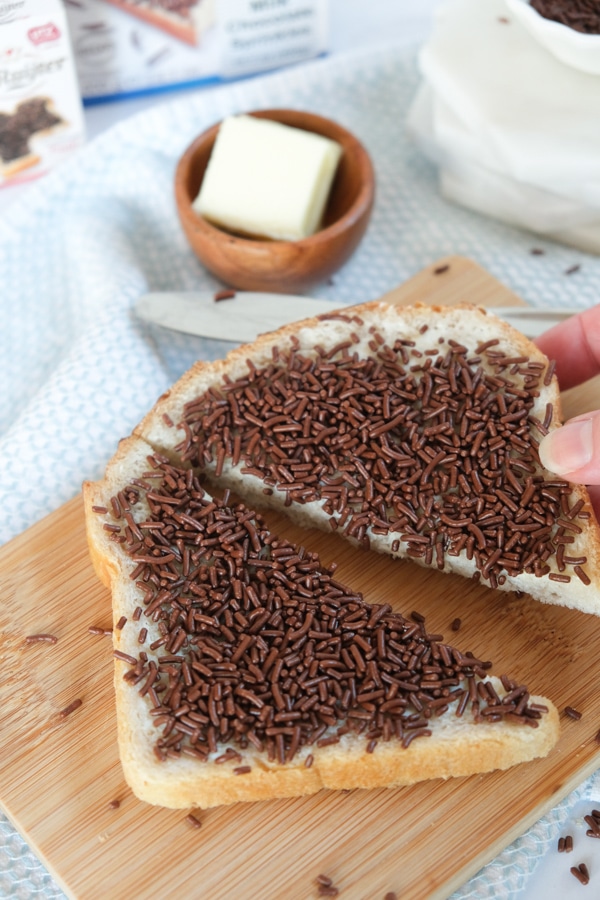 ? Looking for More Chocolate Recipes?
? New to International Baking & Dessert Making?
Click here to download my FREE 9-Page Starter Kit so you can begin making delicious treats from Europe and beyond with confidence and ease! Or start with my 25 European Favorites cookbook. It's filled with easy and delicious recipes that are perfect for beginners.
Dutch Hagelslag Recipe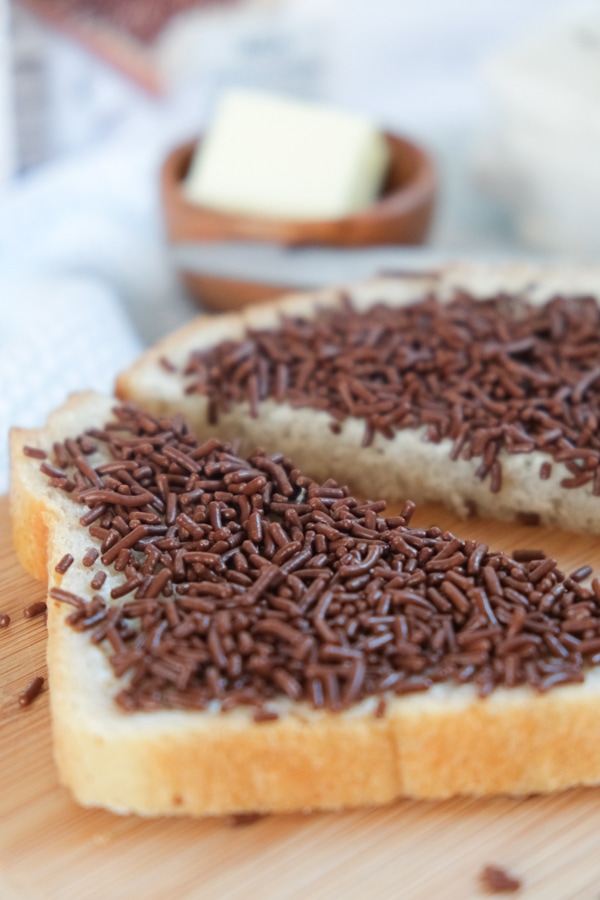 Make More Easy No-Bake Recipes