Today we're taking a delicious trip to the Netherlands for a quick and easy sweet treat: hagelslag – Dutch chocolate sprinkles on buttered bread. Only 3 ingredients and no baking required!
I first came across hagelslag a couple years ago. I used to travel to the Netherlands for work, and one day I noticed little boxes of chocolate sprinkles at the hotel breakfast bar. As it turns out, the Dutch eat those little chocolate sprinkles on buttered bread and call it hagelslag (which means hail storm).
And it's not just for kids!
You can buy boxes of Hagelslag at any Dutch grocery store, so I picked up a variety pack on one of my trips.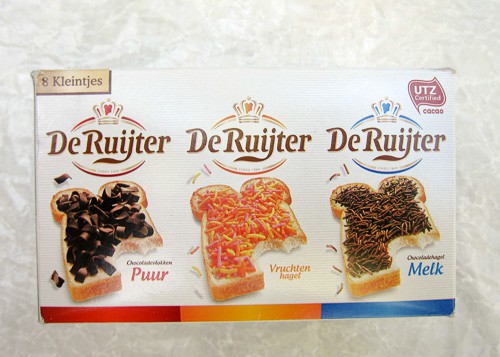 There are several different hagelslag flavors. My box had milk chocolate, dark chocolate, chocolate curls, and fruit. I liked the milk chocolate hagelslag the best. I didn't care for the fruit flavor.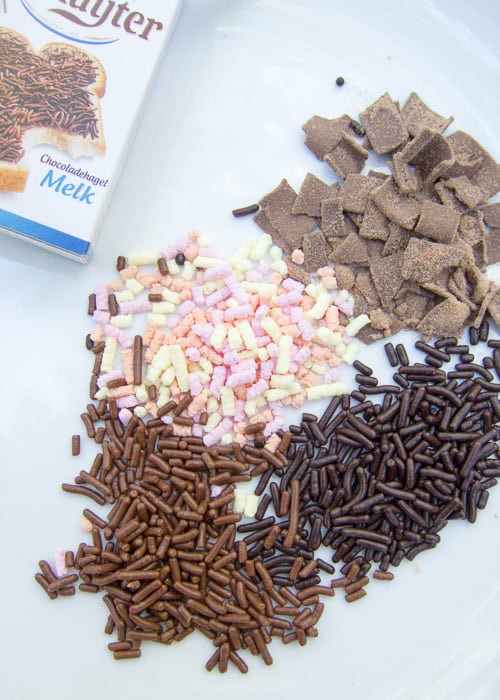 Hagelslag is eaten for breakfast but why not enjoy it as an afternoon or after-dinner sweet treat? You can buy authentic Hagelslag at World Market and on Amazon (or in a pinch, just use whatever chocolate jimmies sprinkles you have in your cupboard).
How to Make Dutch Hagelslag
You just need 3 ingredients: bread, butter, and the hagelslag of your choice.
First, slather your bread in butter. A thick layer of butter. A thick layer of delicious European butter, if you have it! (Click here to get my easy European butter recipe – yum!)
Then, cover your bread in hagelslag.
That's it! Enjoy!
Click here for more Dutch dessert recipes!