Easy Nutella Recipe (Homemade Chocolate Hazelnut Spread)
This article may contain affiliate links. See our disclosure link for more information.
Creamy, chocolatey, and full of toasted hazelnuts, this homemade Nutella is out of this world! You only need a handful of ingredients and 15 minutes to make this amazing chocolate hazelnut spread.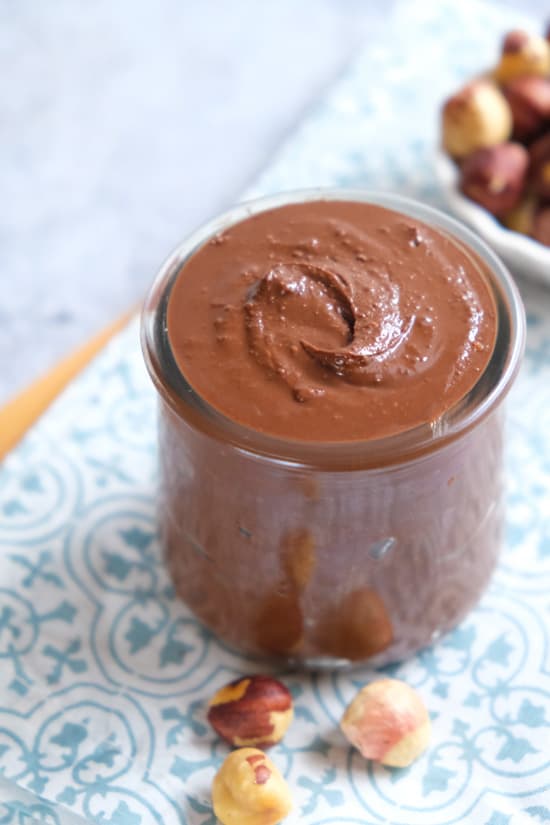 Confession: I love Nutella.

Nutella (chocolate hazelnut spread) used to be something I only ate in Germany but nowadays you can easily buy it in the US.
But I almost never buy it because it's just way too easy to consume an entire jar! (Maybe I should buy portion-controlled mini jars?!)
Since I almost never have it stocked in my pantry, I'd actually kinda forgotten how much I love Nutella.
Until a couple months ago, when I bought a hot crepe smothered in the melty chocolate hazelnut spread at the Stuttgart Christmas market.
As I scarfed down that delicious crepe I decided then and there to try my hand at making Nutella from scratch as soon as I got back to North Carolina.
Wow! This recipe for homemade Nutella is out of this world.
It's not exactly like the jarred stuff, but I actually think that's a plus. As much as I enjoy the jarred stuff, I like this homemade version even more.
It's more like a healthy homemade Nutella — well, not exactly healthy but healthier.
The benefit of making things like Nutella (or quark, mascarpone, clotted cream, creme fraiche, etc) from scratch is that you can control what goes in it.
So if you want to make it vegan, use vegan chocolate. If you want organic Nutella, use organic ingredients.
Want is less sweet? Use dark chocolate and reduce the powdered sugar. Experiment and make it just the way you want!
It's kinda like comparing boxed mac and cheese with homemade mac and cheese. Nowadays, I prefer homemade, but every once in a while, I crave the boxed kind.
Same with Nutella. Now that I know how easy it is to make at home, I'll go the scratch-made route. But I probably won't ever stop buying a jar here and there. 🙂

Whether you're addicted to Nutella like me or just want to try something new, keep reading to learn how to make your own Nutella!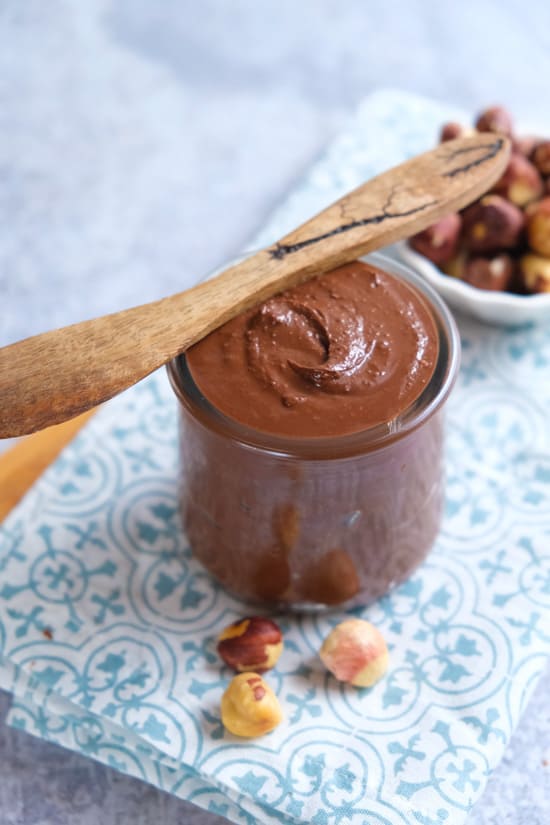 ❓FAQ
Is Nutella dairy free? Does Nutella have milk in it?
This recipe does not have milk in it. If you use dairy free chocolate your Nutella will be dairy free.
What are the ingredients in Nutella?
Hazelnuts, chocolate, oil (grapeseed, veg, coconut, etc), powdered sugar, cocoa powder, vanilla, and salt. That's i!
Is homemade Nutella healthy? Is there such a thing as a healthy Nutella recipe?
Well, Nutella is not a low calorie food but if you compare homemade Nutella with store-bought Nutella, homemade is healthier in the sense that you know exactly what goes into it and you can control the ingredients. To make Nutella healthier, use organic hazelnuts, coconut oil, high quality organic chocolate (you can us dark chocolate if you prefer), organic cocoa powder, and lower the amount of powdered sugar.
Is there a National Nutella Day?
Yes – February 5th!
Can you melt Nutella?
Yes. Here's how to melt Nutella: pop it into a microwave or melt in a double boiler.
Is Nutella vegan?
You can make homemade vegan Nutella by using vegan chocolate.
Is your recipe like German Nutella or Italian Nutella?
This homemade Nutella recipe is a little different from the jarred kind, so while it's a chocolate hazelnut spread, it's not exactly like the official German or Italian jarred Nutella.
Can you make sugar free Nutella?
I supposed you could if you could if you used dark chocolate and a sugar substitute instead of the powdered sugar…but I haven't tried it myself. If you try it, let me know how it tastes!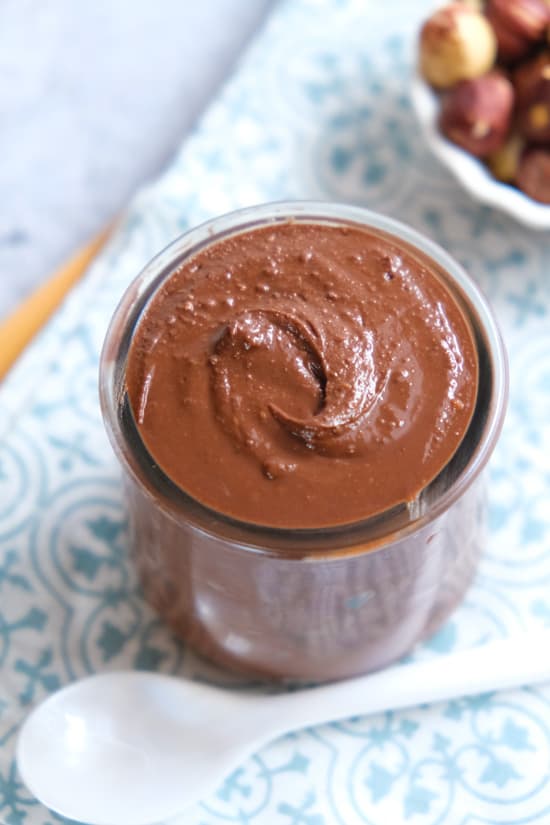 What to Do with Nutella
Wondering how to eat Nutella? Or if you'll be able to find enough things to do with a jar of homemade Nutella? Here are some ideas for the best ways to eat Nutella:
Spread it on bread (Brötchen or baguettes = so good), waffles, pancakes, crepes or French toast
Use it as a pastry or cookie filling
Drizzle it over ice cream or frozen yogurt
Make no bake Nutella cookies
Apples + Nutella = awesome
Bananas + Nutella = yum
Dip pretzels in Nutella
Make a Nutella milkshake or a Nutella smoothie
Nutella brownies
Nutella tart
Nutella icing
Eat it out of the jar with a spoon
Once you try it, you'll start spreading homemade Nutella on pretty much everything. 😉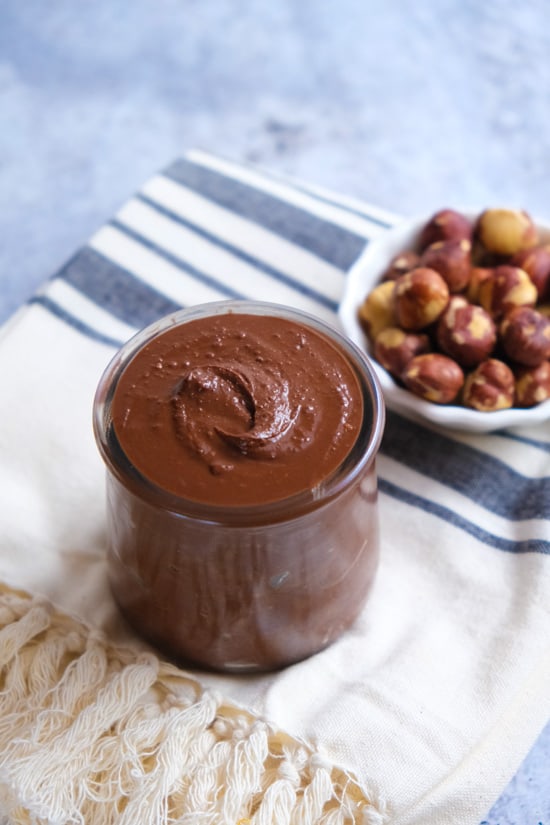 What You Need to Make Nutella at Home
baking sheet and Silpat mat or parchment
food processor or heavy duty blender (I used my mini food processor and it worked perfectly for this recipe)
bowl for melting chocolate
spoon or spatula
measuring cups or kitchen scale
measuring spoons
cute jars with lids (like these twirl jars, these Weck jars, or these mini mason jars)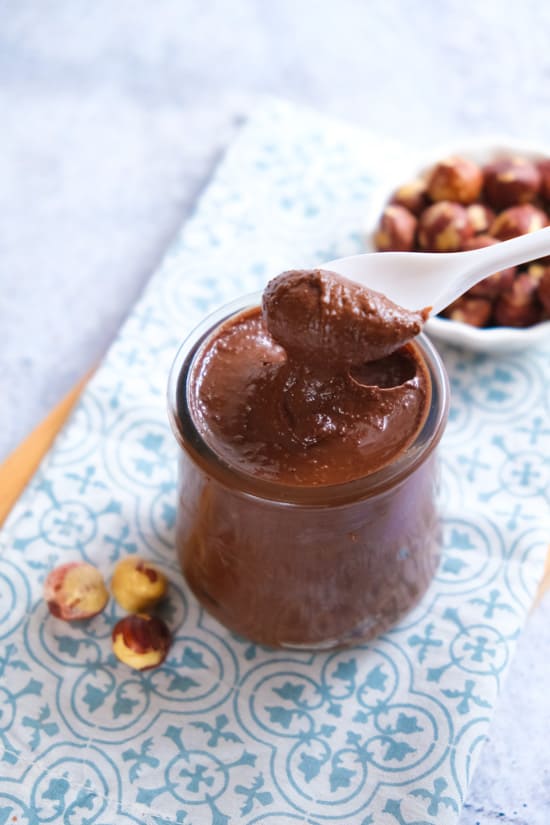 How to Roast Hazelnuts for Your Homemade Nutella
It's easy! First, pre-heat your oven to 350F / 175C.
Place hazelnuts on baking tray lined with a Silpat mat or a sheet of parchment (I use and LOVE this USA pan and this Silpat mat).
Place in the oven for about 8 minutes.
Let them cool for a couple minutes, then take the skins off by rubbing the hazelnuts in a towel.
Or place the hazelnuts in a jar, put on the lid, and then shake, shake, shake. You won't get all of the skins off but that's ok.
How to Grind Hazelnuts for Your DIY Nutella
To make the best Nutella, you want it be as creamy as possible, which means you need to not just chop the roasted hazelnuts, you need to grind them.
I used my awesome mini food processor and that worked very well. It wasn't 100% perfectly smooth but it was smooth enough for me.
You could also use a heavy duty blender (I don't recommend using a regular blender). Depending on the size of your blender, you may want to double or triple the recipe.
How to Melt Chocolate for Easy Homemade Nutella
You can easily melt chocolate in the microwave, in a double boiler or in a bowl placed in a saucepan filled with water (that's my preferred method).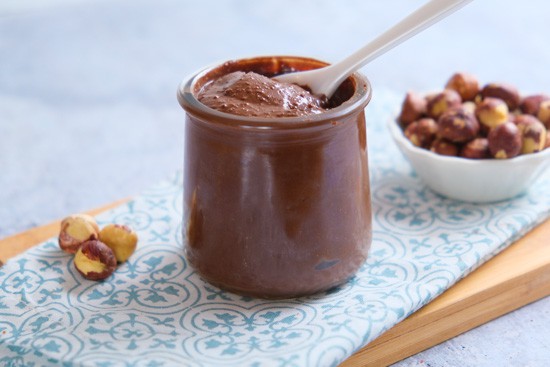 How to Make Homemade Nutella
This homemade Nutella recipe is so easy! You can double or triple the recipe if you'd like.
First, roast the hazelnuts and remove the skins using a towel or jar (see how-to note above).
Then place the hazelnuts in your food processor or heavy duty blender and blend until you've got hazelnut butter. Scrape down the sides a few times.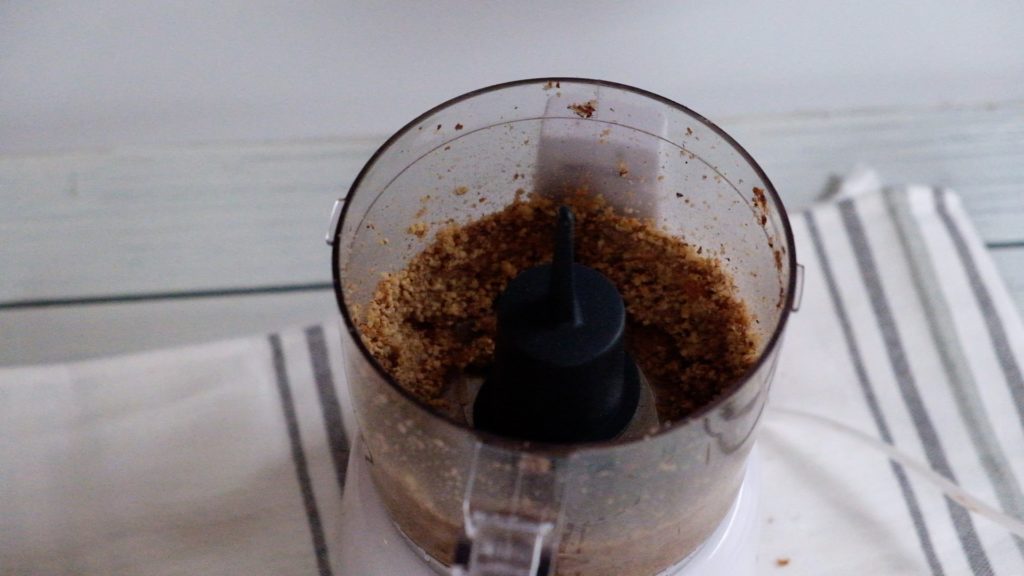 Chop and melt the chocolate and then let it cool for a bit.
To speed things up, I usually melt the chocolate while the hazelnuts are roasting, and then let it cool while I grind the hazelnuts.
Add the oil, cocoa powder, vanilla, and salt to the hazelnuts and grind until everything is well incorporated.
Depending on your food processor, this could take 2-5 minutes.
Scrape down the sides a few times.
Note – I like my homemade Nutella on the salty side and so I add a little more salt than is indicated in this recipe. I also use sea salt. You might want to try half the amount in the recipe and then add more to taste so you get just the right amount in your Nutella.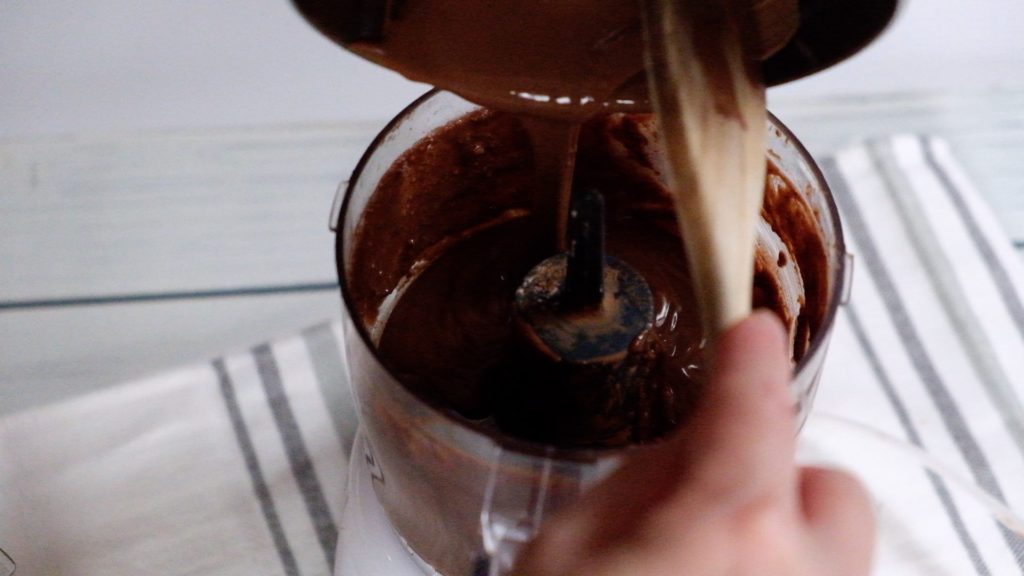 Now add the melted chocolate to the food processor and blend once more until your Nutella is smooth and creamy.
Pour your Nutella into a cute jar and cover with a lid. Leave it at room temperature. If you put it in the fridge it will harden.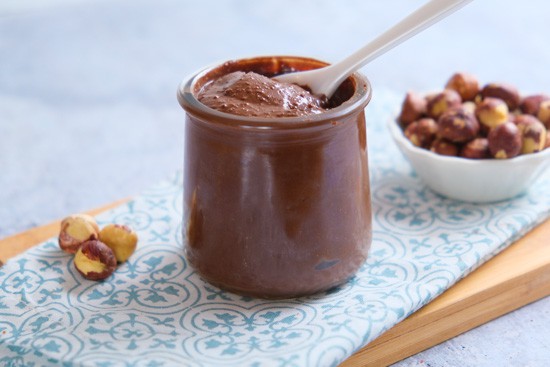 If you want very spreadable Nutella, I recommend using it the day you make it.
I found my Nutella was less creamy the next day (still tasted amazing, though).
Use your Nutella within a week or so…but I doubt you have any left after a day or two!
? Looking for More Chocolate Recipes?