Easy Homemade Egg Nog Latte Recipe (with Homemade Egg Nog)
This article may contain affiliate links. See our disclosure link for more information.
You'll never buy an egg nog latte again after making it at home from scratch! It's super easy and only takes about 10 minutes. Delicious! You can also use this recipe to make plain homemade egg nog or spiked egg nog in a flash.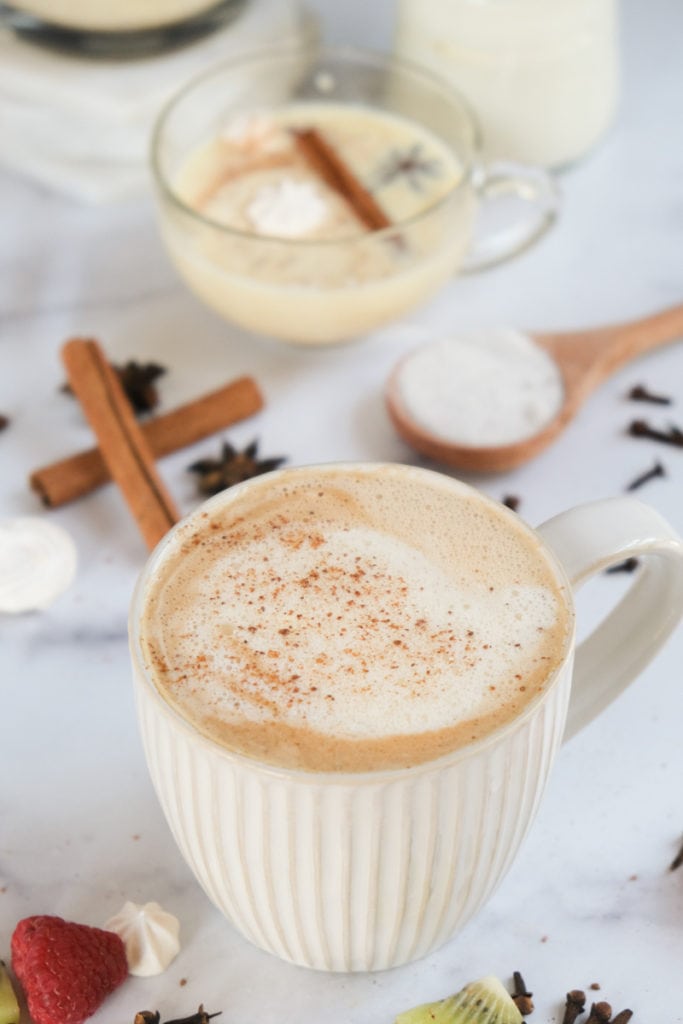 Is the holiday season just not complete without an egg nog latte? I get it – I feel the same way!
For many years I bought them at Starbucks or other coffee shops. Then I started buying high quality egg nog from my local dairy and making them at home using my favorite espresso.
Now? I make egg nog at home from scratch and combine it with delicious Savorista espresso made with my Breville espresso machine. It's so good, I don't think I'll ever buy another one again! For me, it's homemade all the way now.
Homemade Egg Nog Latte FAQ
What do you need to make an egg nog latte at home?
Egg nog and espresso. You can use store bought egg nog or make it from scratch using my recipe below in about 10 minutes. If you don't have an espresso machine you can use strong coffee.
What kind of espresso should I use?
Use your favorite! I drink mostly decaf coffee and espresso these days because I drink lattes in the afternoon, so I use Savorista decaf espresso (I have a subscription). They have both Swiss water process low-caff and decaf coffee and espresso, and I highly recommend both.
Can I use coffee instead of espresso?
Yes! Before I had an espresso machine I used strong coffee I made at home.
Can I just make the homemade egg nog in this recipe?
Yes! You can make a batch of this egg nog and use it for lattes or add rum, whisky, etc. If I'm not drinking an egg nog latte, my favorite is rum egg nog. My husband? He prefers whisky egg nog. You can also add bourbon or just drink it plain.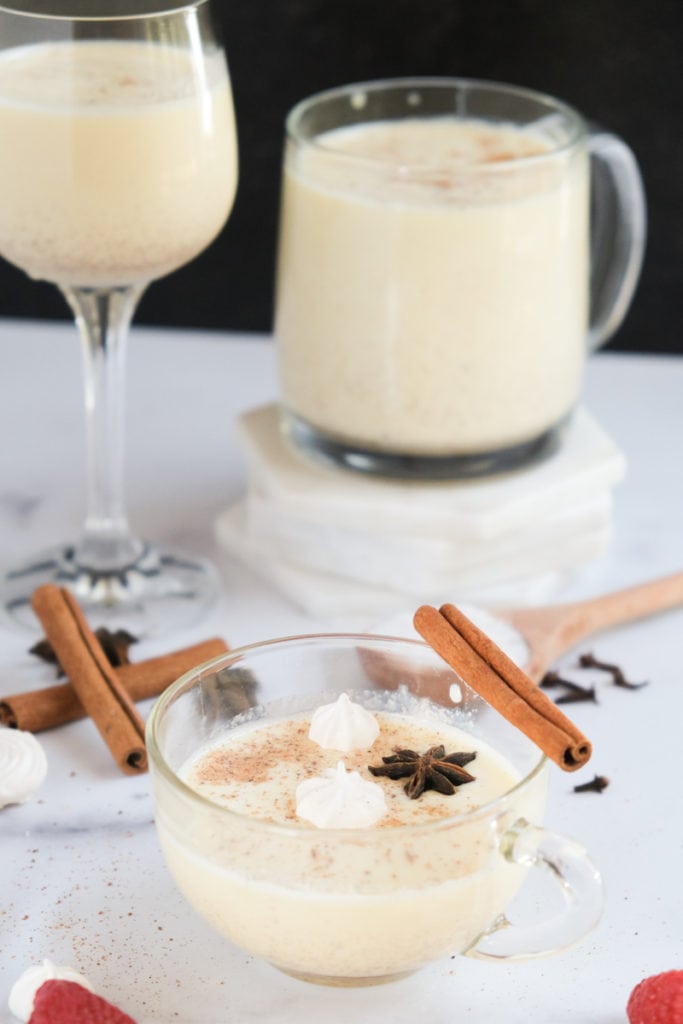 What You Need to Make a Homemade Egg Nog Latte
Egg Nog Ingredients
Egg yolks
Tip: save the egg whites for making a pavlova wreath or eaton mess.
Sugar
I've used white sugar and cane sugar.
Vanilla bean
Using a vanilla bean will give your egg nog the very best flavor but you can substitute with vanilla extract or even vanilla sugar if you prefer.
Milk
I used 2% because that's what I always have in my fridge. You could use whole milk for a richer flavor.
Half-and-half
You can also use heavy cream.
Nutmeg
Using fresh nutmeg will give the best flavor but if you don't have that, ground nutmeg will work just fine.
Pinch of salt
Espresso or strong coffee
Whipped cream (optional topping)
Equipment
Saucepan
Medium-sized mixing bowl
Whisk
Microplane (if using fresh nutmeg)
Bowl and ladle or jar with lid (for storing)
Coffee cup