Ultimate Guide to French Palmiers
This article may contain affiliate links. See our disclosure link for more information.
What's better than a delicious cookie? A delicious cookie that looks like you spent hours making them but only requires two ingredients and is actually a cinch to make. French Palmiers are that cookie!
Click here to pin this for later!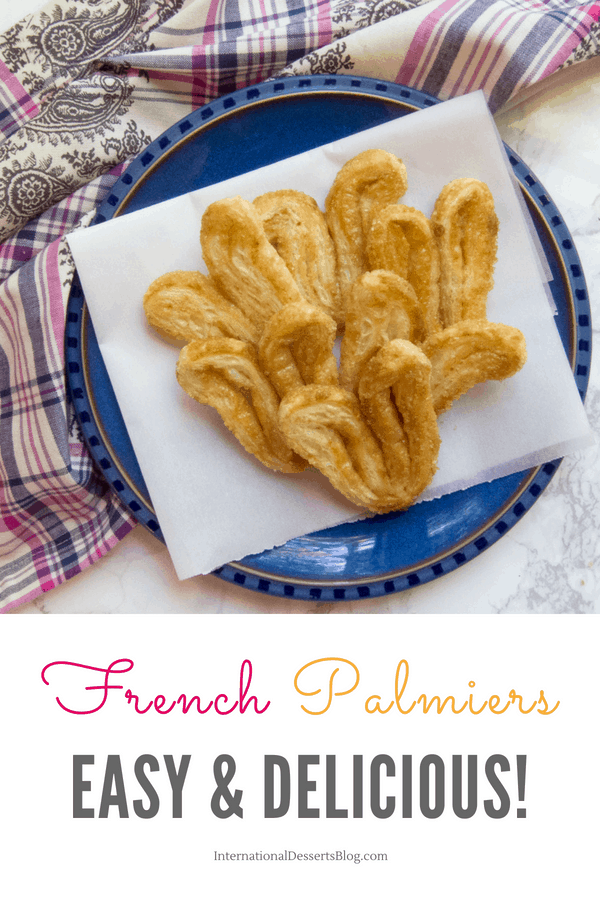 What are French Palmiers?
French Palmiers are a crunchy, buttery, sweet "cookie" made from puff pastry and sugar. The great thing about palmiers is that you can customize them so many different ways, both sweet and savory.
Puff pastry palmiers also make delicious French Christmas cookies. If you're looking for something different for the holidays, try adding a couple teaspoons of cinnamon or speculaas spice mix (which is more Dutch than French but it's all Christmas).
French palmiers aren't just for Christmas – they're delicious year round. I keep puff pastry in the freezer so I can always whip up a batch of palmiers. They're perfect for cookie exchanges, office potlucks, parties, book clubs, afternoon coffee, surprise guests…pretty much any situation. Palmiers look impressive but are super easy to make.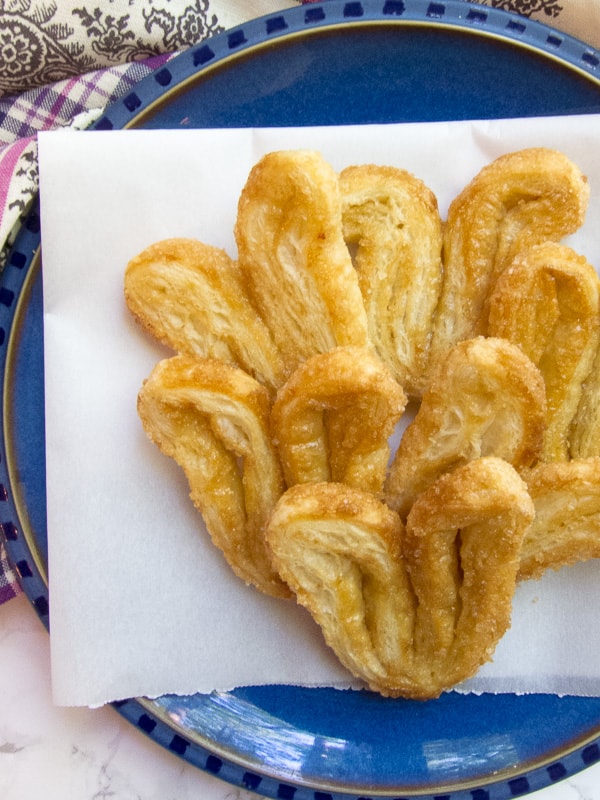 How to Pronounce Palmiers?
This is such a common question! It depends on where you are. In France it's pronounced pal-me-eh (palmiers). My husband, who lived in Spain, looked at the cookies and said, oh yum – pal-mer-ee-as! Evidently, in France and Spain they're named after the French and Spanish words for palm tree. In other European countries I've heard them called by a completely different name, such pig ears (Schweineohren in Germany) or elephant ears.
Types of Sweet and Savory Palmiers
You have so many options when it comes to making palmiers! You can go in both sweet and savory directions. My favorites? I've got two: (1) turbinado, brown sugar and cinnamon and (2) sugar and speculaas spice (perfect for Christmas). So simple and so good!
Here are some additional ideas to get you started:
Sweet ideas:
white sugar palmiers
brown sugar palmiers
raw sugar palmiers
sugar and cinnamon palmiers
sugar and speculaas palmiers
chocolate palmiers
Savory ideas:
spinach palmiers
cheese palmiers
herb cheese palmiers
pesto palmiers
ham and cheese palmiers
sausage parmesan palmiers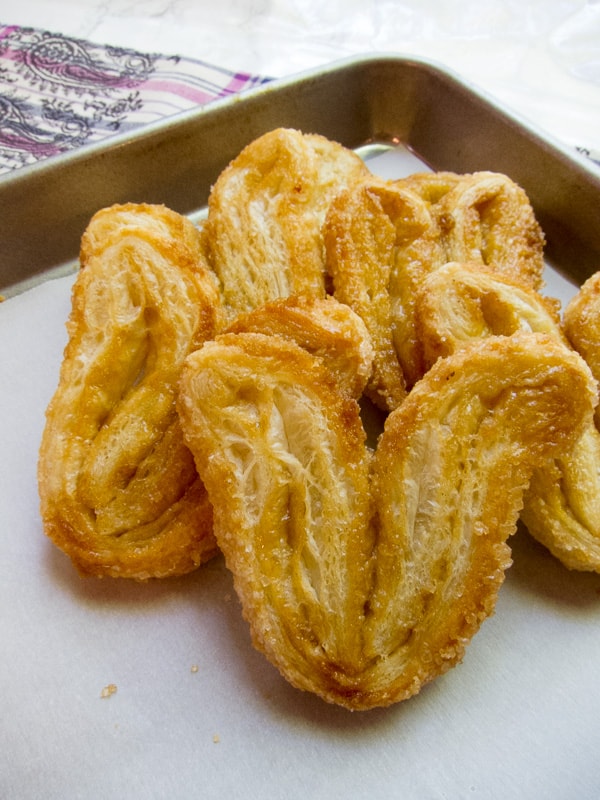 How to Make French Palmiers
I'm going to show you how to make the classic sugar palmiers. I made several batches so I could experiment with different types of sugar, spices, and baking times and temperatures. I'll share what I learned as I explain the recipe.
The first step is to let your puff pastry defrost (you need to be able to unroll it). I typically use store bought puff pastry and that works well for me. If you're into making your own puff pastry, go for it!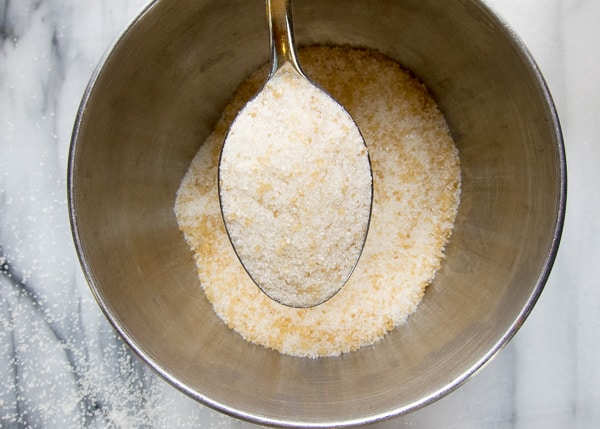 While the puff pastry is defrosting, decide on the type of sugar you want to use. After experimenting with turbnado, moreno, and plain old white sugar, I found that the turbindo sugar worked the best. It gave the palmiers more depth in flavor and a nice crunch as compared to the other sugars. I also liked the flavor that a little brown sugar added. That said, you really can use any kind of sugar you'd like!
I listed the amount of sugar as 1/2 – 3/4 cup but to be honest, I rarely actually measure it out. I just eye it. For one batch I went light on the sugar (about 1/2 cup) and they weren't sweet enough. For another batch I used over 1 cup and they were too sugary. Now I shoot for something in-between.
The next step is to sprinkle sugar on a clean work surface and then set the defrosted puff pastry on the sugar.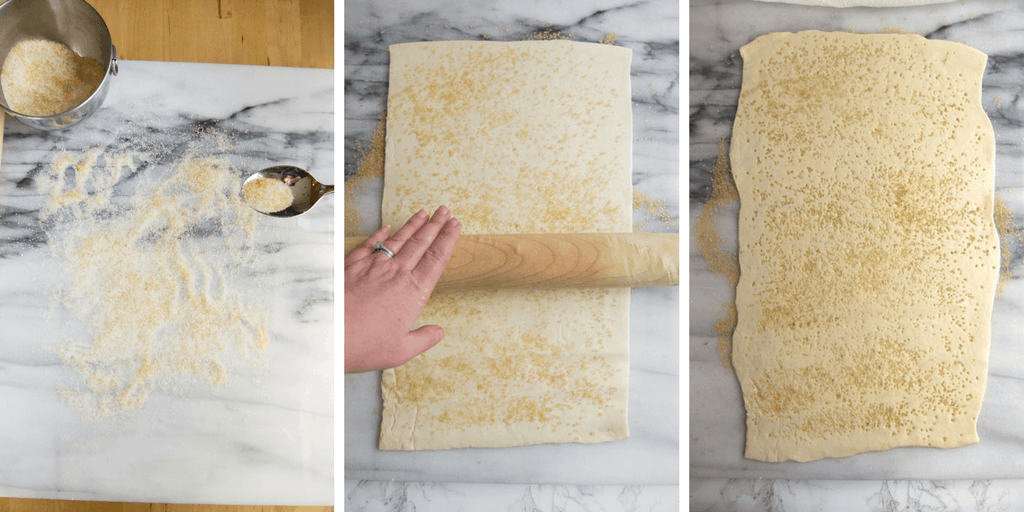 ---

Sidenote – Whenever I make a pastry dessert I love using my marble pastry board! The marble surface keeps the dough cool so your butter won't melt as quickly and the pastry won't stick as easily (which also means you don't need as much flour). My husband bought me this one from Sur La Table for Christmas a couple years ago and I LOVE it!

---
Sprinkle additional sugar on top of the puff pastry so there's sugar on both sides. Lightly roll a rolling pin over the puff pastry a few times, both to make the pastry thinner and to push the sugar into the pastry. Be careful to keep the rectangular shape and don't press down too hard.
If you want to add other ingredients to your palmiers, such as cinnamon, brown sugar or speculaas spice, sprinkle a teaspoon or two on the pastry now (if you didn't combine it with the main sugar earlier).
Lightly roll a rolling pin over the pastry once more so the sugar is slightly pressed into the dough (not too much, though, you don't want to flatten the pastry too much).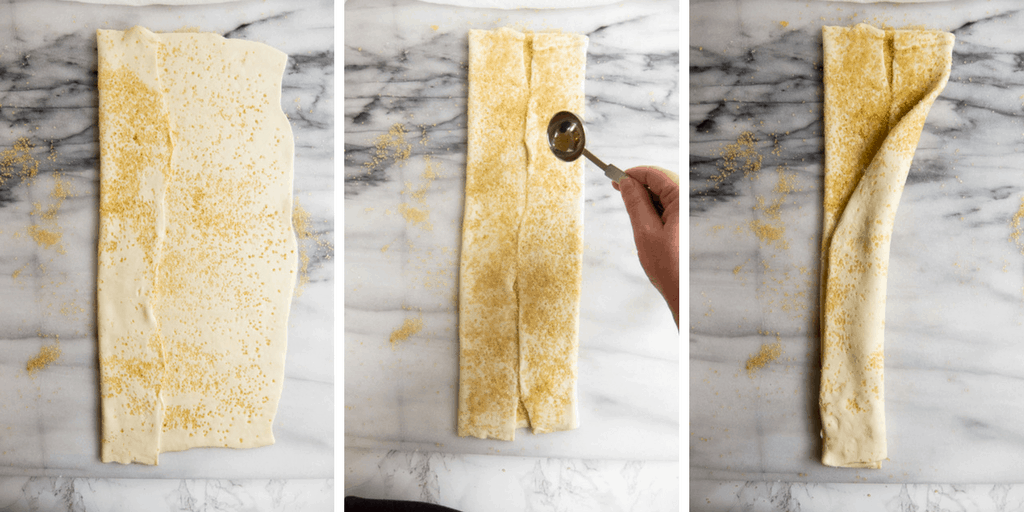 Now it's time to roll the dough to get the classic palmier shape. Fold both sides so that the edges meet in the middle. Sprinkle more sugar on the dough. Then fold the right side over the left.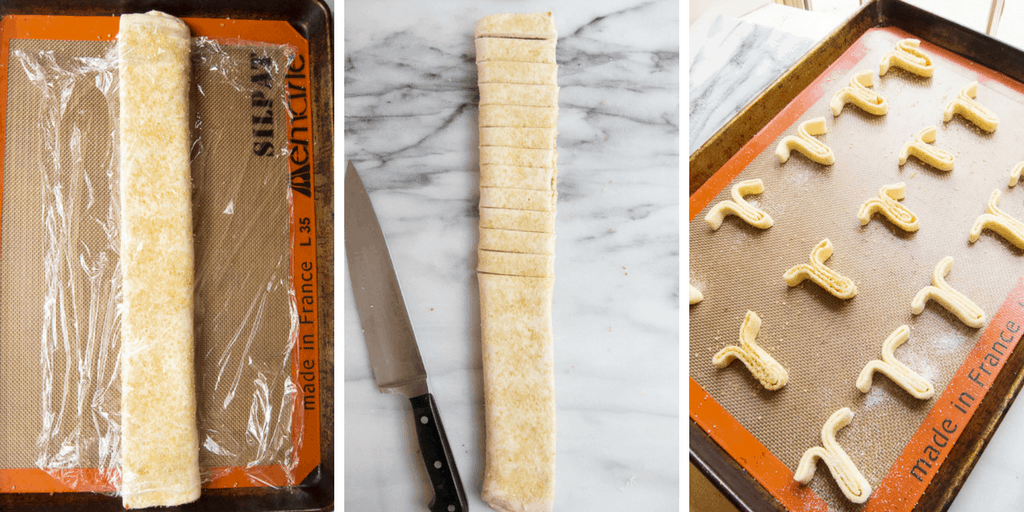 Place pastry on a lined baking sheet, cover, and chill in the fridge for 30 minutes. This will make the pastry easier to slice and they won't lose their shape during baking.
After the pastry has chilled, transfer it back to your work surface. Use a sharp knife to cut the pastry in 1 inch slices.
I highly recommend doing a test bake to make sure your oven is at the right temperature, since every oven differs. It's very easy to under or over bake palmiers! Try baking a couple palmiers at 400F for 8 minutes. Flip them over and bake for another 5 minutes. Adjust from there. Watch them carefully because the sugar will caramelize quickly, especially at the higher temperatures.
I experimented with oven temperature and bake time to see what works best with my oven. I found that 450F (which was recommended in several recipes I looked at) was too hot, even with a shorter bake time. The palmiers got dark very quickly and once cooled were on the tough side (they still tasted good, though, and disappeared quickly).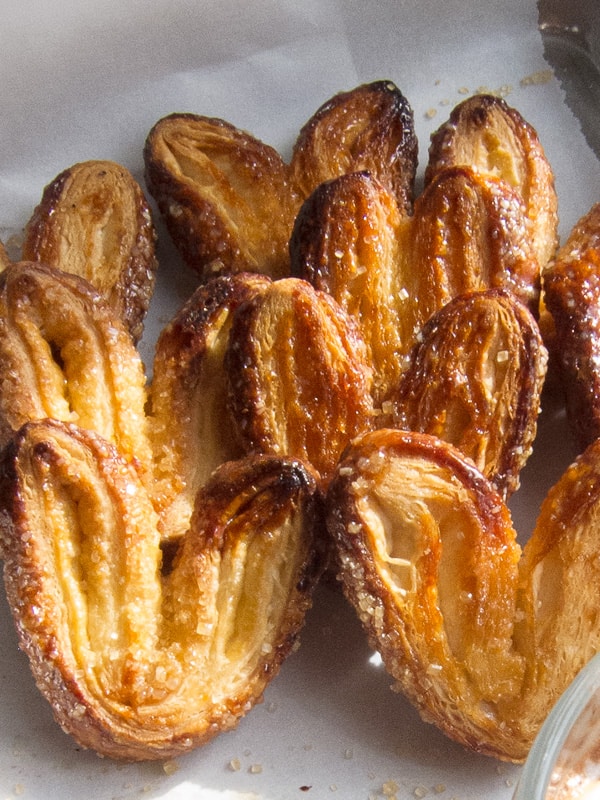 Another time I tried 375F (recommended in other recipes) with a longer bake time.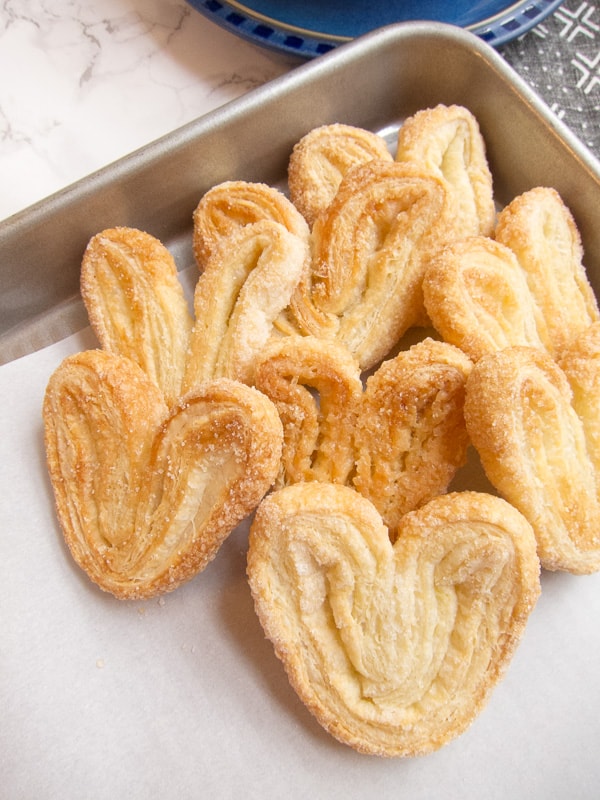 These were light and crunchy but looked a little under baked. Most of this batch were also too light on sugar and just didn't caramelize enough. It may take a test bake or two to see what works with your oven but it's worth the time to get it right!
Finally, I settled on 400F, flipped them after 8 minutes, and then baked them for another 5 minutes. Flip them when the bottom side looks lightly caramelized.
Tip – don't bake sugar palmiers on the same parchment paper after baking cinnamon palmiers! 🙂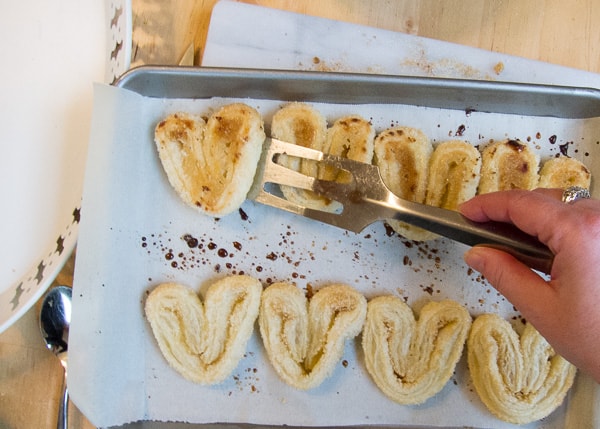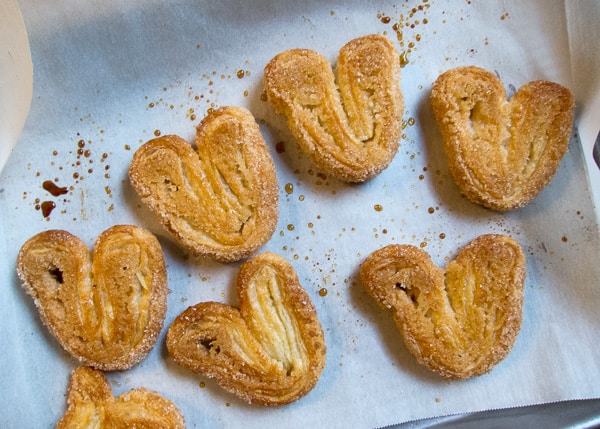 Here's what the batch above looked like after baking and cooling. This batch had a nice flakey crunch — but were a little too sweet because I went a little overboard on the sugar.
Palmiers are best eaten the day they're baked. If you need to store them for a day or two use an airtight container and leave them at room temperature (not in the fridge). Enjoy!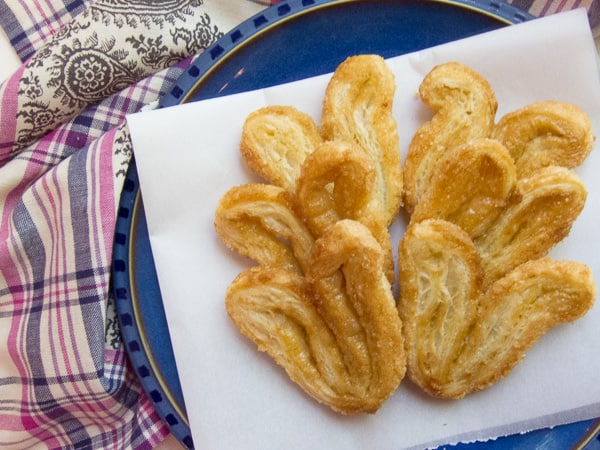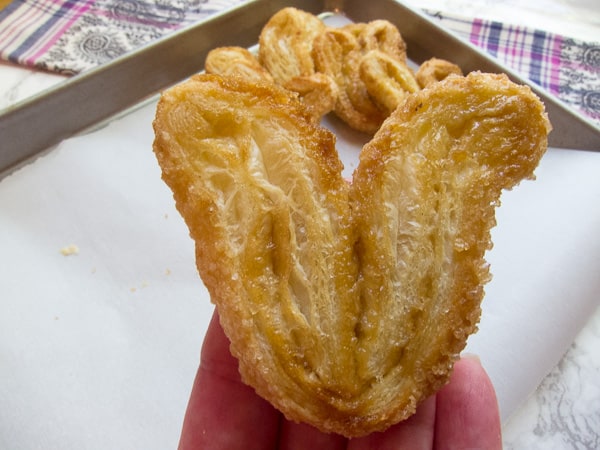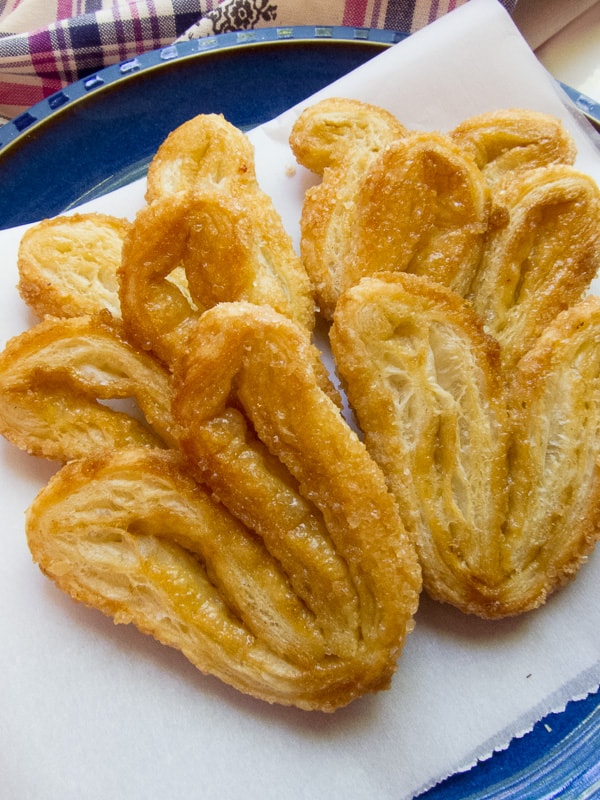 Recommended Tools:
Click here to save this recipe for later!