The Best Cafes and Cakes in Budapest
This article may contain affiliate links. See our disclosure link for more information.
If you've got a sweet tooth, Budapest is a great city to visit! There are so many decadent desserts, sweet treats, and grand cafes to try.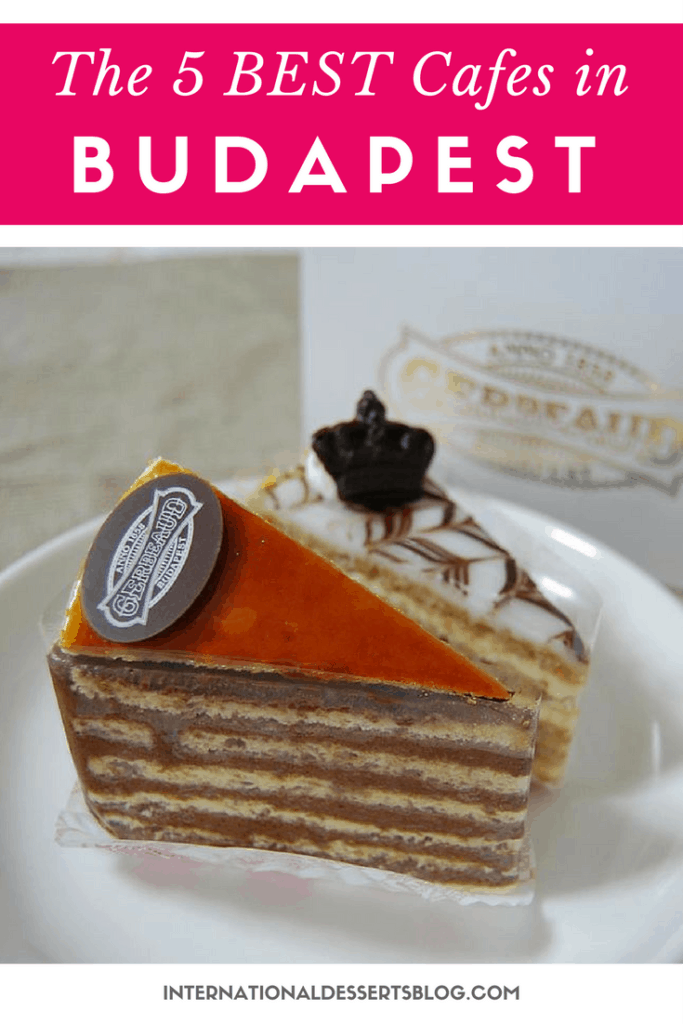 Just take a look at these beauties that Gemma from TwoScotsAbroad.com shared with me…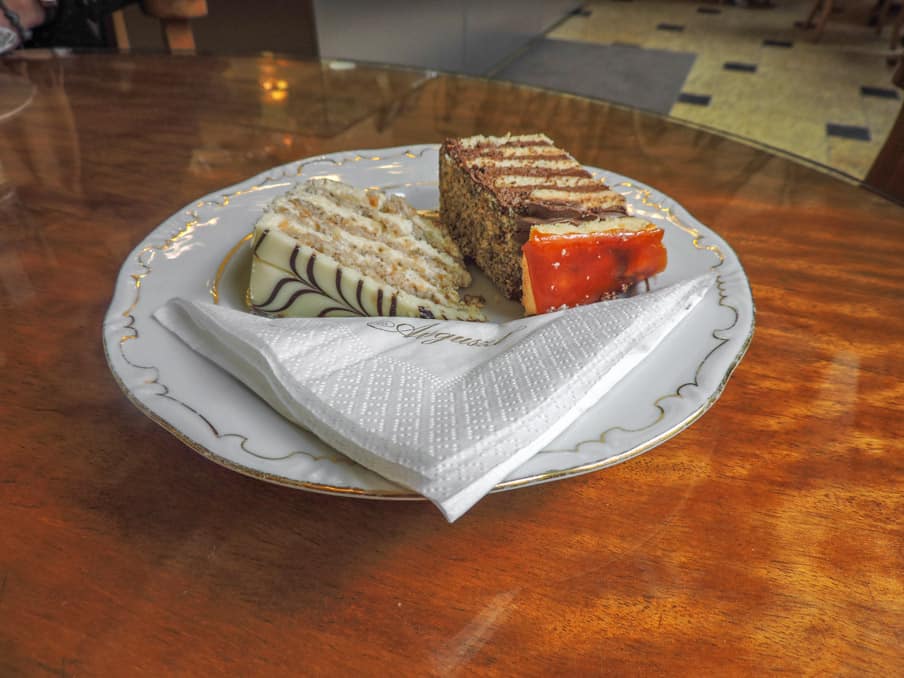 Photo Credit: Two Scots Abroad
Here's what Gemma said about the decadent desserts in Budapest…
No one goes hungry in Hungary! Budapest is gastronomic heaven with its heavy winter meals such a goulash and stodgy beach snacks (Lángos). This country doesn't only do savoury well, it also serves those with a sweet tooth and most desserts are not only soaked in sugar but historical importance too!

Dobos cake is one of my favourite Hungarian puddings (desserts). The sponge cake with chocolate buttercream is encased in melted caramel which is left to set, preserving the cake which was demanded by royalty and had long journeys to make. I also love the rival of strudel between Austria and Hungary and the chimney cake, Kürtőskalács, fight between Transylvania and the Hungarians. You can gorge on these treats in many restaurants in Budapest as well as food stalls at markets around the city.
Try the Almond Cake at Ruszwurm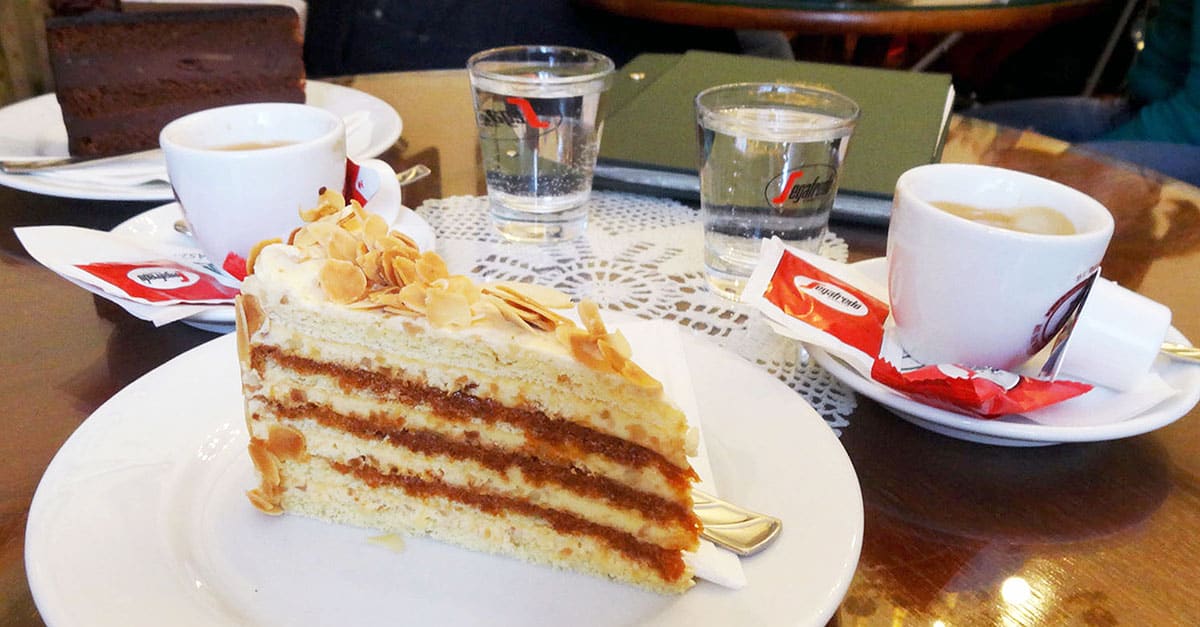 Photo Credit: Where's Your Toothbrush
Peter Korchnak of Where'sYourToothbrush.com shared where to find the BEST almond cake – doesn't it look amazing?
In the land of Dobos Torte and Somloi Galuska, few desserts get a chance in the spotlight of cafe culture. But Almond Cake at Ruszwurm, Budapest's oldest coffee house, located on the Buda Castle hill, well, takes the cake. The cafe's best-seller for nearly 20 years, the almond cake is a harmony of almond cream and caramel layers that inspire poetic brooding and tourist-watching.
3 Cakes you MUST try in Budapest
Budapest has a strong cafe culture, so be sure to stop for coffee and cake at least once. I'll let you decide whether once means once during your trip or once every day. 🙂
The first cake you must try at a Budapest cafe is the Dobos Torte. If you watch the Great British Baking Show, you'll remember this cake! Dobos Torte is comprised of layers of sponge cake and chocolate butter cream. It's topped with caramel and the sides are coated with nuts. This cake is the perfect sweet accompaniment to a hot cup of strong coffee.
Custard Slice – Kréme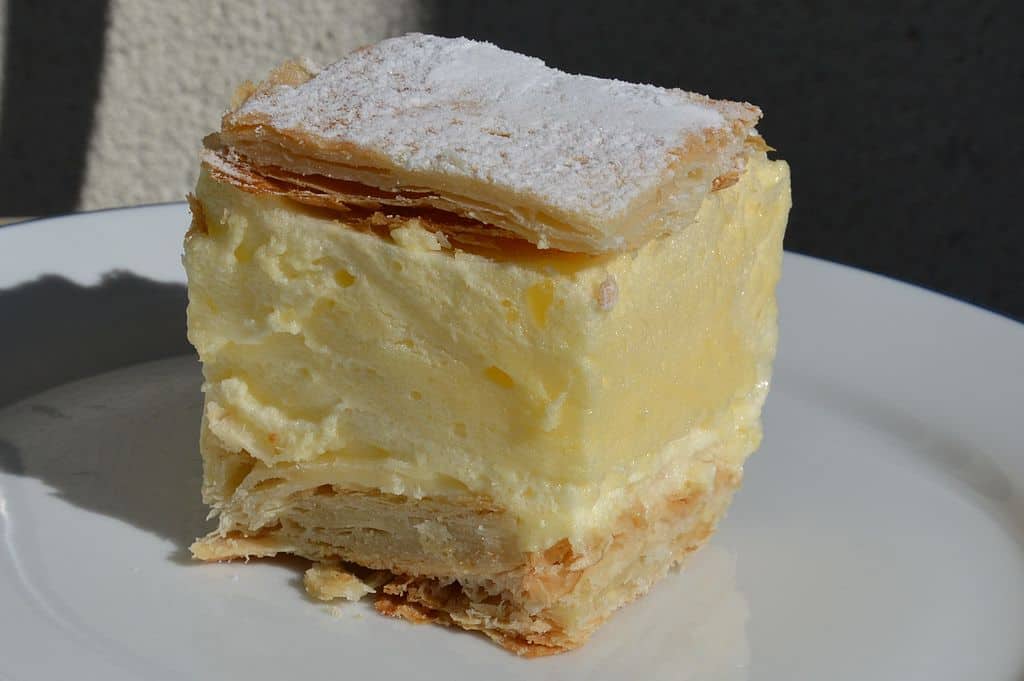 Looking for something creamy with a bit of crunch? The Hungarian classic kréme cake is for you. It has a thick layer of vanilla custard that's sandwiched between flaky pastry and topped with a dusting of powdered sugar. Yum.
Chimney Cake – Kürtőskalács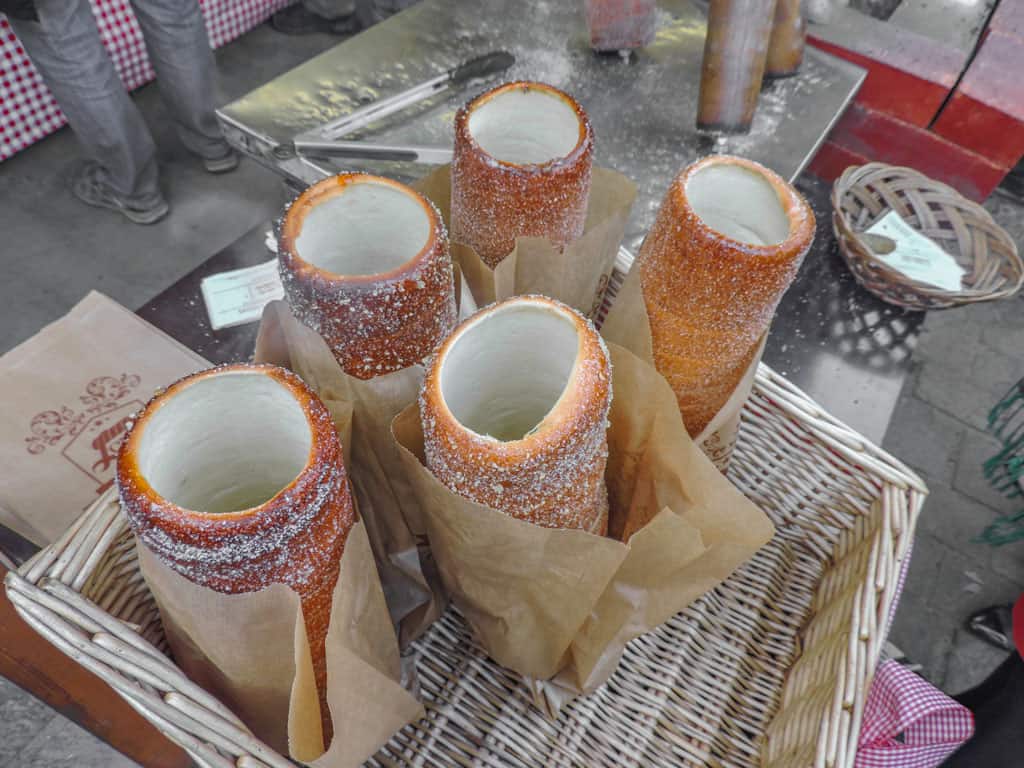 Photo Credit: Two Scots Abroad
Chimney "cake" is another Hungarian classic! Once a winter-only treat found at markets, fairs and festivals, their increased popularity means you'll now find them everywhere all year long. Chimney cake is made by wrapping dough around tall round moulds and then baking the dough over embers. The cakes are rolled in cocoa powder, sugar, nuts, coconut and other flavors. Make sure your chimney cake is served hot!
Best Cafes in Budapest
Budapest cafe culture began in the 16th century during the Turkish occupation and flourished in the 19th century. At that time, there were over 400 cafes in the city. While you can grab a grande latte to go at Starbucks, there's nothing better than drinking out of a china cup while people-watching at a grand cafe in Budapest. Here are a few to check out:
Gerbeaud – One of the biggest and most traditional cafes in the heart of Budapest.
Cafe Central (Centrál Kávéház) – Opening in 1887, this is one of the oldest Vienna-style cafes in Pest.
New York Cafe (New York Kávéház)- One of the most beautiful and beloved cafes for over 100 years.
Hadik Coffee House (Hadik Kávéház) – Another legendary (and more affordable) cafe option.
Ruszwurm – Even if you can't snag a table, you can still have a delicious time at Budapest's oldest pastry shop (near Buda castle).