Chicca's Easy Italian Almond Chocolate Cake
This article may contain affiliate links. See our disclosure link for more information.
To kick off the new year I've got a delicious Italian recipe to share with you: my friend Chicca's Italian Almond Chocolate Cake.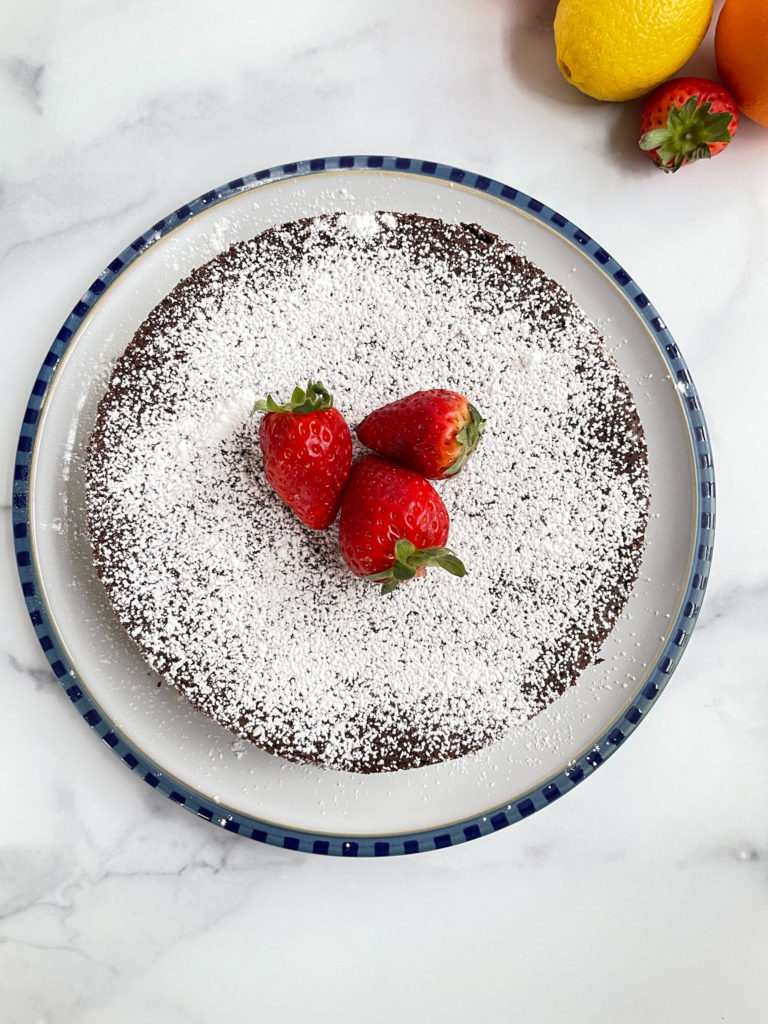 I've made this cake twice now and I'm sure you'll love it.
It's easy to make.
It's not super sweet – no icing needed, just a dusting of powdered sugar.
You can even make it gluten free.
If you're currently feeling sugar-ed out after the holidays, be sure to bookmark this recipe to make later. You will want to make it later! 🙂
I've tried many of Chicca's authentic Italian recipes through her online cooking classes. After participating in her free class last fall I was invited to join in for the full fall season, and I'm now so looking forward to the upcoming spring season that starts later this month!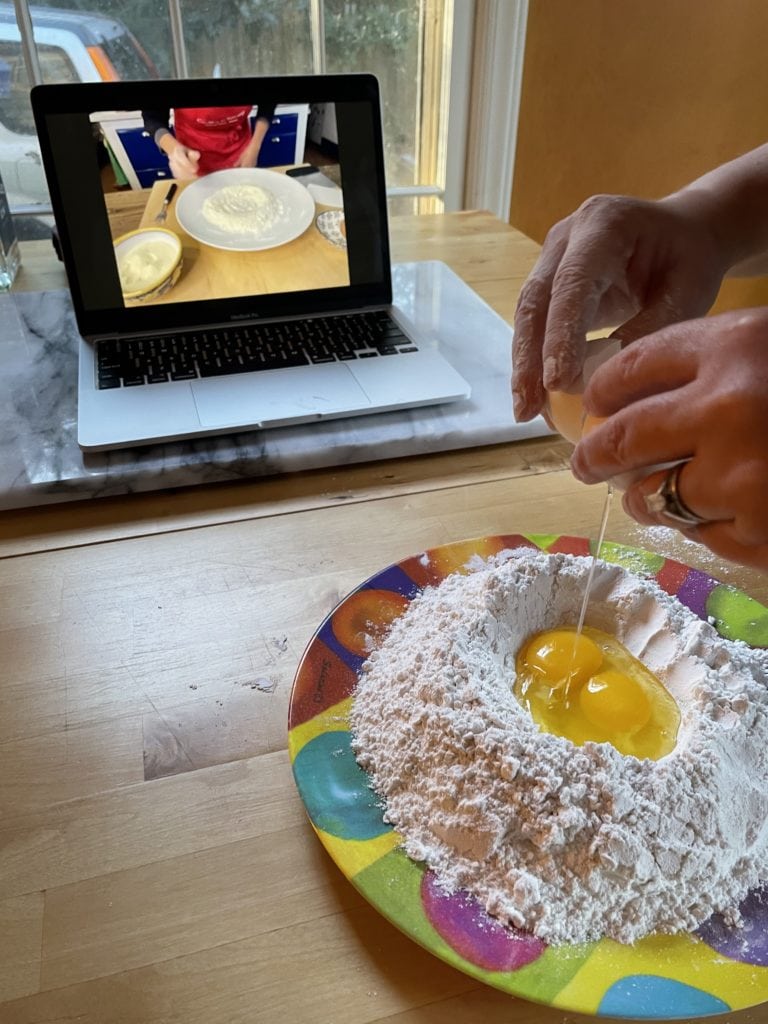 Most of the recipes Chicca makes in her virtual classes are main dishes, so it's a nice balance to all of the sweets I make for the IDB.
Last season we made homemade fettuccine, a spinach and cheese quiche, soup, turkey, veggies, and much more. We also made classic tiramisu (one of my all time favorites).
The live classes are so fun because you get to cook right along with Chicca and the other participants from all over the world. It's almost like being right there in Chicca's beautiful Tuscan kitchen.
Even cooking along with a replay is fun! Aaron and I made Chicca's homemade pasta on Christmas Day and we had a blast. I was actually kind of surprised that it was still fun to cook with a replay but it totally was!
If all that sounds like fun, you're in luck because Chicca is teaching a FREE flour gnocchi class this Saturday, January 9th!
I'll be there on Saturday and if you'd like to join in click here to reserve your seat – it's free (affiliate link)!
Chicca's individual classes are usually $35 each so join in this free class while you can.
Even if you participated in Chicca's gnocchi class last fall, I'd sign up again because she's is going to show us how to make a new sauce for the gnocchi.
Ok, so let's get back to the cake!
I'm going to share my baking notes for this cake with you below but first, I want to share this short interview I did with Chicca yesterday.
I thought it would be fun to talk with Chicca about her Almond Chocolate Cake and other Italian desserts, so we hopped on Zoom yesterday for a quick chat.
You can watch each clip on Instagram or watch below.
If you're on Instagram, I'd love to connect with you there! I just got back on the platform and am planning some fun things for that space this year.
Clip #1: 3 Tips for Making the Cake
Clip #2: Popular Italian Desserts
Clip #3: What We're Making Together on Saturday
Click here to reserve your spot in Chicca's free gnocci cooking class!
Now for the Almond Chocolate Cake!
I made this cake twice so I thought I'd share my notes from each bake. Scroll down to see photos!
Both times I made half of Chicca's recipe and used an 8in baking pan (round).
Both times I baked the cake at Chicca's recommended 390F/200C. The first time I baked it for 40 minutes total and it came out on the dry side (Chicca warns that it shouldn't be too dry!) but it was still delicious. The second time I checked it at 30 minutes and because the knife came out with cake batter on it, I baked it for 5 more minutes. For my oven, 35 minutes was perfect for making half the recipe in an 8inch pan.
The first time I used whole almonds that I ground in my mini chopper. The second time I used almond meal from Trader Joe's. I weighed the almonds both times to make sure I had the right amount. The cake worked both ways.
Chicca recommends making this cake in a food processor but mine is too small to make the whole cake, so both times I made it in mixing bowl and mixed the batter by hand (first time with a whisk, the second time with a spoon).
I topped the cake with powdered sugar and served it with whipped cream and fresh berries. It tasted great on its own, though, and didn't really need anything additional.
Round 1 Results
Used whole almonds that I ground in my food processor
Mixed cake by hand with a whisk
Over-baked about 5 or so minutes
Result: a bit denser and drier than the second round but I loved the larger almond chunks. Still delicious even though I over-baked it a bit.
Round 2 Results
Used almond meal from Trader Joe's
Mixed cake by hand with a spoon
Baked for 35 minutes at 390F
Result: slightly crunchy on the outside, soft and tender on the inside. Delicious!
Ready to make Chicca's Italian Almond Chocolate cake? Click here for the recipe.
If you make this cake, I'd love to see a photo of it and hear how it turned out!
If you share a photo on Instagram, tag me (@internationaldessertsblog) so I'll see it.
Or you can email me a photo if you prefer.
Hope to see you on Saturday in Chicca's free gnocci cooking class!
Happy Baking!