Espumilla: Ecuadorian Meringue Cream Dessert
This article may contain affiliate links. See our disclosure link for more information.
When my friend Michelle told me about espumilla, a traditional Ecuadorian dessert that she ate in Cuenca, Ecuador, I was intrigued.
You'll see espumillas being sold on the corners of the plaza or outside of churches. They look like ice cream that never melts, but don't be fooled! It's actually a soft meringue served in a cone. Espumilla de guayaba (guava) and espumilla de mora (blackberry) are the most popular flavors.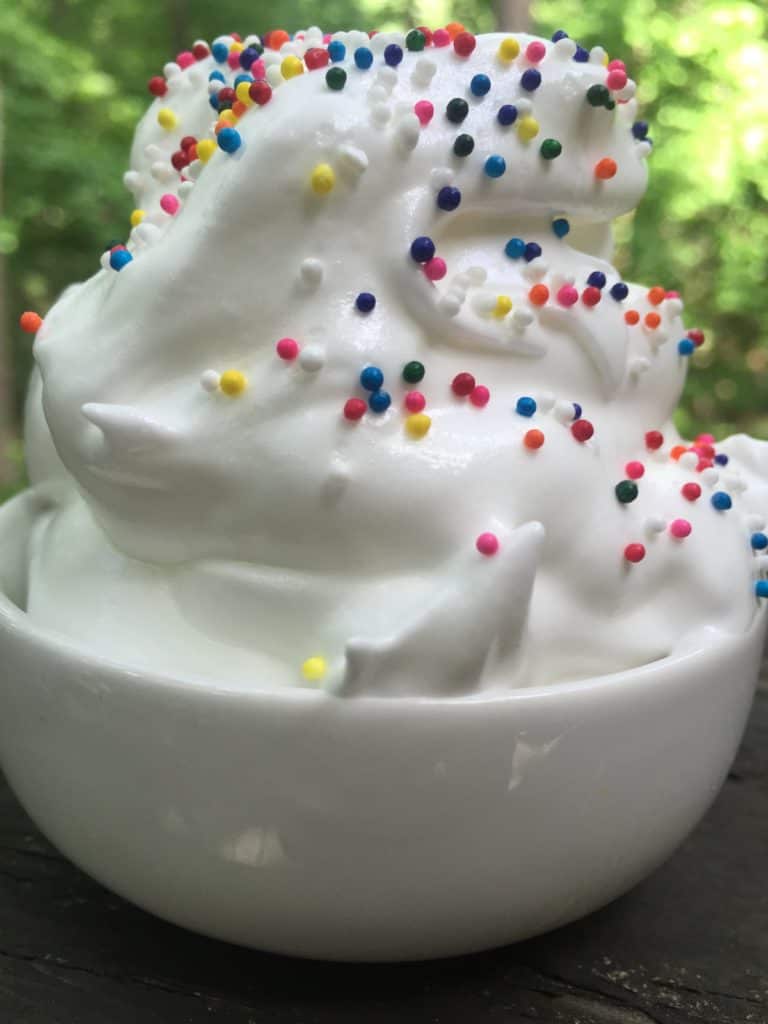 Meringue that looks like ice cream? Sure, why not! Let's give this Ecuadorian food a try!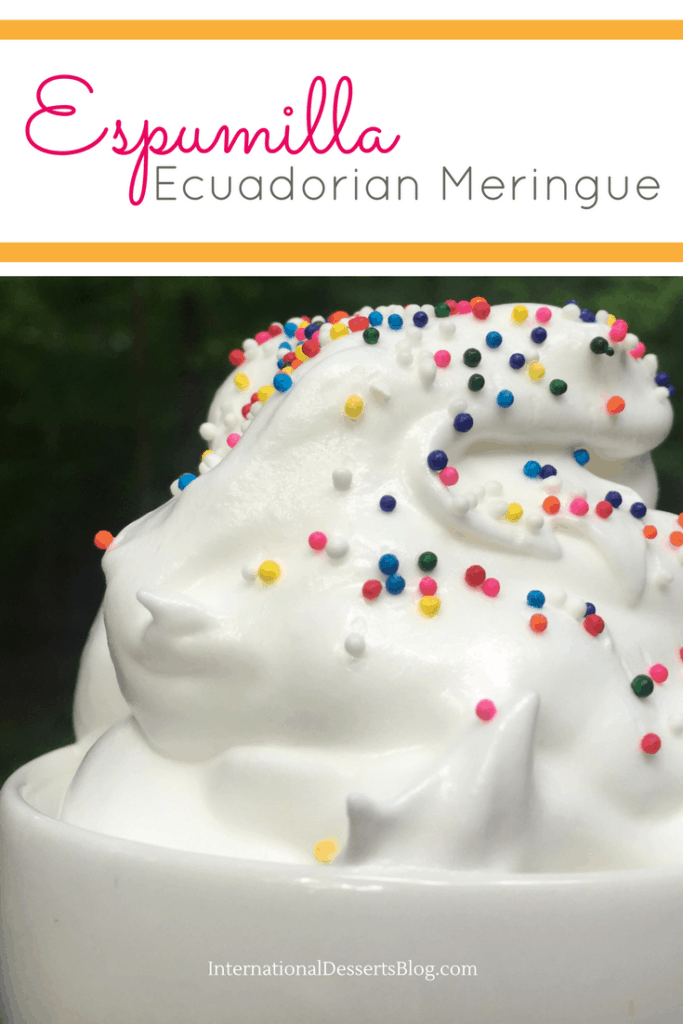 I've made espumillas a few times now and it's a deliciously light and fluffy meringue that only takes a few minutes to make. It's a treat that Ecuadorian kids love!
You'll find the recipe below but first, take a look at this short video to see how espumillas are traditionally made (by hand!) and served in Ecuador (in an ice cream cone!).
By the way, the video is in Spanish but you don't need to understand the words for the video to make sense.
How to Make Espumilla
I've made espumilla a couple different ways. I'll first share the more traditional way to make espumilla, then I'll tell you my preferred method.
Here's the simple (and more traditional) espumilla recipe. First, you want to puree the fruit. You can use a variety of fruit in your espumilla but some fruit, such as guava or banana, naturally provide a thicker texture. As Michelle said, in Ecuador, guava and blackberry are popular flavors. Unfortunately, I couldn't find guava at the store so I used mango. It doesn't naturally provide the texture that guava does but it tasted great!
You'll notice in the photo collage below that I used a potato masher to puree my mango. It worked fine but I did lose some of the fruit when I pushed it through a sieve. You can also use a food processor to puree your fruit.
The next step is to mix in the sugar, stir until dissolved, and then run the puree through a sieve. If you used a food processor, you can probably skip the sieve.
The final step is to begin whipping the egg whites. I used a stand mixer but you can use a hand mixer or beat the egg whites with a whisk. Add the fruit mixture a little at a time while continuing to whip the egg whites to stiff peaks.
Serve immediately in a cone or cup. Top with sprinkles, shredded coconut or a drizzle of fruit puree.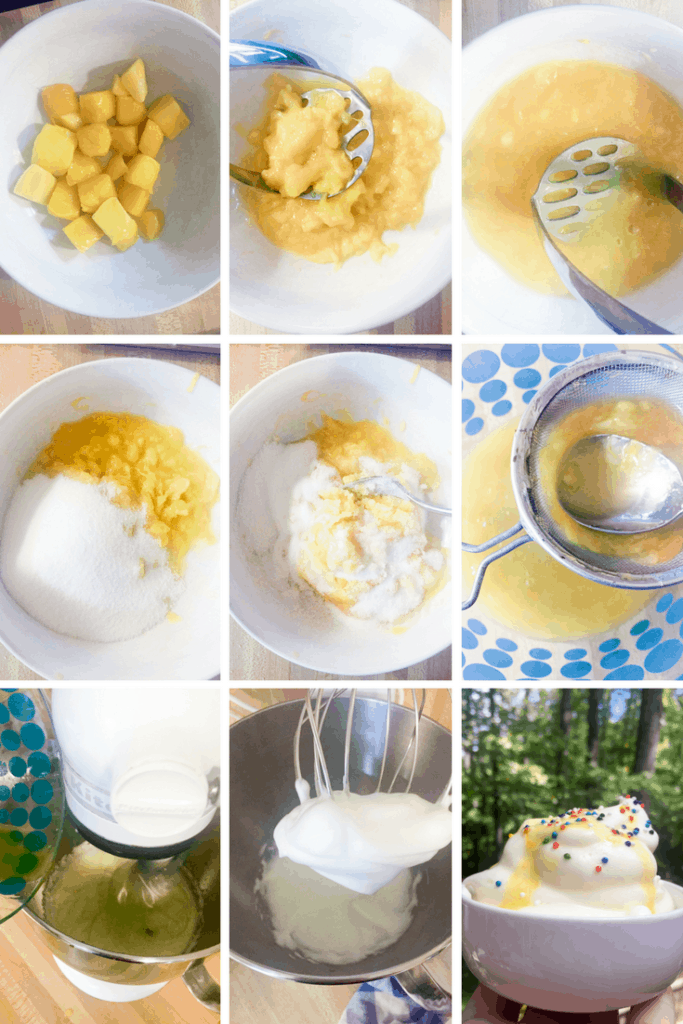 Here's how I prefer to make espumilla.
The first couple times I made espumilla it tasted great but didn't look like the photos I'd found online – it was more foam-like than ice cream-like.
And…there's the raw egg white issue. From what I read, raw egg whites don't pose that much risk to a healthy person, but some people aren't comfortable taking even a small risk when it comes to raw eggs.
I tried making espumilla with pasteurized liquid egg whites but it didn't whip up very well (adding gelatin might help?). I also tried making a meringue where the egg whites are cooked before whipping into a meringue, but that didn't turn out very well, either.
So, if you'd like a thicker "ice cream look" and don't want to eat straight up raw egg whites, here's what I recommend. First, use very fresh eggs, wash the eggs before cracking, and follow other guidelines outlined here. Then do this… (full recipe is below):
Heat 1 cup of sugar and 1/3 cup water to 240 F.
Whip the egg whites and the fruit puree to stiff peaks.
Slowly pour the hot simple syrup into the egg whites. Keep the mixer going as you do this. Mix on high until thick, stiff peaks form.
Serve in a cone or a dish with sprinkles and/or a drizzle of any remaining fruit puree.
Here's a side-by-side comparison of the results of both methods: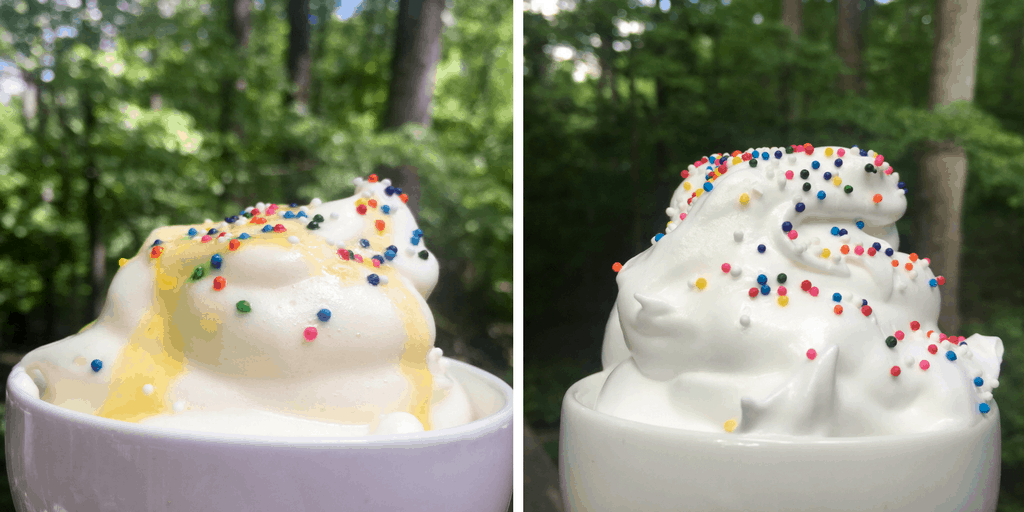 The espumilla on the left is the result of the basic recipe that uses raw egg whites. The espumilla on the right is the result of the recipe that incorporates hot simple syrup.
As you can see, the espumilla on the left came out lighter and more foam-like. It also deflated quickly. The espumilla on the right came out denser and more ice cream-like. It also stayed fluffy longer. If you're nervous about raw eggs or want to serve espumilla in a cone, try adding the hot simple syrup.
Let me know which one you try!