German Pflaumenmus Recipe (aka Zwetschgenmus or German Plum Butter Recipe)
This article may contain affiliate links. See our disclosure link for more information.
Got plums? Make German Pflaumenmus (German plum butter)! It's super easy, an almost totally hands-off cooking process, and you can freeze any leftovers you have – if you have any left!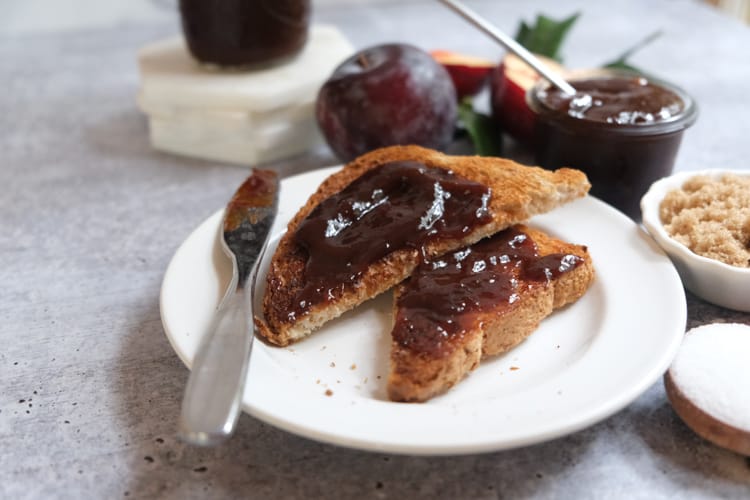 When my friend Marliece (who lived in Germany the same year I did when we were high school students) shared photos of her German plum butter on Facebook recently, I decided it was time to give it a go. A few years ago I discovered my love for German Plum Cake, so I thought I might like plum butter.
I made Pflaumenmus in my slow cooker and I recommend that method because it's so easy and hands off. I experimented with making German plum butter two ways.
I'll share both with you but I recommend the second method over the first because the second batch yielded the best flavor.
Plum butter is delicious spread on bread but I also like it swirled into yogurt. You could use it to top ice cream, pancakes, waffles, scones, oatmeal, and more. Use it as you would jam or lemon curd.
Here are the two ways I made German plum butter. The recipe and method I recommend is below that.
Method #1 – Plum Butter in a Day
For this method I placed two pounds (about 1 kilo) of sliced and pitted plums in my slow cooker, added white sugar, cinnamon, and a pinch of cloves, attached the lid, and simmered on high for four hours.
Then I pureed the plums, placed them back in the slow cooker, and simmered them on high for another five or so hours with the lid half off the slow cooker.
This plum butter tasted good and was ready in about eight hours.
I did make a mistake with this batch, though!
I thought it was ready, so I took it out of the slow cooker and let it cool in a jar. Then I started thinking it wasn't thick enough, so I put it back in the slow cooker and simmered it on high a while longer.
When I noticed that it was really thick, I took it scooped it back into a jar and let it cool.
Looking back now, I think it was fine when I first took it out.
This batch ended up thicker than it should have been but it still tasted good. It just wasn't as smooth as the second batch.
So if you use this method, keep an eye on your simmering plum butter towards the end of the second simmer so it doesn't get too thick!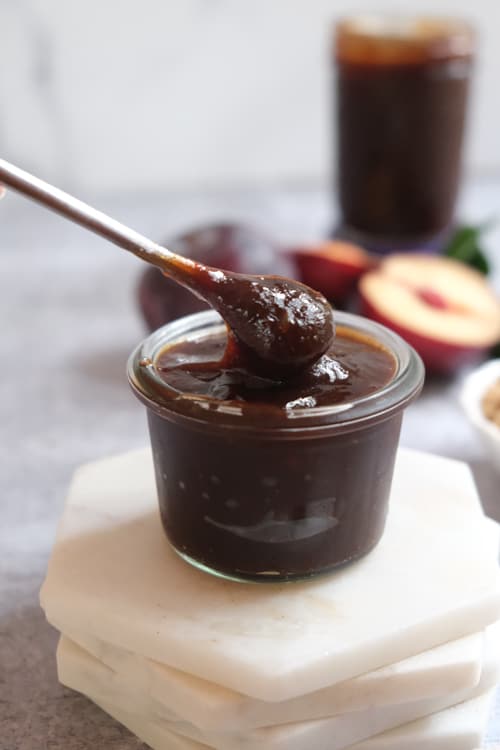 Method #2 – Plum Butter in 24 Hours
The second time I made plum butter I made two changes from the first round.
First, I used half brown sugar and half white sugar.
Second, I simmered the plums on low for 10 hours (overnight), and then, after pureeing the plums, I let them simmer all day until just before I went to bed. In total, the plums simmered on low for close to 24 hours!
While you don't need to simmer them for 24 hours, the longer you simmer the plums, the deeper the flavor, so just kept an eye on them and let them simmer away.
While the first batch I made was good, this second batch with half brown sugar and a longer time simmering on low heat was better.
The flavor was richer, deeper, and simply delicious. I recommend this method if you have the time. And except for the time I spent washing, slicing, and pitting the plums, almost the entire process was hands off!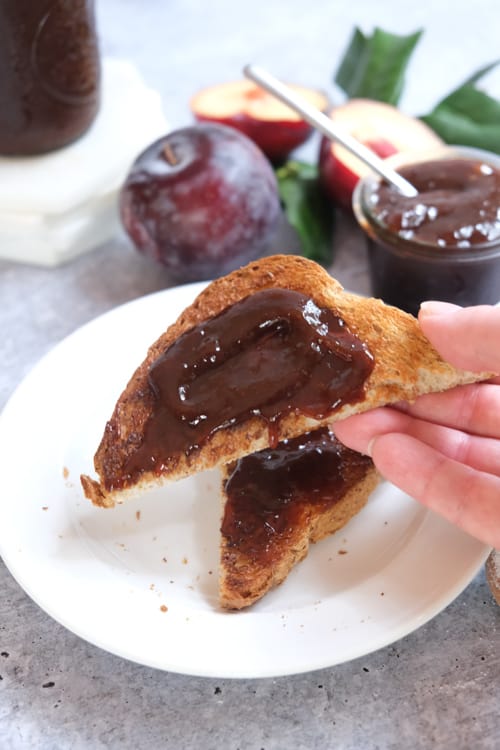 What You Need to Make Pflaumenmus (German Plum Butter)
Here are the ingredients you need:
Plums (note – I'm not sure what kind of plums I used! I just bought what was available in my local grocery store and it turned out great.)
Sugar (I recommend using half white and half brown but you could use other kinds of sugar)
Cinnamon
Cloves (ground)
Here are the kitchen tools you need:
Slow cooker
Knife & cutting board
Immersion blender or food processor
Jar or container for storing the plum butter
If you have an immersion blender you can puree the plums right in the slow cooker.
If you're like me and you still haven't bought one, you can spoon the plums into a food processor (I use this little one and I LOVE it) to puree them.
Just be careful – those plums are hot!
I pureed my plums in two small batches.
Then I spooned the plum butter into a jar with a tight lid. You can store your plum butter in the fridge or freeze it. Half of mine is going in the freezer for later in the year.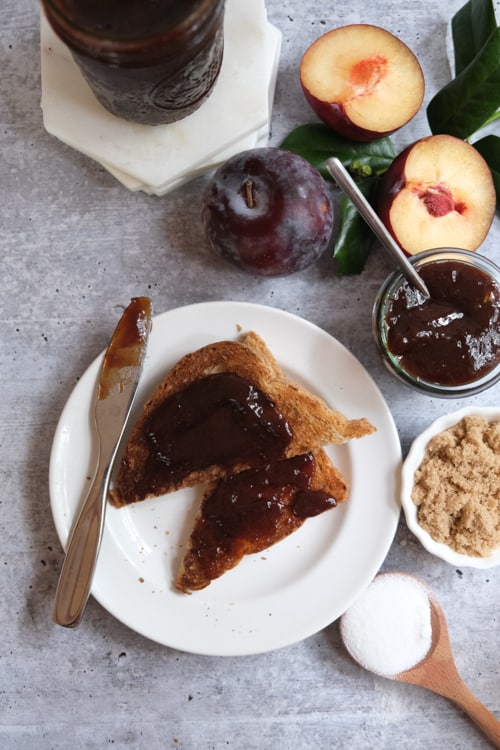 How to Make German Plum Butter (Pflaumenmus)
The first step is to wash the plums, slice them in half, and take out the pits.
Place the plums in the slow cooker and then add the sugar, cinnamon, and cloves.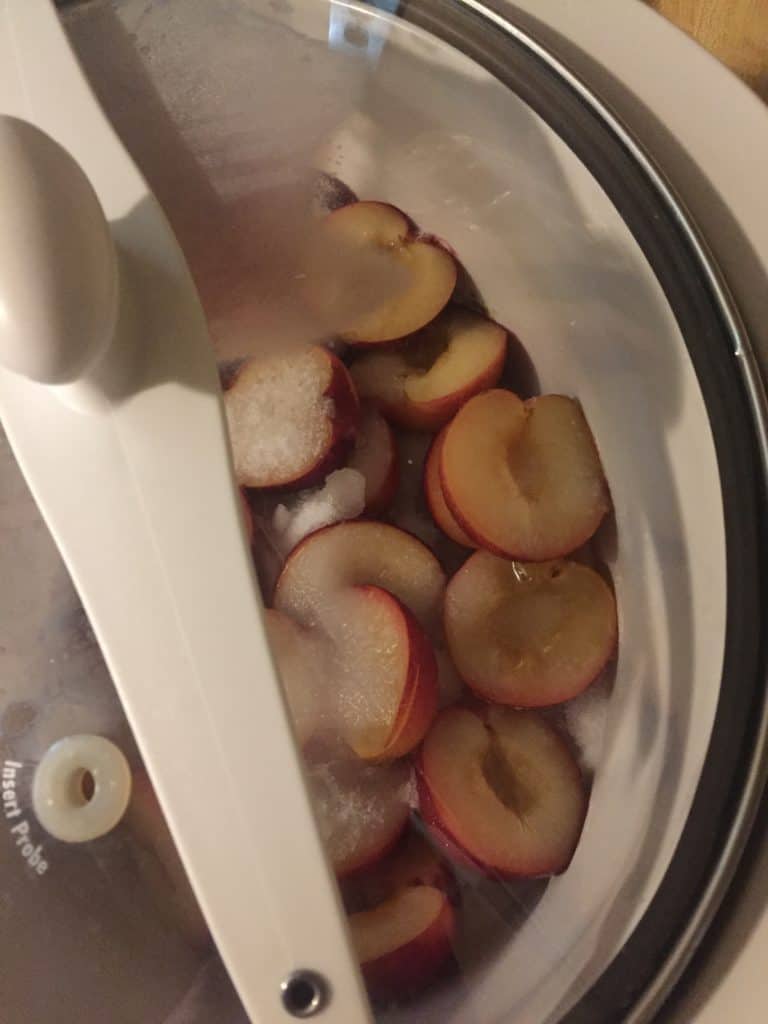 Secure the lid and set the slow cooker to low for 10 hours. I had mine do this first cook overnight. Here are what my plums looked like after the first cook: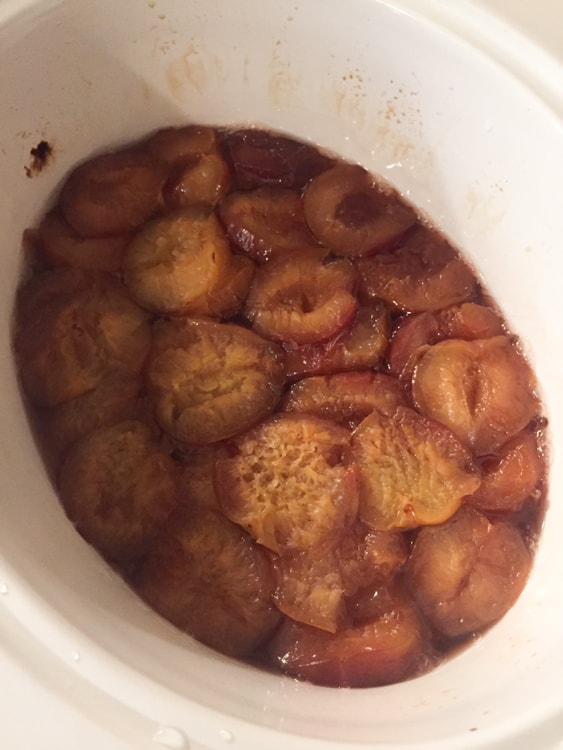 The next step is to puree the plums. If you have an immersion blender, use that to puree the plums in the slow cooker. If you don't, carefully scoop the plums into a food processor to puree and then pour it back into the slow cooker. The plums will be thin and soupy at this stage.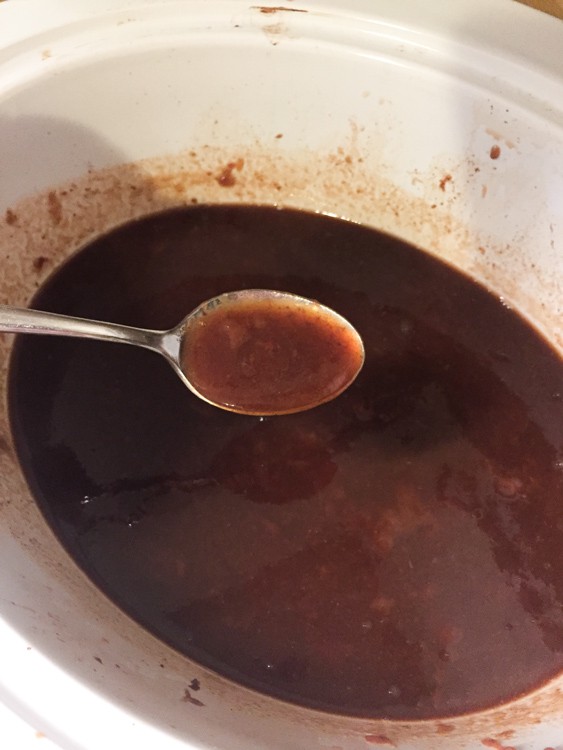 Set the slow cooker to low for five hours. This time, leave the lid half off so the plums will reduce. You can simmer the plums on low for more than five hours, just keep an eye on it so it doesn't burn or reduce too much. It's ready when it's at a jam-like consistency. It will firm up a little more in the fridge.
When the plum butter has reduced, turn the slow cooker off and let it cool. Then spoon it into a jar with a tight lid. Store in the fridge or freezer.