This article may contain affiliate links. See our disclosure link for more information.
This delicious drink tastes like apple pie and is a tasty, boozy way to celebrate fall flavors.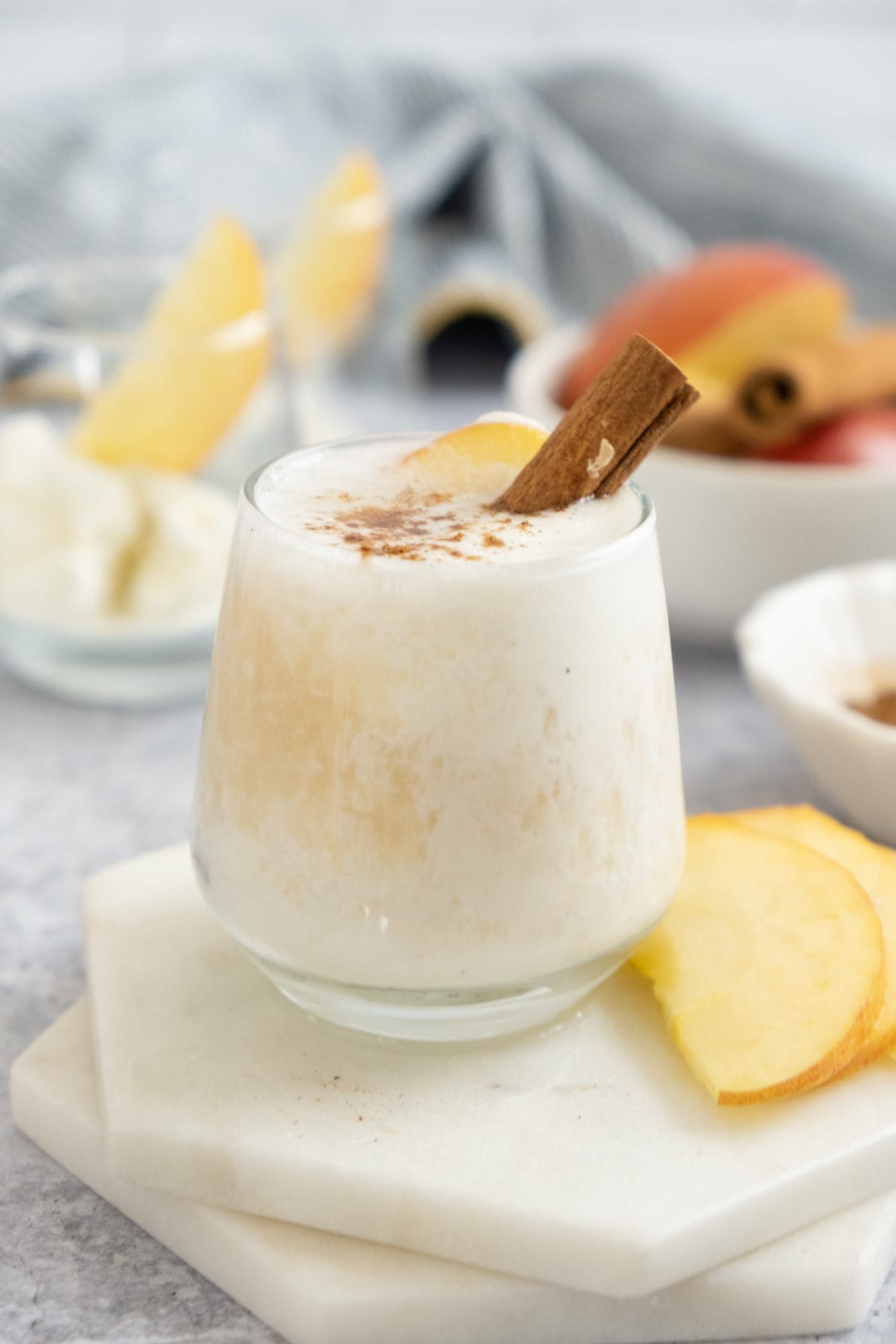 ? About This Recipe
One of the best things about summer ending? Fall drinks!
This Apple Pie Shot recipe combines delicious fall flavors – apples, cinnamon, vanilla, and warming spices.
For the apple flavor – use fresh apple cider.
For the cinnamon flavor – use Fireball whiskey. Just a little bit gives this shot such a delicious cinnamon flavor! If you're not a fan of cinnamon whiskey, you could use cinnamon Schnapps, cinnamon vodka, a few drops of cinnamon extract or add a sprinkle of cinnamon to the top of the shot.
For vanilla flavor – I love adding a small scoop of creamy vanilla bean ice cream. With the addition of vanilla ice cream, this shot is kind of like a mini affogato! You could also use vanilla vodka or add a few drops of vanilla extract instead.
For the apple pie spice – a sprinkle of homemade apple pie spice.
It's the perfect way to enjoy the fall season, whether as an after dinner treat, a Halloween party or Thanksgiving.
And it's an easy recipe you can make in minutes.
You can also turn this apple pie shooter recipe into a delicious hot or cold fall cocktail(see recipe below).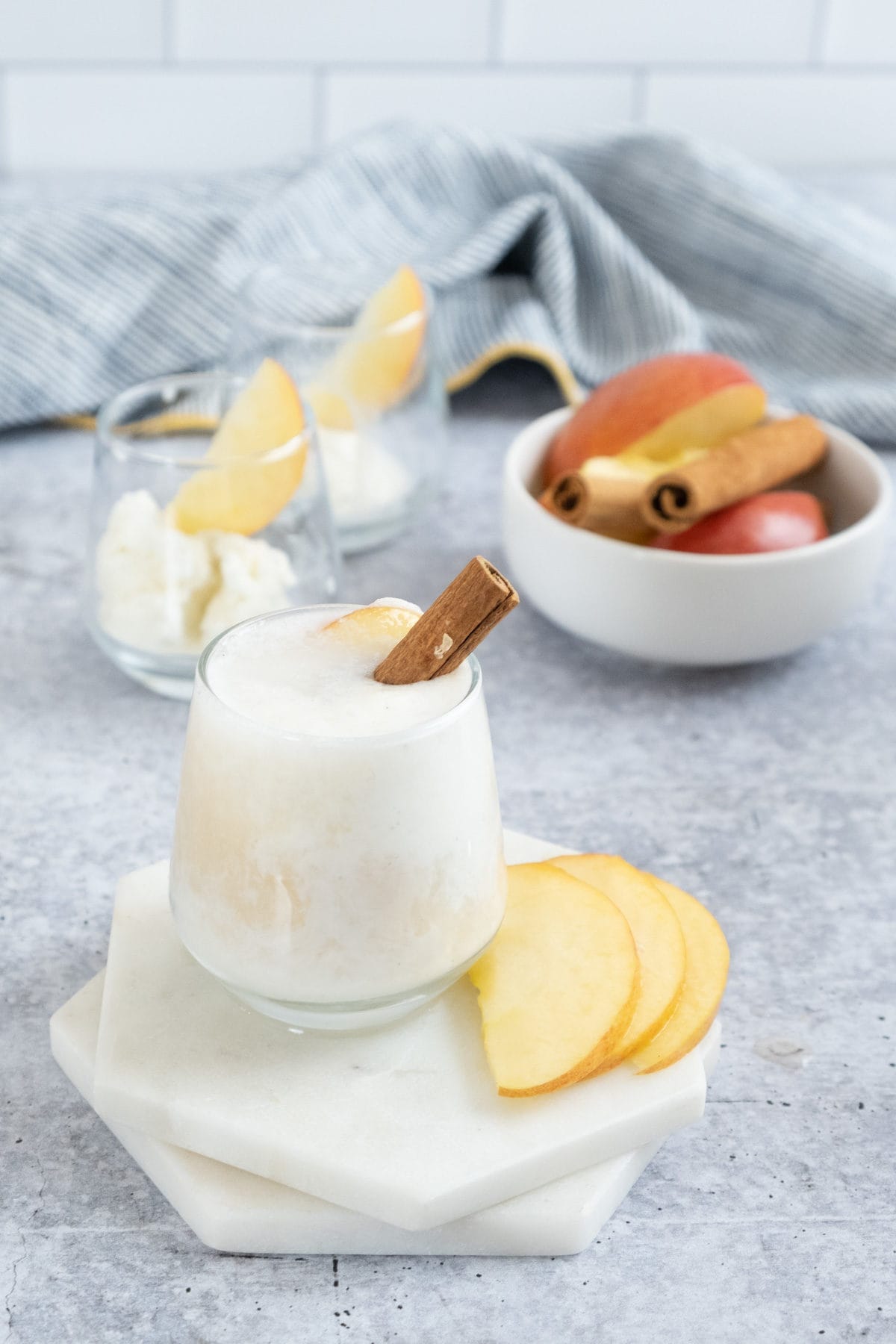 ❓FAQ
Can I use apple juice instead of apple cider?
You can. But apple cider will taste better.
Do I have to use vodka?
I liked the vodka + Fireball combo but you can definitely use different liquors to make this apple pie drink.
Can I turn this shot recipe into a cocktail?
Yes! Fill a glass with a larger scoop of vanilla ice cream, add the shots of alcohol, and fill the rest of the glass with apple cider.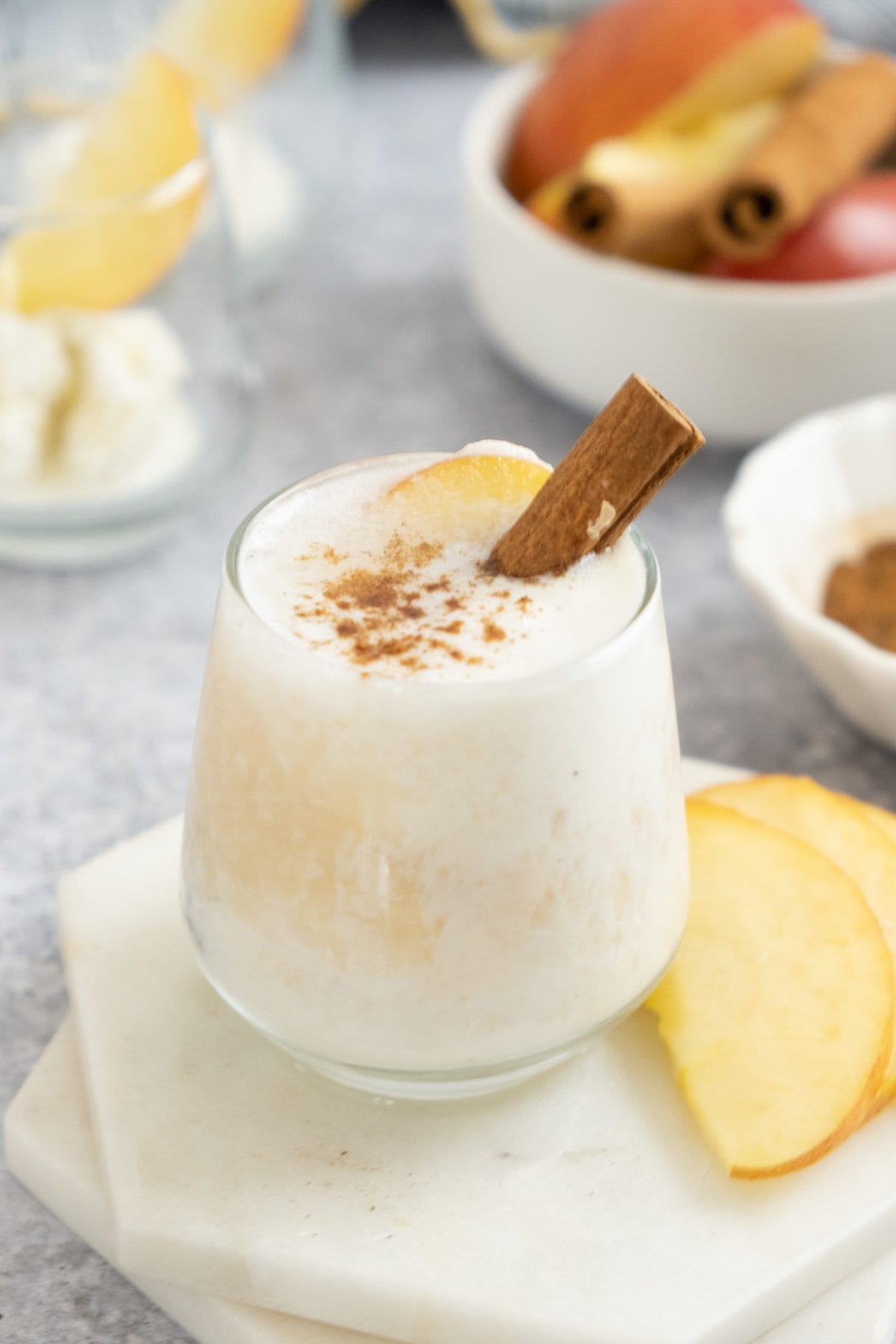 ? What You Need to Make This Recipe
Ingredients:
Apple cider
Vodka (plain, apple vodka or vanilla vodka)
Fireball (cinnamon whisky)
Vanilla bean ice cream
Apple pie spice (optional garnish)
Apple slices (optional garnish)
Cinnamon sticks (optional garnish)
Kitchen Tools:
Shot glasses (or larger glasses if turning the recipe into a cocktail)
Small cookie or ice cream scoop
Knife and small cutting board (for slicing an apple)
Baking pan, parchment or silicone mat & plastic wrap (If preparing ice cream scoops ahead of serving)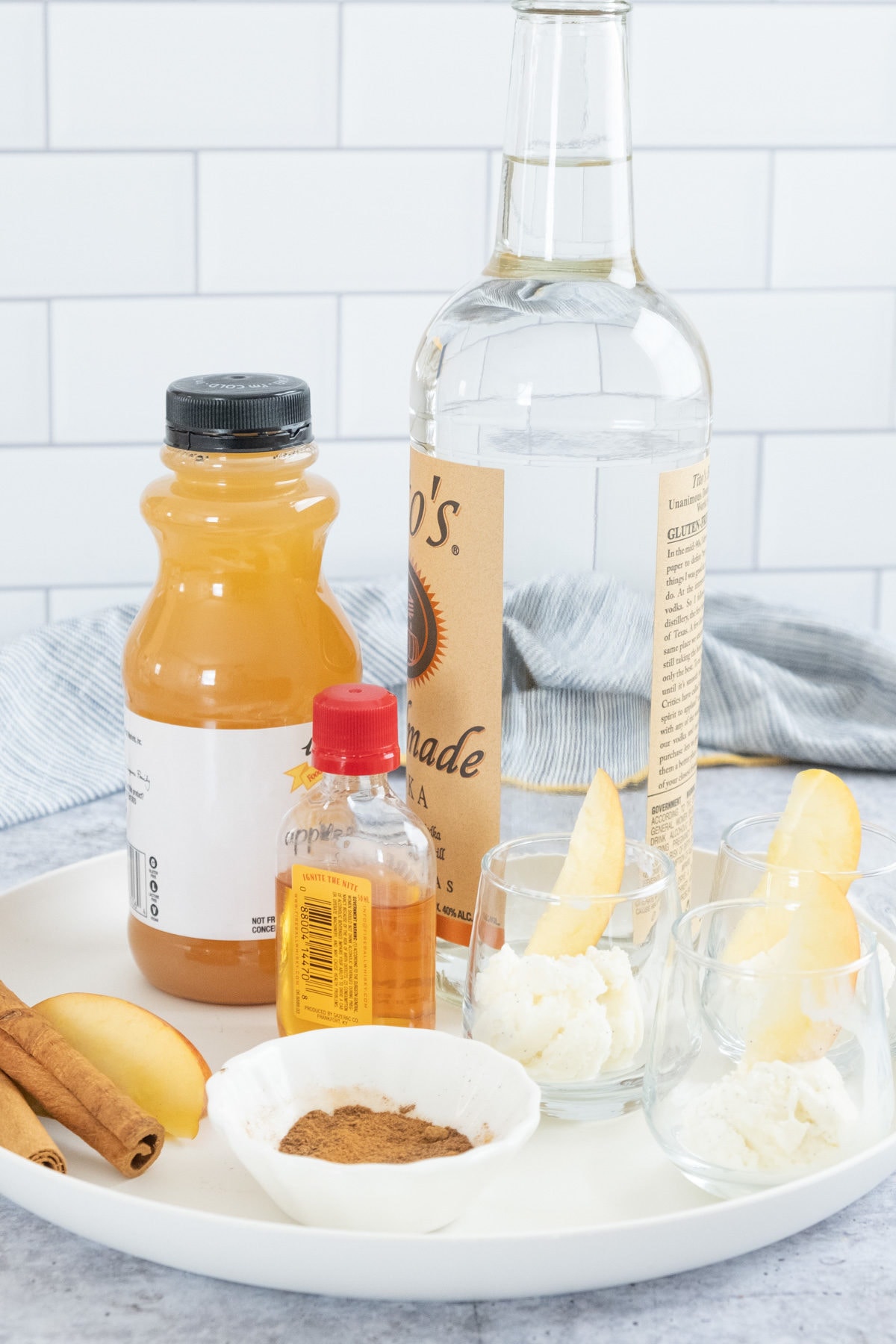 ? Recipe Variations, Notes & Tips
For a quick and easy apple pie shot simply combine 1 oz cider with 1 oz vodka.
If you're making apple pie shots for a crowd, scoop vanilla ice cream onto a lined baking tray and freeze. This will make it easier to make several shots at once.
To increase the apple flavor, you could use apple whiskey instead of vodka.
Top with whipped cream instead of vanilla ice cream.
Turn it into a caramel apple shot by topping with caramel sauce drizzle.
To add a butter pastry crust flavor – garnish with a piece of graham cracker.
Instead of garnishing your drink with apple pie spice, you could sprinkle cinnamon, brown sugar or graham cracker crumbs on top.
To serve drink very cold: add vodka, apple cider, and Fireball to a cocktail shaker filled with ice (or use a mason jar filled with ice). Shake for 10-20 seconds, then pour into your glass.
To serve as a hot apple cider drink: warm the apple cider in a saucepan then pour into a mug. Add vodka, Fireball, and a scoop of vanilla ice cream (it will melt quickly and add a nice vanilla flavor and creaminess to the drink).
Garnish with a sprinkle of apple pie spice, a thin apple slice, and a cinnamon stick.
Turn this shot recipe into a cocktail by adding a larger scoop of vanilla ice cream to a glass, pouring the vodka and Fireball over the ice cream, and filling the glass with apple cider (1 cup or more).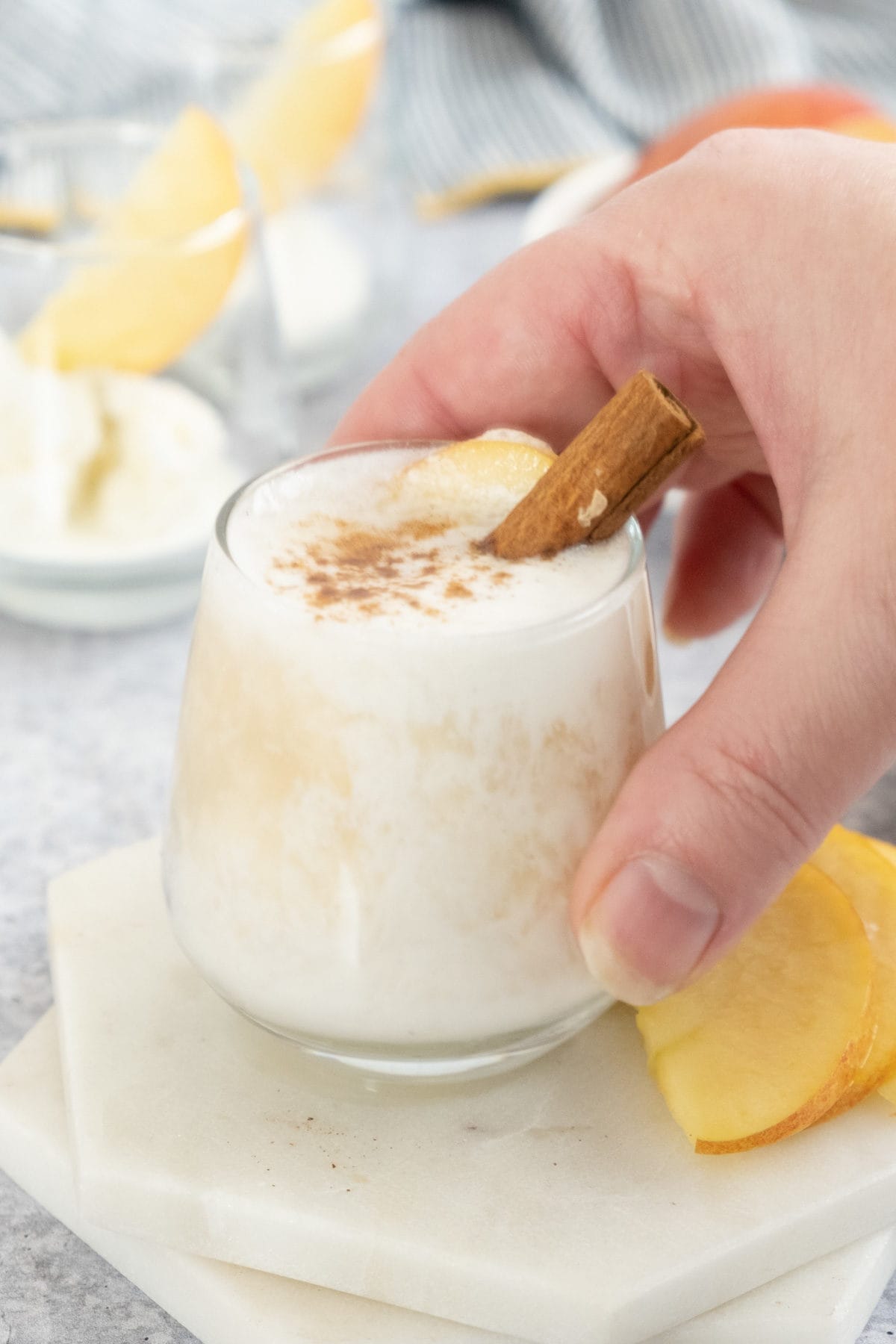 How to Make An Apple Pie Shot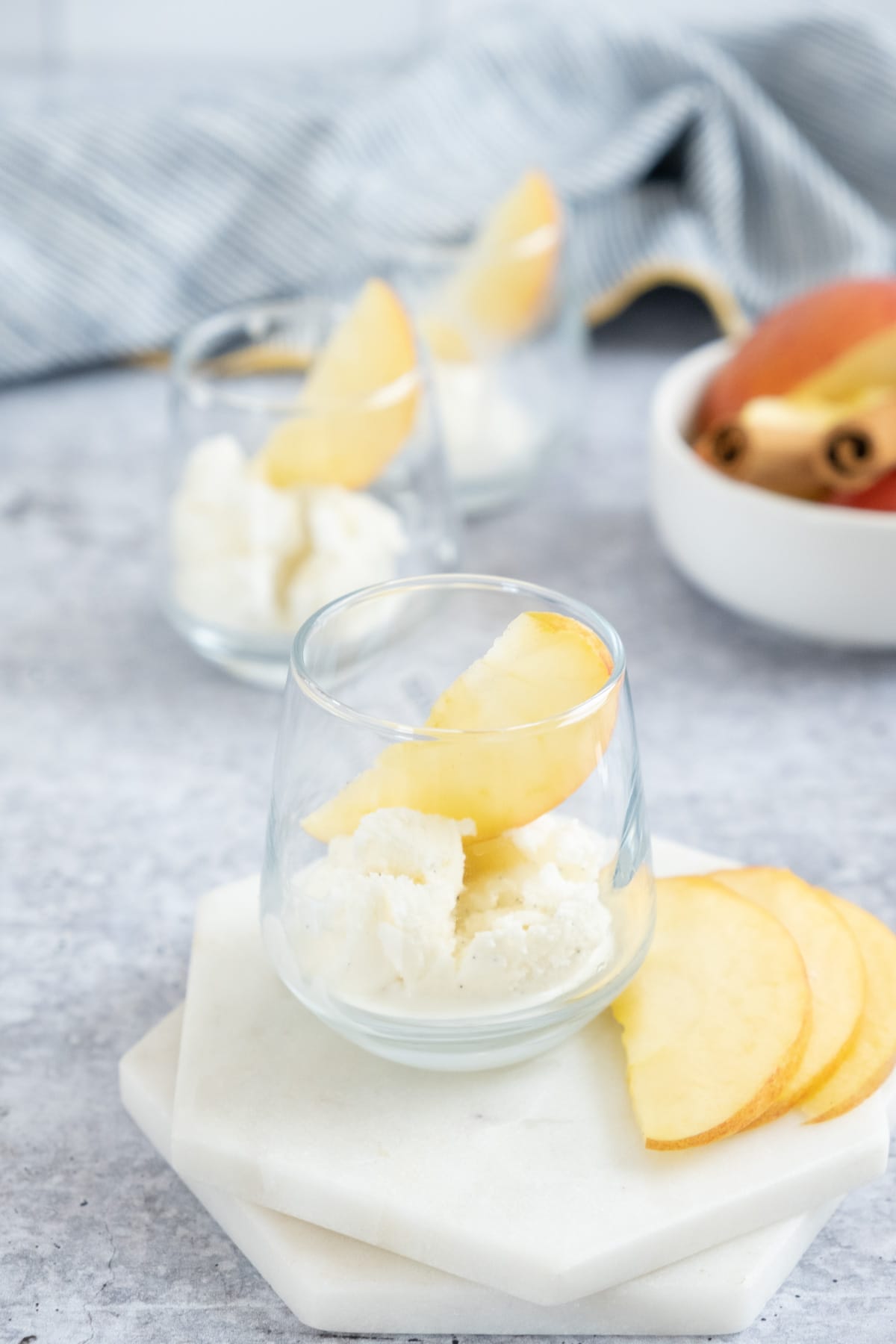 Add a small scoop of vanilla bean ice cream to a shot glass.
Pour cider, vodka, and Fireball over ice cream.
Garnish with a sprinkle of apple pie spice, a thin apple slice, and a cinnamon stick.
Serve immediately.