This post contains affiliate links, meaning, if you click through and make a purchase or sign up for a program, I may earn small commission. This is at no additional cost to you.
For the past couple of years, my husband and I have made German-style Christmas advent calendars for family members who live far away. Because who doesn't enjoy opening a little gift each day!
This year, I surprised Aaron with his own advent calendar. Yesterday's treat was a mini milk chocolate hazelnut Ritter Sport German chocolate bar, which he shared with me.
Sooooooo good! I love chocolate and hazelnuts together. Especially German chocolate and hazelnuts.
All afternoon I couldn't stop thinking about that hazelnut Ritter Sport chocolate bar!
So when I realized that I had all of the ingredients for chocolate hazelnut truffles, I couldn't resist making them. They're so easy to make and the perfect substitute when you don't have a Ritter Sport chocolate bar. 🙂
This isn't a German recipe per se, but when I lived in Germany, it seemed like hazelnuts were in everything, especially chocolate, so whenever I see, smell or taste hazelnuts, I think of Germany.
These truffles are super easy to make. It takes less than 5 minutes to make the truffle mixture, then you just let it chill in the fridge for an hour before rolling it into balls and then in chopped hazelnuts.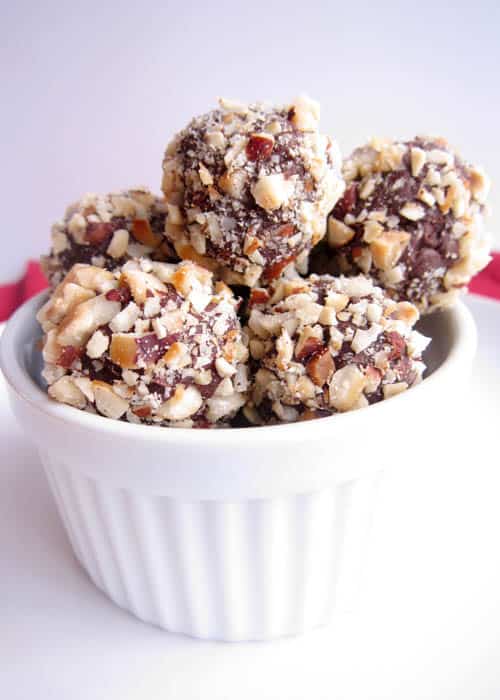 I love the smooth texture of these truffles. And they hold their shape, even after rolling them in the chopped hazelnuts.
If you're looking for an easy dessert to make for a holiday party – or just a quick treat for family and friends – these truffles are it!
They're one of the treats I'm bringing to Aaron's work holiday party this weekend…if I can manage to not eat them first. I'm also bringing German Gebrannte Mandeln (cinnamon sugar almonds).
These truffles make a lovely DIY holiday gift, too. Wrap a few truffles in festive candy bags like these red and white polka dot cone treat bags, these elegant favor bags or these holiday paper candy boxes and you've got a delicious gift.
---
Have you downloaded my free European Christmas Cookies Ebook yet? No? Click here to get it! You'll get 10 delicious cookie recipes from Iceland, Sweden, Poland, Switzerland, Croatia, Italy, and more (including gluten free, nut free, and egg free options)!
---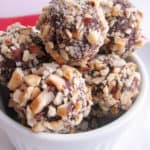 Easy Chocolate Hazelnut Truffles
Smooth chocolate and crunchy hazelnuts make the perfect holiday treat (any time of the year)!
Ingredients
2

cups

chocolate chips

8

oz

cream cheese

1/2

cup

powdered sugar

1/4

cup

unsweetened cocoa powder

1/2

tsp

vanilla extract (optional)

1/4

cup

chopped hazelnuts
Instructions
Melt chocolate chips in the microwave or in a double boiler on the stove.

Mix melted chocolate, cream cheese, and vanilla together until smooth. This is easiest to do a stand mixer but a hand-held mixer will work as well. If you want to feel better about eating a bunch of truffles, mix by hand with a wooden spoon!

Add the cocoa powder and powdered sugar. Mix well.

Chill truffles in the fridge for an hour.

Roll truffles into 24 balls. Then roll each truffle in chopped hazelnuts. You may need to gently press the truffle into the hazelnuts. Enjoy!
What's Next?
—
Disclaimer: The International Desserts Blog is a participant in the Amazon Services LLC Associates Program, an affiliate advertising program designed to provide a means for us to earn fees by linking to Amazon.com and affiliated sites. Thank you for supporting my site and helping me make it the best international desserts and travel resource on the internet!
Move Over Sugar Cookies!
You'll love the 10 traditional European Christmas Cookies in my free ebook!