If you're looking for new and easy Christmas baking recipes, I've got a great one for you…
Today's recipe is a delicious Danish Christmas cookie. I discovered Danish Brunkager cookies through a friend who lives in Copenhagen. When I asked her about the best Danish cookies for Christmas, she recommended I try Brunkager. I'm so glad I did!
These traditional Christmas cookies are super tasty – carmel-y, crunchy, and nutty (I'm eating one as I type this – I can't put them down). They're an easy Christmas sweets recipe you'll definitely want to try.
My Brunkager turned out to be a lighter brown, as compared to the original recipe. Well, actually, the first time I made these I realized that I was out of brown sugar, so I used white sugar and molasses. Those cookies were darker brown that the ones in the photo above. They also had a slightly stronger flavor. The cookies shown above were made with light brown sugar. So, if you use dark brown sugar in your Brunkager, let me know how they turn out!

There were a few other ways I had to modify the recipe. First, I used light corn syrup because I didn't have the cane syrup the recipe recommended.
Second, I used baking soda because I have no idea where to find the potash that the recipe calls for.
Third, I used hazelnuts instead of pistachios because the pistachios I had intended to use disappeared in my husband's stomach before I could use them. Oh well!
So, these cookies are modified Danish Brunkager…but they are still absolutely delicious.
The cookie dough comes together rather quickly and they only take 8-12 minutes to bake, but you do need to let the dough sit for about 12 hours before baking. So, make the dough in the morning, let it sit on your kitchen counter all day, then pop them in the oven after dinner. Or make the dough before bed and bake them in the morning (these cookies are great with coffee).
Here are a few more tips:
If you don't have almonds or pistachios, try another type of nut. I used hazelnuts instead of pistachios, and while not as traditional, the cookies were delicious.
Slice the cookies on the thin side so they crisp up after baking (even a bit thinner than in the photo above). You may want to cut a few slices and then bake them to see if you've got the right thickness before slicing all of the dough.
Take the cookies out of the oven when the sides start to crisp. The cookies will seem soft at first but they crisp up as they cool.
Use a serrated bread knife to slice the cookie dough. It wasn't difficult to cut through the nuts after the dough sat out for about 12 hours but it was much more difficult when I tried it after 24 hours. The cookie slices just crumbled (still tasted good, though).
How to Make Danish Brunkager Christmas Cookies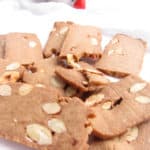 Danish Brunkager (Danish Christmas Cookies)
You'll love these crunchy, nutty, carmel-y traditional Danish Christmas cookies! 
Ingredients
1

cup

butter

1

cup

brown sugar

1/2

cup

cane sugar syrup

(I used light corn syrup)

2

cups

flour

2

tsp

baking soda

3

tsp

cinnamon

2

tsp

ginger

1

tsp

cloves

1

tsp

allspice

3/4

cup

almonds

(whole, unsalted)

1/4

pistachios

(whole, unsalted)
Instructions
Melt butter in small saucepan over medium heat. Stir in brown sugar and syrup. Bring to a low boil, stirring constantly for 5 minutes. Take off the burner and let cool. 

Combine flour, baking soda, and spices in a mixing bowl. Add nuts and stir. Then add slightly cooled brown sugar mixture. Stir until well combined. The dough should easily form a ball and not stick to the sides of the bowl.

Place dough into a bread pan lined with parchment paper. You may need to use your fingers to press the cookie dough into the corners of the pan. Cover and let sit on your kitchen counter for 12 hours.

When you're ready to bake the cookies, heat oven to 350 F. Take the dough out of the pan (it should be solid by now) and slice into 2 logs using a serrated bread knife. Then slice each log into 25 cookies. 

Place cookies on a lined baking sheet and bake for 8-12 minutes or until edges just begin to brown. Cool cookies on a wire rack. They will crisp up as they cool.
Pin this for Later!