10 Must-Try Swiss Desserts & Sweet Treats
This article may contain affiliate links. See our disclosure link for more information.
When it comes to cuisine, Switzerland may be best known for its cheese dishes fondue and raclette but there are plenty of sweet treats to tempt you, too.
My husband's aunt lives in Bern and on our many visits to her house we've always been served up the most amazing cakes.
As well as aunty's offerings, I've been fortunate to sample lots and lots of delicious Swiss desserts and treats on my visits to Switzerland.
Here are 10 of my favourite Swiss desserts and sweet treats:
1. Swiss Chocolate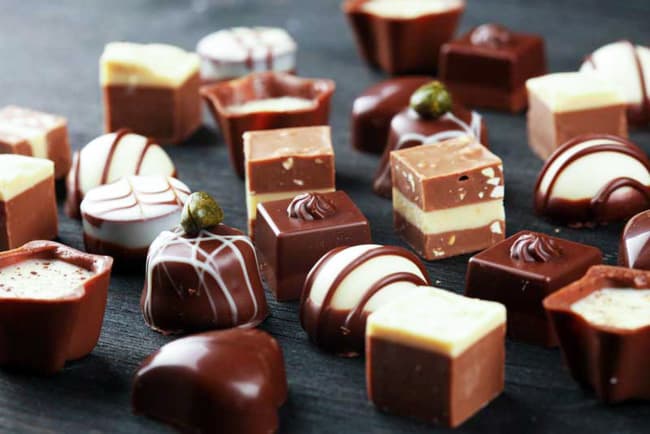 It wouldn't be a list of must-try Swiss treats without mentioning chocolate after all the Swiss are famous for producing some of the best chocolate in the world.
Along with the internationally-known brands like Lindt and Toblerone, Switzerland's chocolate producers include Frey, Maestrani, Teuscher, Cailler and Laderach.
Each Swiss chocolate producer has their own unique offering whether it be chocolate filled with nuts and berries, the inclusion of condensed milk or products made without preservatives and additives, so there's a perfect chocolate for everyone.
Personally, I find Lindt's Extra Creamy milk chocolate VERY hard to resist. Of course you can buy many varieties of Swiss chocolate from supermarkets in Switzerland but lots of producers also offer some fun and tasty Swiss chocolate experiences like factory tours and workshops which include chocolate tastings.
Note from Cate – I so agree about Lindt…it might just be the best Swiss chocolate out there! I almost always have Lindt in my cupboard and it's so easy to get on Amazon. Check out their milk chocolate, dark chocolate with sea salt, and the dark salted caramel (my favorites)!
2. Apple Strudel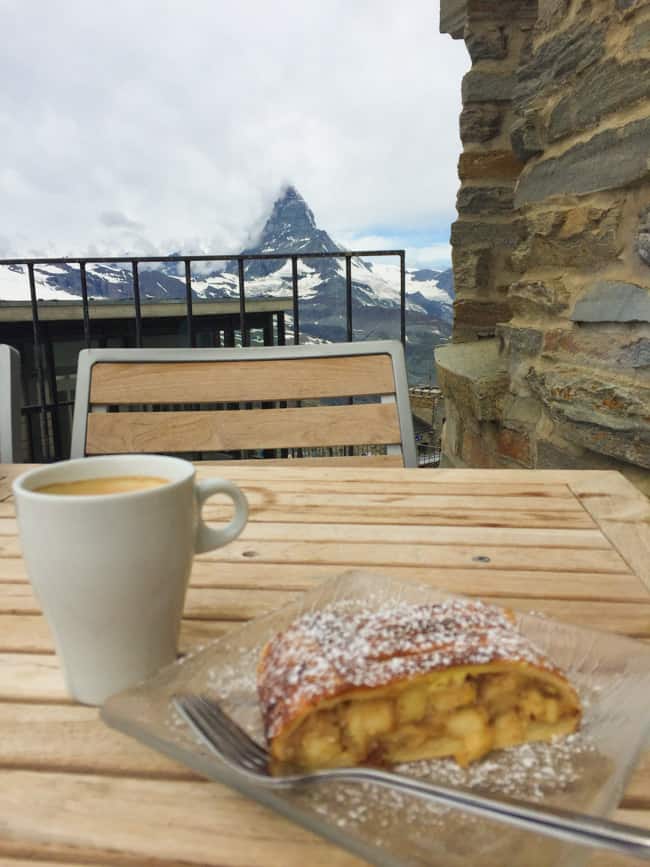 It's not technically Swiss but you'll find apple strudel (Apfelstrudel) on the menu at most Swiss restaurants.
This delicious dessert is made by wrapping multiple layers of super thin pastry around a tasty filling made of sliced apples, sultanas and cinnamon. The strudel is then dusted with icing sugar and baked until golden brown.
Traditionalists say that the pastry used to make apple strudel should be so thin you should be able to read a newspaper through it!
Apple strudel is best served warm with a drizzling of vanilla sauce (a thin vanilla custard).
Although it's delicious wherever you eat it, a great Swiss view makes apple strudel taste even better. I've been fortunate to enjoy apple strudel in some spectacular Swiss locations – including at Gornergrat with a pretty awesome view of the Matterhorn.
3. Gelato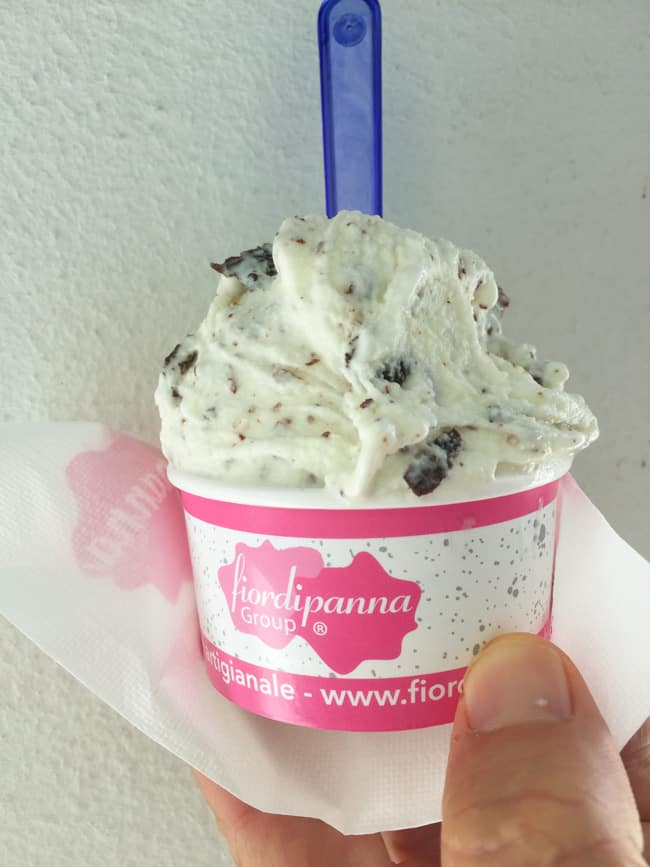 It might seem a little strange to include gelato as a must-eat treat in Switzerland but in the Italian-speaking Ticino region, gelato is part of the culture. With a warm Mediterranean climate in this part of Switzerland, eating gelato on a sunny afternoon is the perfect pastime.
Just like in neighbouring Italy, gelato comes in a huge range of flavours with everything from fruit, nut, coffee and chocolate versions to choose from.
My personal favourite is stracciatella – a smooth vanilla gelato mixed through with shavings of chocolate.
4. Apricot Cake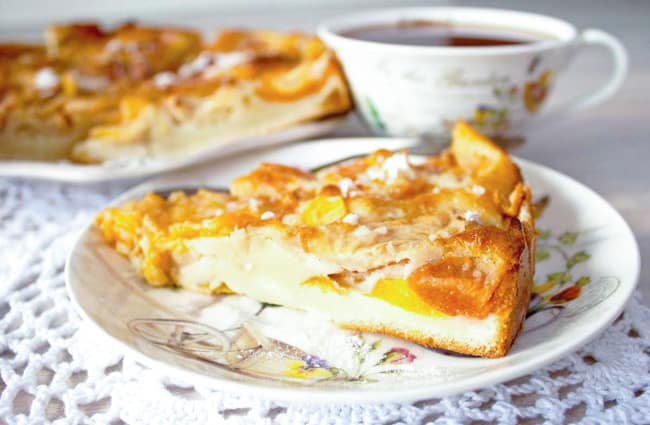 If you visit Switzerland during summer, chances are you'll see apricot cake in the display cabinets of bakeries and on restaurant menus.
Aprikosenkuchen, as it's known in German, is a relatively plain, but nonetheless tasty, sweet treat.
Often made in a deeper tray rather than a round cake pan, apricot halves are then pushed into the buttery base of the cake before being baked.
The cake is dusted with icing sugar when cool, and served in generous slice with whipped cream.
5. Berliner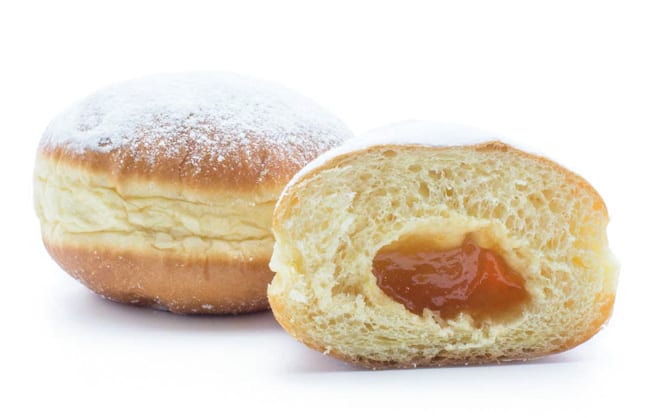 Known as both a Berliner or Krapfen, these tasty morsels don't originate from Switzerland but they are a popular item in Swiss bakeries.
In Australia (my home country), we call them jam doughnuts (donuts) but the Aussie version are filled with strawberry jam whereas the European variety have a tasty apricot filling.
Essentially a Berliner is a ball of yeast dough with a jam centre. It is deep fried, then topped with icing sugar when cooled.
You'll find them in bakeries and supermarkets – and they make great treats to include in a picnic lunch. I often take one in my backpack when I'm off sightseeing for the day as they are a tasty snack for an instant pick-me-up.
6. Raspberry Cake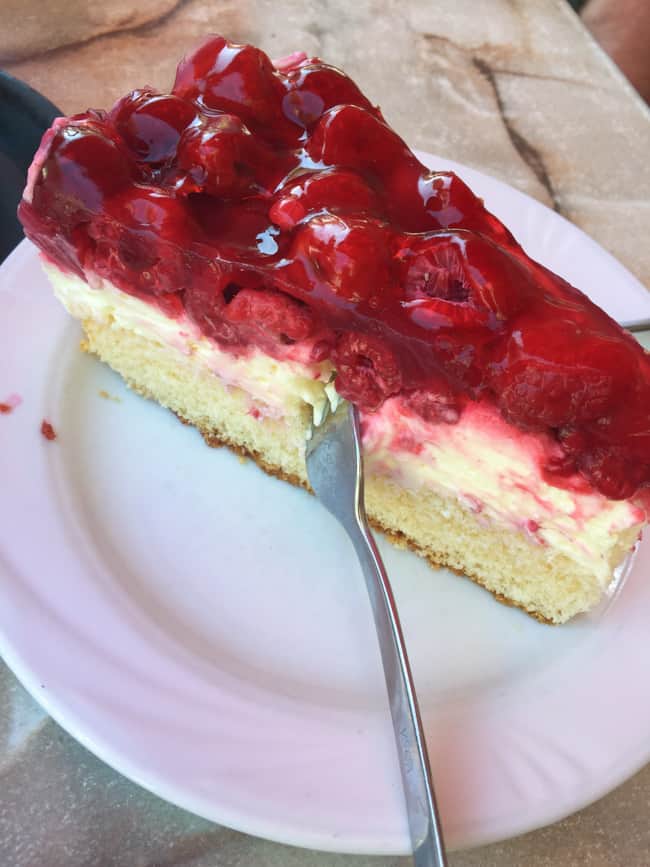 Enjoying 'Kaffee und Kuchen' (coffee and cake) is a much-loved pastime in Switzerland and there's no better cake to enjoy with your cuppa than Himbeerkuchen (raspberry cake).
Much like apricot cake, raspberry cake is best enjoyed in summer when the berries are in season.
There are a few popular ways to make raspberry cake – it's sometimes baked with the raspberries in the mix, much like you'd make a raspberry muffin, but I prefer it served more like a tart (torte) with the raspberries spread over the top.
With a light sponge base and a layer of whipped cream topped with a thick layer of raspberries, there aren't too many cakes I enjoy more.
7. Kambly Biscuits (Kambly Cookies)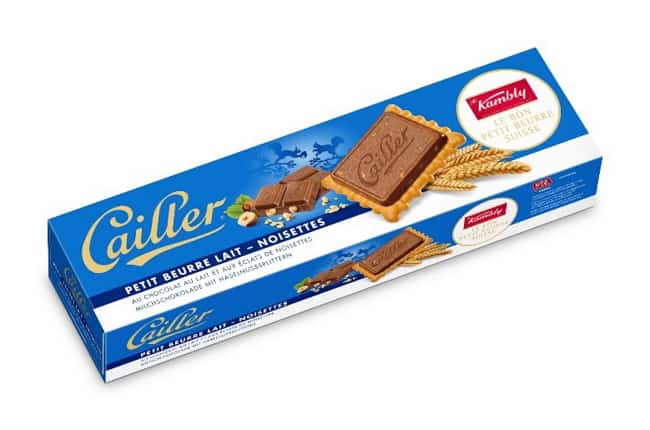 For over one hundred years Kambly have been baking Switzerland's favourite biscuits using only the finest ingredients and they are still as popular as ever today.
Available in a range of sweet and savoury varieties, I can't resist the 'Butterfly', a wafer thin, buttery biscuit with almond slivers or the Coeur aux Noisettes, heart-shaped hazelnut biscuits topped with a layer of Swiss chocolate.
Kambly biscuits are the perfect accompaniment to a cup of tea or coffee, and whilst they are available in supermarkets in more than 50 countries worldwide, it just wouldn't be right not to eat them in Switzerland!
8. Luxemburgerli
Invented by the Swiss confiserie Sprungli sixty years ago, these light and airy macarons are perfectly bite-sized delicacies that melt in your mouth.
Available in a range of flavours – and both with and without alcohol – your hardest decision will not be whether or not to try one but which flavour to choose.
Raspberry and salted caramel are my favourites but I'd never say no to champagne Luxemburgerli!
Sugar, eggs, almonds and butter are the main ingredients and cream is added for the smooth filling.
The best place to enjoy a Luxemburgerli is at Sprungli's headquarters on Paradeplatz in Zurich where you can sample one (or more) at the cafe. You'll also find them at Sprungli stores around the country.
A beautifully packaged box is the perfect gift to take home for a loved one – or yourself!
9. Swiss Yogurt
What's so good about Swiss yogurt? I don't know what the secret is but it just tastes soooo much better than the yogurt I buy in Australia.
To me, Swiss yogurt seems lighter and more natural but that doesn't mean it's sour.
Supermarket shelves in Switzerland are stocked with many, many varieties of yoghurt – both plain and flavoured. I'm a big berry fan and always choose Himbeer (raspberry) or Heidelbeer (blueberry) but there are many other flavours including peach, strawberry, apricot and pineapple.
Don't be fooled into thinking that the supermarket's own brand of yogurt will be of lesser quality, either. The Coop brand of yogurt is one of the best I've tried.
For a 'real' yogurt tasting experience, the best place to buy is direct from the farmer. One of my fondest memories is of buying freshly made yogurt from a farmer's barn as we hiked in the Jungfrau region. We even got to say thanks to the cows responsible for the milk used in the yogurt as we said our farewells!
10. Spitzbuben Biscuits (Spitzbuben Cookies)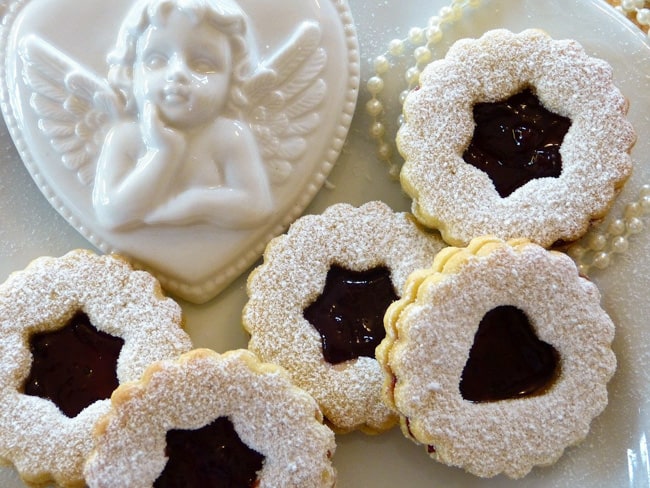 No Swiss Christmas would be complete without a generous serve of Spitzbuben Swiss cookies.
These pretty, and tasty biscuits, are a Swiss favourite and they come in a variety of festive shapes.
Spitzbuben are made from a buttery dough and are paired together with a smooth covering of either jam or jelly. With a small section cut out of the top biscuit, they resemble a pretty stained glass window and are too lovely to leave on the plate.
Look for them around Christmas time in bakeries and when you visit friends.
As you can see, whether you visit Switzerland during summer, winter or anytime in between, there's a delicious Swiss dessert awaiting you.
About the Author:
Carolyn Schonafinger is an Australian blogger and the founder and editor of Holidays to Switzerland. She fell in love with Switzerland on her first visit over 30 years ago and now returns annually to satisfy her desire to explore every inch of this beautiful country.