This article may contain affiliate links. See our disclosure link for more information.
Chena Murki is a very popular Bengali sweet made from paneer cheese coated with sugar. It has a very unique flavor and it melts in the mouth. You only need 4 ingredients and 15 minutes to make it, so give it a try!
Thanks to Shelly for contributing this authentic recipe.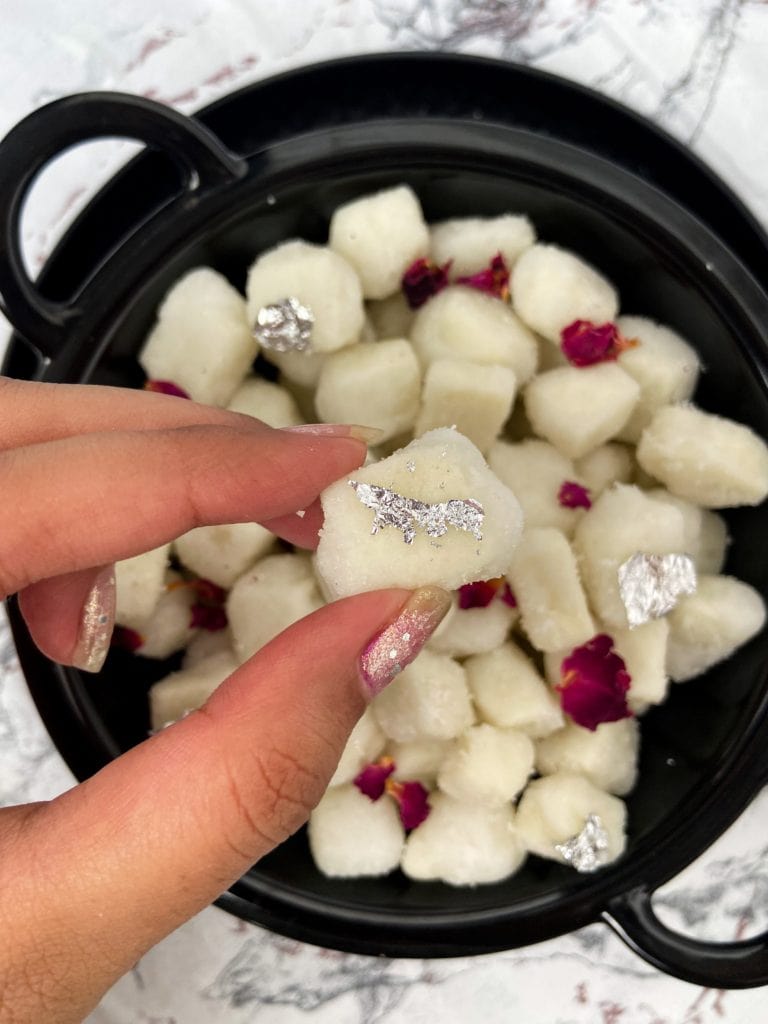 What is Chena Murki?
Chena murki is basically small diced paneer (cheese), which is cooked in sugar syrup and flavored with cardamom powder, rose water or saffron strands.
This sweet treat is very popular in India and Bangladesh. It's the perfect delight for special occasions, birthday parties or festive seasons.
You can even make fresh small batches every week to have it as an after dinner dessert or whenever you crave something sweet.
Making this recipe is very easy because it requires only 4 ingredients and 15 minutes. Give this recipe a try – you're going to love it.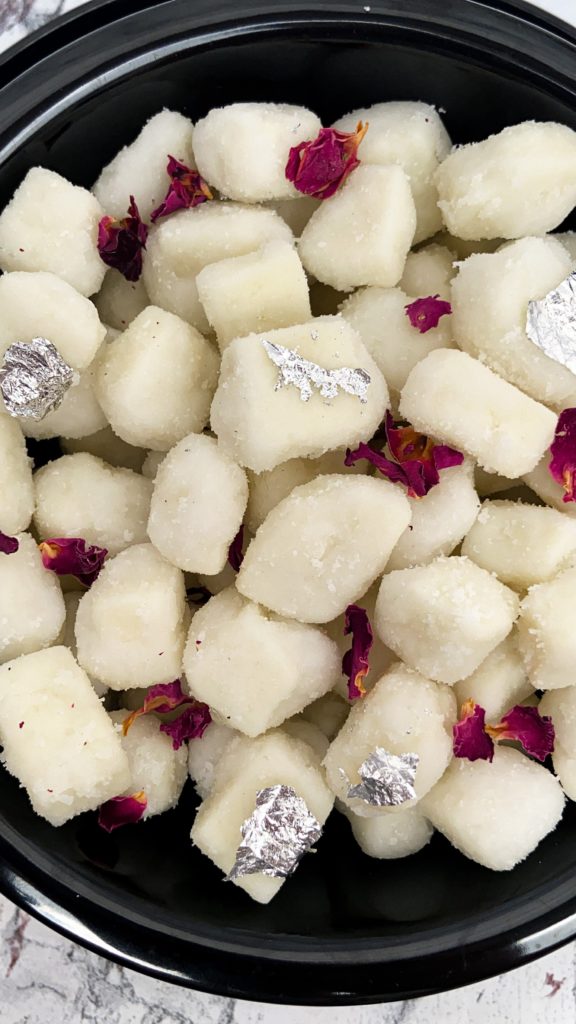 FAQs
What is chena murki made of?
It's made from chena or paneer (cheese) which is then coated with sugar.
In India and Bangladesh, chena is made from cow milk and paneer is made from buffalo milk. In the US, you're likely to find paneer made from cow milk. Either chena or paneer can be used in this dessert recipe.
Can you make homemade chena or paneer for chena murki?
Yes! Chena is made from curdling cow milk. It's mostly used in Bengali sweets like rasgulla, chum-chum, malai chop etc.
Paneer, on the other hand, is traditionally made from buffalo milk. It has high fat content and it is also made from curdling the milk. (As noted above, you'll likely find cow milk paneer in the US.)
Both paneer and chena can be easily made at home, and you can use either of them in this recipe.
What do you need to make chena murki?
Ingredients:
Paneer cheese (homemade or store bought)
Sugar (Use a good quality sugar to get a crystal clear syrup.)
Water
Rose water, cardamom or saffron (optional)
Kitchen tools:
Non-stick pan
Knife
Spatula
Strainer with big holes
Recipe Variations
Instead of rose water for flavoring, you can add a few strands of kesar (saffron) while boiling the sugar syrup. All of the flavor of kesar will be soaked up by sugar syrup and it will be slightly orange in color. You can also add cardamom powder.
You can also use kewra water instead of rose water, as it has a similar taste to rose water.
Recipe Tips
Use fresh and soft paneer. You can buy it from a dairy or get readymade packed paneer from the grocery store.
You can also use homemade paneer in this recipe.
Make sure to cut the paneer in small equal sized pieces. If you cut them too big or if they're different sizes, the big pieces may remain uncooked.
The paneer and sugar quantity should be the same, and the water quantity half of that. For example – 200 gram sugar = 100 gram water, 300 gram sugar = 150 gram water, 1 cup sugar = 1/2 cup water.
If your sugar syrup has impurities, add a tablespoon of milk. A "dirt foam" will form on the surface of sugar syrup, which you can take out with a spoon.
The sugar syrup should have one large string consistency — see instructions below for more details. Don't undercook the sugar syrup. One string consistency is very important, otherwise the sugar will not coat the paneer or it will dry up after cooling. See photos below for the details.
Don't overcook the sugar syrup.
It will take 4-5 minutes to dry the sugar but make sure to keep stirring until the sugar syrup has completely dried.
Rose water can be substituted with rose essence but use half the quantity, as it can have an overpowering taste.
You can use any leftover sugar to make chena murki again or you can use it in tea or coffee.
Store the chena murki in an airtight container in the refrigerator.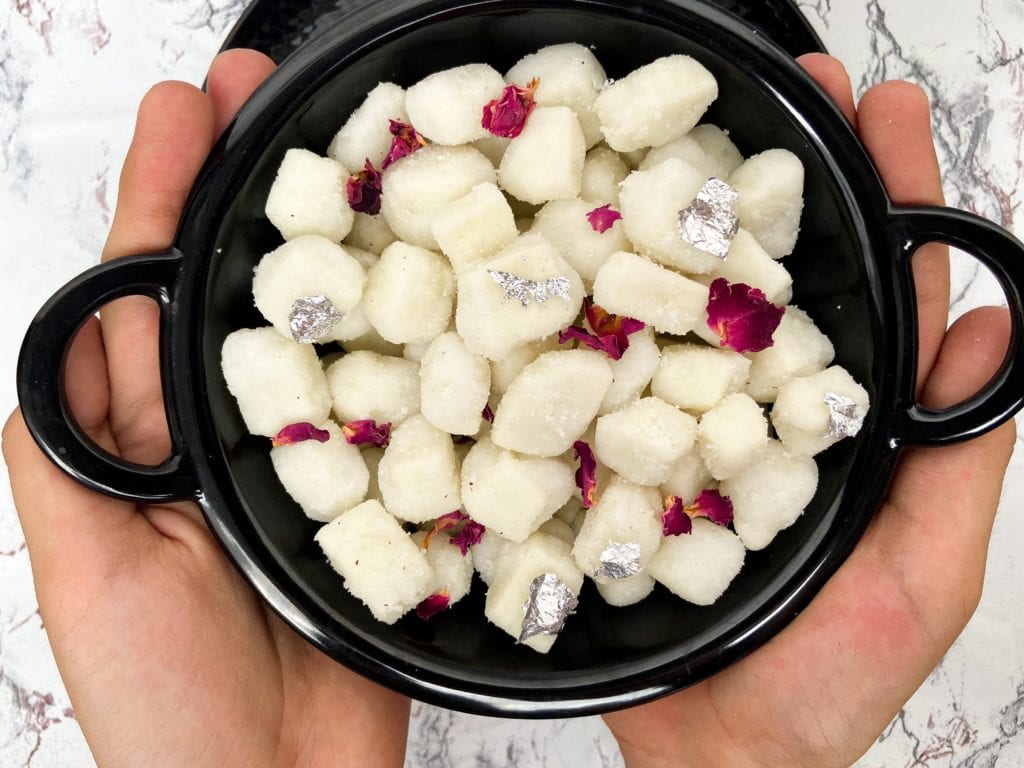 How to Make Chena Murki: Step By Step Instructions
Cut 300 gram paneer into small squares of equal size.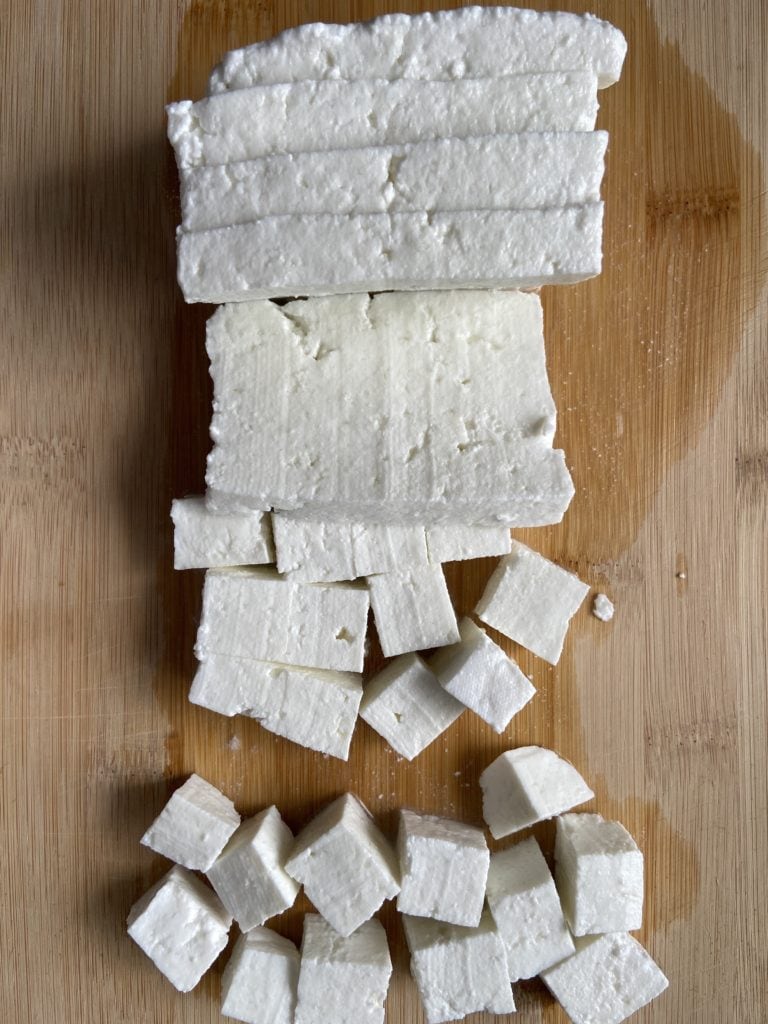 In a non-stick pan add 300 gram sugar and 150 gram water. Cook the sugar syrup on medium heat until the sugar dissolves, then bring it to boil. Make sure to stir it continuously so that it doesn't burn.
Note: when the sugar syrup starts to boil, if you find that your sugar syrup has impurities or is yellowish tone, add a tablespoon of milk and use a spoon to remove the "dirt foam" which will float to the top. If you use good quality sugar, you should get crystal clear sugar syrup.
Add the small paneer cubes to the boiling sugar syrup and cook it on medium heat while stirring gently and continuously so that the paneer absorbs the sugar syrup. The paneer will swell up a bit as it gets well coated with sugar.
Cook the sugar syrup until it achieves one string consistency. To check if the sugar syrup is ready or not, carefully add a few drops of it to a bowl and let it cool down. Now, test the syrup between your thumb and forefinger. if it forms a single long string that means it's done.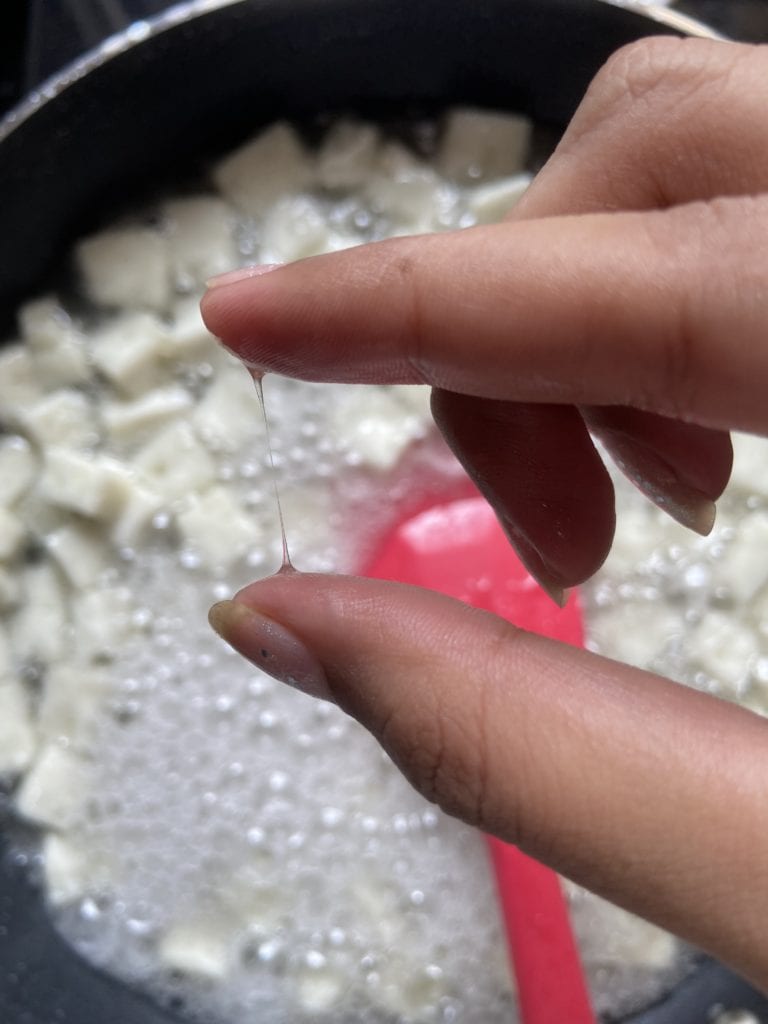 Turn off the heat and add 1 tablespoon of rose water.
Now, mix continuously so that the sugar syrup coats the paneer. Keep mixing it until the sugar is completely dried and completely coats the paneer. This step will take 4 to 5 minutes. Make sure you keep mixing it.
When the paneer is coated and the sugar has completely dried, sift out the extra sugar using a strainer with big holes.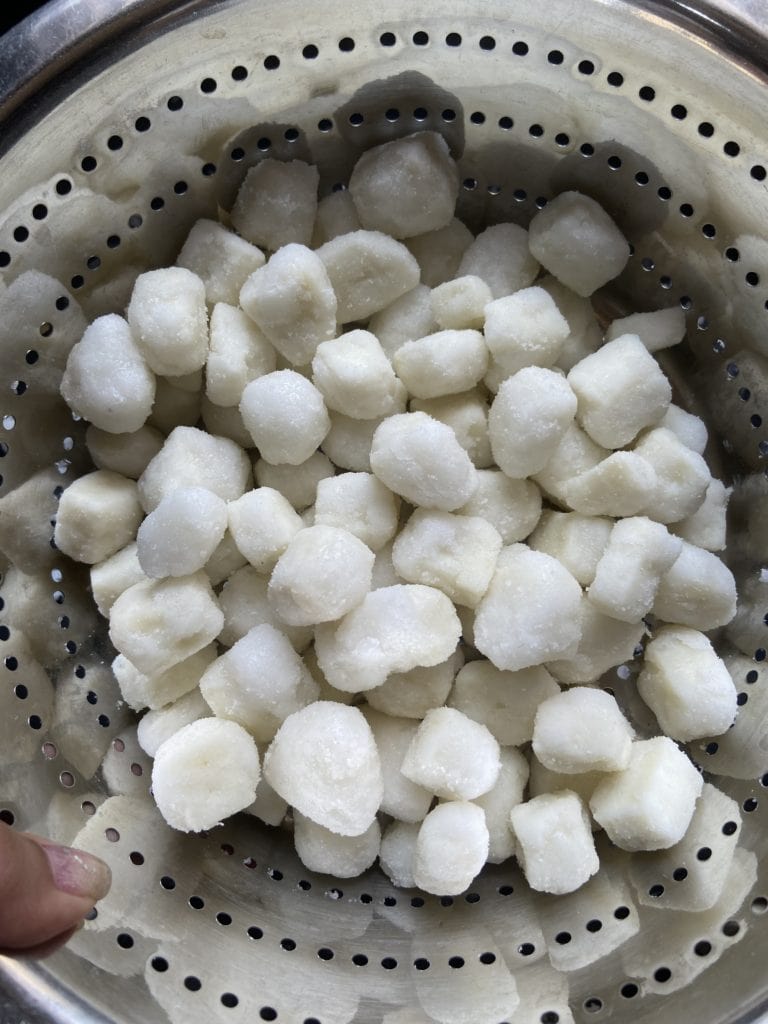 Now the chena murki is ready to serve! Store it in an airtight container in the refrigerator (if you keep it at rooom temperature too long, the sugar may melt).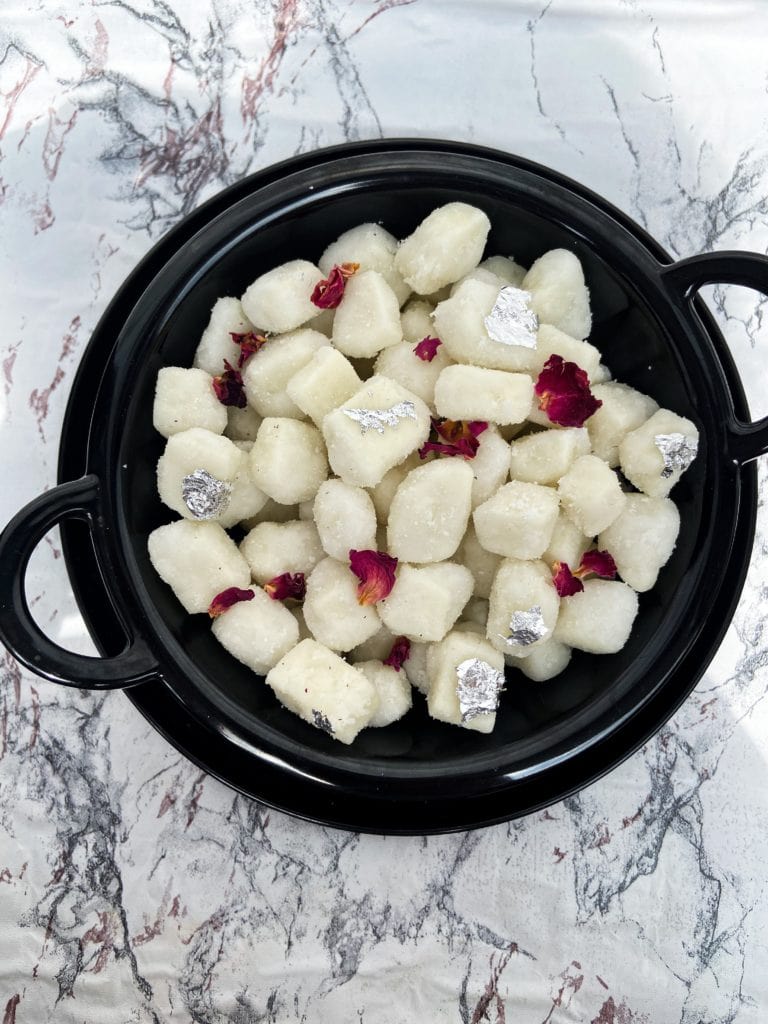 Do you have left over sugar in the pan? Use it to make more chena murki or add it to tea or coffee!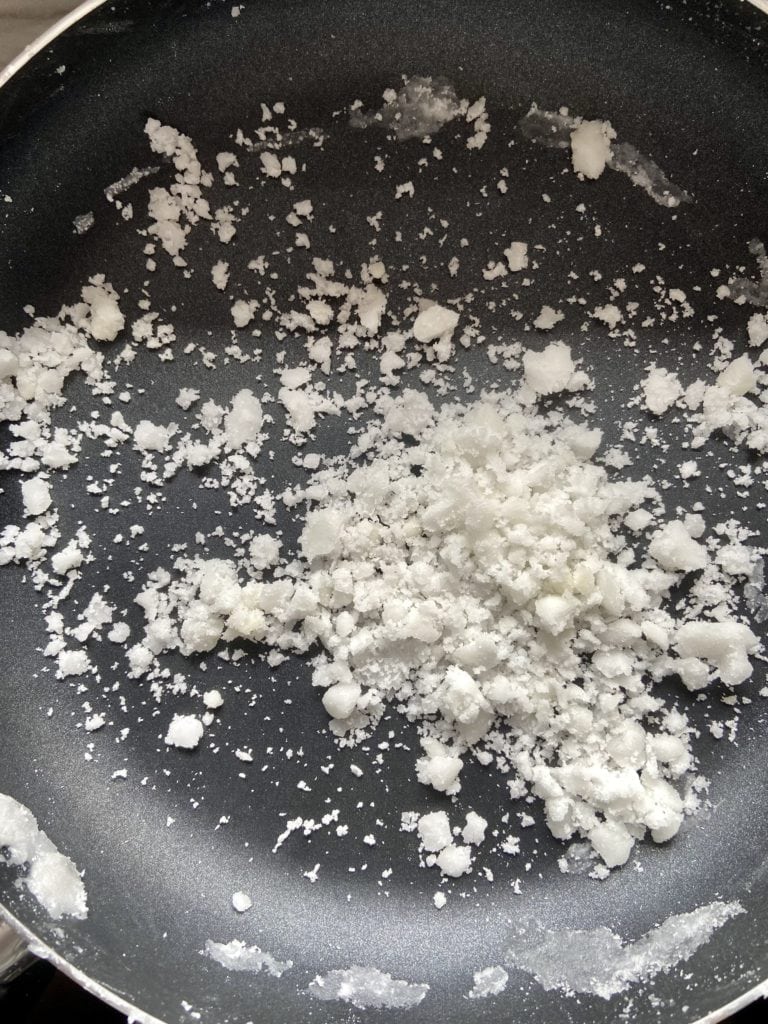 About Shelly
Hi, my name is Shelly Kaur. I am sharing my love for Indian food with the world at Shelly Food Spot. You can also follow me on Instagram.