35+ Easy And Delicious Dump Cake & Cobbler Recipes
This article may contain affiliate links. See our disclosure link for more information.
Looking for a super easy dessert recipe that only takes a few minutes to prepare and everyone will love? These easy dump cake recipes are guaranteed crowd pleasers!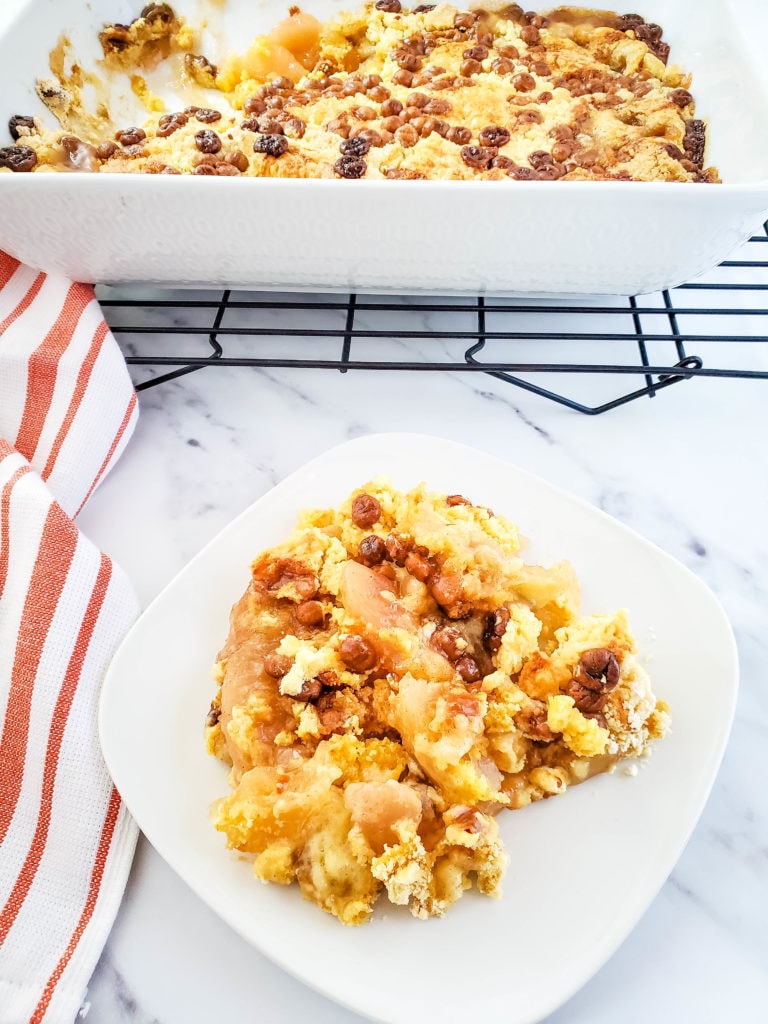 ✔️About Dump Cakes & Cobblers
Dump cakes and cobblers are the perfect stress-free homemade dessert. Most of preparation time is hand-off, you can get creative with flavors, and if you keep the main ingredients in your pantry you always have an easy dessert at the ready.
They're also two of the easiest desserts for first time bakers and kids.
To make a typical dump cake, all you do is dump the ingredients – typically a fruit base, topped with a layer of dry cake mix, and pats of butter (or melted butter, depending on the recipe) placed evenly on top of the cake mix – into a dish, bake, and then serve.
You can't get easier than that!
It typically takes about 5 minutes to prepare the cake and 45-50 minutes to bake in the oven. Dump cakes are delicious served right out of the oven with cool scoop of vanilla ice cream or whipped cream.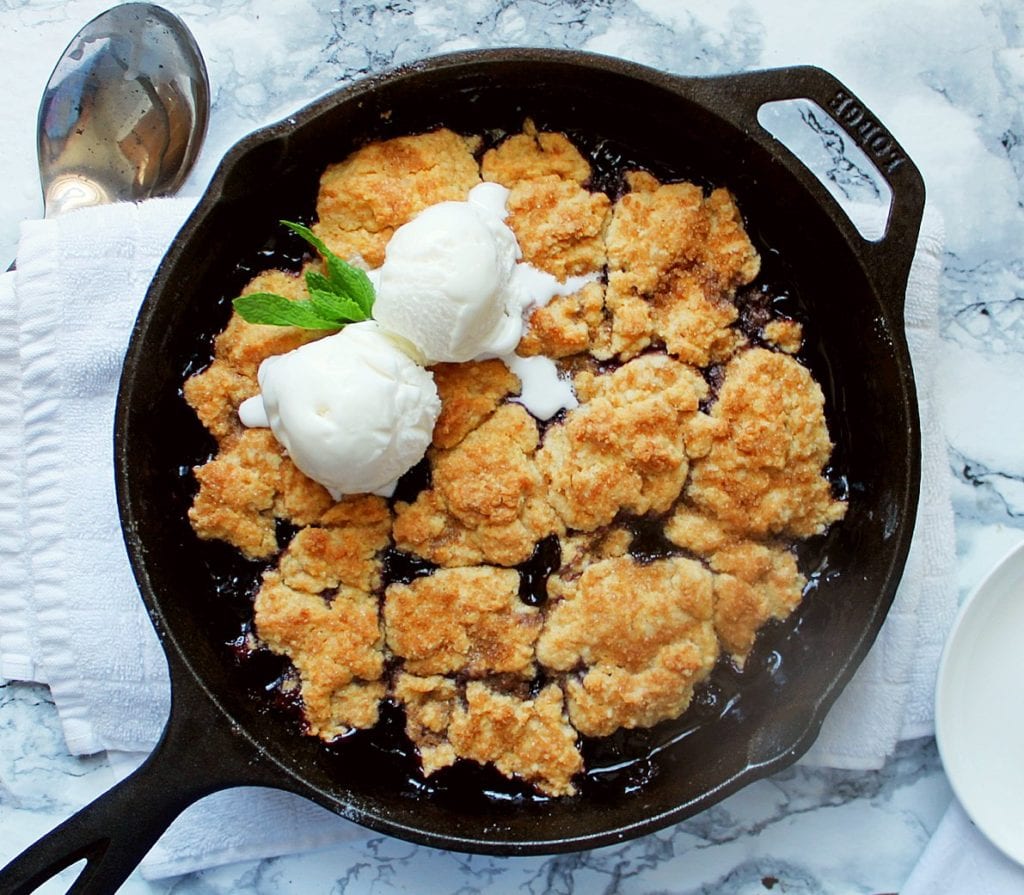 ❓FAQ
Why is it called a "dump cake?"Because all you need to do to make a dump cake is to dump the ingredients into baking dish and then put that baking dish in the oven! While you can create endless dump cake variations using different cake mix and fruit filling flavors, a few popular dump cakes flavors are:
caramel apple dump cake (canned apple pie filling + caramel bits + yellow cake mix)
peach dump cake (canned or fresh peaches + yellow cake mix)
funfetti dump cake (canned fruit + funfetti cake mix)
piña colada dump cake (canned pineapple + coconut cake mix)
black forest dump cake (cherry pie filling + chocolate cake mix)
blueberry dump cake (canned blueberry pie filling + butter cake mix)
What's the difference between a dump cake and dump cobbler?
Dump cakes and dump cobblers are very much alike. Generally speaking, both have a fresh or canned fruit topping layer under a cake-mix crust.
Cobblers, however, usually have more of a crumb topping compared to dump cakes. By defintion, dump cobblers have a fruit and a crumb topping layer.
Some dump cakes, on the other hand, have separate fruit and topping layers, while others are more cake-like with all ingredients mixed together before baking – like a German chocolate dump cake, which is typically made by mixing coconut, pecans, chocolate chips, and cream cheese with a chocolate cake mix.
Can dump cakes be made gluten-free, dairy free or vegan?
Yes! To make the recipe gluten-free, use a gluten-free cake mix.
To make the recipe dairy-free, use a dairy-free cake mix and dairy-free margarine or refined coconut oil.
For a vegan dump cake, use a vegan cake mix and vegan margarine or coconut oil.
Should I refrigerate my dump cake or cobbler?
Dump cakes are best served warm (with a scoop of ice cream!) but leftovers are best kept in the fridge. Let the cake cool to room temperature, cover with plastic wrap, and then place in the fridge for 5-7 days.
How long can my dump cake sit at room temperature?
An uncut cake can last up to five days at room temperature (about 72°F) if there's low humidity. However, once you've cut into your dump cake, store it in the fridge.
Should I use a cake pan, baking dish, casserole dish or a cast iron pan?
You can use any of those to make a dump cake.
Can I bake my dump cake in a crockpot or just in the oven?
You can use either one!
Should I use fresh fruit or cans of fruit?
You can use either one. Canned fruit or canned pie filing is the easiest way to go. If you use fresh fruit, you'll want to add a little corn starch, white or brown sugar, and spices.
How should I serve dump cake?
The best way is to serve it warm with a scoop of vanilla ice cream! Whipped cream is also a perfect match.
Depending on the flavor you choose, you could also serve toppings such as chocolate or caramel sauce, chocolate chips, nuts, etc.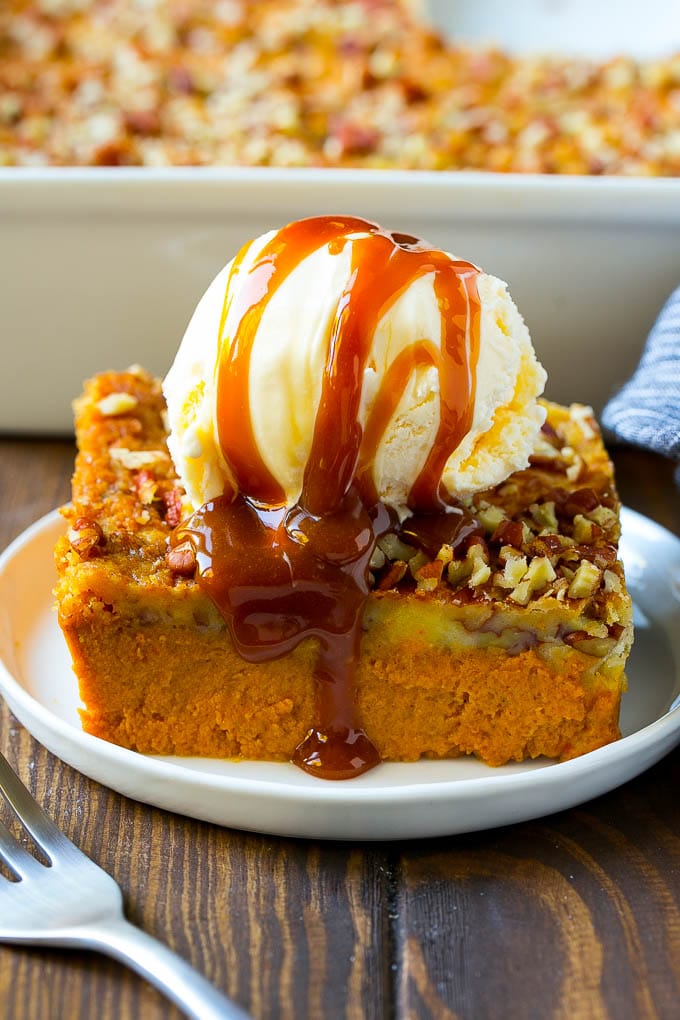 ? New to International Baking & Dessert Making?
Click here to download my FREE 9-Page Starter Kit so you can begin making delicious treats from Europe and beyond with confidence and ease! Or start with my 25 European Favorites cookbook. It's filled with easy and delicious recipes that are perfect for beginners.
? What You Need to Make This Recipe
General Ingredients:
Cake mix
Filling (fresh fruit, canned fruit, canned pumpkin, etc)
Salt & spices
Butter (or margarine or coconut oil)
Sugar
Mix-ins: vanilla extract (or other extracts or alcohols), nuts, caramel bits, chocolate chips, etc
Optional toppings: ice cream, whipped cream, nuts, chocolate chips, sprinkles, sauces
General Kitchen Tools:
Mixing bowl
Slow cooker or oven
Cast iron pan or baking dish (if baking in the oven)
Ladle for serving
Plastic wrap for storing
? 35+ Best Dump Cake Recipes
To help you find the dump cake or cobbler that will become one of your family favorites, here are 35+ easy and delicious dump cake recipes.
Some are classic recipes, others are new takes on the quintessential dump cake. All only require a handful of ingredients and are wonderful cakes for any time of year.
Welcome to the deliciously wonderful world of dump cake and cobbler desserts!
Photos are used with permission from the contributors to this round-up.