Lime Pie Mexican Paletas (Creamy Lime Mexican Ice Pops)
This article may contain affiliate links. See our disclosure link for more information.
These super easy Mexican ice pops are creamy, crunchy, and full of lime flavor. Perfect for summer!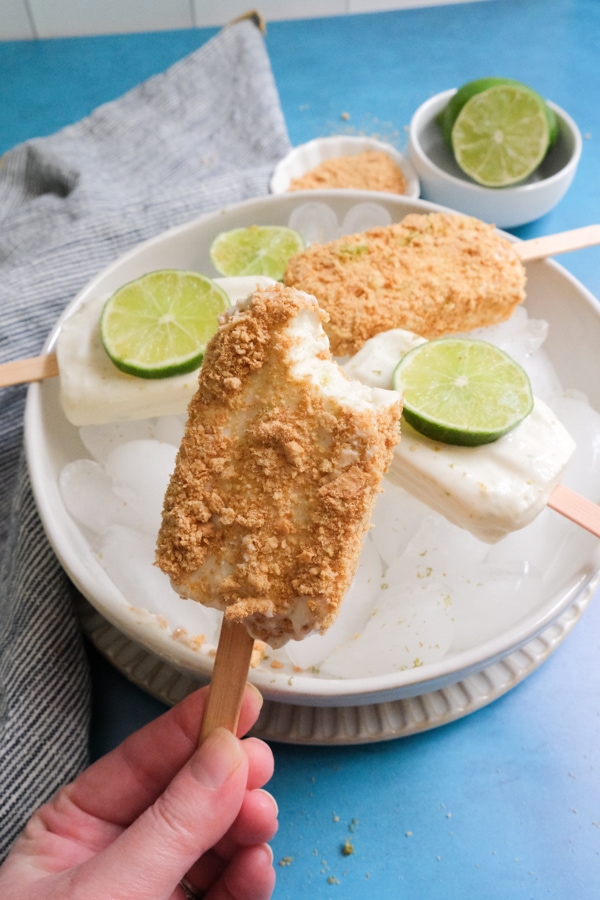 North Carolina is hot and steamy for several months of the year, so I make paletas (ice pops) all the time…along with single-serve no churn ice cream, and German Eiskaffee. These types of treats are quick, cooling, and easily served in individual portions, which make them perfect for a crowd or solo snacking!
The first paletas I made for the IDB were these Strawberry Cream Paletas. They're made with Greek yogurt, so if you're looking for a healthy paleta treat, definitely try that one.
I then made Lemon Curd, German Rote Grütze, and French Hot Chocolate paletas. So good!!

This year I wanted to know more about how to make authentic Mexican Paletas and try out some new flavors, so I bought the book Paletas: Authentic Recipes for Mexican Ice Pops, Shaved Ice & Augas Frescas by Fanny Gerson.
It's such a great cookbook! Lots of recipes, beautiful photos, and cultural culinary information, like…
Or that paletas are popular all over Mexico?
Did you know that the word paletas comes from "palo," which means stick?
Or that there are 2 kinds of paletas: paletas de agua (water-based ice pops) and paletas de crema (cream or milk-based ice pops)?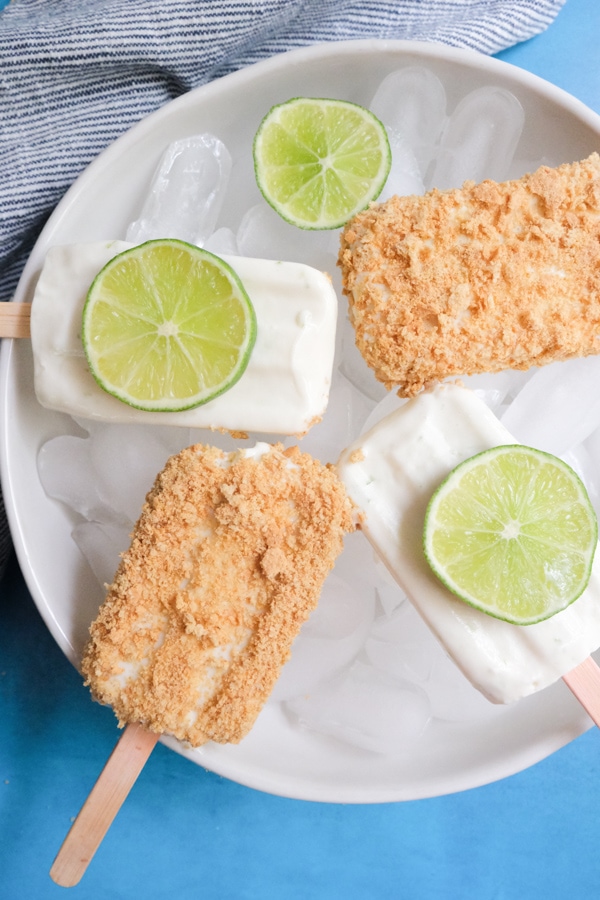 Creamy Lime Paletas 3 Ways
The recipe I'm sharing here is adapted from a recipe in Fanny's book. These paletas are the paletas de creama kind, made with half-and-half, sweetened condensed milk, fresh lime, and dipped in graham cracker crumbs.
Or, if you prefer, you can leave the graham cracker crumbs off and simply enjoy creamy lime ice pops. They're delicious either way.
If you don't want to make paletas, you can also simply pour the paleta mixture into a dish and freeze it — then you've got no-churn creamy lime ice cream! Scoop it into a bowl and top with graham cracker crumbs…so good.
I tried all three ways and each one amazing. You really can't go wrong! Whether you make no-churn ice cream or the more traditional paletas, you'll love this recipe.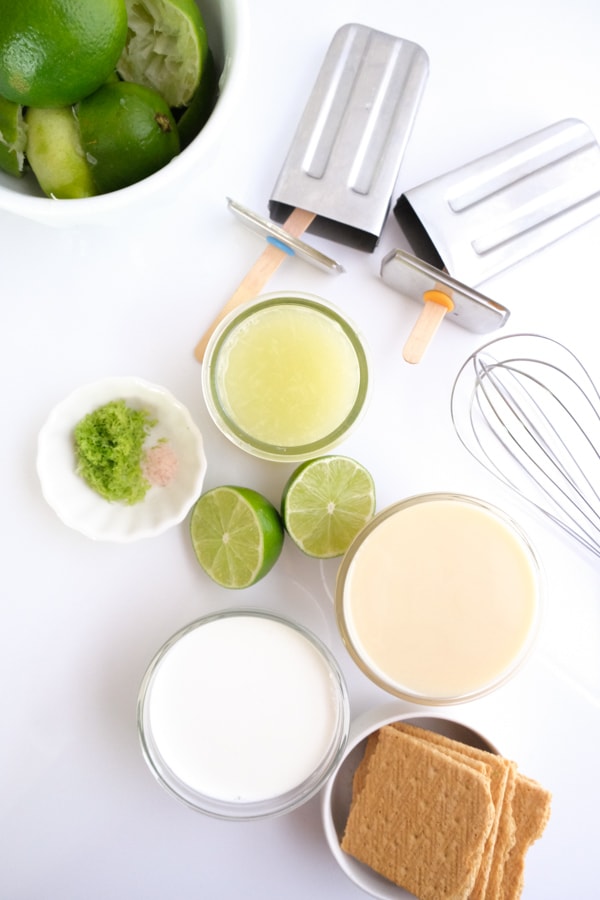 What You Need to Make Lime Pie Paletas
Ingredients:
Sweetened condensed milk
Half-and-half
Fresh lime juice & zest
Pinch of salt
Crushed graham crackers
Kitchen Tools:
Mixing bowl
Whisk
Measuring cup with a spout
Measuring cups/spoon or scale
Paleta molds (I love these!)
Tips:
Use a measuring cup with a spout or a funnel to pour the mixture into the paleta molds.
Leave a little empty space at the top so there's room for the paleta mixture to expand as it freezes.
You can use any ice pop mold you have (I love and use these). No ice pop molds? Use a shot glasses or an ice cube tray.
You can also simply pour the paleta mixture into a dish and the scoop it like ice cream out once frozen.
Since these paletas are creamy, they tend to melt quickly. As soon as you unmold and then dip a paleta in the graham cracker crumbs, serve immediately or place back in the freezer.
You can store paletas in plastic sleeves (like these) or wrap in plastic wrap.