Are you considering a stopover in Iceland?
If you're short on time (or cash – let's face it, Iceland is expensive), a long layover on your way to or from Europe can be the best way to see Iceland.
Whether you've got 24, 48 or 72 hours for your stopover, you'll find helpful tips and info in my guide to an amazing Iceland holiday.
A few years ago I spent two days in Iceland on my way back from a quick work trip to the Netherlands. I'd initially planned to just fly in and out of Amsterdam's Schiphol airport for my client meetings, as usual. But then I discovered that the least expensive flight (by far) was on Icelandair.
So I happily took advantage of Icelandair's free stopover option and quickly put together a last-minute 48-hour Iceland sightseeing trip on my way back to the US.
I'd longed to visit Iceland since I was a teenager, so it was awesome to finally see this beautiful country!
If you're wondering if Iceland is worth a stopover or what Iceland is like in the summer, read on! This post is long but I want to give you as much information as possible so you can plan the perfect stopover.
In this post I share:
What I did during my 2 days in Iceland (Reykjavik and the Golden Circle)
What I ate (including Icelandic desserts!)
Tips for booking a stopover
Stopover itineraries
How to get to and from Reykjavik from the airport
What to wear in Iceland
My Iceland travel and money saving tips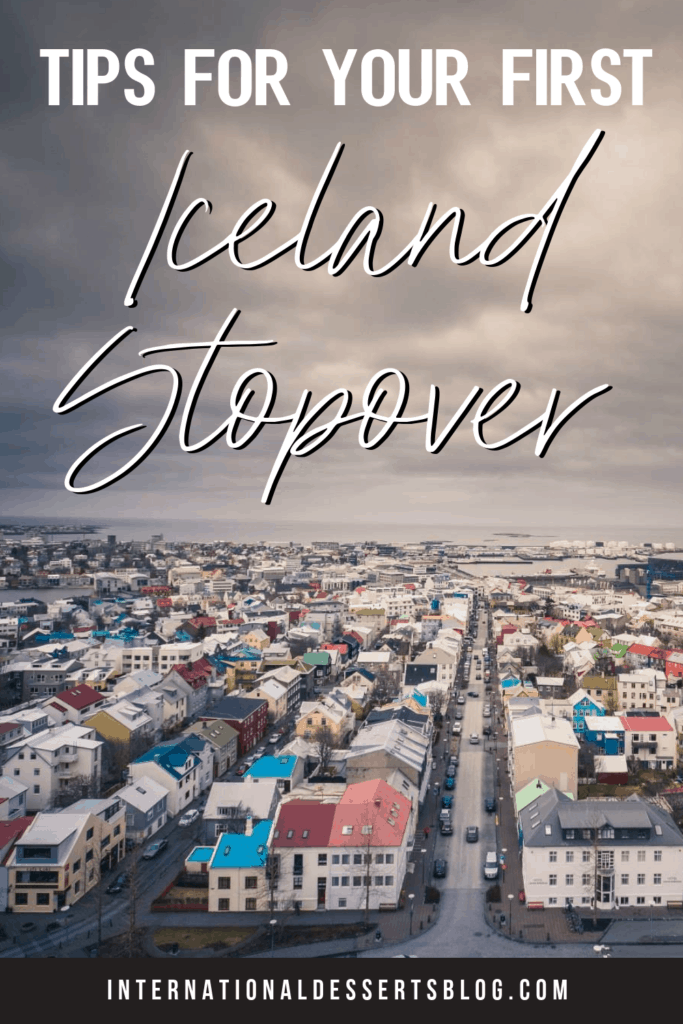 Getting to Iceland
On my way to Europe I flew Icelandair Boston-Reykjavik-Amsterdam (Jetblue from Raleigh to Boston) and the reverse on the way home. The Icelandair stopover was free, meaning there were no additional airline fees for stopping in Iceland between flights. You can spend up to 7 days in Iceland on a stopover.
When I booked my Amsterdam-Reykjavik-Boston-Raleigh stopover flights, prices varied quite a bit depending on the day and time of the flights in and out of Reykjavik. My work was supportive of the stopover as long as the flights were the same price as without a stopover, so I priced out a direct route from Amsterdam to Raleigh, and then looked for a stopover fare that was the same price.
Fortunately, I found a set of flights that were the right price, decent flight times, and gave me 2 full days in Iceland. Had I had more flexibility with price – or if I'd booked earlier when there were more options available – I could have easily spent 3 or more days in Iceland.
I highly recommend booking your flights as early as possible so you can select the best flight times for the lowest price.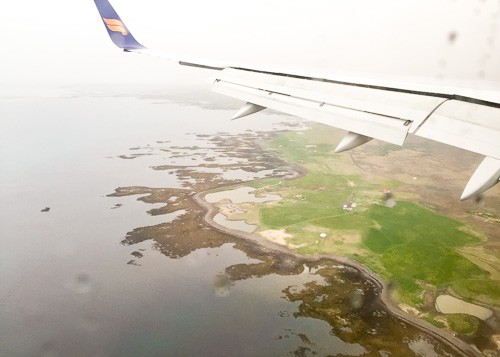 How was Icelandair?
Great! This trip was my first time flying Icelandair and I enjoyed the flight experience. What I liked:
I didn't have to pay anything extra to reserve a window seat (I'm looking at a minimum of $40 per seat on my upcoming trans-Atlantic SAS and Austrian Air flights – ugh)
Everyone was friendly and helpful
We took off and landed on time
I had a decent amount of space in coach
I had no problem stowing my carry-on suitcase in the overhead bin and my backpack under the seat in front of me
Good selection of movies to keep me entertained when I couldn't sleep
The how-to-drive-in-Iceland videos available were also entertaining
Since I've always flown in large two-aisle planes on my trans-Atlantic flights it was a bit odd to board a single-aisle 737. But the flight is only about 5 hours from Boston so it wasn't bad. Compared to cross-country flights in the US, my Icelandair flight was quite comfortable.
Warning: you do, however, have to pay for everything except for one beverage during the flight if you're in coach, but the food was actually pretty good (I had Skyr for breakfast on my first flight and then a salad for lunch on my second). Bring drinks and snacks with you!
You can check out the food selection here, and on some flights you can even pre-order your meal when you book your flight.
Getting from Keflavik Airport to Reykjavik with Flybus
I started my stopover on my way back to the US after my Amsterdam-Reykjavik flight. Once I picked up my suitcase (I had to check it since it was a smaller plane, even though it would have fit in the overhead bin), I stopped at the ATM, grabbed a snack at the airport store, and then went outside to catch my shuttle into Reykjavik.
I purchased a round-trip Flybus airport shuttle ticket online before arriving in Iceland. You can buy a ticket onsite (even on the plane) but for ease and peace of mind I find it's easiest to book ahead of time! You can cancel up to 24 hours in advance.
As everyone streamed out of the airport after our 11pm arrival, we were all guided to several shuttle busses waiting right outside the terminal building. They time the shuttles perfectly with arriving flights so it's all super easy. It takes about 45 minutes to get to Reykjavik but there's wifi on the comfortable bus and the view is scenic.
The shuttle dropped everyone off at the main bus station across from the regional airport and we all then transferred to mini busses that drove us right to our hotels. As it turned out, I could have easily walked to my hotel from the bus station but it was still nice to be dropped off at the front door since I didn't arrive in Reykjavik until after 1am.
When I returned to the airport a couple days later I walked to the main bus station, boarded the waiting shuttle, and went right to the airport.
I highly recommend booking a shuttle into Reykjavik from the airport. Reserve your one-way or roundtrip airport transfer here.
What's Iceland Like in the Summer (June)?
My mini Iceland vacation started with an easy 4-hour Icelandair flight from Amsterdam to Reykjavik. When we took off, the sun was setting in Amsterdam but as we flew towards Iceland, it just kept getting lighter and lighter and lighter, thanks to it being just a few days from midsummer.
When we landed in Reykjavik at 11pm it was still completely light outside. Iceland daylight hours in June last pretty much all 24 hours!
Technically, the sun did set around midnight and then rise at about 3am but it's still VERY light during that time. I loved that there was so much Iceland daylight while I was there.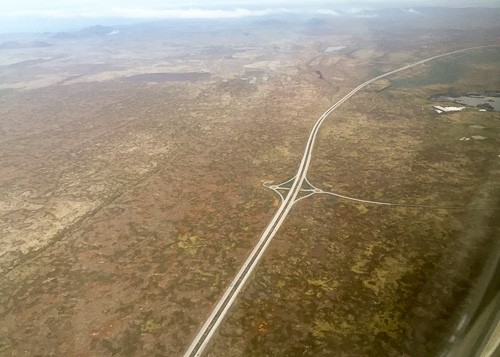 By the time I arrived at my hotel at 1:30am, this is what it looked like outside…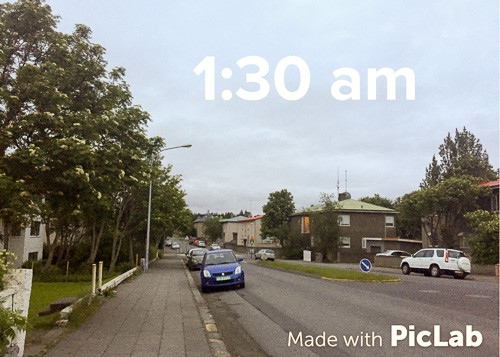 That's as dark as it got while I was there!
Was it hard to sleep in Iceland in summer?
For me, yes. But not because it was light outside when I went to bed! I wore a sleep mask that blocked the light, since my hotel only had sheer curtains. So that wasn't a problem.
It was more because my body just wouldn't get the message that it was time to wind down and go to sleep.
Even though I was tired, I just wanted to keep going and going and going. I didn't sleep very much during my stopover. That said, by the last day I felt like I was starting to adjust. Since I'd flown to Europe just a few days earlier, and only got a couple hours sleep one night while in the Netherlands, I think my body clock was just generally mixed up.
With regards to the weather in Iceland in June, both days were full of gray skies, some wind, and periodic rain. It was chilly enough that I wore jeans and a light coat on both days. But it didn't really matter! I dressed in layers, wore my rain jacket, and joined everyone else who was enjoying everything Iceland had to offer.
The sun did come out at 11pm on my third and final night in Reykjavik. Since I couldn't fall asleep, I went outside for a lovely walk around the quiet neighborhoods. The sky was blue and the sun hung low on the horizon. Beautiful!
What to Pack for Visiting Iceland in June
Layers, layers, layers! Since I was just playing tourist for a couple days I brought casual, comfortable clothes (jeans + t-shirts are my staples). The weather was mostly in the 50s/60sF with periodic rain and wind but the sun did come out a few times and warm things up.
Here's a shortlist of the items I'm super glad I packed:
Jeans (leggings or other comfortable pants that will keep you warm when it's windy and rainy but won't make you roast when the sun comes out would be good alternatives)
Comfortable walking shoes – I love my merino wool shoes
Merino wool cami – I always wear these when I travel!
A couple t-shirts
A couple long-sleeved shirts
Cotton jacket (for warmth)
Gortex rain shell (to keep the wind and rain off, since I never use umbrellas)
Lightweight scarf (so nice when it got windy – I wish I'd thought to get one of these scarves, though).
Eye mask (my hotel only had sheer white curtains on the windows)
Ear plugs (I'm a light sleeper)
I brought other items, of course, and you can see my full packing list for Europe right here.
Day 1: Reykjavik in the Rain
I had 3 nights and 2 full days in Iceland, so I decided to spend the first day in Reykjavik. I left this day wide open for 2 reasons.
First, I knew I'd be exhausted from the international travel and work meetings from the previous few days, as well as arriving at my hotel in Reykjavik at 1:30am. I don't think I fell asleep until close to 3am that first night.
Second, I needed to be back at my hotel in the late afternoon because I was being interviewed for a podcast. So the day-tour options I was looking at were out of the question.
After sleeping in and getting a little work out of the way in the morning, I walked down to the main shopping street in Reykjavik to look around.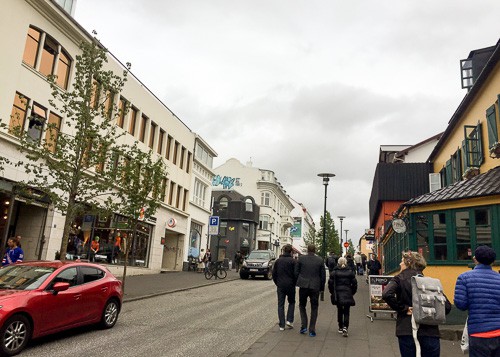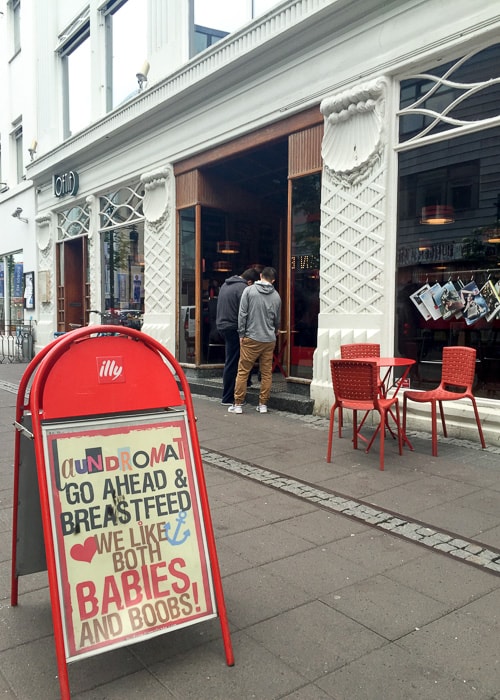 I found a cute little juice bar called Lemon and grabbed an Icelandic Flirt smoothie (bláberjaskyr, strawberry, raspberry, apple) and a Mozzato sandwich. The food was tasty and reasonably priced, and the cafe was a comfortable place to relax.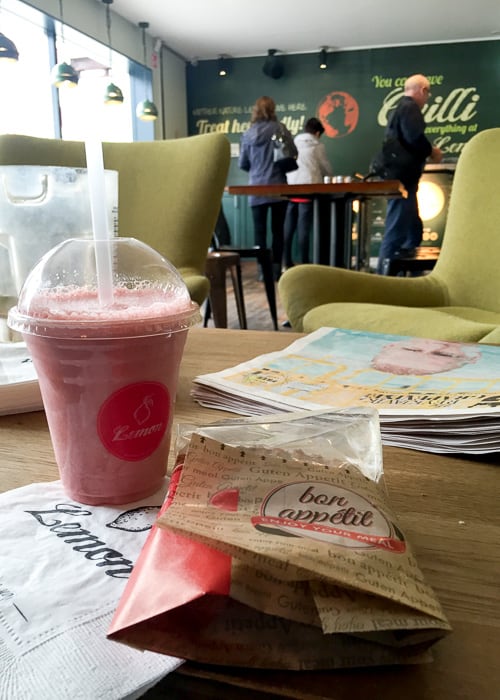 It was a cloudy day with periods of wind and rain but there were still lots of people outside. In the town square I found people sitting at picnic tables watching a World Cup game. I love being in Europe during the World Cup!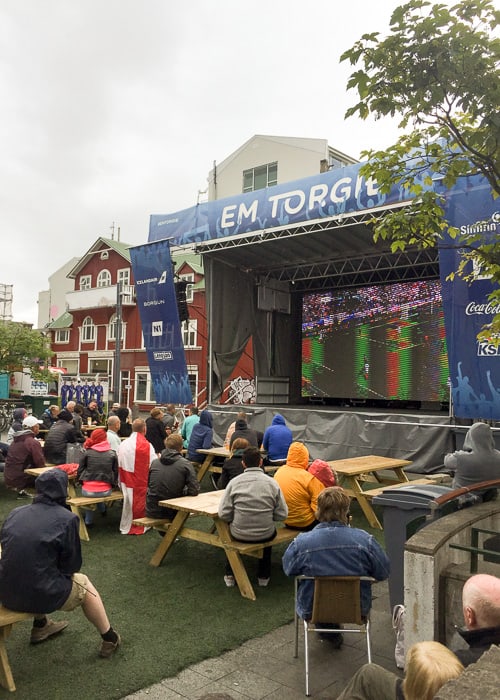 I then walked to the harbor and immediately wished I'd booked a whale watching tour. I'd just missed the last tour of the day by about 30 minutes. Arg. Had I thought about it earlier, I could have easily added this 3-hour whale watching tour to my Reykjavik day. Bummer!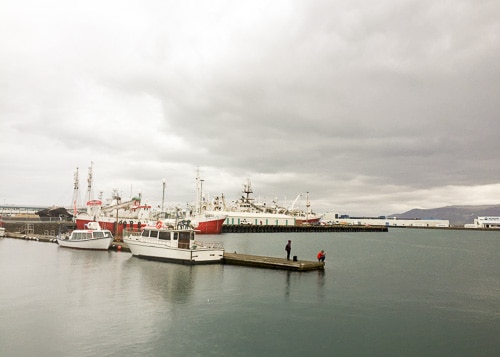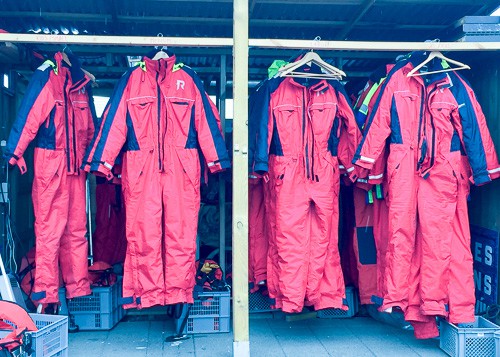 I wandered back downtown, bought the most expensive cup of tea I've ever had (Iceland isn't cheap!), and picked up a cup of creamy Icelandic soft serve.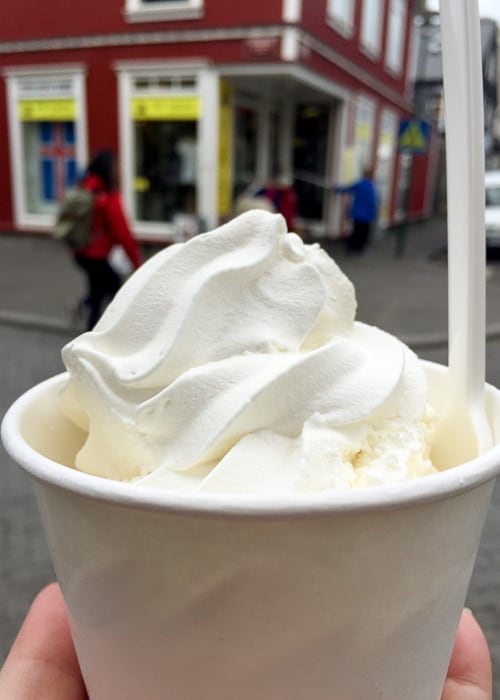 I spent the next hour or so walking up and down side streets. One of my favorite things to do in a new city is just wander around and see what I find…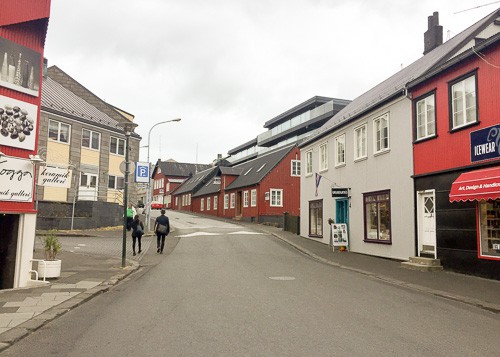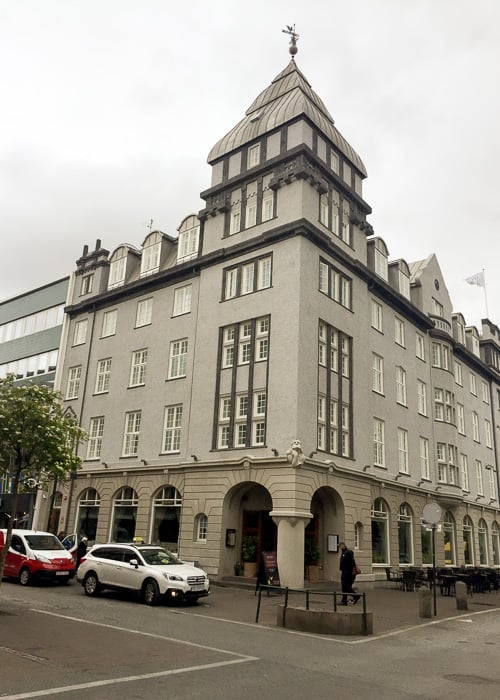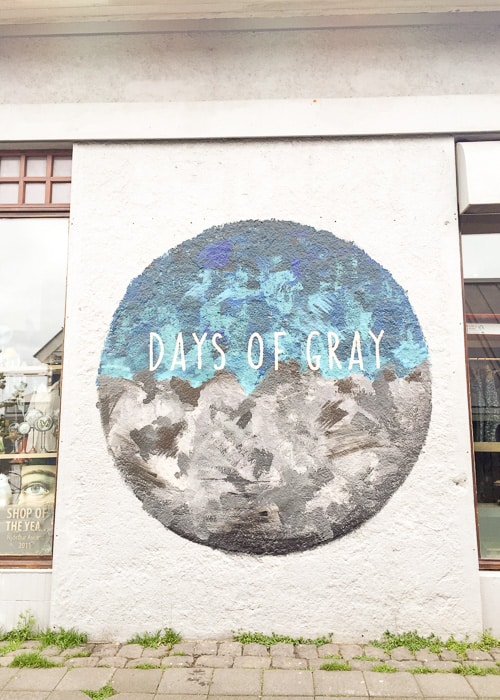 I grew up in the Pacific Northwest, so I could relate to this mural. ?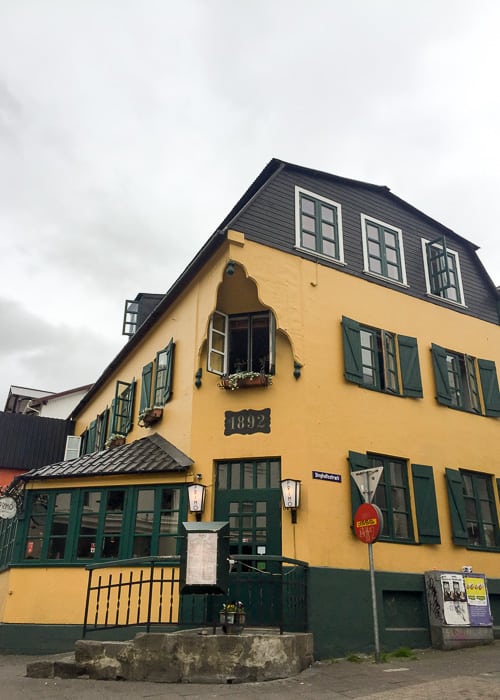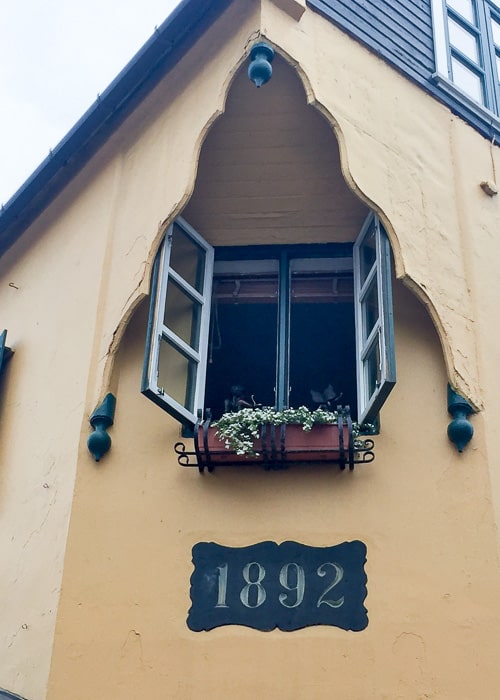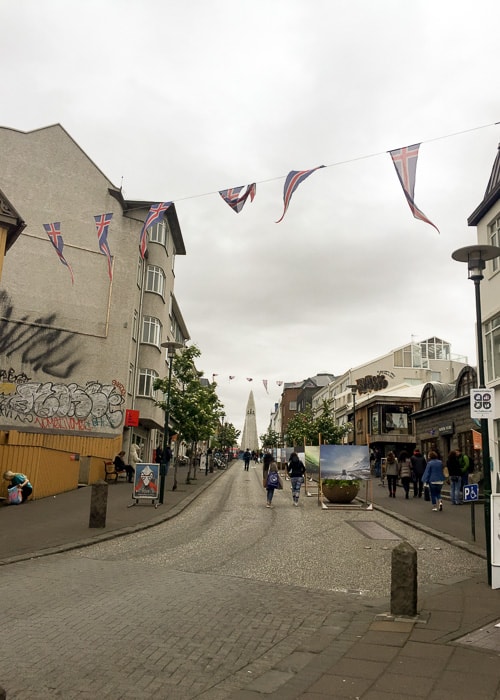 The next day was National Day so there were Icelandic flags everywhere!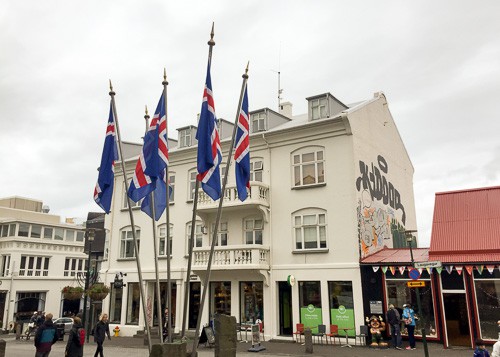 After popping into several shops downtown and buying a beautiful turquoise Icelandic wool scarf, I walked to the Hallgrímskirkja church and rode the elevator to the very top for amazing views of the city, sea, and mountains! The church is open every day from 9am-5pm. The visitation deck costs 400 ISK for adults and 100 ISK for kids 7-14. It's definitely worth a trip to the top!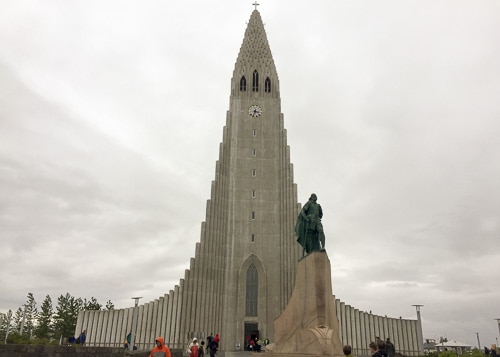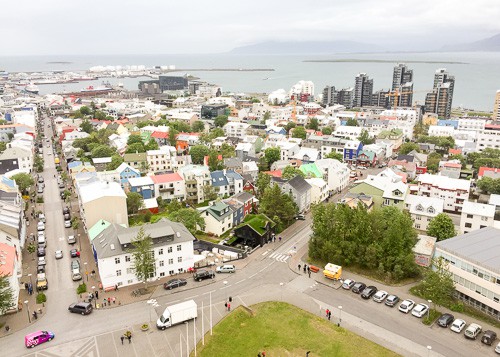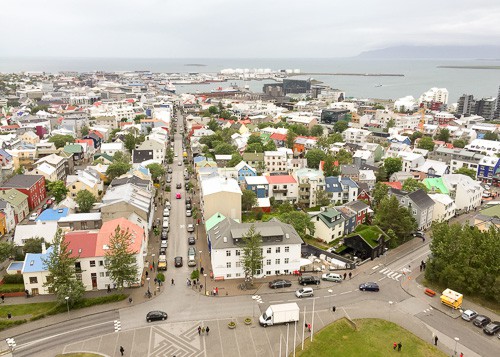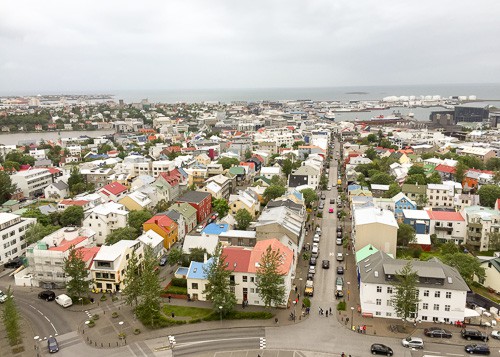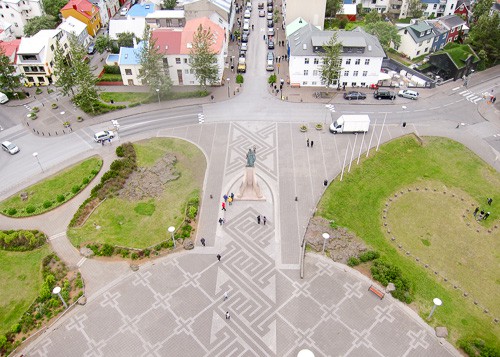 On the way back to my hotel I stopped at a little shop and ate the most delicious fresh fries with garlic sauce. It had started raining and those hot fries really hit the spot. So good.
Then I dropped by a grocery store for fruit, water, Skyr, and a selection of Icelandic chocolate bars to take home with me (click here to read my review of 9 Iceland candy and chocolate bars).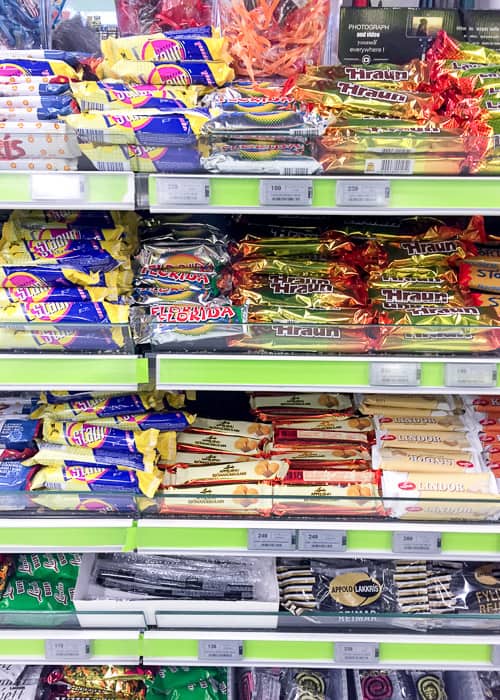 I was boring and stayed in the rest of the night so I could finish some work, get ready for my interview, and rest up for my Golden Circle Tour the next day.
All in all, I spent about 5-6 hours walking around downtown Reykjavik on that first day, and while I got a good overview of the downtown area, next time I'll definitely plan some activities, such as whale watching or a food tour. Overall, it was a great first day in Iceland!
Here are a few ideas for a day in Reykjavik (I wish I'd known about these options before my stopover!):
Day 2: Golden Circle Tour
My second day was Golden Circle Day. I'd planned to book a tour that used small mini busses but they were closed because it was Icelandic National Day. So, I booked with a larger tour company that used regular sized busses, which actually ended up working out well. Our driver was hilarious and shared tons of cultural and historical information, as well as many jokes. He made the tour a lot of fun. The tour cost 9,900 ISK (they offer discounts for kids) and started at the bus station. If you take one of these tours, make sure you arrive on time. A couple joined my tour after just missing their bus. Lucky for them we had a couple extra seats!
I started the day with Skyr…I ate a lot of Skyr during my 48 hours in Iceland. Yuuuuum.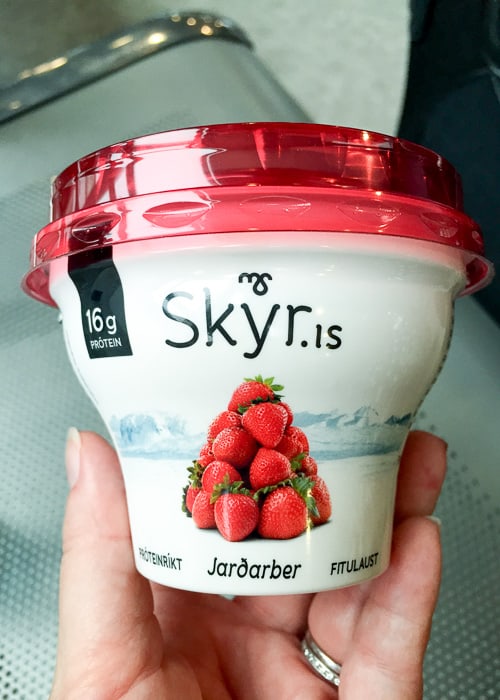 Our first stop was a farm that grew hydroponic tomatoes but I was more interested in the Icelandic horses. Just look at this guy! Next time I'm definitely spending more time with them.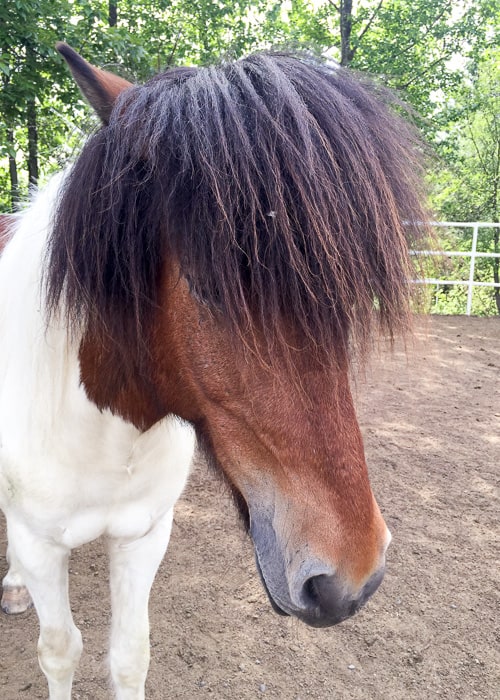 After the farm we got back on the bus and traveled to the Geysir geothermal area.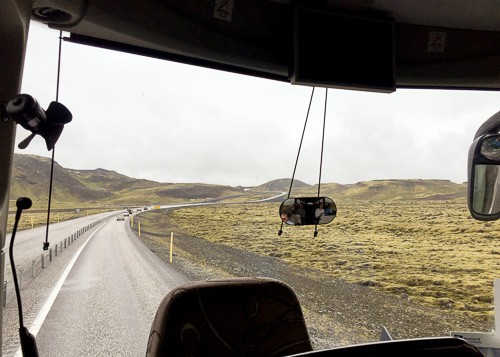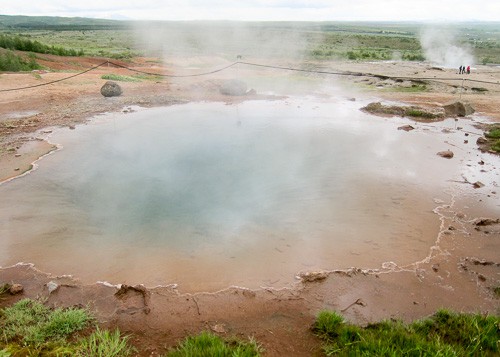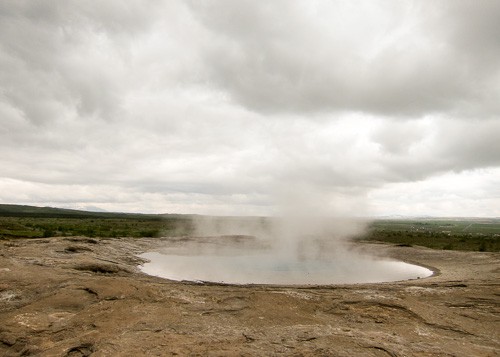 We had enough time there for (a very expensive) lunch and a short hike.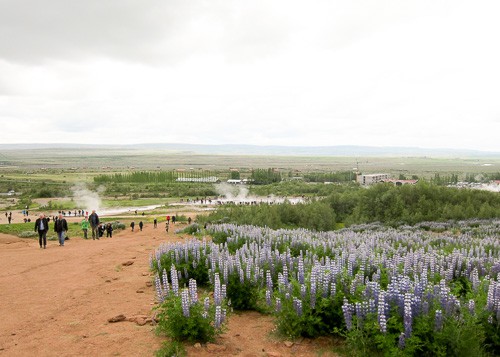 Then it was back on the bus so we could drive over to the Thingvellir National Park. There was wifi on the bus so I texted my mom and husband photos in-between our stops. Since I was traveling solo, it was fun to share with them what I was doing and seeing during the day.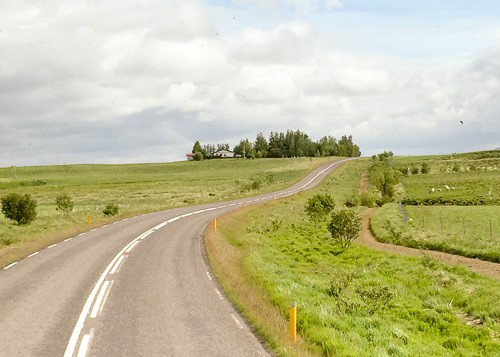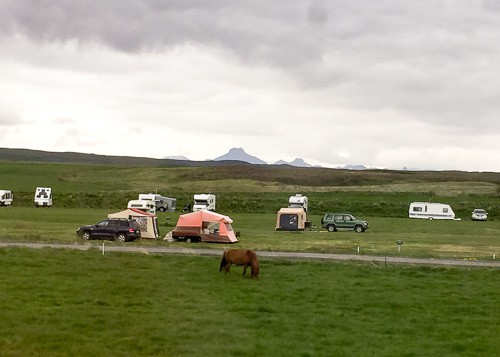 On my next visit I'm so going camping!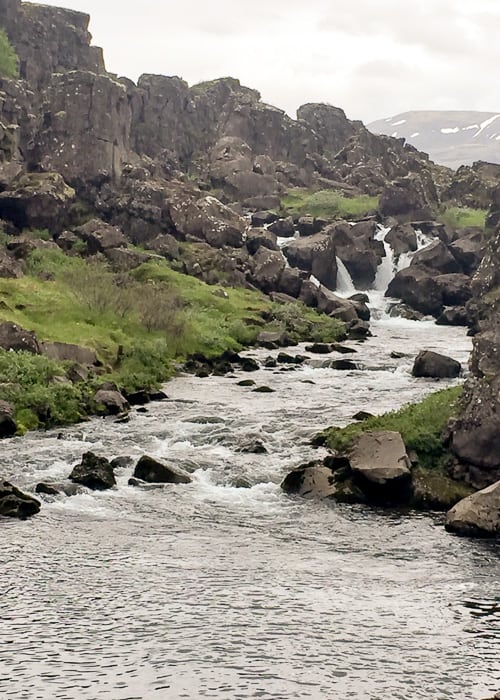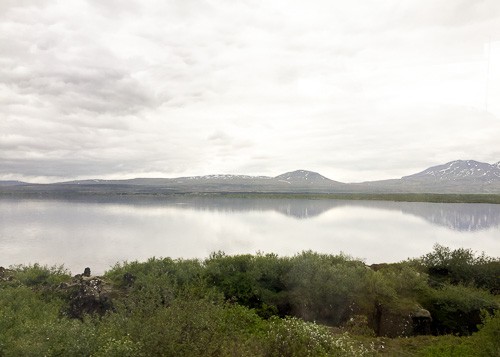 After seeing the sights I took a snack break to try these biscotti-like Icelandic cookies and sparking water (I think this one was apple flavored).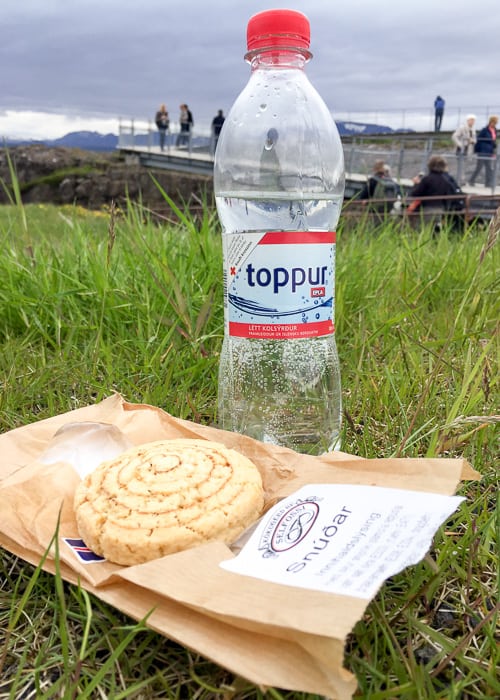 Our final stop was the Gullfoss waterfall. Wow! My photos just don't do any of these sights justice.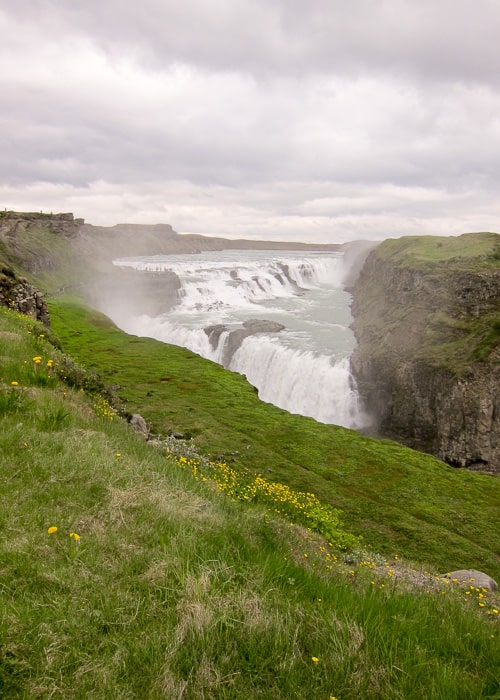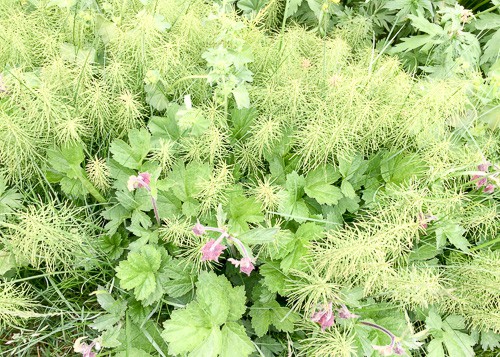 Our bus driver made several stops at hotels and various locations downtown so we could all easily get where we wanted to go after the day-long tour. I'm glad I went on the tour and got to see some of Iceland outside Reykjavik. If the Golden Circle doesn't interest you, local tour companies offer a variety of day trips. Or rent a car at the airport and create your own adventure!
After the tour, I found a cute Scandinavian restaurant and enjoyed a delicious salmon dinner…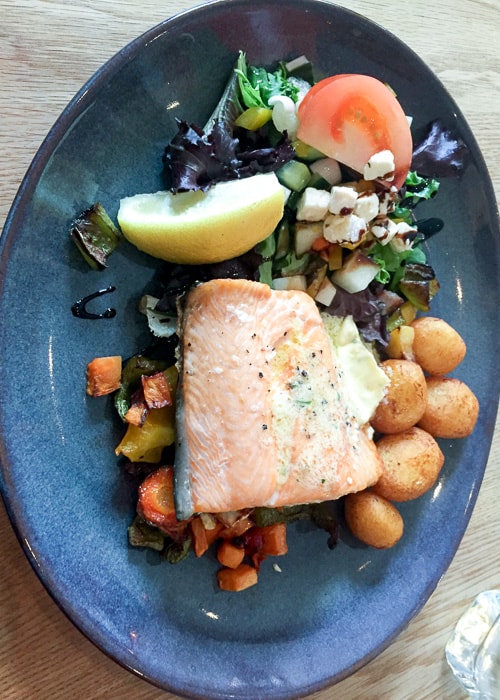 And since it was National Day, I also ordered their National Day dessert special – apple cake with berries and cream. Delicious! I scarfed this down and could have easily eaten three more slices.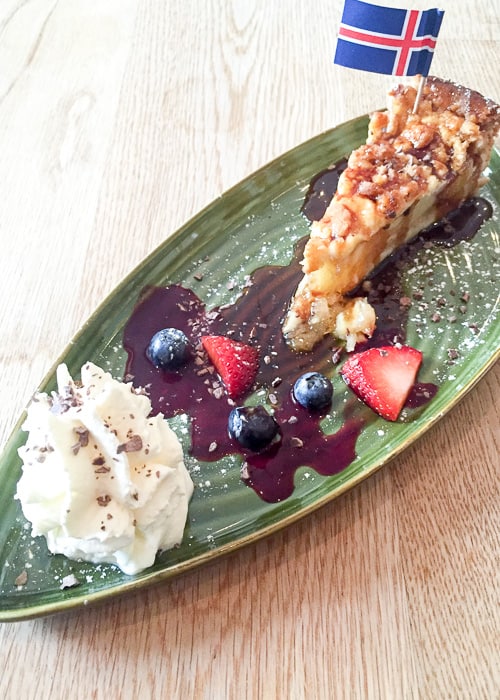 Later, when I couldn't fall asleep, I got up and went for a walk. It was around midnight and the sun had come out, the city was quiet, and it even warmed up a bit. A late night walk was the best way to end my short visit to Iceland.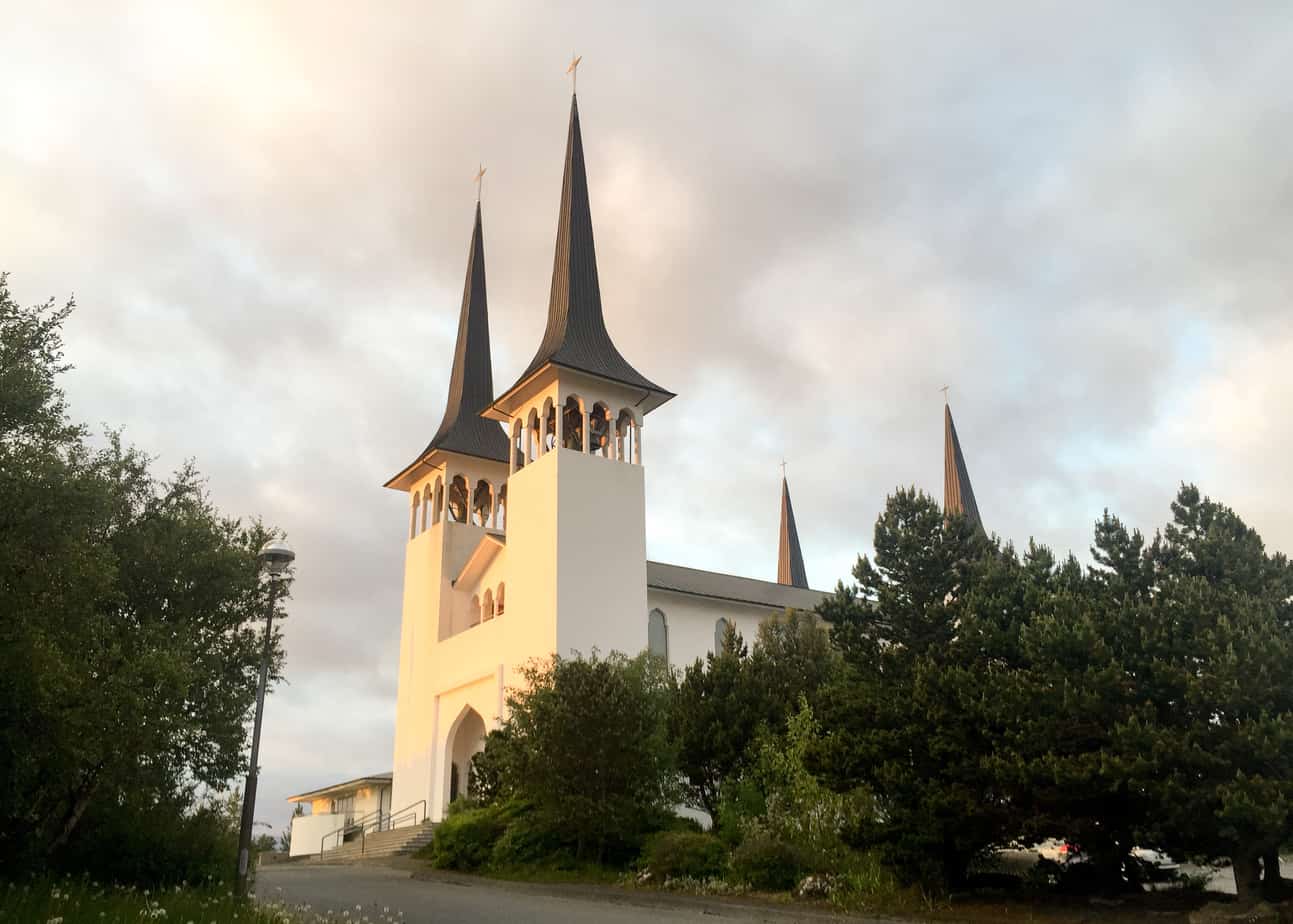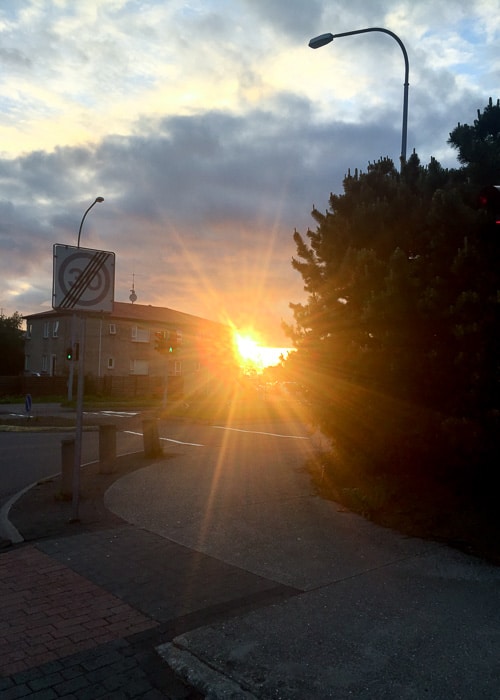 The next morning I was up early to catch my shuttle bus to the airport and then my morning flight to Boston. Had my flight left later in the afternoon or evening, I could have easily added a trip to the Blue Lagoon. Maybe next time.
You've probably heard that Iceland is expensive. Well, it's true! I spent more in 48 hours in Iceland that I have in a week – or even two – in other destinations. But there are ways to make Iceland more budget-friendly.
First, book your lodging early and stay a bit away from the downtown. I didn't have many options because I booked so last minute but I saved well over $100 by opting for a hotel that was a 10 minute walk from the main shopping street. The upside was that I could walk to the bus station, where I caught my Golden Circle Tour bus and the airport shuttle bus.
Second, you can minimize food expenses. I bought Skyr, fruit, and sparkling water at the grocery store for breakfast and snacks, and then picked up a couple sandwiches and fresh french fries for a couple meals. I did splurge on one dinner and enjoyed it immensely.
Third, go easy on the souvenirs. I bought a postcard that I later realized cost $4 and my handmade Icelandic scarf was definitely an investment. Worth it, though. It's gorgeous.
So you can do things to reduce expenses…or just make Iceland a splurge. 🙂
I'm so glad I decided to stop in Iceland on my way back to the US! Even though I was only there for 2 days, it was a nice introduction to a country I've been wanting to visit. I can't wait to return to Iceland for a longer trip.
Are you considering a stopover? I'd love to hear about your plans!