My Most-Used Kitchen Tools for Making International Desserts
This article may contain affiliate links. See our disclosure link for more information.
You don't need a lot of kitchen tools to make amazing international desserts, sweets, and snacks! But certain tools really do help you bake better.
I'm more of a minimalist when it comes to kitchen tools and rarely buy anything that won't get a lot of use. During the years I moved around a lot, was spending a lot of time outside the US, and had small kitchens, my kitchen tools were super basic. After buying our current house and baking more frequently, I've started investing in better kitchen tools.
I'm frequently asked what a beginning international baker needs in their kitchen, and so I thought I'd share the workhorse tools currently in my kitchen.
1. Mixing Bowls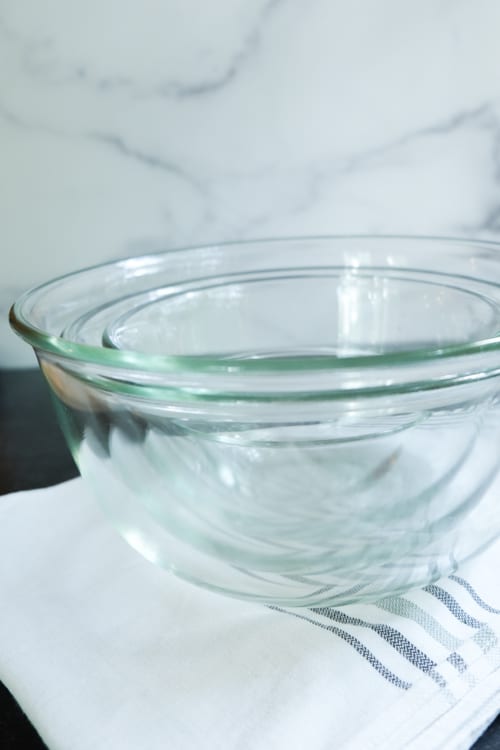 I bought a set of three simple glass mixing bowls after years of using a couple batter bowls for everything. I use these glass mixing bowls every single day for cooking and baking! I've thought about investing in a better set but I'll probably stick with these for now because I like knowing that if I break one, they're easy and inexpensive to replace!
2. Le Creuset Dutch Oven
My Le Creuset Dutch oven gets so much daily use that I just leave it on my stovetop! I got mine as a Christmas gift from my husband about 6 years ago and I LOVE it. It's held up well over the years, and when I did have a small problem with my Dutch oven, Le Creuset replaced it for free. I changed out the handle last year to a metal one so I could bake bread in it (which always comes out perfect).
3. Kitchen Aid Stand Mixer
My Kitchen Aid stand mixer is another workhorse in my kitchen. It's one of the few items I leave on the counter because I use it so frequently. My first "new house purchase" 13 years ago was my classic white Kitchen Aid!

One plastic knob broke off (which shouldn't be hard to replace) but otherwise, it's still going strong after all these years. I haven't gotten any of the extra attachments but the one thing I have been eyeing are their glass and patterned mixing bowls.
4. Mini Chopper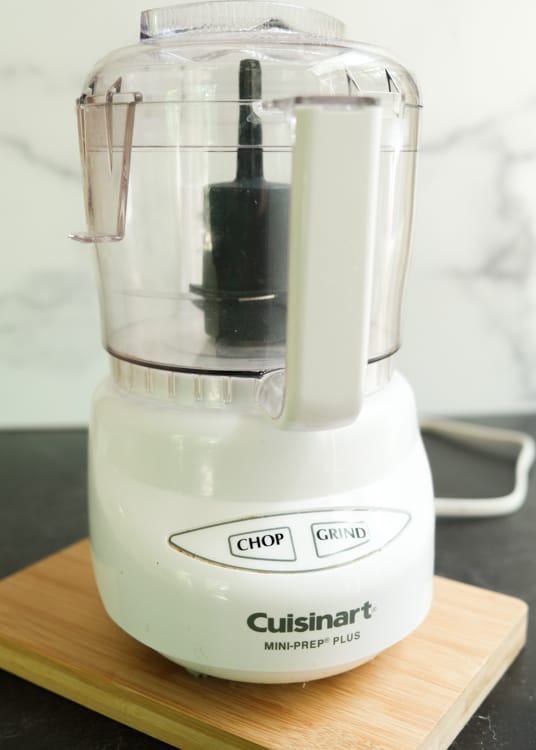 Ok, this is one of those kitchen tools I didn't think I needed. I mean, I have knives, so I can just chop everything up by hand, right? Well, yes. And I did that for many years because I cringed whenever I thought about dragging my large (and very loud) food processor out of the cupboard.

But then, a few years ago, I received this simple little Cuisinart Mini Prep Plus for Christmas…and now it's now one of my most-used kitchen tools! It's easy to pull out of the cupboard when I need it, it's not deafeningly loud, it chops, grinds and blends well, and I can wash it quickly and easily.
5. Quality Knives and Cutting Board
I still use the Wusthof knife set my husband and I received when we got married 20 years ago! And a paring knife I bought in Germany 25 years ago. It's worth investing in a good set of knifes that will last.
As far as the cutting board is concerned…I don't yet have a favorite. Over the years I've used several different kinds and haven't loved any of them, to be honest. So I'm on the look-out for a nice wooden cutting board/chopping block. I'll let you know when I find one that I like.
6. USA Pan + Silpat mat
For many years I used whatever was on sale at Target. The baking pans worked fine…until they warped or otherwise just looked terrible and fell apart. Once I started baking more frequently, I opted for USA Pan because of the good reviews I kept reading. So far, I've been very happy with the half-sheet, quarter-sheet, and square baking pans I have. I love the Silpat mats I have for my half-sheet and quarter-sheet pans.
I also frequently use a springform pan, square glass baking dish, and a 3-cup glass pyrex dish.
7. UNpaper Towels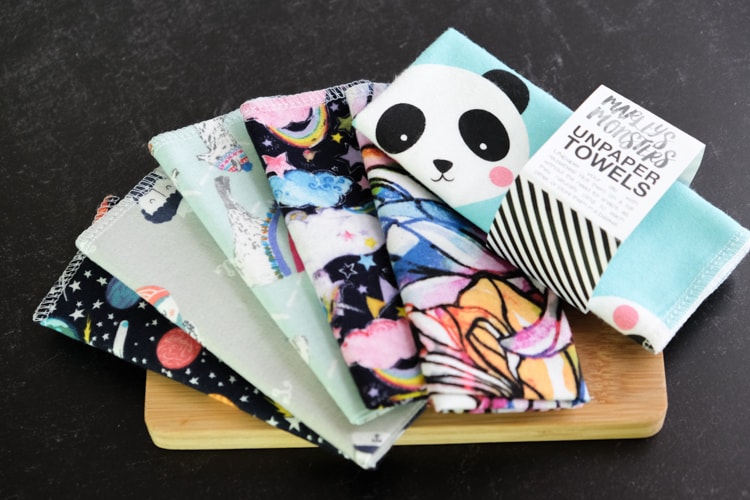 I'm always looking for simple ways to make my kitchen and my baking a little greener. Several months ago, a friend of mine introduced me to a small business in my hometown that makes Unpaper Towels, so I bought a few to try out. I love them!
It's such a simple swap and I use far fewer paper towels now. My goal is to lower my paper towel use to basically nil. It took me a little while to get into the habit of using the Unpaper Towels but having them folded on the window sill right next to my sink helped me get into the habit. Bonus – they have super cute designs! I ordered the surprise prints but next time I'm either going to get the black stripes or lemons.