Easy German Mulled Wine Recipe (Traditional Glühwein)
This article may contain affiliate links. See our disclosure link for more information.
Making German Mulled Wine (aka Glühwein in German) is a delicious way to add a German tradition to your Christmas holidays!
It's super easy to make, mostly hands off, and perfect for both holiday parties or a cozy night in.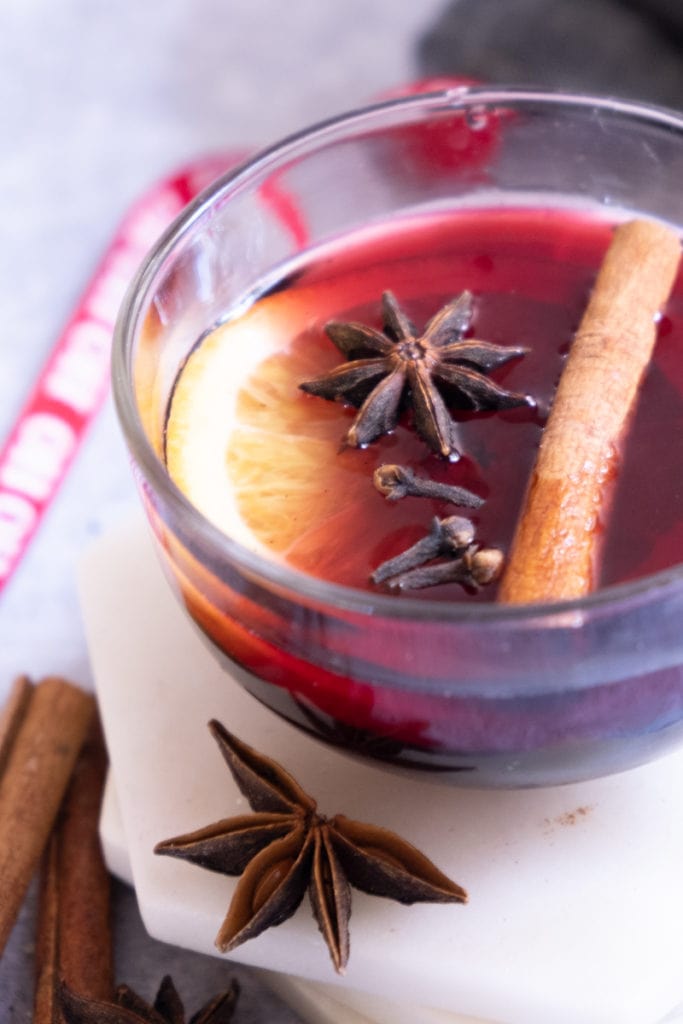 ? About This Recipe
Glühwein, as it's called in German, is a staple – not to mention beloved – hot beverage during the winter festive season in Germany.
What exactly is Glühwein? It's a hot wine drink simmered with mulled wine spices like cinnamon, star aniseed, cloves, and other warm spices.
You'll find this traditional drink at every German Christmas market in December because it's the perfect warming drink when you're spending time outdoors in the winter season.
Germany can be cold in the winter and German Glühwein is everywhere so it's a tasty way to warm up.
And if you buy Glühwein at a Christmas market, you can keep the mug it comes in! You pay a deposit when you buy a glass of Glühwein so if you keep the mug you just don't get your deposit back.
Each Christmas market has its own mug so you can create a whole collection if you visit several Christmas markets. At one time I had a HUGE collection but I gave them all away during one of my many moves.
A couple years ago I bought 2 mugs at the Stuttgart Christmas Market (one of them is in the photos above) and now we use them to enjoy a large pot of Glühwein on Christmas Eve. It's a good idea to use a small sized mug so you can drink it before it gets cold.
The citrus and various spices give this German hot wine such a delicious flavor and aroma. Serve German Glühwein with traditional German Christmas cookies (click here to get my 10 European Christmas Cookies ebook that includes German recipes!) and you'll have a delicious treat perfect for a holiday gathering on a cold winter day.
❓FAQ
What is Glühwein mit Schuss?
It's a cup of hot mulled wine with an extra shot of alcohol. This is typically an option at Christmas markets in Germany. You can make yours at home "mit Schuss" or "ohne Schuss"!
Can I use orange zest (or lemon zest) instead of orange slices?
Slices are prettier but you can just use zest. If you can use a vegetable peeler to create large pieces of orange peel (or lemon peel), that would be better than using a microplane. Be sure to remove the zest before drinking.
Is there a non-alcoholic version? Can I use fruit juices (e.g. grape juice, orange juice or apple juice) instead of wine?
Yes! During the holiday season in Germany you'll find Kinderpunsch, which is a hot drink made with juice and traditional Christmas spices.
What's mulled wine called in German?
It's called Glühwein, which literally means glow wine.
Can you use a slow cooker to make Glühwein?
Yes, you can.
What are the different spices typically used?
Cinnamon, cloves, and star anise. You can also use cardamom, a vanilla bean pod, even juniper berries. Be sure to use whole spices, not ground.
What's the best wine to use?
A red wine found at the grocery store will work well – common wines (sweet wines) like pinot noir, cabernet sauvignon or merlot. You can use an expensive wine but there's no need to get super fancy – a basic wine is just fine. You can also use a vegan wine if you prefer.
Can I reduce the amount of sugar?
You can add sugar to taste.
Does the alcohol burn off when making Glühwein?
Nope – as long as you don't use high heat and end up boiling it! Keep it to a mild simmer and your Glühwein will retain most of the alcohol content.
Can I use white wine to make this German Christmas wine?
Red wine is what's traditionally used.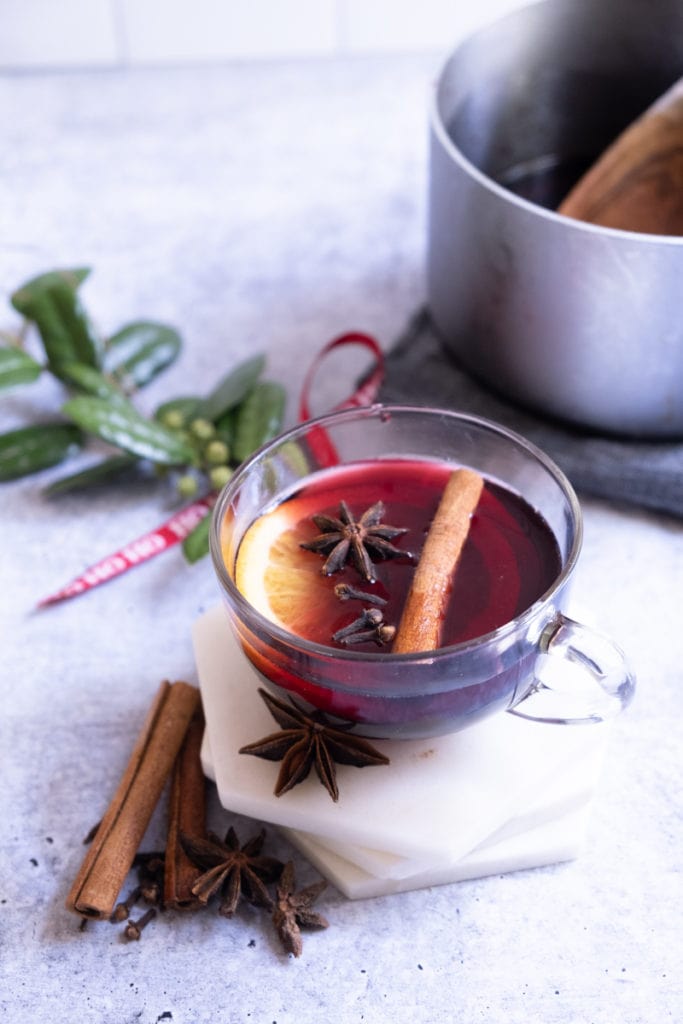 ? What You Need to Make This Recipe
Ingredients:
1 bottle of red wine
1 orange (sliced)
1 lemon (sliced, optional)
2-3 cinnamon sticks
15 whole cloves
5 whole star aniseed
sugar (white or brown)
vanilla sugar or bean vanilla pod (optional)
Note: you don't need to be super exact when making this recipe. If you use 12 cloves instead of 15, for example, it's not a big deal. Add more or less of everything to taste.
Kitchen Tools:
saucepan (or slow cooker)
knife
cutting board
spoon
ladle
small sieve
mugs for serving
? Recipe Variations, Notes & Tips
Timing. I like to simmer my Glühwein with the citrus and spices for a couple hours but I have also made Glühwein in 15-20 minutes. It's best if you can let everything mull for a couple hours but if you can't, don't let it stop you from making a batch.
Sugar. You can add sugar to taste. You can use white or brown sugar or a mix of the two. You can also use your favorite a sugar substitute – but you might need to adjust the amount added and make sure it will dissolve and work in a heated beverage.
Spices. Use whole spices in your Glühwein rather than powdered versions.
Serving. You can serve Glühwein a few different ways, depending on your taste – with a cinnamon stick, an orange slice, star aniseed, or just plain (not as pretty but easier to drink). I recommend serving mulled wine in small mugs so it doesn't get cold before you can finish drinking it.
? New to International Baking & Dessert Making?
Click here to download my FREE 9-Page Starter Kit so you can begin making delicious treats from Europe and beyond with confidence and ease! Or start with my 25 European Favorites cookbook. It's filled with easy and delicious recipes that are perfect for beginners.
? How to Make German Mulled Wine (aka Traditional Glühwein Recipe):
Cut orange and lemon (if using) into slices.
Pour wine into a saucepan and add sugar. Stir until dissolved.
Add orange and lemon slices, cinnamon sticks, cloves, and star anise to wine. You can also add vanilla sugar to taste or a vanilla bean pod. Bring to a gentle simmer over low to medium heat. Simmer gently for 1-2 hours. Don't let it boil!
When you're ready to serve, pour the Glühwein through a small sieve. Serve in small mugs or glasses.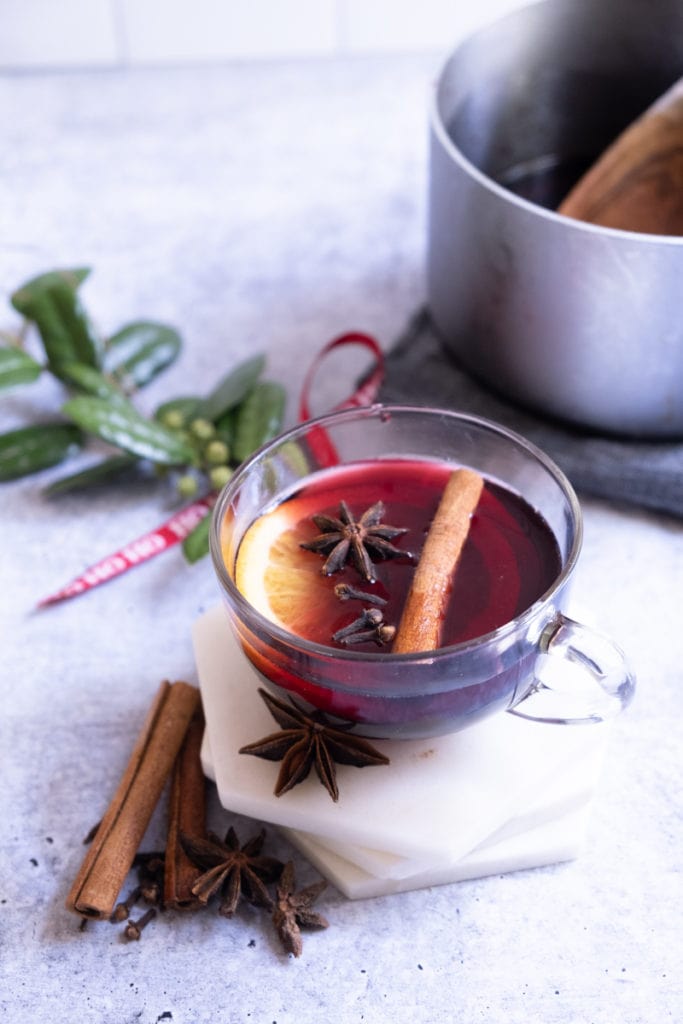 ? Looking For More Hot Drink Recipes?