10 Must-Try Colombian Desserts and Sweets
This article may contain affiliate links. See our disclosure link for more information.
Several years ago I traveled to Bogotá to give workshops at an international school conference. I wasn't expecting much food-wise, because I anticipated boring conference food…but wow, everything we ate was delicious!
I looked forward to every meal because each one opened new cultural doors. Every dish featured authentic, typical, traditional Colombian food (no generic conference chicken!) and I enjoyed learning about Colombian cooking and recipes from my table mates who lived and taught in Colombia. Of course, I was especially interested in the desserts and sampled all kinds of cake, cookies, pastries, and Colombian candy.
Today I'm thrilled to share this guest post by Adam, who lives in Cartagena, about the Colombian desserts and sweets you must try when visiting Colombia!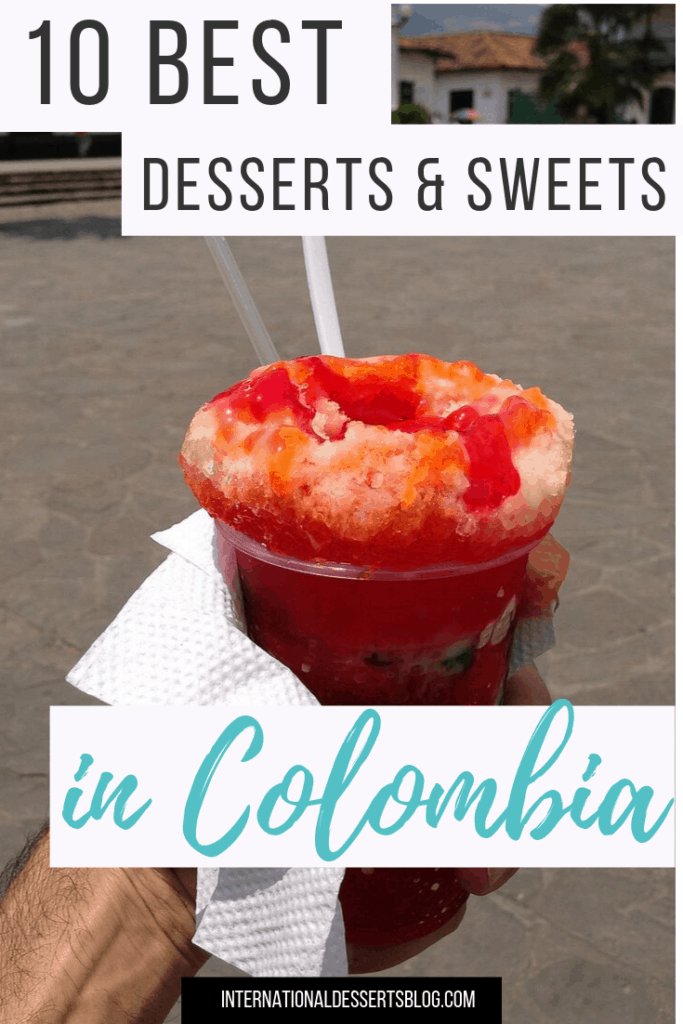 10 Must-Try Colombian Desserts and Sweets
1. Tres Leches Cake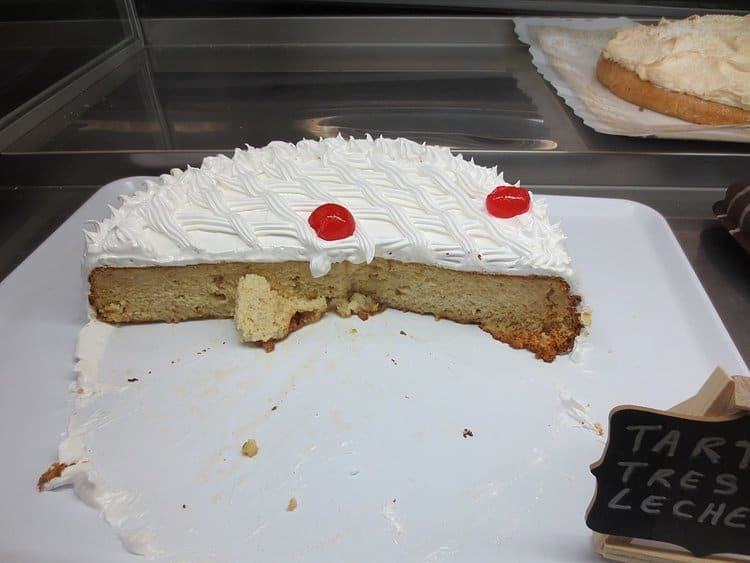 Tres Leches is a popular dessert all over Colombia as well as in other Central and South American countries. The cake is made exactly how its name suggests, with 3 forms of milk. Usually made as a sponge cake, it is baked and then soaked in a mixture of evaporated milk, condensed milk, and heavy cream.
In Colombia, it is then usually frosted with a creamy merengue covering. Despite being soaked, a good tres leches cake is moist but not soggy. It is also sweet, rich, and creamy.
It is a common dessert at family gatherings as well as on dessert menus and in dessert shops all over Colombia. You may see some variations with arequipe (caramel) or fruit toppings as well although its most common to simply be topped off with a cherry.
2. Arequipe aka Dulce de Leche aka Manjar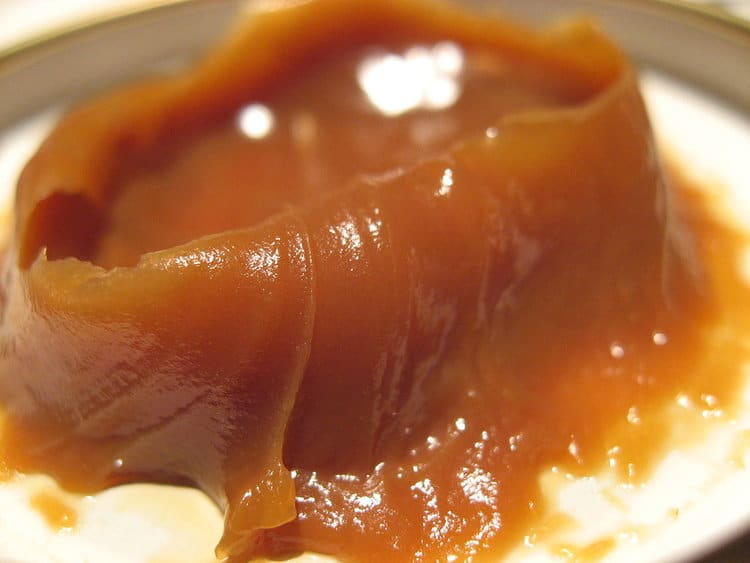 Arequipe is a common topping in all sorts of desserts in Colombia and across Latin America. Similar to caramel, it is made with milk rather than water and is usually thicker and richer.
While often used as a topping, it is also enjoyed alone, and you'll even find it sold in little one serving cups. You can also find artisan variations that include chocolate, coconut, or other additions to make it even better. Lots of times there will be regional variations as well. Look for them in sweets, tourist, and artisan goods shops.
My favorite by far is the variation with coffee. It goes great eaten alone, spread on toast with peanut butter, or even in your coffee itself. You'll be able to easily find it in the coffee region or in the beautiful mountain town of Minca on the Caribbean coast.
If you are around Cali, look for manjar or manjar blanco, a regional variation that is famous all around the country. Seriously, if you visit Cali, you are expected to bring back manjar as a gift. For a really unique variation, try cortado, which includes small pieces of cheese.
3. Cocadas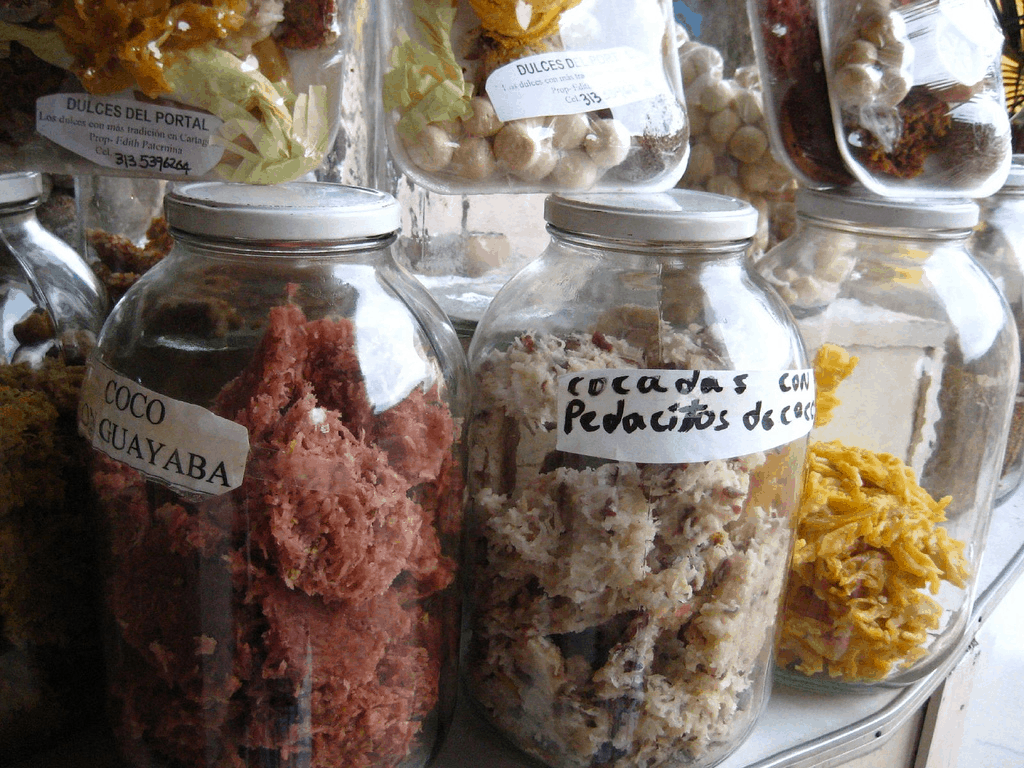 These coconut patties are a common sight on the Colombian coast. They are more commonly eaten as a sweet snack than dessert proper, and you'll find the best homemade ones from vendors on the street. When in Cartagena, they are also a popular item at the Portal de los dulces located in the archways across from the Clocktower just inside the wall. There you can sample other traditional Colombian sweets from the coast and even get a nice package of cocadas to take home as a gift.
The traditional variety, and my personal favorite, is made with panela or unrefined brown sugar cane. Brownish in color, the brown sugar accentuates the coconut. You can also find a white, creamier version made with milk as well as variations that include arequipe or fruits like pineapple or guava. Commonly sold by vendors on the beach as well, cocadas are perfect as a sweet, melt in your mouth snack to go along with the Caribbean sun.
4. Enyucado
Another Caribbean coastal treat, enyucado, is a unique traditional Colombian dessert cake. It is made from mashed yuca (called cassava in some parts of the English speaking world) in place of flour.
In addition to yuca, this cake also has coconut, anise seeds, sugar, salt, and the light, salty cheese common to the coast known as costeño cheese. All of that adds up to a sweet, but savory cake with a very unique, almost mushy texture.
You'll often see enyucado sold by the same vendors selling cocadas on the street, at the beach, or at the Portal de los dulces in Cartagena. You may also find it on menus at restaurants specializing in coastal cuisine. Showing off the unique culinary traditions and African and Indigenous influences on the coast, it definitely qualifies as a must try dessert in Colombia.
Click here to check out the 10 Must-Try Desserts and Sweets in Germany!
5. Obleas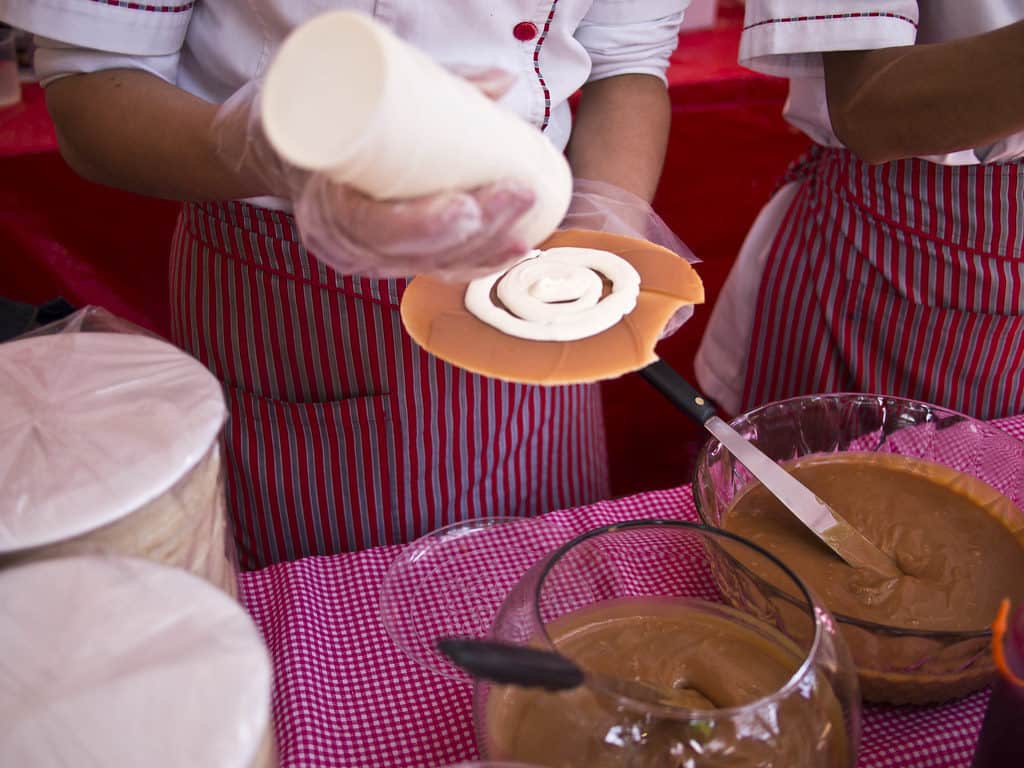 Next up on this list of traditional Colombian desserts are obleas. They are made using thin wafers similar in taste to an ice cream cone. They are served up like a sandwich with arequipe in the middle of the two obleas.
You can find them sold from street vendors all over Colombia, although they are most common in the interior of the country. Some vendors offer up additional toppings like fruit or sprinkles.
6. Arroz con leche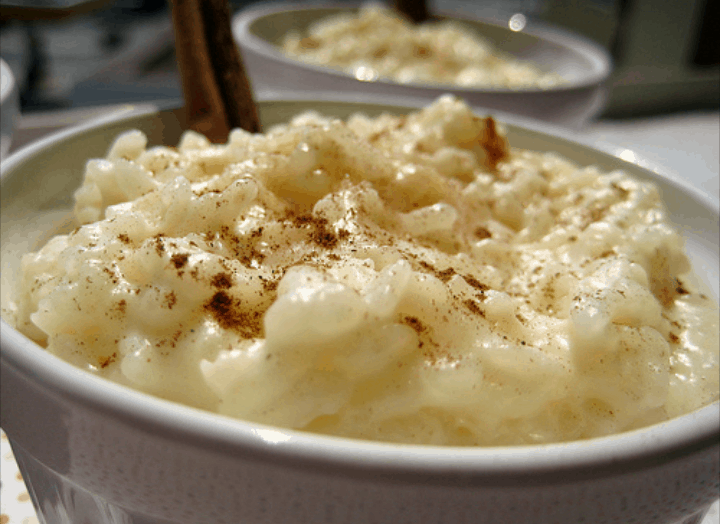 You can't go anywhere in Colombia where rice isn't served with almost every meal. There are even juices made with rice. Therefore, it shouldn't be too surprising that rice pudding makes the list of must try Colombian desserts.
Arroz con leche is made slightly differently in different regions, or just by different family recipes, but it will always be sweet and creamy and usually have cinnamon and raisins.
A common homemade, comfort food, you can find arroz con leche on menus at restaurants serving traditional Colombian food or served up at family gatherings.
7. Raspao aka Cholado aka Cholao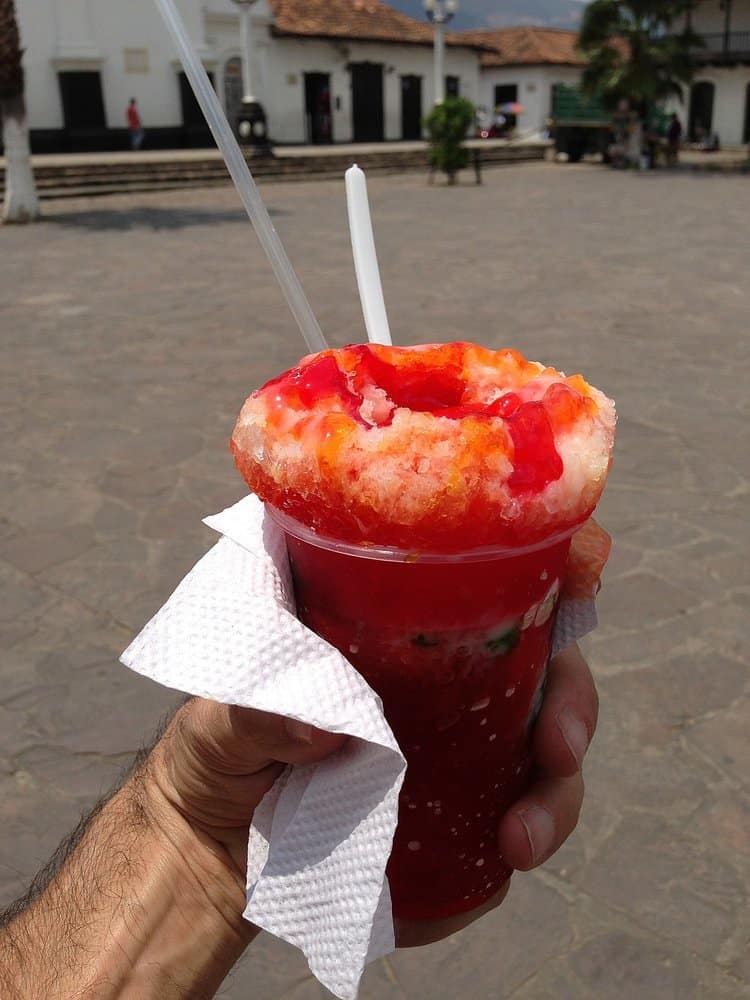 Next up on this list of Colombian desserts to try is another common street ware in hot regions of the country. In Cartagena, you'll find raspaos served up as snow cones with the liquid syrup flavor of your choice. Especially traditional to Cartagena is the kola flavor, a sweet red syrup made to taste like the local favorite soda, Kola Roman. Some vendors also offer fruit and even condensed milk as additional toppings.
Elsewhere in the country, this gets taken to a whole new level. Originating in the Valle del Cauca region, cholado (often simply called cholao for short), has a base of shaved ice and is topped off with a mix of fruits and condensed milk. More fruit salad than snow cone as compared to the Caribbean raspao, cholados are a common sight especially in Calí.
You'll be able to spot raspao and cholado vendors with their ice shaving machines, many of which are antique, and their big glass jars full of fruits and syrups. They are a great, sweet, and refreshing way to cool down on a hot day.
Click here to see the 10 must-try Hungarian desserts and sweets!
8. Torta Negra
The torta negra is the traditional cake for special occasions in Colombia. While it is becoming a bit less common, this black cake was long the traditional staple for birthdays, family holidays, and special events. Today, it is still very common to see it served at traditional weddings or family events like first communions. In fact, when we were planning our wedding, we were told it is not a wedding in Colombia without this cake. I feel like this is the equivalent to my grandmother's pound cake growing up in South Carolina or perhaps fruitcake in other places in the states.
Like some of the other traditional desserts on this list, every abuelita is likely to have a slightly different recipe for this cake. What they will have in common is dried fruit (usually one or more of prunes, raisins, and figs), burnt sugar, and sweet red wine. After baking, the cake is soaked in the wine, and in many recipes also rum, for a few days to moisten it up. It is also common to see nuts, spices, molasses, and sometimes, even chocolate added.
I'm honestly not the biggest fan or this or any fruitcake. However, lots of Colombians will have fond memories of this cake, and it might be the most traditional of the items on this list of Colombian desserts you have to try. If you want to try it yourself, it is likely to be served at restaurants offering Christmas and New Years dinners and if you get invited to a wedding, you will almost certainly be able to try it.
9. Natilla
Speaking of family events and holidays, the next item on this list is a seasonal Colombian dessert. Natilla is custard made from a base of cornstarch and milk with cinnamon and eaten at Christmas time. Along with buñuelos (fried balls made from a corn flour and cheese mix), natilla is a favorite Christmas tradition.
Some variations see it served in slices and some in small cups. The consistency is similar to a flan, and it may sometimes be served with fruit or made with additional spices to the cinnamon such as nutmeg.
There's likely no Colombian family home without natilla on Christmas Eve. You will also almost certainly be served it at Christmas dinners in restaurants.
10. Jalea de Tamarindo
To conclude this list of must try Colombian sweets, I'm including one of my absolute favorites. It is also fairly unique to the coast.
The sweet but tangy fruit from the tamarind tree is used in all sorts of concoctions on Colombia's Caribbean coast. In this traditional sweet, it is hydrated in water than mixed with sugar, an egg white, and a pinch of water to create a creamy mixture.
Jalea can be hard to find much of the year, but around Easter time, there are always vendors set up selling traditional sweets. I always have to get some. I don't know how to describe the taste. It's bitter but sweet, and at least in my opinion, delicious. As you eat it, be sure to suck off the shell of the seeds.
Conclusion
There you have it 10 must try Colombian desserts. You'll notice this list is slightly tilted toward the Caribbean coast where I live in Cartagena. However, all over Colombia, there are unique sweets and desserts. So even if it's not on this list, if you see lots of locals buying something up at a shop or street stall, go for it, and you will almost certainly be impressed.
Author Biography
Adam McConnaughhay has lived in Cartagena, Colombia since 2011. When not working at his teaching day job or snacking on cocadas, he writes about Cartagena as well as other destinations in Colombia at www.cartagenaexplorer.com. You can also find him on Facebook and on Instagram @ctg_explorer.
Looking for Colombian Recipes? Check out these great cookbooks:
What to Read Next:
*Unless otherwise noted, photos are creative commons or were authorized for use in this article by the contributor.