Universal Yums Review: The Best Candy From Around the World Box
This article may contain affiliate links. See our disclosure link for more information.
I'd always wanted to try an international candy box, because it's just so fun to try candy from around the world. Even better? Add in cookies and snacks!
So I was thrilled when my family sent my husband and me two international snack subscription boxes for our anniversary in August – Universal Yums and MunchPak. (Thanks, family!)
While we liked both candy boxes, Universal Yums (affiliate link) was our favorite. So, I thought I'd show you what we got in our Thailand box in case you've been thinking about gifting a box for a birthday, holiday, graduation, anniversary or maybe for yourself!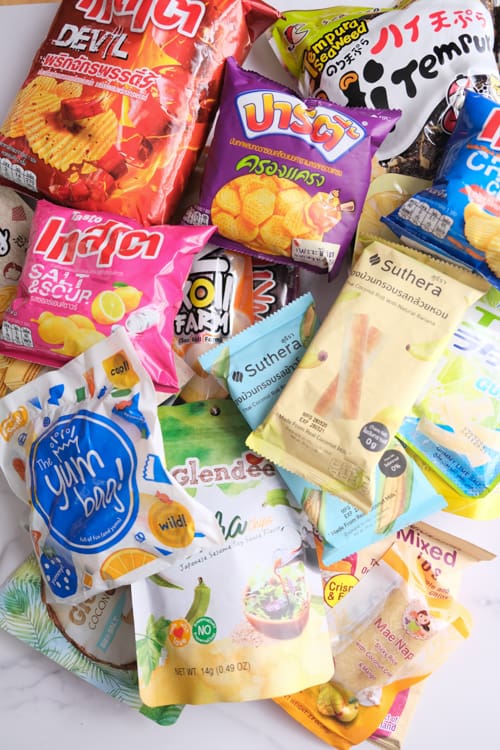 I'm not only sending candy subscription boxes as holiday gifts this year, I'm ordering another for us, just to make the end of this year a little sweeter.
Click here to check out this month's Universal Yums boxes!
Review of Our Universal Yums Subscription Box
My brother told me that when he ordered our Universal Yums box he had the choice between a UK box and a Thailand box. He chose Thailand, since Aaron and I have been to the UK but not to Thailand. So you typically have the choice between two different countries in different parts of the world.
Aaron and I immediately opened our international snack box when it arrived so we could see what was inside, and then ate everything in about a week. Each night we each chose a couple items to share after dinner. We looked forward to our Thai treats all day!
There are 4 things we really loved about Universal Yums:
The snacks, cookies, and candy were high quality and tasted good.
We got to try several new types of treats and flavor combonations (e.g., lemon potato chips). Not everything was to our taste but it was fun to branch out!
There was a good balance between snacks, cookies, and candy.
We love learning about the world's diverse food and cultures and it's so interesting to see what constitutes snacks, cookies, and candy in other countries.
Universal Yums does such a great job making the whole box an experience. Keep reading for more about that!
Click here to check out this month's Universal Yums boxes!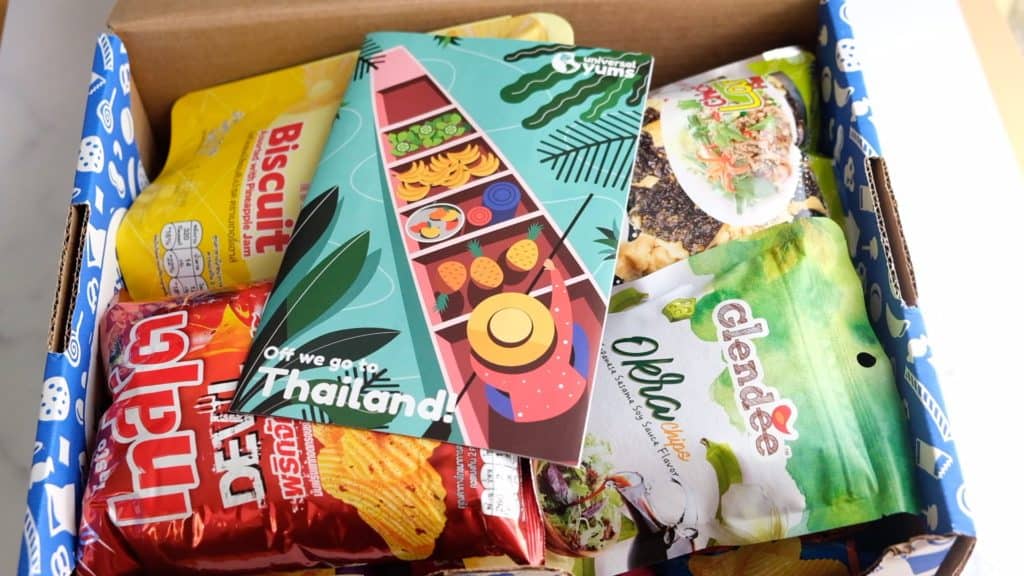 Want to See What Was Inside Our Thailand Box?
My family sent us the largest Universal Yums box, which was full of 20+ different kinds of snacks, cookies, and candy: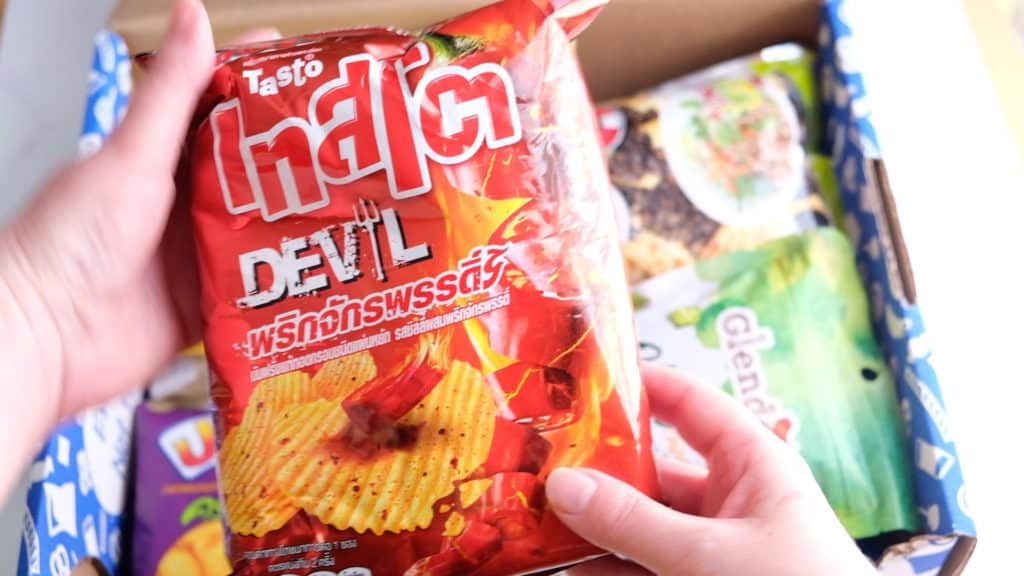 Those Devil chips were very spicy (Aaron loved them). I preferred the pineapple cookies.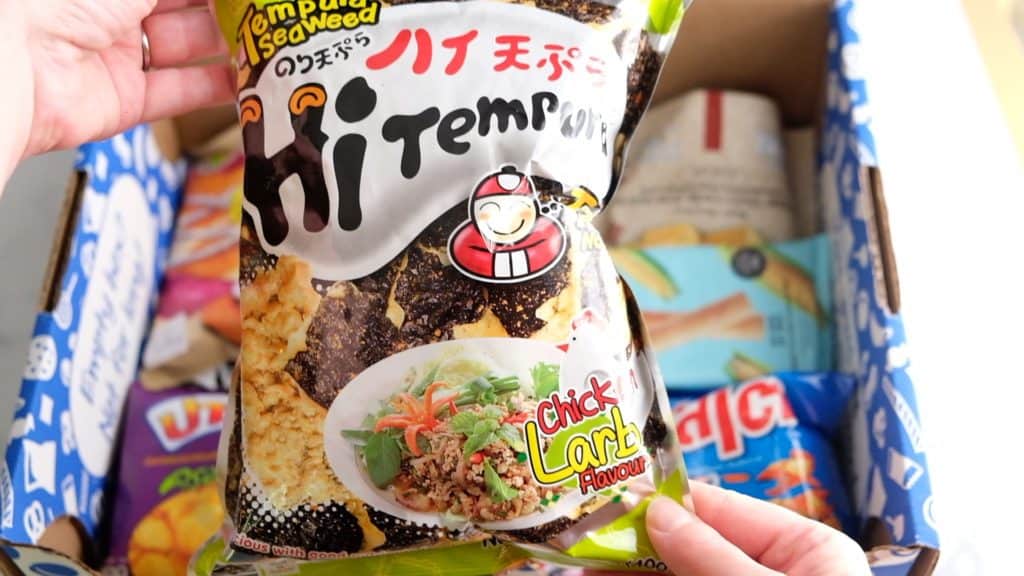 We could have eaten many more bags of those mixed chips!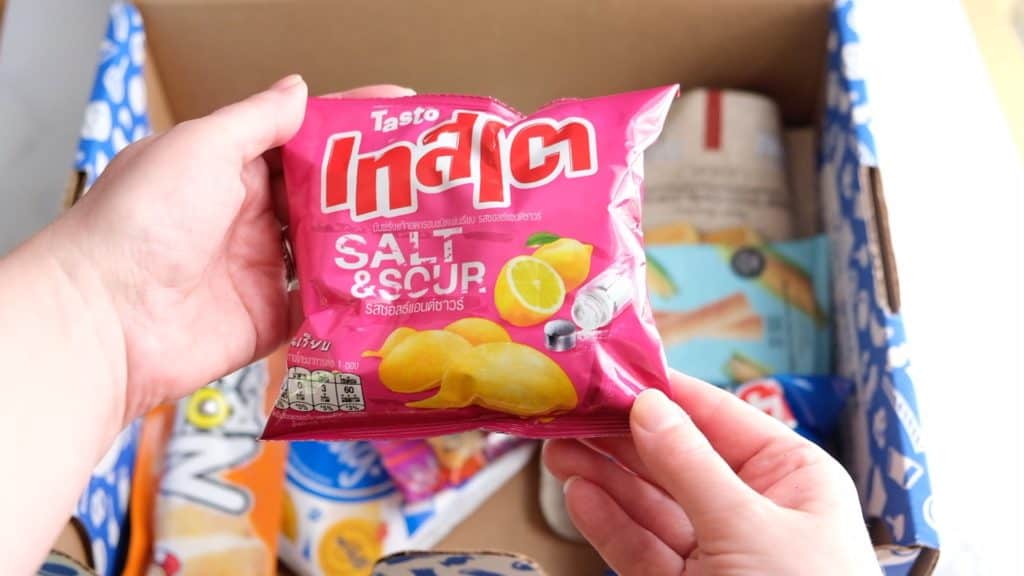 Neither of us could finish the bag of lemon potato chips but Aaron liked the crab curry chips and I liked the coconut chips.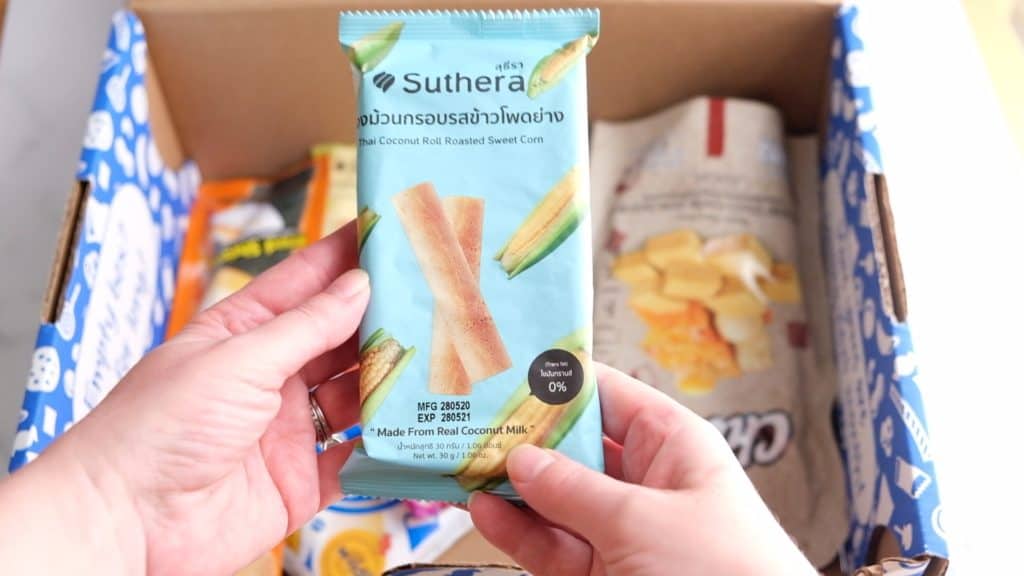 We REALLY liked those rolled cookies! We got to try the corn and banana coconut flavors.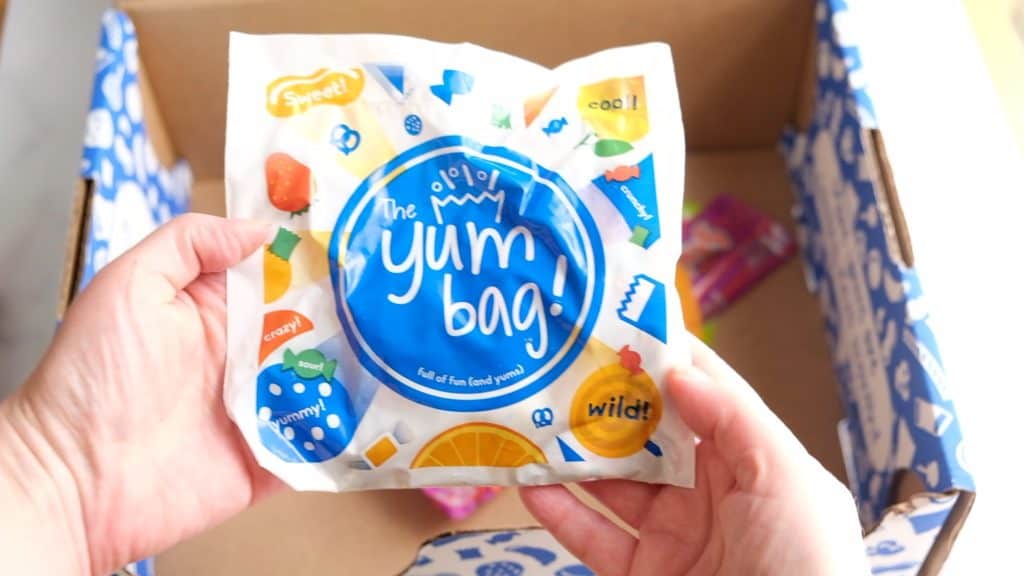 The "yum bag" above included a few different kinds of individually wrapped candy. We loved the salty pineapple hard candy!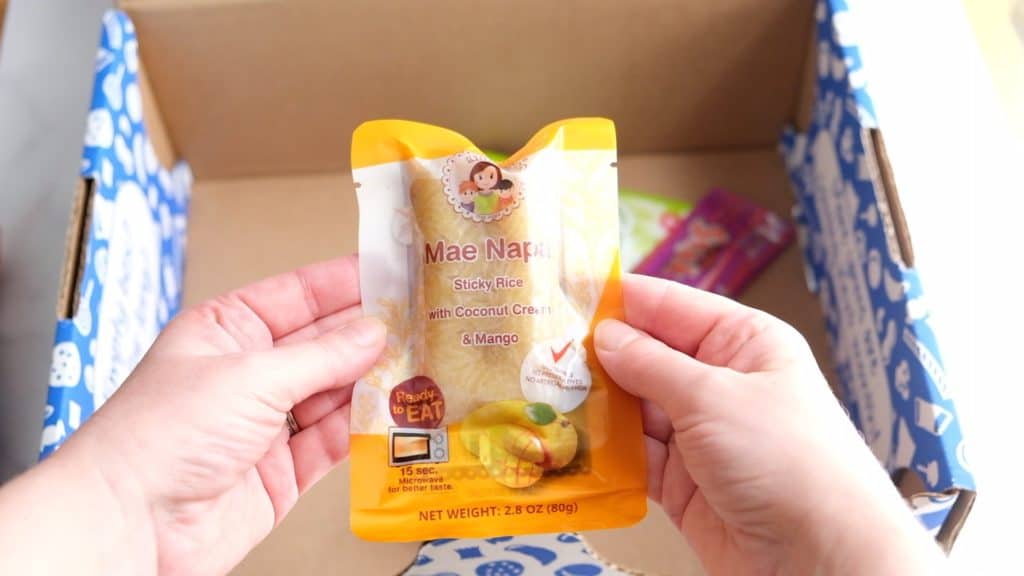 Click here to check out this month's Universal Yums boxes!
What Made Our Universal Yums Box Such a Fun Experience?
The cultural materials that came with the box! I used to work in international education, so I love this kind of stuff (and used to create things like this!) but my travel-loving IT husband found it fun, too.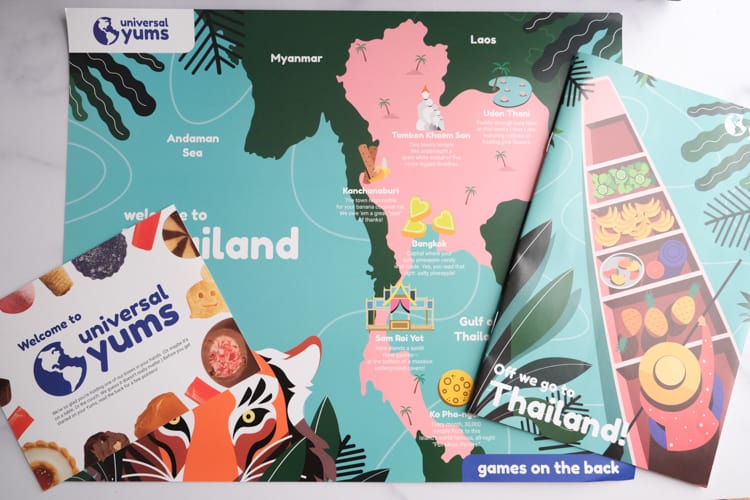 The booklet that came with our Thailand box not only had info about each item we sampled, it had cultural and historical information, trivia, games, and even recipes!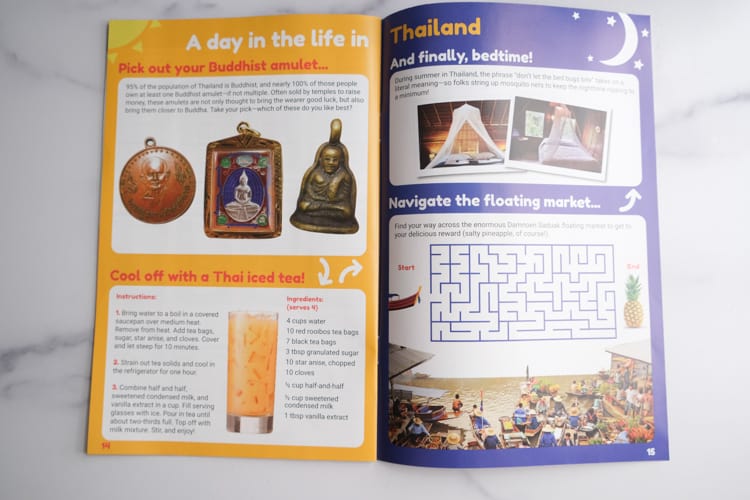 The scoreboard was also a lot fun! After trying each item you can write down each person's rating. I highly recommend doing that because after you've had a few bags of chips or several pieces of candy it gets hard to remember who like what the best.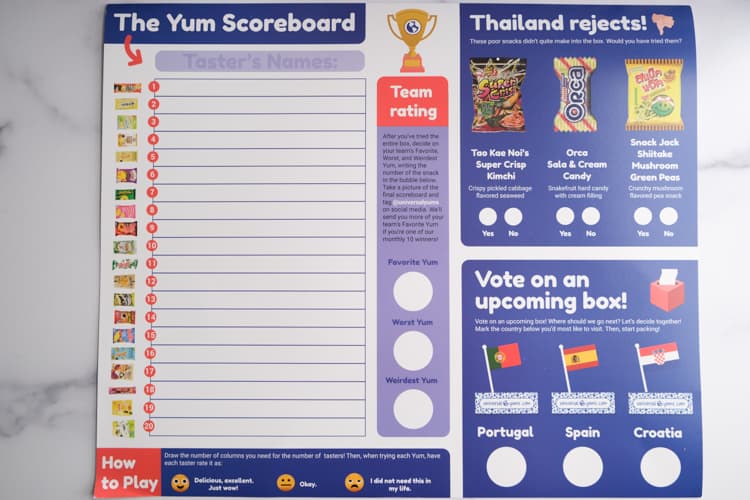 You can also see what didn't make it into the box and go online to vote for an upcoming box.
Click here to check out this month's Universal Yums boxes!
Universal Yums Ideas
Give a box as a holiday gift (they even have a special December holiday box featuring treats from around the world!)
Or as a unique birthday, anniversary or graduation gift
Get a box for date night
Or family game night
Order a box for a friend or family member and one for yourself and then sample and rate everything together over Zoom
Get a box from a country you'd planned to visit this year (or one you want to visit in the future)
Gift a box to someone who's thinking about moving abroad (or has recently returned from abroad)
Send a box to someone whose unable to travel but wants to explore the world
Give a box to anyone who likes snacks, cookies, and candy!
OK, I Want One!! How Can I Order a Box?
Click here to order a Universal Yums box!