Where to Buy the Best Organic Decaf Coffee & Espresso Beans
This article may contain affiliate links. See our disclosure link for more information.
Love coffee and espresso drinks but don't want the caffeine?
That's me, too. I LOVE coffee and espresso, and I drink a cup of coffee, an Americano or a latte every single day. I also love making coffee flavored desserts. But I just don't want the caffeine from regular coffee or espresso drinks anymore.
That's why I've been on the hunt for the best organic coffee and espresso that's also fair trade and uses the Swiss water method for decaffeination (a chemical-free decaffeination process). A decaf blend that offers:
a high quality light roast, medium roast and dark roasts (so I can change things up for my taste buds once in a while)
ground coffee for different kinds of brew methods as well as whole decaf beans
one that has a rich flavor, smooth finish, and simply has an overall great flavor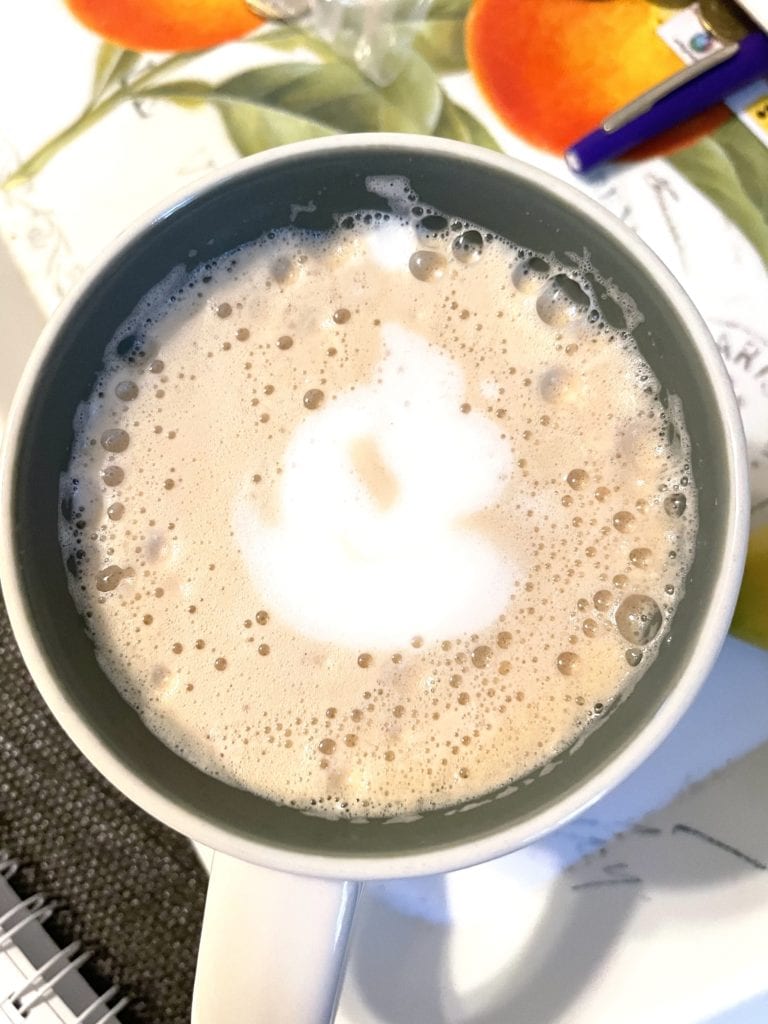 I've been drinking decaf for about 10 years now and in that time I've tried SO many decaf blends in search of the best coffee beans for decaf coffee drinkers like me.
I've found a few that I kinda like but inevitably have been disappointed by their decaffeination processes (not the Swiss water process method) or grew tired of the taste.
But now I'm thrilled to have finally found a brand I LOVE, and when I find something I love I want to shout if from the rooftops!
This brand is seriously makes the best organic decaf coffee and the best decaf espresso beans I've tried — way better than other popular brands I've tried over the years.
If you're looking for decaf espresso or coffee, I think you'll love it, too!
Ok, Cate, tell me where can I buy the best decaf coffee and decaf espresso beans!
The brand I love is called Savorista. You can buy it online right here. (And if you use the coupon code CATE you'll save 25% on your first order!)
By the way, this isn't a sponsored post. A friend told me about Savorista last year and I've been drinking it ever since. I now have a subscription and get a beautiful blue pack of decaffeinated beans sent to my door every 6 weeks.
Yes, you can buy coffee or espresso, whole beans or grounds, decaf or low caf, one off or via subscription! It's a great choice for me because I no longer have to hunt for great decaf coffee at the grocery store anymore. One less thing to stress about.
What do coffee lovers need to know about decaf espresso and coffee?
You might be wondering why Savorista's decaffeination process better than others?
Savorista is on a mission to bring back the taste of decaf coffee with their water-decaffeinated blends. That's one of the reasons I think they're the best organic decaffeinated coffee makers on the market today.
Decaf espresso and coffee have a bad reputation within the coffee loving community. That's because using a chemical solvent is a common method for decaffeinating coffee beans beans.
But who wants chemicals in their coffee? And that process produces drinks that takes away the original flavor integral to the beans.
Savorista instead uses natural processes that preserve flavors in an effort for perfect balance between bitterness and acidity levels. They make sure that the core flavor components of the beans are kept intact, which is why their decaf tastes like the real thing.
They do this by using only natural elements to create perfection through time, temperature, and the purest water from the glacial runoffs coming from the mountains of British Columbia.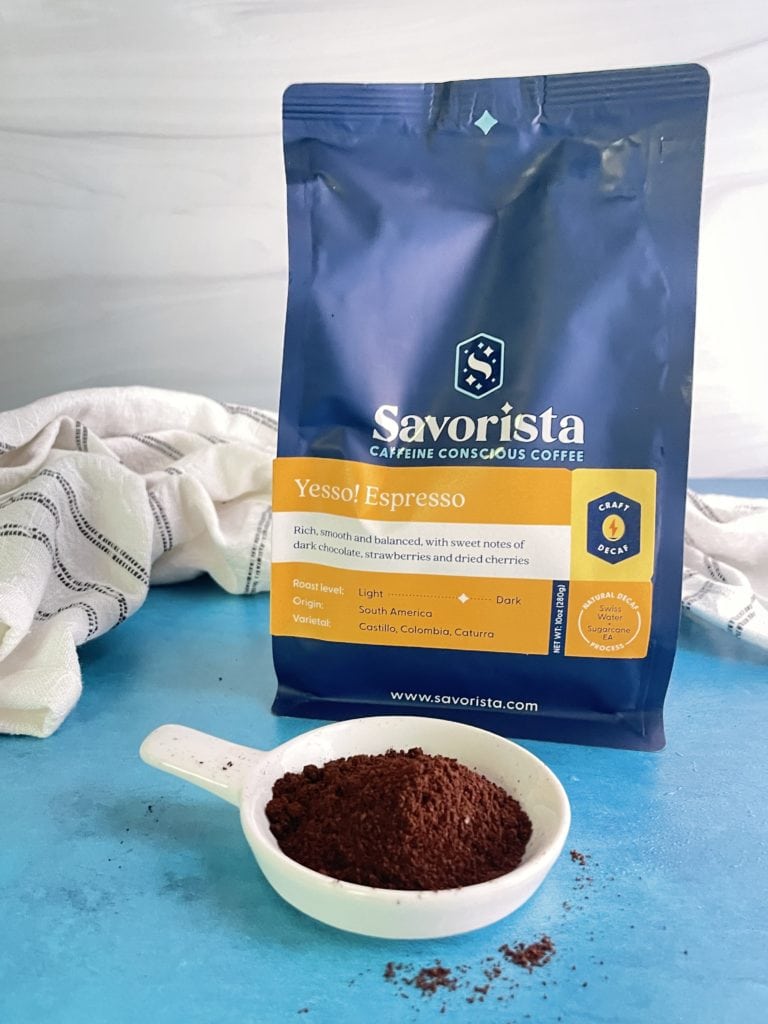 What are the benefits of Savorista's craft decaf and low-caf espresso and coffee over other decaf brands?
Savorista is dedicated to providing the best coffee beans for decaf coffee drinkers. This is what makes their coffee better than other brands, as they assure that only the best quality of coffee is sold to customers (and they always go above-and-beyond when it comes time for their customers).
They focus on procuring the highest quality beans, ensuring that they are handpicked and only when ripe. During decaffeination, they make sure that the beans are only processed with natural ingredients while completely avoiding harmful chemicals.
When roasting the beans, it's done in small batches to avoid burning them. Once finished, they're shipped out as soon as possible to keep the freshness.
So whether you want to reduce your caffeine for health reasons or simply want to sleep better at night, you can feel good about drinking Savorista.
How much caffeine is in decaf espresso and coffee? What about "low caf" or "half caf"?
For any coffee to be considered decaffeinated, it has to have less than 5mg of caffeine per 8 ounces. Savorista guarantees this for all their coffees so you can enjoy the full bodied flavor and aroma without those jitters!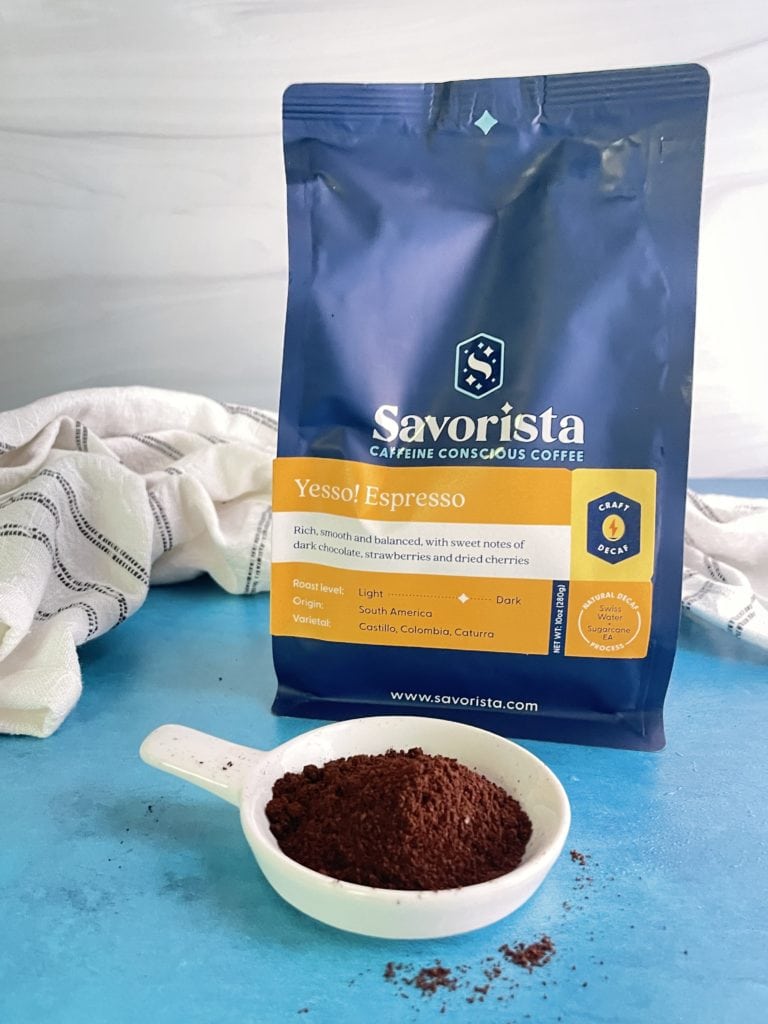 What are Savorista's ordering options?
One of the things I love about Savorista is that they offer a variety of bean, grind, size, and ordering options so you can find what will work best for you. And you can change it up whenever you want.
You can order half-caf or fully decaffeinated coffee and espresso.
When it comes to the packaging sizes, you can buy 10z, 2.2 lb (1kg) packs or single-serve packets (perfect for camping, travel, the office, etc).
For the bean grind options, there are 6 choices to choose from depending on your preferred brew method:
Whole Bean
Auto Drip
Pour Over
Espresso (this is the one I get – works great with my Breville espresso machine)
French Press
Percolator
Single-serve Pour-over (nice alternative to coffee pods, which they don't yet have)
You also have the option of going for a one-time purchase or a subscription. I started with a one time purchase and then quickly signed up for a subscription. I love not having to remember to reorder and I never run out of espresso.
You can also get a Savorista Shuffle subscription and get the newest blends and beans chosen just for you. Or grab a Sample Pack so you more easily find your favorite. Both would make a great gift, too.
What are some Savorista options?
A few decaf options for espresso fanatics:
Yesso! Espresso – It's a Swiss water process medium dark roast decaf espresso with a delicious flavor mix of dark chocolate, strawberries and dried cherries. This is my top pick and what I have delivered to me.
Colombian Adventure – This is a Colombian single origin decaf which is bright and rich. It's flavor notes bursts of cherry and citrus that complement the silky notes of honey and chocolate.
Total Eclipse Decaf – This is Savorista's darkest roast yet! It is a triple bomb blend that combines choice Ethiopian, Colombian, and Brazilian coffees that have gone through the Swiss water process. It has the powerful flavor profile of walnut, baker's chocolate, and rich molasses.
A few half-caf options:
This set of offerings are for the more caffeine conscious consumers who still want a little kick in their day.
Barely Buzzed Half Caffeine – Dark Roast – This bold yet balanced blend offers bursts of flavor that range from dark chocolate, toasted marshmallow, and walnuts. It's sweet and toasty and delivers the boost that you want without the consequences.
Columbian Sky Half Caffeine – If you're looking for something sweet and bright then this blend is for you. It's flavor notes include brown sugar, cherry, orange, and a hint of vanilla. This has the full flavor with only half of your regular dose of caffeine.
Panorama Low Caffeine – Looking to satisfy that afternoon coffee craving without the fear of lying awake in your bed? This blend gives you that sweet spot that you need. It's a smooth and sweet drink with notes of blackberries, brown sugared pecans, and a green apple finish.
Ready to get your own Savorista?
If you're craving seriously delicious coffee you need the best decaf coffee beans around. You can buy Savorista online right here. And if you use the coupon code CATE you'll save 25% on your first order!