10 Best Authentic & Traditional Italian Desserts
This article may contain affiliate links. See our disclosure link for more information.
If the awe-inspiring architecture, lush countryside, and historical intrigue of Italy aren't enough to send you into sensory overload, the abundance of tasty classic Italian desserts in pasticceria windows will surely do you in.
From expertly layered chocolate cakes to cream-filled pastries to boozy breads soaked in rum, searching for mouthwatering treats in Italy is as easy as searching for pigeons in St. Mark's square or masterpieces at the Uffizi.
From the top of the boot-shaped peninsula straight down to the toe, Italy has plenty of characteristic desserts that will take your taste buds on a wild ride. Here are ten that you absolutely must try on your next visit.
#1 – Tiramisu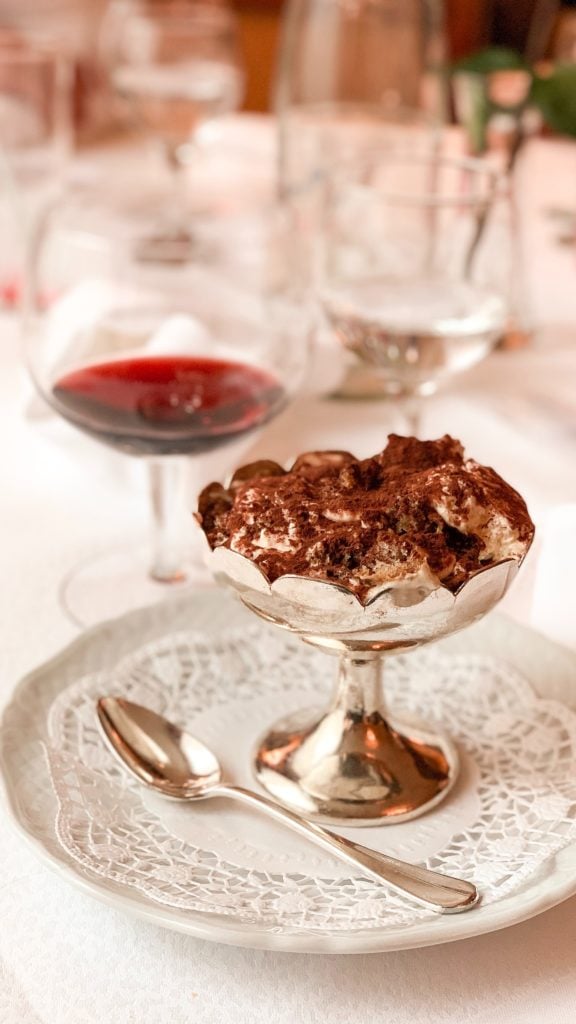 Origin: Treviso in Veneto
In Italian, the name "tiramisu" literally translates to "pick me up," and anyone who tastes this coffee-flavored dessert can attest to its mood-boosting qualities. Made with a mixture of whipped egg yolks, mascarpone, sugar, cocoa, and lady fingers dipped in coffee, this specialty graces the dessert menu of practically every Italian restaurant or trattoria. If you like chocolate mousse and coffee, you'll be a fan of the texture and indulgent flavor of this classic dessert.
The origins of this cake pudding hybrid are somewhat disputed. Some say it was created in Siena as a treat for the Grand Duke of Tuscany, Cosimo de' Medici III, and was then nicknamed "soup of the Duke". However, the most agreed upon story is that it was invented in Treviso and exploded in popularity after the restaurant, Le Beccherie, put it on the menu in the 1960s.
#2 – Panettone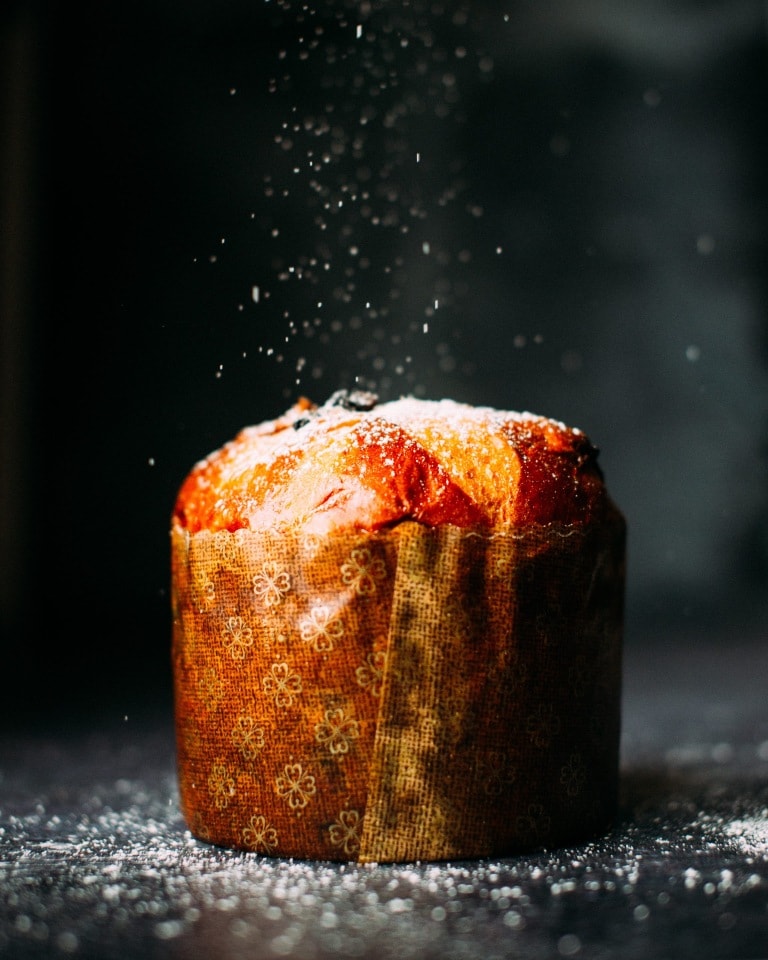 Origin: Milan in Lombardy
During the Christmas season in Italy, you can't step foot in a grocery store without encountering mounds of square boxes with pre-made Panettone cakes of every flavor. This dome-shaped cake is a specialty of Milan, and is made using candied fruits and cake leavened with yeast. Although it dates back much further, the Panettone cake became especially popular after World War I when the Milanese baker, Antonio Motta, made the dough rise three times before baking, giving the famous cake a very light flavor and its trademark dome shape. Now his name graces the label of many of those supermarket boxes.
#3 – Maritozzo
Origin: Rome
Next time you're in Rome or the Lazio region of Italy, do yourself a favor and sample this typical Roman sweet. Maritozzo is a small bun cut down the middle and filled with a delicious and very generous dollop of gooey custard or whipped cream. The ingredients are simple – butter, eggs, flour, honey, and salt – but the heavenly combination of sweet bread and creamy filling will send your taste buds into overdrive.
It's said that these little pastries date as far back as the Middle Ages, when women prepared them for laborers who would spend all day out at work. The maritozzo became its official name in the 1800s, derived from the Italian word "marito" which means husband. In the olden days, men would give their fiancé one of the pastries on the first Friday in March, concealing a ring or piece of gold jewelry inside.
#4 – Babà Napoletano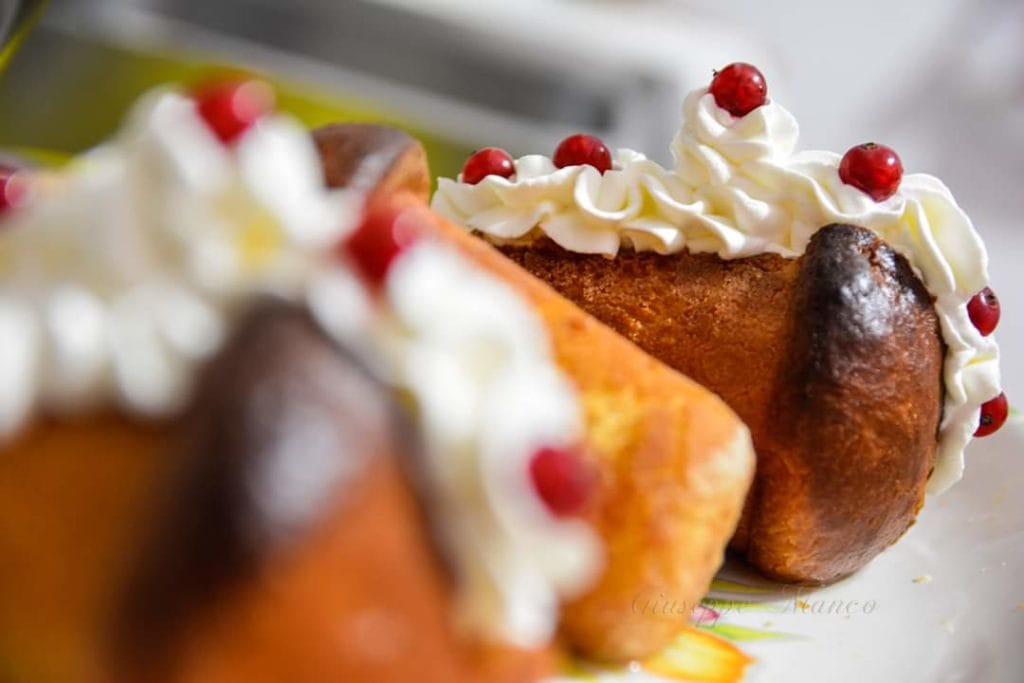 Origin: Naples
A little bit boozy and a lotta bit sticky, these rum-soaked brioche buns are a popular Italian dessert associated with the southern city of Naples, Italy. In truth, they didn't arrive in Italy until the 19th century when chefs trained in France came to cook for wealthy families in Naples, bringing the recipe with them.
The yeasted dough is bathed in rum and dressed with a citrusy syrup, giving them a strong and unmistakably tangy sweet flavor. It's well worth skipping a gelato for this Napoletan classic.
#5 – Bussolai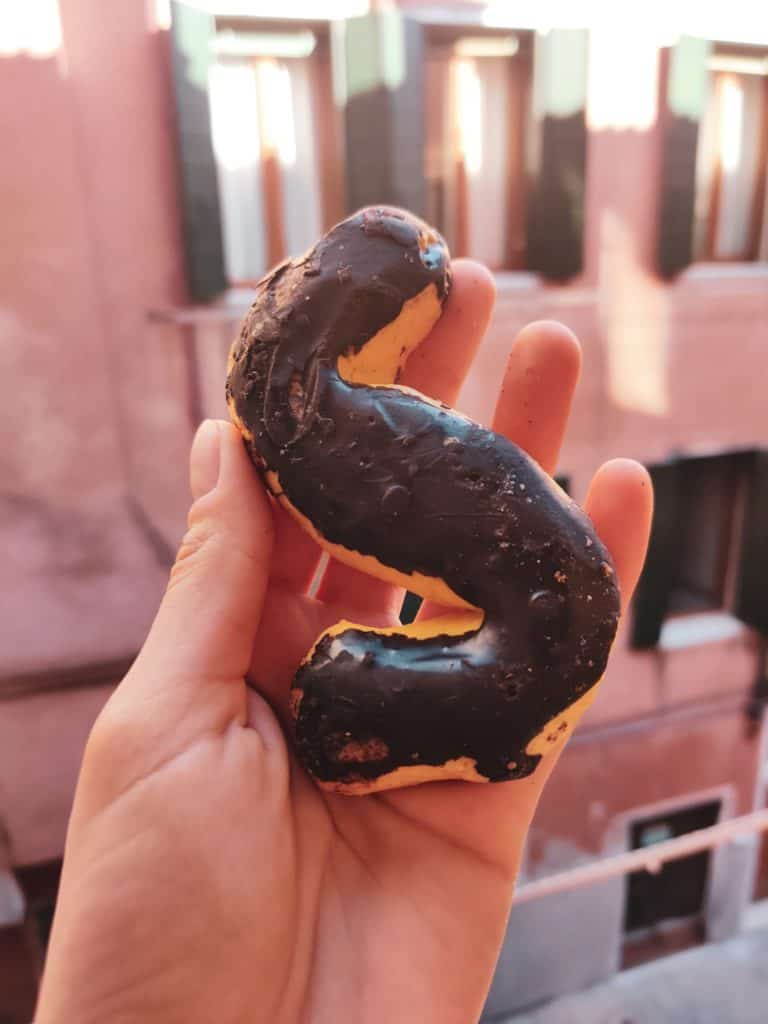 Origin: Venice
These ring or "S" shaped butter cookies are sure to beckon to you from bakery windows as you stroll down Venice's picturesque alleys. The bussolai originated on the Venetian island of Burano and date back to the times of the Venetian Republic, when wives of fisherman and sailors prepared mass quantities of the treat for the men heading out for long voyages at sea. Bussolai were traditionally eaten at Easter time, but they've now become a year-round staple on La Serenissima.
The cookies are prepared using flour, butter, vanilla, lemon zest, and egg yolks, which give them their yellowish color. Dip them in your coffee or in a cup of sweet wine for a tantalizing Venetian sweet treat.
#6 – Cantuccini & Vin Santo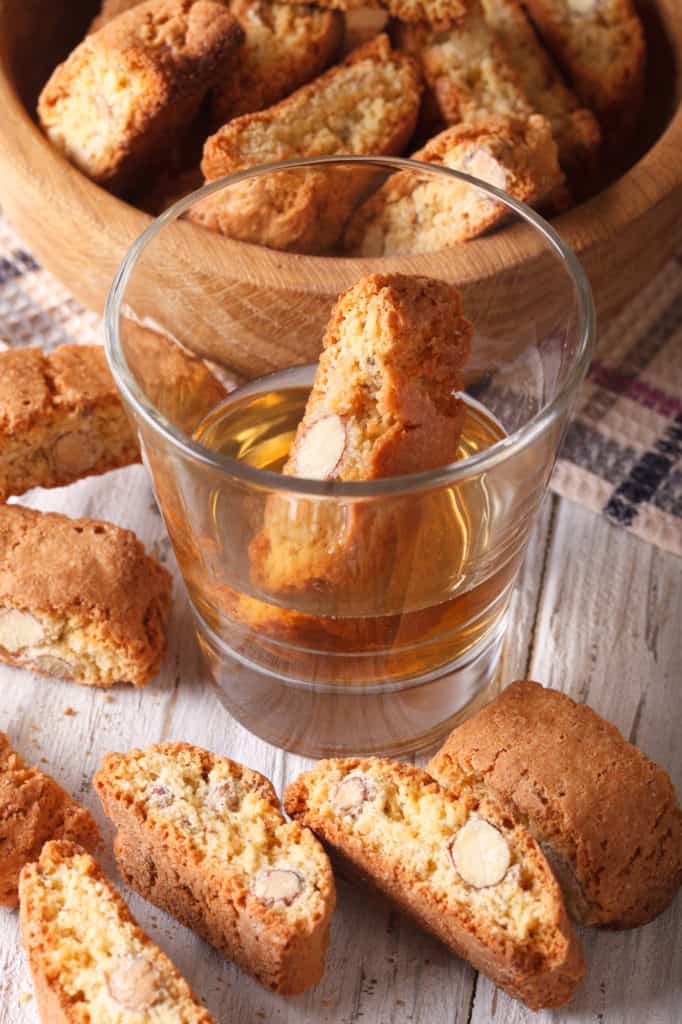 Origin: Prato/Florence
Although this variation of biscotti technically originated from Prato, a neighboring city of Florence, the Florentines have very much adopted it as their own hallmark dessert. These long wafer-like cookies often have a harder texture and are baked with flour, sugar, almonds, butter, eggs, honey, yeast, and vanilla. An Italian equivalent of Oreos and milk, you can't have cantucci without vin santo, an amber colored sweet wine with nutty notes and intense flavor. Dip, crunch, sip, and repeat, for a pleasant explosion of flavors.
#7 – Schiacciata Fiorentina
Origin: Florence
This light and airy cake topped with powdered sugar is a typical Carnivale dessert in Florence, often christened with a cocoa version of the city's fleur-de-lis symbol. This cake has a height requirement as it shouldn't be taller than 3 centimeters, and it's made with simple ingredients. Flour, sugar, egg, butter, yeast, milk, orange, cacao, and powdered sugar, come together to create this soft spongy cake, which is similar in shape to "schiacciate," the flat salty bread used for Italian panini.
In the 18th century, this traditional cake was baked by the nuns of the Murate convent in Via Ghibellina. When it was later converted to a prison, the cake continued to be served as a dessert to prisoners sentenced to death, as a sweet taste before a bitter ending.
#8 – Cannoli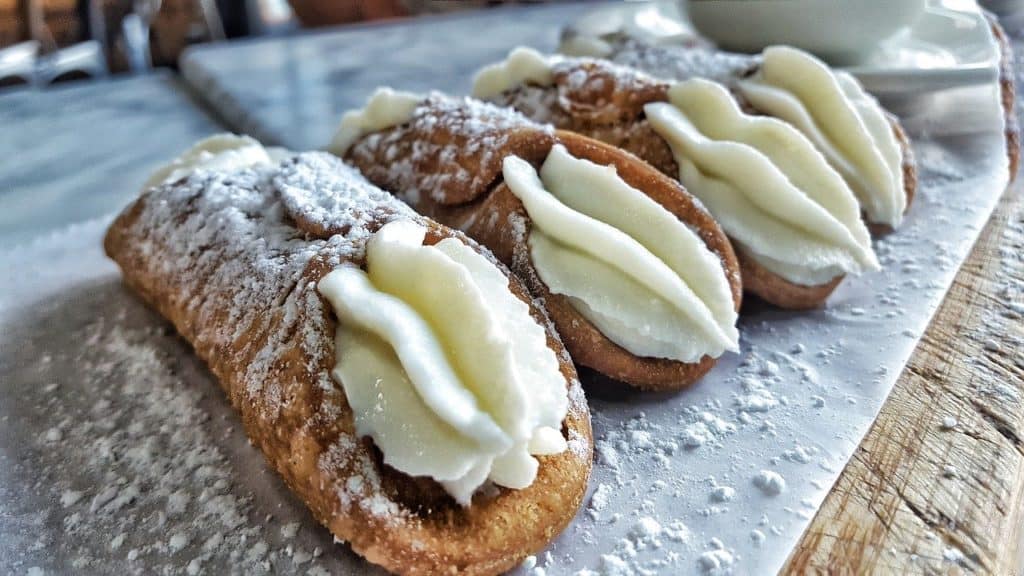 Origin: Sicily
Perhaps one of the most famous Italian desserts, Sicilian cannoli originated in the Palermo and Messina regions of the island. They were baked specifically for Carnivale, and are said to be a symbol of fertility. Cannoli are characterized by their tubular shape, which features an outward crust of fried dough coated in powdered sugar, stuffed to the brim with ricotta cheese and often topped with an orange peel. It's also common to dip either end of the dessert in pistachios, chocolate chips, or candied fruits.
#9 – Sfogliatelle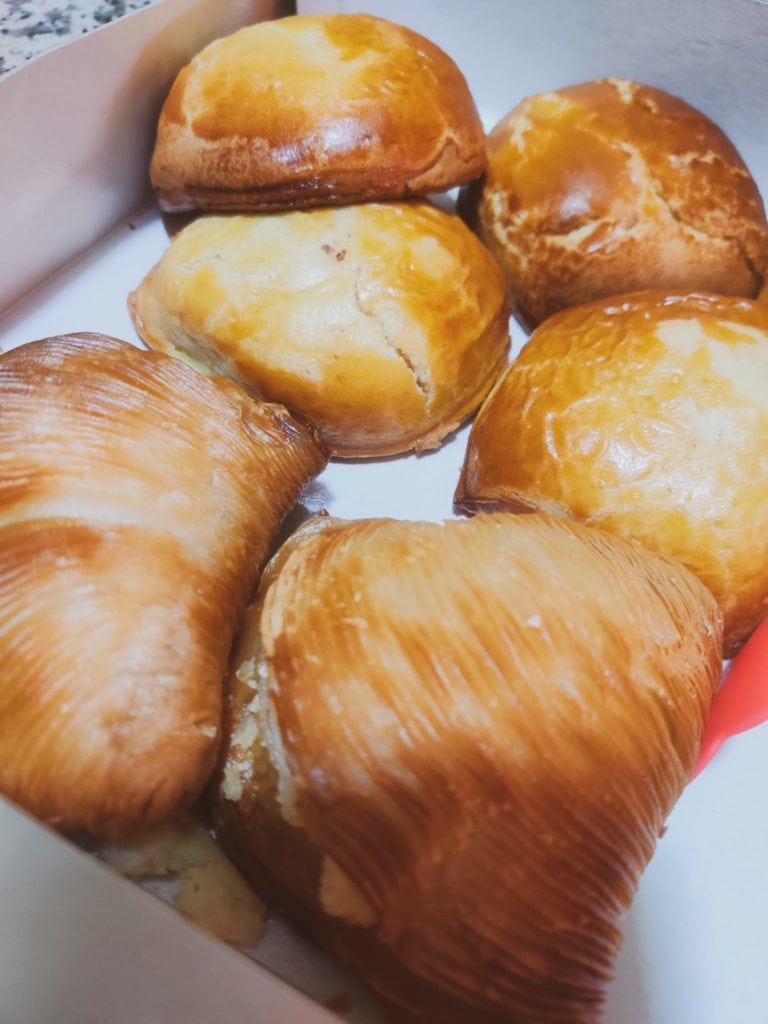 Origin: Naples
Pronounced "sfol-ya-tell-eh" this pastry is typical of the Naples and Amalfi coast area. The puffy croissant-like sweet has a shell or lobster-tail shape and usually is stuffed with a custard or cream filling. It is said to have been invented by a nun in the Santa Rosa convent near the Amalfi Coast in the 1600s. Since they remained mostly on the convent grounds, the nuns had to get crafty with the ingredients they had ready access to; thus, the sfogliatelle pastries were born. Now the treat is a symbol of Naples, and you're sure to find it for sale in every Napoletan bakery you saunter into.
#10 – Bignè di San Giuseppe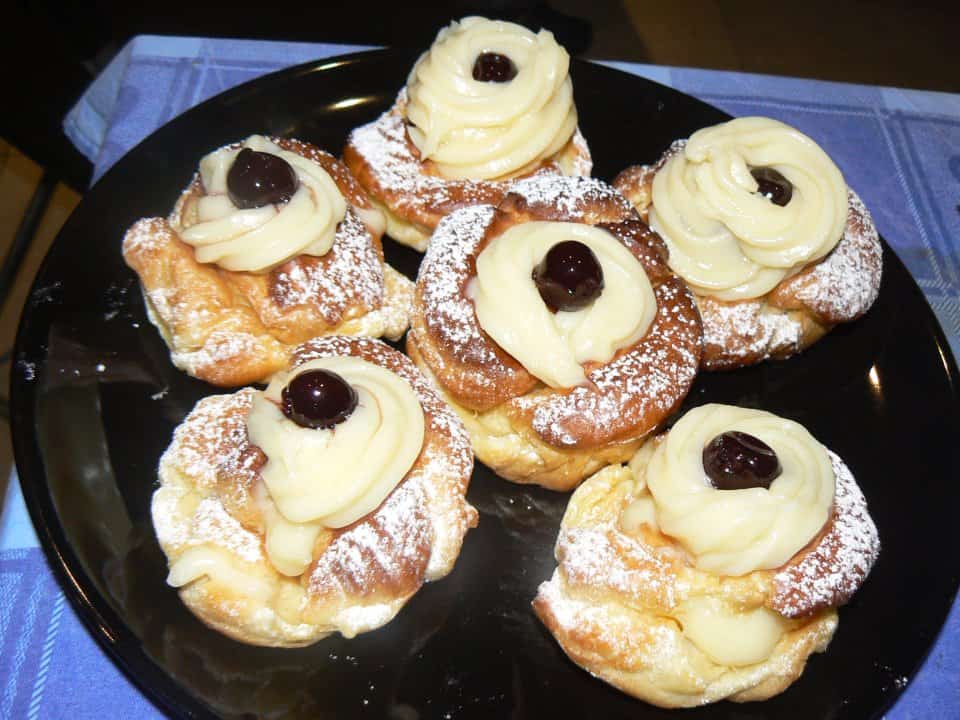 Origin: Rome
According to Roman tradition, these poofy pastries are prepared in March in honor of Father's Day. Shaped just like a French beignet, the round balls of dough are deep fried, filled with rich creamy filling and lightly coated in powdered sugar. The celestial taste is perfect when paired with a morning coffee.
Clearly Italy has a lot to offer in order to satisfy your sweet tooth. After exploring the cultural museums, historic neighborhoods, and inherent beauty of the city streets, a fine Italian meal followed by an indulgent dessert is just what you need for the perfect ending to a perfect day. Or if you prefer to scarf down something sweet in the morning, that's quite alright too. We're here to judge sweets, not people.
Megan Peterson is an American content writer for Prontopia, a community of people helping people in Italy, Spain and California. After studying abroad in Florence, Italy, she became smitten with the city and moved back after graduating. Now her hobbies include getting dressed up to go to art museums, hopping on trains to cities she's never been, and talking to herself in a mixture of English and Italian.
Photos were sourced from the author, creative commons, Unsplash, and Deposit Photos.