Looking for great gifts for bakers?
Here are 21 gifts for the cookie baker, cake maker, cupcake lover, tart enthusiast or pie baker in your life!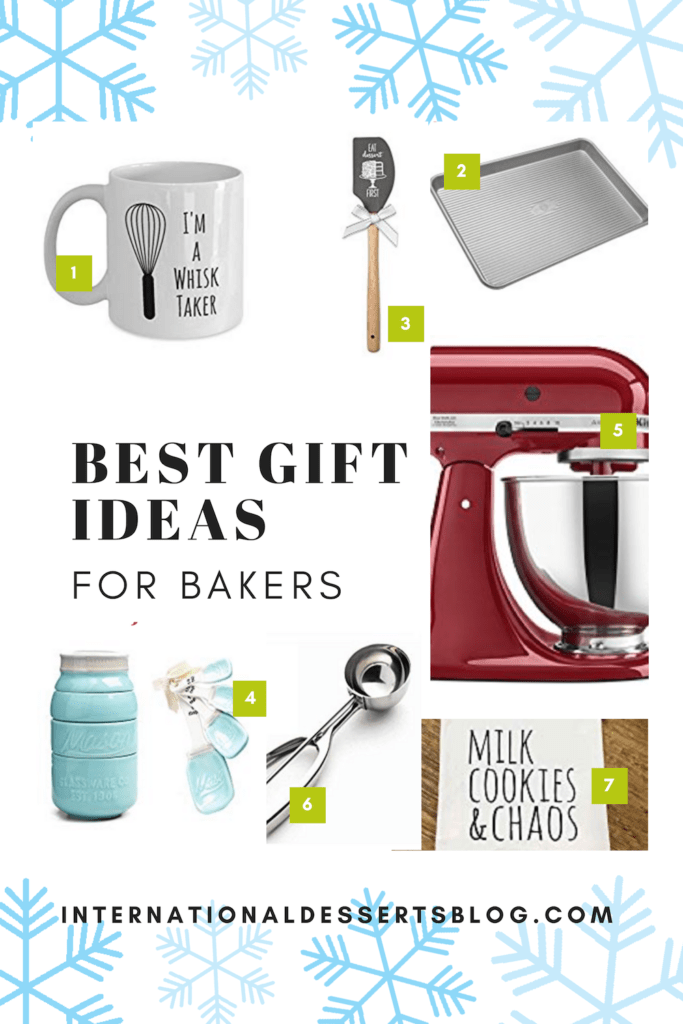 These gift ideas are perfect for the beginning baker, the baker who wants to level up their baking game, and the dessert lover who's more into eating cookies than making them. 😉
My gift guide offers great ideas for Christmas gifts for bakers — and also birthdays, graduations, wedding showers, house warming, anniversary, Mother's Day, Father's Day, and more.
In order to find the right gift for your baking enthusiast (maybe that's you?), here are a few questions to ask yourself:
Does the baker in my life want to improve their baking skills?
If so, check out the Best Gifts for Bakers section of this gift guide. There I've listed the baking tools I absolutely love and use every day.
Am I looking for an inexpensive or small gift?
If so, the Perfect Stocking Stuffers section is full of ideas.
Do I want a cute gift that will make the baker in my life smile?
If yes, take a look at the Just Really Cute section of this gift guide.
Every gift idea in this guide is available on Amazon, so it's easy to get all the great gifts for bakers you're looking for at one time!
Best Gifts for Bakers
These are the baking tools I use every day and love.
I got a French rolling pin last year for Christmas and I LOVE it! It makes rolling out all kinds of dough really comfortable and easy. Rub a little flour on it and it doesn't stick at all. Easy to clean up with a little water.
Click here to check out this French rolling pin.
I've been using my marble pastry slab for a couple years now, after getting one from my husband for Christmas. I don't know what I'd do without it! The marble keeps the butter in my pastry cold when I'm rolling it out. Plus, it's beautiful.
Click here to check out this marble pastry slab.
This is another gift that I love and don't know what I'd do without. It fits my USA half-sheet baking pan perfectly and my cookies always turn out and never stick. It's good to start with a standard half-sheet, as most people have a half-sheet baking pan, but Silpat has mats in all kinds of sizes, including quarter sheet, petite jelly roll, and toaster oven size.
Check out this Silpat half-sheet baking mat.
My favorite baking pans, hands down! They don't warp, they clean up well, and are a perfect friend for Silpat baking mats. I've got both the half-sheet and the quarter-sheet pan. I now want all the USA pans!
Click here to check out the half-sheet baking pan or the quarter-sheet baking pan.
Useful and inexpensive. Perfect when paired with a USA pan and Silpat mat!
Click here to check out this cooling rack.
You can't go wrong with a good batter bowl! I have a couple like this and use them all the time. The non-slip handle and bottom are super helpful when stirring or using a hand mixer.
Click here to check out this batter bowl!
I'm almost embarrassed to tell you that I went years using a really old set of plastic measuring cups and spoons. I never liked them and they didn't feel good in my hands. When I finally invested in a nice set of stainless steel measuring cups and spoons I was so happy! Why did I wait so long to get a nice set?! The other thing I like about this set is that it comes with more precise measurements, e.g., 2/3 cup, 3/4 cup, 1/8 teaspoon, etc. That makes measuring ingredients a lot easier and quicker.
Click here to check out these measuring cups and spoons set!
When my husband and I got married I was in grad school and we lived in a little 2-bedroom townhouse with a tiny galley kitchen. I told him that as soon as we bought a house I was going to invest in a KitchenAid mixer. Seven years later we moved to a new state and bought a house with a bigger kitchen. And I went out and bought my beautiful white KitchenAid stand mixer. Eleven years later it's still my favorite kitchen tool and best investment.
Click here to check out this Kitchen Aid stand mixer!
This kitchen scale is a fairly recent – and much welcomed – addition to my kitchen. It's so inexpensive and now I wonder why I didn't get one sooner?!
Click here to check out this kitchen scale!
Perfect "Stocking Stuffers"
If you're looking for a small or inexpensive gift for your favorite cookie baker or cookie lover, here are some super cute ideas for stocking stuffers!
Click here to check out the Milk, Cookies & Chaos dishcloth!
You can make a lot of different kinds of cookies, doughnuts, petite-fours, and more with this versatile cookie cutter set!
Click here to check out this cookie cutter set!
Think of the laughs and memories created by making Christmas cookies!
Click here to check out this Christmas cookie cutter set.
I used to use the 2-spoon method for placing cookie dough on my cookie sheet…until I got an ice cream and cookie scoop. So much easier! And I like that I can now get all of my cookies the same size.
Click here to check out this ice cream and cookie scoop!
How cute is this cookie apron?!
Click here to check out this cookie apron!
Perfect stocking stuffer, right?
Click here to check out this dessert first spatula!
I keep a baking journal and not only is it a fun way to record memories, it's also super useful. I always think I'll remember how a recipe turned out or how I changed it and I almost never do. Recipe journal to the rescue!
Click here to check out this recipe journal!
3. Just Really Cute!
These gifts ideas are just super cute and fun. 🙂
What cookie baker (or lover) wouldn't love a cookie jar gift? I love that you can personalize it!
Click here to check out this personalized cookie jar!
How cute would this mason jar measuring cup and spoon set be displayed in a kitchen? I love that it's not only cute but you can actually use it.
Click here to check out this mason jar measuring set!
Click here to check out this wooden spoon!
Click here for this baker mug!
Click here to check out this christmas mug for cookie bakers!
Click here to check out this whisk taker mug!
Click here to check out this I Love Desserts recipe journal!
Which gift ideas for bakers are your favorite?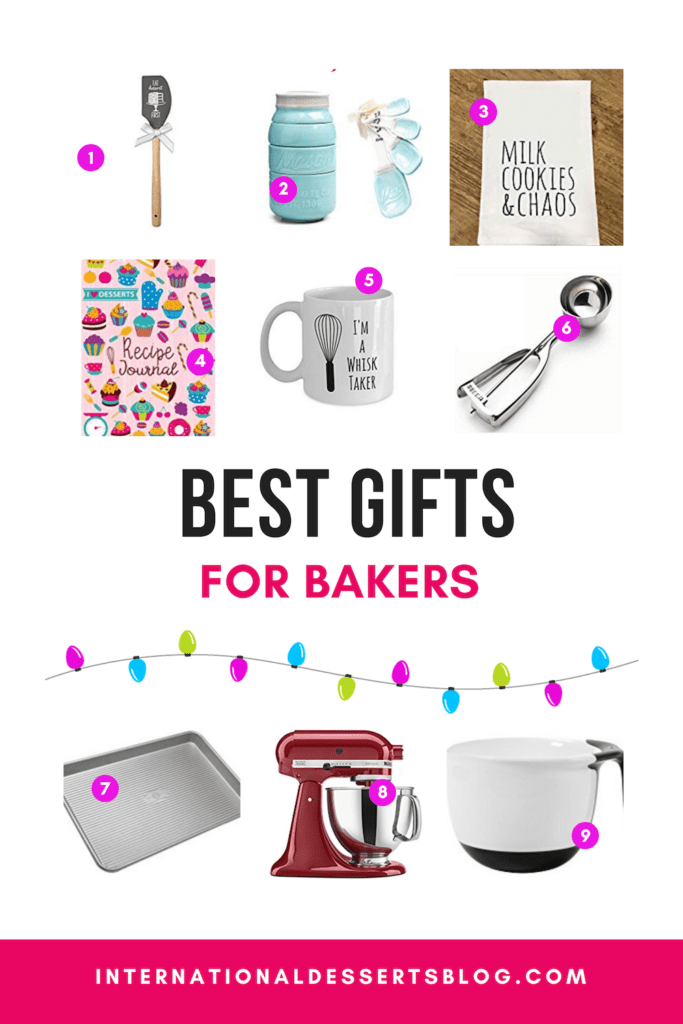 —
Disclaimer: The International Desserts Blog is a participant in the Amazon Services LLC Associates Program, an affiliate advertising program designed to provide a means for us to earn fees by linking to Amazon.com and affiliated sites. Thank you for supporting my site and helping me make it the best international desserts and travel resource on the internet!