25 Cute & Useful Valentine's Day Gift Ideas for Bakers & Dessert-Makers
This article may contain affiliate links. See our disclosure link for more information.
Valentine's Day is just around the corner!
If you're looking for gift ideas for bakers, this article has some of the best gift ideas on the internet.
I've compiled a list of Valentine's Day (or Galentine's Day!) gift ideas that are cute, useful, and perfect for anyone who loves to bake.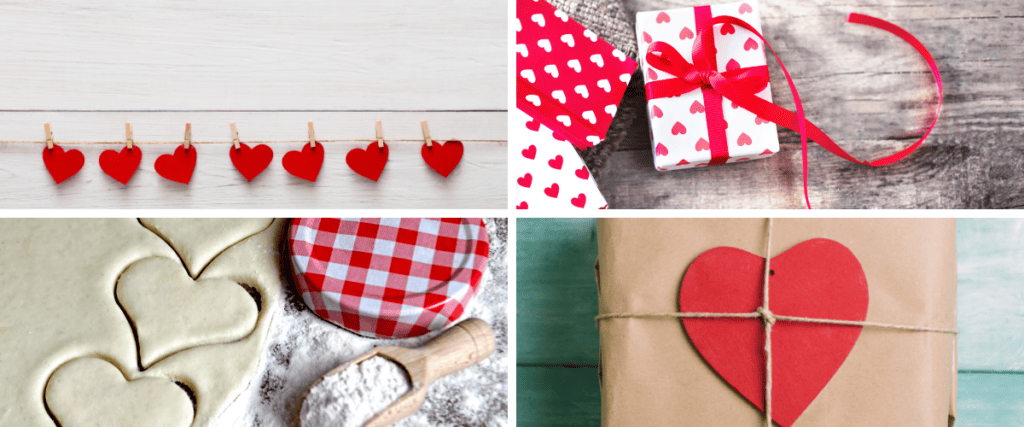 Bakers love gift ideas that they can use in the kitchen, especially gifts that make baking easier. Us bakers spend a lot of time in the kitchen – it's our happy place – so any gift that can make their job a little bit easier is sure to be appreciated.
It's important to find gifts that will actually be used and fit the recipients personality. You don't want to buy something that will goes unused. You as the gift giver and the gift receiver will both be happier if the gift is used.
Are you looking for gift ideas for bakers? Or maybe gifts you want to add to your own wish-list?
Check out the 25 cute & useful Valentine's Day gift ideas for bakers below, that are sure to put a smile on any baker's face!
25 Cute & Useful Valentine's Gift Ideas for Bakers
1. Valentine's Day Silicone Spatula
Love is in the air! This valentine's day, so why not surprise your significant other with these cute baking spatulas they'll use every single day? This is a long-lasting Valentine's Day gift idea that's perfect for someone who loves to bake or cook…and they'll think of you every time they use it!
2. Love Bamboo Utensils Wooden Spoons
This complete kitchen utensil set that includes a turner spatula, solid spoons, and slotted forks to handle high heat sautéing, baking or mixing tasks – means getting all your favorite cooking tools in one handy package! This unique woodenware will make cooking fun because it's both stylish AND functional.
3. Hugs & Kisses Kitchen Towels
These kitchen towels are the perfect way to add some love and color to your home this Valentine's Day. With an array of hearts and buffalo plaids in vibrant shades, your these dish towels will make you feel happy all week long!
4. Bamboo Heart Spoon
This classic heart-shaped spoon is full of Valentine's Day romance. The attached ribbon makes it pretty and easy to hang in your kitchen, and it's made from environmentally friendly bamboo that'll last you through daily use!
5. Happy Valentines Day Heart ​Table Runner
This elegant table runner provides protection for your dining room table and add some flair during the Valentine's Day season.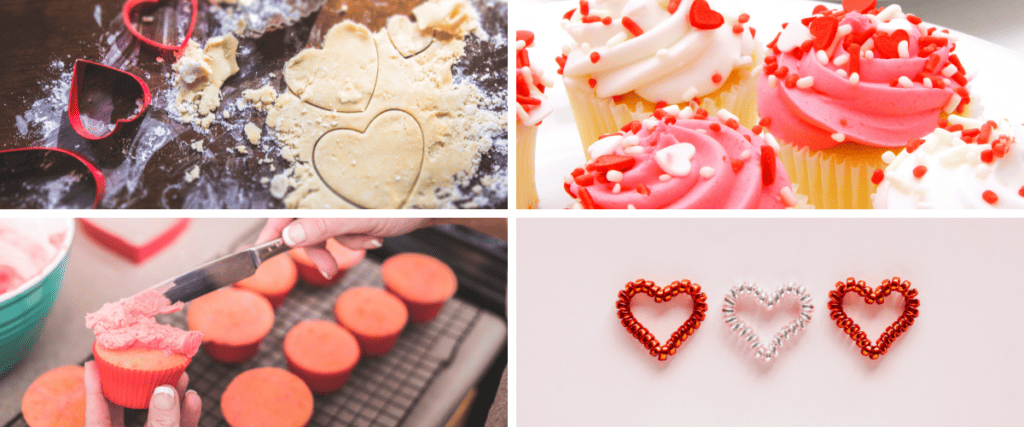 6. Watercolor Stripes Love Heart Table Runner
Made of durable fabric that's soft and absorbent, this table runner will protect your table from hot pans or scratches. Use this cute table runner to add flair for everyday use or for a Valentine's Day themed party, birthday or anniversary.
7. Kitchen Holiday Dish Towel Set
This super cute set the perfect gift for any baker and their home and includes 4 different towel designs, each with its own unique color story to match your decor or style!
8. Valentines Day Heart Napkins
These romantic and elegant Valentine's Day napkins will make your dining room look like a dream. The red-colored hearts are perfect for Valentine's Day and other occasions, from an intimate dinner with just one special person to placing them on the kitchen counter as you are cooking up your newest dish!
9. Mini Heart Waffle Maker
The possibilities are endless with this mini waffle maker. You can enjoy your favorite breakfast classics or get creative with heart-shaped hash browns, cookies & even biscuit pizzas! The best part? Ingredients will "waffle" into a single serving so you don't need any silverware to eat this meal on the go (or at home).
10. Black & WhiteValentine's Kitchen Towels
These adorable Valentine's kitchen towels are perfect for any style of home. These modern, farmhouse-inspired creations feature an all-black and white lattice design with hearts at the bottom to give them that extra special touch!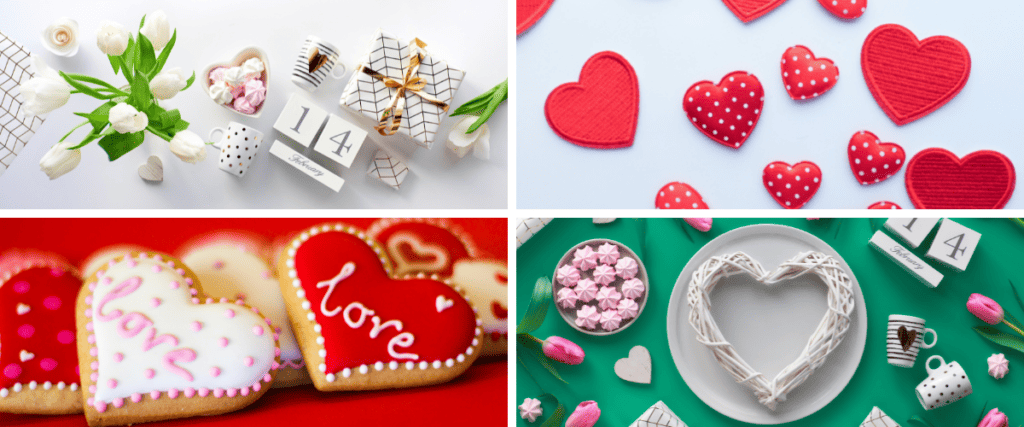 11. Valentine's Day String Lights Decor
You'll find the perfect way to celebrate Valentine's Day with these vintage romantic lights. Powered by 2 AA batteries, the warm white bulbs will bring an instant sense of love into any room in your home or office. They're the perfect way to create a cozy mood for Valentine's Day.
12. Heart Shape Cookie Cutters Set
This 5-piece heart cookie cutter set is perfect for making biscuits, cookies, and even cake decorating. The eco-friendly, BPA-free, food-grade stainless steel cookie cutter come in different sizes to suit any occasion or baking project.
13. White Cupcake Boxes
This is the perfect way to share your love of baking with friends and family! These 3″ square white gift boxes come in sets of 24 and have heart-shaped acetate windows, which makes it easy to let recipients choose which treat they'd like to take home with them.
14. 20 Valentine's Day Cake Stencil Templates
Made of durable, eco-friendly plastic material, these stencils can be used to make cute designs on cakes, cupcakes, bread, and even lattes! You could also use them for painting cards or creating art crafts with your kids – there are so many options for using these cute stencils!
15. Heart Shape Silicone Molds
These heart-shaped silicone molds are perfect for making your favorite chocolates, candies, small cakes, biscuits, scones, muffins, and more! You can use them to make a variety of different treats at once.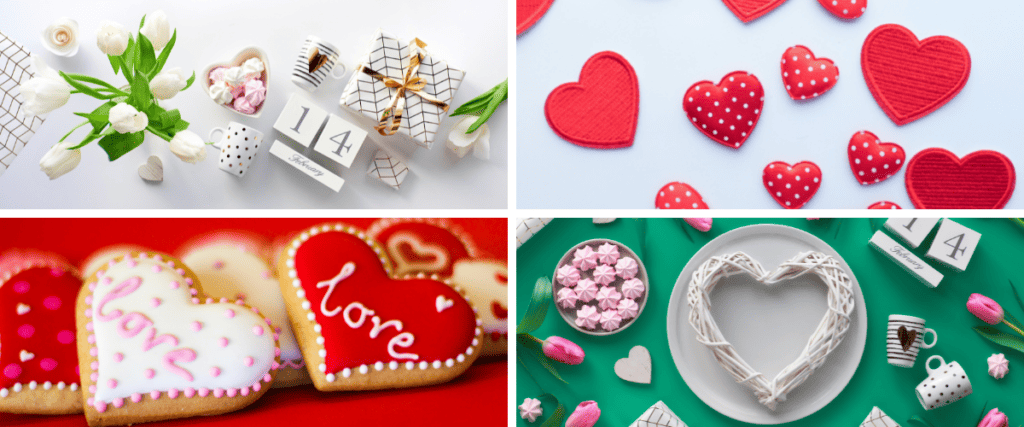 16. 3-Piece Heart Biscuit Cutter for Baking and Decorating
These heart biscuit/cookie cutters will make your bakes look like they were made by a pro. You can use them for Valentine's Day, birthdays, and other special occasions where you want a little love or romance in the kitchen.
17. Valentine's Day Cupcake Liners
With these Valentine cupcake liners, you can have a tasty treat for your sweetheart without having to worry about your baked treat sticking to the pan or falling apart. Not only are they made from quality materials, you get 6 different super cute patterns.
18. Valentine's Day Bakery Treat Boxes
These bakery treat boxes are perfect for any lover of sweet treats! You get 6 different designs, each with its own unique color and pattern. The transparent window lets you see what's inside without having to open it up, making these boxes great for Valentine's Day, thank you gift, or just when you want to share a special bake.
19. Mini Heart Tart Pan Set
These heart-shaped tart molds are made of quality carbon steel, which makes them superior to other materials in terms of heat conductivity. The reinforced design also prevents warping when baking things like cakes, tarts or quiche, so you can enjoy a perfect bake every time.
20. 7-Inch Springform Pan
This heavy duty 7-inch Springform Pan is perfect for use in your instant pot or stovetop pressure cooker. Made of heavy carbon steel, this cake pan will not bend even when fully loaded with food and water. It's also oven safe up to 445 degrees Fahrenheit (230 Celsius). Perfect for the Valentine who loves to make cheesecakes!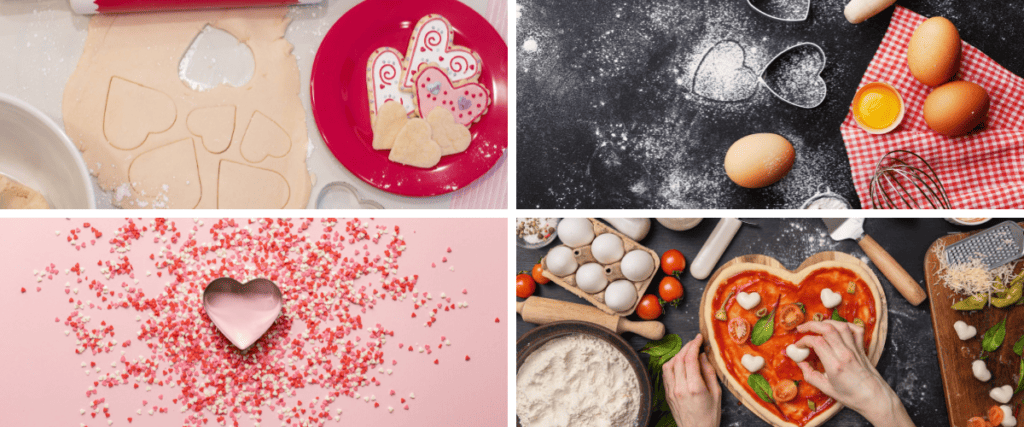 21. Valentine's Sprinkles Decorating Set
These heart-shaped sprinkles will make your Valentine's Day treats extra special this year. With a variety of colors and shapes, you can create all sorts of delicious combinations to suit any sweet tooth!
22. Heart Silicone Molds
These modern heart-shaped cake and candy molds are made of flexible material that can withstand high temperatures. They're safe, durable, and reusable! Perfect for making all kinds of Valentine's treats for you special someone.
23. Heart Shaped Aluminum Foil Cake Pans
Making Valentine's Day treats for a crowd? Made of quality aluminum foil, these heart-shaped pans have a smooth surface and long last pretty red color. They're also slightly waterproof and oil proof so you can use them again many times! These cupcake baking pans will withstand temperatures up to 220 degrees Fahrenheit which means that your tasty treats won't melt or get icky anytime soon after being taken out from the ovens.
24. Valentine's Day Baking Cupcake Decoration Confetti Sprinkles
These high-quality confetti sprinkles are perfect for decorating your Valentine's cupcakes, cookies, and other baked goods. Store these treats in a cool dry area and they'll have long shelf life!
25. Silicone Heart Cake Pans
These 8-inch silicone heart bundt cake pans are great tools for both professional and beginner bakers. These molds can be used to effortlessly release heart-shaped cakes or other desserts with just one twist, making it easier than ever before to make beautiful heart-shaped desserts your friends and family will love.
I hope this list of gift ideas for bakers was helpful. Happy Valentine's Day!