Best Great British Bake-Off Gifts
This article may contain affiliate links. See our disclosure link for more information.
Raise your hand if you're a fan of the Great British Bake-Off (aka Great British Baking Show)!

Or maybe someone on your gift giving list is a fan?
My husband and I love the show. Well, I love the show, and he enjoys watching it with me. It's my favorite baking shows and the only reality show I find enjoyable enough to watch.
I like learning about the desserts and sweet treats they make each week, and I so appreciate how congenial and supportive everyone is.
We've watched every single episode at least once, and I'm thinking about starting the entire series again. I want to make a big list of every dessert made on the show so I can set up my own personal baking challenge.
I was mulling over gifts I need to buy this year and found these awesome idea for fans of the show, so I put them into a gift guide for you.
The Great British Baking Show: A Bake For All Seasons
First up is the new BBS cookbook!
I was asked by the publisher if I'd like to take a look at this new cookbook featuring recipes from Paul, Prue, and the bakers from the 2021 season — so I of course said yes!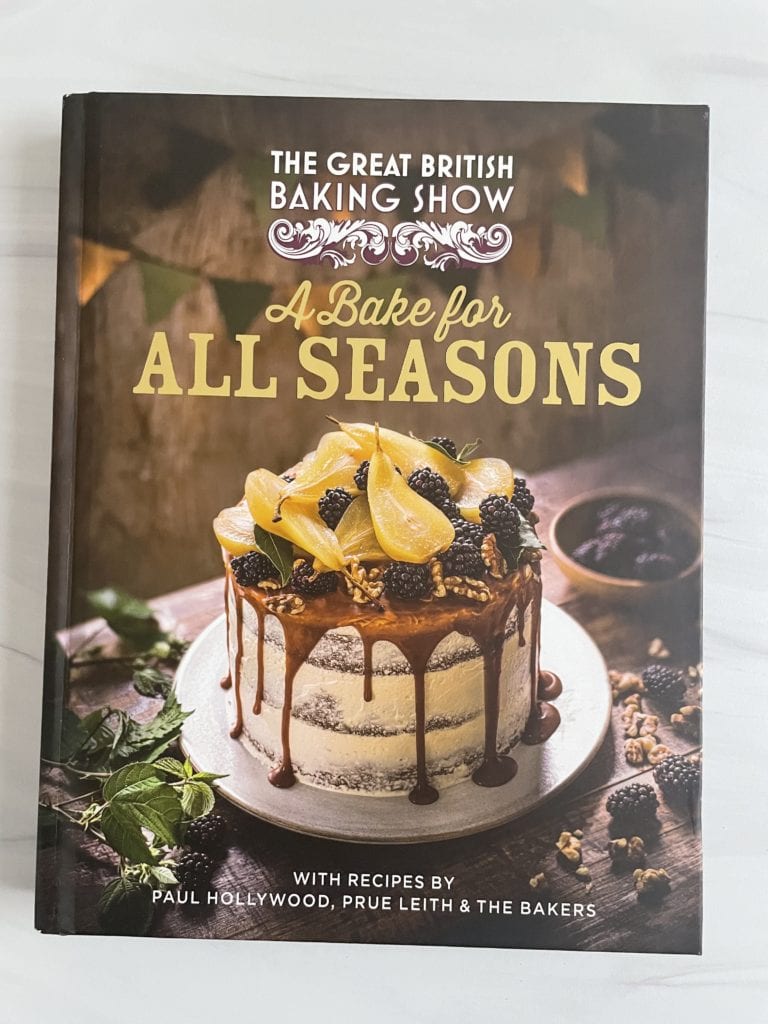 This beautiful cookbook is filled with scrumptious sweet and savory recipes you'll recognize from the show.
I love that recipes are organized by season, and that there's a section in back that shows you (with photos!) all of the cookies (biscuits), breads, cakes, gluten-free bakes, savory bakes, tray bakes, vegan bakes, sweet pastry & patisserie, and more.
I've already earmarked several recipes to make in the coming year: Semlor, Chigs's Mango & Coconut Upside Down Cake, Chocolate Hazelnut Torte, Chrystelle's Chai & Jaggery Cake, Strawberry & Clotted Cream Cake, Prue's Vegan Sausage Rolls, Cruffins…ok, so I really just want to make aaaalllll of the recipes!
This cookbook is the perfect gift for the Bake-Off fan in your life. Click here to buy A Bake For All Seasons!
The Best Great British Bake-Off Gifts
Ok, now to the rest of the gift ideas!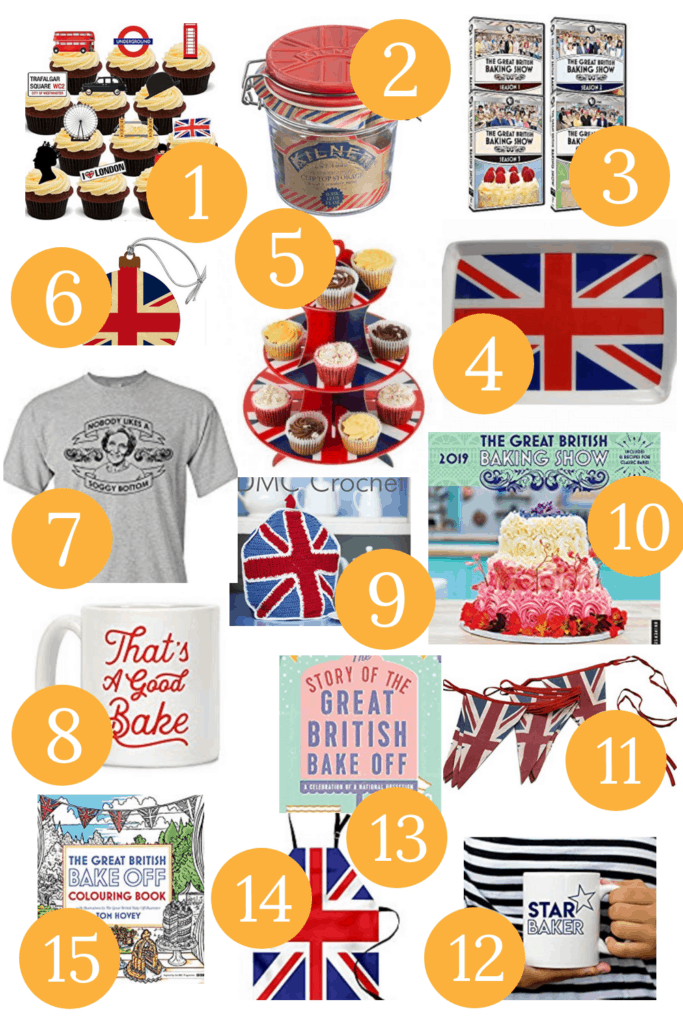 1. London edible cake topper decorations.
— Perfect for cupcake bakers, London themed or British themed parties or simply watching the show while eating cupcakes.
2. Iconic glass Kilner jar with clip top lid.
— This exceptionally durable jar has a Union Jack flag ceramic lid. Kilner jar seals are airtight and great for preserving.
3. Great British Baking Show Seasons 1-4.
— Every fan should have this original set! Get seasons 1-4 here.
4. Union Jack plastic serving tray.
— Serve scones and tea on this fun tray.
5. 3-tiered British flag cupcake stand.
— How perfect would this be for parties!
6. Wooden Union Jack Christmas tree ornament.
— This unique ornament makes a great stocking stuffer!
7. Nobody Likes a Soggy Bottom T-shirt.
— Definitely a BBO/BBS fan must-have.
8. That's a Good Bake Mug.
— Tell the baker in your life how much you love and appreciate their bakes.
9. Union Jack tea cosy (teapot cover) crochet pattern.
— Perfect stocking stuffer for crafters!

10. Great British Baking Show 2019 calendar.
— Give the gift of inspiration with this 2019 wall calendar featuring 12 delicious bakes.
11. Vintage Cloth Fabric Union Jack Bunting.
— A party must-have. This bunting is double-sided so you can hang it anywhere.

12. Star Baker Mug.
— Who's the star baker in your life? Tell them with this cute mug!
13. The Story of the Great British Bake Off: A celebration of a national obsession.
— Go behind the scenes of the show with this book.
14. Union Jack Apron.
— Help your baker keep their clothes clean while baking you sweet treats!
15. Great British Bake Off Coloring Book.
— This is so cool! You can color 90 illustrations from the show including showstoppers and iconic favorites.
Here are a few more Union Jack gifts that I just found: Union Jack tea cozy, vintage British flag pillow, Union Jack table cloth.