The 7 Best Desserts & Sweet Treats in Portland, Oregon
This article may contain affiliate links. See our disclosure link for more information.
Planning a trip to the beautiful, quirky city of Portland, Oregon? Here are seven cake, ice cream, and pastry recommendations from my friends Michelle and Peter that will make your visit even sweeter.
Clic Here to Pin this For Later!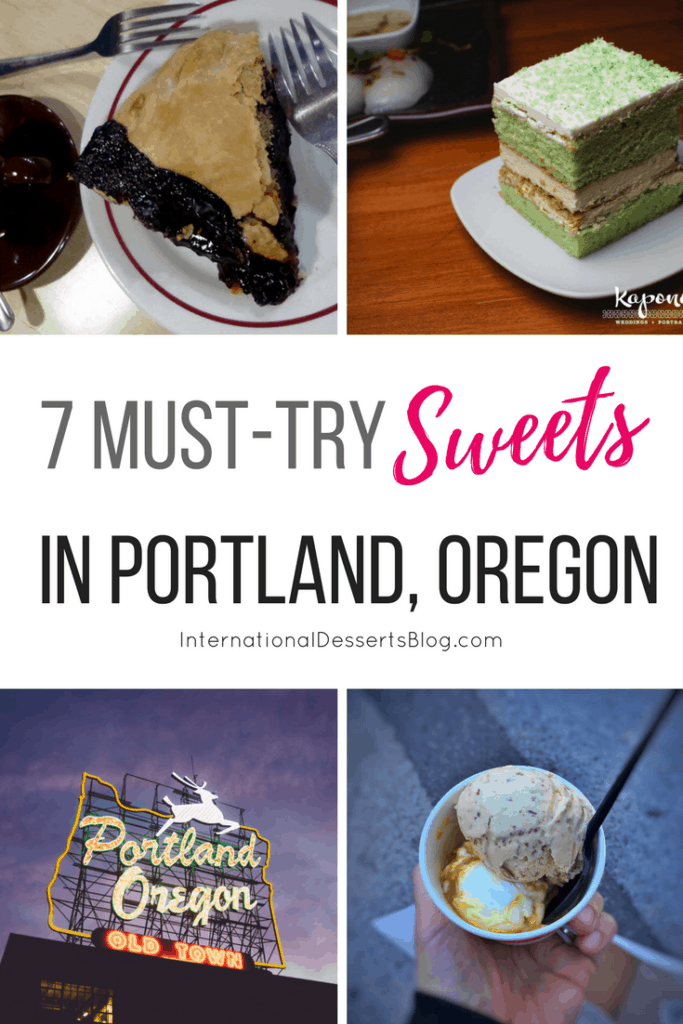 #1 – Salt and Straw Ice Cream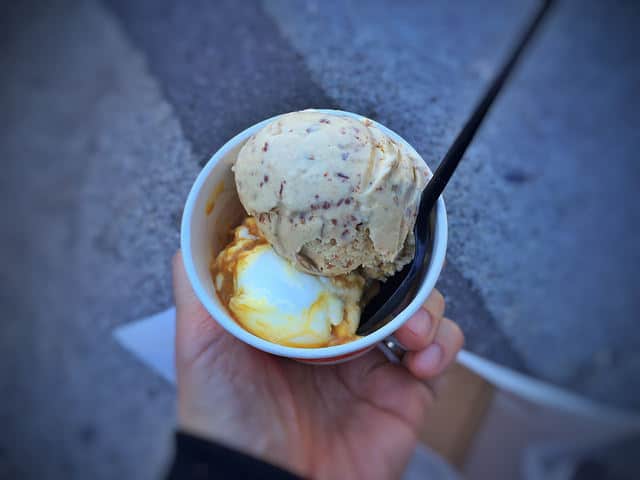 Portland's new favorite! And it nearly always has a long line. Salted caramel is my (Michelle's) favorite, but they also have really interesting flavors like olive oil, coava coffee & cocanú craque, and strawberry honey balsamic with black pepper – and a rotating seasonal menu.
Cate's note: when I visited the Portland Salt and Straw the line was indeed long but moved pretty quickly. Their ice cream is worth the wait!
Locations:
#2 – Jade Bistro
Definitely try the Vietnamese wedding cake at Jade Bistro and Patisserie in Sellwood. All of their food is good, but you've never had a cake like this before. The green color comes from pistacchio. There are so many great textures and flavors layered into this cake. Usually available later in the day, but the owner/baker doesn't always make it so best to call ahead if you really want to know it's going to be there.
Cate's note: I've eaten lunch here a couple times and I can't believe I didn't get dessert! Next time I'm definitely ordering this cake.
#3 – Piece of Cake
Another great one in the Sellwood neighborhood! Love their chantilly cake. Piece of Cake also does great gluten free cakes.
Piece of Cake Bakery
(503) 234-9445
8306 SE 17th Ave.
Portland, OR 97202
Hours
Mon-Thurs: 9am-8pm
Friday: 9am-10:30pm
Saturday: 10am-10:30pm
Sunday: Noon-5pm
#4 – La Provence / Petit Provence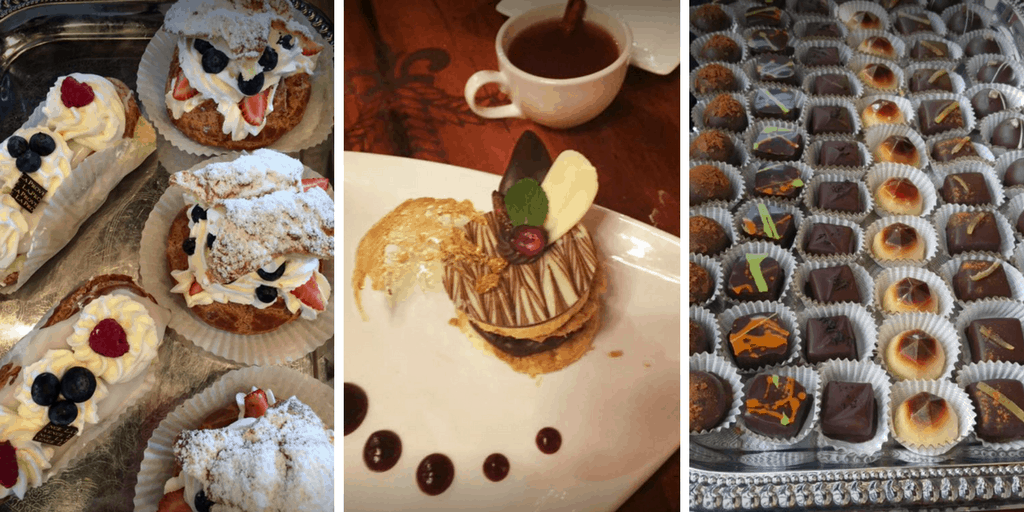 Photo credit: La Provence / Petit Provence
In addition to great brunch, La Provence / Petit Provence has lots of great French pastries, breads, elegant desserts, and even boutique chocolate.
Locations: SE Division, NE Alberta, Hillsboro, Beaverton, Lake Oswego, and the PDX airport.
#5 – Voodoo, Pip's or Blue Star Donuts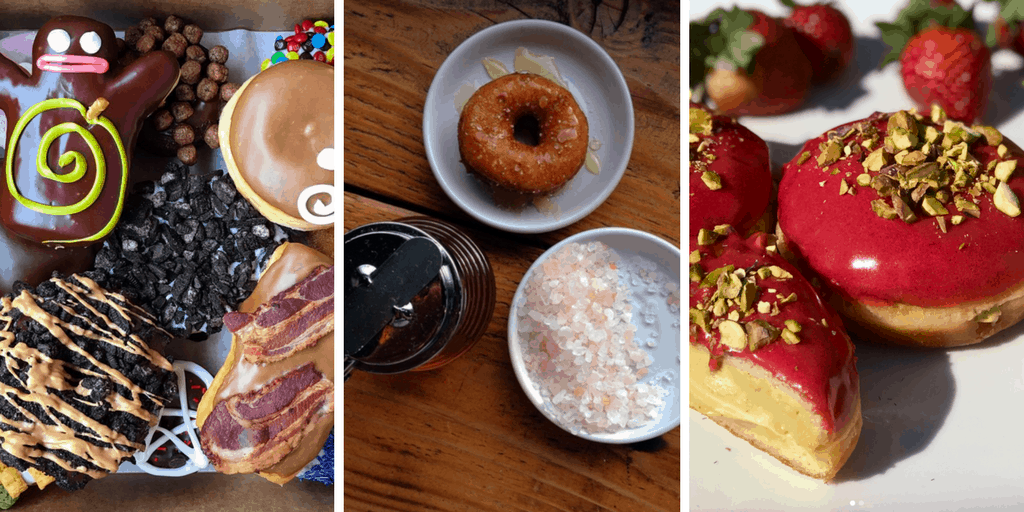 Photo credit: Voodoo, Pip's & Blue Star
Donuts are big for some reason in Portland. Voodoo Donuts is probably the most famous but it's mostly tourists who go there. Locals tend to pick their favorite among Pip's or Blue Star.
Voodoo Locations: Downtown, East Side & food cart (all are cash only)
Pip's Locations: 4759 NE Freemont Street & food cart
Blue Star Locations: South Waterfront, PDX airport, Downtown, North Portland, Southeast Portland, Northwest Portland, Beaverton
#6 – Papa Haydn's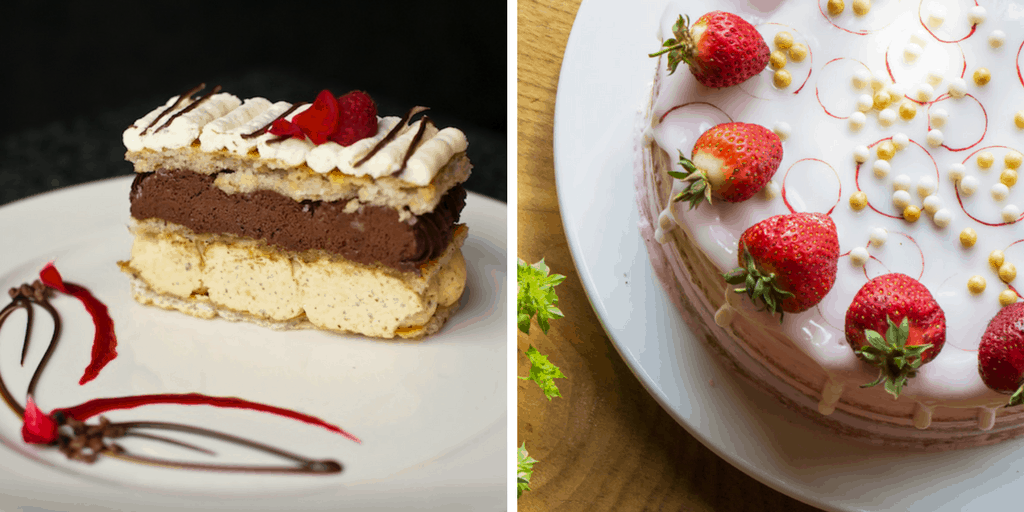 Photo credit: Papa Hadyn
A long-time Portland classic. Also two locations, the most popular being on trendy NW23rd. A bit upscale with a full menu and a large display case of cakes for dessert.
701 NW 23rd Ave
Portland, OR 97210
503.228.7317
Mon – Thu 11:30 am – 10 pm
Fri – Sat 11:30 am – midnight
Sun 10 am – 10 pm
5829 SE Milwaukie Ave
Portland, OR 97202
503.232.9440
Hours:
Monday – Thursday 11:30 am – 10 pm
Friday – Saturday 11:30 am – 12 am (Midnight)
Sunday 10 am – 10 pm

#7 – Bipartisan Cafe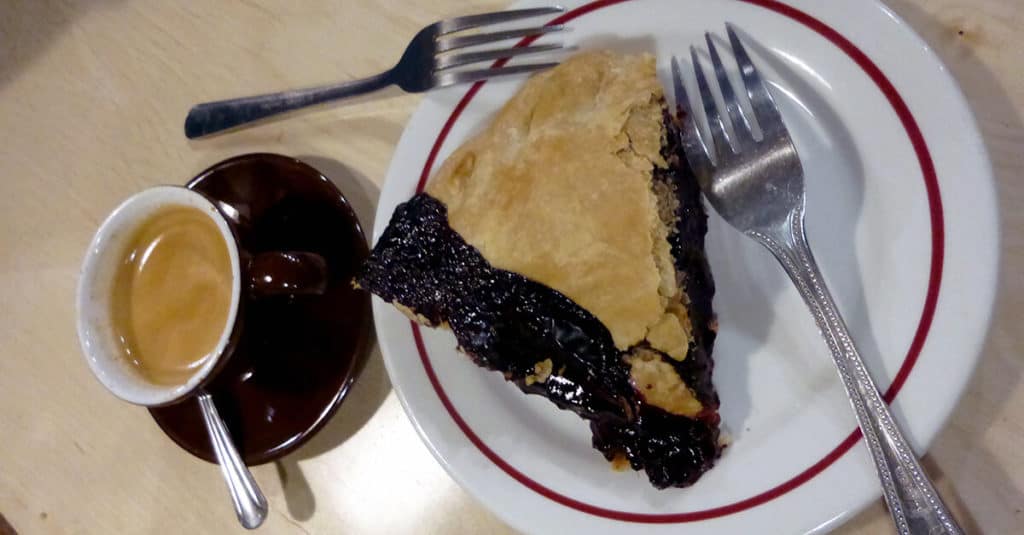 As the city disappears under fancy condo towers, Bipartisan Cafe offers a taste of "Old Portland:" a spirit of community to the soundtrack of punk rock. But it's pie that rules here. With half-a-dozen or more kinds on the menu at any time, Bipartisan Cafe is an underrated place where the philosophy of to-each-their-own is not only embraced but encouraged.
Bonus! – Dessert Food Carts
Portland is known for food carts and there are plenty to try in almost any area of town. There's a good waffle cart in North Portland (can't remember the name). Food carts are a fun general recommendation so definitely go explore the sweet food cart scene!
Click here to find the best cafes, bakeries, and sweet treats in Amsterdam, Budapest, and more!
Click Here to Pin this For Later!