4 Hawaiian Desserts You've Got to Try (and Hawaii Travel Planning)
This article may contain affiliate links. See our disclosure link for more information.
I'm doing a ton of travel research for the coming year and thought I'd share a little about the first destination I'm looking at: Hawaii!
The first three things I think about when I plan travel are where to go, what kind of accommodations I want, what I want to do and see, and – of course – what kind of desserts and sweet treats I want to try.
I'm sharing what I've learned so far in the hope it'll help you plan your own trip. Be sure to check out the Hawaiian desserts below!
Where to Stay in Hawaii
This is actually the easiest decision for me because no matter which Hawaiian island(s) I decide on, my favorite type of accommodation when I travel are rental houses and apartments. So I'm looking at a variety of rental homes in Hawaii. I've rented apartments and houses all over the world and have always had excellent experience.
What I love about renting private homes is that it's just more comfortable than staying in a bland hotel room. Especially if I'm looking for a place to host multiple friends or family members at once. In that case it's also typically a much more affordable option than renting multiple hotel rooms.
I also love the unique character of each home and that there's room to spread out and not feel like you're on top of everyone else or confined to just one room. Even though I often eat out for lunch and/or dinner when I travel, I love the convenience of making the exact healthy breakfast and snacks that I want, when I want. I'd much rather sip my morning tea in my pajamas while sitting on my balcony overlooking a gorgeous view than sit in a stuffy hotel dining room!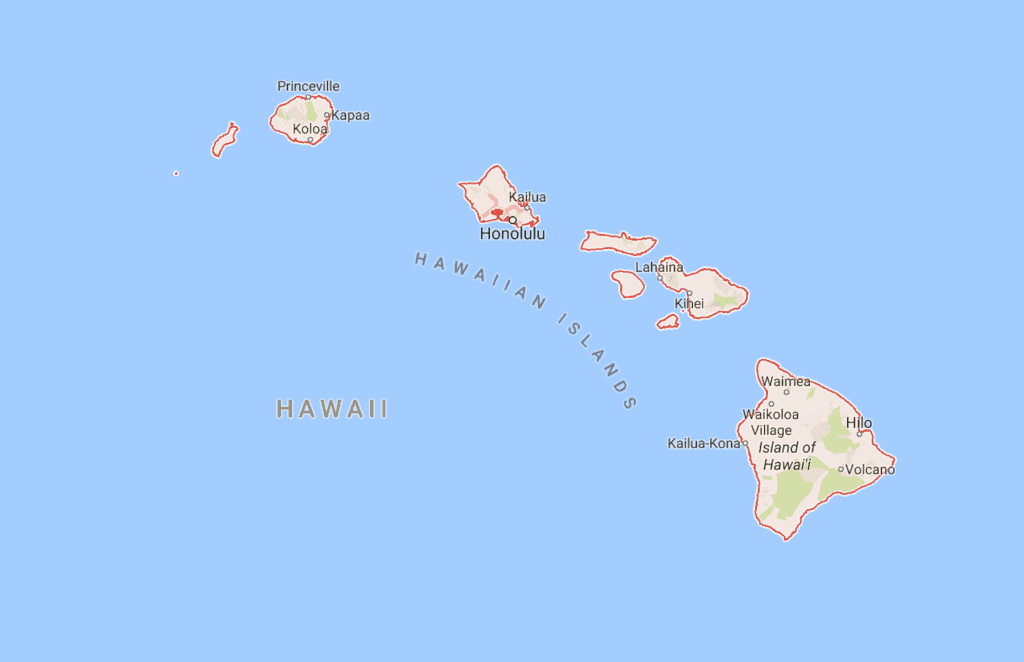 Which Hawaiian Island?
This is a harder question to answer! Hawaii is made up of six islands and each has so much to offer that it can be hard to narrow it down. So I made this cheat sheet:
Kauai is called the "Garden Isle" and is the best island for helicopter tours due to its spectacular views of canyons, cliffs, and waterfalls. It's also quieter and more laid back than larger Maui or Hawaii's Big Island.
Oahu is the 3rd largest island and home to Pearl Harbor. It's the perfect choice if you want to use public transportation and tours rather than self-driving or if you want to day trip to another island. Honolulu is the main airport hub for Hawaii.
Maui, the 2nd largest island, is famous for it's beaches. Because it has a little of everything, it's a great place to go for your first Hawaiian vacation.
Hawaii's Big Island is the largest island. It's twice as big as all other islands combined! It's also the only island with active volcanos and lava.
Lanai is the smallest inhabited island and only 9 miles from Maui. Outside of the resort areas, Lanai looks the way it did hundreds of years ago! It's the least commercial, least populated, and has great snorkeling. There are no chains like Starbucks or Walmart.
Molokai is the 5th largest island and not only has the highest sea cliffs in the world, it also has the longest continuous fringing reef. It's only 10 miles across at it's widest point. Like Lanai, Molokai doesn't have chains like Starbucks or Walmart.
My research suggests choosing one island to visit if you're staying for a week or less, two islands if you're staying two weeks, and increasing islands as you increase your time in Hawaii. Right now, I most want to see Kauai's nature, the volcanos on the Big Island, and Pearl Harbor on Oahu, but I don't know if I can swing more than two weeks. Fortunately, inter-island flights only take 20-70 minutes, so day trips are totally possible.
If you've taken a day trip to another island, would you recommend it?
What to Do and See in Hawaii
I used to love wandering around big cities but these days I'm all about nature, learning about culture, and relaxing outside.
So I'm definitely most interested in beach days, snorkeling, hiking, horseback riding, a farm tour (there's a working coffee plantation on Kauai, for example), backcountry tubing (my husband and I have an ambitious goal to go tubing in all 50 states) and of course…food!!
Which leads me to the most important topic…
Hawaiian Desserts & Sweet Treats
Scoping out the delicious desserts and sweet treats are a top priority for me! Fortunately, Hawaii is a paradise when it comes to finding amazing food, from roadside stands to 5-star restaurants. Here are four sweet treats I can't wait to try.
1. Hawaiian Shave Ice

Hawaiian shave ice isn't like the snow cones from your childhood. Rather, it's soft and smooth with a snow-like texture and turns out kinda like sorbet. Stands will usually have a variety of flavors to pour on the ice (look for the ones that make their flavors in house).
The best part? You can order shave ice on a scoop of ice cream! I'm already drooling over the macadamia nut ice cream with guava, mango, and passion fruit shave ice mentioned in the video below. You can also get shave ice with mochi balls, shredded coconut, adzuki beans, haupia (see below), etc.
2. Butter Mochi
I'm a sucker for anything with butter in it. 😉 This Hawaiian sweet treat has the sticky texture of mochi, with crusty brownie-like edges, and features the flavors of coconut and butter. You can even make it at home! This video shows you how.
3. Fresh Fruit from Farmer's Markets
One of the best things about my trips to Jamaica were eating local fresh fruit for breakfast every morning and drinking fresh-from-the-coconut water (and then eating the young "coconut jelly" inside the coconut after I drank the water).
And then, when I was in Costa Rica, my husband and I enjoyed going to a local market and buying a bunch of unfamiliar looking fruit. It was so fun to inspect each piece and guess what it might look like on the inside and how it might taste before sampling it. I still don't know exactly what we ate but it was such a fun cultural experience.
I definitely want to do the same in Hawaii! Here are a few fruits I want to try: abiu, surinam cherry, velvet apple, longan, sweetsop, and peanut butter fruit. You can see what each one is like in this video.


4. Haupia
This is a light and refreshing pudding-like coconut dessert that's traditionally served at luaus but can be found all over Hawaii. I love coconut so this is definitely a must-try.
In addition to the haupia squares I've seen, I'll be on the lookout for desserts that incorporate haupia…like chocolate haupia pie and haupia cream puffs.
Haupia is really easy to make at home! Check out the video below for a haupia tutorial.
Have you been to Hawaii? Which island is your favorite? What are your travel tips? What's your favorite thing to eat in Hawaii?