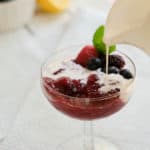 This simple berry dessert from Northern Germany is both refreshing in the height of summer and warming in the dead of winter.
4

cups

berries

(any combo of fresh or defrosted raspberries, strawberries, blackberries, blueberries, cherries, currants)

1/2

cup

sugar

I often add less if the berries are sweet

3/4

cup

water or red fruit juice

Juice adds more flavor but water works fine

1/3

cup

corn starch

squeeze of lemon, cinnamon stick or vanilla

optional

1

cup

fresh cream

cold
Wash and cut berries as needed and place in saucepan. Add sugar and stir. Bring to a boil over medium heat, stirring constantly. If using fresh berries, you may need to add a bit of water or juice. If you want to add a cinnamon stick, do so here.

In a small bowl, whisk together cornstarch and water or juice until smooth. Pour into the fruit and stir. Reduce heat and let simmer for 3 minutes. If the mixture becomes too thick, add a little water or juice to thin.

Take off heat. If you want to add lemon or vanilla, do so here.

Pour into 4 bowls and let cool for a couple minutes. Serve immediately with a small pitcher of fresh, cold cream to pour over the warm fruit.
Use fresh berries if you have them but do consider keeping a bag of frozen berries in your freezer so you can easily make up a batch of Rote Grütze.
Taste your berries before adding the sugar. If the berries are sweet, add less sugar (I often use 1/4 cup of sugar but I prefer it less sweet). If you prefer a sweeter dessert, add more sugar to taste.
Adding lemon, vanilla or a cinnamon stick is optional. Try all three and see which is your favorite!
I prefer my Rote Grütze warm but some people like it better when it's been chilled in the fridge for a couple hours. It will be thicker if you eat it cold.
I've always eaten Rote Grütze with cold, fresh cream but others swear by vanilla sauce, ice cream or whipped cream.
Have left-over Rote Grütze? Use as a toping for cheesecake, yogurt, ice cream, scones or oatmeal.