This post contains affiliate links, meaning, if you click through and make a purchase or sign up for a program, I may earn small commission. This is at no additional cost to you.
When you think of visiting Germany, which cities pop into your head?
Munich? Berlin? What about Hamburg?
Hamburg is Germany's second largest city and a destination that should be on your radar! Located on the Elbe river in northern Germany, there are countless attractions in Hamburg and so much to love about this beautiful and bustling hanseatic city.
I lived in Hamburg when I was a teenager and recently went back to visit after a couple decades away. I've lived in several regions of Germany but Hamburg is still my favorite city.
In this post I share lots of travel tips, as well as the top things to do in Hamburg, Germany on your first visit. Let me know if you have any questions!
Getting to Hamburg
Traveling to Hamburg couldn't be easier! Hamburg is a major city in northern Germany with many options for arriving via air, train, bus or car.
Flying to Hamburg
The Hamburg Airport has incoming flights from 130 European destinations and direct flights from cities such as New York City, Dubai, and Marrakesh.
Flights from most European destinations are quick and easy, and if you book early you can find many cheap flights to Hamburg. I've flown into Hamburg from both London and Frankfurt, after transferring from my international flight from the US. Last time I flew on Lufthansa and they gave us not only drinks on the 50-minute flight but also a Milka chocolate bar!
You have a few options for getting from the Hamburg airport into the city center. One is to take the  "S-bahn" (above ground metro) – the S1 (green line) goes right downtown 25 minutes. This is a great option if you know where you're going and don't have much luggage.
Another option is to arrange for a private airport transfer (to or from the airport). This is the perfect option if you're traveling with others, especially kids, don't want the hassle of trying to get cash and metro tickets while jet lagged or if you'd prefer to have someone else navigate in an unfamiliar city. Click here to reserve your hassle-free Hamburg airport transfer.
Taking the train to Hamburg 
If you're traveling to Hamburg from elsewhere in Germany or other European cities, I recommend taking the train. If you book in advance you can score super cheap tickets. Plus, the train is just so easy and convenient.
To give you an idea of travel times to Hamburg, here are a few examples:
Berlin to Hamburg – 2 hours
Frankfurt to Hamburg – 4.5 hours
Munich to Hamburg – 6 hours
Paris to Hamburg – 8.5 hours
Copenhagen to Hamburg – 5.5 hours
Most visitors arrive at and depart from the Central Station Hamburg (Hauptbahnhof in German), which is right downtown, but depending on where you stay, the Harburg, Dammtor or Altona stations may be more convenient.
Click here to check train schedules and routes.
Taking the bus to Hamburg 
If you travel to Hamburg by bus, you'll arrive at the ZOB bus station right downtown. Open 24 hours a day, the main bus station is a stone's throw from the Hauptbahnhof. Both the main train and bus stations are a short walk from hotels, shopping, and the huge Alster lake in the middle of the city.
Taking the bus in Germany is becoming a popular option because it's often much cheaper than the train. Here are travel times for the cities I listed above so you can compare:
Berlin to Hamburg – 4 hours
Frankfurt to Hamburg – 7 hours
Munich to Hamburg – 11 hours
Paris to Hamburg – 17 hours
Copenhagen to Hamburg – 5.5 hours
Click here to check bus schedules and prices.
Driving to Hamburg
Renting a car? You can easily drive to Hamburg from anywhere in Germany or Europe, really. Renting a car is a good idea if there are three or four in your group, want to visit more smaller towns than big cities or plan to do several day trips. While it's easy to get to Hamburg by car, I recommend parking your car while you're in Hamburg and using the city's efficient public transport.
Click here to read more about parking in Hamburg.
Flying vs Train vs Bus vs Driving to Hamburg
Since there are so many options, a lot of people wonder about the best way to travel within Europe or even Germany. It used to be that buying a Eurail pass and taking the train everywhere was the best option (for most people). Not any more! Even though I personally love riding trains all over Europe, there are other options to consider. It all depends on your priorities and budget.
Flying. This could be the best option if you find a cheap ticket, are traveling light (cheap tickets often limit the amount of luggage you bring) or don't want to sit on a train or bus for several hours. There are a few downsides of flying…your flight could be delayed, your luggage might be severely restricted, and even if your flight is only an hour long you still need to factor in time to get to the airport, go through security, wait to board, and then get your luggage and travel into the city once you land. Personally, I'd opt to fly to Hamburg if it were going to take more than 8 or 9 hours on the train.
Train. There's so much to love about trains in Europe and especially Germany. Train stations are in the city center, you don't (usually) have to check in or go through security, trains (in Germany) are typically on time, you can enjoy the lovely scenery out your window, there's more room than on a plane, you can change seats anytime, and you can get up and walk around or go to the bar car anytime.
You can book your ticket and reserve a seat ahead of time online or buy a ticket five minutes before you board. I almost always take the train in Europe, and especially Germany, because it's just so easy and convenient.
That said, there are a few downsides to taking the train…to get the lowest price you have to book well in advance and you can only take the train you're scheduled on, prices are often higher than the bus or a cheap plane ticket, and it can be boring to ride a train for hours on end, especially overnight.
Bus. Taking the bus around Europe is becoming more popular because it's cheap. Bus stations are often near the central train station and most busses are clean and comfortable with wifi, bathrooms, and snack bars. If the price is about the same, I'll always opt to take the train, especially on longer trips, but I've been very happy with my European bus experiences. If you're looking to travel on the cheap, take the bus.
Driving. Having a car at your disposal gives you lots of freedom. My husband and I have rented cars in several countries, including Germany, and have always enjoyed the experience. Driving is a great option if there are 2 or more people traveling together, if you plan to stick to smaller cities or if you want to take a lot of day trips. There are some downsides to renting a car…someone has to drive, parking can be expensive and difficult (we got an expensive parking ticket in Switzerland once!), your car could break down (we had to be pulled out of ditch on an icy night in Ireland), your car could be broken into, there are tolls and other fees, etc.
Good Books to Read for First-timers to Hamburg
Getting Around: Public Transport in Hamburg
Public transport is the best way to see all of the top things to see in Hamburg. Buy a Hamburg day ticket (6,40 Euros if you travel after 9 am) and you can easily use all of Hamburg's busses, ferries, U-bahns (underground metro), and S-bahns (above ground metro). I always rely on public transport in German cities because it's cheap and easy (I supplement with taxis as needed).
If you're traveling with friends, check out the group day card. Up to five people can use public transportation on the same day ticket for only 12,00 Euros! And if you've got kids 6 and under you're in luck–they ride for free! Be sure to download a Hamburg transit app to your phone (I use the free Hamburg Metro – HVV app) so you have the metro map at your fingertips.
Click here to check current day pass ticket prices.
Important Things to Pack 
While sunny weather is possible at any time of year, Hamburg's location near the North Sea makes rain equally likely at any time during the year. But don't let a little rain stop you from exploring all of the many things to do in Hamburg! Just pack an umbrella or rain jacket (or buy one once you'er there) and you'll be set.
Winters can be cold and summers can be warm so play it safe by packing layers. Comfortable shoes are a must in this walkable city any time of year!
Click here to read my ultimate guide to finding the perfect travel purse.
Accommodation in Hamburg
There are endless lodging options in Hamburg. Here are a few suggestions that are centrally located and fit a variety of budgets:
Crowne Plaza Hamburg – City Alster
Park Hyatt Hamburg
Ibis Hamburg St Pauli Messe
25hours Hotel HafenCity
The Madison Hamburg
The last time I was in Hamburg I stayed in an AirBnB apartment. I was there for several days and loved having the ability to make breakfast each morning and the occasional lunch or dinner. Check-in was easy (even though my flight was significantly delayed), the apartment was clean, and the wifi worked well. I was a little further away from the main sites but all I had to do was hop on the U-bahn and 5-10 minutes later I was in the heart of the city.
The great thing about AirBnB in Hamburg that you have so many options – from budget to luxury, small to sprawling, close in or in the suburbs.
Click here to get $40 off your first AirBnB stay!
When to Visit Hamburg
Hamburg is beautiful any time of year! The benefit of visiting in the summer is that you'll have lots of daylight (the sun doesn't set until well after 10pm), and you're more likely to have sunny, warm weather.
The upside to visiting in the winter is that you might get to walk or skate on the frozen Alster — the huge lake in the middle of the city! If you visit in late November or December you can also visit the Christmas Market, which I highly recommend because Christmas in Hamburg is beautiful!
Best Guidebooks for Germany
I almost always download a guidebook to my Kindle and iPhone before I travel. Here are my favorites! You can download the digital version or order a hard copy.
Rick Steves German Phrase Book & Dictionary
(I haven't used this one myself but it got great reviews on Amazon, so if you're traveling with kids, check it out!)
10 Cool Things to Do in Hamburg  
I recommend 2-3 days in Hamburg to see everything on this list. Only got one day? No worries! Choose a few things on this list and  you'll get a fantastic taste of the city.
#1 – Town hall and Alster Arkaden
Start your Hamburg visit in the center of the city with a peak at the elaborately decorated Rathaus (Hamburg Town Hall) and a stroll down the elegant Alster Arkaden. This is a great area for shopping or stopping for Kaffee und Kuchen (coffee and cake).
To get there, take the U3 (yellow line) to the Rathaus stop.
#2 – Hamburg harbor tour with Ferry 62 – a free boat tour! 
See the city from a different perspective by taking the ferry! Hamburg Ferry 62 is part of the city's transit system, which means it's a no cost way to take a harbor cruise if you have a day transit card. It's a great way to get a free You'll pass by the legendary Fischmarkt, get close to huge container ships in the harbor, and sail past the popular Strandperle beach on your way to Finkenwerder. You can get out in Finkenwerder and take a later ferry back to Landungsbrücken or stay on the ferry and return right away. The day I rode this ferry it was about half tourists and half commuters.
Click here to check out this Evening Illumination Cruise for a different perspective of the harbor!
To catch the ferry take the U3 (yellow line), S1 (green line) or S3 (purple line) to the Landungsbrücken stop and walk across the bridge to Pier 3.
#3 – Tour the Elbphilharmonie 
Even if you don't plan to see a performance, a visit to the new Elbphilharmonie is a must. It's such a cool building! After getting your free ticket, take the escalator to the outdoor observation deck for spectacular views of the city and harbor. If you want to learn more about the Elbphilharmonie and see more of the inside, book a group tour well ahead of your visit.
Get an insider look at the Elbphilharmonie with this 1-hour guided tour in German or English. This best-selling tour gets 4.8/5 stars!
To reach the Elbphilharmonie, take the U3 (yellow line) to Baumwall or ferry 72 from Landungsbrücken.
#4 – Admire the Speicherstadt architecture
After you visit the Elbphilharmonie, walk a couple blocks to the distinctive Speicherstadt warehouse district. This picturesque section of Hamburg is full of canals, bridges, and 100-year-old brick warehouses. Perfect for a leisurely stroll and at least one Instagram selfie.
Click here to check out this awesome 2.5 hour tour of the Speicherstadt, Elbphilharmonie, and HafenCity! 
#5 – Ride the U3 in Hamburg City Center 
How about taking in a scenic view while you give your feet a rest? Hop on the U3 (yellow line) at the Rathaus and ride towards Kellinghusenstrasse. During this 15-20 minute ride you'll get a bird's eye view of the harbor and pass by some of Hamburg's gorgeous architecture. (I rode the U3 to school when I lived in Hamburg!) I highly recommend getting out at Eppendorferbaum and exploring the neighborhood's cafes, boutiques, houses, and bakeries. It's a beautiful neighborhood! For a lovely walk head towards the Alster and stop at the Uni Hamburg along the way.
#6 – Take a walk along the Elbe and through the Treppenviertel in Blankenese
Only 25 minutes from the city center, Blankenese feels like a different world. A former fishing village turned favored neighborhood of Hamburg's wealthy, the Treppenviertel ("stairs quarter") offers narrow winding footpaths, thatched-roof houses, and stunning views. Be sure to walk all the way down to the Elbe and along the scenic trail.
To reach Blankenese, take the S1 (green line) and follow the signs to the Treppenviertel.
#7 – Enjoy a delicious German afternoon tradition: coffee and cake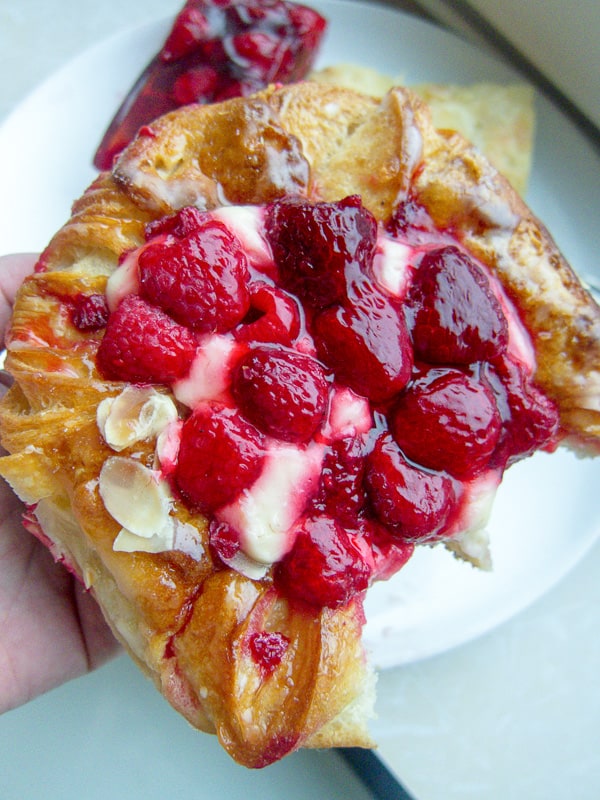 You can't visit Hamburg without partaking in the German tradition of afternoon coffee and cake (or a pastry)! Bakeries and cafes are everywhere in Hamburg, so you won't have any trouble finding one (tip: skip Starbucks and go to a local coffee shop). Not into cake? Try a Franzbrötchen pastry or a raspberry Quark pastry (see photos above) or a bowl of Rote Grütze!
#8 – Go dancing on the Reeperbahn
If you're in Hamburg on a Friday or Saturday evening, head to the Reeperbahn (also known locally as the "Kiez") for a night out. Sure, it's Hamburg's Red Light District – and one of the largest in Europe at that – but don't let that scare you off. Everyone from teens to grandparents frequent Hamburg's entertainment district for live music, dancing, and a variety of theater and opera performances. My friends and I went dancing here quite often when I was a teen. If you're a Beatles fan, check out the Indra Club and Grosse Freiheit, two places they played while getting their start in Hamburg.
Get a local's look at the Reeperbahn with this Reeperbahn Walking Tour for Adults with Local Guide! 
To get to the Reeperbahn, take the U3 (yellow line) to St. Pauli.
#9 – Visit the Fischmarkt
This open air Fischmarkt started in 1703 and is a popular Sunday morning destination for locals and tourists alike. Located right on the harbor, you'll find stands selling fresh fish and seafood, sandwiches, fruit, chocolate, flowers, and more. Be sure to head inside the Fischauktionshalle (Fish Auction Hall) for live music, beer (yep, even at 7am), and people-watching. You'll need to get up early – or head over after staying out all night on the Reeperbahn – because the Fischmarkt is only open from 5am-9:30am on Sunday mornings (7am-9:30am in the winter)!
To reach the Fischmarkt take the U3 to Landungsbrücken or the S1 or S3 to the Reeperbahn and walk the short distance to the market.
#10 – Hamburg day trips
While there are plenty of things to do in the city to keep you happy and busy for days, there are several easy day trips from Hamburg that will further introduce you to northern Germany. From the main train station you can quickly and easily reach Lübeck to the north (about an hour by regional train), Stade to the southwest (about an hour on the S-bahn), Lüneburg to the southeast or Schwerin to the east (about an hour by train).
Enjoy your trip! 
If you're planning a trip to Hamburg, I hope this guide helps you. Feel free to contact me if you have any questions. Enjoy your trip to one of Germany's most beautiful cities!
What to Read Next:
—-
Disclaimer: The International Desserts Blog is a participant in the Amazon Services LLC Associates Program, an affiliate advertising program designed to provide a means for us to earn fees by linking to Amazon.com and affiliated sites. Thank you for supporting my site and helping me make it the best international desserts and travel resource on the internet!