Delicious, creamy, rich European style butter…easy to make and so worth making from scratch. The secret? Culture the cream before churning the butter!
I didn't eat real butter on the regular until I moved to Germany as a teen. I love the rich taste and creamy texture of European style butter, and splurge on it every once in a while in the US. But now that I know how to make it from scratch, I guarantee it will make a frequent appearance in my kitchen!
I usually reserve cultured European butter for times when I'll really enjoy it, like on scones. I don't usually bake with it, unless a recipe specifically calls for European cultured butter (which has a higher fat content and lower water content than US butter). If you do want to bake with this European style butter, just double or triple the recipe to meet your needs.
How to Make Cultured European Butter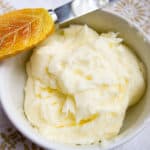 Cultured European Butter
There's nothing better than rich and creamy European style cultured butter!
Ingredients
4

cups

heavy cream (not ultrapasterized)

1/3

cup

buttermilk (without gums or stabilizers)

4

cups

water

1

cup

ice

salt (optional)
Instructions
Mix buttermilk and heavy cream in a glass jar. Cover loosely with a towel and let sit in a warm place for 12-36 hours. This cultures the butter. When the cream has thickened and tastes a bit tangy, it's ready to churn.

Beat cream until it forms stiff peaks. I like to use my stand mixer but a hand-held mixer works just fine. Reduce to low and then stop when the cream separates.

Drain off as much of the liquid as possible. Mix ice with water, then pour 1/2 cup of the cold water over the butter solids. Use a spatula (or just use your hand) and knead the butter in the water against the side of the bowl. Drain the liquid and repeat the process with another 1/2 cup of water. Repeat until the water remains clear. Knead one last time to get as much water out of the butter as possible. Washing the butter in this way prevents spoilage.

If you'd like salted butter, mix in salt to taste. Store in an air tight container. If you're not going use the butter in about a week, freeze it.
These Currant Scones taste GREAT with European Butter!