I made these German Gebrannte Mandeln (almonds roasted in cinnamon and sugar) for the first time this year and had to share them with you. These Christmas market nuts taste just like what you'd get in Germany and are super quick and easy to make at home!
Pin this for later!
When I lived in Germany, I'd often splurge on a packet of warm German almonds roasted in a blend of cinnamon and sugar at the Christmas Market.
I'm super excited that I can now make them at home in about 15 minutes. And if you use my easy Gebrannte Mandeln recipe below, you can, too.
Gebrannte Mandeln literally mean burned almonds (or burnt almonds) but they are anything but burned. These cinnamon roasted almonds not only taste delicious, they make your house smell SO good. Make them for snacking during a holiday game night, to add to a cheese board or for a holiday party.
Three tips:
Read the entire recipe so you have a good idea what the process is – once you get started it goes quickly!
Have all ingredients measured and ready to use before starting – you need to stir the sugar and cinnamon almonds the entire time.
Don't touch the sugared almonds until they've cooled because the hot sugar will burn you.
Step 1: Gather your ingredients
Here's what you need to make these German roasted almonds:
Heavy saucepan (not non-stick)
Wooden spoon or spatula
Lined baking tray

⅓ cups water + 2 Tbsp

1 cup sugar + 1/3 cup sugar

1 teaspoon cinnamon

2 cups raw almonds
I lined my baking tray with parchment paper.
If you have vanilla sugar, use 1 packet (I brought some home from the Netherlands so I used it in this recipe). Mix it with the 1/3 cup of sugar.
Update: I now prefer to make vanilla bean sugar from scratch! Click here to get my quick and easy homemade vanilla bean sugar recipe. Vanilla bean sugar takes everything you put it on or in up a notch. I used it in recipes, oatmeal, hot drinks, and more. It also makes a great DIY holiday gift!
Step 2: Mix water and sugar
Add 1/3 cup + 2 Tbsp water to the saucepan.
Then add 1 cup sugar.
Add 1 tsp ground cinnamon.
Stir the mixture over medium heat.
Step 3: Turn up the heat and stir, stir, stir
Keep stirring over medium heat until the mixture comes to a boil.
Step 4: Add the almonds
Add 2 cups almonds, turn the heat to high, and keep stirring. Do not stop stirring!
The sugar will start to get darker…
…and thicker as the water boils away. Keep stirring!
Soon, the almonds will start to look fuzzy. Keep stirring!
Then, the almonds will look really fuzzy and dry and will be hard to stir. The sugar is starting to stick to the almonds, which is exactly what you want. Keep stirring so the sugar doesn't burn!
Turn the heat down to medium low, and keep stirring. Soon, your almonds will look shiny. Keep stirring so the almonds are evenly coated. Enjoy how delicious your kitchen smells. 🙂
Step 5: Add the rest of the sugar (and vanilla)
Add 1/3 cup sugar and the vanilla. Keep stirring for another minute or so. You're almost finished!
When the almonds are shiny with clumps of sugar on them, they're done.
Transfer the almonds to a lined baking tray. Be very careful here because these almonds are HOT and will burn you. Use a wooden spoon to spread them out on the tray and separate the clumps. Work quickly, because the sugar dries fast. Do not touch them with your fingers until they've cooled!
Here's a close-up…yuuuum.
These Gebrannte Mandeln are delicious warm or cold. You'll want to store them in a cool, dry container…but I doubt you'll have any left over to store!
Now, you might be wondering how to clean your saucepan when it looks like this:
Don't fret! It's just sugar. Fill the saucepan with water and let the sugar dissolve. While you eat German cinnamon sugar almonds!
Enjoy and Happy Holidays!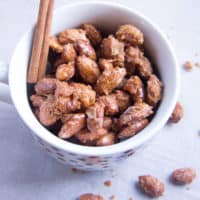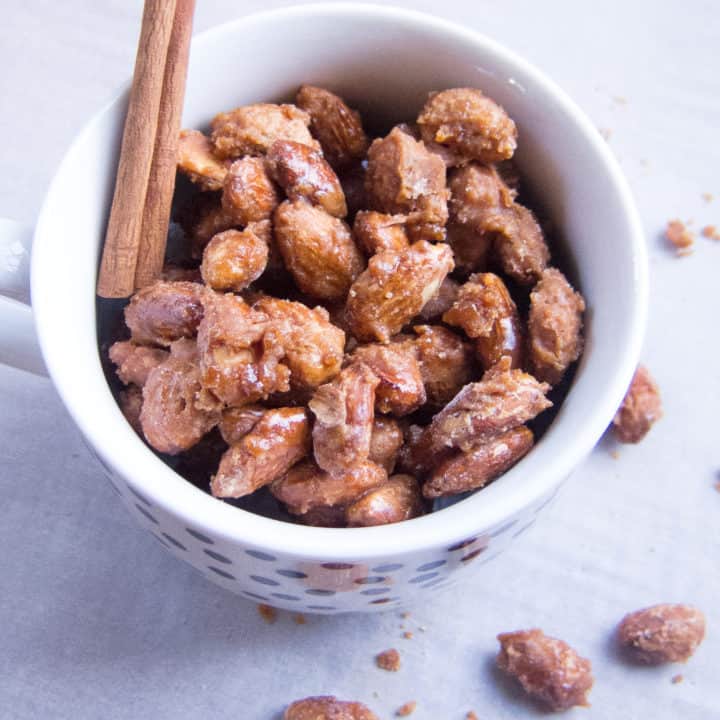 German Gebrannte Mandeln (German Cinnamon Roasted Almonds)
Additional Time:
5 minutes
Delicious Christmas Market-worthy cinnamon sugar almonds in less than 15 minutes!
Ingredients
1/3 cups + 2 Tbsp water
1 cup + 1/2 cup sugar
1 tsp vanilla sugar (or vanilla extract)
1 tsp cinnamon
2 cups raw almonds (whole)
Instructions
Heat water, cinnamon, and 1 cup sugar over medium heat. Stir continuously. Bring to a boil.
Turn heat up to high. Add almonds. Stir continuously until the water has boiled out and the almonds look dry and fuzzy. This could take several minutes.
Turn the heat down to medium low and keep stirring until the almonds are shiny and are evenly coated. 
Turn heat down to low. Add the rest of the sugar and the vanilla. Stir until almonds are shiny, evenly coated, and have clumps of sugar on them. 
Transfer almonds to a lined baking tray. Work quickly to spread out the almonds and separate the clumps. Use a wooden spoon to do this - not your fingers (you'll burn yourself)! Let almonds cool a bit. 
Enjoy the cinnamon sugar almonds warm or cold. Store in a cool, dry container. 
Click here to see more German dessert recipes!
Click here for more holiday desserts!
Move Over Sugar Cookies!
You'll love the 10 traditional European Christmas Cookies in my free ebook!