Best British Currant Scones
This article may contain affiliate links. See our disclosure link for more information.
These light and fluffy scones are so easy to make – with or without currants! They're the perfect vehicle for clotted cream, lemon curd, jam or even German plum butter.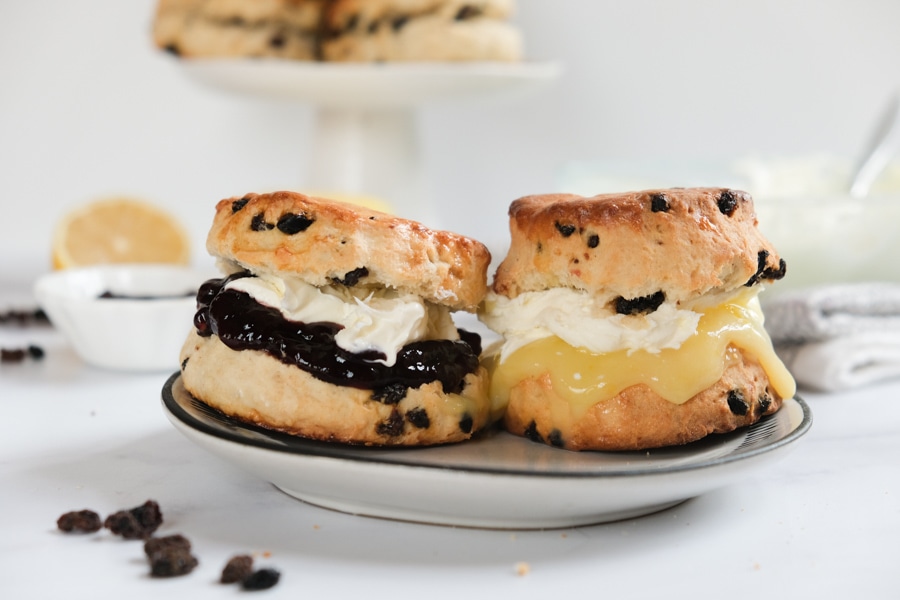 Would you believe that I never liked scones until I visited the UK – when I promptly fell deeply in love with current scones, clotted cream, and jam? I almost never eat scones in the US but I'll gladly eat one every single day when I'm in the UK or Ireland!
Scones with clotted cream are my go-to sweet treat in the UK, always with a big cup of tea. Now that I've learned how to make them at home, I can enjoy them anytime. And now you can, too!
Why make British scones (English scones, Irish scones, whichever you prefer) instead of US American scones? Because British and American scones differ in a couple vital ways.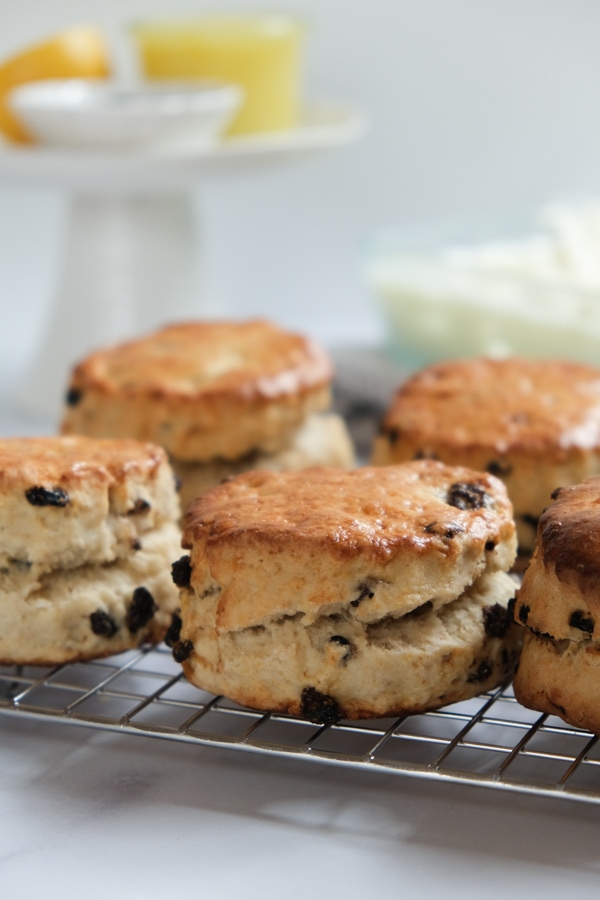 First, British scones have less butter and sugar. Well, less butter and sugar in the scone, that is. The amount of butter and sugar consumed in and on the scone via clotted cream, jam and lemon curd is probably about the same!
Second, in my experience, British scones often don't include the mix-ins that are commonly found in the often sweeter American scones, like blueberries, nuts or chocolate chips. I've most commonly found plain scones and currant scones in the UK and Ireland (and maybe cheese scones?). That said, you probably can find other types of scones, but whenever I've bought scones, I've always only had the option of plain or currant.
I originally thought that another difference is in how the scones are cut. The scones I've eaten in the UK and Ireland have all been round, while scones I see in the US are cut into triangles. However, I've since learned that you will find British scones in the triangle shape. I guess I just need to go back to the UK and Ireland and do more scone research. 🙂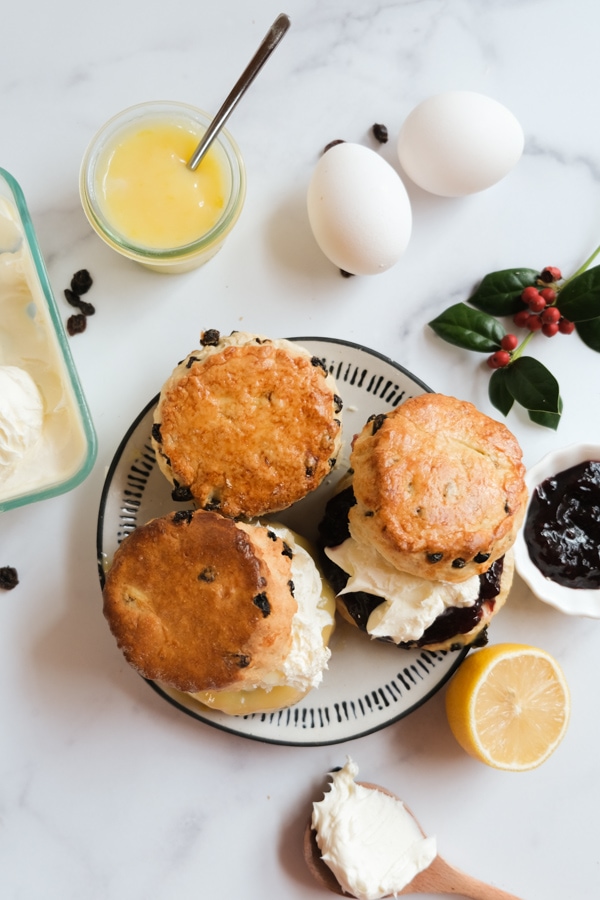 As I mentioned, I prefer British scones because I love the scone + cream + jam (or lemon curd) combo. It's heaven. American scones are too sweet and dry for my tastes. The recipe I'm sharing with you today makes it easy to enjoy fresh British scones anywhere!
I've made these scones loads of time and have even taught others to make them in virtual baking classes. They're are always a hit! They're perfect for all kinds of occasions, such as:
tea parties
office parties
holidays
neighborhood potlucks
showers
birthdays
simple afternoon tea with a friend (scones + tea)
brunch
dessert
pretty much anytime you're craving scones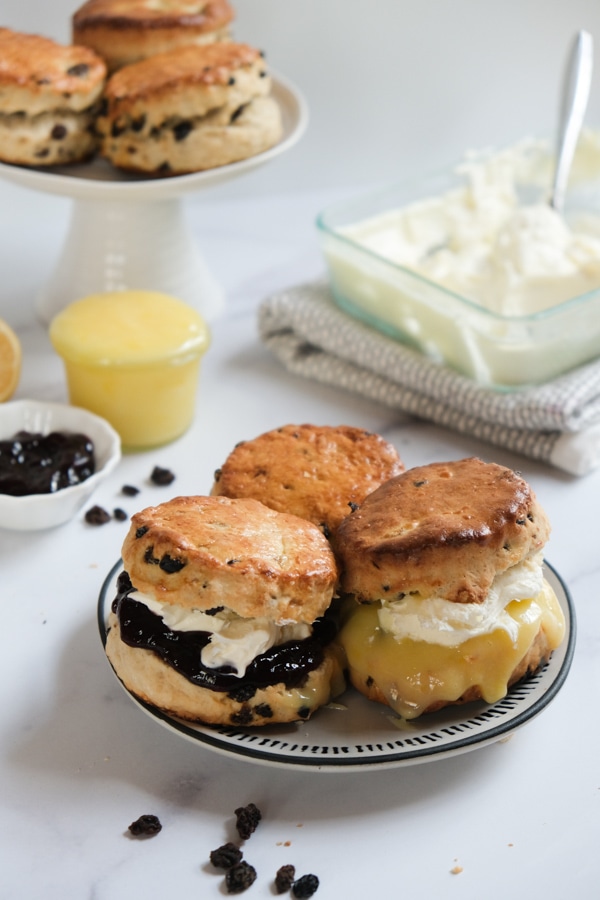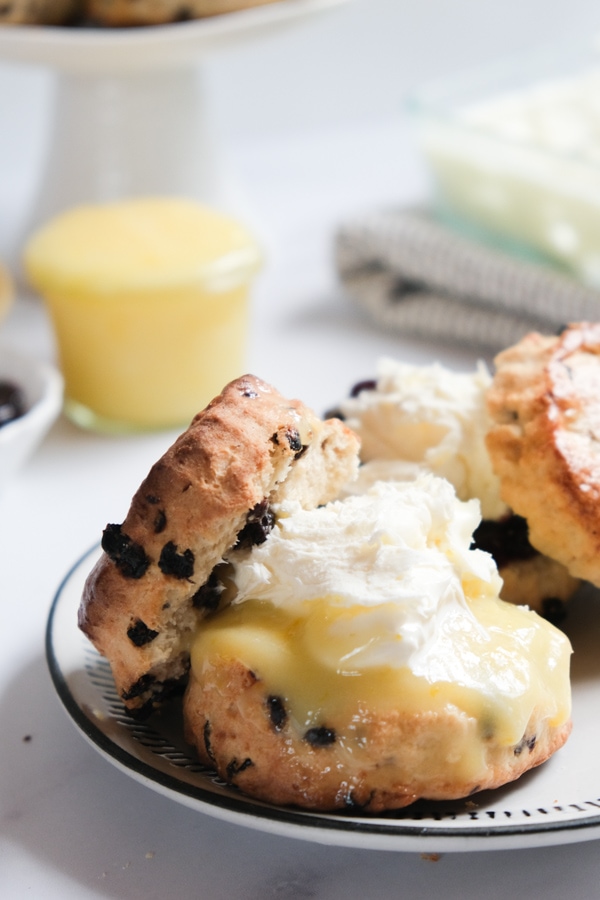 These scones are light, fluffy, and tender. If you've got 30 minutes, you have enough time to bake a batch of fresh hot scones – with or without currents.
If you don't want to use currants, you can add it any mix-in you'd like…raisins, nuts, cheese, cranberries, etc. It may not be traditional but it will be delicious, so I say go for it and experiment!
What to Put on Scones
My favorite toppings are: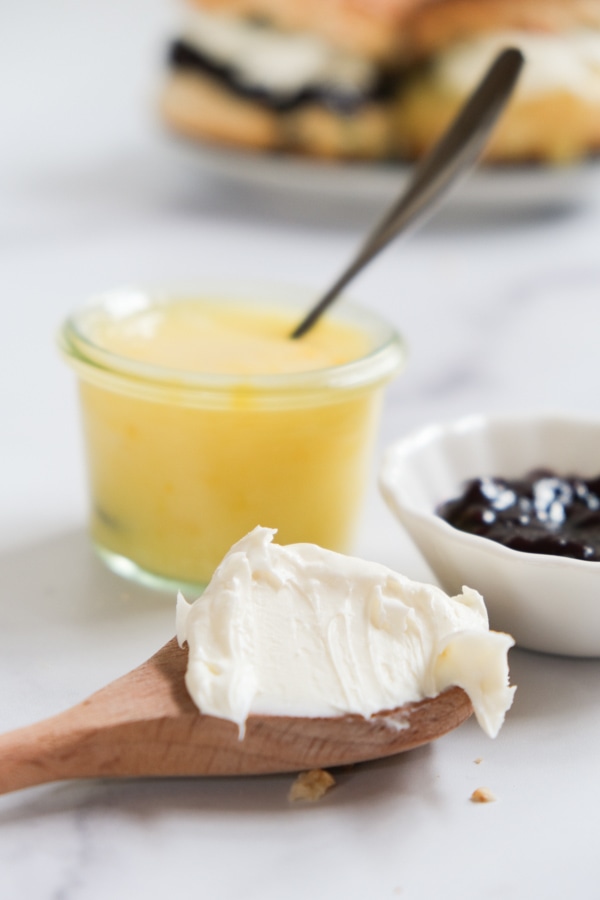 If you want clotted cream with your scones, I recommend making the cream 24 hours before you make the scones. Doing so will not only allow enough time to cook and chill the cream, but you can use any leftover liquid cream in the scones.
Same goes for making homemade cultured butter, lemon curd, plum butter or jam. Make each a few days in advance and then make the scones the day you want to serve them so they're nice and fresh.
These scones are best eaten the day they are made – they're delicious right out of the oven – but I've found that they taste great the next day, too.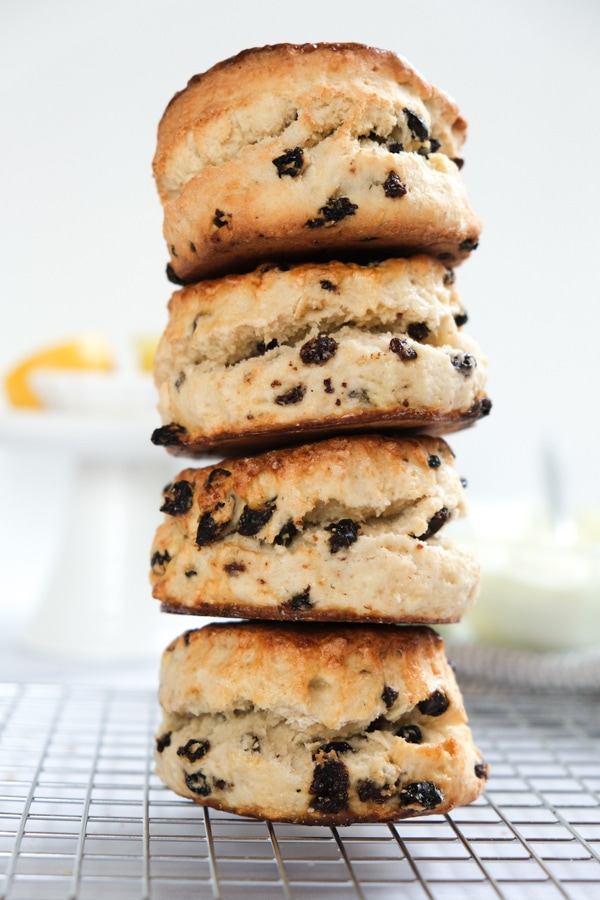 Do I Have to Use Currants?
Nope! Dried currants are my favorite mix-in but you can use any kind of dried fruit, nuts or even grated cheese and herbs. You can also make them plain.
Can I Freeze Scones?
Yes! You can either cut out your scones and then freeze them or you can bake your scones and then freeze them. I prefer to freeze unbaked scones so that I can take them out of the freezer and make freshly-baked scones.
To freeze unbaked scones, cut them out, place on a baking pan, and place in the freezer until fairly frozen. Then, place the frozen scones in a freezer ziplock bag or freezer-safe container. This way your scones won't freeze stuck together.
How to Make the Best British Currant Scones
The first step is to pre-heat your oven to 500F/260C. You're going to turn the oven down when you bake your scones, but for now, get it nice and hot.
Then, combine the flour, sugar, baking powder and salt in a large mixing bowl. Whisk until everything is well combined.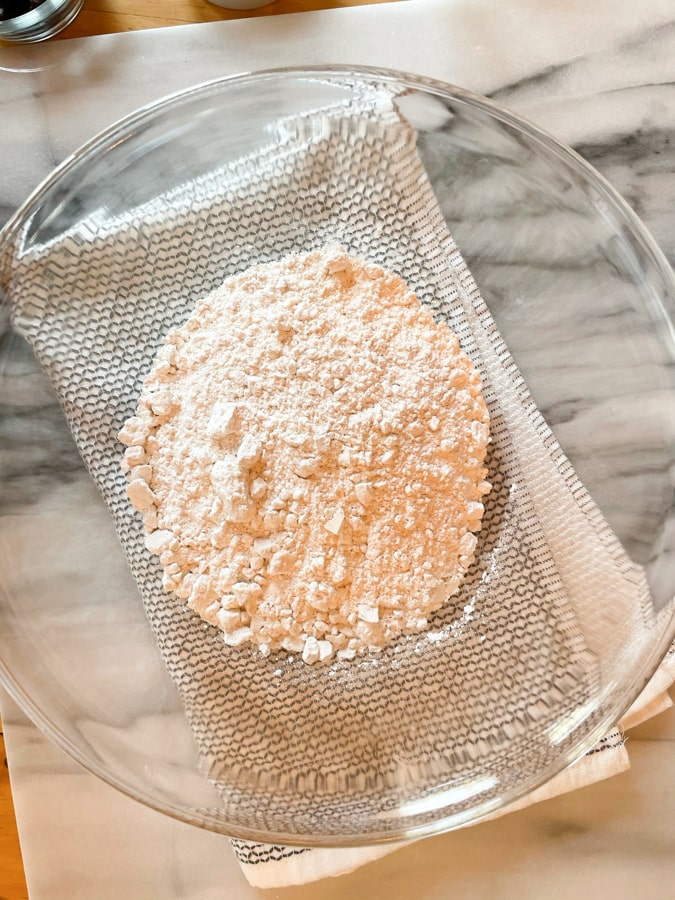 Cut the cold butter in several pieces and add it to the dry ingredients. Use your fingers to work the butter into the flour until it looks like small crumbs.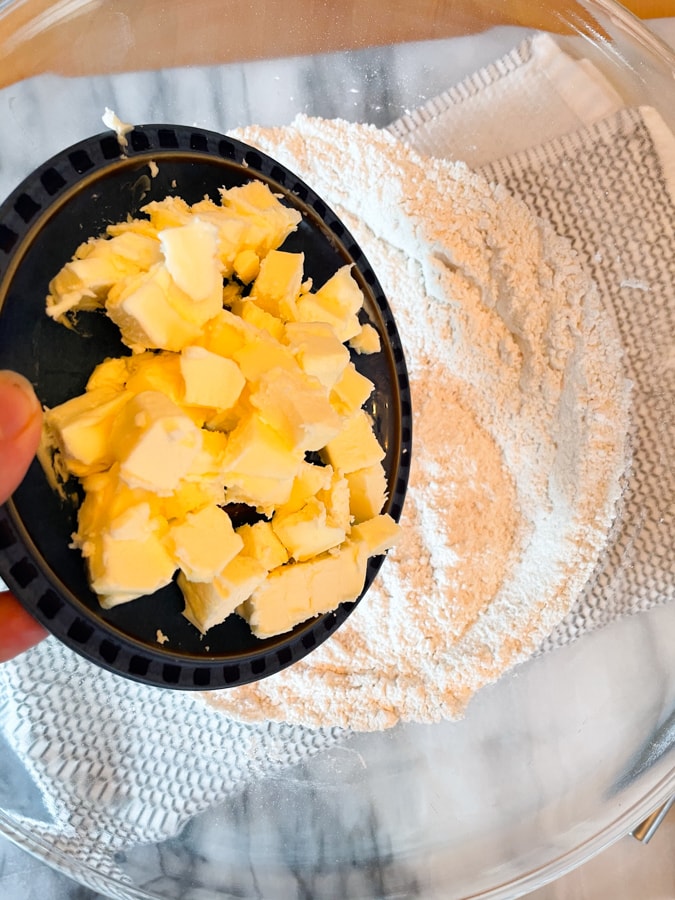 Add the currants (or whatever you want to add to your scones) and mix with a spatula or spoon until combined.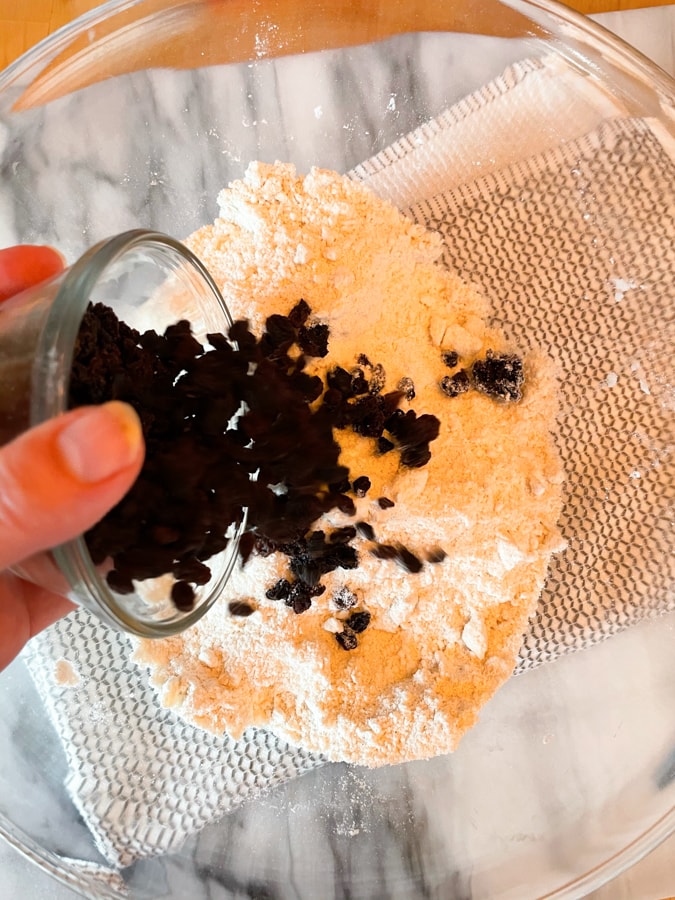 In a small mixing bowl, whisk together milk and eggs. Add to the flour a little at a time. Careful: depending on the size of your eggs and whether you scooped, spooned or weighed your flour, you might not need the entire amount. So don't dump it all in at once!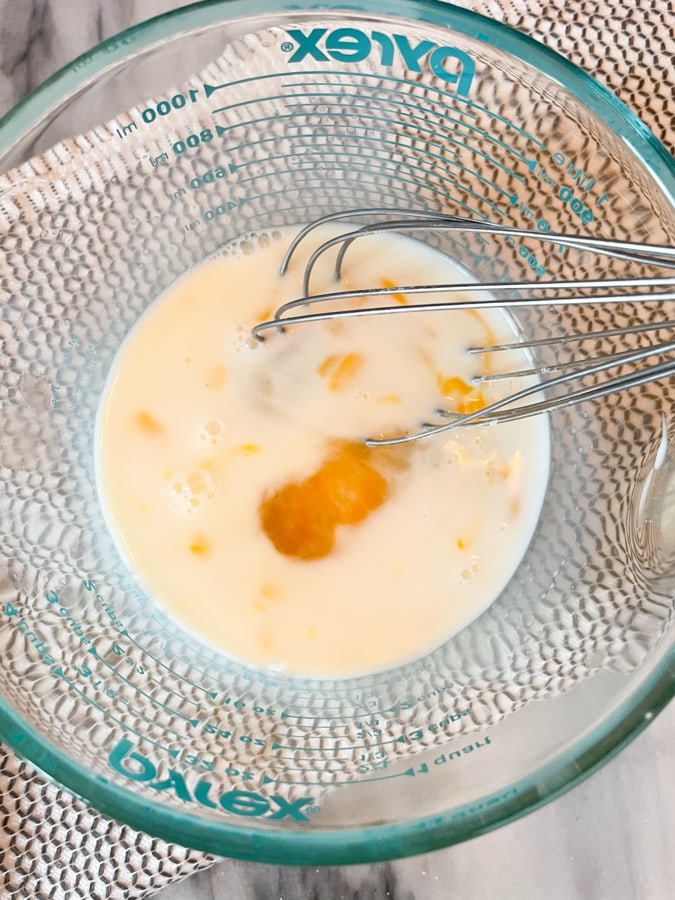 Stir everything together with a spoon or spatula until the dough forms a ball. If you realize you've added too much milk/egg, just add a little more flour. You're going to add more flour in the next step, so add just enough for the dough to form a ball.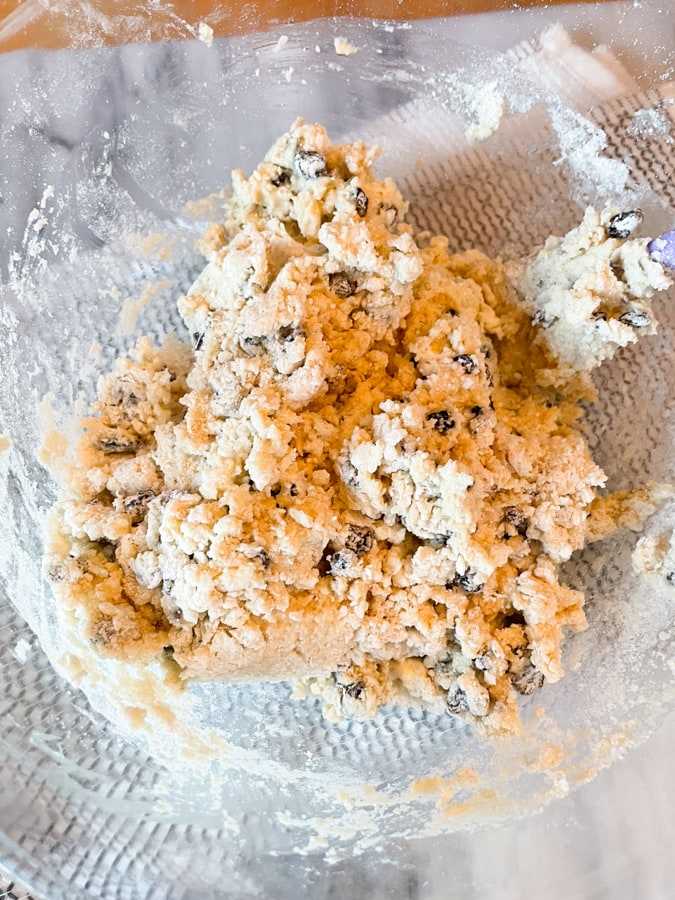 Knead the dough several times on well-floured surface with well-floured hands until the surface of the dough is smooth and doesn't have any cracks. Then press dough to 1 inch [25mm] thickness.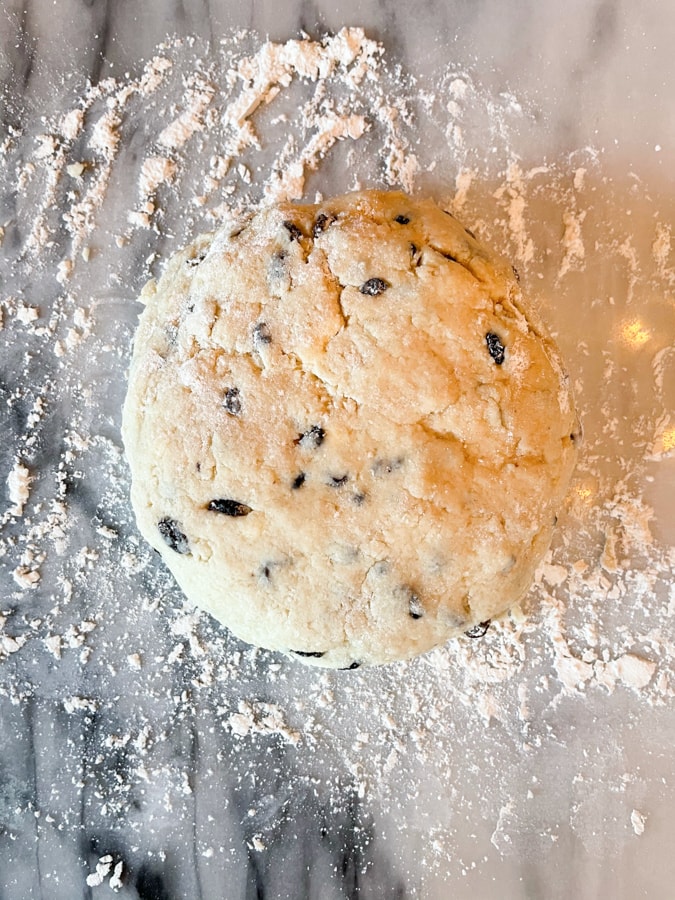 Cut out your scones using a round biscuit or scone cutter or a small jam jar or glass. You should get anywhere from 7 to 12 scones, depending on the size of your cutter.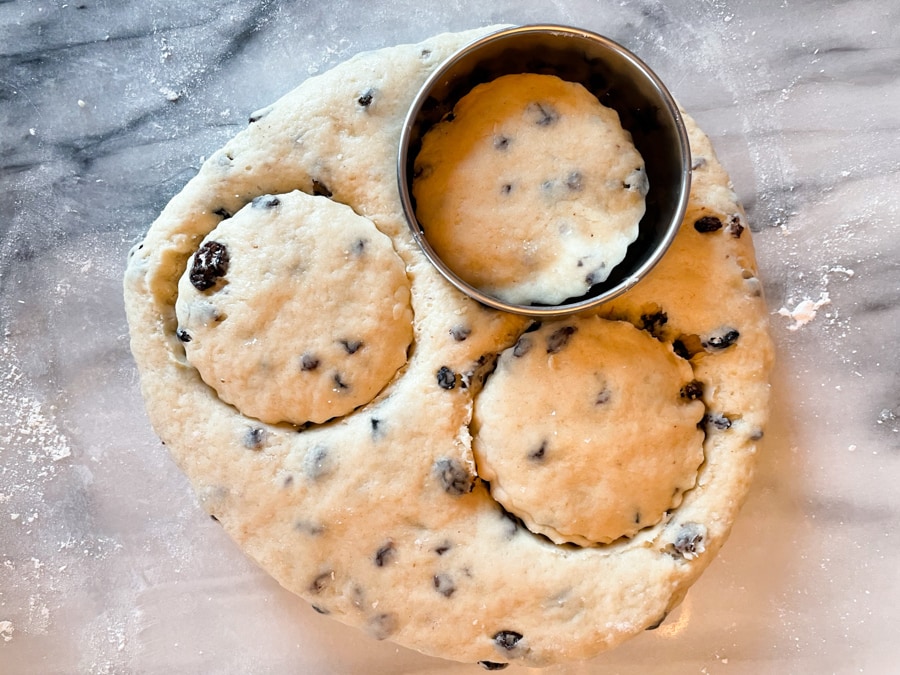 Transfer your scones to a lined baking pan. Then gather the remaining dough into a ball, knead together once or twice until smooth, and again press it out to 1 inch [25mm] thickness. Cut out the rest of your scones and transfer them to your baking sheet.
Brush the top of the scones using what's left of the milk and egg mixture (or mix one additional egg with 1 tsp milk, cream or water in a small bowl and brush that on the tops of the scones). Sometimes I have enough milk/egg left over, sometimes I don't.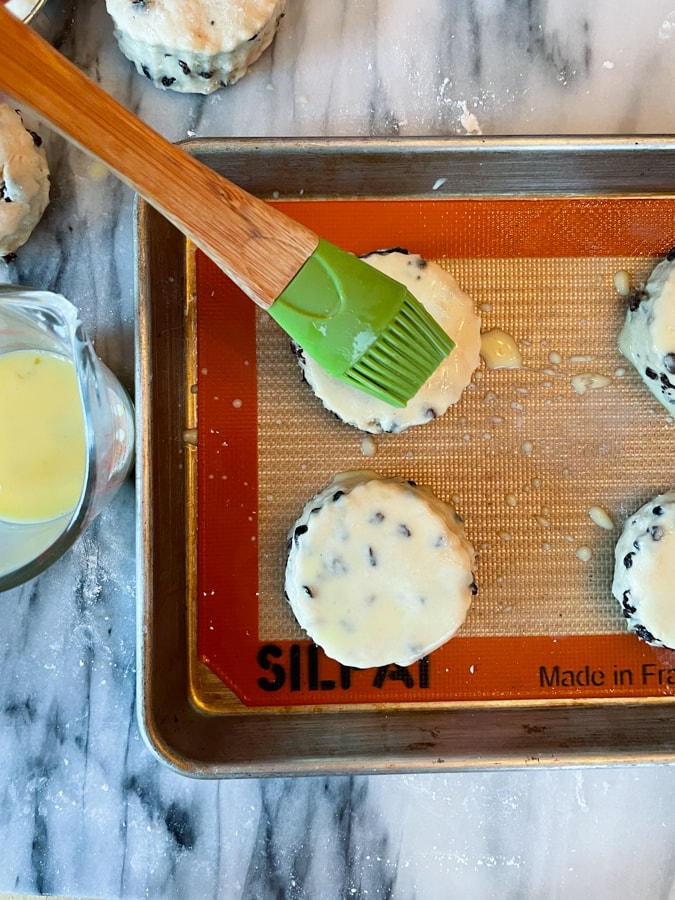 Turn your oven down to 425 F/215C. Bake smaller scones for 10-12 minutes and large scones for 12-15 minutes or until golden brown. Check your scones 8-10 minutes in to see how browned they're getting. If the tops are nicely browned but they're not finished baking, place a piece of foil over the scones.
Cool scones on a wire rack.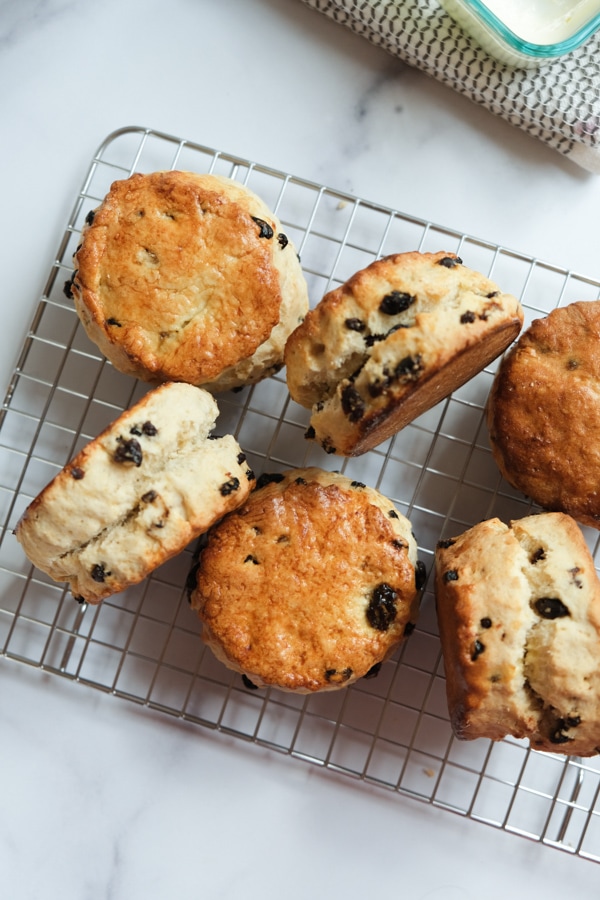 Serve warm or at room temperature with butter, clotted cream, whipped cream, lemon curd or jam. These scones are best eaten the day they're made but I've found them to still be good the next day. Enjoy!